Updo hairstyles are the perfect option when you need a simple and attractive hairstyle. There are two things every girl hopes for in the perfect hairstyle: beauty and easiness. Whether your hair is short or long, you want to feel confident and gorgeous. A quality hair updo will do just that for you.
Wearing your hair up can elevate your ensemble while keeping your hair comfortably out of your face and off your neck. These hairstyles are versatile, working well for formal and informal occasions, for both textured and straight hair.
What Is an Updo Hairstyle?
An updo is any hairstyle where your hair is off your neck. You can wear your hair in a full-up hairstyle, where all your hair is off your neck and shoulders, or you can wear your hair in a partial updo, where only some of the hair is put up.
Some updos are designed with special occasions in mind. An intricate bun or French twist with hair accessories, for example, both work well for a formal affair. Others are quite casual, making them ideal for physical activity or being outside on a hot day.
Tips for Choosing the Right Updos
If you are having trouble picking the right updo, here are some helpful styling tips.
When picking an updo hairstyle, think about the event you are attending or your plans for the day. For instance, if you are a wedding guest, you would want a formal hairdo that will stay comfortably in place for dinner and dancing. Consider a simple ponytail or messy bun if you anticipate a day packed with errands or childcare.
Consider your face and neck shape when putting your hair in an updo. More specifically, think about the features you like to emphasize or downplay. You can wear your hair high on your head to highlight a slender neck, or keep some loose tendrils of hair around your face to balance a large forehead.
Plan your hair updo style with your hair texture and hair length in mind. If you have curly hair, focus on hairstyles that will show off your texture while keeping your hair secure. People with straighter hair may want to focus on sleek updo styles.
We've compiled a list of our favorite hairstyles for any setting or special occasion. Read on to learn more about wearing your hair up.
Updos for Short Hair
1. Dark Red Ombre Bun
A loose bun isn't nearly as attractive when it doesn't have a bold rich color, like this dark red and orange ombre, to give it a glow. A loose bun updo is a gorgeous style for any woman with at least shoulder-length hair.
2. Teased Updo with Bandana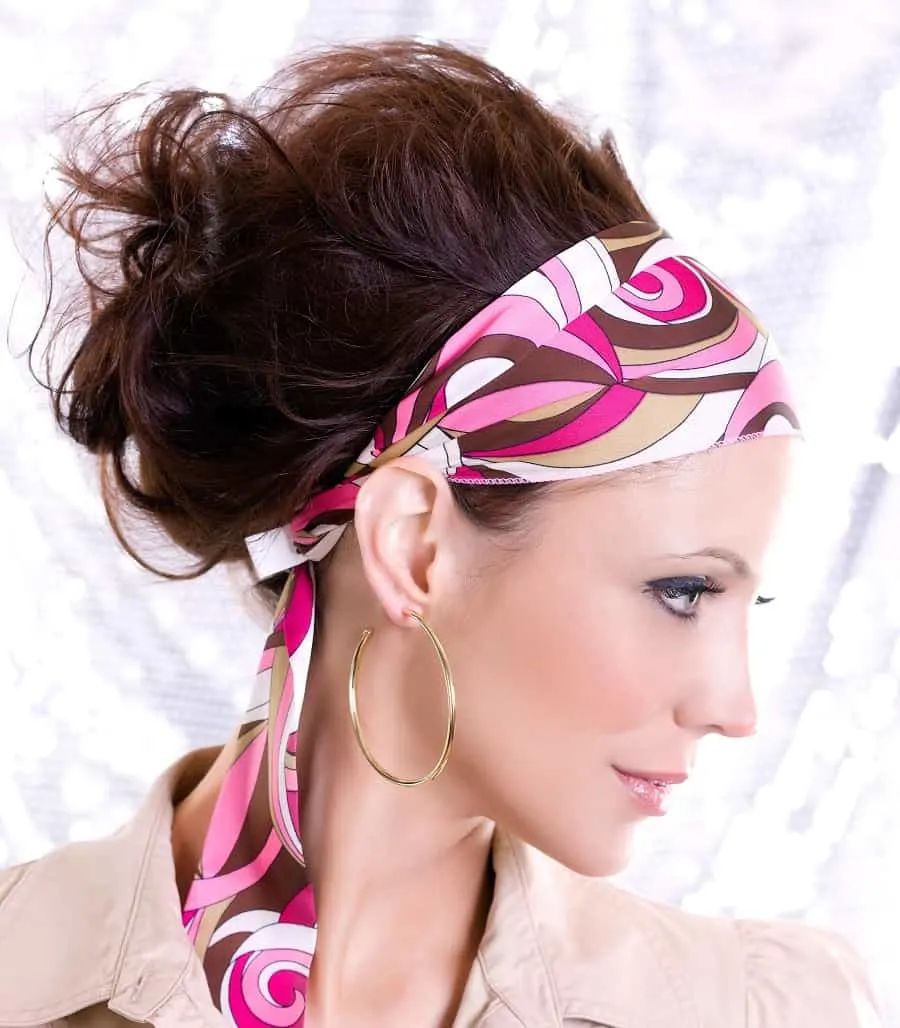 Put a vintage twist on your teased updo by slipping on a printed, colorful bandana. Not only does it hide a boring and plain hair tie, it gives this gorgeous teased bun a little character with the loose ends draped over one shoulder.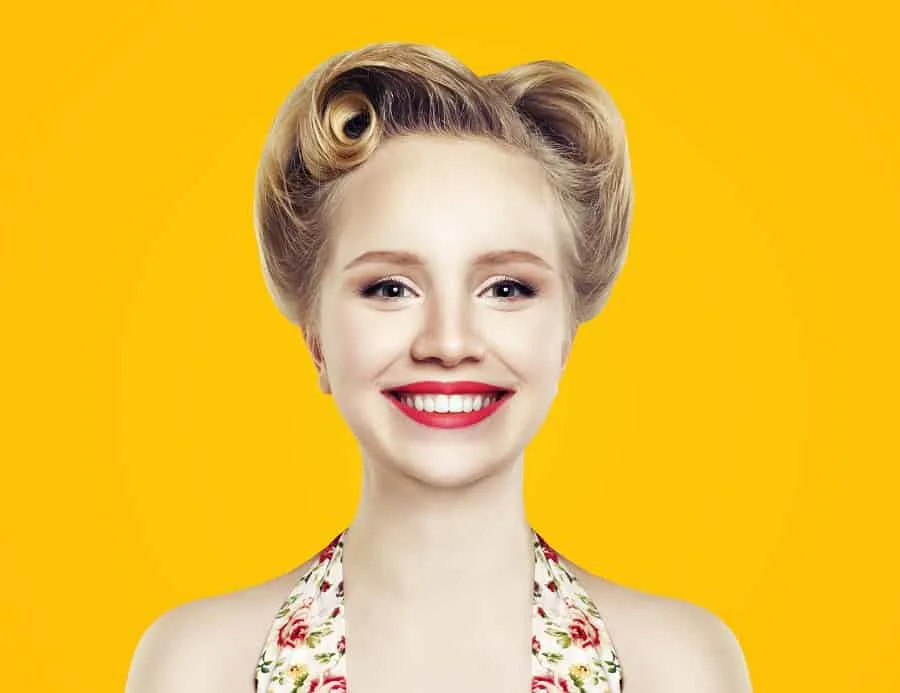 Victory rolls are another pretty updo for women who desire that vintage look. Part hair off-center before putting your rollers in, then seal the style with hairspray for all-day hold.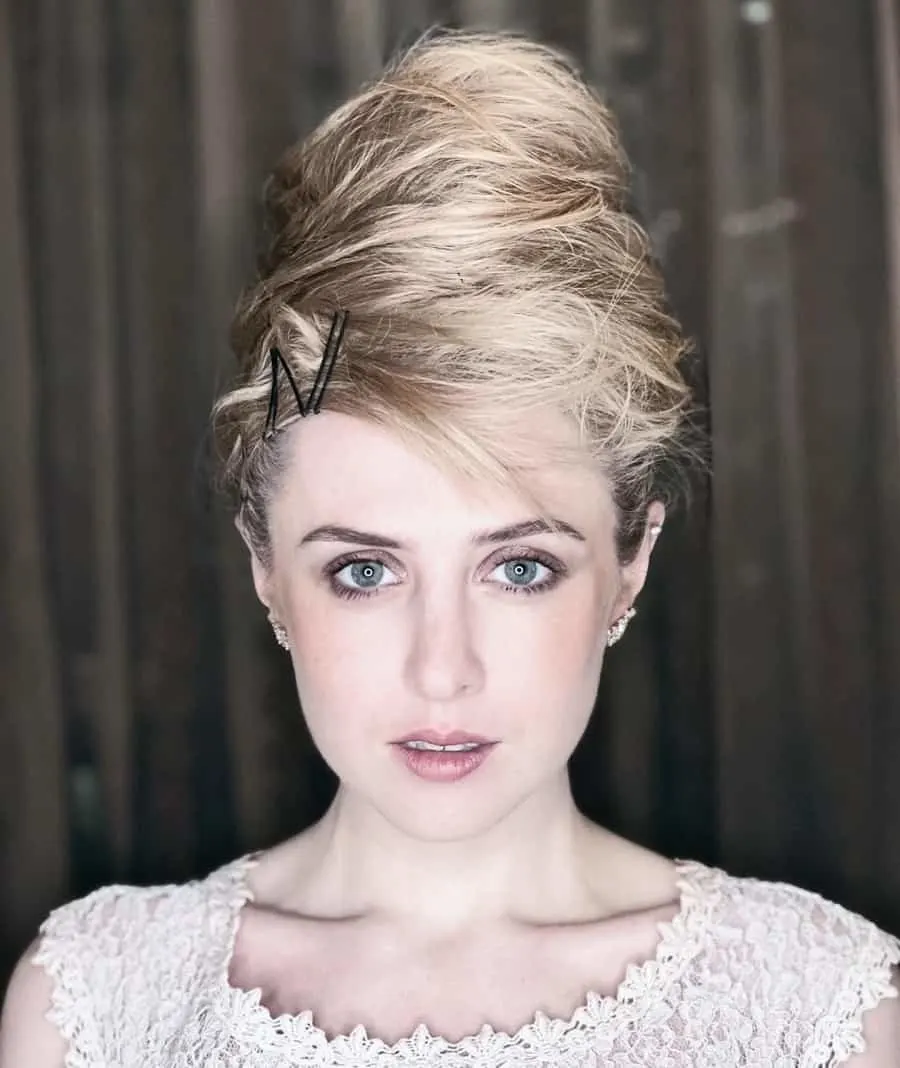 If height and texture if what you want, you'll love how you look in a French chignon updo. The beehive shape is a classic hairstyle, but can be updated with a few bobby pins slipped in around the forehead near choppy straight bangs.
5. Heavy Side Bang Updo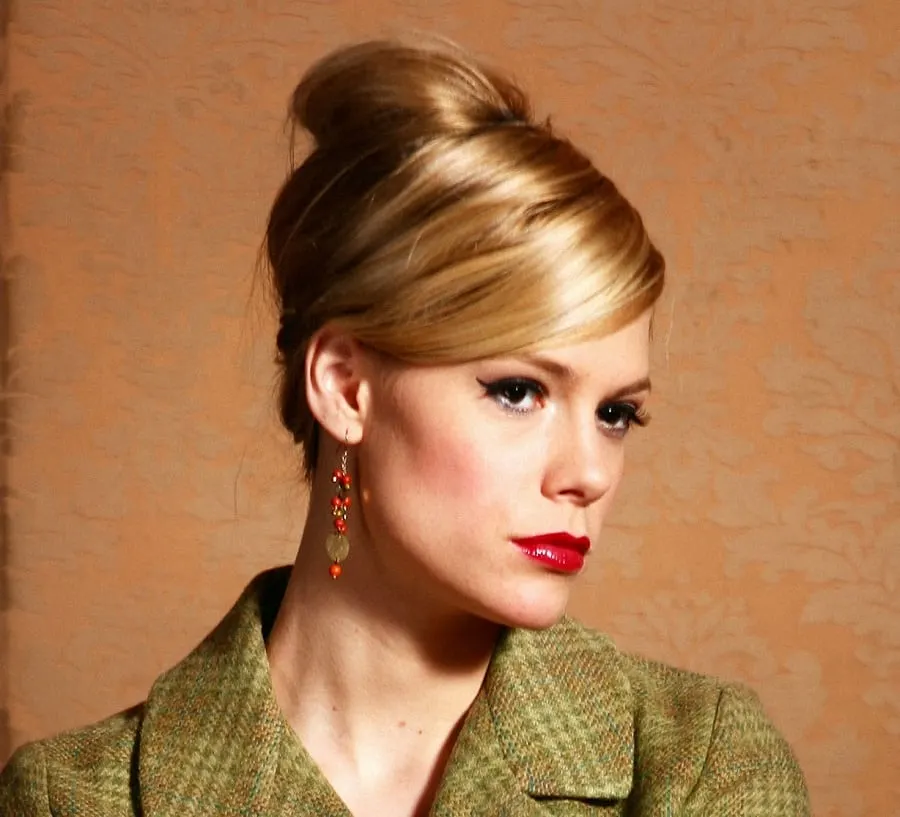 When you have long hair, it's easy to create a dramatic side bang on your updo. Part hair heavily off center, and leave a section of hair out to tuck behind the ear while you gather the rest up in a smooth, chic twist.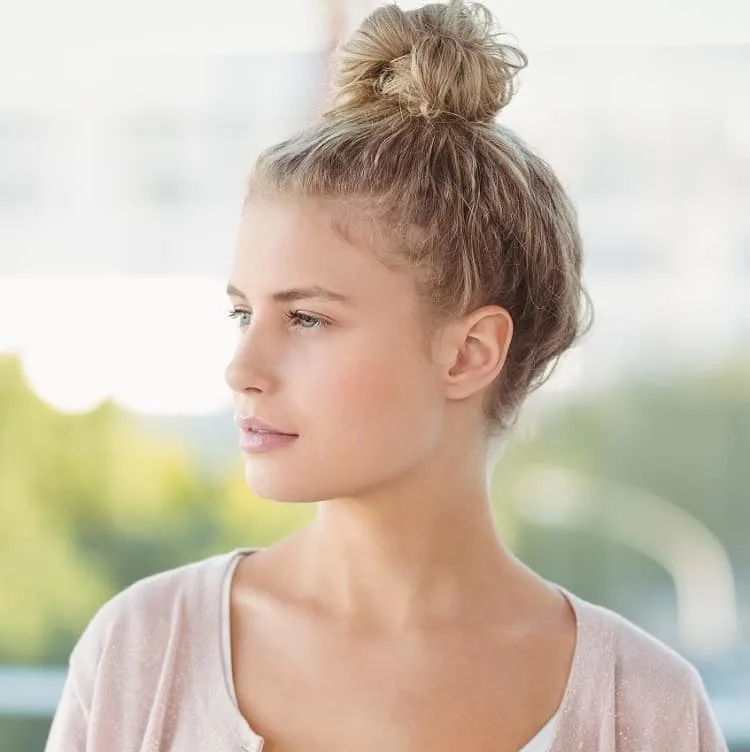 Every girl should be able to pull her hair up into a cute bun. Even if you have short hair, you can still sweep up your locks off your neck so you can look cute while doing those weekend errands.
Cute Updos for Long Hair
Whether you're heading out to a date or just need your hair out of the way for a while, a high bun combed back at the crown is just the thing. It takes less than a minute for a great style.
Instead of forming a bun centered right at the crown of your head, give it a lop-sided twist, leaving curls loose. This will switch up the dimension and looks very chic with a red lip.
Long hair is easily tameable and stunning as a blonde but pink highlighted bun. Tease the hair before combing it up into a sock bun.
10. Updo for Prom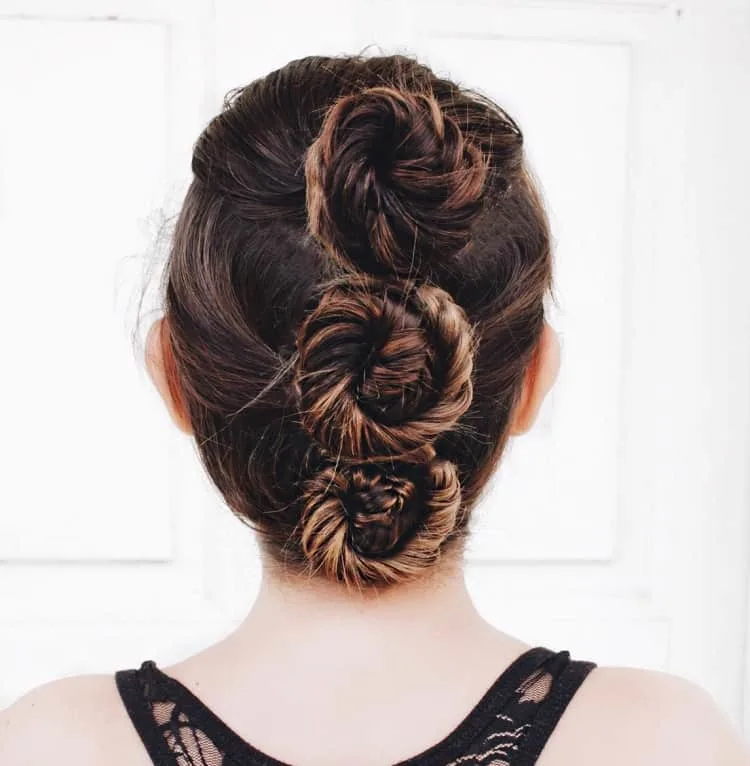 Prom is a beloved event for young girls to attend looking their best. Set your style apart by creating three twisty buns centered at the back of the head.
11. Updo Hairstyle for Work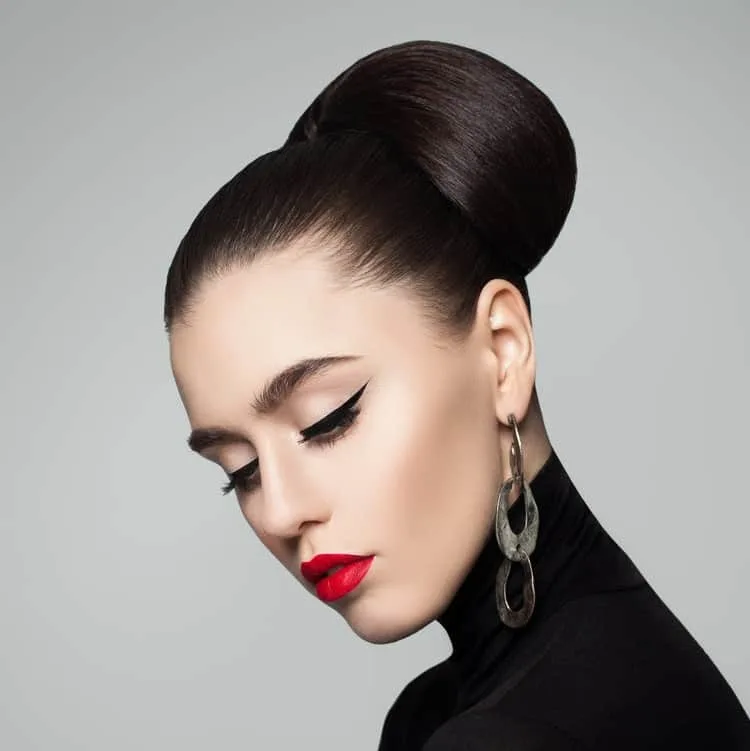 Before securing your hair in a rounded bun, smooth bumps with your favorite comb and hairspray, making for a sleek sophisticated style.
12. Bun with Weave
Highlights make every hairstyle that much better and on this three-level bun, you'll serve up a fierce look. The sock-bun will keep your hair tamed, while a red lip and cat-eye are the finishing touch for date night.
13. High Bun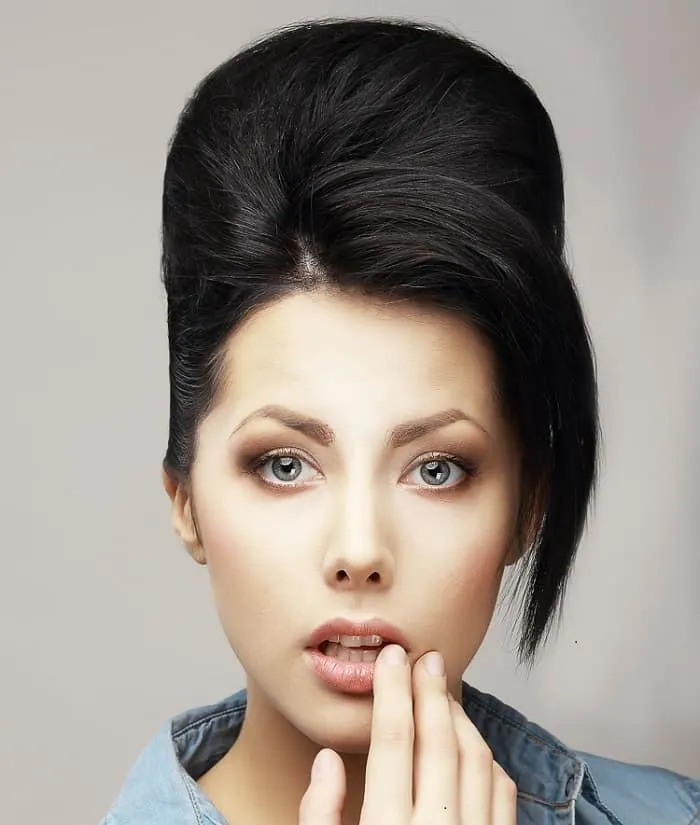 The key to forming this high updo, perfect for short hair, is teasing the hair. You can do this with hairspray and combing the hair toward the scalp.
14. Updo with Dreads
If you're sporting dreads these days, wear them up for a change in a cute bun centered at the top of your head. Paired with bangs, it's the perfect summer style.
Updo Hairstyles for Medium Hair
15. Ballerina Bun with Undercut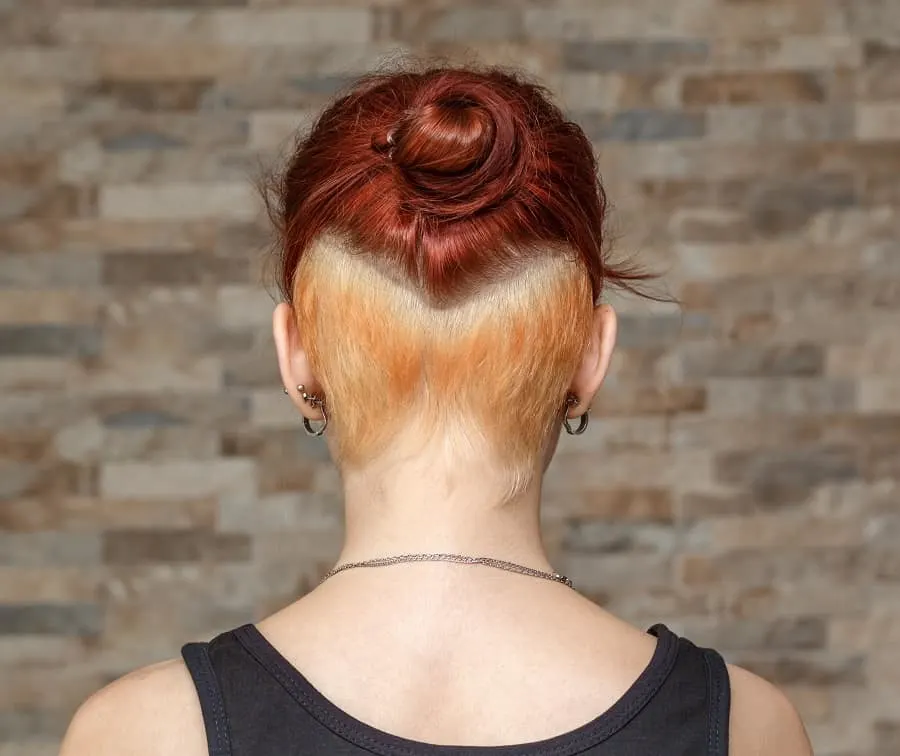 The contrast of light and dark hair colors with an edgy undercut and delicate ballerina bun give this women's updo so much character, it's a must-try! With or without bangs, you'll look amazing.
16. Twist Updo
For a classy hairstyle, consider a French twist. It works best with thicker hair but using hairspray to ready thin hair will work as well. Secure the hair with a silver or gold barrette.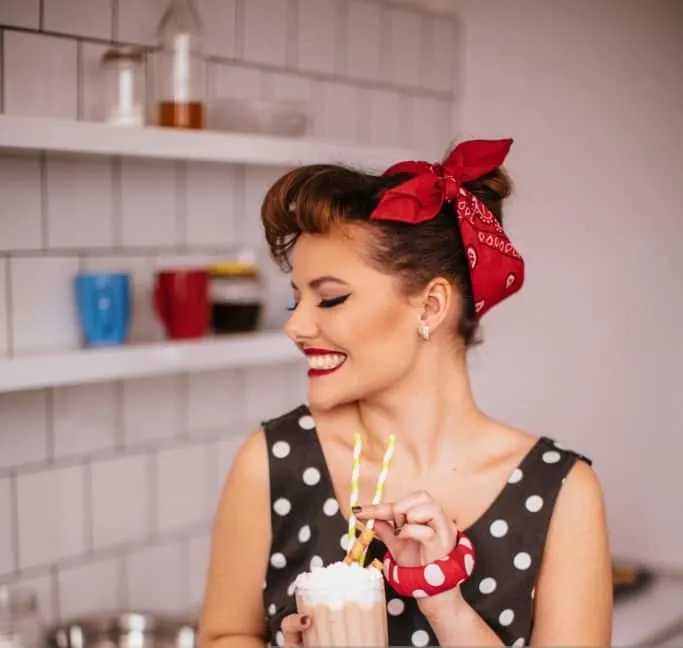 The 1950s were a time of super cute style that should be referred to when creating a fresh new updo. Try wrapping a red bandana around your messy bun or high ponytail, then brush a wavy side bang across the forehead.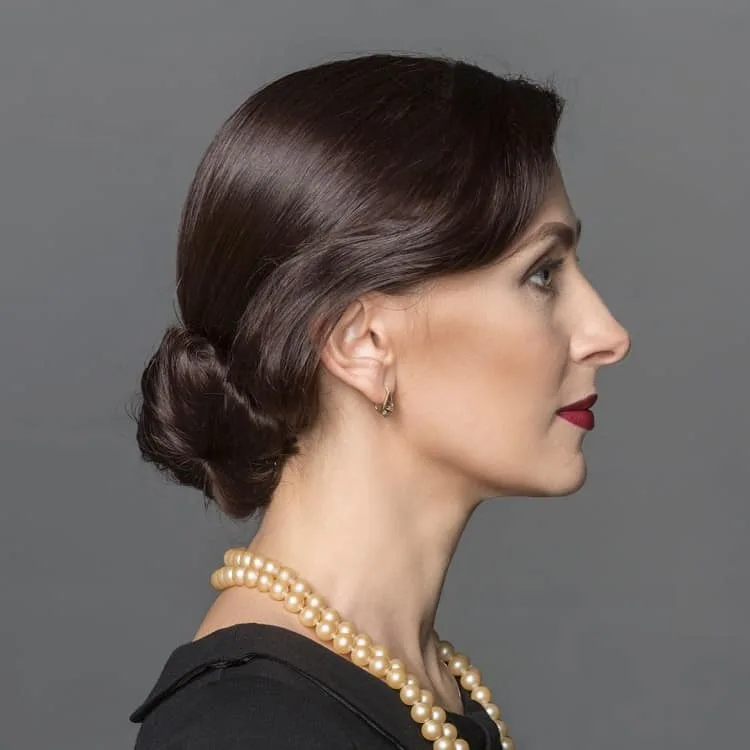 A low bun is another simple style to pull together in just a few minutes. The key to getting one this chic is smoothing away frizz and sealing it all with hairspray.
19. Ponytail Updo
The messy ponytail is one updo hairstyle that won't be going away anytime soon. No matter the state of your hair, scoop it all into a high pony, encouraging texture with fingers and a little bit of styling cream. A fun scrunchy is the best accessory.
20. Chignon Bun for Older Women
An older woman can pull off beautiful updos as well, like this tucked-in chignon with loose tendrils framing the face. Tease the hair near the crown first to create volume.
21. Loose Space Buns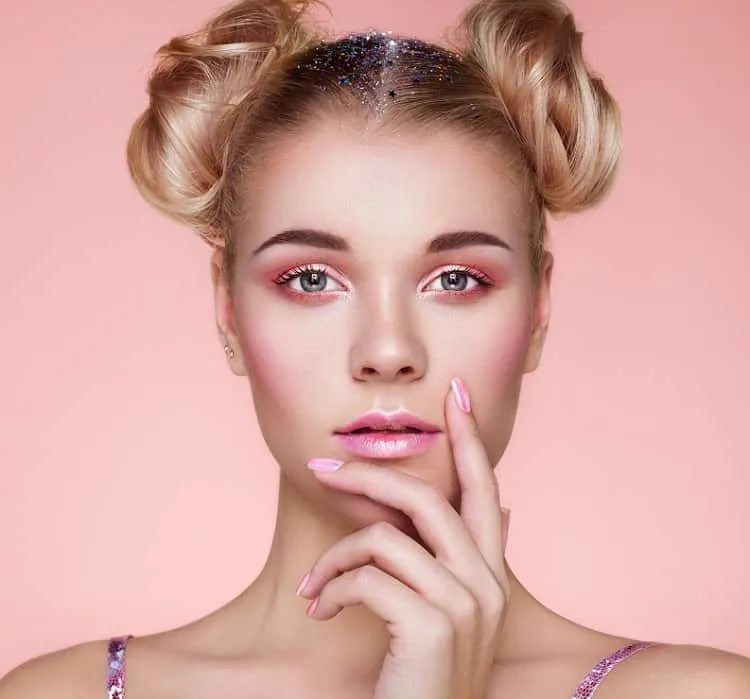 Whether it's the glittered scalp, the loose blonde space buns, or a pink lip that make this hairstyle a must-try, it's unclear. But you're for sure going to look adorable.
Long layered bangs are the key to getting this sexy updo. Tease the hair for volume before gathering hair into a high messy pony with curled ends.
Updos for Black Women
23. Curly Bun with Flowers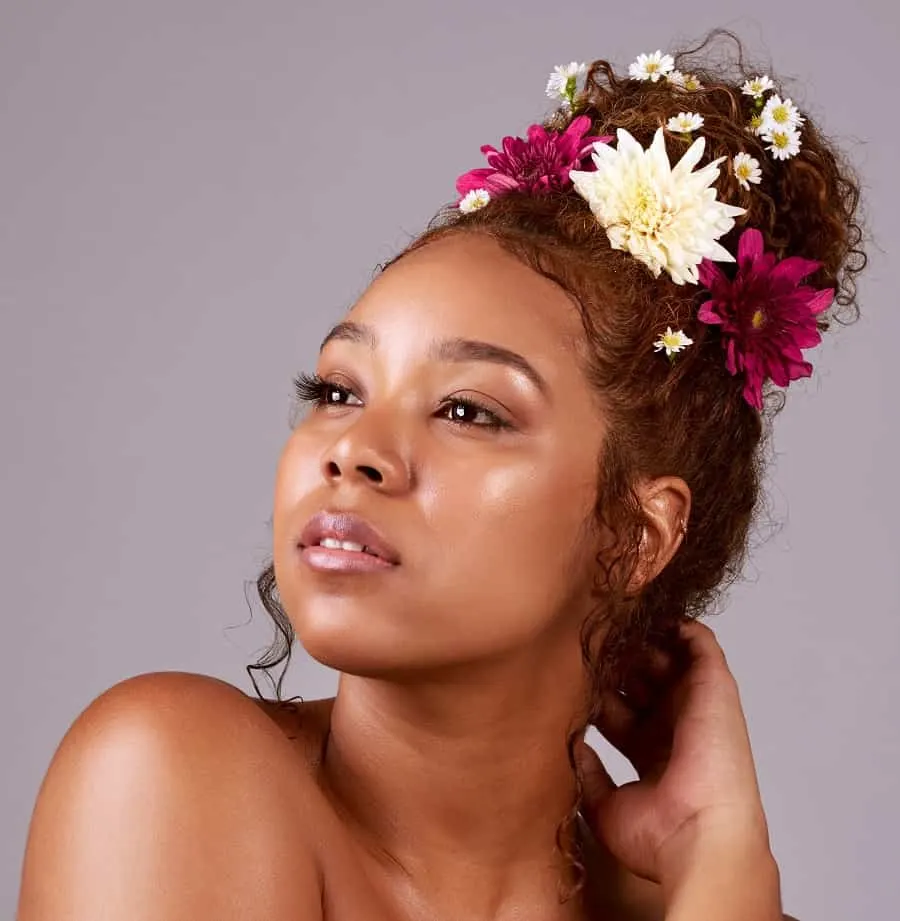 Thick naturally curly hair deserves to be shown off. Gather yours up high in a jumbo bun, leaving a few tendrils loose near the ears. Tuck in real or faux flowers in bright, feminine colors to dress this look up for fancy occasions.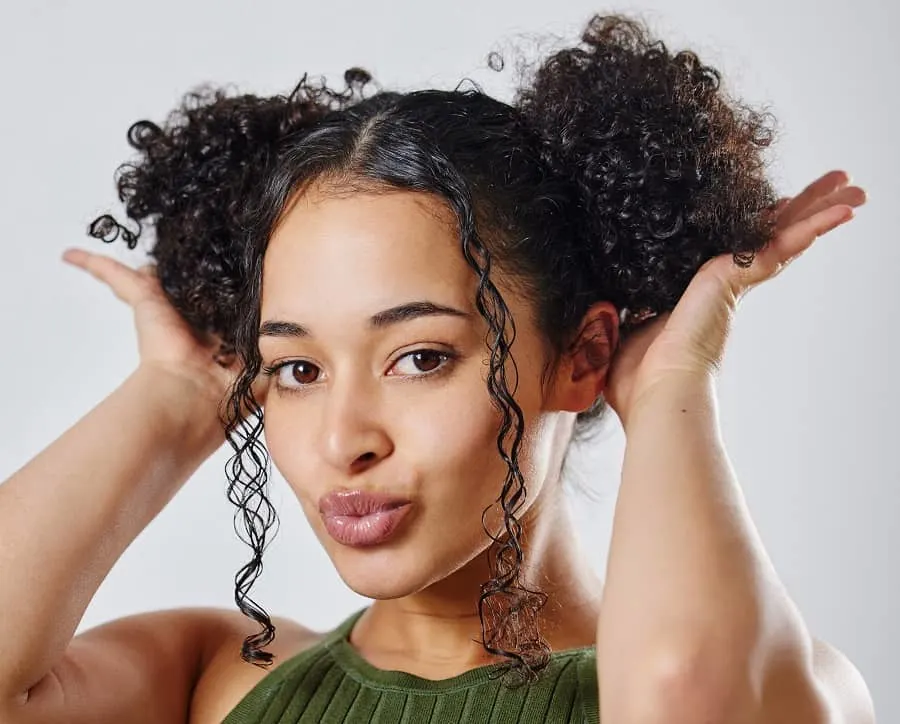 These adorable double buns remind us of peppy cheerleader pom-poms. If you have long, tightly curled hair, flaunt that texture easily in this updo. Soften the style by leaving two small sections of hair hanging loose near the face.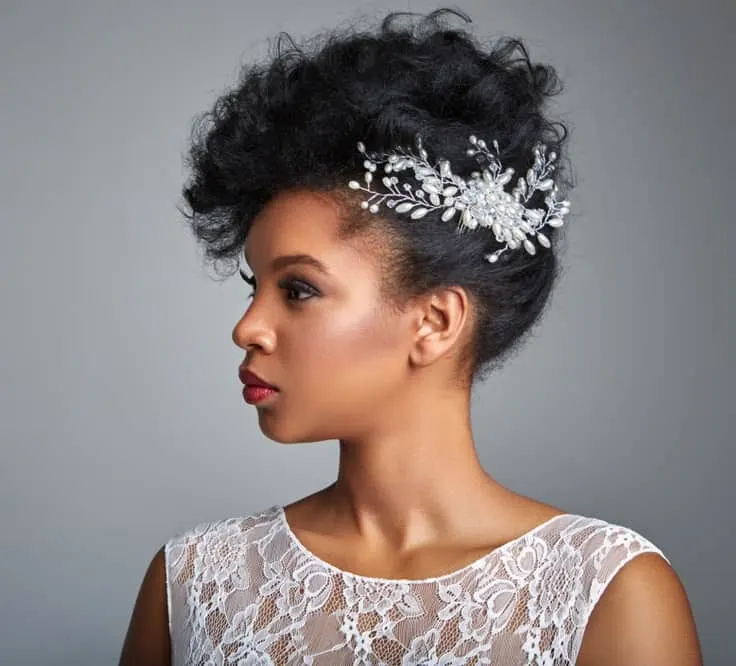 Show off your natural hair texture with an updo that's a twist between a mohawk and a ponytail. The easiest way to get it is by making a high ponytail, then combing and secure it across the center of the head so volume is the first thing you see.
While wearing your braids down is perfectly beautiful, a high bun is easy enough to pull together is super gorgeous. Start with a high ponytail, then wind the braids around it, secure with black pins that will blend in.
27. Faux Locs Updo
Faux locs are a popular protective hairstyle that looks natural. Style them up one day with a half updo, like this small bun wrapped in a contrasting hair tie.
Beautiful Wedding Updos
28. Side Bun and Braid
When you think of weddings, you think soft, romantic hairstyles. A side bun loosely gathered and decorated with flowers is a no-brainer. Complete the look with a loose braid right at your hairline that tucks into the rest of your hair without a bobby pin.
29. Half Updo
A half updo with a flowered headband creates a beautiful boho look. Twist two sections of hair, one on either side of the head, and secure them together in the back. Leave the rest of the hair straight or wavy.
30. Bow Updo
A hairstyle with a bow created from the hair is sweeping fashion magazines everywhere. Watch one of the many tutorials out there to get a fun, one-of-a-kind do.
It's your special day, you should feel like a queen. Form two large buns at the back of the head to create this curly updo. Pull the hair loose around the buns to create softness, then top it off with sparkly pins.
How can you get a fantastic updo in minutes? Form two ponytails at medium height, then wind them up over the head.
Braided Updos
33. Braided Twist
Whether your speciality is a Dutch or fishtail braid, both will nicely dress up a teased twist updo. After forming a braid, make one or two ponytails, then wind them together at mid or low height.
34. Jumbo Braid Updo
For extra long or thick hair, a jumbo braid is the way to go to get a stunning updo. Start your braid off center and wind it around the opposite side of your head, then blend it into the rest of your hair before gathering it in a low chignon.
35. Messy Updo
Want to try the messy hairstyles you see in fashion magazines? You can rock one, too by forming a loose crown braid and tugging out pieces of hair around the crown.
A side braid wound up in a thick low bun is stunning with loose tendrils around the neck and by temples. Top the look off with a large flower for accessory.
37. Cornrow Updo
Thick colorful cornrows facing opposite directions and in a unique design may take hours to make, but once they're in, you can create this beautiful updo. It stuns with its beautiful lavender color.
A reverse braid is just the way to spice up your updo. It's easiest to flip your head over and start a braid, then at the corwn of the head, gather all the hair into a bun or high ponytail.
Thin Hair Updos
39. Low Updo for Thin Hair
Whether you work with your thin hair and secure it into a sleek low bun or thicken it up with teasing before styling, low hairstyles flatter every face shape.
Mohawks used to be just for men but now, by forming a couple ponytails along the back of the head, you can create a sexy hairstyle out of one. Thicken up the braid by tugging its pieces loose.
If your hair is naturally curly, show it off in one of the best hairstyles: a curly bun. With or without bangs, leaving a few tendrils loose around the face and pairing a cute colorful headband with the style adds perfect detail.
Gorgeous Updos Dedicated to Black Women
Frequently Asked Questions
Here are answers to some of the most frequently asked questions about updo hairstyles.
What are the best occasions for updos?
Updos are extremely versatile and can work well for any occasion. Different types of updo hairstyles are appropriate for different events. If you want to wear your hair up for work or another more serious setting, focus on formal styles without being flamboyant, such as a plain bun or twist.

For a special formal event, take advantage of the occasion to wear your hair in a fun updo. Intricate buns, beehives, or ponytails would be great ways to express yourself and look your best.

When you want your hair out of your phase for casual events or working out, there are many casual updo styles. A messy bun is a popular favorite as well as braids, double buns, and simple ponytails.
How long does it take to make an updo?
The time it takes to make an updo depends on how intricate the hairstyle is. A ponytail or messy bun can take less than three minutes, but a complicated formal updo could take longer.

If you plan on wearing your hair up for a special event, you may want to practice doing your hair ahead of time. Doing a trial run with your hair helps you gauge how long it will take to get ready and if there are any styling challenges you need to anticipate.
What is the perfect length for updo hairstyles?
You can put most hairstyles up into an updo hairstyle. If you have particularly long hair, you will need to plan your hair up style so that the weight of your hair is sufficiently supported. If your hair isn't fastened securely to your head, the style will quickly fall apart.

You can also style shoulder-length and even chin-length hair into updos. If your hair is too short for a bun or long ponytail, utilize attractive hair clips to pull your hair up off your neck.

People with short hair won't be able to pin their hair up, but they can still use headbands and other hair accessories to mimic the appearance of an updo style.
How much will a hairstylist charge for an updo hairstyle?
How much a hairstylist charges for a hair updo will depend on how long the style takes to make and how much skill it requires.

Hairstylists can also charge more according to their experience level and training certifications. Always confirm the cost of a hairstyle with your stylist before making your appointment.
By choosing any one of these updo hairstyles, you're guaranteed to look great. Remember to put your own spin on each style by adding color or fun accessories like patterned barrettes.