Women's warrior braids can turn heads, especially when done well and even more so when they are intricate and elaborate. Not all are easy to do, especially when attempting them on your own head, but with a bit of practice, patience and maybe the help of a good friend, they are all possible!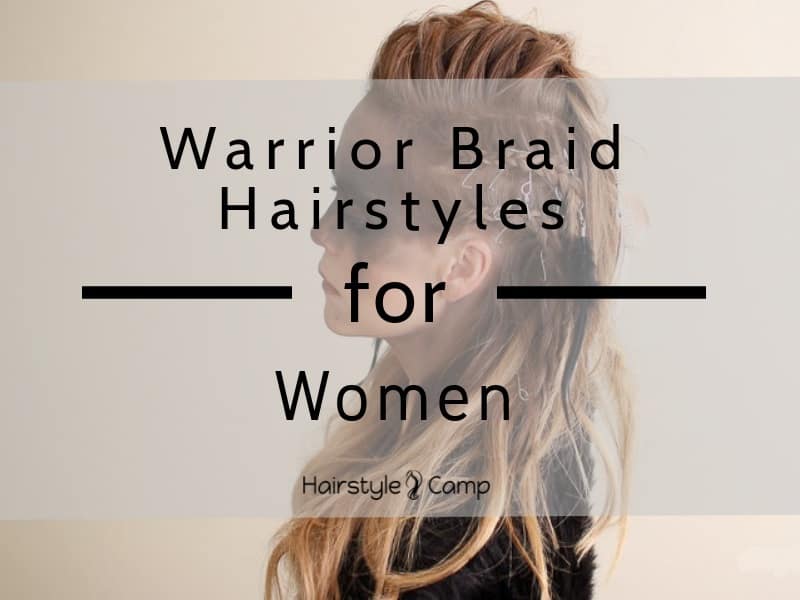 Warrior braid hairstyles are very in vogue lately. So perhaps if you are off to a posh event or wedding it may be a nice touch to add to your overall look.
Tips on Preparing Your Hair
Dirty Girl: Braids work best on hair that is not entirely squeaky clean, so skip the shower if you want to make the 'do easier to do!
Textured Tresses: By adding texture to your locks it helps and braids or plaits hold better. You can purchase texturizing spray, or if you don't want to splash the cash on a new product, try some dry shampoo instead.
Divide and Conquer: Many braids involve having to keep control of several sections of hair. To make this easier you will want to section off pieces of hair before you start and clip those portions tightly to keep them secure.
Whilst braids are often seen as a very feminine and girlish look, these styles are based on the traditional hairdos worn by Warrior women and Vikings. Aside from looking incredible, a Warrior Braid or Viking Braid can show off that fabulous and fierce side that you may be hiding.
Warrior Braid styles often involve big chunky plaits or a number of smaller plaits along with very imperfect structures that lack precision and look very elegant but relaxed. More often than not, subtle accessories such as beads or hair wraps are added to enhance the style.
Women's Warrior Braid Hairstyles in Vogue
There are endless options available to achieve these looks and there will definitely be something to suit your style, taste, personality and hair type. So, have a look at our 12 warrior braid hairstyles for women and you'll be in with a fighting chance of getting that perfect Warrior look.
1. Weaving Warrior Braid
This warrior braid is based on a traditional basket weave plait and is understated but stunning. Pulled into a trendy low ponytail, the structured braid paired, with the relaxed pony, really sets the look off. The braid is enhanced further by the caramel highlights running through the hair which boosts the overall look.
French Braids with Ponytails Ideas
2. Warpath Warrior Braid
This double braided hairstyle is achieved by having two big braids styled back into one bunch. The thick braids come from either temple of the head adding volume to the front and the soft and wispy pieces of falling hair, frame the face and soften the style.
The stark and icy color choice also helps complete this fully fierce look.
3. Braided Beauty
There are limited words to describe how exquisite this style is. What would otherwise be a simple chunky braid is enhanced by a microbraid running along the center of the style.
It is made to look as though it is all made from one plait, but it is cleverly pinned in place to give that illusion. This shows that female warrior braids can be utterly effective but still simple!
4. Love and War Warrior Braid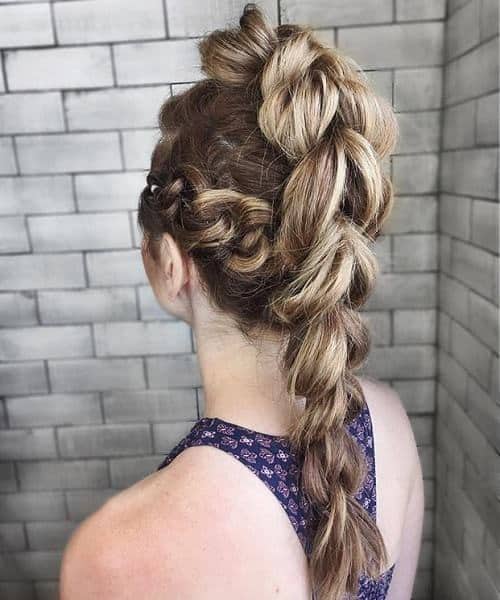 This chunky braid is made a little softer by pulling at the individual loops of hair to create a more loose plait. Pulling at the braids also encourages extra volume, especially around the top and sides of the head.
This would be easier to achieve if you have thick hair which is slightly on the longer side.
5. Viking Vixen Braids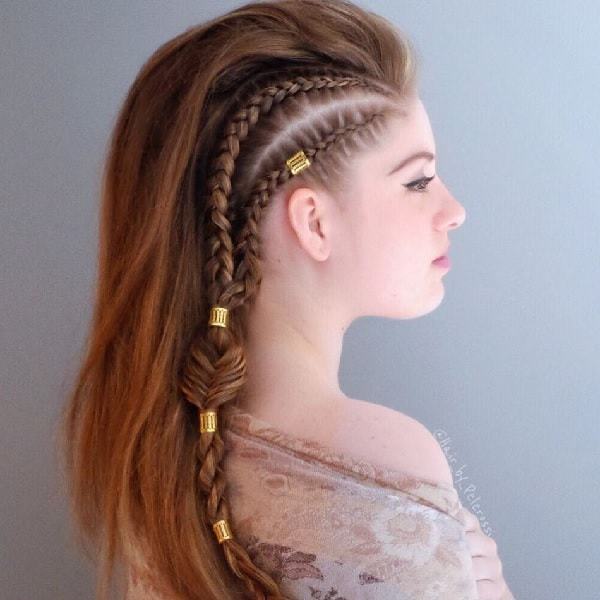 Warrior braids don't always involve a fully plaited or tied back style. If you like the look of braids but also favor having loose hair, then something like this would be stunning.
The two microbraids that come from the temple region blend into one at the shoulder and cleverly the plait turns into a fishtail braid. This is highlighted further by the use of incremental hair beads. The fierce flame red hair is a ravishing touch too!
6. War Zone Warrior Braids
This is a more edgy look and perfect for women with shorter hair who wants to enjoy the look of a warrior braid. The stark, tight and very structured braids at the side of the head, creates a type of faux hawk which is very fierce and strong.
7. Angelic Rebel Braid
Half updos are always a glamorous and stylish look. This stunning example starts with a voluminous French braid at the top of the head, leading into a soft and feminine tousle of natural curls. Again, the braid is pulled so that the loops remain relaxed and more casual.
8. Wistful Warrior Braid
This look is almost like a cross between a mermaid and a warrior. Such a dramatic look can only be achieved by a thick and very long hair, plus a bold and dynamic color choice.
9. Fierce Fish Warrior Braid
This swooping side fishtail braid is very intricate but possible to achieve with a little practice. By styling the plait to the side of the head, it is a great way to draw attention to the side-parted crown but also a softer way to wear such a powerful and elaborate hairstyle.
10. Double Braided Damsel
This is quite a simple style to achieve and also great if you prefer to have your hair fully tied back. The center parting and double braids are very girlish, but the two-strand braid makes it unique and a little edgier.
11. Teasing Textured Tresses
A great warrior braid for those women who don't have very long hair or prefer a full-on updo. This is a four-stranded braid, mixed with a fishtail braid and pinned up off the neck. By pulling and teasing the hair you can create a very beautiful and highly textured look.
12. Cross to Bear Braid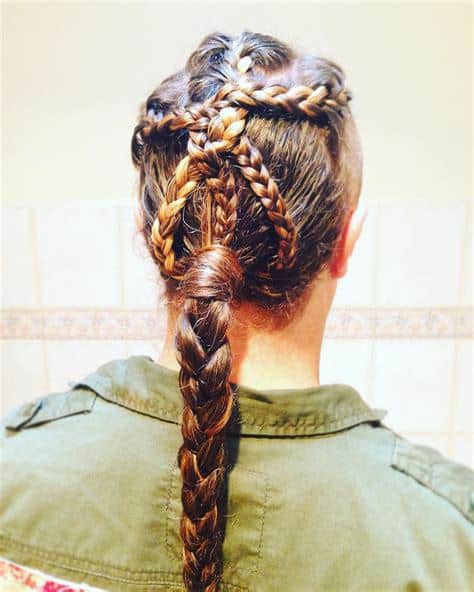 Probably not something that you would want to attempt to do yourself but too elaborate not to admire. Broken down this is simple braiding but done in a clever way. By sectioning off the full head and gathering the braids, the cross-crown effect can be achieved. This is not a style for the faint of heart!