The Dutch braid is one of the most glamorous hairstyles which has retained their significance since ages. No matter from whichever culture you belong to, how entangled your hair is, the 2 dutch braid or double dutch braid is going to play an important role in garnishing your overall personality.
We'll list the 31 best double Dutch braid hairstyles which are going to be the trendsetter hairstyles in 2023.
Double Dutch Braids
Here are the top 31 double Dutch braids we handpicked for you. Hopefully, you'll enjoy these styles and get your idea.
Many people wonder what is it that actually makes the braids look different and unique from all other hairstyles. The answer is pretty simple as it is merely the touch of a hand which makes the hairstyle look very much appealing and neat. When it is the 2 Dutch braid or the double Dutch braid we are talking about, it looks like two strands of hair being fused into each other.
Thin hair is an indication of adopting those hairstyles which don't require that much stress on the hair. Many think of the double Dutch braid as a hairstyle that pulls the hair off their roots. It is totally a myth. Having a little volume of hair and having it weaved properly by converting the thin hair into a crown, is a hairdo everyone would crave for once they see you wearing this style.
A formal occasion or congregation is too much demanding when it comes to the limitations of outfits and hairdos. The most critical demand for such an event or an occasion is to look professional and decent. The formal double Dutch braids o is such a hairstyle which bring elegance without turning your hair to look too stuffy. You can pair it up with a ballerina bun and a little crown wrapped around the head.
To mold thick long hair into an amazingly looking double Dutch Braid updo is a fascinating experience. You can turn your thick and dense hair into an inspiring looking spiraled hairstyle which is another amazing flavor of double Dutch braid. Check out these gorgeous braided updo styles.
5. Multi-Textured Braid
This amazing braid hairstyle comes in an array of several alternatives. Girls mostly opt for larger versions because they want to flaunt their most delicate details which they have managed to maintain throughout the course of their lifetime.
When you have tried each and every style of the braid over your head, the next thing you should do is to make every braid style on top of your head and alter the loose ends with a knotted bun and fringe bangs. Make an overall style and amaze everyone around you.
7. Dutch Fishtail Braids
This hairstyle is one of the sexiest and most appealing 2 Dutch Braid styles. Ladies, now you can balance the messed up hair with a beautiful looking double Dutch Braid at the top of your head. This appearance will, of course, look edgy and trendy.
Going out to attend a wedding or is it your special night at prom? Well, for either occasion, the messy and sophisticated hairdo tops the list on many fronts. It is also the best hairstyle for those who have no idea how to pin-up Dutch braid properly.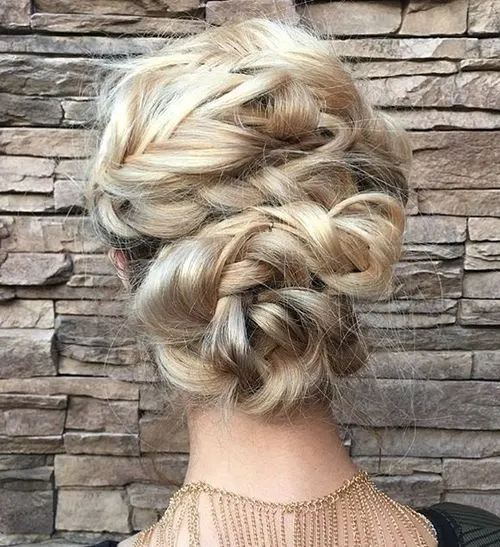 How would it feel if we tell you to throw away the headband while you can make a natural hairstyle which clings to your head in a fascinating way? Of course, you will throw the whole tray of headbands away. A large 2 Dutch braid will contribute to adding more texture to your looks.
10. Lovely Braid Loops
For some classy women, just a double braid isn't enough. If you have blonde or brown hair, the magic your hair is going to flaunt after adopting the lovely braid loop structure is only known to the on-lookers. This hairstyle is also known as the flower braid.
Want to give your hair more intricate and amazing look? We have got you covered because if you know about the traditional 2 Dutch Braid style and how to style it, definitely you have become an expert at weaving hair. Give your hair a ribbon like the style and fascinate the onlookers with your authenticity and versatility.
The Double Dutch braids come in several sizes and in styles. There is no limit to the variations. The double Mohawk style is one of its kinds in the 2 dutch braid and it utilizes the lengths of the hair to orchestrate kinky intertwined whirls of loops.
13. Gone Fishing
Similar to French braids, this hairdo resembles many braids from other cultures. Girls mostly try to go for fishtail braid which jazzes up high and flaunt their skinny necks. They can also be decorated by molding them into the loose wave-like structure.
14. Grey Goddess
Yes, the most sought after double Dutch braid style, the one from Fifty Shades of Grey. If you are a woman having long and silver strands, combine all the braids style and make it like one hairstyle which not only looks modern but also gives an enchanting look.
15. Jumbo Side Braid
Mix up your talent of weaving hairstyles and give it a look of a double Dutch braid by laying the hair off the hooks and leaving them off from the ends. The enlarged hair bushes look amazing and cool simultaneously.
Hey young ladies, stop worrying about which style to choose for a party. This stylish Dutch French braid hairstyle is the one for you which will not only look daunting but also it will add to your casual demeanor.
17. The Turquoise Tail
The 2 Dutch Braid possesses the reputation of romantic. But if you want to make them look edgy and flaunting, you can add an intricate fishtail with a cute little surprise of hair curls at the bottom. It will give you a firm and hot look.
A simple single-stranded Dutch Mohawk braids with shaved sides looks pretty cool, but you can add more valor to your hairstyle by making another one alongside. For more formal congregations, leave the ends a bit loose and curl them up.
19. Schoolgirl or Bride
The cute looking low ponytail which you used to wear back in school days, now you can mold that into a sexy looking chic hairstyle which will not only increase the kinkiness factor but also you will be able to catch the crush's eyes.
The 2 dutch braid variations are not only just stylish but also compel your creativity to come outside and show its charms. This serpent looking hairdo gives your hair a swirling look with a flat bun which adds more hotness to your back and neck.
Braids are a hairstyle that often goes underrated. Although, with a little bit of innovation mixed with effort in can result in a beautifully well-made hairdo. These double Dutch braids are a great example of the same.
You can choose this hairstyle if you have long, thick hair which is difficult to style in varied ways. This hairstyle is simple yet elegant and looks mesmerizing, all the attributes you would expect from a hairdo.
22. Red Braids
If you are looking for hairdo inspirations with braids wherein you could incorporate more visibility of your colored hair, these two Dutch braids are a perfect choice for you!
The braids are thin and tight, which flawlessly allow the colored hair to be infused with your original color, making everything stand out much more. This hairstyle is neat and tidy, edgy and benevolent, making it perfect for any occasion.
23. Grey Pigtails
If you are the kind of girl who doesn't prefer braiding her hair to its tips, this braid/pony is a great alternative you can incorporate. The braids towards the crown area and light while the hair in the pony area is wavy; this contrast pulls together the entire look.
24. Thick Double Braids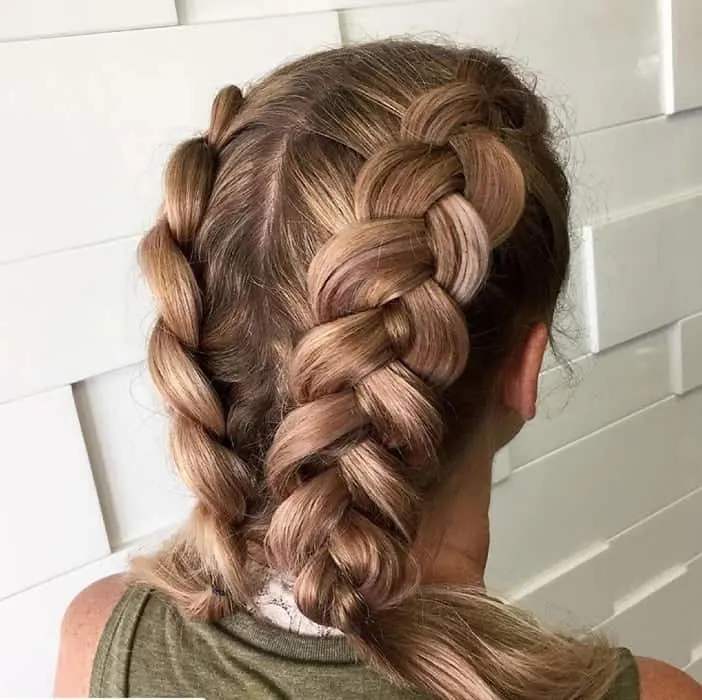 2 Dutch braids are a great way to have your hair tied in a un haggard manner within a short time frame. If you are on the go and insist on having your look immaculate you can succumb to this orderly yet stylish hairstyle.
Updo is a great look in general. They are usually worn on occasions that are included in the 'formal celebrations' category, in essence, weddings, and proms. This hairstyle is a pristine way of having your hair up and unimpaired.
It includes thin braids, braided intricately to come together in a bun at the back of the head. It's a hairstyle that fun, innocent and virtuous to spectate.
26. Crisscross Braids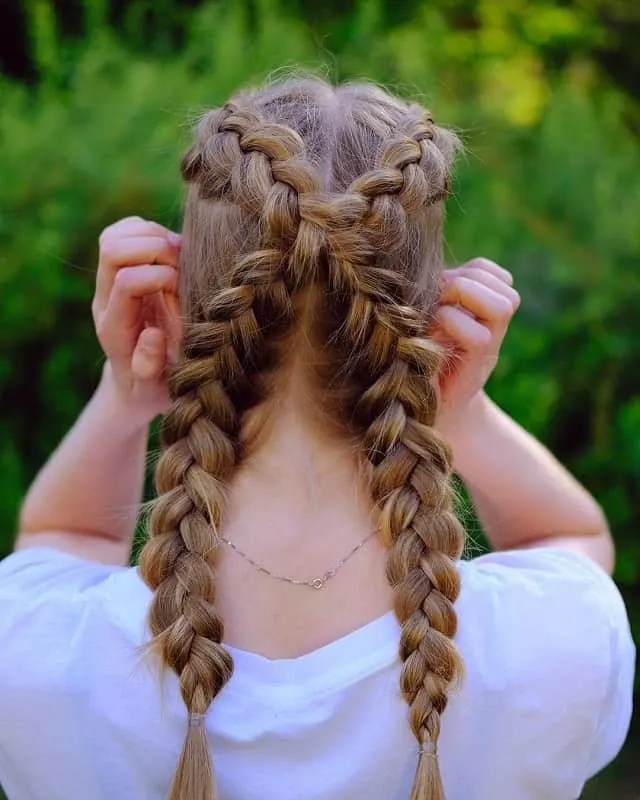 If you have been overdoing the two straight Dutch pigtail braids, here's a twist for you quite literally. This vibrant hairstyle has both of its braid interlocked in the middle instead of having it fall straight down. The singular distinct element allows you to have a hairdo that looks completely different than the usual braids.
27. Classic Dutch Braid
These classic double Dutch braidings have been significantly gaining popularity in the fashion world. This hairdo is usually paired with an athletic outfit, which has an entire vibe on its own as a current trend everyone is opting for. If you enjoy this style, it's a great excuse to try these braids out.
28. Glam and Glitter with Dutch braids
If you are in search of inspiration for a music festival or concert, we have your back. These 2 Dutch braids with glitter in the middle are a great hairdo option for occasions as mentioned before. The reason behind this is because this hairstyle is assonating to look at, easy to do, and functional in general.
29. Glitter Highlights
If you intend to turn it up a notch and go one step further than a glitter part, try this glitter highlights idea for your next music festival or concert.
30. Sky Blue Dutch Braids
These sky blue double Dutch braids style is a great way to have your hair out and away from your face yet at the same time have your hair color aesthetically show.
31. Thick Braids
A graceful way to spice your hairstyle up a bit is two include two different kinds of braids and create a fusion of both. In this hairstyle, the two braids begin as Dutch braids yet ends as a fishtail braid and yet, all in all, looks like a divine hairstyle to opt for.
In a nutshell, the double dutch braids are versatile and its variations have added a lot more in the wearers' charm and beauty. Adopt any of these hairstyles, and you will be the damsel of the night.