Two braids are one of the cutest hairstyles you can get. Watch a Disney movie and the favorite Disney princess is rocking the look. Somewhere along the way, having two braids got a reputation for being a child's hairstyle, but as you'll see from the hairstyles below, women of all ages should be wearing them more often.
Super-Cute Two Braids Hairstyles
1. Countryside Girl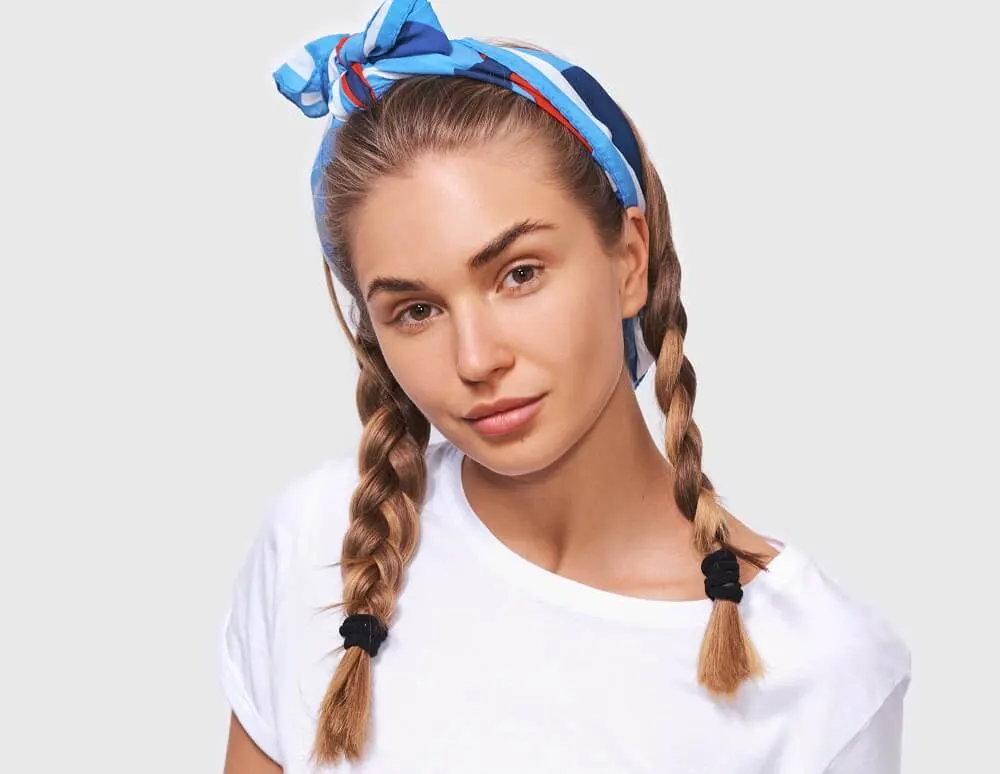 A simple countryside girl look will keep you going the whole day with ease. Style the mid-length hair into two braids starting at the back of the ears. Add a headband with a cute bow to keep hair out of the face.
2. Middle Parted Bangs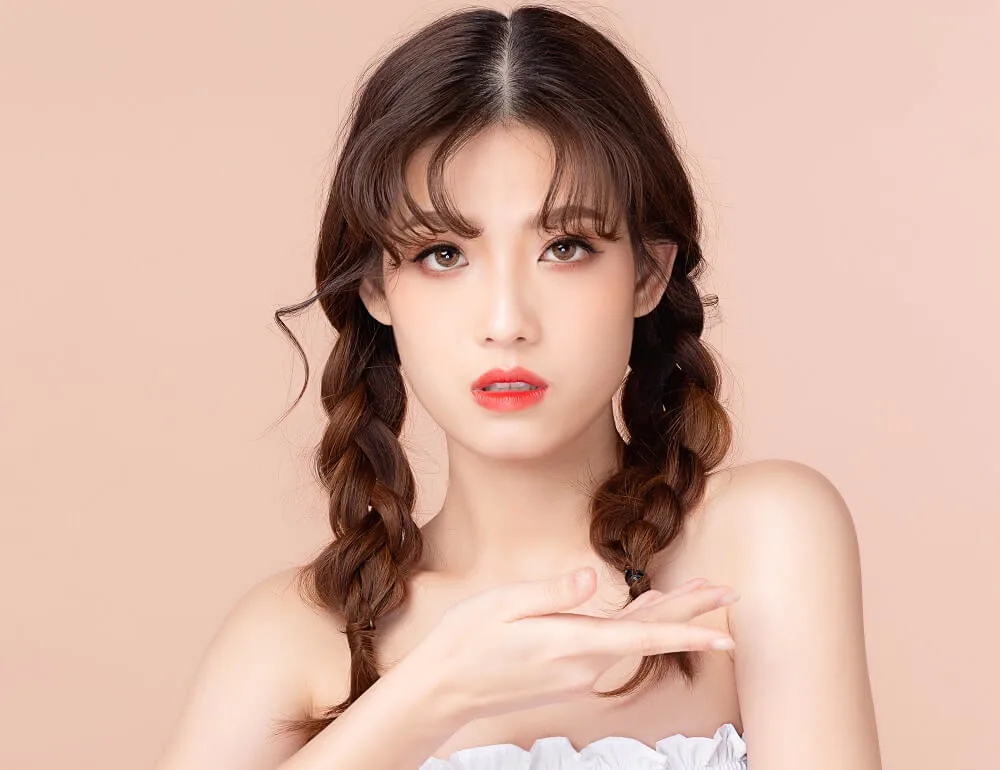 Bangs look cute with any hairstyle. Brush down the hair and braid it into two loose braids to create this style. Curl the middle-parted bangs inward to touch the eyes. Two long curly strands on the sides top off the look.
3. Two Loose Braids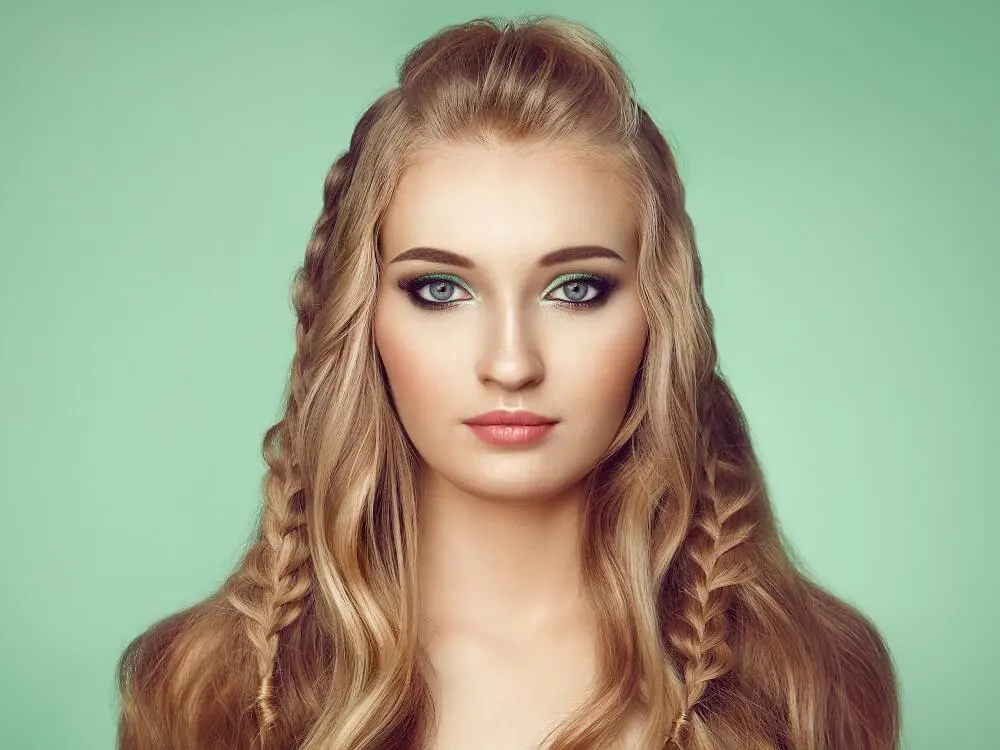 Have a look at this pretty double braided hairstyle with a modern touch to it that you will surely get obsessed over. There is no need to braid all the hair instead, create a puff at the front with two thick strands taken from near the crown and braid them down.
4. Pigtail Style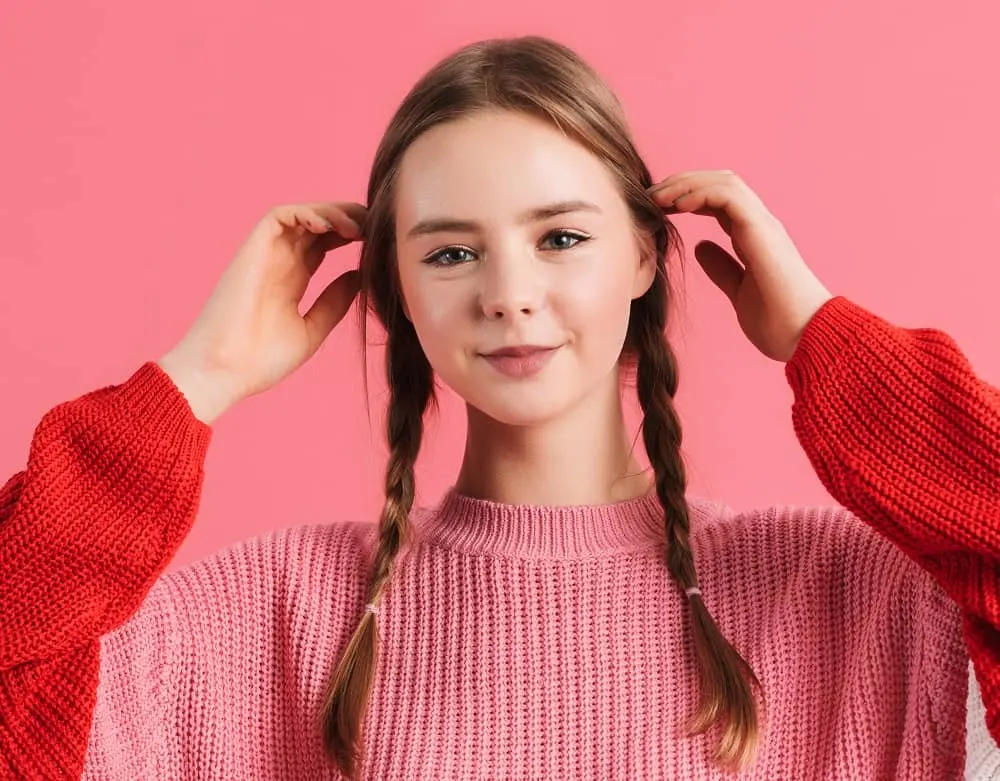 Pigtail braids are timeless and almost every girl has flaunted them in her childhood. Style the straight hair into two middle-parted loose braids. The flyaway strands enhance the appeal of this style. This simple look is suitable for fine-haired ladies.
5. Big and Bubbly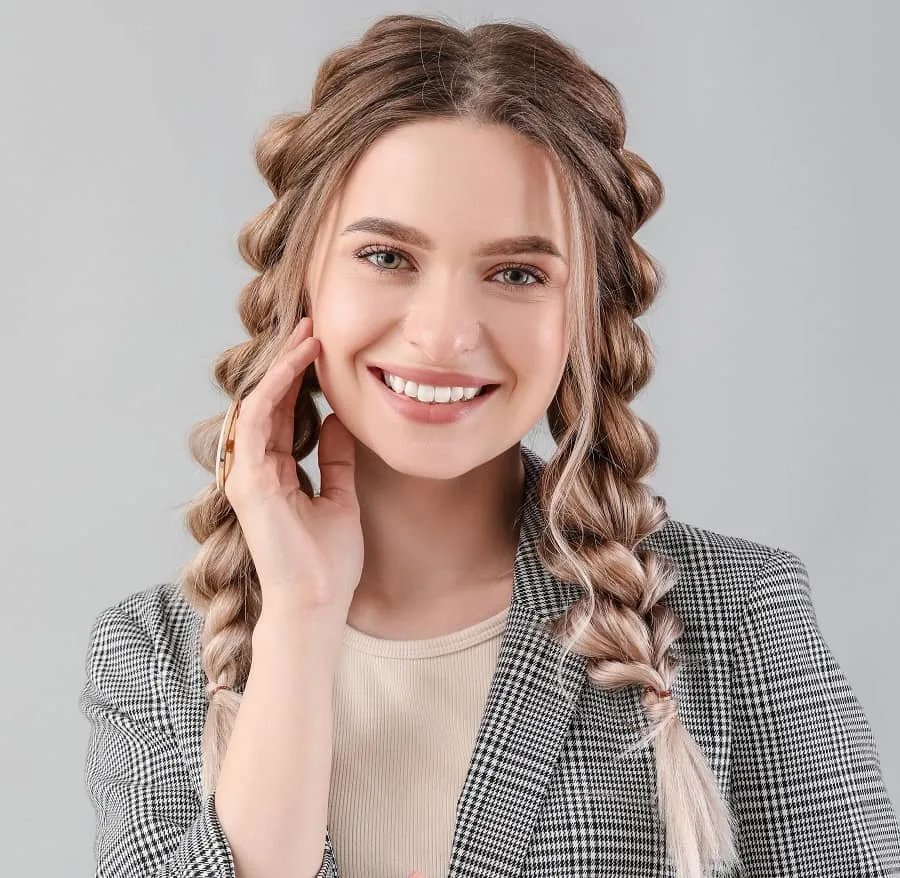 This fun braided hairstyle is to die for. The braiding starts near the crown with a zigzag middle part. The crimped strands within the braids are pulled loose for a voluminous bubbly look. Two loosely curled front strands accentuate this cute look.
6. Braids with Buns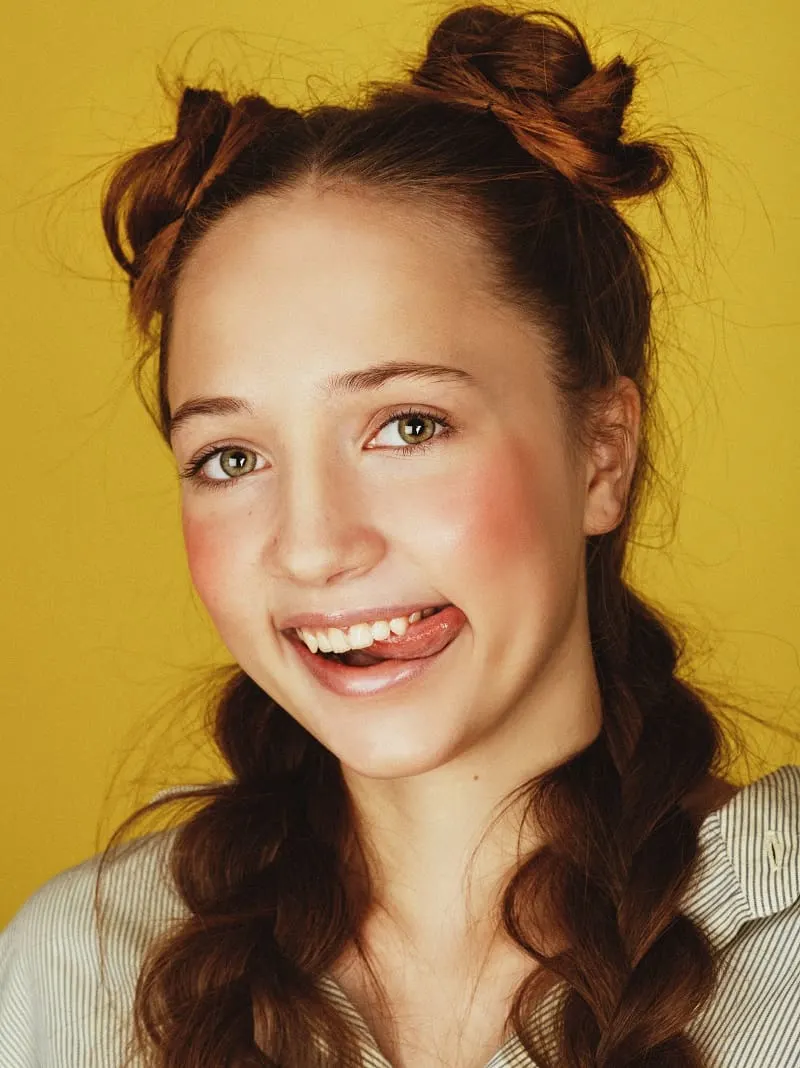 Carry a two-braided style with a twist. Divide the hair into four sections and braid them to the ends. The top strands on both sides are then wrapped around into lovely buns with a middle parting. This unusual look will surely keep all the eyes on you.
7. Double Dutch Braids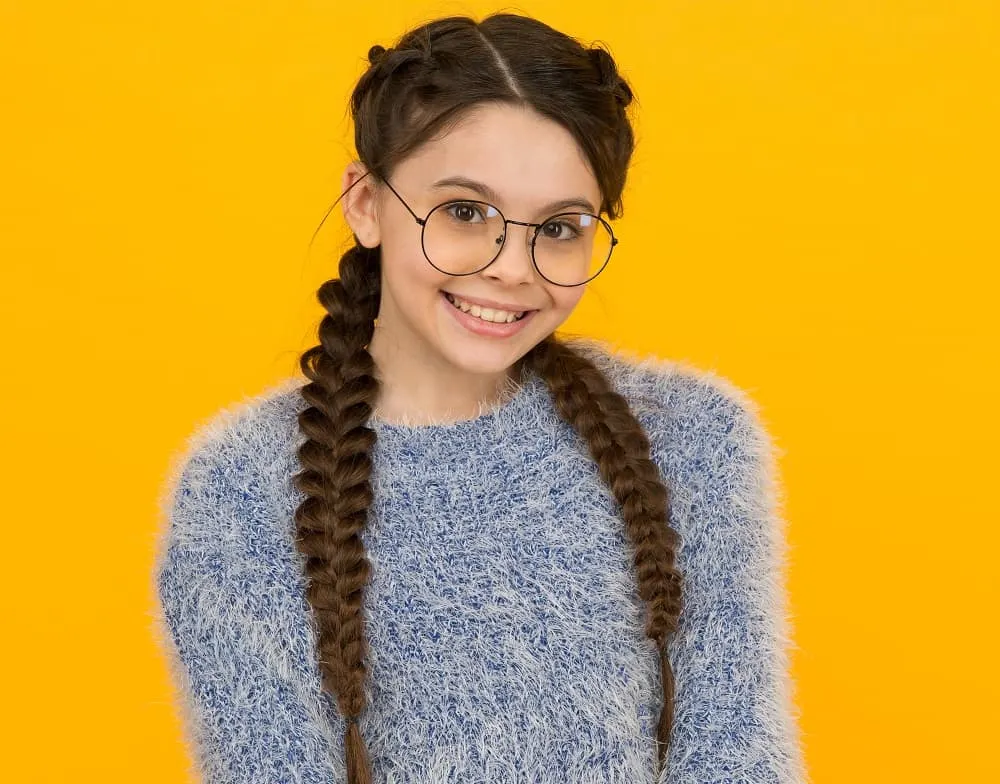 Dutch braids are an elegant feminine hairstyle that can be rocked on any occasion. The braiding starts at the front and moves down the head in a C-shape. The ends are secured in rubber bands with a few fine strands loose at the front.
8. Keep It Messy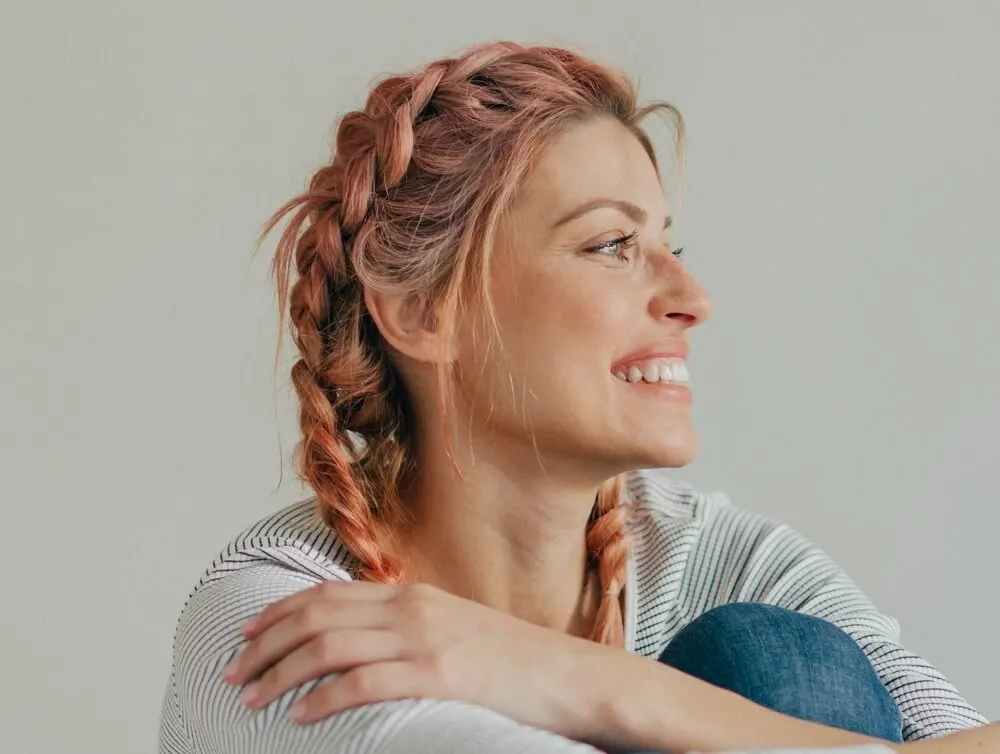 Braids don't need to be tidy all the time. Show off your pastel-colored hair with style by starting the braiding at the very top till the hair ends. Loosen up the hair and pull out some strands for a messy and carefree appeal.
9. Two in One Style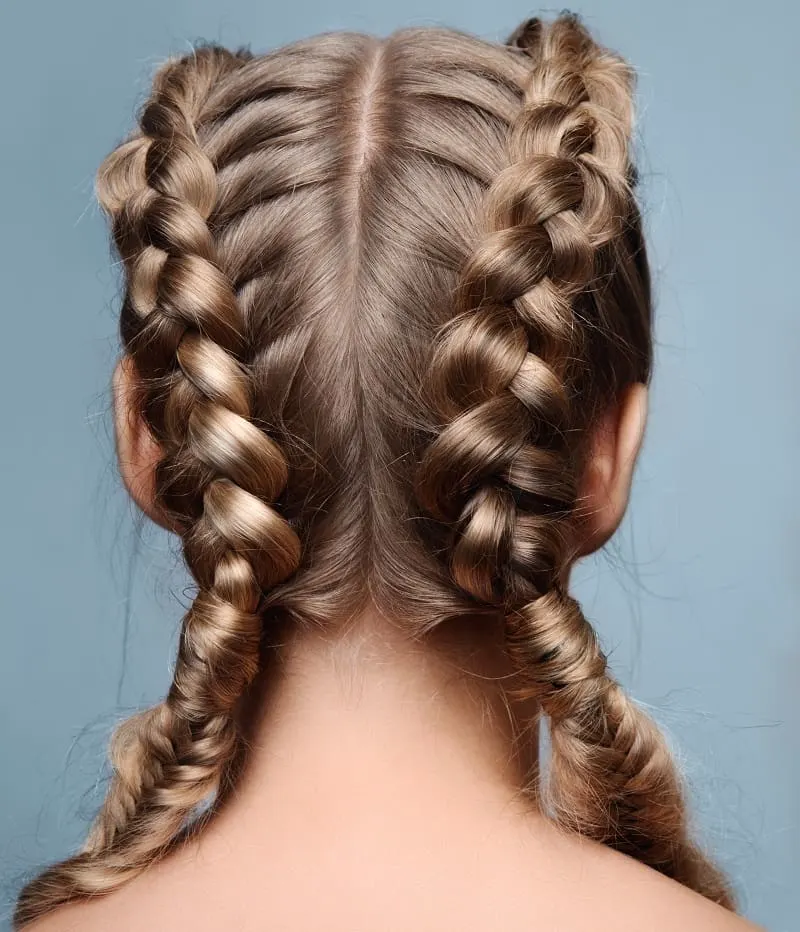 A two-in-one hair look like this will get you obsessed over two-braid hairstyles instantly. The Dutch braids start at the front like cornrows and reaching the nape of the neck they are secured in place. The remaining hair length is weaved into two fishtail braids.
10. Fine Hair Braids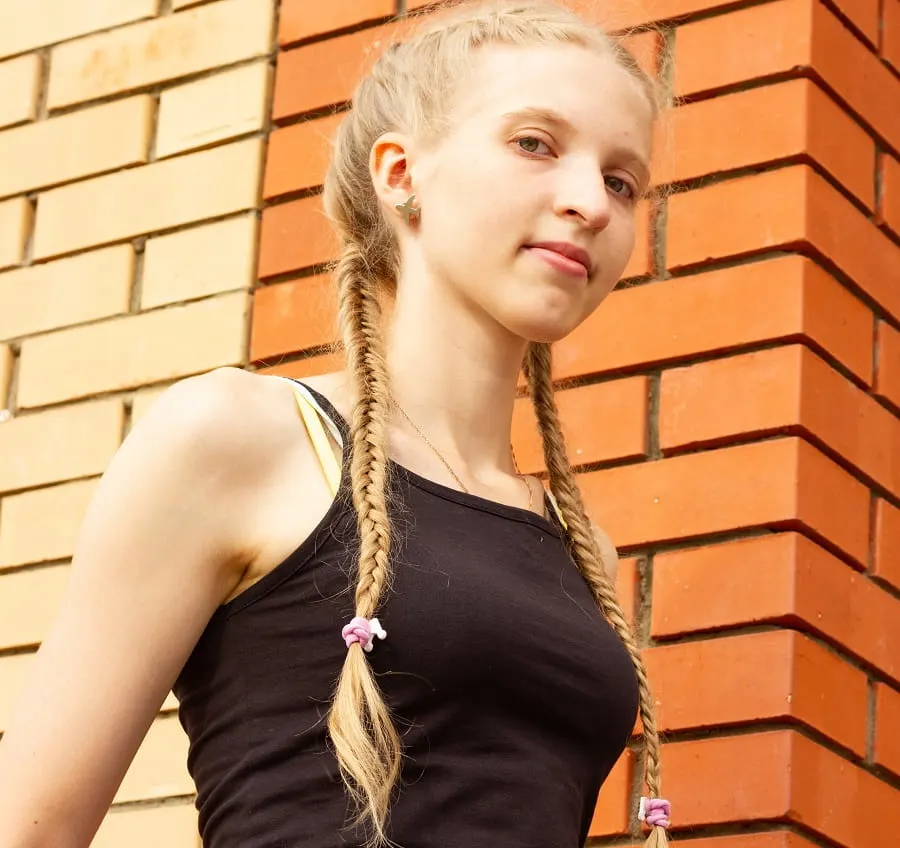 To the blonde girls with fine hair, take inspiration from this simple hairstyle and braid down your strands with confidence. The long hair is twined in a mixed style of Dutch and French braids for a chic look that keeps the hair in place day long.
11. Two Feed-in Braids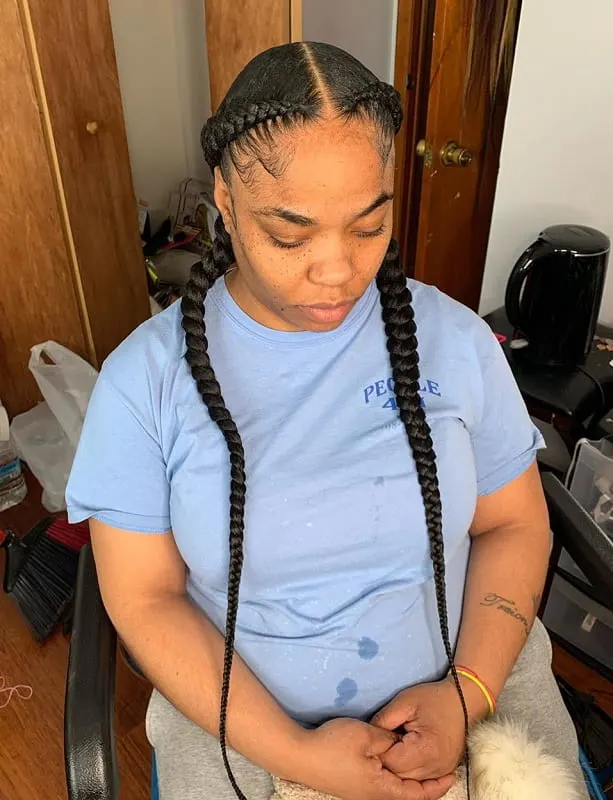 Is your hair on the thin side? Feed-in braids will give you thick beautiful hair. They're basically thick pieces of hair you "feed-in" as you braid down for a luscious full look.
12. Two French Braids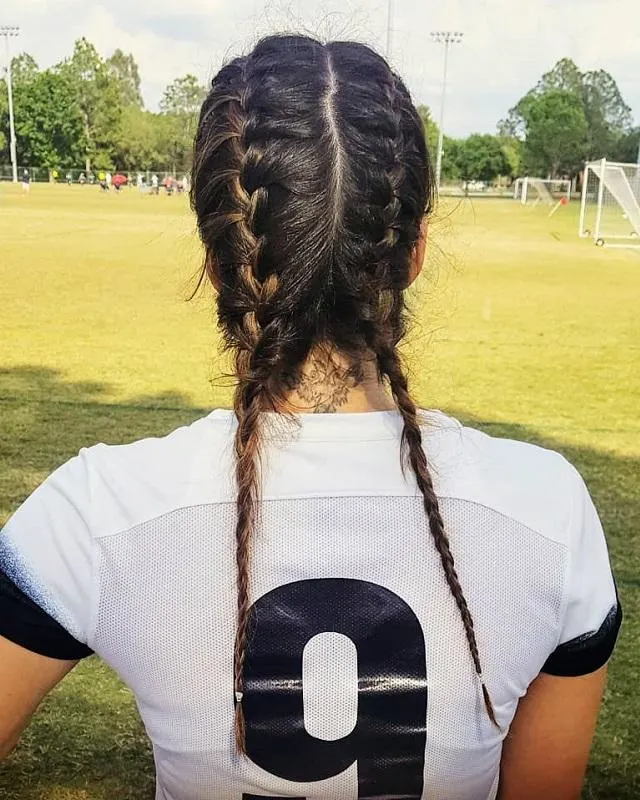 French braids are a gorgeous choice no matter who you are. For a romantic look or to keep hair out of the way while at the gym but still look great, these braids will never let you down.
13. Two Braids with Weave
Another way to get a thick braided hairstyle is with a weave. They'll plump up your braids and make you feel like the Rapunzel you are.
14. Two Cornrow Braids
Two cornrow braids are unlimited when it comes to how you can style them. The above style pops with white color and a mixture of contrasting super thin and thick braids.
15. Two Dutch Braids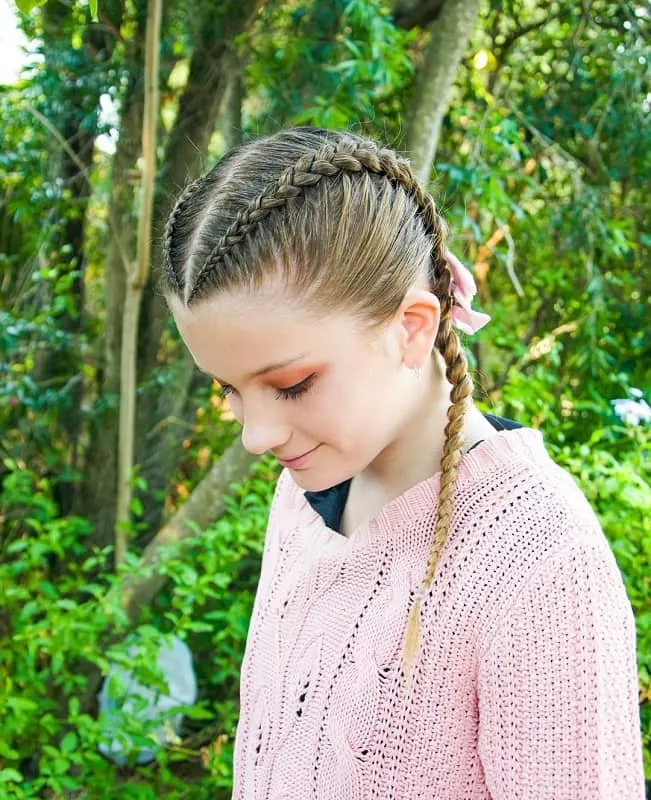 Whether you wear your Dutch braids smoothed down and perfected for a formal event style or slightly looser and messier for a relaxed weekend look, you're bound to look great.
16. Two Side Braids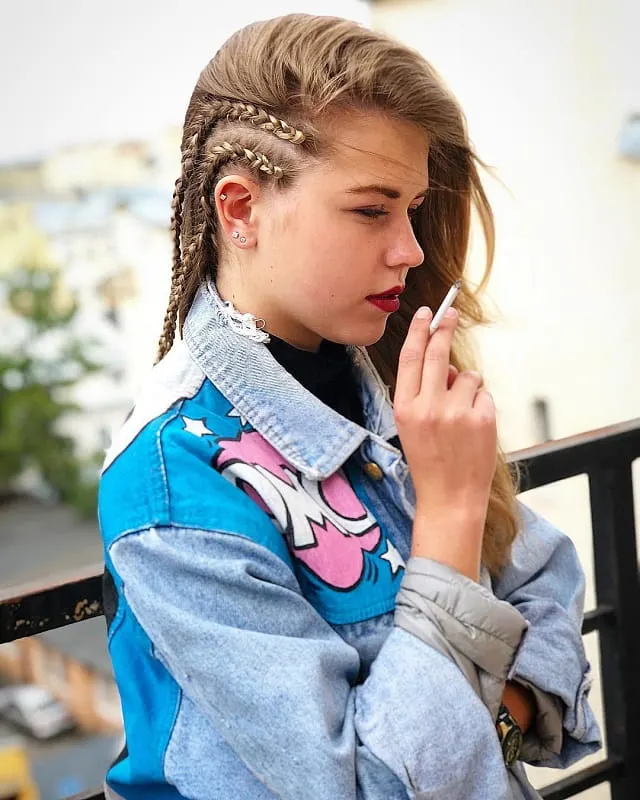 Braids aren't only for romantic vibes. You can sport them on your favorite edgy look by wearing them at the side and throwing them in gold or metallic silver color.
17. Two Braided Bun
Two buns are a major 90s throwback but bring them into the 21st century by updating them with two braids. Clip-in your favorite barrettes for a cute accessory.
18. Two Braids with Curly Ends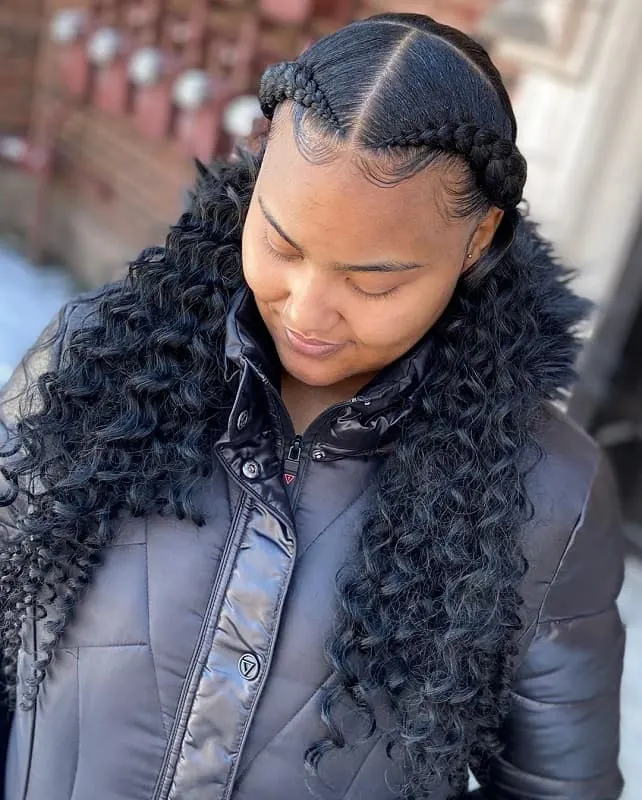 Having braids doesn't mean your entire hairstyle has to be encased in them. Braid in two near the edges of your face and then let the rest of your hair flow loose for a gorgeous romantic style.
19. Two Braided Ponytail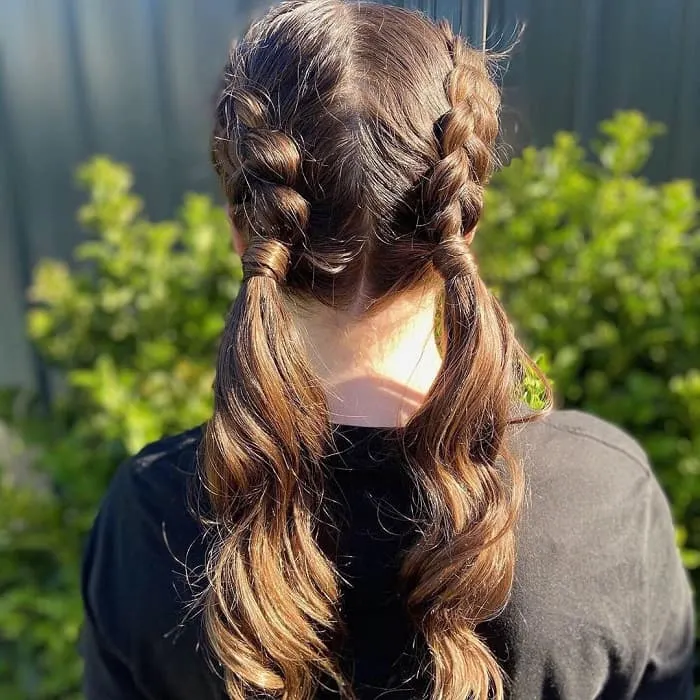 If you head to the gym almost every day, two half-braided ponytails are an easy option to keep your hair out of your face while still looking great.
20. Two Fishtail Braids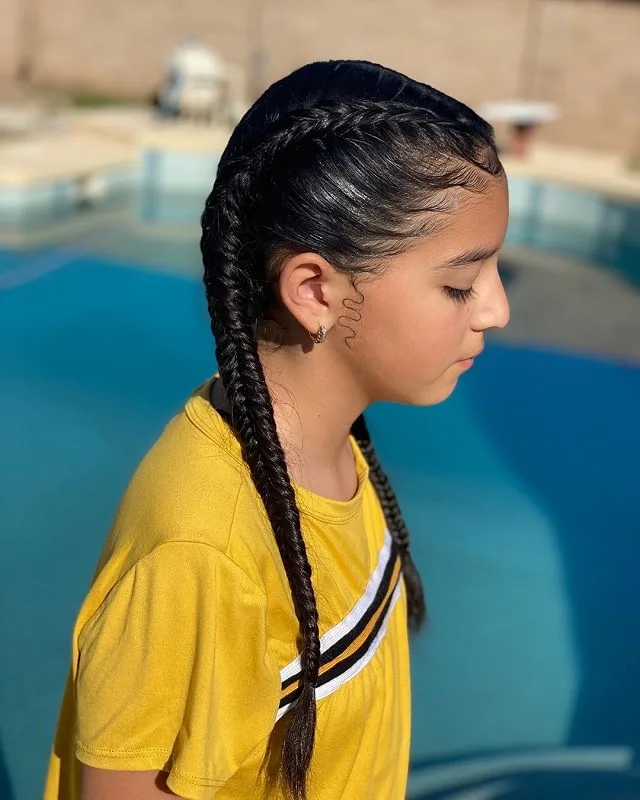 Fishtail braids are a little more upscale in the amount of time they take to put together, but the finished result is amazing. Smooth everything down with some product for a stunning head-turner.
21. Two Long Braids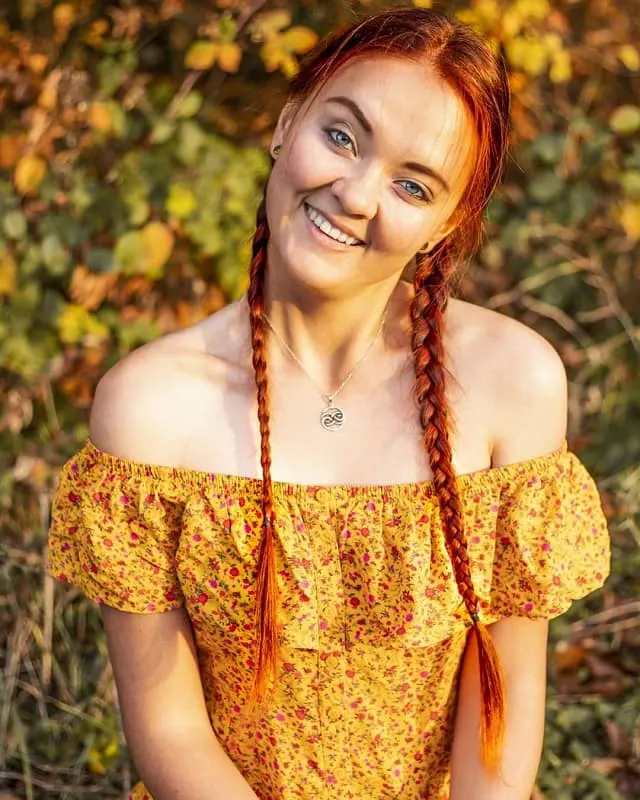 Why throw your hair up in its same old ponytail when two long braids would look even better? Leave a few tendrils loose at the face for framing and you're done.
22. Two Short Braids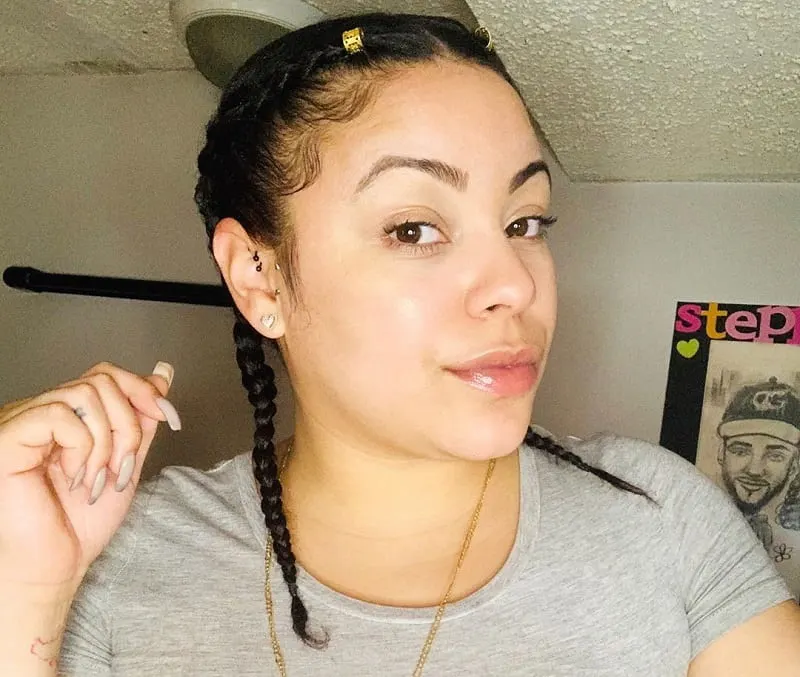 You don't have to have long hair to rock a braided hairstyle. Shoulder-length hair proves the look is just as cute and, with gold embellishments, sets your look apart from others.
23. Two Braids for Black Girl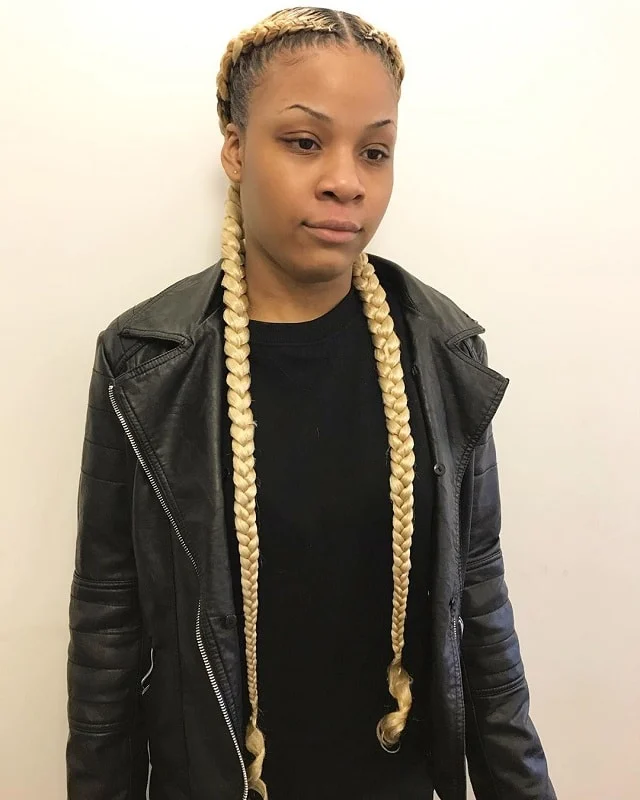 Two long platinum braids show everyone your style is anything but ordinary. Not into platinum? Whether it's purple or pink, have fun with color to personalize your braided look.
24. Two Big Braids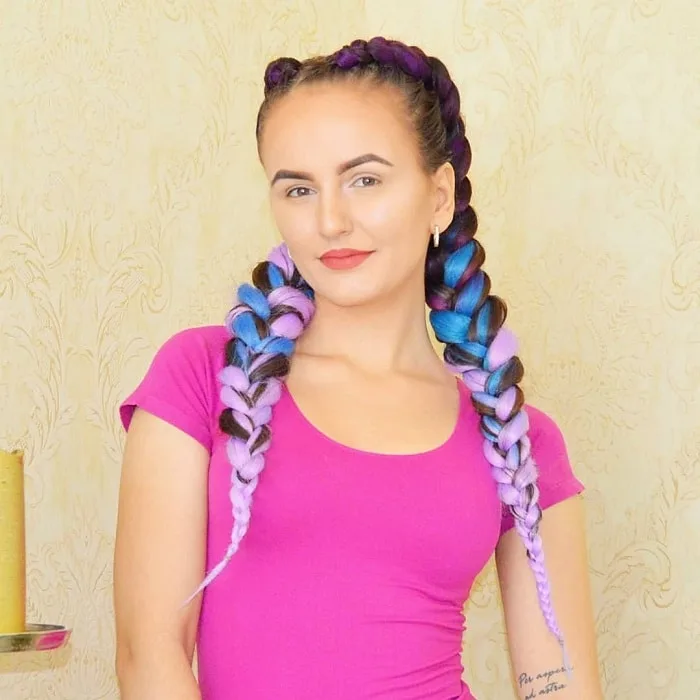 Thick braids that start at the forehead and follow through to the ends will truly make you feel like a queen. Blends of purple and blue are a beautiful rainbow of style.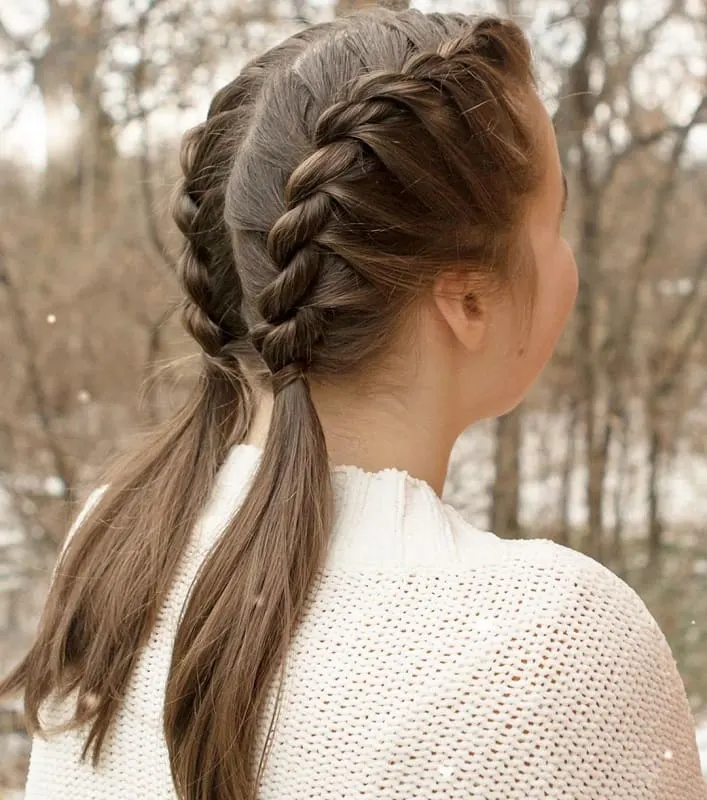 Twist braids are a simple style you can pick up in no time. The waves will help thin hair fluff up and if you're heading to a wedding, faux flowers will dress up the look even more.
26. Heavy Contrast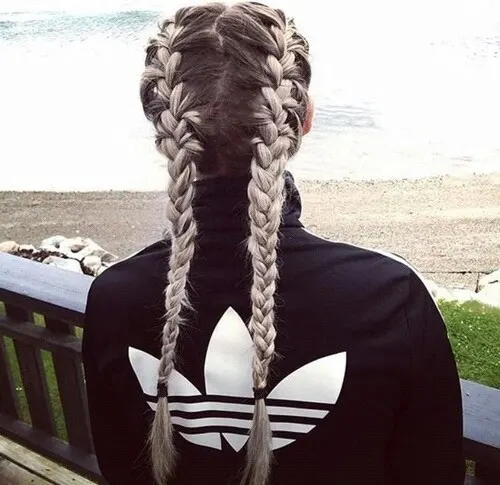 Big braids really stand out when there is a heavy contrast between the base color and the top color. Platinum blonde braids really stand out over a darker base color.
27. Loose Chunky Braids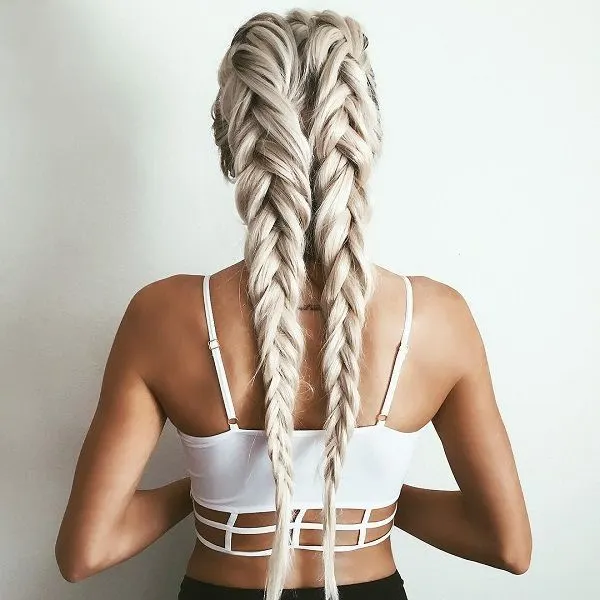 Thick braids look really cool when they are plaited quite loosely. Loose plaiting actually helps braids to look bigger and thicker, so they are a good choice for people with thin hair.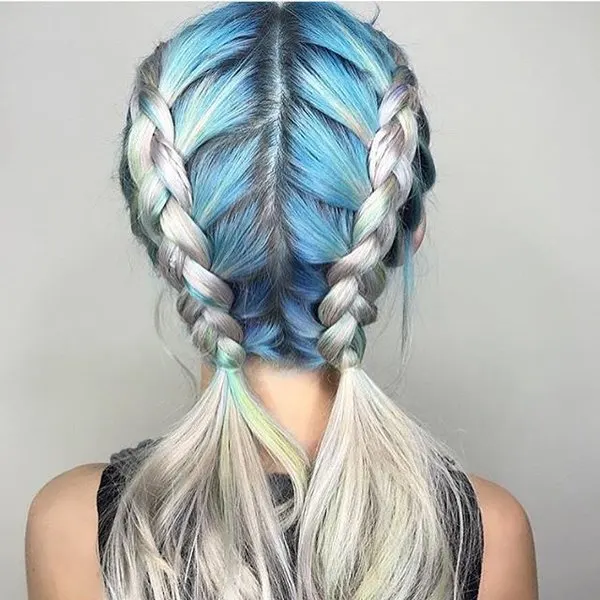 Blue or green hair dye can be used to create a real mermaid hairstyle. If you only plait the braids along your scalp, you can fantail out the rest of your hair.
29. Classic Chunky Braids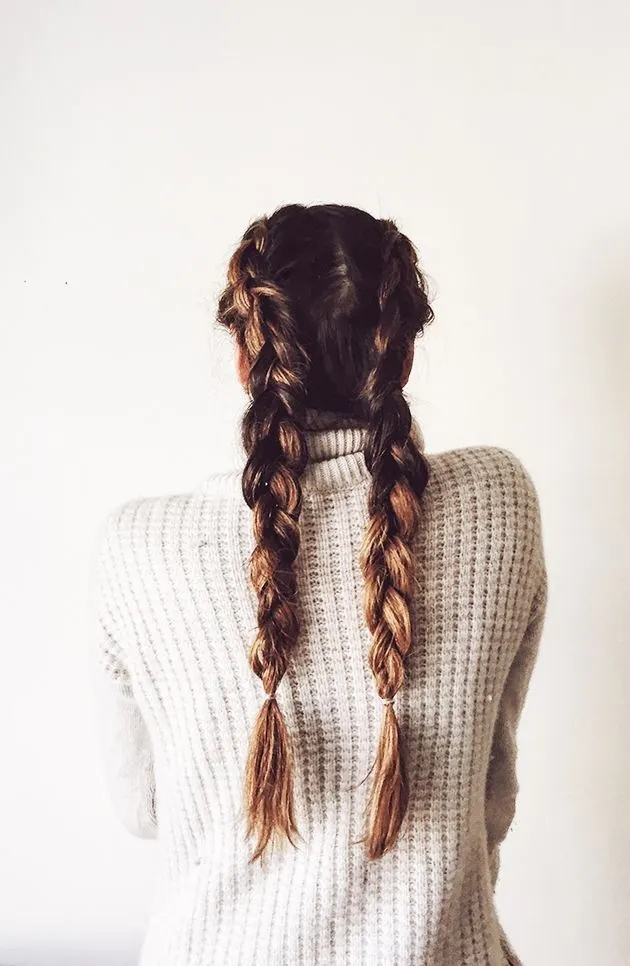 Chunky braids are a classic choice for women who want a playful updo. Chunky braids are quick to do and look great for a casual day out with your friends.
30. Tight Big Braids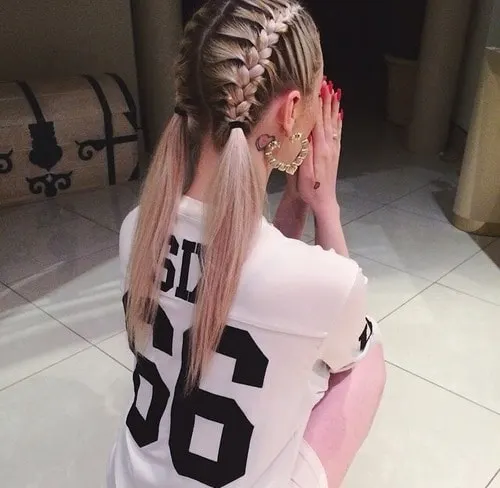 Tight big braids are a better alternative for women who never want hair out of place. Once your hair is braided, spray your hair with hairspray to stop the appearance of any flyaway ends.
For your two-braided hairstyle, it helps to pay attention to your face shape. If you don't want to draw attention to your round or long-shaped head, leave your braids loose and a little messy. Tight braids will only accentuate face shapes.