When your daughter turns 11 it's like a whole new world opens up. Those kiddie ponytails she rocked as a little girl don't fit her anymore.
An 11-year-old African American girl's interests and self-expression start to mature. So finding the right hairstyle is important.
At that age, black girls need a hairstyle that's on point but won't take forever to do. One that shows off your own funky style while still being realistic for school days.
We have listed the most popular hairstyles for 11-year-old black girls so that you can get some ideas.
Cute 11-Year-Old Black Girl Hairstyles
Try the following trendy hairstyles for black girls who are 11 years old, to make your little one feel beautiful and confident every single day!
1. Pinned-Back Natural Hair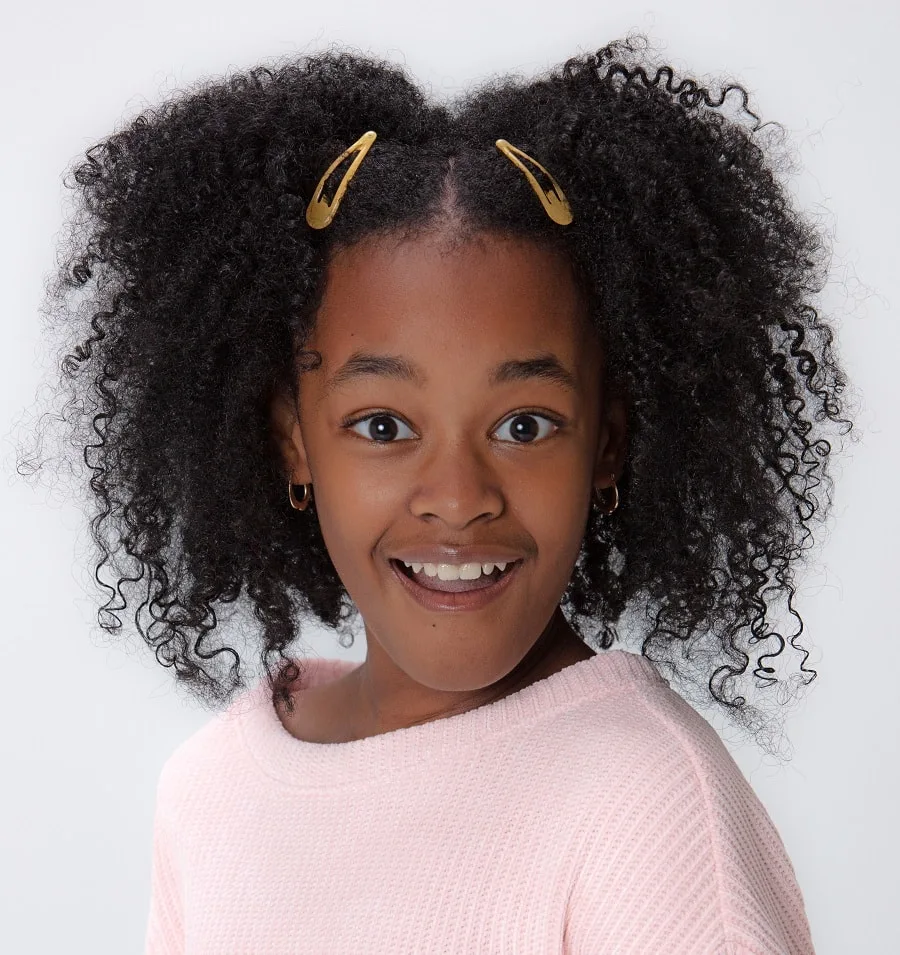 No matter what the hairstyle, young girls love to put on a handful of colorful snap clips to level up their looks.
Set those bouncy curls on full display keeping them away from the face and eyes with a pair of these snapping pins. Use as many as desired!
2. Embellished Ombre Box Braids
Box braids are very popular among black women. And yes, it is also suitable for 11-year-old black girls. It is a long hairstyle that is also traditional for the black community.
Incorporate purple or any other colored extensions to achieve an ombre effect going as long as you want. The super high ponytail with metallic hair cuffs is a must-try too!
3. Classic Pigtails
The list of best 11-year-old back girl hairstyles is incomplete without these timeless braided pigtails.
Whether getting through a busy morning or deciding on keeping that fluffy mane neatly tucked away all day long, a couple of elastic hair bands are all you need!
4. Slicked-Back Bob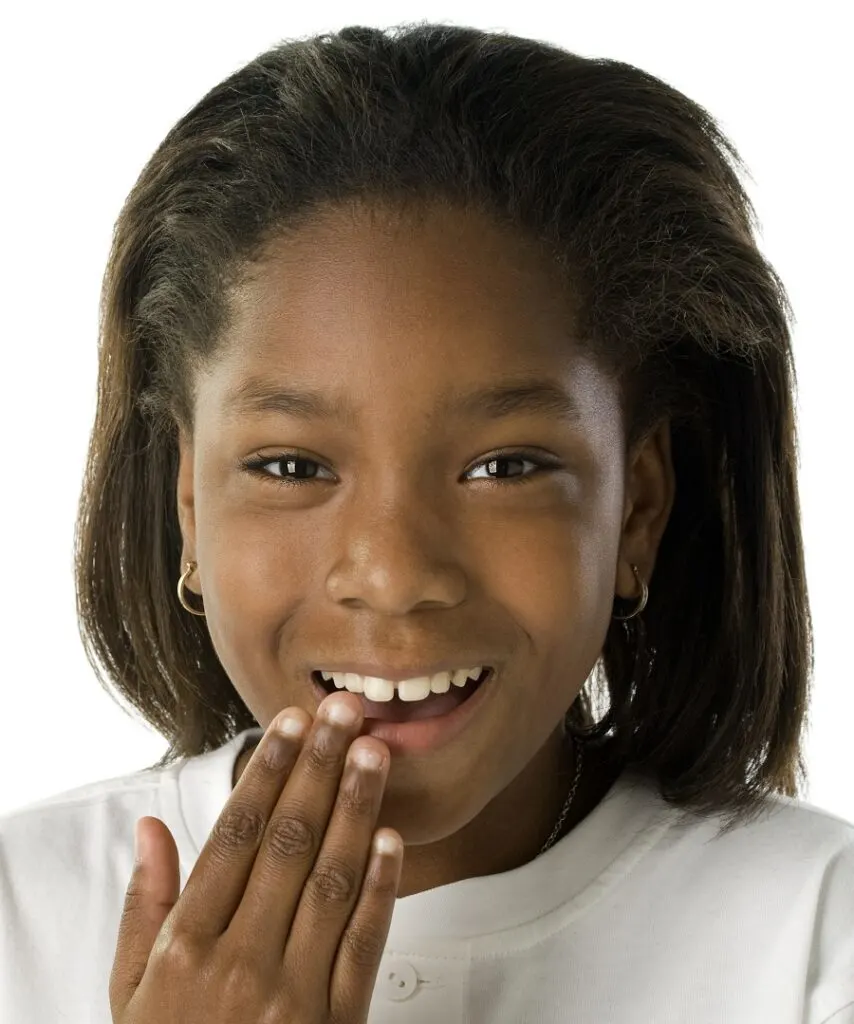 Straightening your little one's hair every now and then surely won't hurt as long as it's well-nourished.
Recreate this modern-meets-vintage bob hairstyle by slicking back all the strands away from the face and keeping them in place with an appropriate hair product.
5. Piled-Up Mess
Curly tresses look the best when kept a little messy just as depicted here.
Keep the face clear with a delicate hairband while piling up the rest of the hair high up at the back. Create tiny braids for added definition and leave the ends free to achieve that carefree vibe.
6. Top Knot Bun
Make sure your 11-year-old's bun is one of a kind by making it sit on the very top of her head.
Style a high ponytail and whirl it around to be secured with pins. You can also use a synthetic drawstring puff for added volume. Finish off with a spritz of hairspray.
7. Easy TWA Hairdo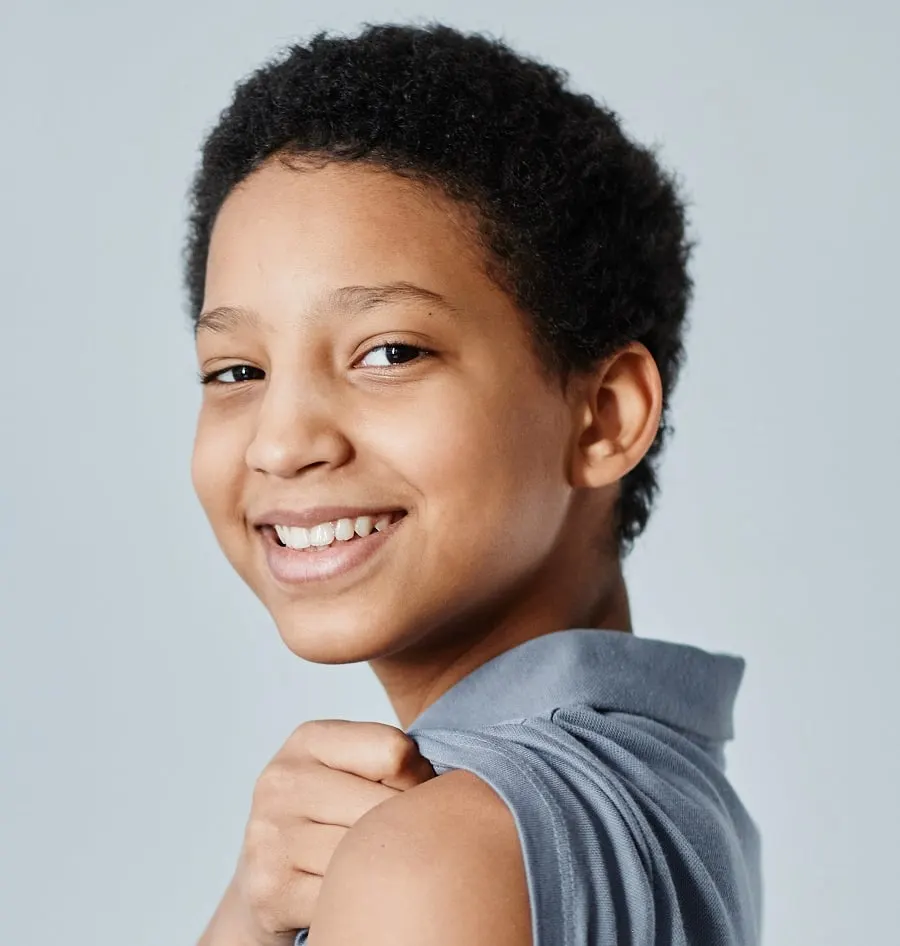 TWA (Teeny Weeny Afro) hairstyles are a must-try for all girls wishing to keep hair styling at the minimum while confidently rocking their natural mane.
Ask the hairstylist for a uni-length chop and leave the rest to those curls. You'll end up with a unique pixie-like hairdo that's sure to pop some eyes.
8. High Pony
Looking for a classy 11-year-old black girl hairstyle that'll never disappoint? Here's the super duper high ponytail!
Get through an oily hair day by slicking back all the hair high up on the head. Also, use mousse and a toothbrush to settle down the baby hairs for a neat and clean finish.
9. Big Bouncy Afro Hair
It's almost impossible to say no to these perfectly layered afro curls framing that cute little face.
The trick lies in snipping each individual coil just at the right length to stack over one another into a fluffy rounded cloud of hair. Bangs are optional.
10. Senegalese Twists
Senegalese twists are yet another protective hairstyle. They're loosely entwined strands that put minimal strain on the scalp hence a safe option for young ladies.
The box braids turning into twists midway are a unique way to make a style statement. Finish off with some hair beads and metal cuffs.
11. Funky Twist-Back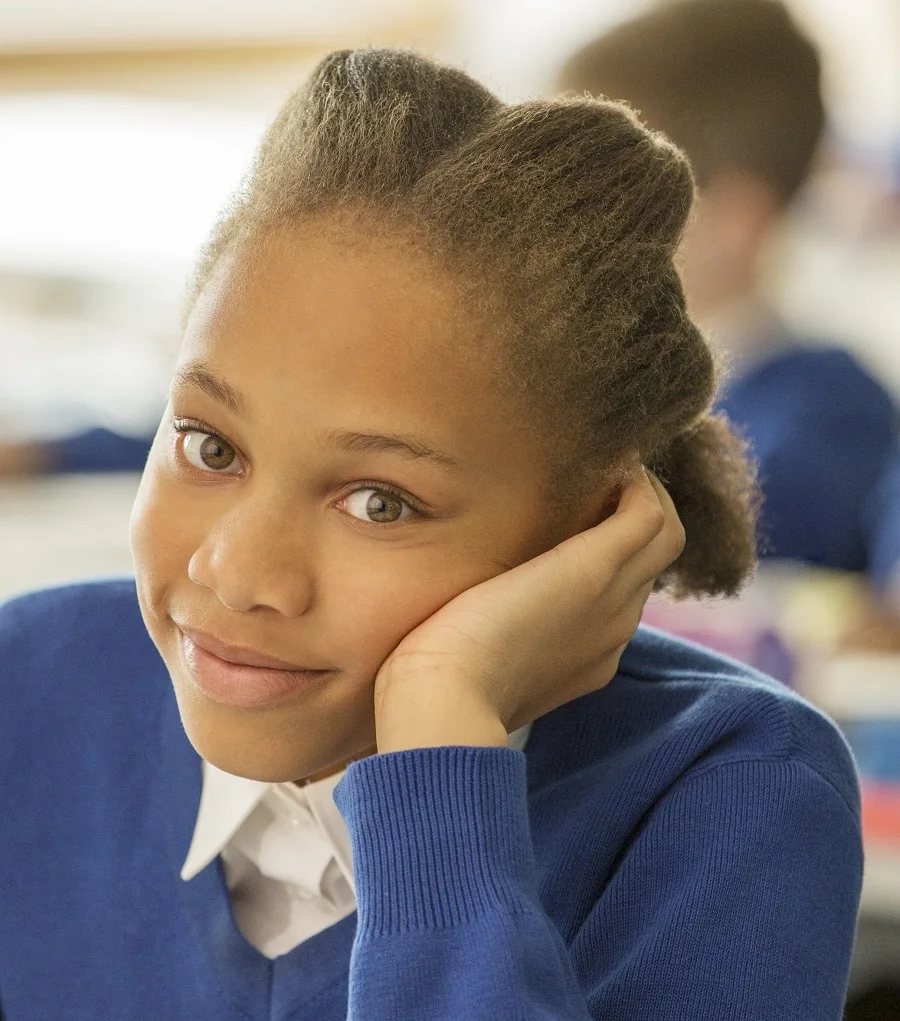 Make use of all that natural hair volume to create this funky twist-back hairstyle that's also appropriate for a normal day at school.
Carve out as many sections as you want and twirl them against the scalp with a basic ponytail at the back. Pigtails won't disappoint either.
12. Stacked Bobby Pins Hairstyle
Looking for something that's more fun but with less effort? Just get your hands on the most colorful bobby pins and stack them up at the front.
Get creative and make different patterns by inserting the pins at various angles rather than in the usual simple straight manner.
13. Long Luscious Curls
While playing around with different hairstyles keep in mind to keep that fluffy mane well-nourished using suitable hair care products.
Trim off the dead ends and allow your little one to show off her natural hair texture with confidence by keeping the tresses on the loose every once in a while.
14. Simple Side Braid
Side braids are easy to achieve and ideal for adding a little asymmetry to that innocent face.
Entwine those box braids into one chunky braid falling on one shoulder at the front. Add some vibrant-colored hair beads and get ready to see one big smile on your 11-year-old's face.
15. Quirky Afro Puffs
Afro puffs make one of the best hairstyles for 11-year-old black girls; they're cute, quirky, and perfect for avoiding a bath when getting late for school.
Carve out a straight, or rather zigzag, middle parting with high ponytails on both sides of the head that'll fluff up into the most unique space buns!
16. Pretty-In-Pink Cornrows
Make your younger one proud of her heritage by opting for cornrows that can last up to weeks when looked after properly.
Add a personal touch by incorporating extensions in whatever shade desired for a pop of color that won't be ignored.
17. Cool Undercut Ponytail
Here's an androgynous hairstyle idea for girlies wishing to go a little bold. Opt for a neat undercut to contrast against a long top with or without the light golden brown ombre hair dye.
The clipped sides and back keep the hassle to a minimum when styling the mane.
18. Flat Twist Rows
If you've already tried box braids, rope twists, and cornrows, here's something different to experiment with the next time.
Twist rows are just like cornrows but instead of braiding the strands, they're twisted against the scalp much like flat twists. Add hair rings for a fancy finish!
19. Subtle Wet Look
Wet hair looks are trending among older ladies but there's surely no harm in letting your young girl try it out too.
Keep it subtle by applying minimal hair gel to wet strands. Leave the tresses loose and don't worry about the wind as a little mess is all you need.
20. Elegant Low Chignon
Hairstyles for 11-year-old black girls are often thought to be all fun and colorful but they can be elegant too just like this graceful low-lying chignon bun.
Go for a middle parting and leave the ends out when folding the remaining hair into a bun for a carefree vibe.
Growing up is all about learning and experimenting. You can try each one of these cute hairstyles for 11-year-old black girls with your young fashionista and see which ones suit her the most. Don't forget to set these looks on fire with some colorful hair accessories! Best of luck!
Trending Topics