How many times have you researched 'beautiful hairstyles for 10 year old girl or 9 year old girl' online? We are sure you have been trying to create these hairstyles on your own but failed. That is okay.
It doesn't need any special skill and some of us mums master this skill to unmatched perfection (to the envy of the rest of moms). If you want to get on board, we have compiled a list of 30 different beautiful hairstyles for your little girl aged between 9 to 1o years. These hairstyles are effortless to create and require minimum skills.
Beautiful Hairstyles for Your 9 or 10 Year Old Girl
Whether it is a family gathering, first day back at school, or a birthday party, these adorable hairstyles will make your little princess the center of attention wherever she goes. Take a look.
#1. Long Spiral Curls
After parting hair off center, use a curling wand to shape these beautiful long spirals. Let your little girl pick her favorite hair clip to pin back the hair on one side.
#2. Short Afro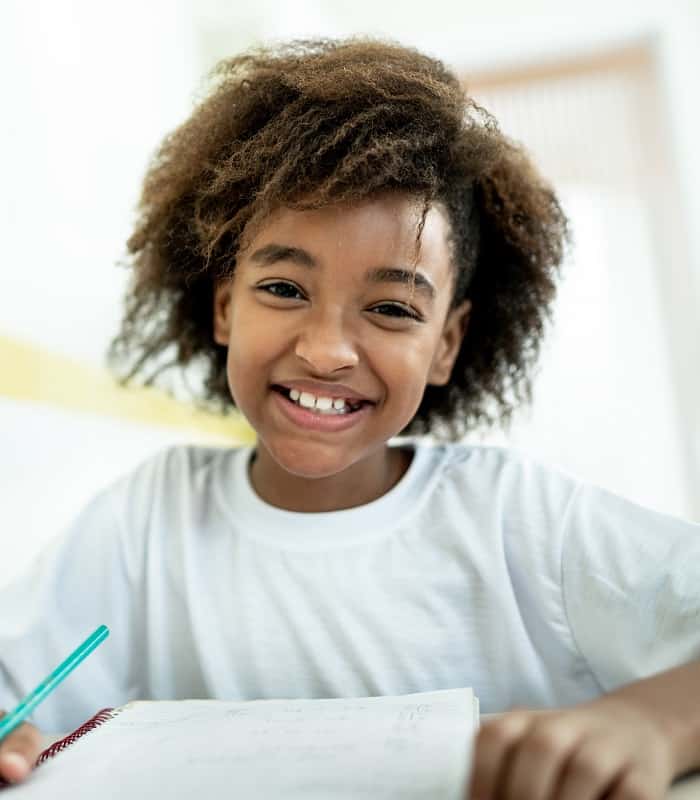 Another center part is all that is required for a 9 or 10 year old girl with thick natural black hair. No fancy braids required – this cute look will teach her to embrace her beautiful hair!
#3. Curly Hair Ponytail
What 9 or 10 year old girl doesn't like having her hair in a ponytail? For curly hair, let tendrils hang loose around the face for framing before securing hair in a low ponytail.
#4. Two Low Braids
Whether it's picture day or an afternoon sports game, two low braids are always a classic style for little 9 or 10 year old girls. Secure hair ties several inches from the bottom of the hair.
#5. Pigtails
Pigtails take only a minute to pull together and are adorable. Run a comb through your little girl's hair first, then create a center part and make two ponytails at the sides of the head.
#6. Half Up Pony
Does your 9 or 10 year old girl wear glasses and have long bangs? She can easily create this face-flattering ponytail with only the top half of the hair.
#7. Bob with Bangs
A bob is a very grown up hairstyle for young girls and keeps that childlike flair with bangs. But not only is it always in style, it's great for little girls on the go who prefer hair off the neck.
#8. Long Cornrows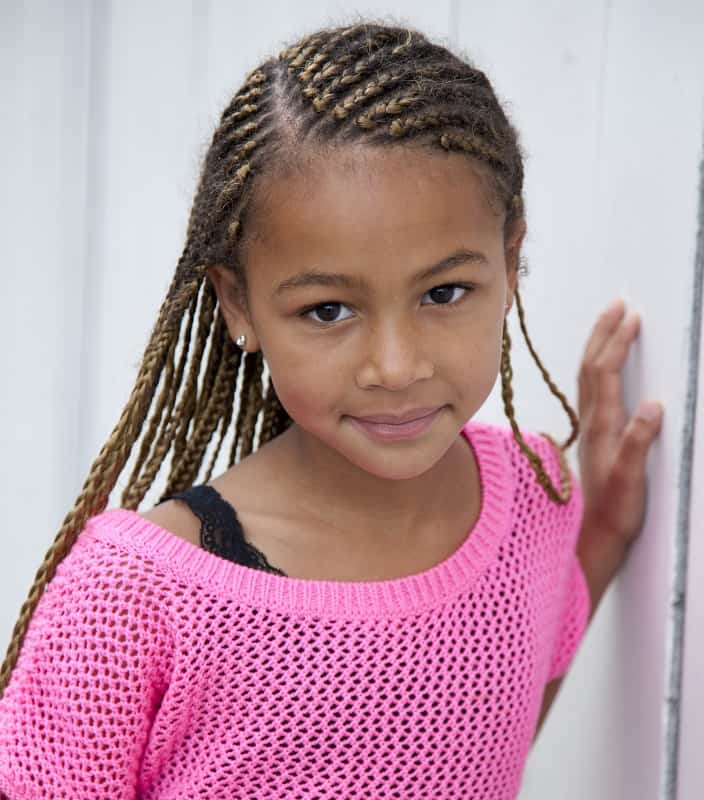 After creating a side part, cornrows can be added to the natural hair of 9 and 10 year old girls for a fun playful style. She can choose colorful hair ties to express her personality or neutral-colored ones to match her hair color.
#9. Wavy Side Ponytail
Teach your little girl about how fun the 80s were with a hairstyle to reflect the times. A side pony is another quick hairstyle, and gorgeous for little girls with wavy or curly hair.
#10. Birthday Hair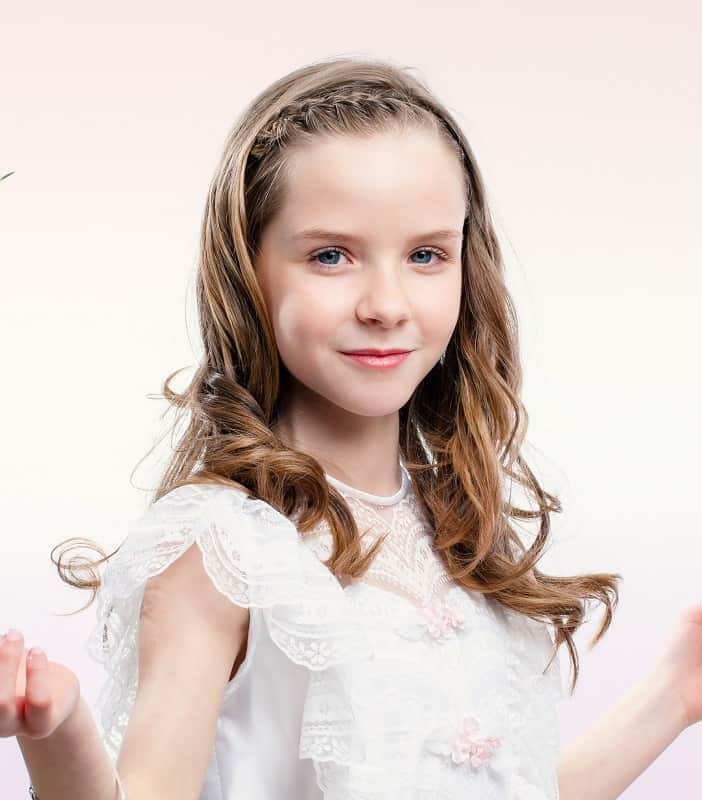 When your 9 or 10 year old little girl has a birthday, she's going to want a special hairstyle! Add a braid at the hairline for a cute built-in headband on medium or long hair.
Cute Short Hairstyles for Little Girls
#11. Short and Sweet Pixie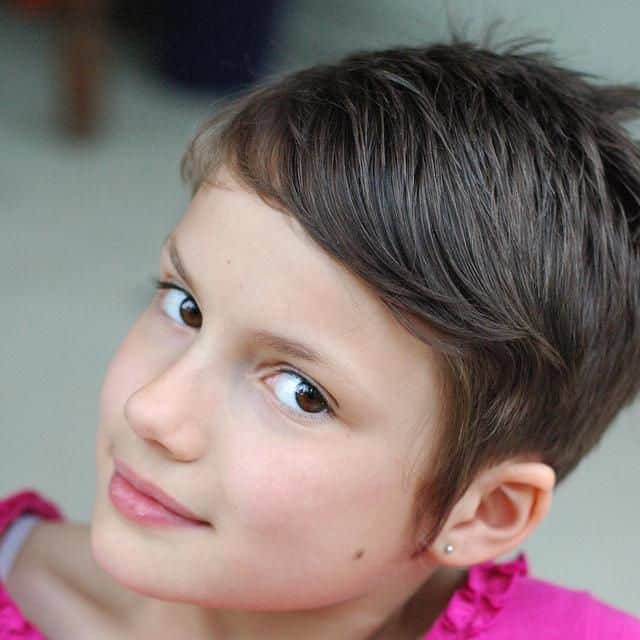 Buns and delicate braids can be fun, but this badass style can only benefit a no-nonsense little girl. Short hairstyles for 10 year old girls can be coifed at the sides for a fresh, sophisticated flair. It works perfectly well for the 9 and 10 year olds and on-the-go-toddlers.
#12. Short Cuts for Wavy Hair
If your 9 year old girl has a thick hair that is wavy, try this short kids hairstyle with angles which incorporate a subtly longer length on one side. Include some bangs to make them look more lustrous.
#13. A Modern Short Cut
Smooth and straight, little girls short haircuts are in most cases inspired by an emo vibe shown off by big sister. This style utilizes intricate layering and blunt edges. The straight hair is pretty cute and effortless to maintain.
Most of us pulled off these 10 year old girl hairstyles when we were young, and they are still common with today's little girls. It looks so cute with little girls. It has long locks on top and incorporates an undercut beneath.
#15. Cool and Creative Updo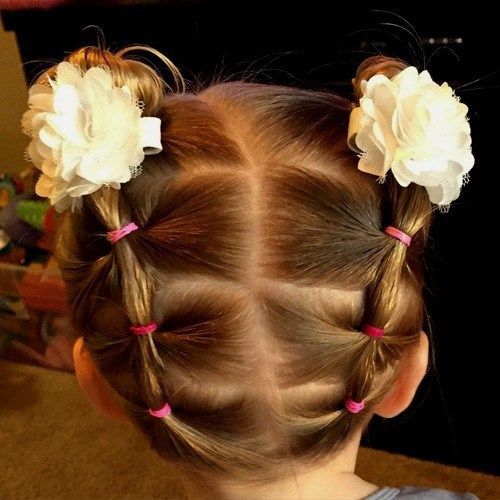 It both a fun hairstyle to create and wear. It makes the locks on your girl's head appear longer than they are by utilizing embellishments and hair elastics to lift the hair up and make it fancy.
Long Hairstyles for 9 and 10 Year Old Girls
#16. Side Low Ponytail with Pouf
A chic yet straightforward hairstyle for a 10 year old girl. So comfortable to create and wear, this hairstyle gets more extra credit for being more hassle-free. It is a daily hairstyle that lets your little girl enjoy and free without bothering about messing it up.
#17. Tousled Wavy Tresses with Headband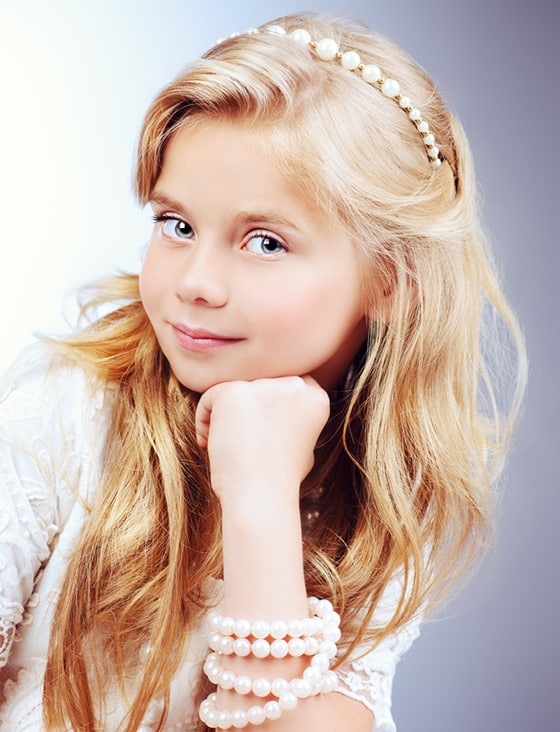 A modest and classy hairstyle for your little princess. This is a beautiful and graceful haircut which is suitable for most formal occasions. It works perfectly if your girl has long and thick hair that can be styled into elegant waves. You can accessorize it with a crystal headband for more extra allure.
#18. Side French Braid with Low Ponytail
Incredibly stylish and trendy, this 9 year old girls hairstyle is adorable. The side braid ends in a low ponytail giving the style a no-fuss look. It works perfectly if your kid has long thick hair.
#19. Cascading Curly Layers
This is a trendy curly hairstyle for 9 year old girls getting its inspiration from a chic boho fashion. It is a sure hairdo to give your little girl a diva look. Besides you can utilize add-ons for her hair as a decorative bow clip to take the style to the next level.
#20. Elegant Layers with Pearly Headband
This is an ideal hairdo for your 10 year old girl if you are dressing her up for a more formal occasion such as a wedding. It is a certain style to bring out that little lady in her in a fun and stylish manner. It is a hot pick for long hairstyles for 9 and 10 year old girls.
Hairstyles for School
#21. Two Top Twists
This ridiculously cute hairstyle for girls aged between 9 and 10 years is perfect for long or short hair. It is styled with ribbons, and the clips keep it relaxed with elastics. To achieve it, part the mane in the middle, twist it and hold each section by pins.
#22. Top Knot
To create this look, start creating a ponytail and secure it using an elastic. Hold the top knot with a ribbon. What hairstyle for school can you ask from your stylist apart from this? It is gorgeous and fun.
#23. Pigtails Without A Part
The tweak of this beautiful pigtail makes it loved by many young girls. It looks somewhat fancy, and it takes only 5 minutes to create. It is the perfect school hairstyle for 9 year old girls. The hair is divided into two portions and the lower pieces tied with elastic.
#24. Ponytails with A Twist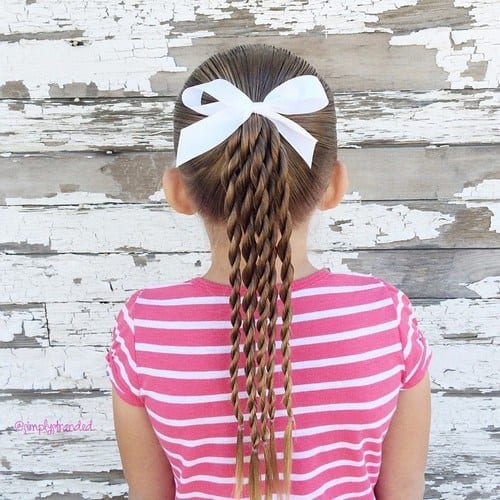 This hairstyles for little girls of 9 years old give a subtle change to the humble ponytail. They are ideal if you need some variety, but you don't have enough time. Coming up with a ponytail is an excellent way to make a thin hair voluminous while adding a more touch to the ponytail.
#25. Easy Twisted Pullback
This is an ideal hairstyle for those young girls who love to have their hair out but at the same time need to maintain it neat for school. Its styling is simple and takes just takes little of your time.
Cute Hairstyles for 9 & 10 Year Old Black Girls
#26. Ponytails and Braids for Young Girls
Sleek, smooth ponytails and some braids are so beautiful on little black girls aged 9 and 10 years. Let the hair stay natural or curl it for a more finished look. If your little princess has a weave, ponytails and braids are also very simple to wear and stay cute all day long.
#27. Fancy Mohawk For Black Hair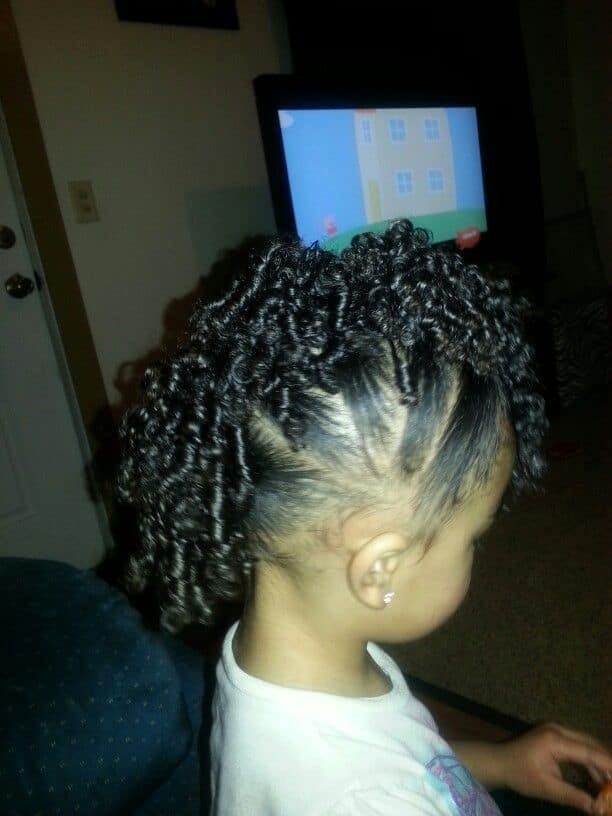 Mohawk can be so formal as illustrated by this 10 years old girl hairstyle. Rock with this black hair featuring a full-bodied pile of classic braids. This elaborate take of a standard mohawk is fun to wear and eye-appealing.
#28. Straight African American Hair
Things don't have to be intricate to come out beautiful. They can be kept simple and give the best results. A chopped cut featuring a deep side part frames the face well and leaves room for an eye error. This straight lob is casual, fresh and suitable for any vacation, school, and even church.
#29. Fancy Black Kids Hairstyle
Silky and straight hair can be achieved on girls of 9 or 10 years old. Opting for a more formal look is a unique treat. It is ideal for dance, school or recital.
Your little girl's natural hair doesn't have to be extended or highlighted with flowers to look astonishing. A short haircut time to time gives your little princesses' head a break! Natural hair is usually so delightful and hustle-free. It can make you abandon your rigid haircuts forever.
So, this is the classic list of our top thirty hairstyles for 9 and 10 year old girls. Hope you have discovered new and exciting hairdos for your little princess! So, you can renew her looks and give her a total facelift with any of these hairstyles. Some can be styled at home, and those which need advanced skill, you can make an appointment with an experienced stylist.