Turning 13 is one of the most important stages in any girl's life as it's the very first step to becoming an official teenager. Selecting an age-appropriate yet stylish hairstyle is crucial for 13-year-old black girls. When you've just become a teenager, it's all about dressing up, following the latest fashion trends, experimenting with different looks, and getting dolled up all the time.
While a change in hairstyle and color is well-deserved at this naive age, it's also very important for black teenagers to learn to embrace their fluffy crown, take care of it, and understand its versatility and beauty.
To make things easier, we've rounded up the best 13-year-old black girl hairstyles that you surely won't say no to!
Trendy 13-Year-Old Black Girl Hairstyles
From bouncy afro puffs to super long braids and layered kinks, the following list covers it all!
1. Classic Half Updo
To start with, keep it classic with a timeless half updo that'll keep all those kinks away from the face and eyes while allowing them to dance with the wind at the back.
Experiment with a claw-clip updo, a ponytail, a braid, or a basic bun instead. Your call!
2. High Sleek Ponytail
Get through an oily-hair day with style by making use of all that scalp grease to slick back all that natural fluff into a chic high ponytail no matter what the hair length and texture.
Spare bangs at the front to avoid a boring flat look and there you go!
3. Jumbo Braids
Here's another 13-year-old black girl hairstyle for all the young ladies who wish to stand out among their friends yet keep their mane well protected.
Style the hair into four chunky box braids. Incorporate extensions to go as long as you want.
4. Straight Bob with Bangs
Are you looking for a short haircut for a teenage black girl? Straightening those bouncy curls once in a while surely won't hurt when entering your teenage years.
Bobs are popular among African-American teen girls. Frame that cute little face with a blunt bob and thick bangs that are both low-maintenance and never go out of style. Stay on the safe side by experimenting with a weave first.
5. Senegalese Twists + Pineapple Updo
Opt for two-strand Senegalese/rope twists instead of the usual three-strand box braids to celebrate your culture with style.
Layer the kinks, with or without bangs, and pile them up in a groovy pineapple updo for the strands to fall all over the face at the front.
6. Easy Afro Puff
Teach your young girl to wear that curly mess in all its glory like a crown on the head with this easy afro puff ponytail.
Slick back all the strands high up on the head, secure in place with a hair tie, and allow those tendrils to coil up naturally into a fluffy cloud.
7. Face-Framing Layers
Add movement and body to that straight mane by going for a medium-length haircut with forward graduation layers framing that innocent face.
Keep the hair loose to graze the shoulders or tie them up in a high ponytail. Whatever you like!
8. Deva Cut Curls
Talking of layers, curly hair can look great too when layered correctly. The trick lies in snipping the coils when dry, rather than wet, to make them fall exactly where intended.
Achieve further bounce with bangs or throw in some highlights for a sun-kissed glow.
9. Traditional Micro Braids
Micro braids are another traditional hairstyle for 13-year-old black girls that protect their mane yet can be styled just as normal hair.
Though they're time-consuming to install, these tiny knits are low-maintenance, and the effort does go a long way. Don't forget to try this cute braided headband hairstyle.
10. Colorful Bubbly Ponytails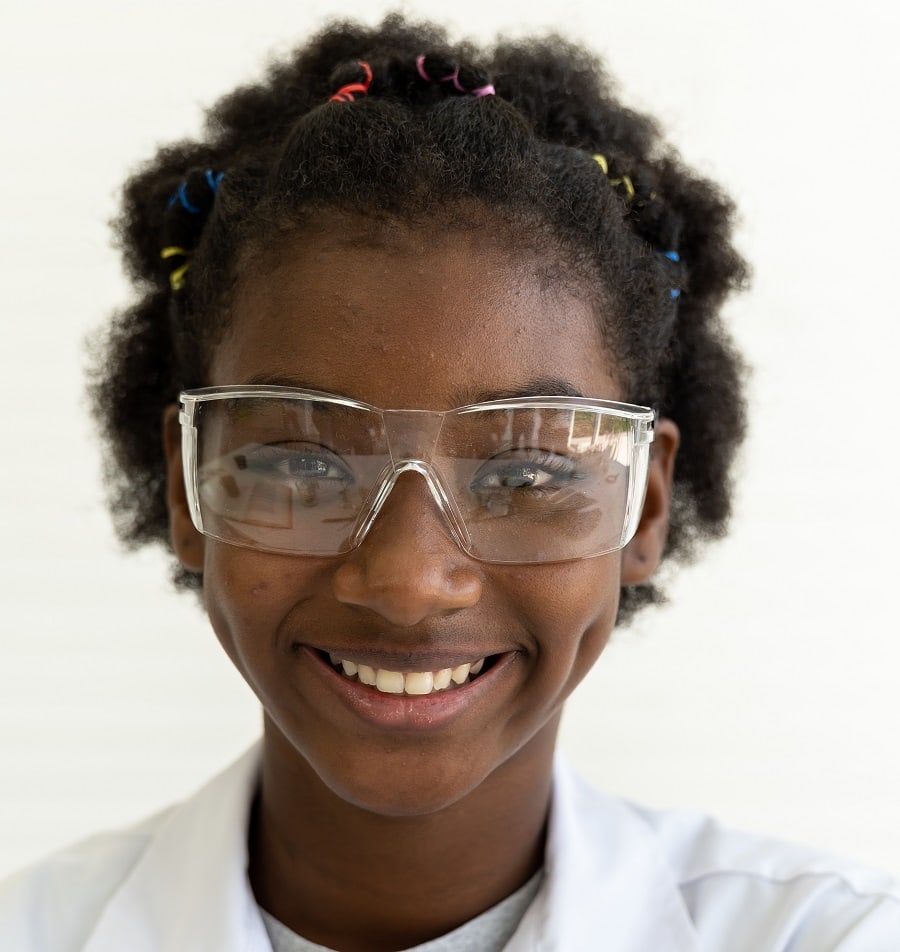 Multi-colored hairdos look fun and are a must-try during your carefree teenage years.
Copy the look by creating multiple ponytails at the front and tying them together in pairs to end up with a funky headband made from your very own natural fluff.
11. Big Afro Hair
Get noticed from a distance by rocking those fluffy curls as one big dramatic afro cloud.
Give your tresses a good wash and pick them with an appropriate comb to achieve the height you wish. Create a rounded shape with your hands and that's it!
12. Curly Ballerina Bun
Dance around like a ballerina while keeping those kinks neatly tucked away from the face in a classic bun.
Create a high ponytail, slip down a hair donut bun maker, cover it up with hair, and secure it in place with pins. Can't get any easier!
13. Goddess Braids
Make a style statement by experimenting with box braids. But instead of going for the usual ones, make sure yours are one of a kind by getting tight curls at the ends.
Style a high half-up ponytail with face-framing chunks to drop jaws wherever you go.
14. Funky Faux Locs
Dreadlocks take time and effort to develop, but faux locs don't and look equally stunning!
Choose the length and texture of your choice and get them installed by a professional for the best outcome. Add a hint of blonde near the ends and you won't regret it!
15. Elegant Chignon Bun
Keep it elegant instead of going all wild when entering your crazy years with a minimalist chignon bun.
Gather the fluff in a low-lying bun or create a roll by wrapping the strands around your finger and fixing them in place with pins.
16. The Middle Part
A middle parting, though very basic, never goes out of style and is suitable to break down the bluntness of any face.
Experiment with a shaggy bob that'll look even better when kept messy. Try the look on a weave first to stay on the safer side.
17. Trendy Low Pony
Here's another 13-year-old black girl hairstyle for all those who like to keep things minimal and simple.
Low middle-parted ponytails are in full swing this year and are perfect to keep all the hair neatly tucked away from the face. Use any hair mousse and a toothbrush to slick down all those flyaways.
18. Pinned-Back Short Kinks
Try an asymmetrical hairstyle to throw off the balance of your face and you won't regret it.
Opt for a neck-length chop with plenty of layers and pin back one side leaving the remaining strands to cascade all over the face on the opposite side.
19. Long Box Braids
Long tresses are every young girl's dream but they require time and patience. Here's a shorter way to achieve a super long mane; box braids!
Incorporate extensions, either matching your real hair shade or vibrant ones for a pop of color and go as long as you want.
20. Piled-Up Natural Fluff
Black girls look great in puffed hairstyles. Get through a busy day with style by pulling back all those curly coils in a super high yet loose ponytail.
Allow the strands to puff up all by themselves and you'll be thankful for all that God-gifted fluff without a doubt!
21. Intricate Scalp Braids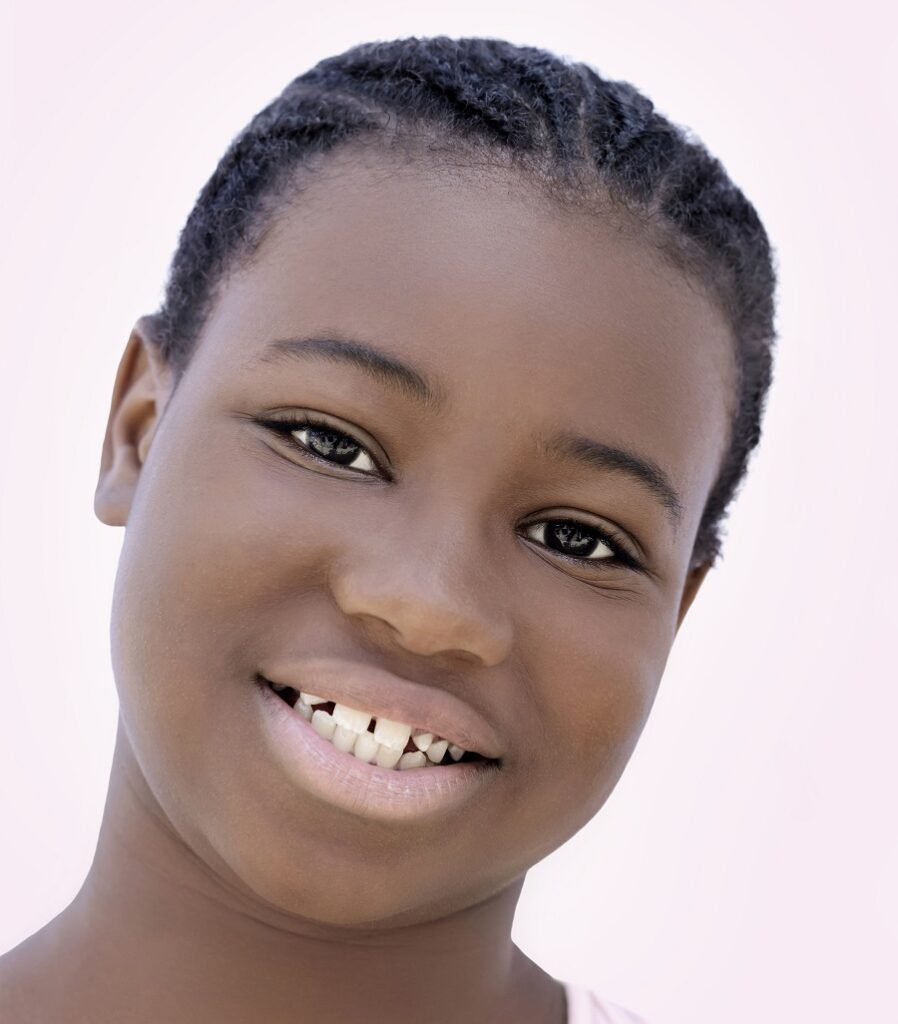 Scalp braids make one of the best protective hairstyles for 13-year-old black girls, following box braids.
Keep the hair neatly tucked away protecting it from any external damage while asking the hairstylist to create the most intricate designs on your head. Spice up the look with beads and hair rings.
22. Twist Rows with High Bun
Girls who've already tried cornrows can give these funky twist rows a chance without second thoughts.
The trick lies in carving out small sections and twisting them close to the scalp. Try them with side-swept bangs and a cute little bun at the back.
No matter what look you opt for, these trendy hairstyles for 13-year-old black girls won't work unless you take care of those delicate tresses. Keep them well hydrated and protected with the appropriate hair care products and style them in whatever way you like afterward!
Trending Topics