When it comes to little black girl hairstyles for school, there are many stunning choices that are full of fun and personality.
So, if you have been looking for beautiful hairstyles for your little black princess, look no further. You are in the right place. The little girls are like angels and that is how they should be made to look.
Little black girls are beautiful just like any other girls in the world. But sometimes many parents get worried about how they should make their kids look when it's time to go back to school. But after reading this article, you will never have to worry again.
Hairstyles for School-Going Little Black Girls
If your little princess is starting school soon, you'll want to choose a hairstyle for her that ensures she feels comfortable and unrestricted while at school.
The hairstyle can be short or long, depending on school regulations. Here are some options we've compiled for you.
1. Braids with Big Bun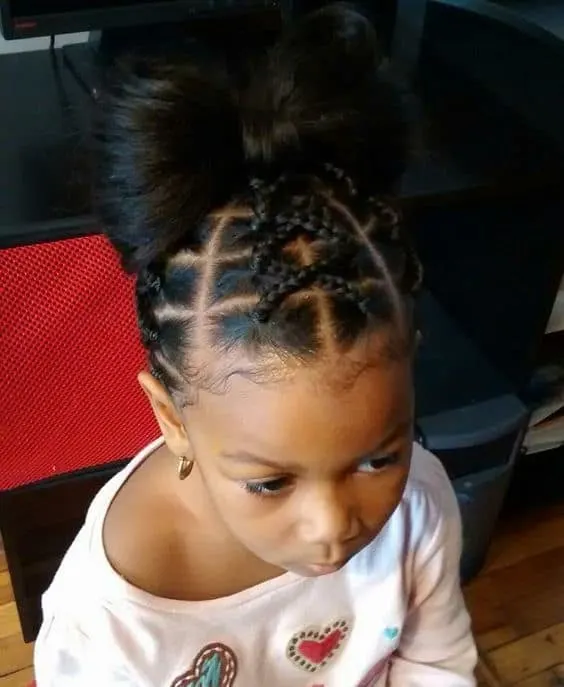 This hairstyle is a combination of braids and a bun. It is one of the most common hairstyles donned by little black girls when they go to school.
In the hairstyle, the braids are styled in a squire, and a bun is created at the back of the scalp. The entire style is undoubtedly fascinating.
2. Cornrows with Back and Top Knot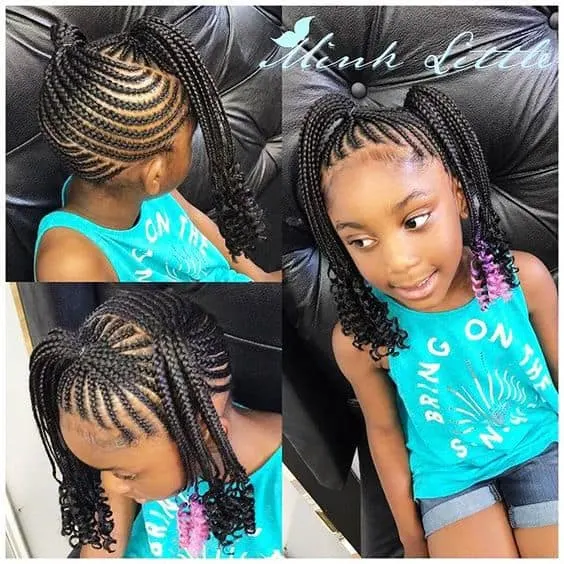 Well, this one uses a different approach altogether. The cornrows are reeled around the head which adds additional beauty.
If that is not enough, two knots can be styled one at the back and the other at the top. Use braids to create these knots.
3. Bob Shaped Braids for Cute Black Little Girls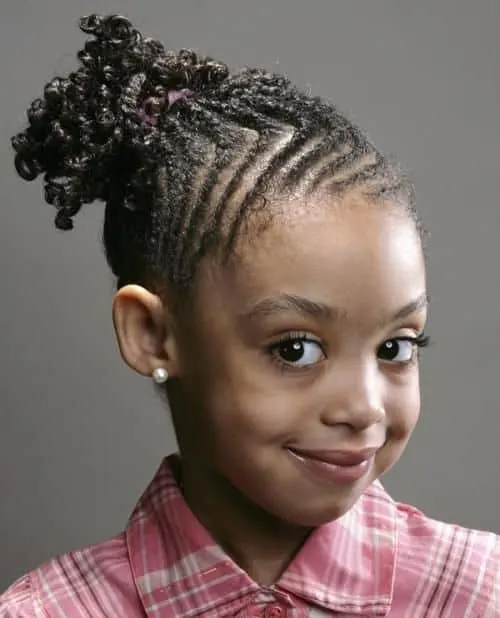 One of the cutest hairstyles for black little girls. This is a bob with braids. It incorporates gorgeous short braids which are shaped like bobs. It is quite trending right now. So, you should consider trying it on your kid.
4. Circular Cornrows with Topknot
Essentially, cornrows are a superb option in any place or situation. They make any African American neat in any situation.
In this hairstyle, circular cornrows, and braids are shaped into a knot which is styled at the top of the head.
The best braid hairstyles for black girls
5. Braided Bun
In this hairstyle for little black girls attending school, the curls are shaped into cornrows, and the braids piled in a bun at the back. It is an effortless, classic and typical hairstyle for little black girls attending school.
6. Half-Up, Half-Down
If your little one does not have the patience for elaborate hairstyling try something more basic. The front coils are parted in the middle and secured into two puffy ponytails while the remaining hair dangles at the back. This half-up look is a go-to style when getting late for school.
7. Pinned Back
Instead of taming those gorgeous kinky afro curls, teach your little one to flaunt them from the very beginning.
Layer the strands to fall around the face and twist the front chunks slightly before pinning them back with hair clips matching the outfit. Easy-breezy!
8. Twisted Ponytails
Ponytails are an ideal hairstyle for school-going little black girls. Opt for three to four ponies, twist the chunks before wrapping them around each other, and secure with rubber bands. Finish off with cute little flower and butterfly hair clips. Your little one will be stunned!
9. Afro Puff
Keep the strands away from your girl's face by slicking them back in a high ponytail. Leave the rest to the natural curls as they will poof beautifully on the top of the head. Use a synthetic afro puff if the mane is short to achieve a similar effect. Chic!
10. Cornrows + Curly Ponytail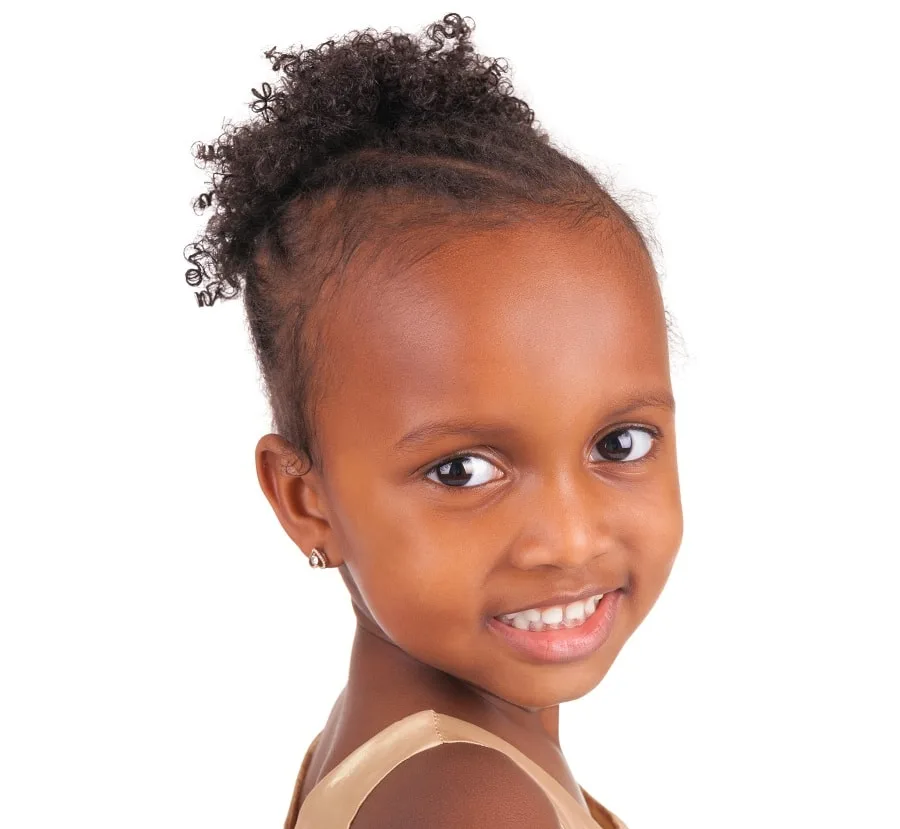 Young African-American ladies who are lucky enough to be blessed with 3c/3b coils can protect them with cornrows.
The braids are directed towards the center where the remaining coils are styled in a fluffy ponytail. Swoop down the baby hairs for a neat finish or don't. Your call!
11. Braided Twintails
Twintails never get old and every girl has rocked them several times during her school days. Those with long tresses can go for two ponytails on opposite sides of the head and plait them down to the ends. Swirl the braids around resulting in funky space buns for a change.
12. Front Poof
Recreate this look when you just can't think of anything else. Fluff up the curls using a wide tooth comb and prevent them from getting into the eyes by creating a soft bump at the front and securing it with a jumbo bow hair clip. Can't get any simpler!
13. Short Kinky Twists
Black moms can tame unruly tresses of their little ones by opting for these mini twists. The trick is simple, take two sections and twist them clockwise before swirling them around each other counter-clockwise. Secure the ends to prevent any unwinding while the front chunks fall on the forehead like bangs.
14. Havana Twists + Pigtails
Not fond of braiding? Protect the hair by twisting it closely to the scalp and use extensions to create chunky Havana twists.
Leave the twists free to sway with the wind or gather them into two cute little pigtails. Why not ask your little princess?
15. Long Rope Twists
Senegalese/rope twists are yet another hairstyle for little black girls going to school. Use synthetic hair in whatever color to go as long as you want and adorn the strands with beads or hair cuffs. These twists can further be styled in various ways including buns, pigtails, braids, you name it!
16. Royal Braids
What do you think about this trendy haircut? It is pretty beautiful. No one can underestimate the glamour of this little black girl, and her hairstyle is a royal one.
17. Cornrows with Side Knots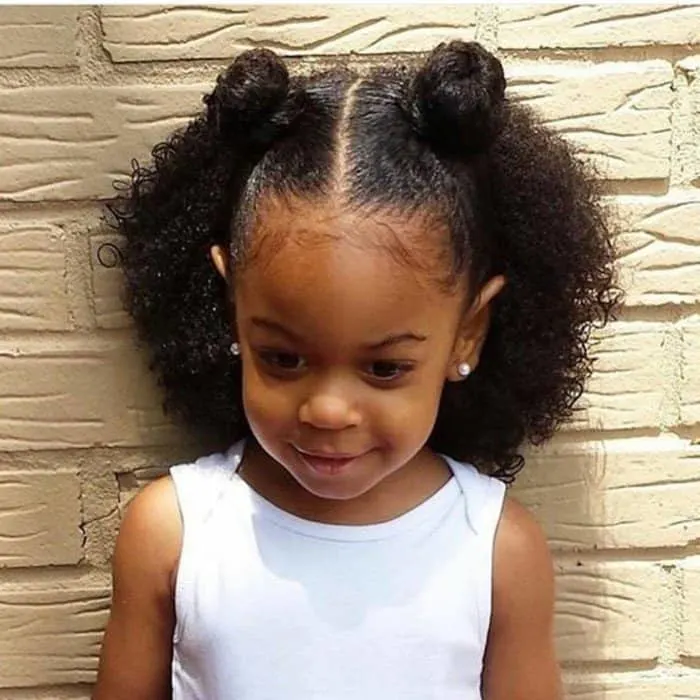 Have you noticed the cross shape on top of the head of this cute girl? The shape is styled using cornrows, and gorgeous braids are portioned into two parts, and two elegant knots are created with them.
18. Curly Braids
If you are missing your natural curls after creating a hairstyle, give a shot to this one. You can still style your hair and still keep your curls.
19. Thick Medium Braids
Nowadays many mothers like to style thick braids for their little black girls. The kid in this pic looks beautiful with these medium braids. And for the little school going black girls, this haircut gives an appealing effect.
20. Multicolored Braids for School Girls
For a more exceptional look, you can opt to put some hue on the black braids. Create some thick braids and add a decoration of droplets on them. Similarly, you can shade the braids by the edges. Feels great, huh? Don't wait, rock it!
21. French-Braided Hair for Little Black Girls
If your little girl has long thick hair, follow the braided route and give a shot to this tight French braid that cascades to the back. This keeps her long tresses away from her face while still looking beautiful at the same time.
22. Half Bun for Little Black Girls
You cannot talk about beautiful little black girl hairstyles for school and not bring up the idea of buns. Little black girls with adorable natural hair can wear the bunned haircuts like no other.
23. Braided and Bunned Hairstyles for Little Black Girls
Who said braided hairstyles should always be confined into French-braided pigtails? You can go a different route and create small, weaving cornrows that extend along the hairline while circling two beautiful pigtails. It is an unexpected look that will make your little girl unique at school.
24. Adorable Side Cornrows and Kinky Twists
If your little girl can hold still for more than ten minutes, don't let that opportunity slip off. Style this beautiful side-swept hair for her. Begin styling the cornrows at the side of her head, and complete them with kinky twists.
Besides you can style the loose trimmings into a bun or allow them to hang freely. Either way, she will rock a gorgeous and enjoyable style.
25. Black Criss-Cross Updo
This is not called "terrible twos" for nothing. Little girls always find themselves in trouble while at school, and that is why they need this hairstyle for school to withstand their playful nature. Hold your little princesses' hair into a classic messy bun.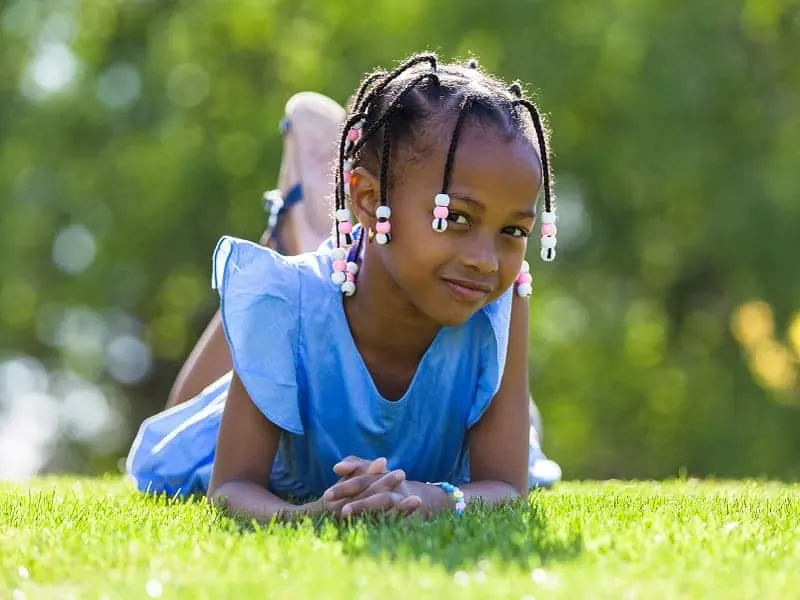 Little braids just not fancy enough? How about adding some accessories to the little girl's look? The bonus point for this cute black kid's hairstyles is that they get to choose the bead colors that they prefer – that's some personalization right there!
White girls have their pigtails – why can't black girls have theirs too? This is one of the school haircuts for black little girls that can make them look adorable and help them to mingle in with the other kids at the same time – who wouldn't want to know a girl with such a cute hairdo?
28. Natural & Free
Natural is cute too! Leave your child's hair wild and free with just the help of some hair oil to heep the frizzy hair ends in check.
29. Top it with a Hat
Here's one easy tip for kid hairstyles: leave the dreadlocks be. You don't need to go to lengths to style dreadlocks when they are already a unique style on their own. Just wear a nice beanie on top and you're all good to go.
Want one of the unique school haircuts ? This should be a perfect choice! You might want to head to a hairdresser for a hairstyle like this one unless you have the skills and knowledge on how to get this look.
You might have noticed by now that many school hairstyles in this list involve really organized braids. However, there's more to it in this hairstyle – whoever the hairdresser is, they made sure that the hairbands and beads are going to look perfect too!
32. Big Braids
If the smaller, finer braids are not for you, you can just tie bigger and fewer braids for your kid. Bigger braids take much less time to style, and you need fewer accessories too! Simply put it, there are no downsides to these bigger braids.
33. Patterned Braids
That's probably as far as little black girls hairstyles go. As creative as school hairstyles are, there can only be so many ways to wear braids, and this is one of those which will need a lot of time and effort to create – the hair parting, braiding and decorating with beads is a lot of work!
Who said that a kid's haircuts can't be in a mohawk style? There's a unique mohawk trend available for everyone – even little black girls with their hair all curled up and frizzy-like! Good segmentation of the hair will allow the hair on the sides to look neat as well.
35. Wild Afro
This is as natural as black kid hairstyles get. Keep it all-natural and free with an afro kept short. You can keep the hair a little longer if your hair texture is easy to manage, but otherwise, your hair would be much easier to deal with at a shorter length.
36. Loose Curls with Headband
Especially on picture day, there's nothing cuter than a little girl with natural black springy curls and a matching headband to pull the hair off her face.
37. Side Part Wavy Bob
Short hair is always manageable for little black girls. For this one, she'll only need to comb in a side part and use a curling wand to get soft waves.
38. Ballerina Braid
Long black hair on little black girls is super adorable in a high braided ponytail. Her thick hair will certainly stand out in the jumbo braid.
39. Little Black Girl Short Hairstyle for School
One great way to protect natural hair as it's growing out is to try short box braids. A bunch of small or medium ones will make her hair look thick and grown-up.
40. Poofy Ponytail
When her hair is already grown out, give your little black girl a slightly off-centered poofy ponytail. It's perky and super easy to style in the mornings.
41. Side Sectioned Ponytails
With two ponytails on either side of her head, a little black girl can show off her fun personality by sectioning off the ponytails in colorful hair ties.
42. Natural Curly Ponytail
Even though the hair isn't perfectly smoothed back on this high ponytail for natural black hair, it still looks adorable and will let her run around like a wild child at recess!
43. Cornrows with Beads
What little black girl doesn't love beads in her hair? Give her some cornrows in different directions, stacking the ends with contrasting or colorful beads to play up the look.
44. Bantu Knots
When your little girl's hair is several inches long, you can give her a Bantu knot hairstyle. Gather a few on each side of the head or in a special design, brushing baby hairs smooth around her hairline.
45. Four Braid Hairstyle
For the little girl who loves braids, try forming four around her head: two in front and two in back. Secure the beginnings and ends with colorful hair ties.
So, there are so many little black girl haircuts and hairstyles you can pick for school. You need just to understand what you are looking for your girl – comfort, low maintenance, and showiness.