When it comes to little black girl hairstyles for school, there are many stunning choices that are full of fun and personality. So, if you have been looking for beautiful hairstyles for your little black princess, look no further. You are in the right place. The little girls are like angels and that is how they should be made to look.
Little black girls are beautiful just like any other girls in the world. But sometimes many parents get worried about how they should make them look when it's time to go back to school. But after reading this article, you will never have to worry again.
Hairstyles for School-Going Little Black Girls
Little black girl hairstyles for school will be worth reading today as you get your little angel ready for school. If your little princess is going back to school very soon, then you need to find a hairstyle for her that will make her feel comfortable and free while at school. Here are some options we have compiled for you.
#1. Braids with Big Bun
This hairstyle is a combination of braids and a bun. It is one of the most common hairstyles donned by little black girls when they go to school. In the hairstyle, the braids are styled in a squire, and a bun is created at the back of the scalp. The entire style is undoubtedly fascinating.
#2. Round Braids with Stylish Bun
This little black girl has been embellished with pretty rare and special hairstyle. A braid is rounded on the top of her head, and then a big braided bun is styled at the back of her head. You can incorporate something striking on top of the braids for a glam look.
The best braid hairstyles for black girls
Curls are some of the glam decorators for your beautiful little girl to prepare her for school. Subtle sections of cornrows are added on the sides of the head, with the remaining hair curled and thrown at the back.
#4. Cornrows with Back and Top Knot
Well, this one uses a different approach altogether. The cornrows are reeled around the head which adds additional beauty. That is not enough. Two knots are styled one at the back and the other at the top. Use of braids create these knots.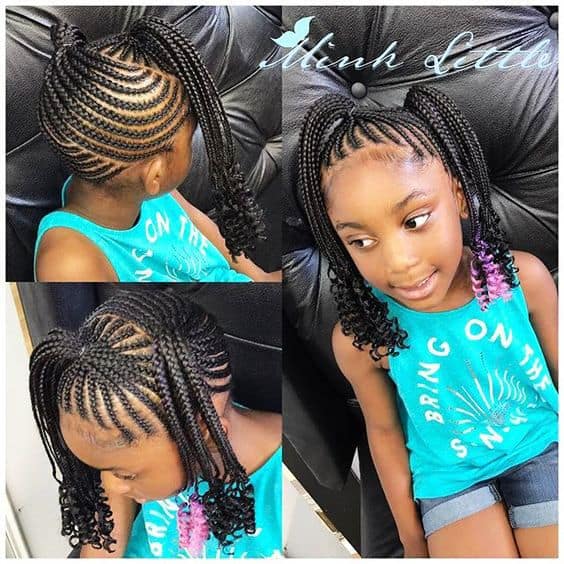 #5. Simple Long Braids
These are quite simple and fun little black girl hairstyles for school. It is hustle free and less time-consuming. To create it, create two braids and place them on the two sides of her head. You can include two clips at the edge of two braids.
#6. Bob Shaped Braids for Cute Black Little Girls
One of the cutest hairstyles for black little girls. This is a bob with braids. It incorporates gorgeous short braids which are shaped like a bob. It is quite trending right now. So, you should consider trying it on your kid.
#7. Circular Cornrows with Topknot
Essentially, cornrows are a superb option in any place or situation. They make any African American neat in any situation. Int this hairstyle, circular cornrows, and braids are shaped into a knot which is styled at the top of the head.
#8. Love Cornrows
Cornrows can be tailored in many ways. Take for instance this love shaped cornrows. It is entirely new and suitable for school going kids. The braids are styled in a knot at the top. Also, the beads at the ends of braids multiply the elegance of this style.
#9. Braided Bun
In this hairstyle for little black girls attending school, the curls are shaped into cornrows, and the braids piled in a bun at the back. It is an effortless, classic and typical hairstyle for little black girls attending school.
#10. Royal Braids
What do you think about this trendy haircut? It is pretty beautiful. No one can underestimate the glamour of this little black girl, and the hairstyle is a royal one.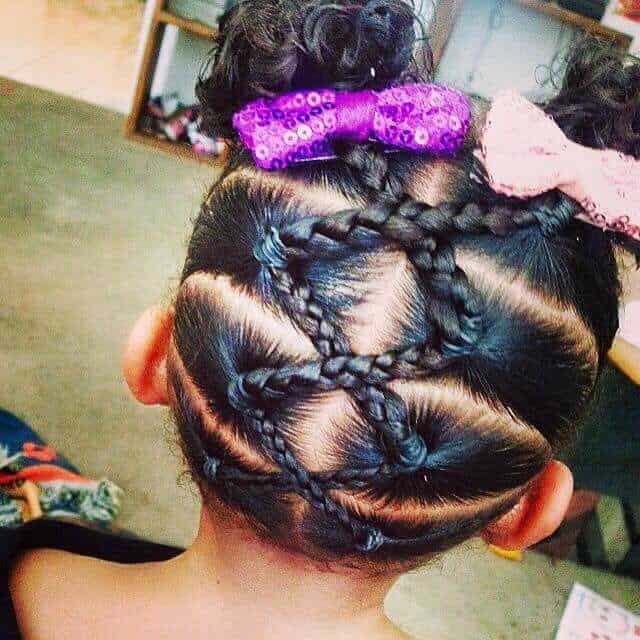 #11. Cornrows with Elongated Braids
Here is something unique with conservative cornrows. The long black braids are the main features of interest here and not the cornrows. For school, it is an elegant hairstyle for your beautiful angel.
#12. Cornrows with Side Knots
Have you noticed the cross shape on top of the head of this cute girl? The shape is styled using cornrows, and gorgeous braids are portioned into two parts, and two elegant knots are created with them.
#13. Curly Braids
If you are missing your natural curls after creating a hairstyle, give a shot to this one. You can still style your hair and still keep your curls.
#14. Thick Medium Braids
Nowadays many mothers like to style thick braids for their little black girls. The kid in this pic looks beautiful with these medium braids. And for the little school going black girls, this haircut gives an appealing effect.
#15. Multicolored Braids for School Girls
For a more exceptional look, you can opt to put some hue on the black braids. Create some thick braids and add a decoration of droplets on them. Similarly, you can shade the braids by the edges. Feels great, huh? Don't wait, rock it!
#16. French-Braided Hair for Little Black Girls
If your little girl has long thick hair, follow the braided route and give a shot to this tight French braid that cascades to the back. This keeps her long tresses away from the face while still looking beautiful at the same time.
#17. Half Bun for Little Black Girls
You cannot talk about beautiful little black girl hairstyles for school and not bring up the idea of buns. Little black girls with adorable natural hair can wear the bunned haircuts like no other.
#18. Braided and Bunned Hairstyles for Little Black Girls
Who said braided hairstyles should always be confined into French-braided pigtails? You can go a different route and create small, weaving cornrows that extend along the hairline while circling two beautiful pigtails. It is an unexpected look that will make your little girl unique at school.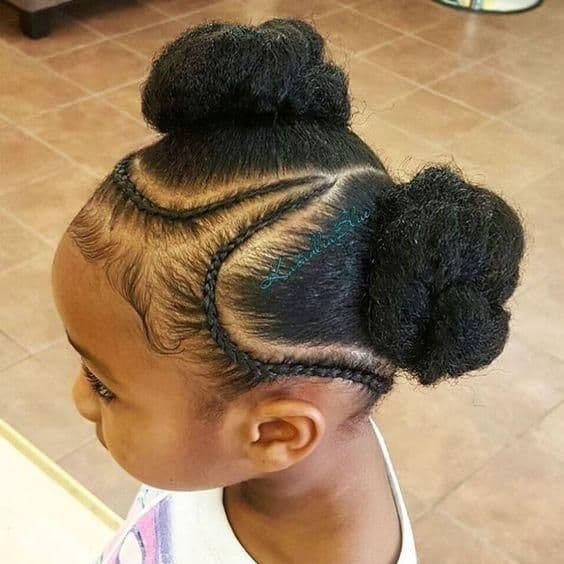 #19. Adorable Side Cornrows and Kinky Twists
If your little girl can hold still for more than ten minutes, don't let that opportunity slip off. Style this beautiful side-swept hair for her. Begin styling the cornrows at the side of her head, and complete them with kinky twists. Besides you can style the loose trimmings into a bun or allow them to hang freely. Either way, she will rock a gorgeous and enjoyable style.
#20. Black Criss-Cross Updo
This is not called "terrible twos" for nothing. Little girls always find themselves in trouble while at school, and that is why they need this hairstyle for school to withstand their playful nature. Hold your little princesses' hair into a classic messy bun.
There are so many little black girl haircuts and hairstyles you can pick for school. You need just to understand what you are looking for your kid- comfort, low maintenance, and showiness.