It's no secret that 3-year-old boys are full of energy. They're always on the go and rarely sit still, and this can make it difficult to find a hairstyle that will stay in place and look good at the same time.
Some parents go with a style that is similar to their own, while others take their child's personality into account when making a decision.
You want to ensure that you get a style that is both age-appropriate and will look good as he grows older. The good news is that there are a few different styles you can choose from that will look great on your little guy.
Best Haircuts For 3-Year-Old Boys
If you're looking for a haircut for your 3-year-old boy that is both stylish and practical, look no further! We've rounded up the best hairstyles that are sure to please both you and your little one.
1.

Forward Sweep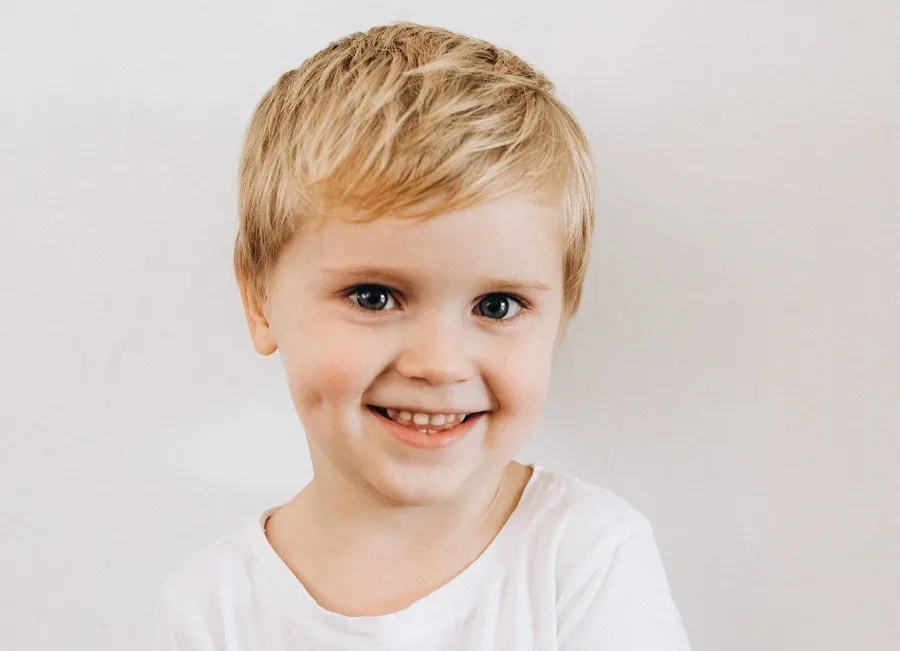 This hairstyle is perfect for boys with straight or wavy hair, and it can be worn both casually and formally.
To style, simply sweep the hair forward from the crown of the head, and use a light hold gel or pomade to keep it in place.
2.
Wavy Fringe
To achieve this look, simply sweep the hair back and to the side with your fingers. Next, use your fingers to create waves or curls in the hair.
This hairstyle is perfect for any occasion, from a birthday party to a more formal event.
3.

Uneven Bangs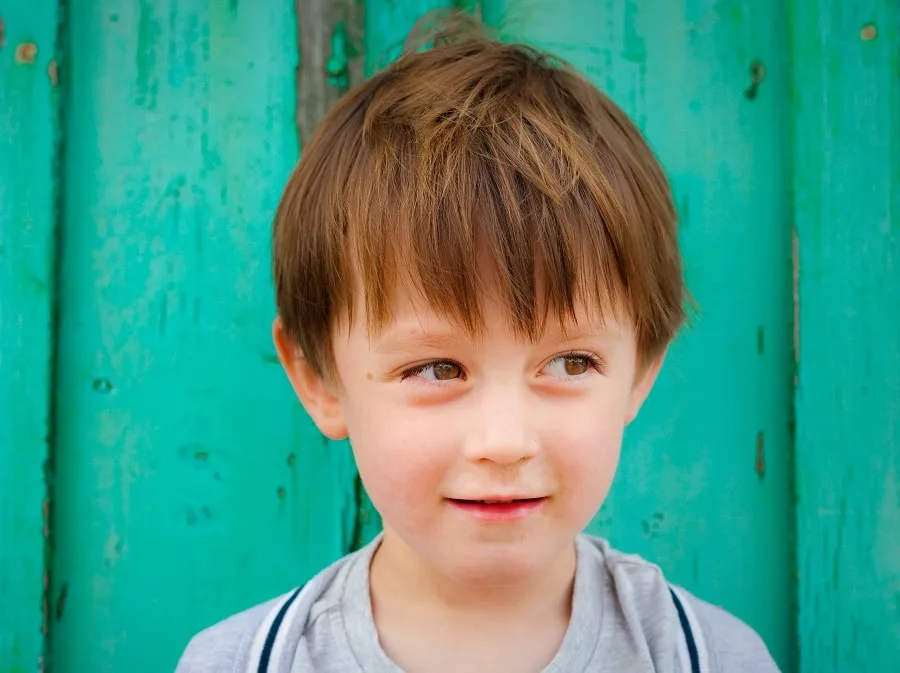 Uneven bangs can be a great style for a 3-year-old boy with silky straight hair. This look is achieved by cutting the bangs in a zig-zag style.
This 3-year-old toddler boy haircut can be a great way to add some personality to your child's look.
4.

Long Blonde
To get this long toddler haircut for boys, don't cut or trim your son's hair in 2.5 years. Therefore, let the hair grow for years, and when long enough, tousle it using your fingers.
5.
Ivy League
It is a classic and timeless look for any age. You can also get this style for your little boy. Just comb the hair gently to the side so that hair remains out of the forehead. Keep the sides and back shorter.
6.

Short Curls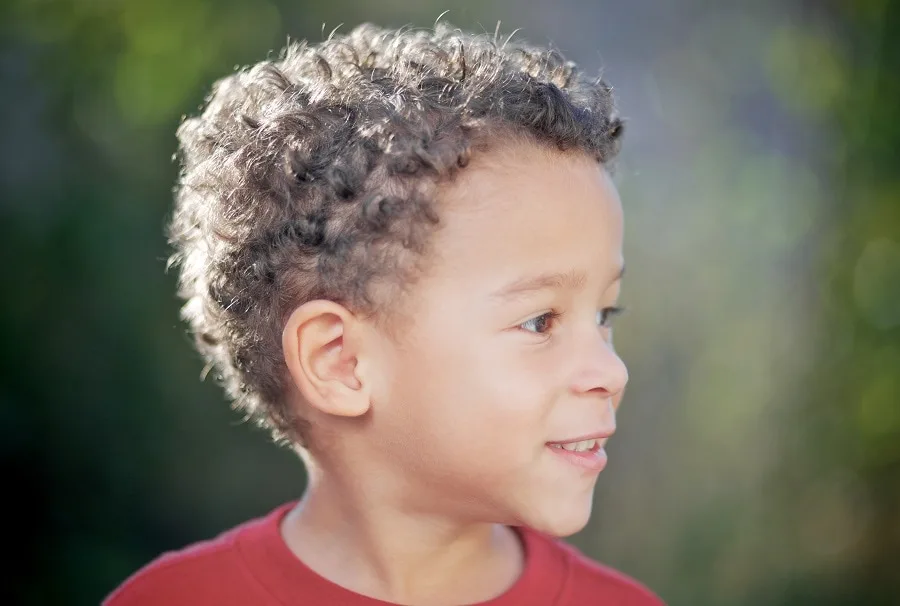 It is easy to style and maintains, and it looks cute and playful. To style short curls, simply wash the hair and towel dry it. Once the hair is dry, use your fingers to separate the curls to add a bit of volume.
7.

Cute Bob
Bob hairstyles with eyebrow-length bangs are most common for toddler boys. Just grow the hair up to the shoulder and comb them regularly to keep the hair smooth. However, make sure you wash the hair regularly.
8.

Burr Cut
It is a very popular effortless hairstyle for boys of 3 years old or more. It is a very short little boy haircut with the whole head being cut very close to the skin. It is a versatile look that will look good with any dress.
9.

Messy Waves
This look is easy to achieve and can be customized to suit any face shape or hair type. To get the messy wavy look, start by applying a volumizing shampoo and conditioner to wet hair.
Then, use a wide-tooth comb to detangle and add texture.
10.

Short Spikes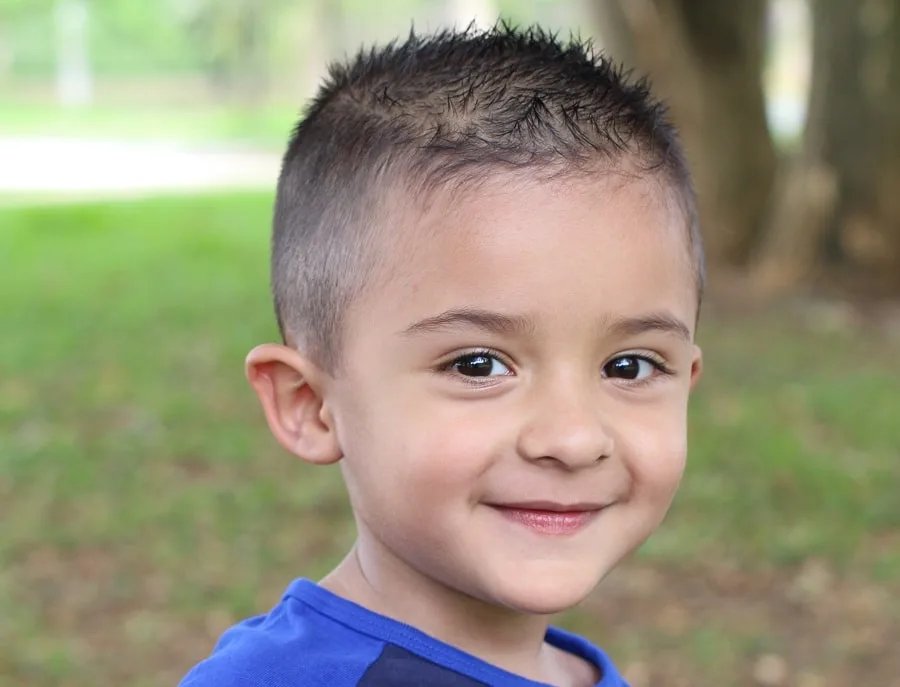 This 3-year-old boy's hairstyle is easy to achieve with a little gel and some patience. First, start with clean, dry hair. Then, apply a generous amount of gel to your son's hair, working it through from root to tip.
Next, use your fingers to create spikes all over the head. Finally, allow the gel to dry completely before touching the hair again.
11. Short & Simple

Afro Look
A short afro looks great on any child with curly hair. Plus, they are perfect for those hot summer days when you don't want your child to be too hot.
Just trim the hair short so that it complements your son's face.
12.

Asian Haircut
This silky Korean hairstyle is a popular choice for little Asian boys. This toddler boy hairstyle is achieved by combing the hair down and to the side and leaving it like that.
The result is a cute and trendy look that is perfect for any occasion.
13.

Messy Parted Fringe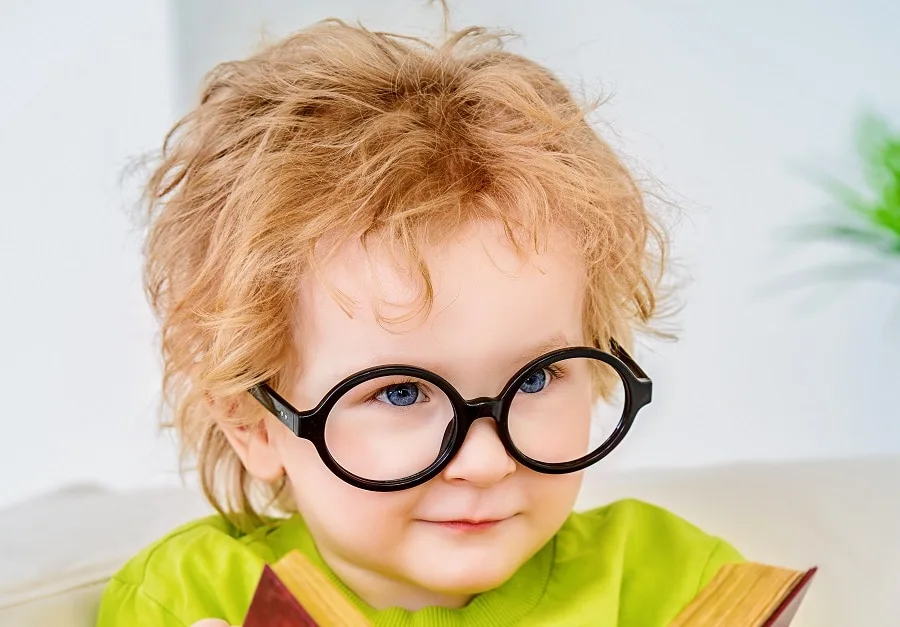 This hairstyle features a fringe that is unevenly parted and styled in a messy yet trendy way.
It is a great option for 3-year-old boys who have a lot of hair, as it can help to keep it out of their forehead. The sides and the back remain longer.
14.
Short Spikes + Fades
First, it's important to start with clean, dry hair. If the hair is too wet, the spikes will not hold well. Second, use a small amount of gel or pomade to help create the spikes.
A little goes a long way with this faded hairstyle, so start with a small amount and add more if needed. Next, use your fingers or a fine-toothed comb to style the hair into spikes.
15.

Thick Curls
Many toddler boys have thick, curly, bushy hair. This type of hair can be difficult to manage, but it can be very stylish.
To keep it natural, you can just grow it for months and keep it like that. But make sure to wash and dry the hair properly while growing.
From classic cuts to trendy styles, it really depends on the individual child's hair texture, style, and personal preferences. Ultimately, it's up to the parents to decide what style is best for their child.
These 3-year-old boy's hairstyles will surely help you make your decision.
Trending Topics