High school can sometimes make you feel like you're repeating the same mundane routine for months.
While some classes may be boring and sitting through them is out of your control, expressing yourself with the perfect high school hairstyle can help break the monotony.
The exciting part of being able to style yourself however you want is that even if you're required to wear a uniform, your hairstyle is a huge part of your self-expression. You can show your peers who you are before they know how great you are.
Best High School Hairstyles
Trying new hairstyles can make high school fun. Here are fifteen hairstyles for high school girls that range from simple to bold, but all can give you the confidence you need to make it through your high school years.
1. Straightened Center Part
Arguably one of the most iconic hairstyles for high school girls, a straightened center part is a great first option.
It requires minimal to medium effort depending on your natural hair texture, but straightening your hair will make it easier to maintain throughout the day.
You can let the hair frame your face or keep it tucked behind your ears. Either way, your hair can be left straightened for days before washing.
2. Fun Ombre With Curtain Bangs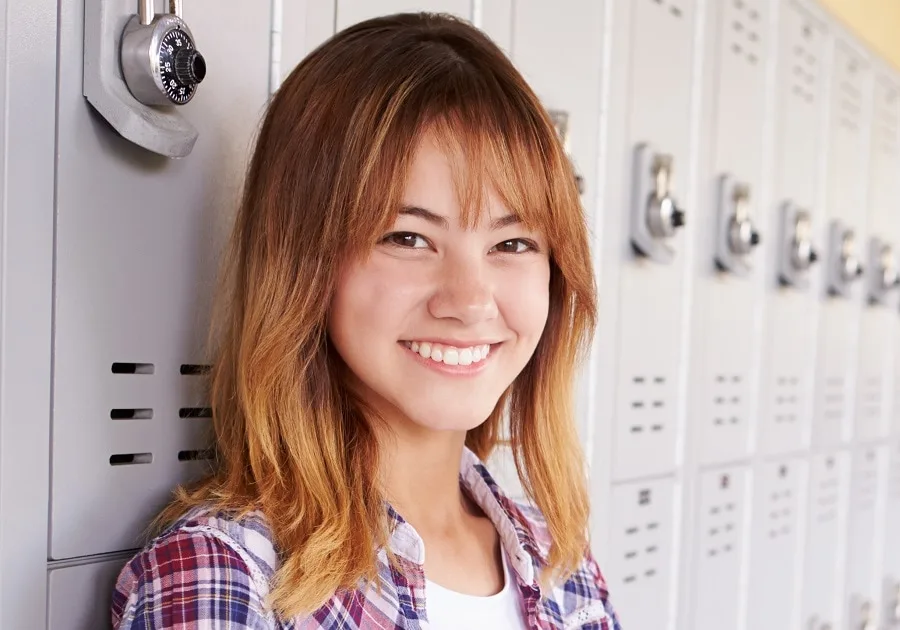 f you're looking for a slight color change, ombre is still a popular hair styling technique that doesn't have to be drastic.
Fading from a lighter color to a darker version of blonde, brunette, or any color you want, adds some boldness to your style.
The curtain bangs add an edgier touch and can be manipulated to sit any way you want them to lay. They are longer than regular bangs, making it an easier change to adjust to.
Flattering Middle School Hairstyles That Grab Attention
3. Shoulder-Length Bob + Colorful Tips
If you want to add color to your hair but are nervous about dyeing your whole head, just choosing the ends is a good start, especially with a shoulder-length bob.
The length allows you to add color without washing away your natural hair color completely.
4. High Bun
Throwing your hair into a high bun is an easy, fun option for school that can still look nice.
By leaving some hairs out to frame your face, your hair will be managed throughout the entire school day and not need to be tampered with.
5. Short With Side Bangs
If you're looking for the easiest hairstyle to maintain that requires no effort in the morning, a short look with some side bangs is the way to go.
The length makes this nerdy girl hairstyle the easiest one on our list, but the bangs add a personal touch.
6. Split Hair Color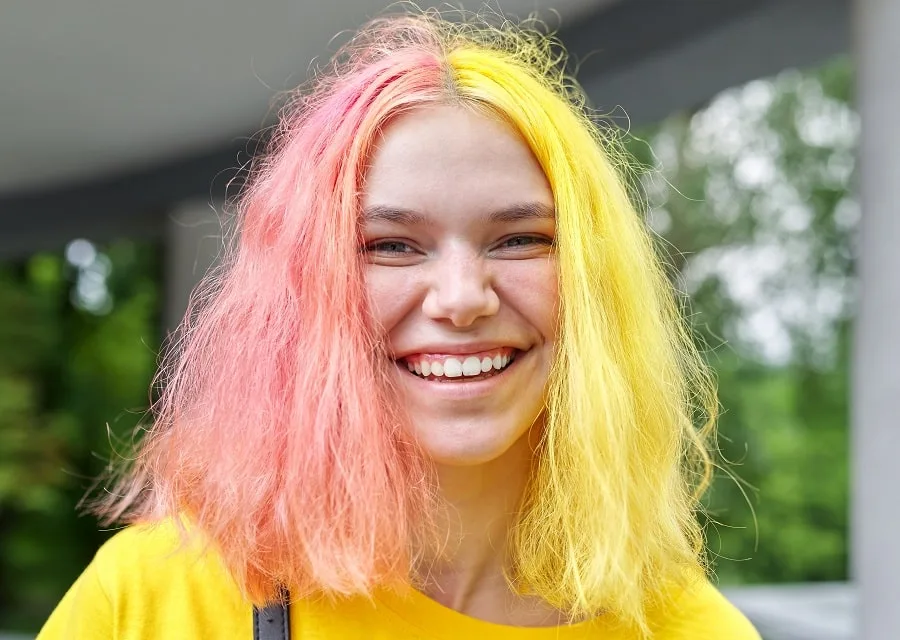 One of the bolder high school hairstyles for girls that'll split your hair into separate colors down the middle is a fashion statement.
Whether you go with blonde and black or peach and yellow, it's a fun look that'll make you feel confident in your skin.
7. High Ponytail
Similar to a high bun, a high ponytail is easy to do on rushed mornings. If you have the time, ponytails allow for more leeway in which you can curl, straighten or braid it and change the entire look.
8. Short Bob With Bangs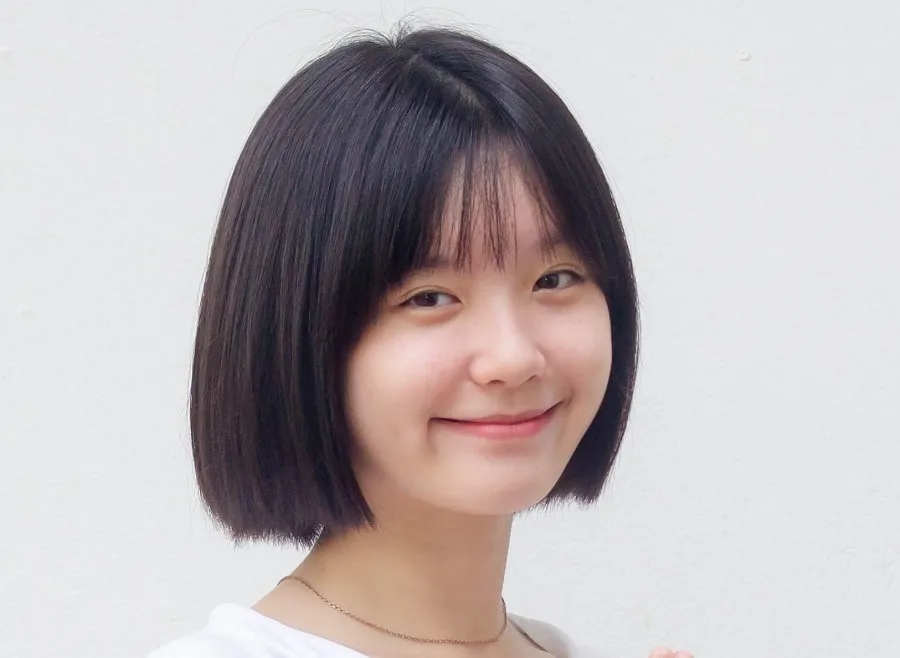 A short bob with bangs is another easy-to-manage high school hairstyle, but it frames your face in a very stylish way.
No matter your hair texture or natural style, a short bob will look good and flatter you.
9. Natural Curls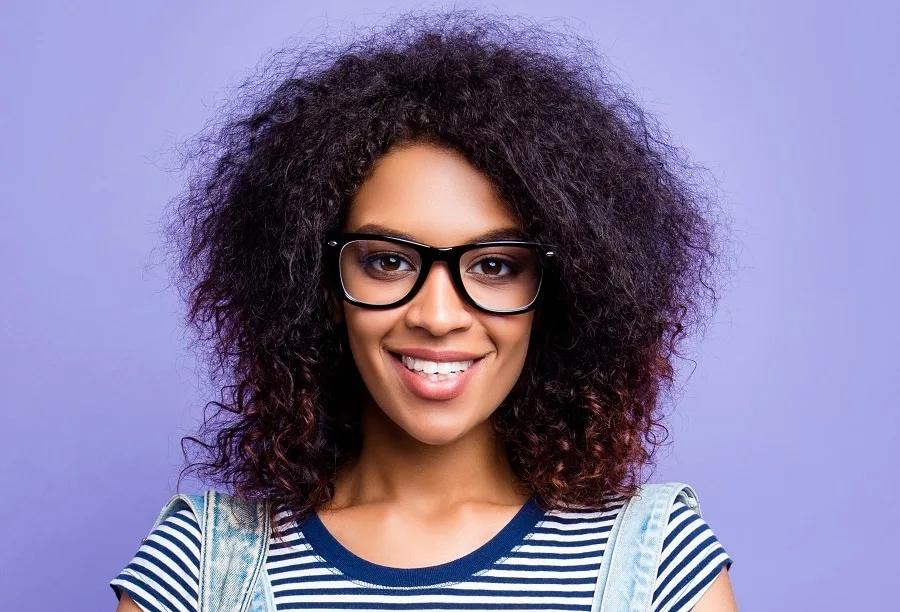 Sometimes a hairstyle is a too much work in the morning, especially if you're running late. Your natural hair is beautiful, so if you find there's no time, let your natural hair be your hairstyle.
10. High Pigtails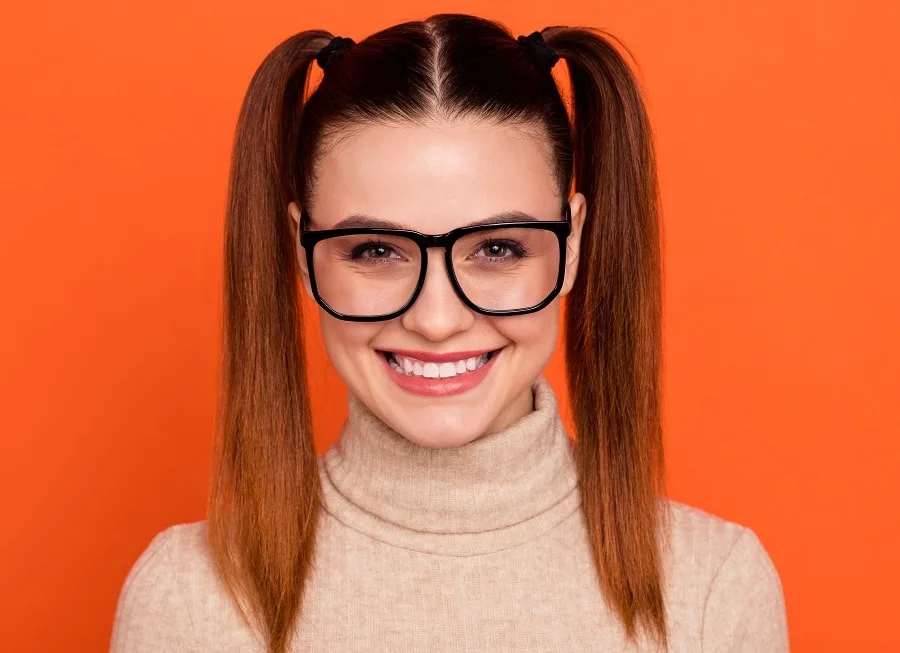 A fun and quirky style is throwing your hair up into two ponytails. Evenly placed and slicked back, high pigtails are a very simple but adorable hairstyle.
11. Long Curls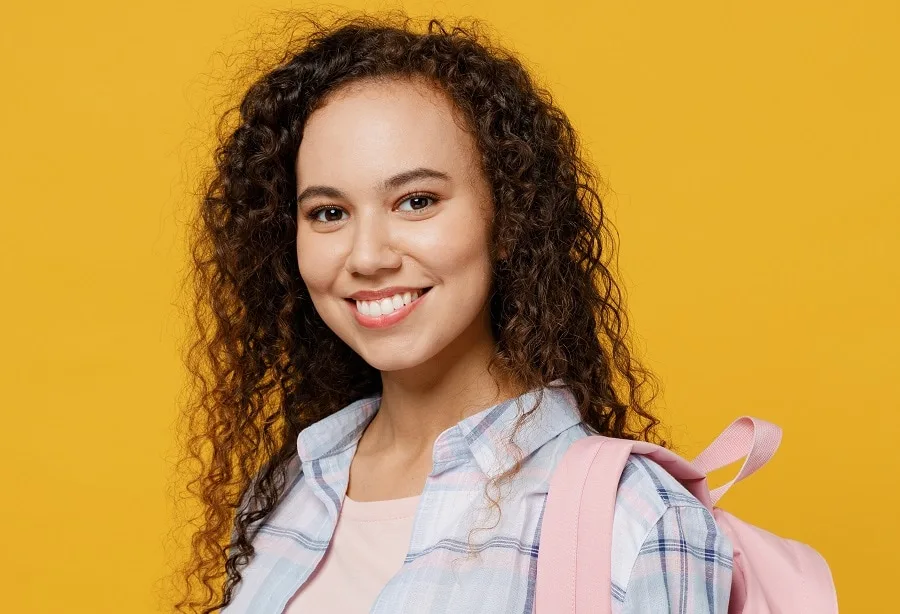 Whether your hair is naturally curly or you decide to curl it in the morning, keeping your long hair managed throughout the day is a simple but cute high schooler look.
Sometimes doing less is more, and long and curly hairstyles are effortlessly pretty.
12. Two Buns
Another quirky and loud hairstyle for high school girls is, instead of putting your hair into pig-tails, you turn them into two buns.
You can place them anywhere on your head, high or low, and make them look playful and fun or classy and elegant.
13. Funky Hair Color
If you're looking for a full-color change dying your entire head, a new and bold color is the best way to do so.
The best part of dying your whole head is that you can wear any style with it. Whether you choose a warm or cold-tone color, it's a bold and fun statement that will say a lot about your personality.
14. Side Part
Most of these styles were designed around having a center part, but a side part is just as stylish and easy to make look good.
It comes down to what you like, but a side part on straight hair is as easy to take care of as a center part.
15. Braided Pigtails
Whether you choose a French or Dutch braid for your pigtails, this style is a cute way to keep the hair out of your face. Braids are simple to do but look great on all hair types.
Expressing yourself is a huge part of high school. Going through different phases and trying new hair colors and styles is how you discover who you are and your likes and dislikes.
Don't be afraid to step outside of the box now and then, especially with your hair. Colors fade, and hair grows back, so be bold or simple, but be you.
Related Topics: