It's time to wake up your inner retro bombshell and break out some iconic 60s hairstyles with headbands. The 60s may sound like ancient times, but all fashion trends cycle back around, and we're excited to see this style arrive back on the scene.
So, if you love vintage and retro hairstyles – the '60s hair trends will be your new favorite.
Why Were Headbands So Popular In The 60s?
Back in the 60s, women were absolutely flawless. Dressed to the nines every day, hair and makeup done to perfection, much different from today's look where leggings and a dressed-down look are prevalent in many places.
Many women emulated the look they saw on the big screen, so getting styled and dressed to the max was expected, even if you were a stay-at-home mom. And while they wore many hair accessories, the headband seemed to reign supreme.
It's a versatile hair accessory that looked great with many unique 60s hairstyles; it was relatively inexpensive and easy to add to your look- place it on top of your head and go. And even though it is such a small accessory, the glamour it added was immeasurable.
If you're ready to channel your inner retro vixen, let's get started!
60s Hairstyles With Headbands
Need to familiarize yourself with the 60s hairstyles? Think bouffant hairstyles with lots or minimal volume, the beehive, the flick-up hairstyle – a bob cut where the ends were curled up, short cuts, and pixie hairstyles, and the artichoke hairstyle, also known as the pinwheel.
All these hairstyles were popular in the '60s, but it didn't just stop there. Women also adorned their 60s hairstyles with accessories to add a level of glamour or a fun and flirty look. Everything from tiny or large bows, decorative combs and sliders, flowers, feathers, hair scarfs, and 60s headbands.
Today, we're swooning over one style we love – the '60s hairstyles with headbands, so we rounded up an incredible selection of inspirational photos for you to adore.
1. Voluminous Updo
What a fun and flirty hairstyle from the 60s! One thing we know for sure is if you were a woman in the 60s, you had to master the art of the "hair tease" because volume played a considerable role in most hairstyles.
This look is achieved by pinning all of her hair up after teasing it, a middle part and one strand of hair curled and hanging down over her cheek, creating a fun and flirty look. But, the pièce de résistance is the thick headband front and center, tying the whole look together.
And then, of course, the pink earring and pink skirt suit create the absolutely flawless 60s look.
2. Long Bouffant Hairstyle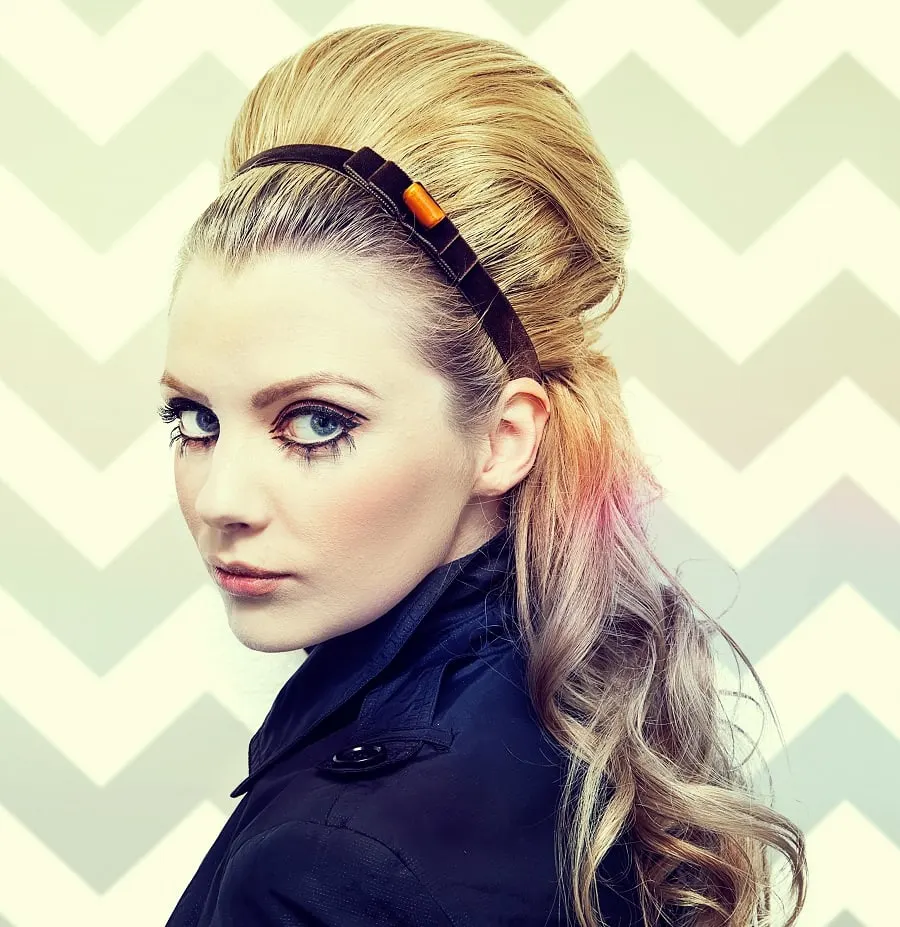 Nothing says 60s hairstyles more than a bouffant look, maybe the beehive, but the bouffant hairstyle was everywhere. Volume, teasing and lots of height were at the center of every bouffant hairdo. But this is an example of how you can modernize a 60s hairstyle for today's fashion style.
To add a modern touch to this bouffant hairdo, her hair is dyed with shades of blonde and festive colors on the long strands, while her dark roots provide an excellent base for this 60s-inspired hairstyle.
The sides are slicked back; then her hair is teased into a large bouffant puff at the crown of her head, and a dainty black velvet headband is placed right before the bouffant volume begins, providing a decorative contrast.
For a little extra pop of femininity, the headband has a flat bow with an orange center which picks up some of the colors in her hair.
The stylist completed this modern version of a 60s hairstyle with big curls in the back and dramatic makeup. What a chic look!
3. Short 60s Hairstyle With Minimal Puff
You may love this short retro 60s look if long hair isn't your style. The hair is cut short to just below the ear in a modified bob style, teased to create a minimal bouffant puff, and her bangs are thick and worn straight down.
The look is finished with a headband with a small bow in an orange color that matches her dress perfectly (another key element in women's 60s fashion style). This is a classy, elegant look with not too over-the-top glam – a great everyday look.
4. Flipped Hairstyle
This is one of our favorite hairstyles from the 60s – the flipped hairstyle (also called the flick up).
Her shoulder-length hair is straightened, then the ends curled so that, when combed, the hair flips up instead of curling under. Then a wide headband is added in a color that contrasts her dress color, creating a stylish retro vibe.
It's beautiful with a touch of sassiness – we love it!
5. Breakfast At Tiffany's Hairstyle
You know we can't give you a list of inspirational 60s hairstyle photos without including the iconic Breakfast At Tiffany's look because it's freaking gorgeous!
A beautifully styled New York Beehive is the epitome of 60s glam and one of Audrey Hepburn's most popular hairstyles. It's a grand, structured beehive with thin, wispy bangs and a decorative headband tucked into the front, creating an iconic look that we'll never stop adoring.
6. 60s Pixie Cut With Headband
Everything wasn't big and puffy in the '60s. Here's an example of a sassy pixie cut with shaggy bangs. Such a pixie and bob combo: a pixie bob is perfect for women who want low-maintenance hair.
We love how the longest part of the bob is styled into her face with a few wispy pieces; then, her bangs are cut and styled in a square and shaggy manner.
The look is finished off with dramatic makeup and a headband in colors that match her outfit. It's a fun look that's iconic and modern.
60s headband hairstyles can still look gorgeous with a modern twist. Rock this vintage look to grab instant attention.