Teenage girls love playing with their hair and are always looking for a trendy new look to flaunt. If you tend to stick to medium and long teen girl hairstyles, then a short bob might not seem like something you'd try at first.
However, there are a couple of reasons a short bob haircut should be on your list of hairstyles for teenage girls.
There's a bob style for every face shape and hair texture, it has the ability to flatter your facial features, and it's been seen on some of Hollywood's youngest celebrities, including Taylor Swift, Emma Watson, and Chloe Morëtz.
If these pretty ladies have rocked a short bob, get your foot in the game a little early by rocking one for yourself as a teenager!
Fashionable Short Bobs for Teen Girls
These short bob haircuts for teenage girls offer variety and plenty of room to personalize with different cuts, waves, and bangs. Check them out to find your new look!
1. Short Blunt Bob
When your goal is to make a statement with your hairstyle, a blunt bob is the answer. Its short length comes just past the ears – meaning low maintenance – and the bluntly cut bangs are the equivalent of fierce.
2. Teased Short Layered Bob
From the heavy side bang and gorgeous light blonde color to the teased layers that create sexy volume, this short layered bob is obviously a winner. Straighten a few sections of hair to create a beautiful contrast of texture.
3. Choppy Bob with Bangs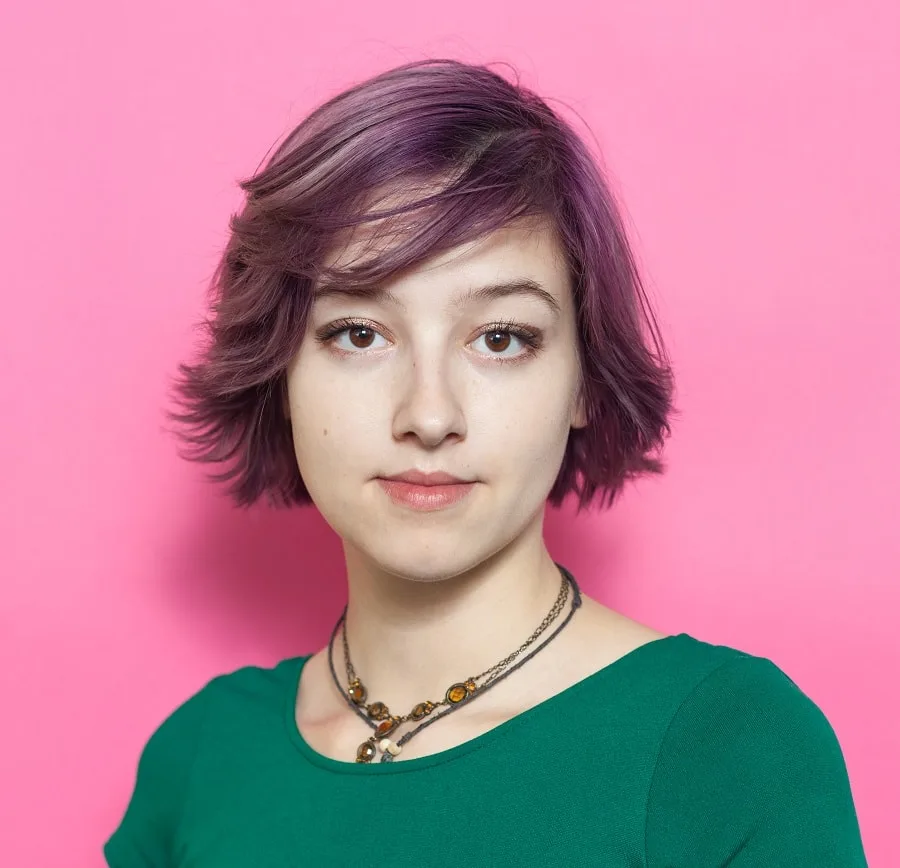 Short bob with bangs is a low-maintenance haircut that'll save you hours without compromising styleTo give your haircut a bit more character, ask your stylist for choppy layers. You'll end up with these cute flipped-out layers. A soft side bang is easily styled after parting your hair off center.
4. Patterned Headband
Just because your hair is short, that doesn't mean you have to give up cute hair accessories! This checkered headband gives a short bob an edgy vibe and is perfectly styled with a black leather jacket.
5. Messy Waves
Every teenage girl loves the look of waves added to their hair and this short bob is no different with its perfect spirals. Get the messy look by spritzing a little texturizing spray in your locks and scrunching.
6. Short Highlighted Bob
Color is another thing you don't have to give up just because you choose a short bob. We love the way light and blue highlights liven up this wavy, middle-parted haircut.
7. Thin Bangs
Love a really short haircut? This bob has been cut to the mid-point of the ears. It's great for teenage girls with short hair since it's so low maintenance. Add a thin bang if you have an oval or long face shape to help with dimension.
8. Side Parted with Waves
If you're a teen with naturally wavy hair, this is the bob style for you. Its chic but playful look is created by parting hair off center and using a curl-defining cream to style waves.
9. Straight Bob with Bangs
Asian women typically have naturally straight hair. If that's your case, consider this cute A-line bob with long, bluntly-cut straight bangs.
Nowadays, dark-skinned teenagers are mostly seen with braids, but you can set your style apart with a short bob and short, curled side bangs. It'll be especially cute if you have wavy hair or work in a little product to create the texture.
11. Light Blonde Bob
Another edgy bob for teens with an oval face shape includes this very light blonde version styled with a simple middle part. You'll still notice the blunt layered cut, even if you work in a few waves with your hot tools or style cream.
12. Wavy Curtain Bangs
A chin-length bob with waves is super cute on teens with a round face shape. Opt for curtain bangs that can be styled in many ways, including with just a middle part if you want them off your face.
13. Spiral Curls
This bob with perfectly spiral curls will remind everyone why Marilyn Monroe was such an icon. Her short blonde hair was key to creating her innocent yet sexy look and older teen girls will love it!
14. Casual Layered Bob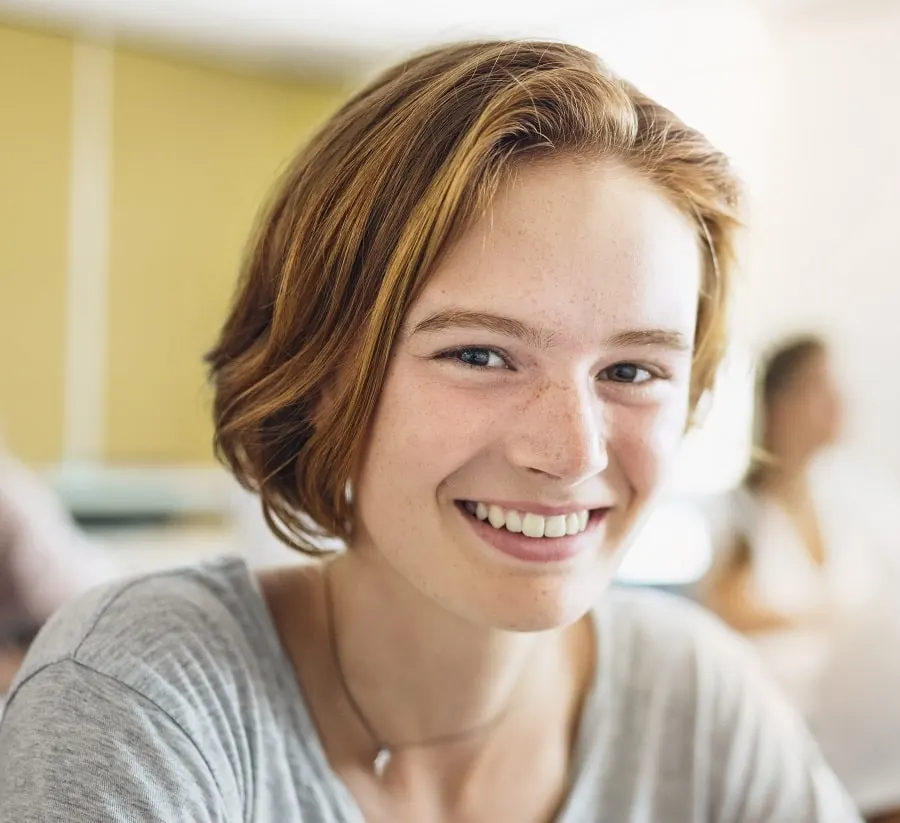 If you hate putting a lot of time into styling your hair, you'll want to choose this short haircut. It features layers that are easily finger-combed and when you want to switch it up, all you have to do is create a subtle side part.
15. Curly Hair with Headband
Whether your hair texture is naturally this beautifully curly or you add them with a curling iron, finish your bob's style off with a pretty headband. You can use a ribbon or a soft cloth headband in a flirty color like pink for softness.
16. Side Parted
For teenage girls whose hair is straight and either thin or fine, give your short bob a boost of volume with a heavy side part. No one, including you, will know that your hair isn't actually this thick!
17. Short Blunt Bob
A short asymmetrical or A-line bob is ideal for girls with straight hair since a blunt cut will be more noticeable. Asian women with a round or wide face shape will appreciate how a middle part helps slim the face.
18. Half Up Short Bob
How cute is this half updo for a teen girl's short bob? The hair itself is chin-length and the bangs are thick but bluntly cut. A textured half ponytail is super cute for any occasion.
19. Messy Short Waves
If you're partial to a bedhead hairstyle, you'll love a messy short bob. The key is creating texture first either with your waves or curls, then finger styling with a mousse.
20. Half Up with Color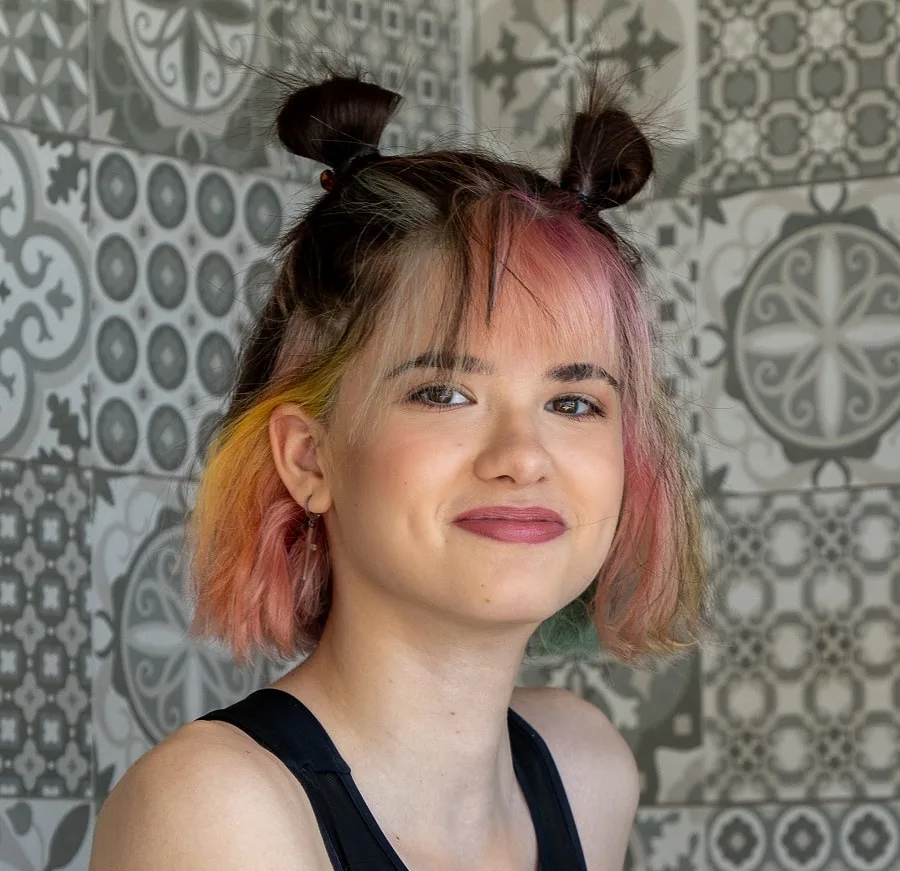 As you can see from this bob styled into fun space buns, a short haircut will still allow you to put your own spin on your new look. For extra style, mix bright colors to accentuate bangs and the ends of your hair.
21. Angled Short Bob
Smokey gray hair color is one of the trending hair colors for teen girls. If you're feeling brave, try it on a chic angled bob with soft waves.
22. Mullet Bob
Teenage girls who are a little on the wild and quirky side will love the way a short mullet bob looks. Its plentiful layers create texture, while platinum blonde ends will make sure everyone notices you!
23. Short Undercut Bob
A half shaved bob is unique and edgy, perfect for teenage girls who love experimenting with different looks. Wear the one side straight or dress it up with a few wavy strands.
Which short bob is your favorite? The above list of short bob styles for teenage girls will help you see that short hair doesn't equal plain. Whether you add unusual colors, try a shaved short bob, or keep it girly and flirty with waves, there's a look every teenage girl will love!