Hailed as the color of the year for 2023, Viva Magenta is at the top of everyone's list when it comes to all things fashion and beauty— hair color included!
Because of this, we're already seeing a lot of actresses with purple hair that's joining the bandwagon and for good reasons.
For one, purple is a huge step-up from the natural-looking hair shades we often see, so it's the perfect hue if you want to stand out.
But wait, there's more. In addition to its brightness and playfulness, this hair color is receiving lots of love because of its versatility. From Maisie Williams' Lilac bangs to Pom Klementieff's dark purple lob, this wide range of spectrum shows that there's a shade of purple for your skin tone.
So what are you waiting for? Check out this article to get inspiration from the beautiful actresses with purple hair.
Popular Purple-haired Actresses to Get Inspired
Take a look at these actresses with purple hair for inspiration.
1. Maisie Williams – Lilac with Micro Bangs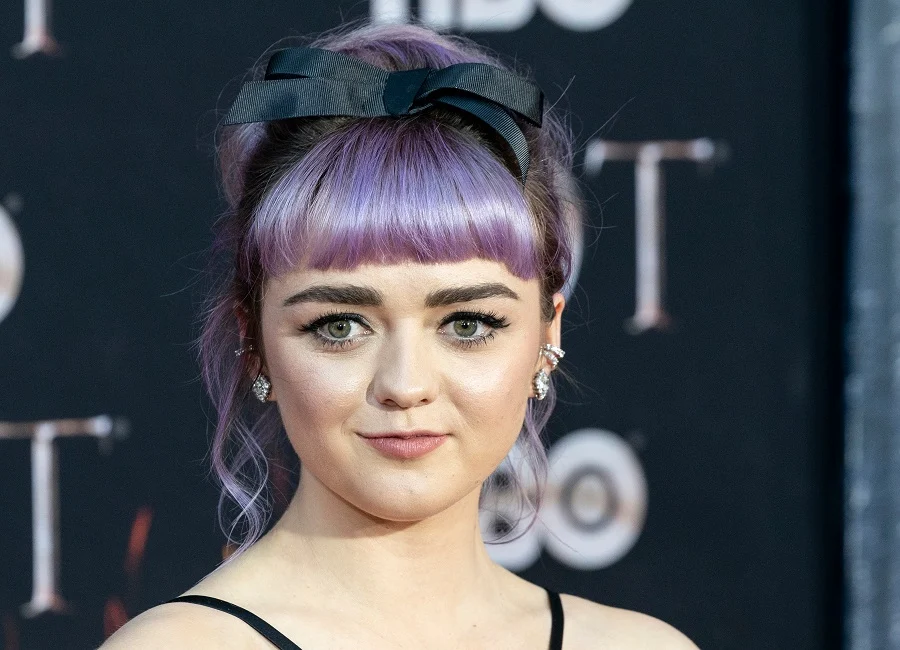 Give it to Maisie Williams to serve us with the edgiest way to style your purple hair.
This stylish lady went for a paste lilac color that exudes a feminine vibe. But, of course, she has to balance it off with an edgy black hair combination with fashion-forward micro-bangs to boot.
2. Regina King – Purple Braided Top Bun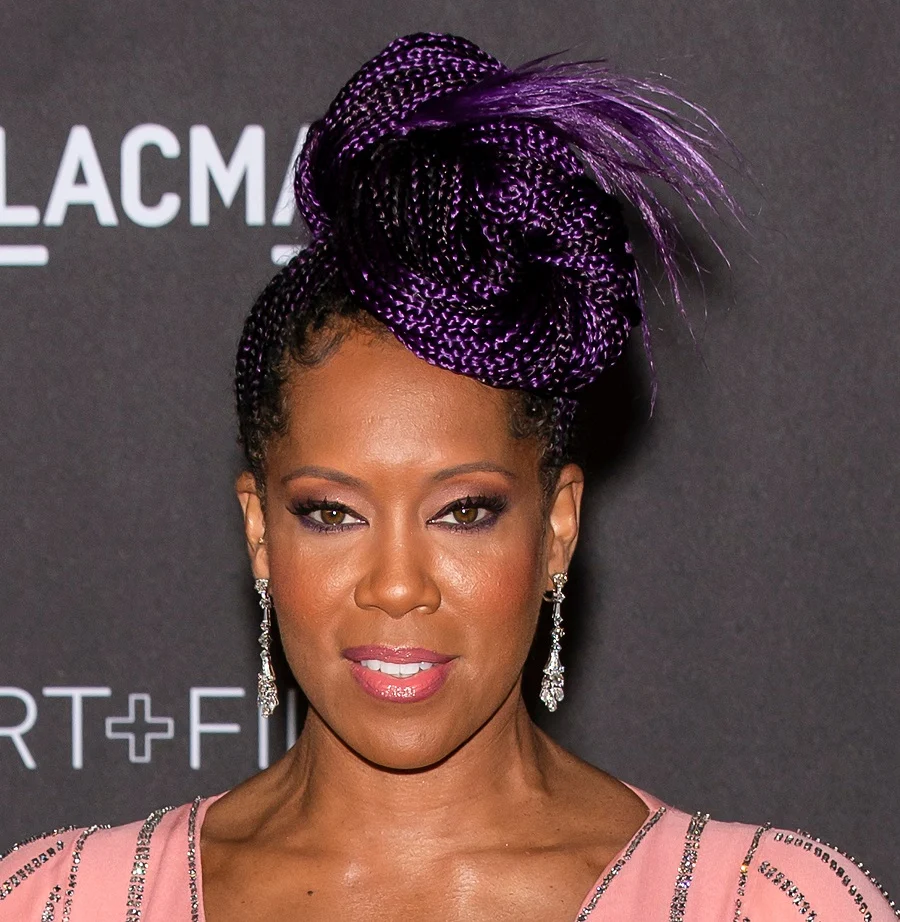 If you will sport purple hair, make sure that it will be the apple of everyone's eye, and it's exactly how Regina King did it.
Instead of trying to hide or simplify it, harness purple's eye-catching power by showing it off in a beautiful braided top knot bun. There's no better way to do it indeed.
3. Kelly Osbourne – Lilac Wavy Fohawk
Kelly Osbourne styled her purple in her usual fun and flirty fashion, making her one of the most stylish actresses with purple hair.
To copy this, ask your hair stylist to shave the sides of your head then create waves then use a simple straightening iron with curved edges to create waves on your fohawk.
4. Nicole Richie – Lavender Curly Lob
When it comes to purple hairstyles, the simpler the better, and Nicole Richie shows us how it's done. Instead of going for over-the-top hairstyles, she stuck with a simple curly long bob to allow her lavender tresses to take center stage.
5. Michele Morrow – Purple Balayage
If anyone knows how to turn purple hair into a rock star look, it would definitely be no other than Michelle Morrow. She is one of our favorite purple-haired actresses out there.
With her purple balayage, she proved that you can sport a rocker chic look without spending big bucks or ruining your hair health.
6. Ella Purnel – Plum Wavy Hair
For those who have a darker skin tone like Ella, plum is the best shade of purple hair to try. This exquisite shade is bold and vibrant yet still subtle and elegant. It also brightens the hair and gives it a beautiful tint when exposed to light.
7. DeVore Ledridge – Magenta Braids
For women who are as bold and courageous as DeVore, magenta is the perfect purple shade that you should try.
This bright shade is a blend of pink and purple which are two hues that can turn heads around.
8. Demi Lovato – Silver and Purple Ombre
She is one of the most popular celebrities with purple hair. Demi Lovato definitely knows how to get the mysterious and stylish look down pat. She paired her edgy undercut with a combination of silver and purple ombre.
The two shades created an ashy shade of purple that adds a touch of softness and mystery to her black hair.
9. Pom Klementieff – Dark Purple Lob
Pom is one of the few actresses with purple hair who went all out. She covered her full head of hair with a fabulous dark purple shade that complemented her pale skin tone and brought it back to life.
10. Vivica A. Fox – Reddish Purple Curls
For those who want to go for a classy and elegant purple hue, Vivica is the actress to look up to. She made her beautiful wavy hair come to life with a dazzling reddish-purple shade. The combination of deep purple and dark red created brighter and bouncier curls.
11. Lana Condor – Pastel Purple Tips
Lana Condor gave us an example of how to show off your purple hair in the subtlest way possible. She shied away from going all-out purple and dyed only the tips of her hair instead. This is the best way to give this whimsical shade a try without making a commitment.
Purple hair may seem like a challenging choice, but these actresses with purple hair show us how to do it. From dyed tips to fully dyed hair, you surely have a lot of options when it comes to dyeing your hair purple.