You have black or very dark brown hair and are looking for a change, nothing like getting inspiration from black-haired actresses from Hollywood and around the world.
Famous actresses are known for their incredible talent and artistic ability, but also become iconic for their hair choices. And the ones with black hair or dark hair have the ability to style it in versatile ways.
To help you with that, we've prepared this list that contains popular celebs who have black hair and distinct hairstyles. We made sure to include hairstyles for different face shapes and hair types.
So, keep reading to get that inspiration flowing.
Popular Black-haired Actresses
Here are 15 renowned actresses with black hair and trendy hairstyles.
1. Audrey Tautou – Curly Pixie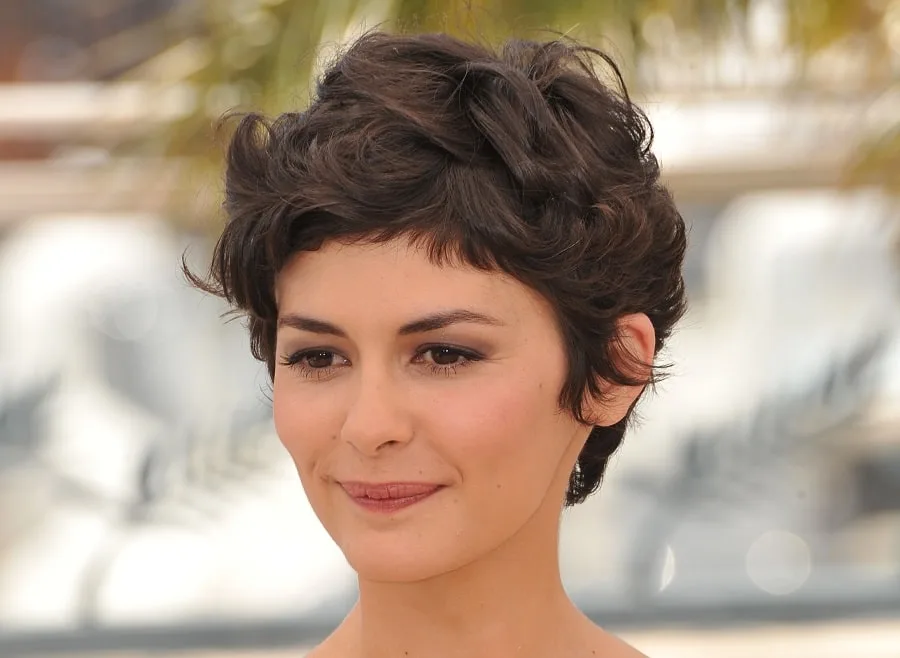 Audrey Tautou is a French actress who rocks an iconic, cute, short, and semi-wavy pixie haircut. This sophisticated and super short hairdo immaculately suits her diamond-shaped face and tight-lipped smile.
She does not include a part but instead allows her hair to fall naturally, with strands sweeping in various directions.
2. Christina Ricci – Straight-Edge With Bangs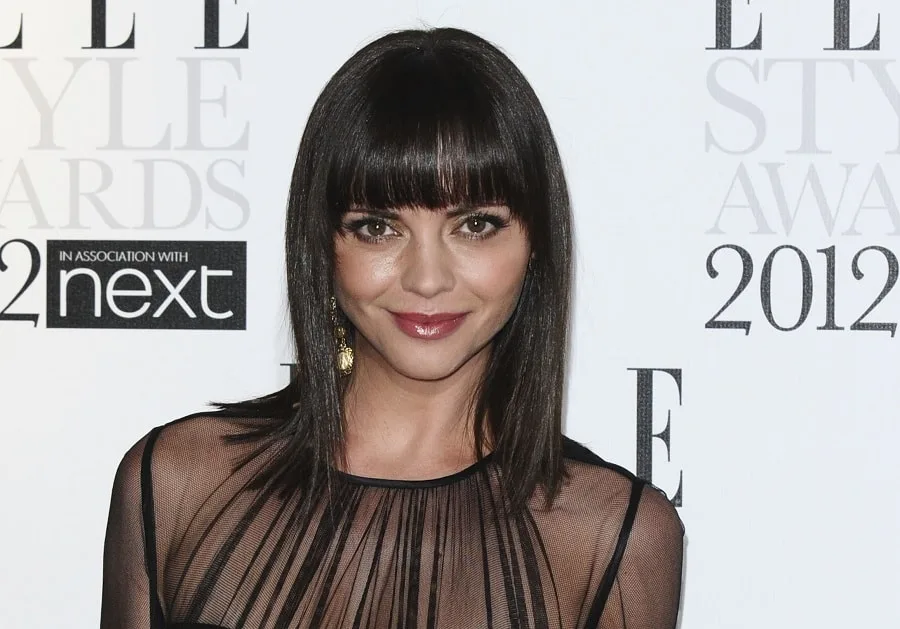 Christina tends to play intriguing characters with a twisted side to them, so it's fitting that she likes to wear her dark black hair in a pin-straight fashion.
She also likes to wear straight, properly cut bangs that shift the focus to her striking, glaring eyes.
3. Demi Moore – Centre Parting
Demi Moore has an iconic look that has not changed much since she rose to fame in the 1980s. She still likes to wear her long, black hair in a sleek and straight style.
And she parts it down the middle to keep the focus on her long, angular face.
4. Gabrielle Union – Sleek High Bun
She is a black actress, activist, and author who likes to wear her hair in a sleek and sophisticated style.
She pulls her long black hair back into a high bun, which shows off her pretty face. She does not include a part in this look, which draws attention to the intricately wrapped bun.
5. Katie Holmes – Medium Waves
This actress with black hair still carries that girl-next-door look we all know and love, even though she has been in the public eye for around two decades.
And her go-to hairstyle is a medium-length, wavy style that is versatile and timeless.
6. Lucy Hale – Short Side-Parted Chop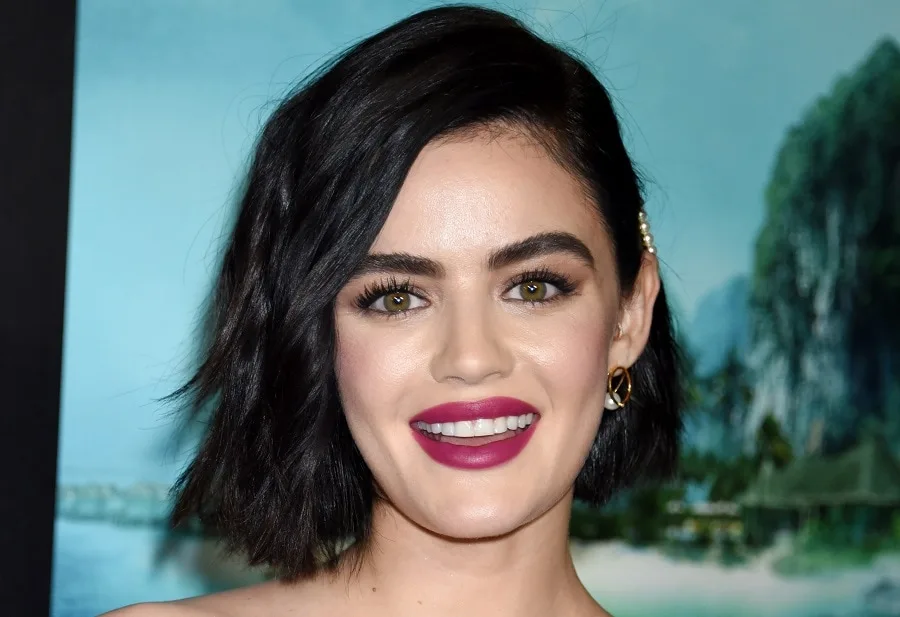 Hale is a singer cum actress, who sports a choppy black mane that compliments her bright green eyes.
She has had longer hairstyles in her days, but she is best known for rocking a short, sleek, chopped hairdo that perfectly frames her face and brings out her eyes and lips.
7. Marion Cotillard – Brushed Back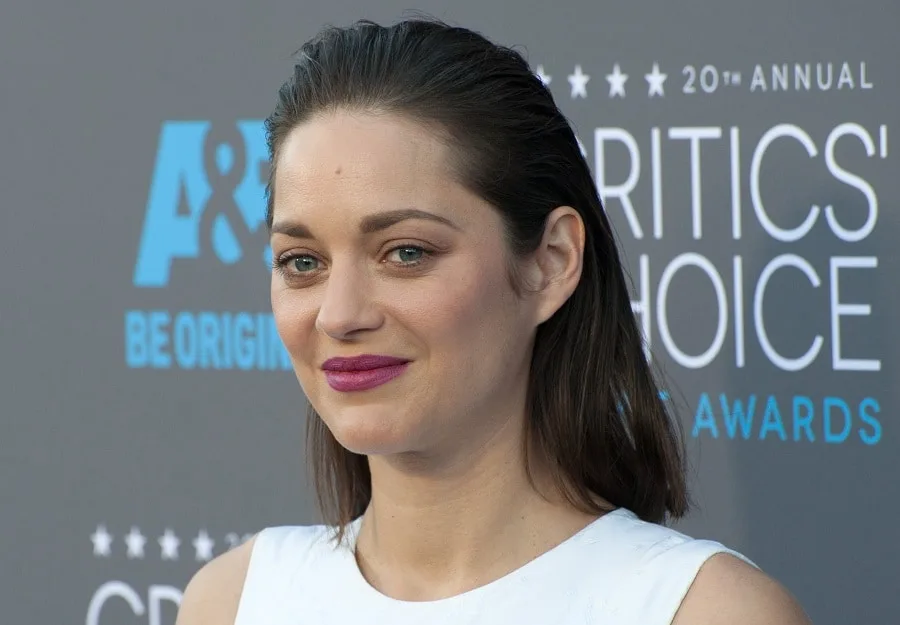 Marion Cotillard is a French actress who likes to keep her black hair looking natural and inviting, yet still sleek and sophisticated.
She keeps it at a medium length and brushes it back away from her face to show off her pretty, classic features.
8. Megan Fox – Loose Long Waves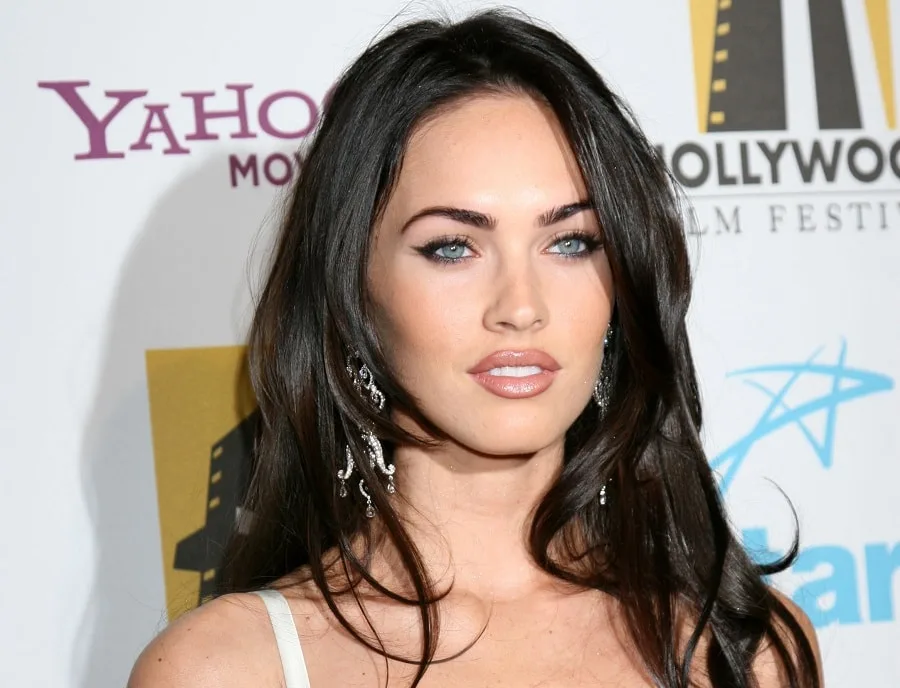 She doesn't have to do much to look exceptional. So perhaps that's why she chooses to keep it simple yet sexy with her hairstyles, such as sporting simple, very loose waves that almost look like strands of straight hair blowing softly in the wind.
9. Lupita Nyong'o – Angular High-Top Afro
Lupita Nyong'o is known for her riveting performances in impactful movies like "12 Years a Slave" and "Get Out," but she's also known for her strikingly good looks.
She can pull off short curly haircuts but sometimes lets her natural hair grow longer to shape more intriguing styles like this angular high-top afro.
10. Mila Kunis – Vintage Waves
Mila Kunis is known for her role in the sitcom "That 70's Show," but she has come a long way since then — and so have her red carpet looks.
For "The Spy Who Dumped Me" red carpet, she sported a modern take on a classic, gelled, side-swept wavy bob with black hair. Not many people could pull off this style without looking too old-fashioned, but she did it with flying colors.
11. Zendaya – Long Cornrows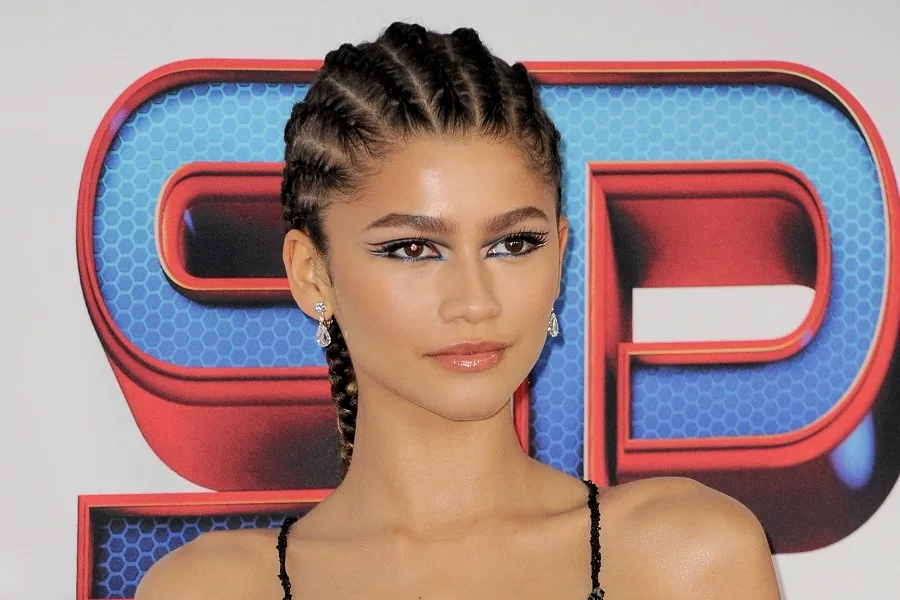 Zendaya arguably switches up her hairstyle more than any other modern actress, but this look for the Spider-man red carpet was a show-stopper.
Cornrows are an African hairstyle and proved to be a wonderful choice for Zendaya to show off her immaculate style and lovely facial features, especially with her eclectic eyeliner to match.
12. Krysten Ritter – Jet Black Bob with Bangs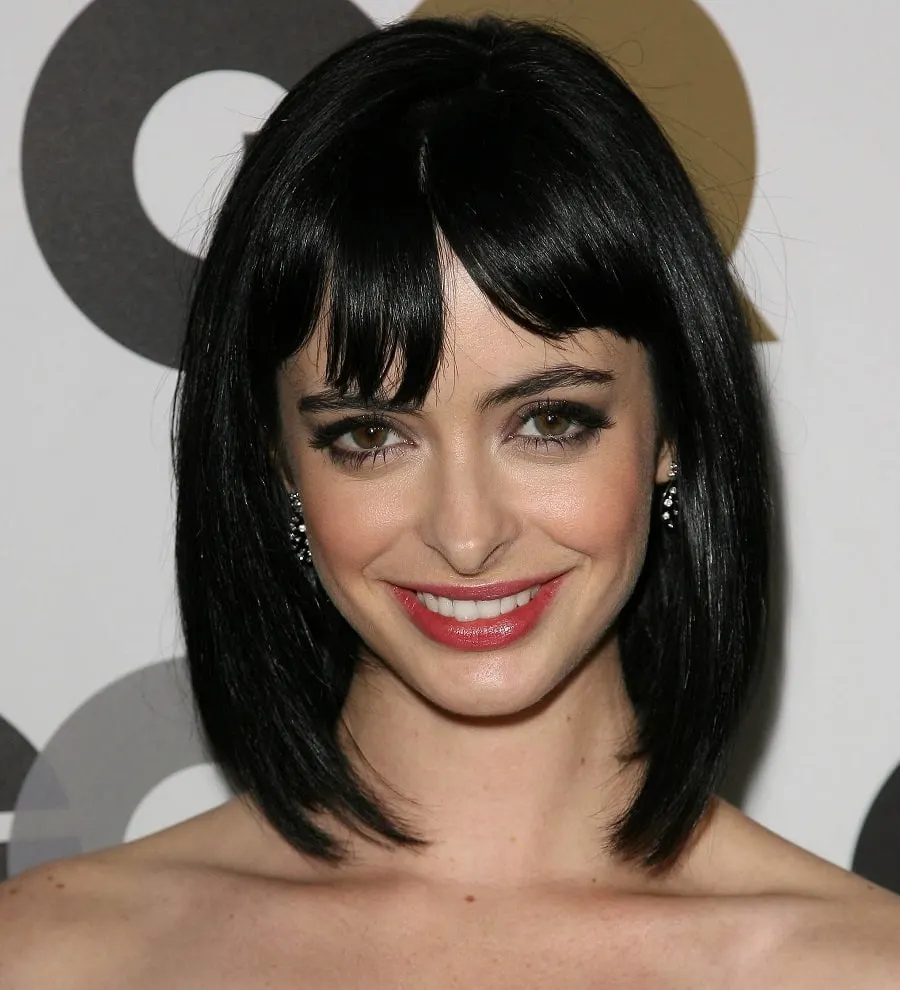 Bobs can often look a bit safe and boring, but Krysten Ritter's jet black locks look striking in a medium-length bob, especially with middle-part bangs that draw attention to her other moody and striking facial features.
13. Constance Wu – Long Braided Tail
Wu is a Taiwanese-American actress who has made a name for herself in recent years with her role in the hit show Fresh Off The Boat and the movie Crazy Rich Asians.
And she likes to wear her long, black hair in a sleek and simple style – parted to the side middle and gathered into a low and appealing braid.
14. Vanessa Hudgens – Waves with Side Swept Bangs
The American actress and singer Vanessa Hudgens is no stranger to red carpets and events, so she knows a thing or two about how to style her hair.
In her younger Disney-Channel years, she was best known for a relaxed wavy style with side part bangs that looked open, lighthearted, and youthful.
15. Taraji P. Hensen – Slick High Ponytail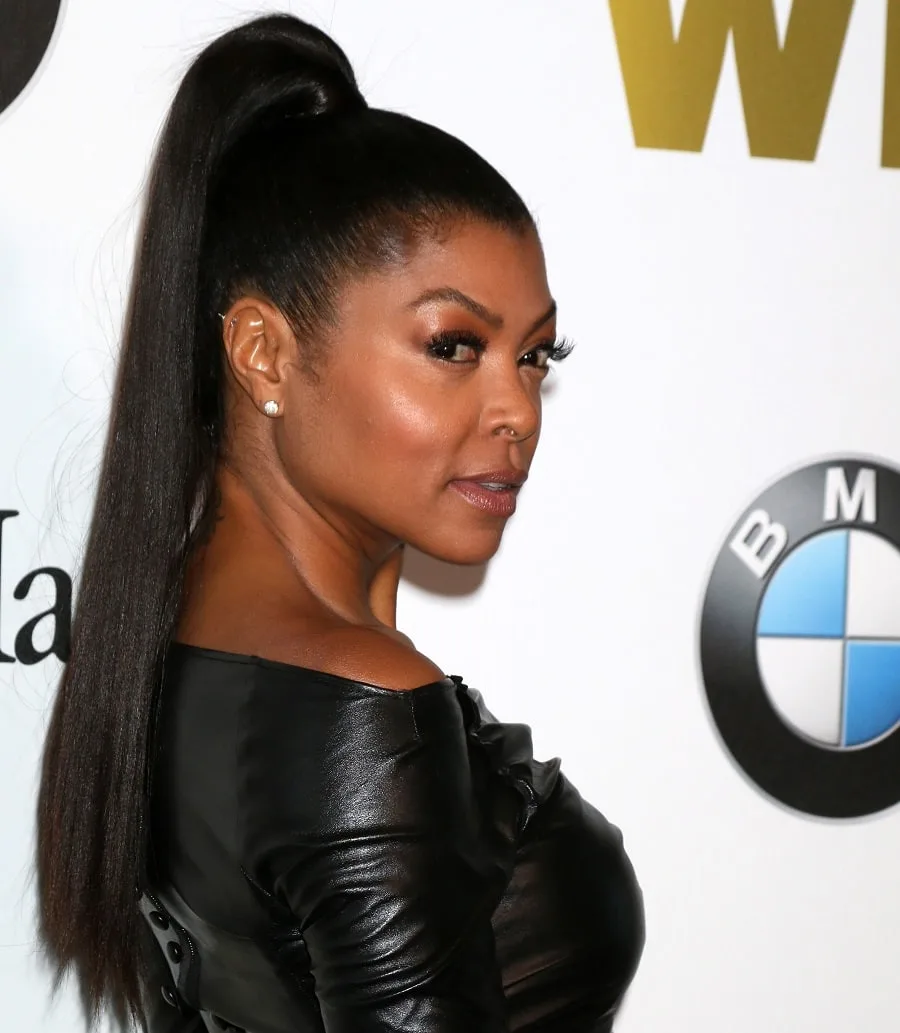 Taraji is one of the black actresses who has made a name for herself in comedies, dramas, and rom-coms and has been successful with TV shows and movies.
Like her career, her hairstyles are quite versatile, and she tends to switch things up, but she looks fabulous with a slicked-back high ponytail that looks both elegant and super fun.
Black hair is beautiful, no matter what style you choose to wear it in. Whether you're looking for a sleek and sophisticated style, or something fun and funky, there's sure to be a hairstyle out there that's perfect for you.
Here you have a list of hairstyles of black or dark hair, from very short haircuts, like the one from Audrey Tautou, to medium-length ones, such as Marion Cotillard's hairstyle, to Megan Fox's long waves. We haven't forgotten the African-American hairdos, and also included Zendaya and her cornrows.
And, of course, you can use one of these black-haired actresses to inspire your next look!
Related Topics