Purple is one of the most flattering hair shades you can try. While purple may seem like an unusual hair color, it gets instant attention. That's why you'll see renowned celebrities with purple hair every now and then.
After all, it's a crossover between red and blue, two natural shades found in our complexions, no matter your skin tone.
It's undoubtedly for the fashion-forward femme fatale, and these beautiful purple-haired celebs will surely agree with us!
That's not all.
You can also find a wide spectrum of shades under the purple umbrella—lilac, lavender, violet— you name it! that, so you can definitely find the perfect purple hair color shade that suits your personality.
Popular Celebrities Who Rocked Purple Hair
If you're considering going for purple hair, here are some of the glamorous celebrities that you can take inspiration from:
1. Kelly Osbourne- Lob + Choppy Bangs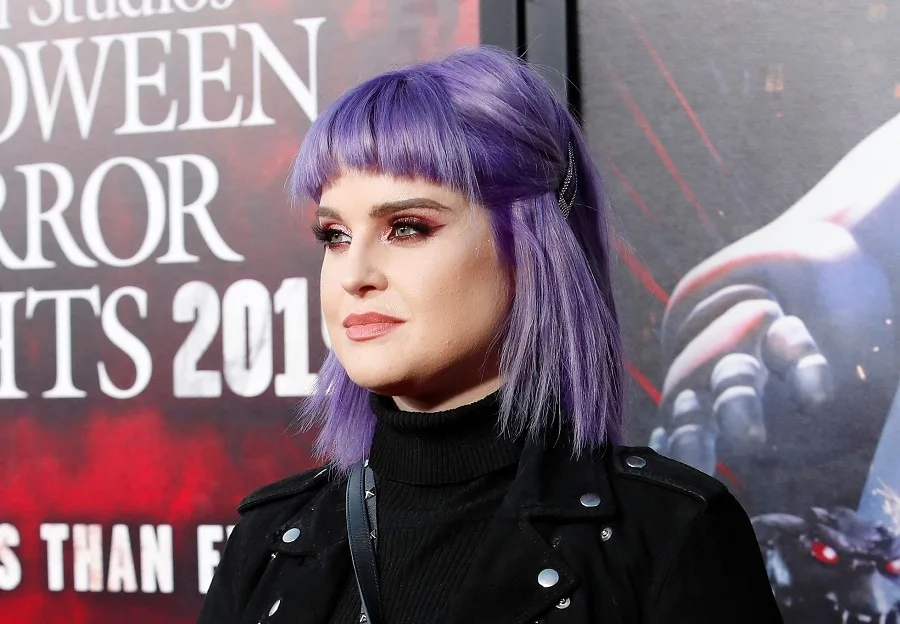 "New hair, new outlook!"
This was Kelly Osbourne's caption when she debuted her gorgeous purple hair after she came clean about her relapse, and we totally agree with her!
Her lavender-ish hair shade is a breath of fresh air from her normal dark frock. She even elevated her look with a choppy lob and micro fringe which is also perfect for rocker chics like her.
2. Andrea Russett – Plum Hair
Do you want the charm and enchanting look of purple but in a darker shade? Try going for plum, a subtle purple shade with slight tinges of brown, so it's easier to match and style than other hues out there.
This deep shade of purple suits women with a warmer complexion, like the celebrity Andrea Russett.
3. Demi Lovato – Ombre + Undercut
Demi Lovato has had so many hairstyles over the years, but this rocking ombre and undercut combination takes the cake!
For anyone who's looking for a balance between playful and edgy, this is the hairstyle to try. The cute and feminine lavender ombre definitely balanced out the badass vibe of her undercut.
4. Nicole Richie – Metallic Purple
Nicole sported a mesmerizing metallic shade that had us feeling all regal and sophisticated just looking at her.
5. Kesha – Faded Purple
Kesha's hair went full-on cosmic with a faded purple shade! It was the perfect way to showcase her adventurous spirit and love for out-of-this-world styles.
6. Cara Delevingne – Lavender Purple
Cara Delevingne is an English model and purple-haired actress. She sported a lavender-purple shade that made her hair look like pure magic. We're totally enchanted!
7. Kylie Jenner – Soft Pastel
Kylie Jenner showed off her sleek long hair with a majestic pastel-shade look. She shone bright like the fashion icon she is!
8. Hayley Williams – Punky Orchid
She went full rebel with her orchid purple hair, and we couldn't be more obsessed. That color perfectly captured her high-energy spirit!
9. Jourdan Dunn – Silver Purple
She rocked a silver purple hair color that oozed elegance and sophistication. She definitely stood out on the runway with that fabulous hue!
10. Ellie Goulding – Smokey Shade
Ellie Goulding opted for a dreamy smokey purple shade, which gave her hair a subtle, romantic charm. It perfectly harmonized with her angelic voice.
11. Nicki Minaj – Vibrant Violet
Nicki Minaj, never one to shy away from bold choices, slayed with her fierce violet locks. That vibrant shade was just as attention-grabbing as the queen herself.
12. Irene Kim – Electric Eggplant
She embraced a daring electric eggplant shade, proving that she's not afraid to take risks and make a statement with her hair color.
13. Lily Allen – Lovely Lilac
Lily Allen looked absolutely stunning with her perfect lilac shade. It added a touch of elegance and mystery to her overall style, making her even more captivating than before.
14. Taraji P. Henson – Dark Purple Curls
Taraji went all out with a majestic dark purple hair color that truly made her stand out. The fabulous shade added a touch of glam to her already fierce presence, and we can't get enough of it!
15. Olivia O'Brien – Half Up Half Down
When we think about effortlessly stylish celebrities with purple hair, Olivia O'Brien is the first that comes to our minds.
So if you want a simple yet charming purple hairstyle, copy her simple half-up and half-down hairstyle. But make it extra stylish by curling your hair and leaving a few face-framing strands at the front.
16. Regina King – Braided Updo
In 2019, Regina King made the rounds online with her purple box braids. Well, she took it to the next level when she showed up with a braided updo at the LACMA + Art Film Gala.
You can easily cop her 'do by dyeing your hair metallic purple, putting each strand into box braids then pile everything to a top knot.
17. Bailey Spinn- Layers + Curtain Bangs
For the ultimate Gen Z hairstyle, check out Bailey Spinn's sexy layers and gorgeous curtain bangs. With its face-framing layers, it's the perfect combo for women with round faces.
The enchanting pastel purple color makes the entire look more captivating, making her one of our most favorite celebs with purple hair.
18. Justine Skye – Curly Purple Hair
A popular celeb with curly hair. Even though Justin Skye has already left the purple hair movement, she once was hailed as the queen of purple hair, and for plenty of good reasons!
For one, she has already tried all shades of purple hair imaginable and this burgundy-violet combination is our favorite.
The transition from deep to bright purple shade and her bouncy natural curls created a magnetic and head-turning look everybody would want to copy!
19. Jessie J – Dip-Dyed + Full Bangs
If you wish to serve some serious goth girl look, take your cue from Jessie J's dip-dyed eggplant purple hair perfectly paired with full bangs.
While we absolutely loved her full purple hair, we believe this is a great low-maintenance alternative since you don't have to constantly touch up your roots every now and then.
20. Michele Morrow- Balayage
Michelle Morrow's faded purple balayage is giving us another rocker-chic goal. Same with Jessie J, this one's easy to maintain but the ombre effect and the addition of other pastel shades made it look edgier.
21. Maisie Williams – Updo + Pastel Purple Full Bangs
Our favorite Game of Thrones star loves playing with her hair color and we think this pastel purple 'do look the most stylish on her.
And she didn't stop just with the hair color. She even went so far as going for full bangs and tying her wavy hair into a beautiful updo. For a touch of playfulness, take a page from her book and don an oversized black ribbon on top.
22. Helen Flanagan – Lilac Straight Hair
We almost didn't recognize Helen Flanagan when she ditched her brunette locks for this pastel-colored hair. What we love the most is she went for a simple straight hairstyle to let the lilac shade take center stage.
23. DeVore Ledridge- Magenta
Devore Ledridge looks magnetic in her vibrant red-violet hair color. To go with her highly energetic and playful look, she went for braided pigtails which you can easily make too!
24. Katy Perry – Black and Purple Vintage Curls
Old Hollywood Glam– these best describe Katy Perry's look. The good news is you can easily achieve this! All you need is to leave the roots black then dye your hair a rich purple color.
To style it, tease your roots, then create the Glam waves by curling the front sections in one direction and the back section in the opposite direction.
Rake your fingers through your hair then run with an oval brush to let the waves loose.
25. Perrie Edwards- Lavender Locks + Flower Crown
If you wish to go the boho route, Perrie Edwards is one of the best celebrities with purple hair you can take inspiration from. Like her, you can wear a fun lavender hair shade and soft curls.
Don't forget your Lana del Rey-inspired flower crown to complete the ultimate music festival look!
26. Vivica A. Fox – Pinkish- Purple Curls
For an attention-grabbing look, Vivica's pinkish-purple curls are the way to go! The energetic color combination of deep pink and purple added a shiny and vibrant touch to her already-sexy curls.
So you see, purple suits every personality, and these celebrities with purple hair just prove it! Whether you're going for a boho or classic look or want to show off your badass rocker-chic side, a purple shade is waiting for you.