Lavender, electric, plum; no matter which hue you choose, purple hair has some gorgeous variations. The color will certainly make you stand out and who doesn't want that?
Different Shades of Purple Hair Color
The following gorgeous purple hair colors are suitable for every hair type, from curly natural hair to short, choppy pixies. Read on to see 30 versatile styles that you're sure to fall in love with.
1. Lavender and Pink Ombre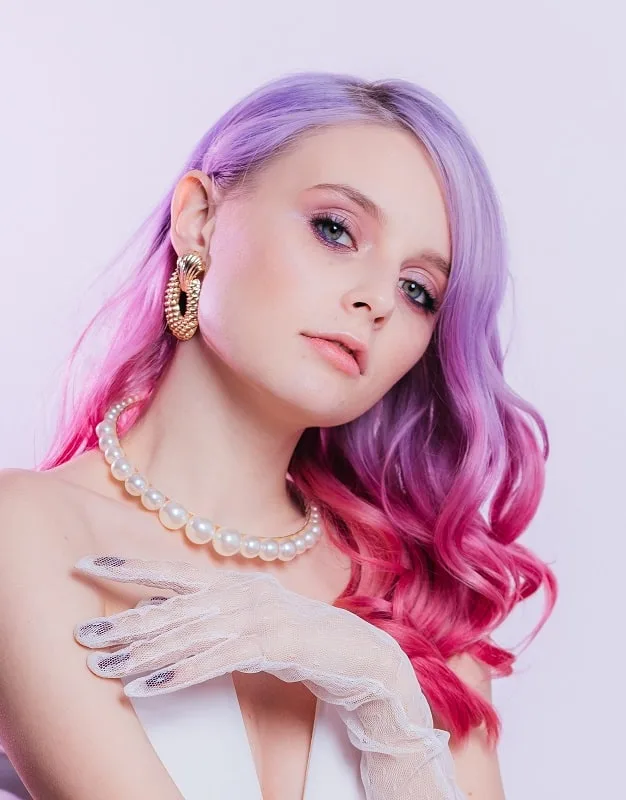 Pink ombre hair is great for the creative babe with long hair. Try this pink and purple hair combination on fair skin with pink undertones. This hair looks great in both straight and wavy styles.
2. Light Brown and Purple Ombre
Purple ombre hair is a great idea when brunette hair is at the top half of the head. This way, your natural hair can still frame your face and suit your look, while the purple color becomes richer as you move down the length of your hair.
3. Blue and Purple Blend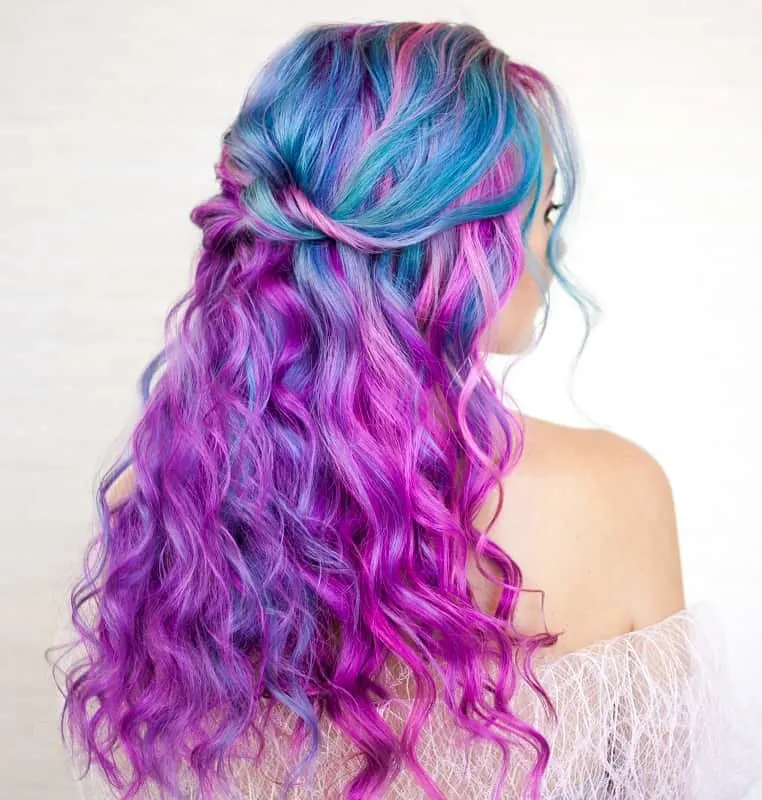 This electric pinkish purple color is gorgeous but can be overpowering on its own. Create a blue and purple hair look by adding in bright blue and teal to give your hair gorgeous mermaid contrast.
4. Purple Pastel Fade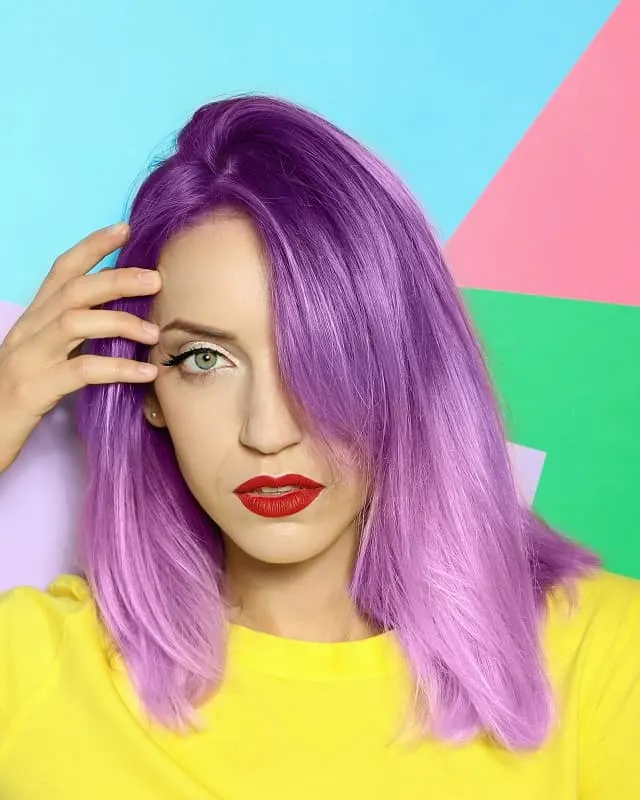 For something a little different, try pastel purple hair that is dark at the roots and fades to a light lavender color at the ends. This look is subtle and ideal for medium hair and skin that has yellow undertones.
5. Red and Purple Balayage
Make your look extra bright with a red purple hair look. This look focuses bright purple at the roots and creates a gorgeous balayage blend with a deep magenta red.
6. Red Plum Hair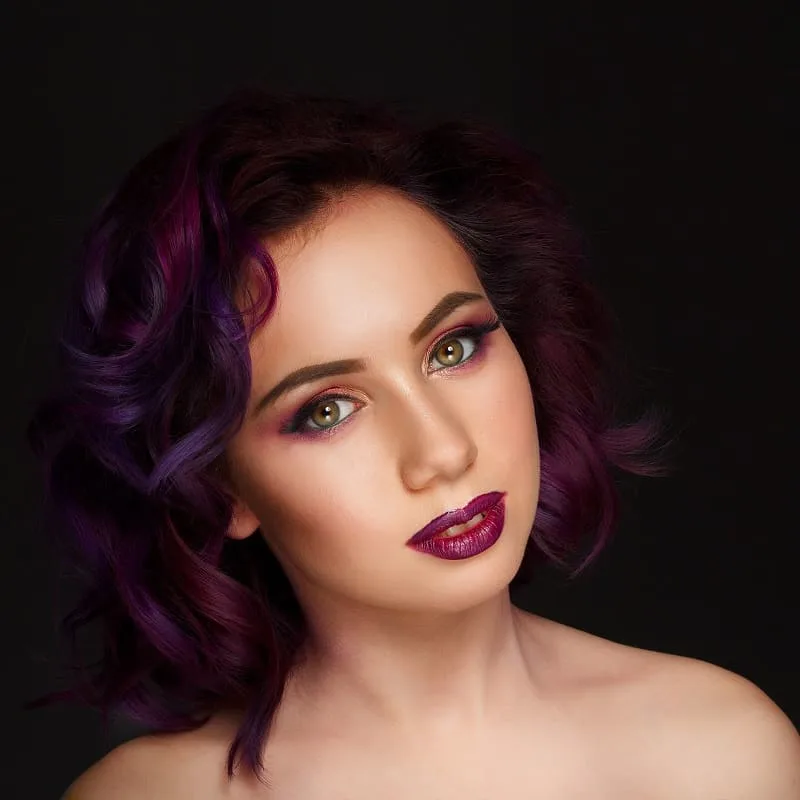 Dark purple hair is a great idea for golden skin tones and hazel, green, or brown eyes. Ask your stylist to use balayage so colors like red plum and eggplant can blend together for a deep, dimensional look.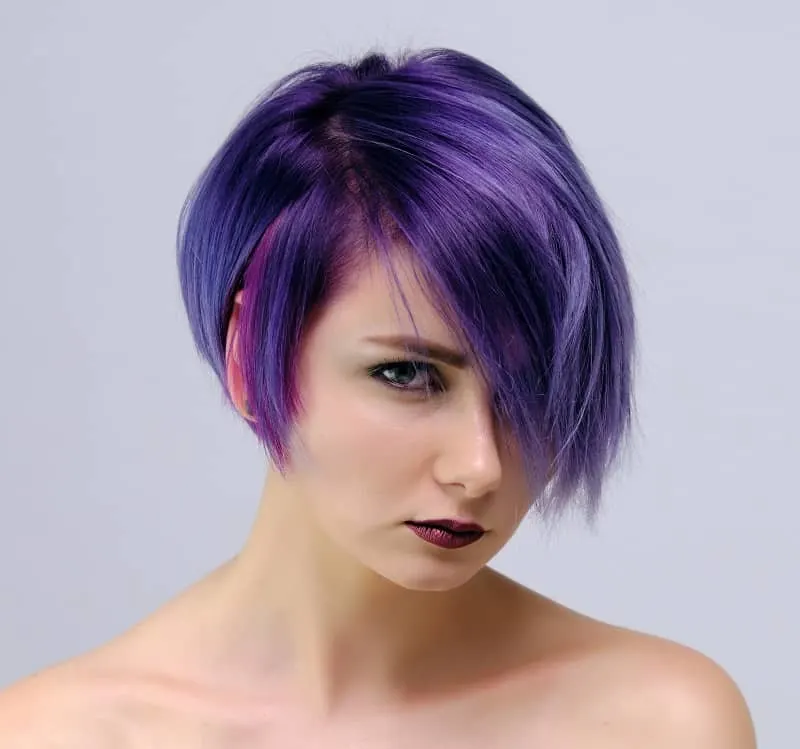 Instead of struggling to make a light purple color work, take things dark and blend black and purple hair together. This color is perfect for dark haired babes. But don't forget to add in a hint of a pink/purple hue around one ear.
8. Long Brown Hair with Purple Highlights
Combining brown hair with purple highlights gives hair a cool and trendy ash look. Whether you're into long hair with a shaved undercut style or want something more subdued, this hair color is totally hot.
9. Purple Pixie Undercut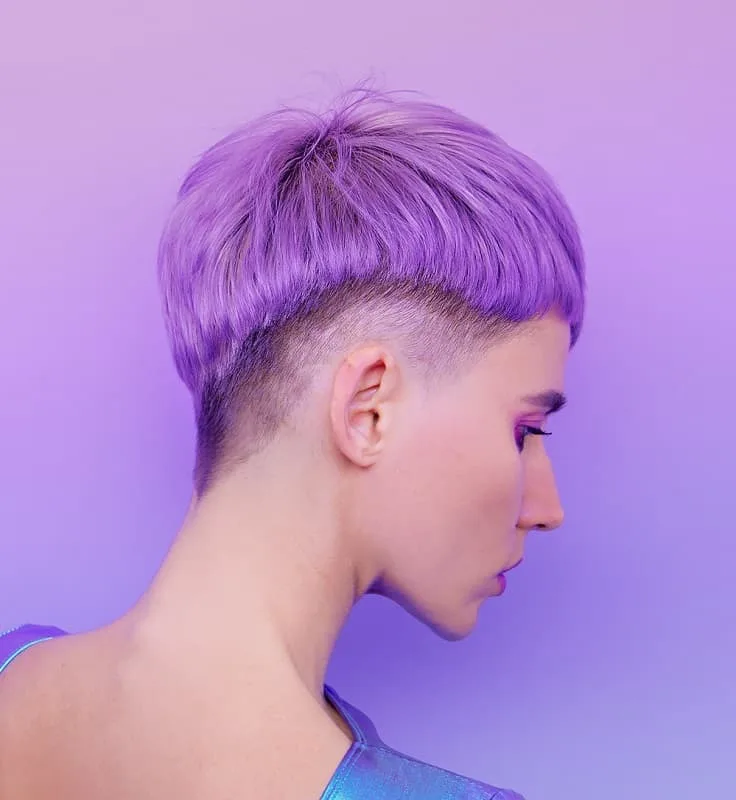 Undercuts are also awesome on short purple hair. Paint your hair a bright purple with a slight lavender tint, yet keep the buzzed, faded portion of hair in your natural color for some rich contrast.
10. Grey + Purple Hair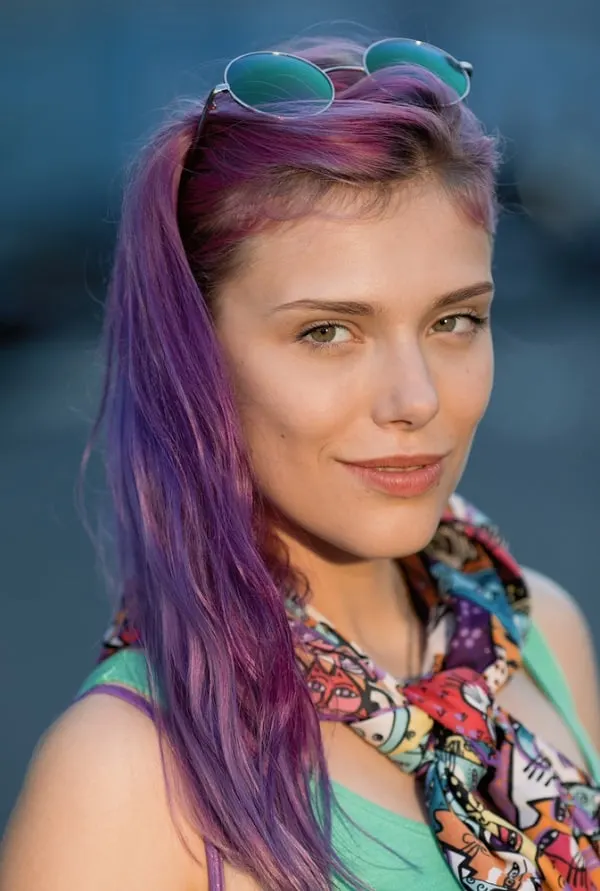 Grey and ash are trendy, so give portions of your purple locks a dusty tint so you can rock grey purple hair with style. Roots are also on-trend, so let your brunette roots grow out and add cool depth to this look.
11. Shoulder Length Brown Hair + Purple Tips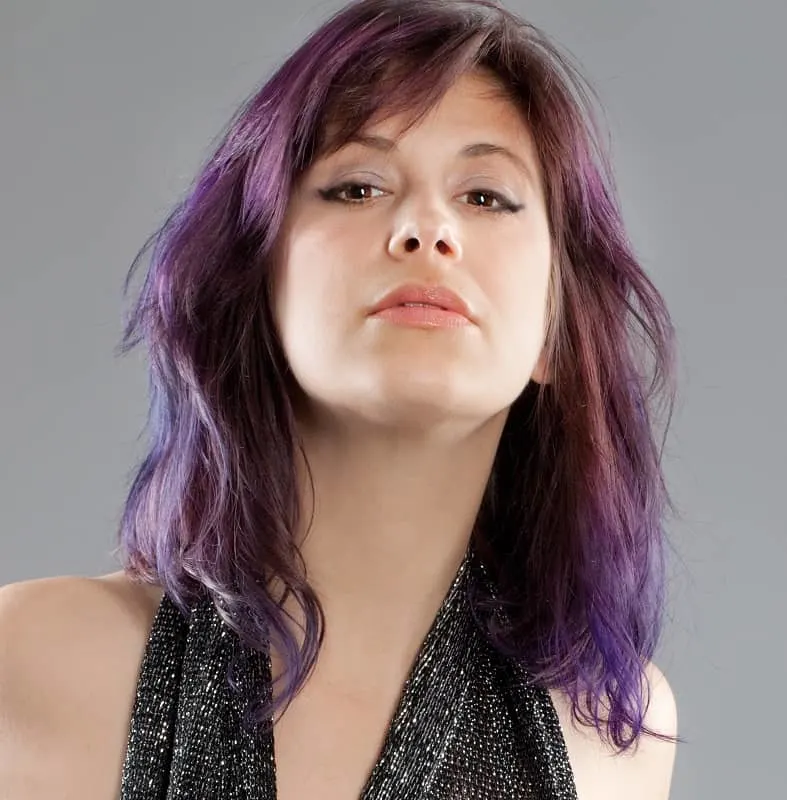 Blending purple and brown hair into one style is sexy and totally rocker chic. If your hair is dark brown or even black, choose a dark purple hue like eggplant, mulberry, or African violet to compliment your locks.
12. Blonde Tricolor Hair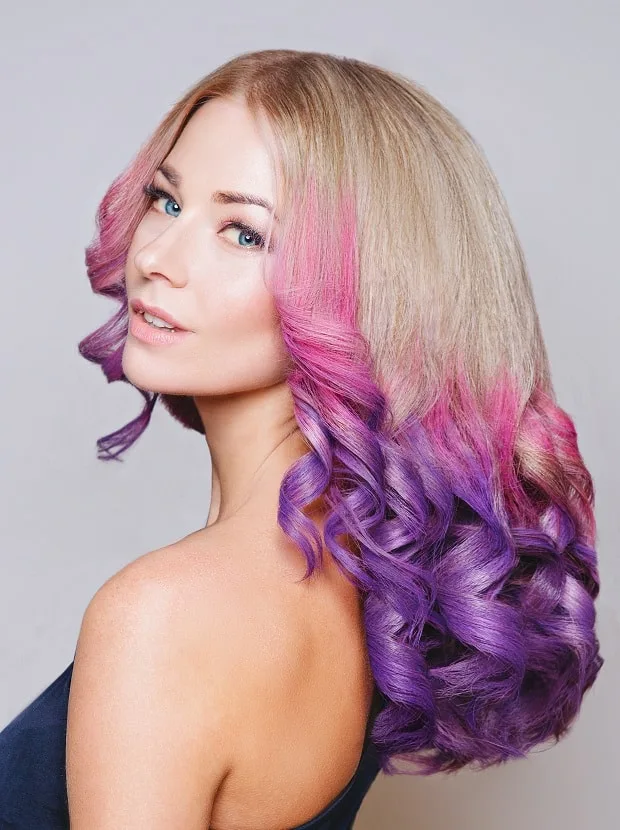 Looking for a bold way to bump up your light blonde and purple hair? Create a tricolor look with unicorn purple and pink in a layered fashion on the ends of hair. Let your light blonde hair surround your face to ground your look.
13. Purple Natural Curly Hair
Purple curly hair is so fun, so why not try it on your gorgeous, natural hair? If your curls are brown or black, go for a deep, ash purple with a slightly electric hue. Show off little roots and you're right on trend!
14. Green and Purple Ombre
Make them green with envy with this purple and green hair. Green is great for babes with red undertones in their skin, as these colors sit opposite each other on the color wheel. Blend purple and green together so no harsh lines can be found.
15. Purple and Pearl Pink Highlights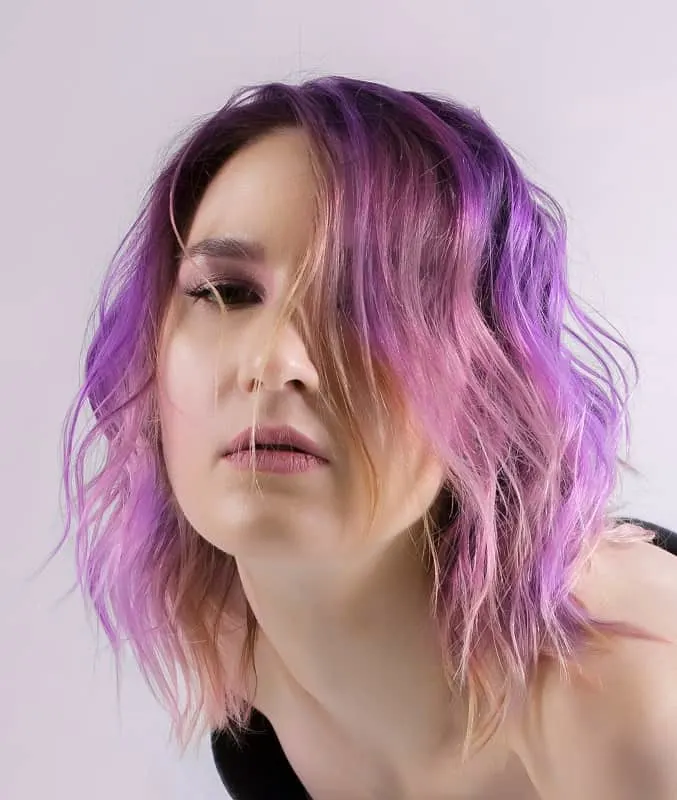 Combining purple hair highlights with a soft color, like this pearl pink, gives your look a touch of subtle sexiness. If your skin is fair and contains pink undertones, this could be the perfect blend for you.
16. Perfect Purple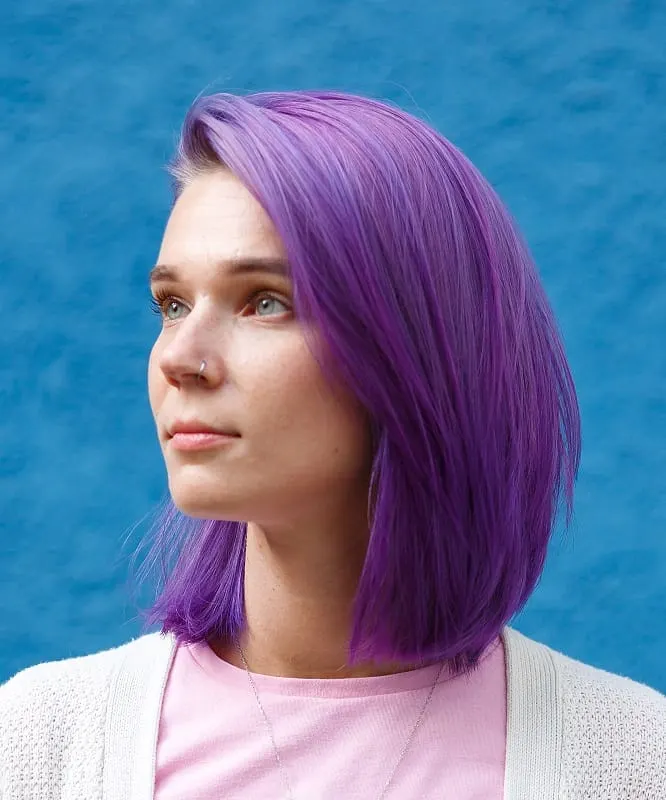 Here it is! Deep purple hair is ideal for a short cut like this long bob style and babes with medium skin tone. When your hair isn't too long, you don't have to go crazy with highlights, hues, and blends.
17. Light and Faded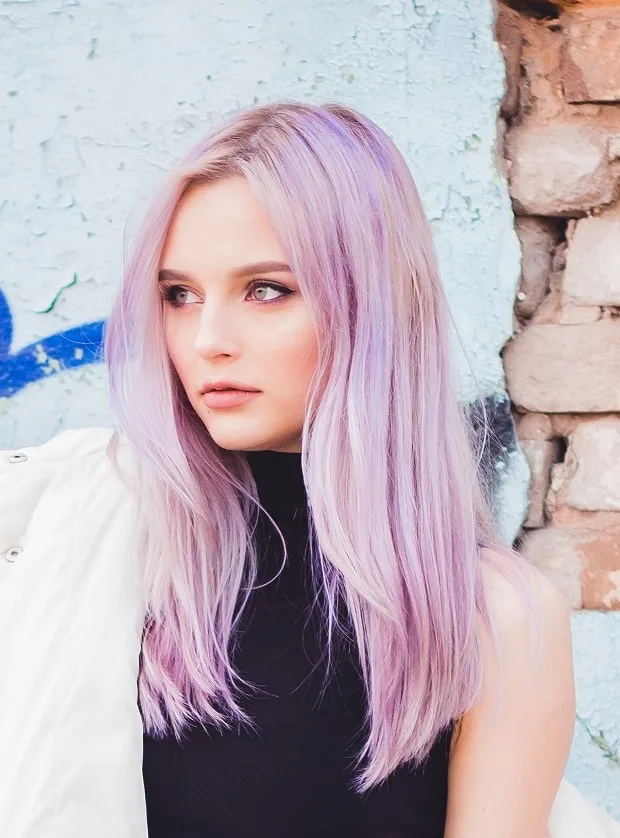 Pastels are very hot right now, so paint on faded purple hair to fall right on-trend. This look feels washed out, but it actually has a pearl tone that is great on fair skin. Try it on hair of any length and texture.
18. Tricolor – Pink, Purple and Blue Hair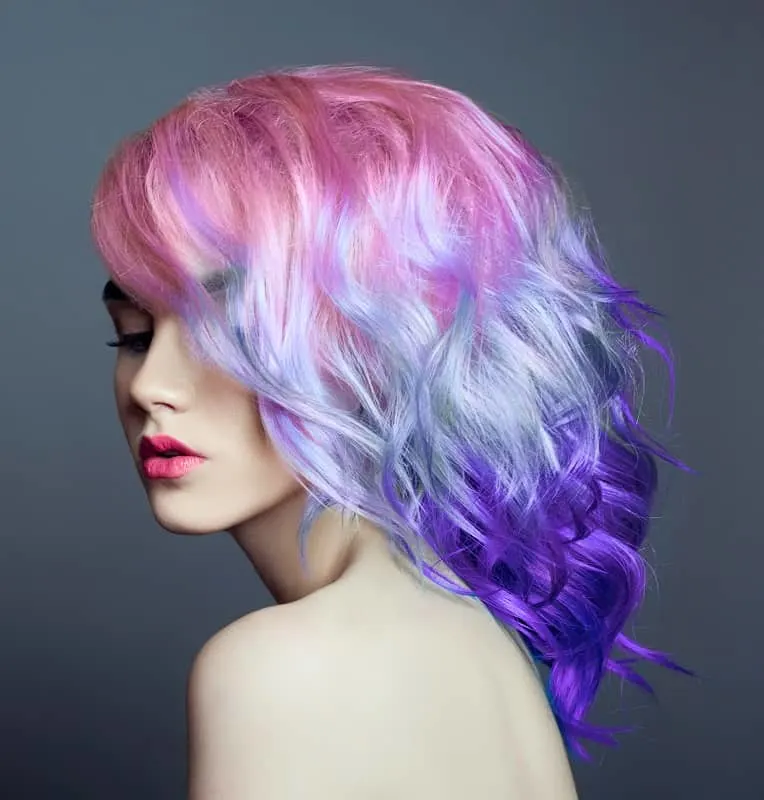 Another popular tricolor combination is pink purple and blue hair. For your blue color, choose a light and icy tone that can sit in the center of the style so that it hits around your cheekbones to brighten up your face.
19. Long Lavender Hair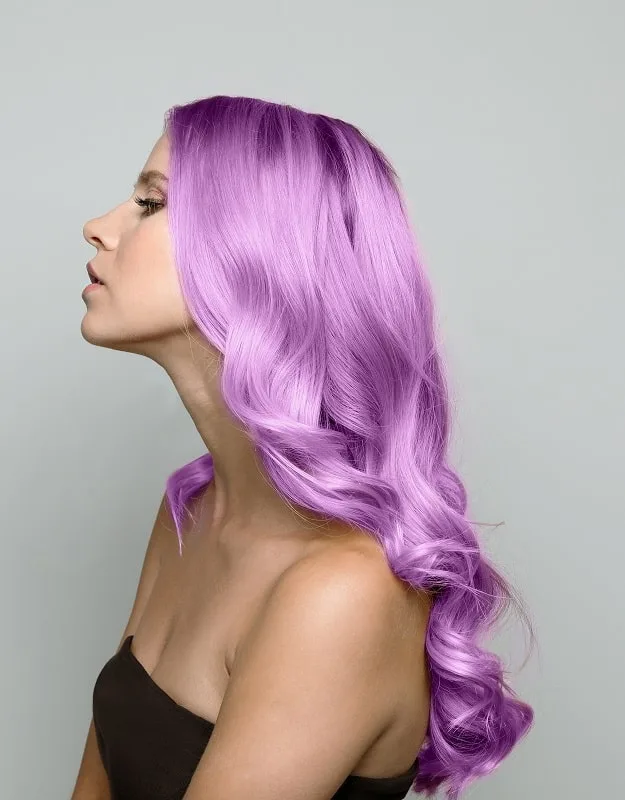 Lighter purple hues are perfect for tan skin. Try this lavender purple hair on your gorgeous long locks. Make sure hair is well cared for with conditioners and moisturizers so that shine is all you need to bring this look to life.
20. Purple and Bright Orange
This bright purple and orange hair combination isn't for everyone, but if you prefer bold looks, then it might be for you! A purple fringe can be fun for long face shapes and these colors contrast very well with green and hazel eyes.
21. Ash Plum Balayage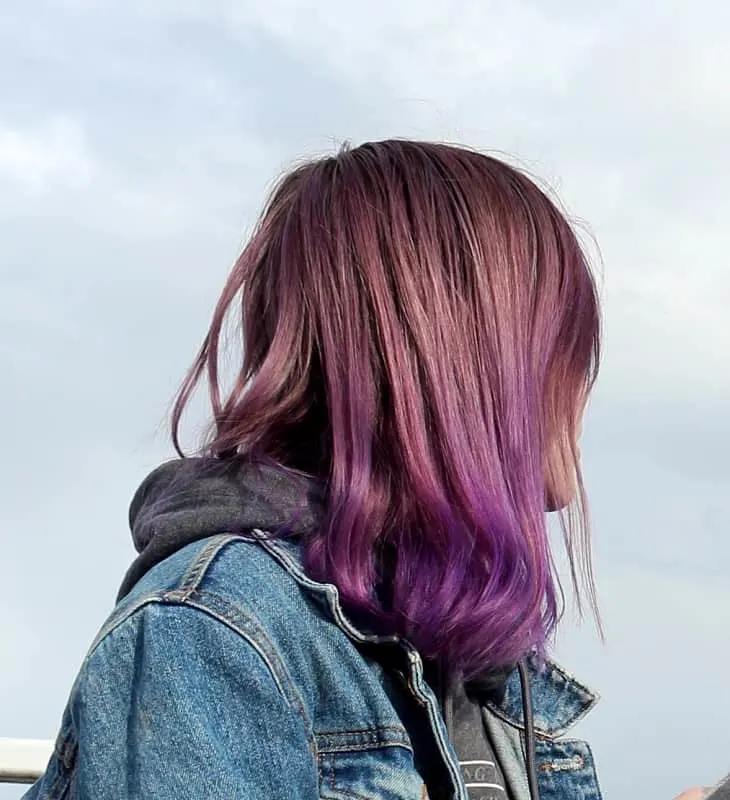 Purple balayage hair is ideal for giving your ash plum locks a natural feel. Let your stylist distribute color so that your look has the right tone and dimension. We love this look on medium hair especially.
22. Purple Box Braids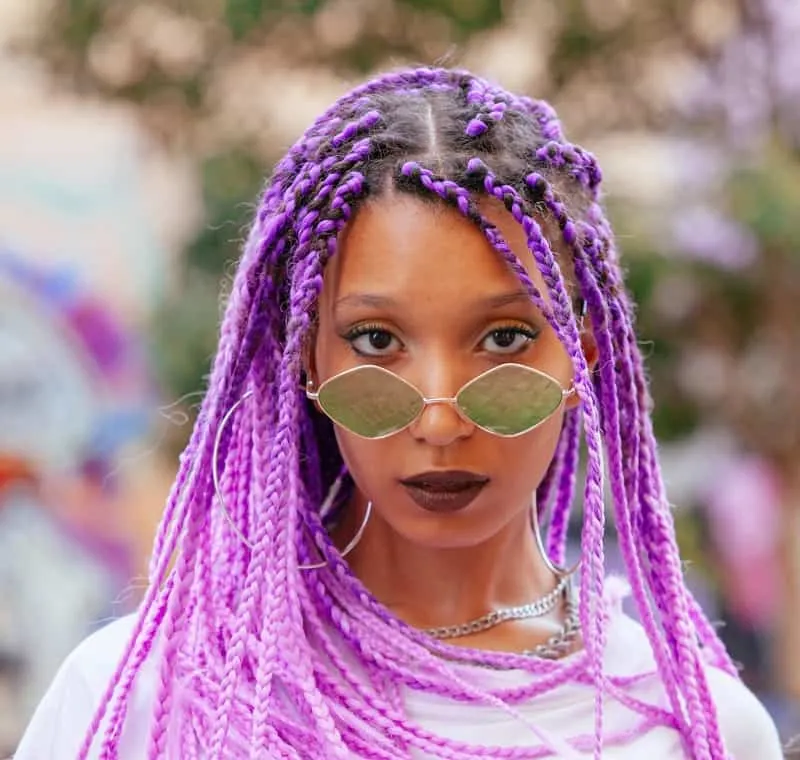 Show off your sexy style with purple braided hair. Slightly ombre box braids are perfect for girls with warm and dark skin. Let your natural dark hair pop and blend with the purple hue for an organic feel.
23. Lavender Pixie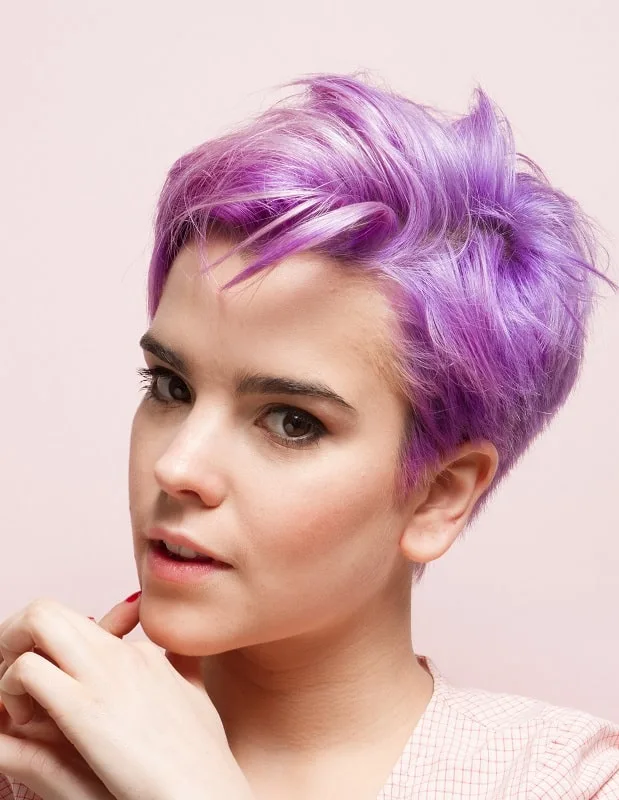 Short styles like this purple pixie cut feel fresh and fun. If you're looking to switch up your pixie on your pale or even dark skin, choose this beautiful lavender color. Create as much or as little dimension as you like.
24. Blue and Purple Waves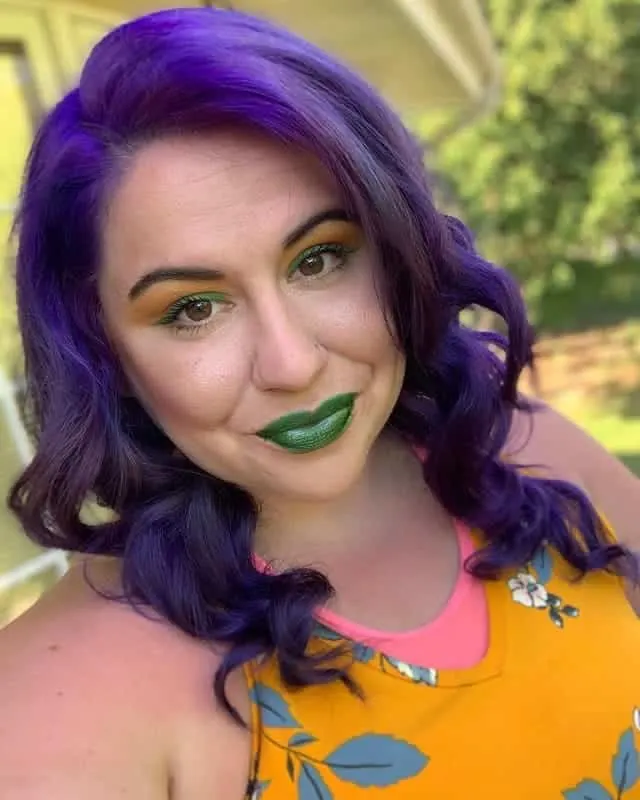 Waves are a stunning way to step out. If you have dark hair, some screaming colors can work well. Locking your waves with a deep purple at the root, with a curly wave of indigo and lavender purple hair color is exotic. This Hollywood actress's caption is a take away for the free at heart.
25. Purple Balayage Highlights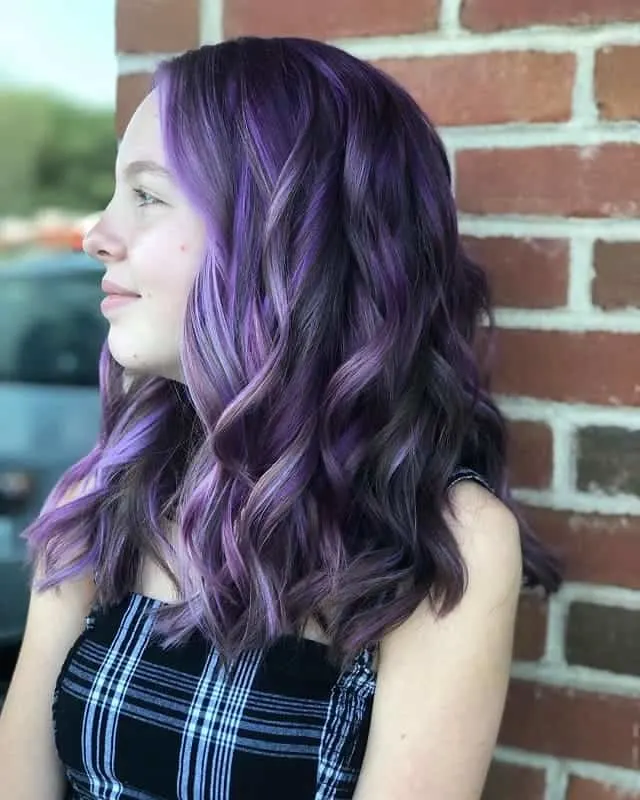 Sometimes it is good to set the trend. Multi layering alone is not enough. The blending threads of black, grey, ash and purple balayage highlights gives your hair the summer outing flair. If you have to explore your creativity, this is the place to start.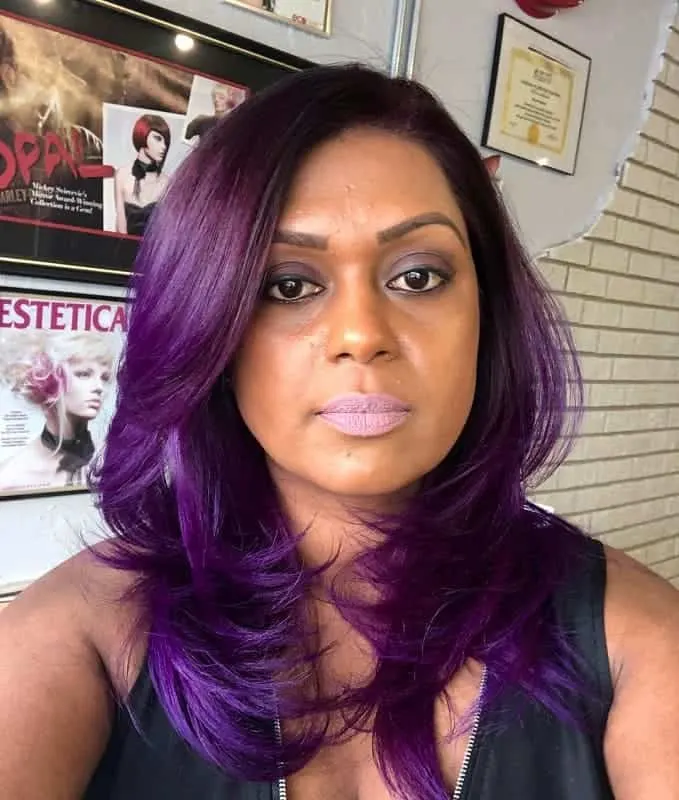 Having dark root hair is always good. When you turn your locks into overflowing curly mane, you transform your demeanor.
The addition of a progressive deeper to lighter purple at the end turns you into a serious corporate lady. If you wish to command respect anywhere, then this is your time.
27. Purple Peek-a-boo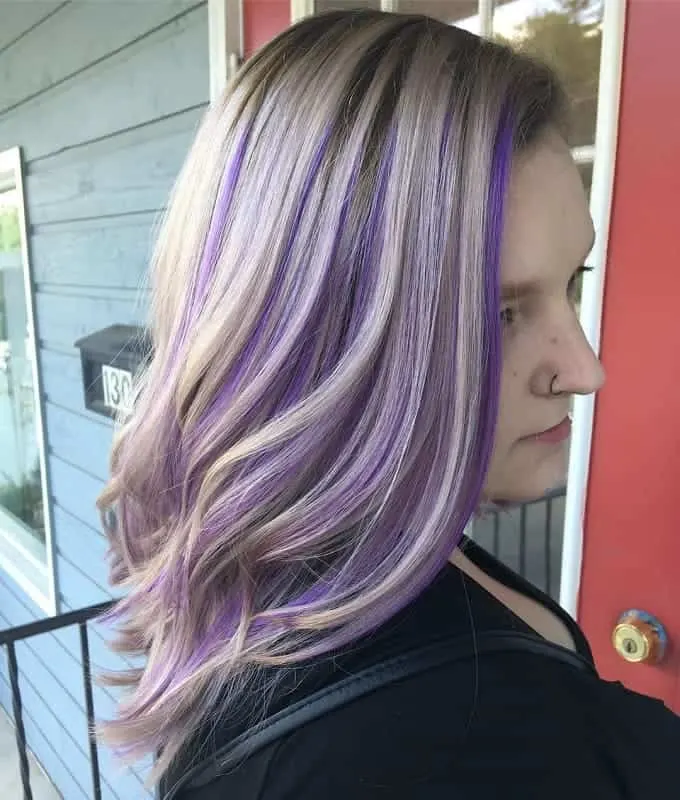 Simplicity is the safest thing to have. This sleek yet easy to maintain combination makes your appearance down to earth. A simple combination of grey and flashes of purple peek-a-boo hair highlighting gives you perfection.
You can grace any event without much attention. If you are the introvert type, your hairdo is here.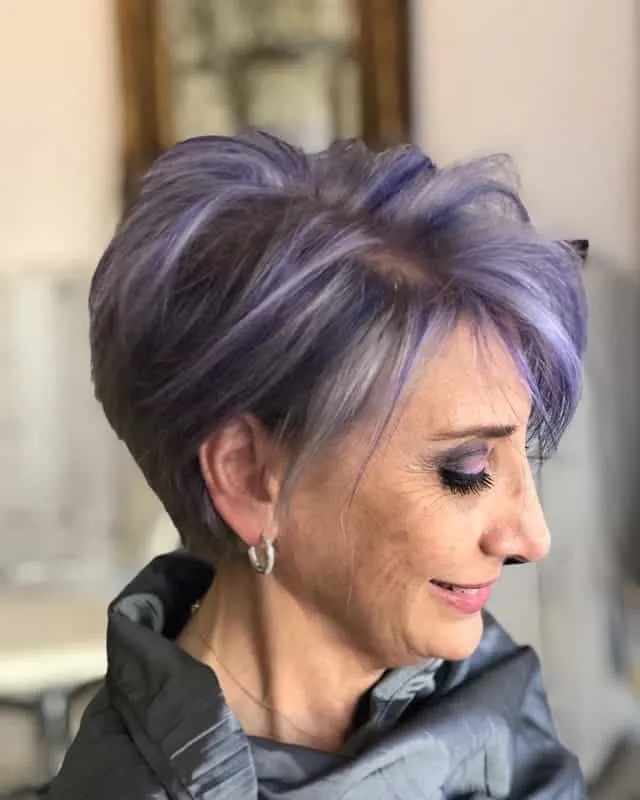 Giving the purple shade highlights on the bangs add more versatility to the young at heart. This helps in boosting the overall confidence to the women who still want to be feminine and elegant.
The progression from the darker background to the purple layering top is cozy and mature.
The brownish color layering complements the black background. If you wish to express yourself with a bit of maturity, add some purple streaks to match. This short hair color gives you an entirely new look with a respectable command. Stand out without stepping out.
30. Purple Hair with Black Bangs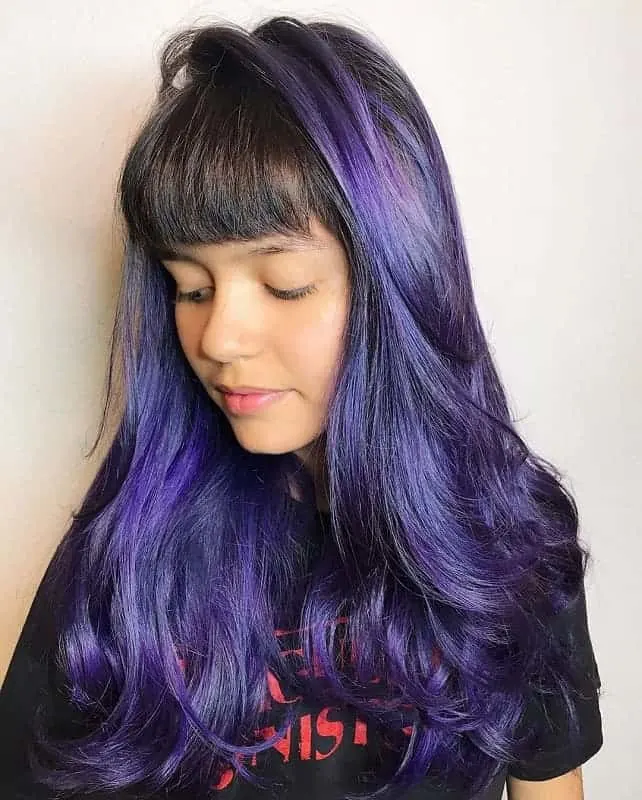 Light and screaming colors attract undue attention. When you need your privacy, blue and purple hair makes the right choice. They blend well almost to perfection. Again, it is the choice for classy outings for a modern young woman. Life is short; do not waste it on attention-seeking.
Who knew purple hues could be so versatile? Getting creative with your shade, color combinations, and hairstyle makes incorporating purple hair into your look exciting and bold.
Trending Topics