A short angled bob is a fun and fresh hairstyle for any woman who is looking to change up her appearance but keep a hairstyle that is easy to handle and makes her look youthful.
How to Style Short Angled Bob
Below are some tips for styling short angled bob haircut. Have a look:
Use Specific Products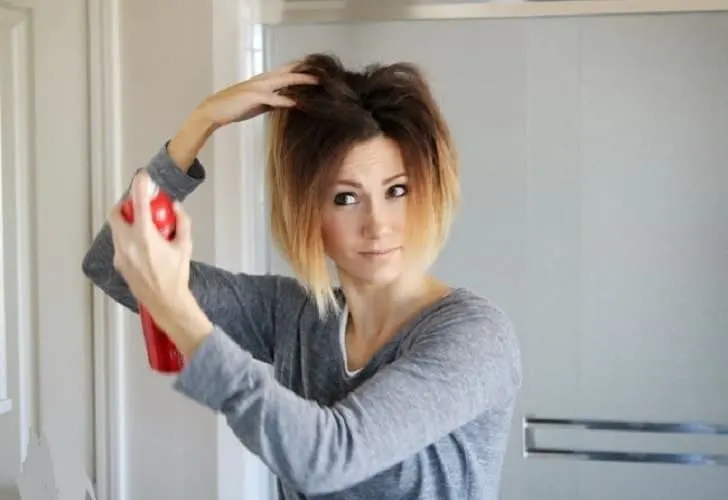 This short angled bob hairstyle looks great fresh from the salon, but women need to know how to style it correctly to get the best appearance from the cut.
One of the most important things to remember when styling this short bob cut is that using the right product is key to getting volume and distinction in the hair so that it doesn't fall flat and look tired.
Applying mousse to the roots of the hair helps give them a little boost of volume and helps add some height to the hair, but this product can easily weigh down the style if it is applied to the long shafts of hair. It's important to concentrate the mousse only on the roots.
The Best Long Angled Bobs for 2023
Dry Your Hair with Hair Dryer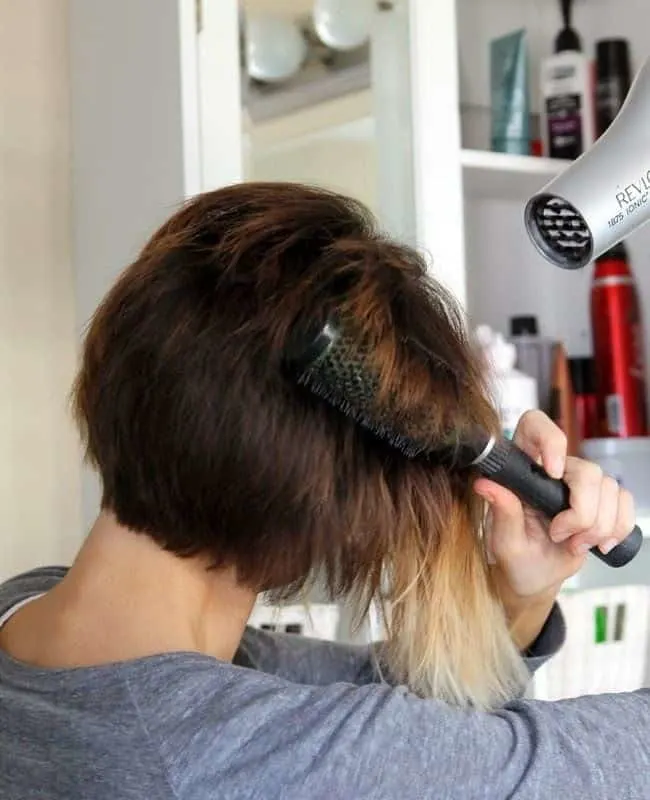 After the mousse has been applied, then use a large barrel brush and a hairdryer to carefully dry the shorter layers of angled bob cut, keeping them tame so that they don't stick out. This can be difficult to do with a flat iron, so it's better to tackle the job with a hairdryer.
Volume is key with angled bob, so instead of standing upright when drying the hair, it's a much better idea to flip the head entirely upside down after the shorter bottom layers are dried. This makes it easy to use gravity to help add volume to the hair and ensure that the mousse on the roots is doing its job.
Never dry the hair completely while upside down, as this can result in hair that is a little bit difficult to tame. It's best to dry it upside down until it is still just a little damp and then stand back up so that the pieces can fall into place. This makes it easier to control where they are on the head with the last bit of drying.
Chic Blonde Ombre Bob That Are This Years Hottest Trends
Backcomb the Hair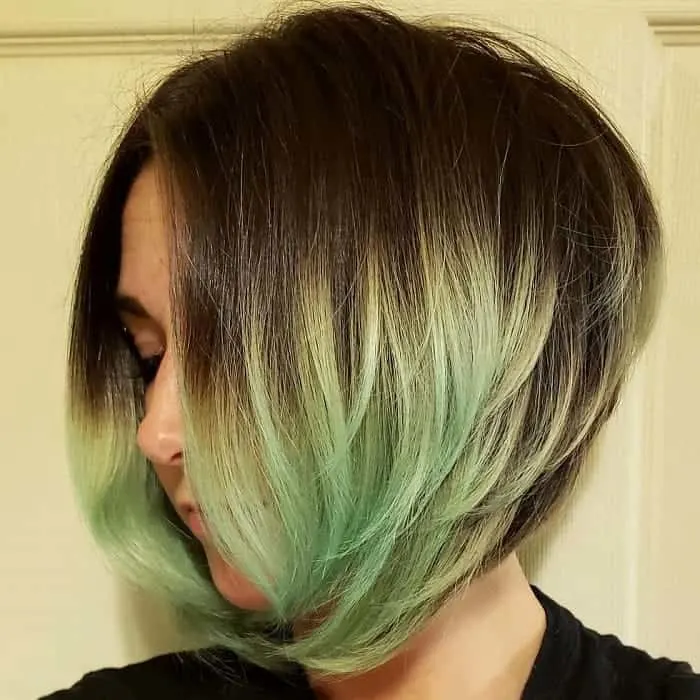 Once everything is dry, use a comb to backcomb along the roots to add even more volume to your short angled bob.
It's best to add more volume than necessary and then help the hair rest than it is to try to add more volume later. Use hairspray to hold the hair in place, making sure to concentrate the spray at the roots.
Using the same round brush, carefully brush the top layer of hair to help it lay flat and reduce any frizz caused by backcombing. Being gentle allows the roots to retain the volume that you added during backcombing while smoothing out the top layer of hair.
Irresistible Swing Bob Haircuts for Women
Use Flat Iron
Any ends that are flipping out and need to be controlled can easily be tamed with a flat iron. Make sure to turn the flat iron in towards the neck when releasing it so that the ends of the hair curl into the head and not out.
Short Angled Bob Hairstyle Ideas
1. Short Angled Bob with Bangs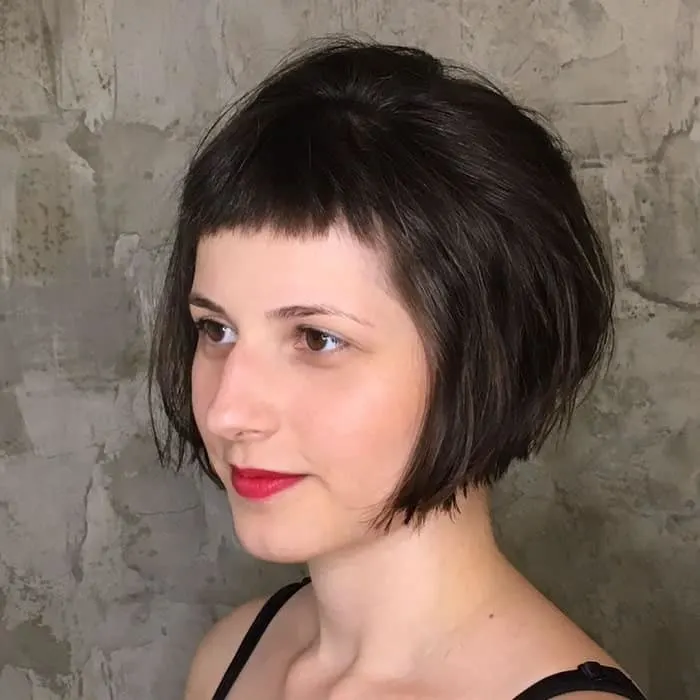 For the chicest hairstyle you can get, cut your bangs super short and pair them with a short angled bob. The layers on this type of bob create texture easily fluffed with hairspray.
2. Short Angled Bob + Side Swept Bangs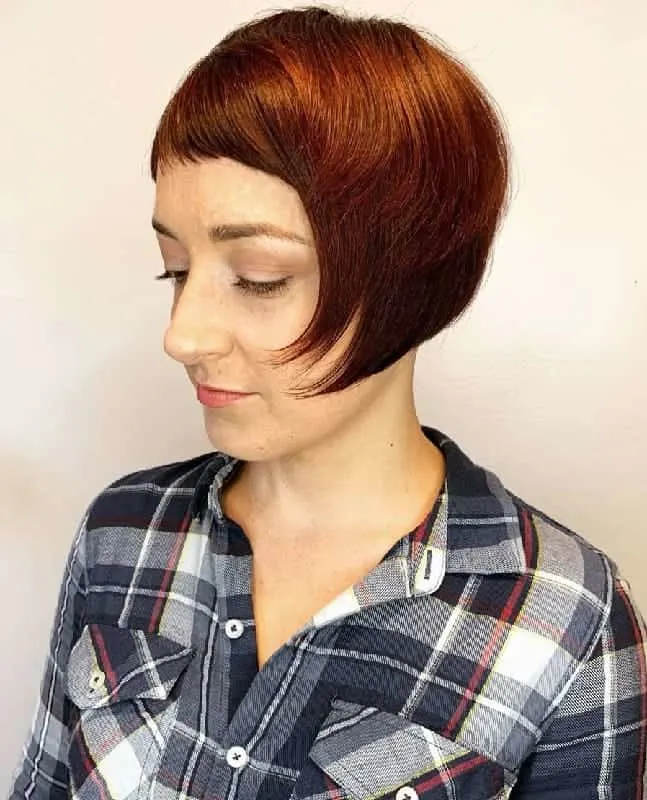 Super short side bangs are a major complement on a short bob. A top layer of hair is noticeably shorter than the bottom for subtle style.
3. Short Layered Angled Bob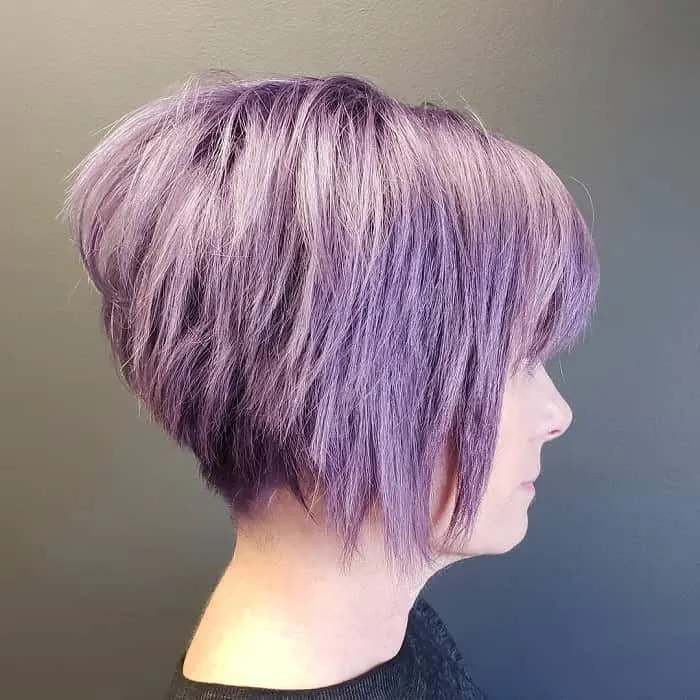 Lots of layers create a stacked look on an angled bob. A beautiful lavender graces this style for a flirty, feminine feel. Wear straight or create a few waves to dress it up.
4. Short Stacked Angled Bob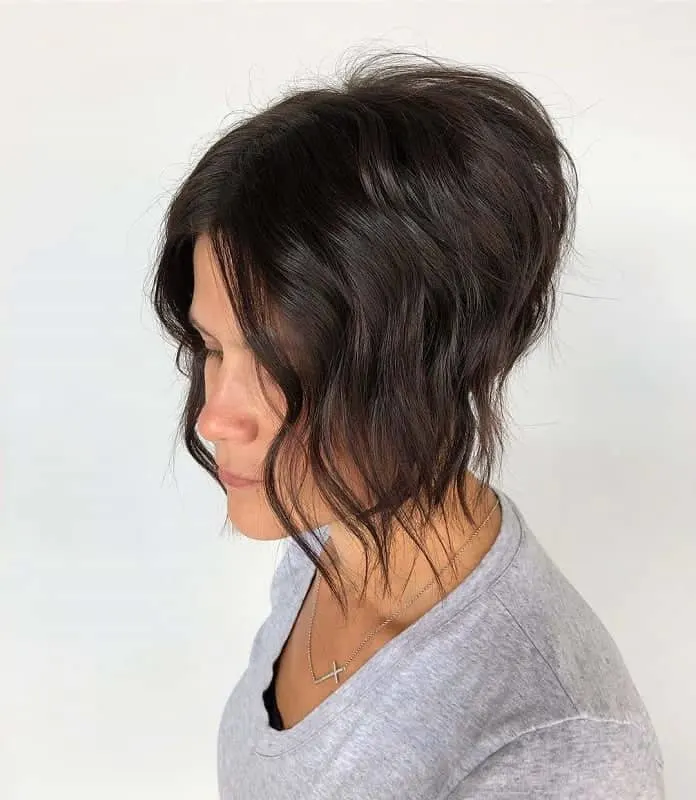 To get this thick short bob hairstyle, tease the crown to create major texture. Finish with a center part and waves on either side.
5. Short Angled Inverted Bob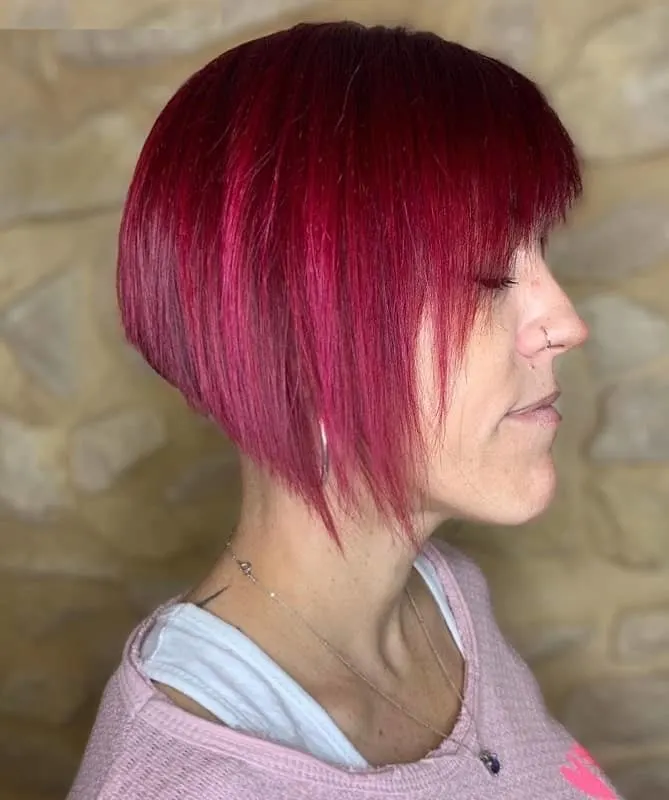 Deep magenta glosses over this straight inverted bob. Different layers work together to flatter an oval face, not to mention short haircuts are very low maintenance.
6. Short Curly Angled Bob
If your hair is naturally curly and you're tired of wearing it long, shape it into a short angled bob! Curls will spring to life while blonde or caramel highlights add a beautiful flair of color.
7. Short Angled Wavy Bob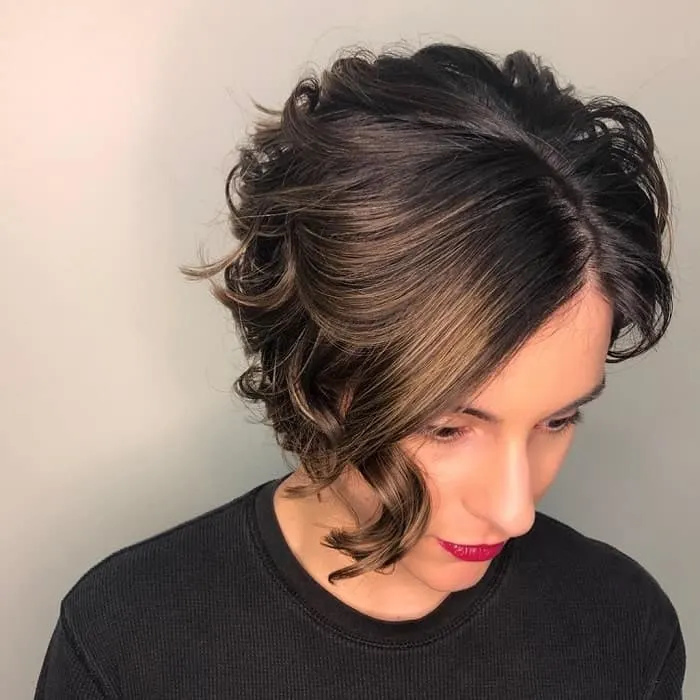 From roots to the middle of this short angled bob hair is straight, but the ends feature gorgeous waves. A style like this is perfect for weddings and date nights.
8. Angled Short Bob for Fine Hair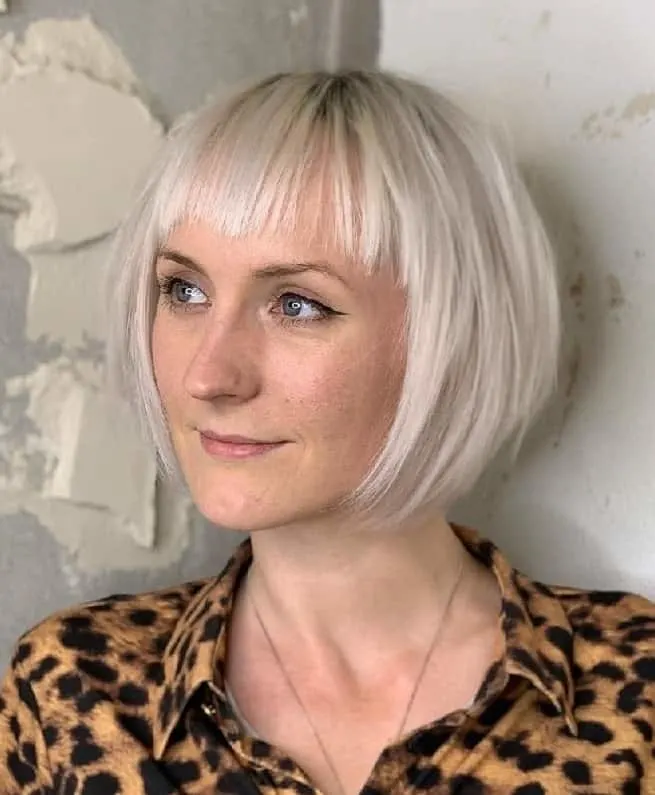 Take your fine hair and fashion it into a short platinum bob with straight bangs that stop half an inch above eyebrows. Hair comes past ears, long enough that you can still pull it into a cute ponytail.
9. Short Angled Thick Bob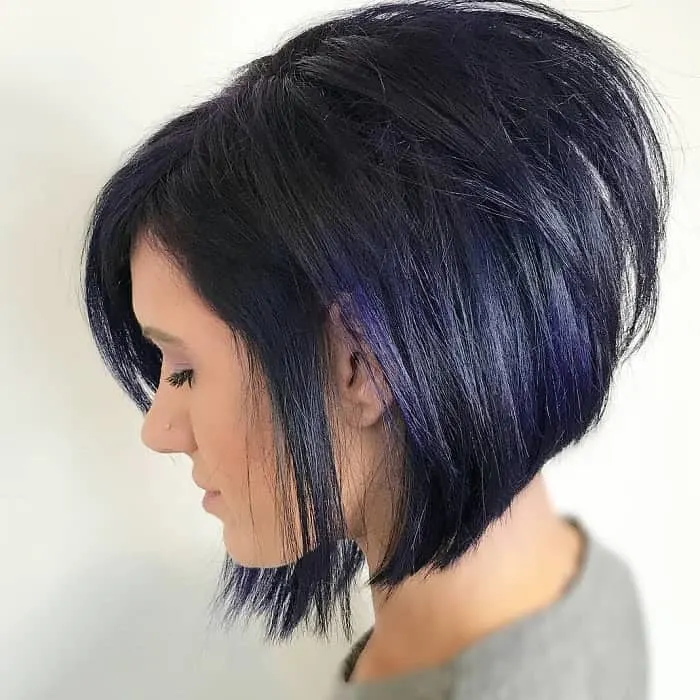 Angled bobs don't have to stay straight and flat. Pump up the volume by teasing hair at the crown. Highlights in dark purple show up nicely on dark hair.
10. Short Angled Black Bob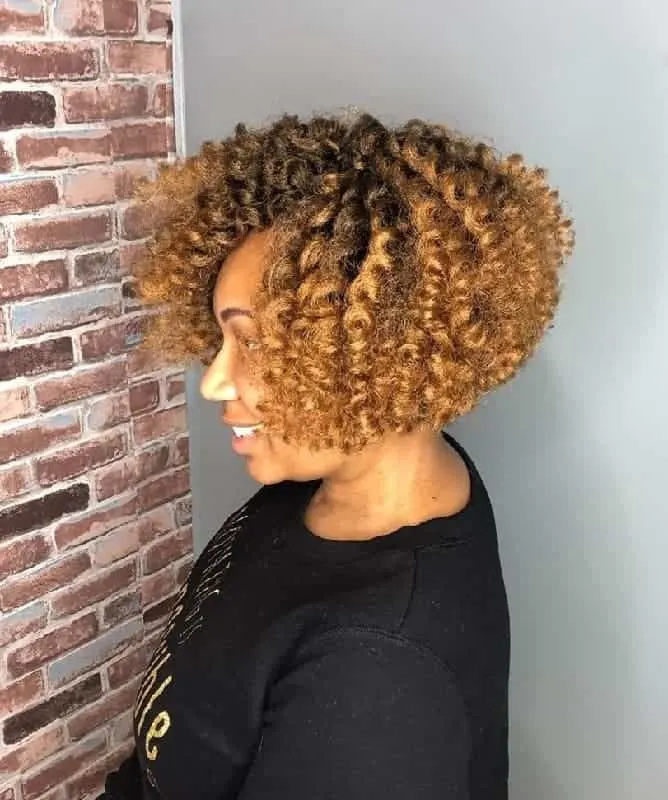 Trying to show off your natural black hair? Short bobs are one hairstyle that will help you keep locks healthy and looking cute. The angled layers cut out bulk and show off curls.
11. Short Choppy Angled Bob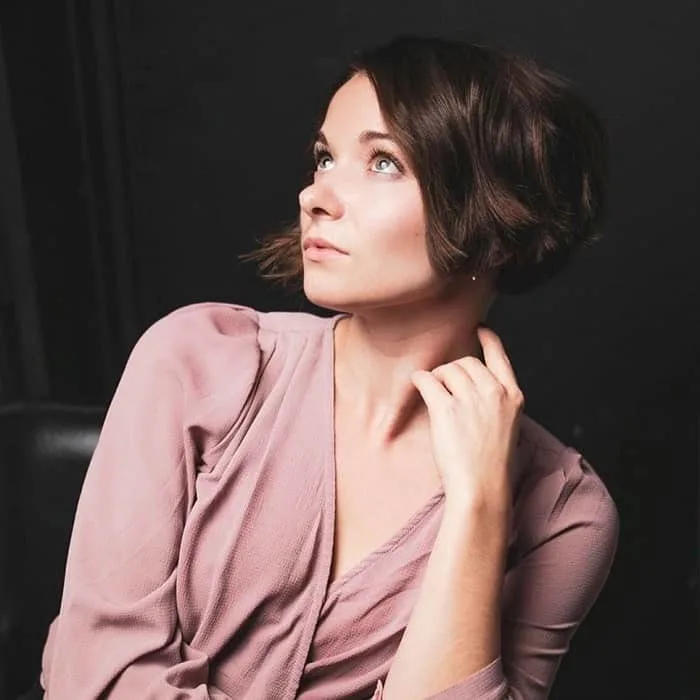 Give your hair a fresh start with this super cute choppy bob with angled layers. Subtle waves create texture that will last all day.
12. Short Angled Bob for Round Face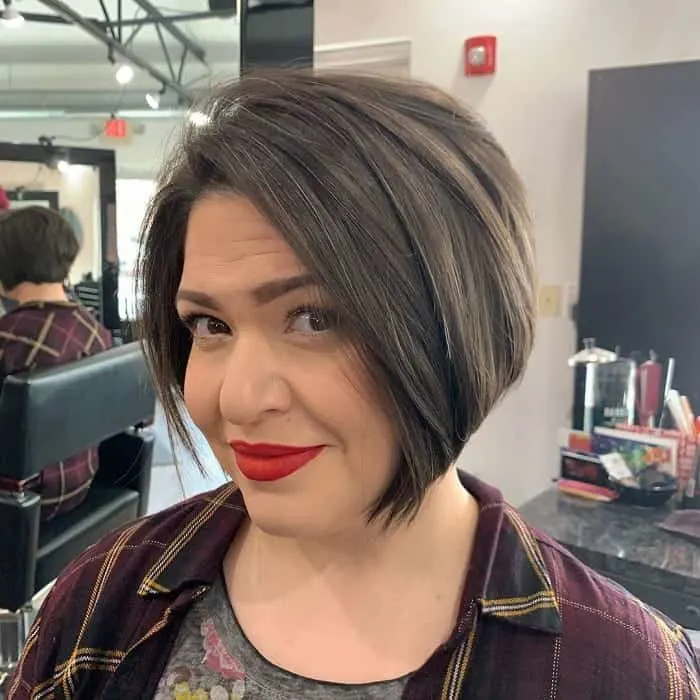 Round-faced women always look great with angled short bobs. Part hair at the side to create extra volume and wear hair straight. A few cute barrettes will hold back hair when you want a different look.
13. Short Angled Bob with Undercut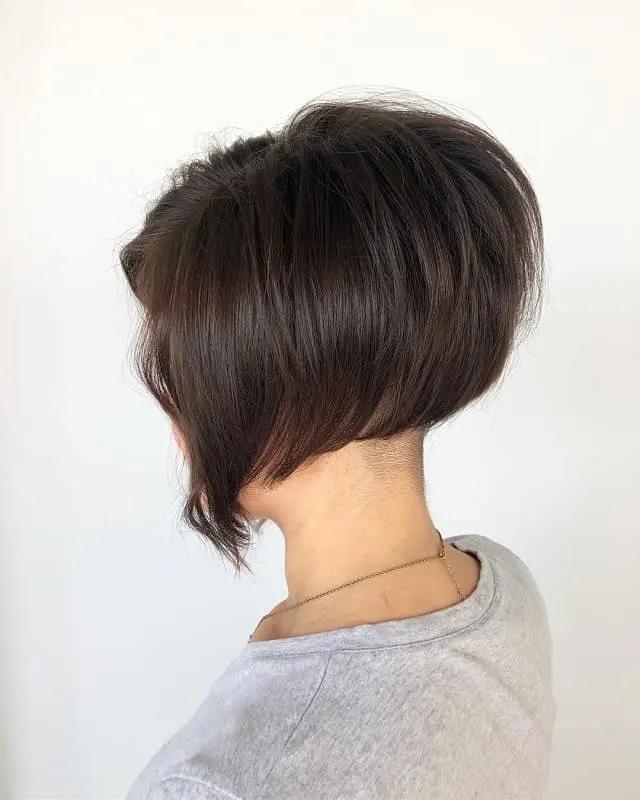 Looking for detail to make your short angled bob edgier? Undercuts are a shaved patch of hair you can cover when hair is down or show off by wearing a ponytail.
14. Short Blonde Angled Bob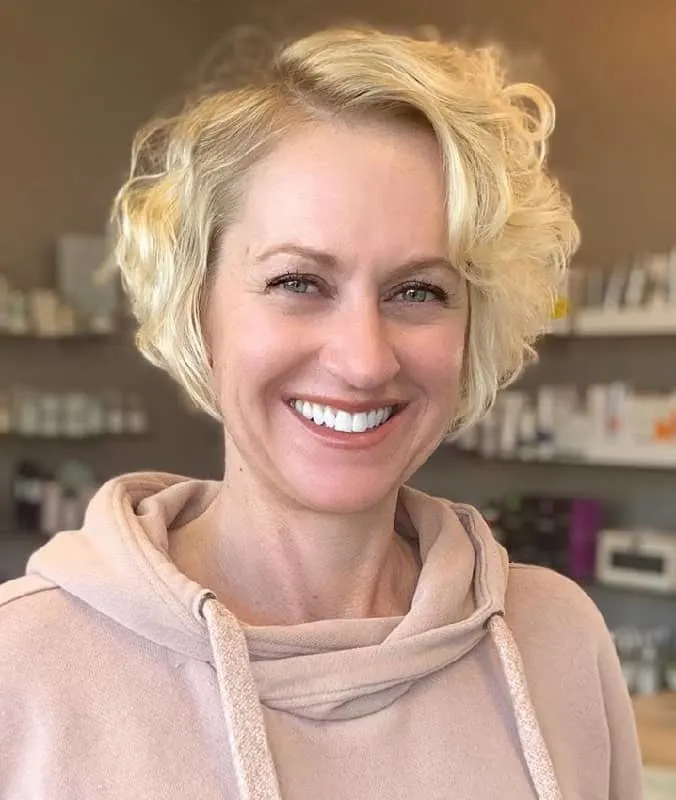 Be a beach babe with a blonde wavy short bob! Hair is parted at the side for volume and hairspray or creme is used to enhance waves.
15. Very Short Angled Bob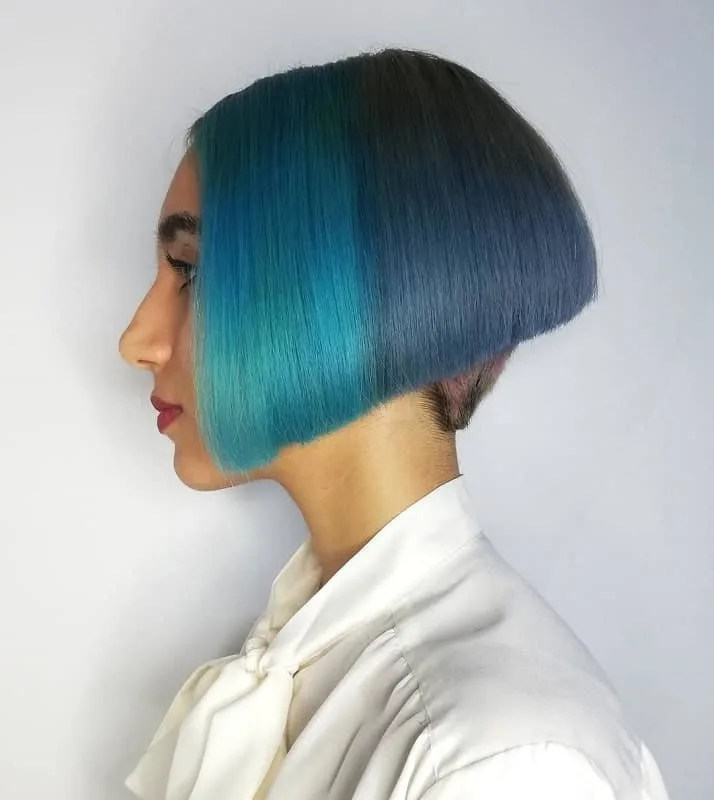 A light and dark blue separate the front and back of this straight angled bob. For more detail, ask for an undercut to really enhance the overall look.
FAQs on Short Angled Bob
Which face shape is suitable for short angled bob?
Every woman has a few hairstyles that will look best on her based on her face shape. It's important to always consider what shape face you have before having your hair cut so that you don't have to worry about whether or not the style will work.

While a lot of women may want a short angled bob haircut, only women who have round or oval faces will look their best. Women with angular and sharp faces will want to skip this style, as it will just draw attention to harsh lines on their face.
Short angled bob or chin-length bob: which is chicer?
Chin length bobs have been in style for a long time, and while they still look great, shorter angled bobs are slowly taking over as the more chic option.

They are an updated and modern take on longer chin-length bobs and have the added benefit of having a lot of movement and shape to them, thanks to the layers cut into the bob haircut.

They are a great option for any woman wanting to look chic and present-day and who wants a style that can be sleek and smooth or more textured.
A short angled bob is a fun, popular, and modern style that is only going to be more and more popular due to how fresh and inspiring it looks.
Updating old hairstyles with this funky new look is a great way for women to change up their style and enjoy a fresh appearance. Knowing how to correctly style this cut is important to ensure that it looks its best.
You May Also Like