Short hairstyles are ever so stylish. What makes bob hairstyle so amazing is that it looks great on anyone. Angled bob with layers is a modern take on the bob hairstyles.
There are different types of bob suitable for everyone's taste and preferences. In this article, we're going to focus on angled layered bob and how to style it. Scroll down to see just how simple it is to pull off this haircut.
How to Style Angled Bob Cut with Layers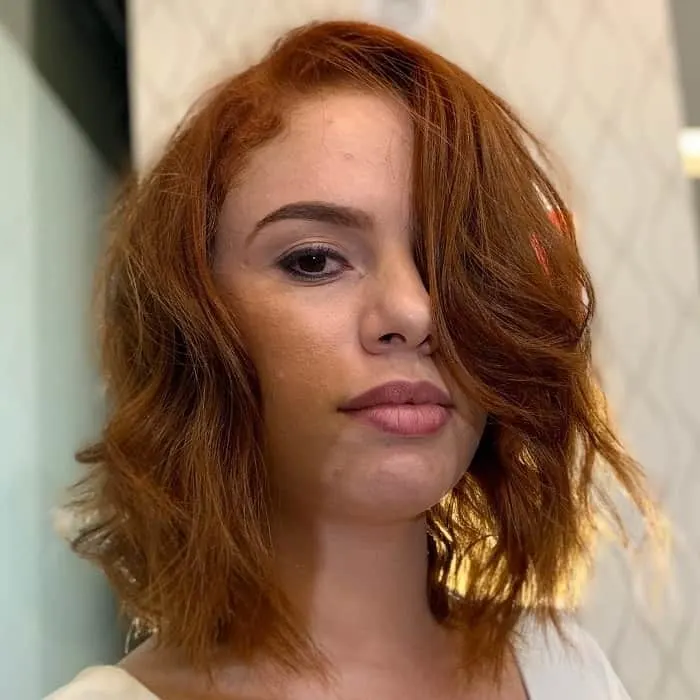 Angled bob is, basically, a type of haircut that is shorter in the back and gradually transitions to a longer length in the front. If you want to cut angled bob on your own, it's crucial to get salon-quality scissors which have sharper blades that allow you to cut hair without damaging it.
You also need a handheld mirror (optional) and a fine-toothed comb. Keep your hair damp and pull it into a ponytail on top of your head. Measure how long you want your angled bob to be and mark with a clip or bobble. Then, cut right there. That's the longest layer.
Now all you need to do is to segment hair into three sections (two toward the front and one in the back). Twist these sections in another ponytail and cut right across. You'll get a layered look that you can style in many ways.
You can keep your angled bob with layers sleek and elegant, or you can mess it up a little bit for a casual look. Bandanas, headpieces, sunglasses, ribbons, and many other accessories can help you style your bob according to your outfit, occasion, and other factors.
Classic Layered Angled Bob Hairstyles
For all girls and women who want to do something chic with their hair, these ten amazing ideas will be of huge help. Here's how to style and rock layers with angled bob effortlessly.
The angled bob, or any other bob haircut for that matter, is usually styled in a sleek and strict manner. While there's nothing wrong with that, there's no rule which says you're not allowed to be playful. This angled bob with layers, nice romantic waves and shows off your fun and romantic side. Seriously, how cute is it?
A trendy look on a classic hairstyle layered angled bob is a good choice for girls and women who want to do something new with their hair. This short angled bob has layers that boost the volume of your mushroom brown hair, but there are also waves and curls that complete the look. Try it out, and you'll see how amazing it is to rock this style.
We love bangs! There are different shapes, sizes, and styling methods for all girls and women regardless of their face shape and type of hair. Some women love short bangs, other longer ones. Also, some prefer blunt bangs while others sweep them aside, part them in the middle, you name it. Combine your angled bob with layers with bangs that you'll part in the middle or sweep aside, and you'll get a soft, yet voluminous look.
If you have dark hair and want to bring more playfulness into your hairstyle, then highlights are a good idea. In this case, highlights and layers are a perfect match for angled bob haircut.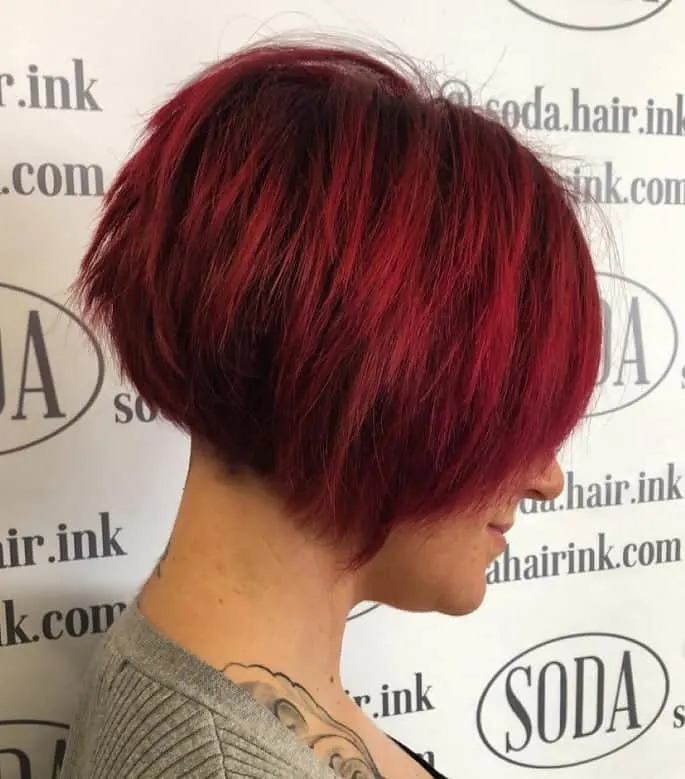 Bring out your inner punk rock chick with layered angled ombre bob paired with side-swept bangs.
Here's a cute take on angled bob with layers – choppy style. To accentuate your lovely haircut, you may want to consider getting highlights that are just a shade or two lighter than your natural hair. As you can see, the angle is still clearly visible, but your hair gets more playful and vibrant.
Adding layers to angled bob increases volume of your hair which is perfect since all of us want to achieve that fullness in our hairstyle. Multiple shorter layers on angled bob give it a more voluminous and quite an edgy look. Combine this short platinum blonde hairstyle with nice makeup and outfit of your choice (it goes perfectly with everything), and you'll love it.
Angled bob haircut with layers is a truly unique hairstyle mostly because it looks great on everyone. While some haircuts are suitable for certain face shapes, hair types, and even age this bob is ideal for everyone. Even older ladies can rock it with easy. In fact, layered angled bob gives you a youthful appearance and bouncy hair.
9. Bob with A Braid
Make your long angled bob with layers even more romantic and gentle with a delicate braid. A common misconception is that you can't do much with a bob hairstyle, but there's a lot you can do to mix things up a little bit from time to time. Plus, braids are IN right now.
What we love the most about layers on the angled bob is the fact it may appear messy and stylish at the same time. In this case messy simply means effortless, i.e. you give away the vibe that your look is super amazing without putting any or no effort at all. Everyone loves these hairstyles that can make you look stylish without too much trouble.
Angled Bob Vs Graduated Bob
Angled and graduated bob terms are often used interchangeably, but they're not exactly the same hairstyle. You see, angled bob is a type of bob and a forward haircut that is short in the back and gradually transitions to a longer length in the front which gives this style an angled appearance.
The most interesting thing about the angled bob is that its aesthetics varies and it changes over the years, but one thing is certain – the defining factor is a variation in length and a clearly visible angle at which shorter length transitions to longer.
On the other hand, graduated bob which is also characterized by varying lengths is more curved and has a horseshoe-like appearance. Basically, instead of hard and visible angle, graduated bob has a softer and more curved-like appearance. Both types of bob are highly popular, timeless, and always chic.
Angled bob with layers is one of the loveliest hairstyles suitable for younger and older women alike. Chic, playful, and romantic angled bob has it all. You don't have to cut it on your own unless you really want to.
The great hairstylist will do wonders with your hair and give you the best-angled bob suited for your hair type and face shape. Now that you're inspired by the above-listed ten ideas, you just have to go for it. Good luck.