Burgundy hair with blonde highlights is a hair trend that's making its way into the fashion world in 2023, and you should try it too. Blonde highlights on a burgundy base pop without much additional effort. However, there are some techniques to get the best out of your highlights.
How to Style Burgundy and Blonde Highlights
If your hairstyle is long and layered you can use a hair straightener to straighten your hair. That will be especially flattering if your highlights are thin and neatly executed. Styling your hair straight will also be very flattering if you have a bob, regardless of whether the bob is asymmetrical or not.
On the other hand, if your hair is very long and thick, and your blonde highlights are chunky, some relaxed curls will make the hair look gorgeous. Curls and waves are also great if you have lowlights or your highlights are so thin and are actually meant to achieve a natural, sun-kissed glow.
Speaking of lowlights, they can also look great in a ponytail that is high, teased and curled, a side ponytail or even in a messy updo.
Burgundy Hair Color Maintenance
If you have burgundy hair and you decide to get blonde highlights, be prepared and know that that will require constant maintenance. Red hair on its own requires frequent maintenance as the difference between the bright red color and natural blonde or brown roots is always clearly visible, and in no way flattering.
But if you've had your hair red for a certain amount of time, you are probably accustomed to getting your roots dyed ever 2-4 weeks. Now, the highlights are somewhat of an additional burden. If you have chunky blonde highlights, you will probably have to have them redone along with the roots every time.
And if your highlights are thinner, you can probably get away with no retouching of the highlights and enjoy the natural balayage effect. To avoid going to the salon every few weeks, you can try at home special hair dyes that are meant for the retouching of the roots.
Unique Brunette Hairstyles with Blonde Highlights
Stunning Blonde Highlights for Burgundy Hair
We have curated a list of 12 most unique blonde highlights ideas for burgundy hair. Have a look to get inspired.
Warm honey blonde highlights will be a great match to burgundy hair with a chestnut undertone. Especially if they are thin and dense, making the overall impression of blonde hair with the red tones just piercing through and making this combination breathtaking.
Use a hair straightener to just gently curl the ends. Don't forget to use hair products and nurture your hair in a proper way. The heavily bleached hair in combination with heat from hair straighteners and curling irons will leave your ends split and dead if you don't take care of them.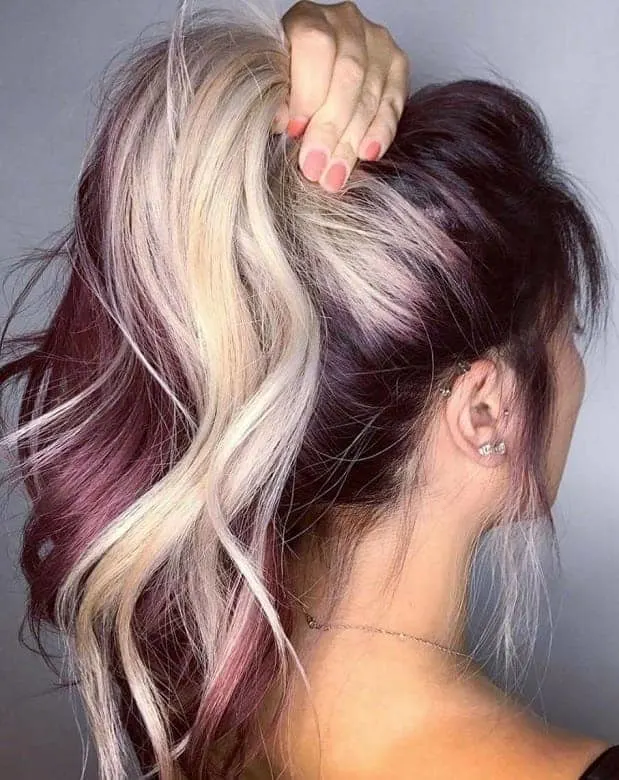 We've mentioned the effect of a high wavy ponytail on burgundy hair with blonde highlights. In this case, the technique used to achieve these blonde highlights is very unusual, so tying the hair into a ponytail brings out the full shine of the platinum blonde part of the hair.
Use a hair straightener to curl your hair into gentle waves. Tease the hair on the top of your head a little bit to achieve volume. Then tie your hair into a high messy ponytail. Leave a few random strands at the front out of the ponytail.
This spectrum represented by the combination of dark burgundy roots, a coppery transition, and natural, blonde lowlights will make your head spin and you will be in love in no time.
Curl the part of the hair covered by the highlights and witness the full power of different overflowing shades. Spray the curls with hairspray so that their shape is maintained longer.
4. Faded Hues
Burgundy hair with blonde highlights is still an option for ladies who don't like the idea of dark tresses. Opt for a sangria burgundy base shade and ask for a head full of sandy blonde streaks to achieve the perfect juxtaposition of light and dark colors. Throw in some layers and loose waves and done!
5. Blonde Underlayer
Peekaboo hair is quite the rage these days and is perfect to create a surprise using contrasting tones. Lighten down the underlayers along with the bangs keeping the top dark or go the other way around depending on your liking. The result will be a two-toned mane that is sure to drop some jaws.
6. Vivid Streaks
Bright burgundy shades look flattering on all skin tones. Pixie babes can set their short mane on fire by adding vivid streaks of golden blonde on the top only. Let your highlights shine by brushing the hair sideward. How about adding burgundy lowlights on a blonde pixie? Worth a shot!
7. Multi-Tonal Highlights
Take your boring plain tresses to another dimension by playing with multiple tones of blonde when adding highlights. Consider getting a wine burgundy base with delicate stripes of honey and caramel blonde. Opt for some lowlights too to achieve a gorgeous mix of light, medium, and dark strands.
8. Magnificent Money Pieces
Keep it simple yet sexy with these statement-making money pieces that can be achieved at home with ease. Lighten your front chunks only to frame the face keeping the remaining mane dark or dye your entire hairline all the way to the back of the ears for a more noticeable change. Your call!
9. Funky Bangs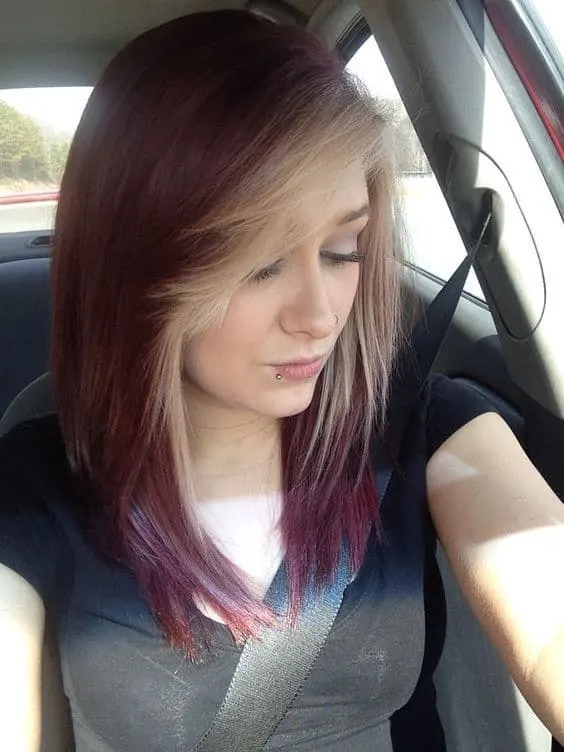 Sometimes following the trends blindly will just give off the impression of a uniformed look. Be brave and try experimenting by, for instance, bleaching just the part around the bangs and dying it blonde. The blonde bangs will frame the face in an unusual, yet flattering way.
Section the part of hair around the bangs and tie the rest using a hair band. Put bleach on the bangs and wait for about 40 minutes. After you've washed the bleach off, apply the platinum blonde toner. Blow dry your hair and style your bangs outwards and the rest of the hair inwards using a styling brush. Beautiful burgundy hairstyle with blonde highlights.
10. Loose Waves with Babylights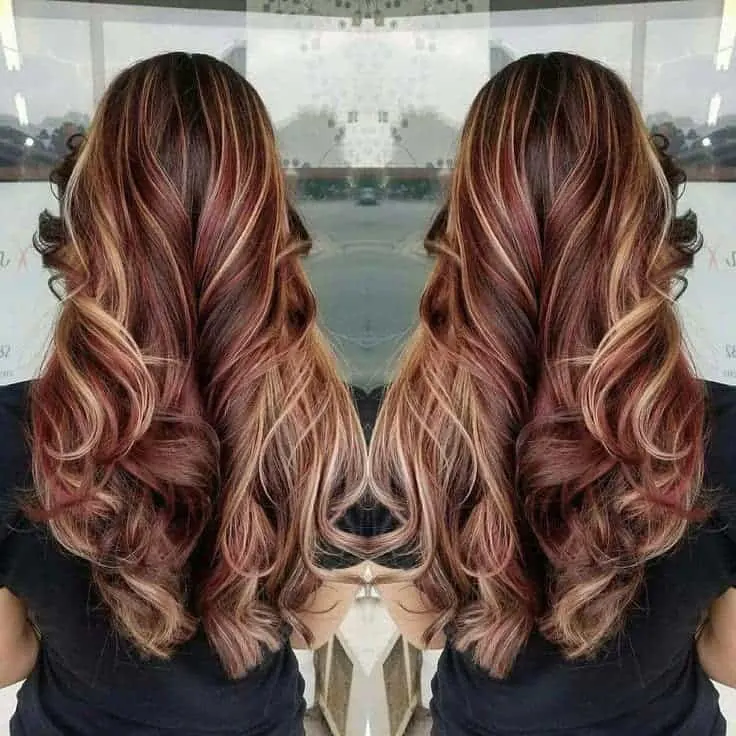 When your hair is long, voluminous and healthy, your possibilities are endless. Use a curling iron to curl your hair. Comb through it afterward so that the curls look more natural instead of looking one-dimensional and stiff. Spray with hairspray and you are set with your burgundy hair with blonde highlighted look.
11. Burgundy Hair with Curls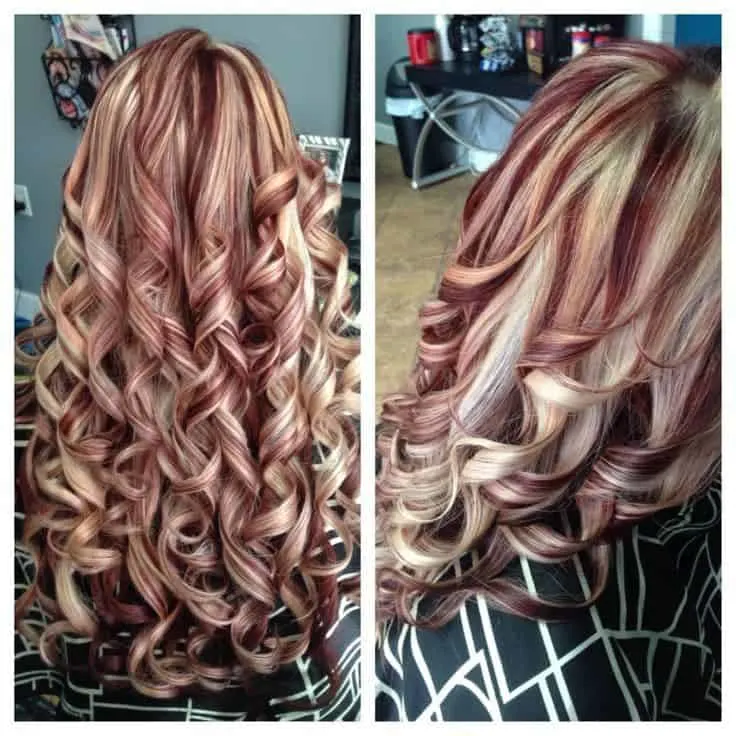 Unlike the previous hairstyle where the blonde highlights on burgundy hair are thin and not so dense, here the highlights take over. To see the colors completely blend into one another, use a curling iron to curl your hair.
12. Burgundy Bob with Blonde Highlights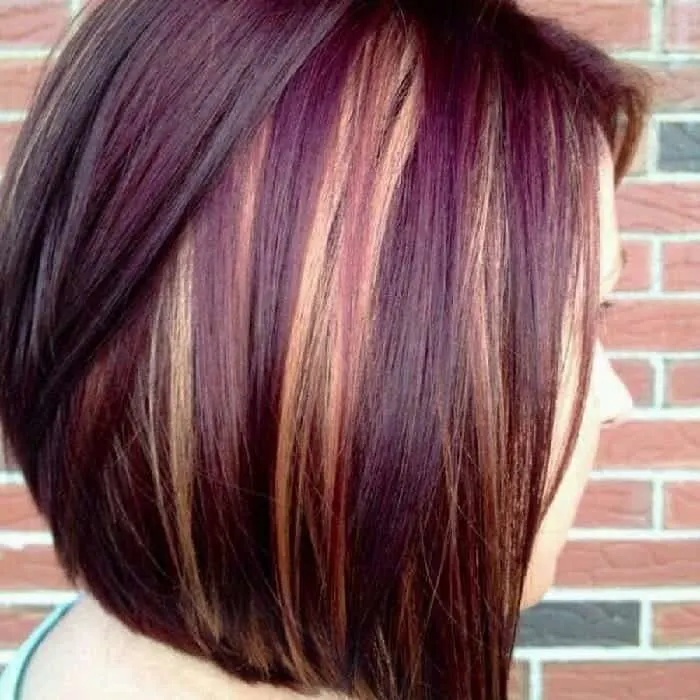 This style and color look good on short hair too. And this asymmetrical bob is a great representation.
How to style: The bob should be cut shorter at the back. Style it straight using a styling brush.
Enjoy the beauty of blonde highlights on your burgundy hair and dare to try something you've never tried before.
FAQs
Read these frequently asked questions to learn more about this hairstyle.
What kinds of blonde highlights go well with burgundy hair?
Warm, sunny blonde tones harmonize best with burgundy hair. Try a dark strawberry or rose gold blonde for more subtle color harmony, ginger or caramel blonde for mellow warmth, or a light golden or peach blonde for a striking contrast.
What highlights will look good in burgundy hair?
Red, burgundy, or wine-purple highlights that are just a hint lighter than your base burgundy shade create a stunning color variation that gives the luxurious impression of velvet.

On the other hand, chestnut-brown highlights temper the purple hues of burgundy with subtler, more natural tones for a more low-key vibe. Finally, pastel pink highlights give burgundy hair a playfully dainty look.