Is it time for a new haircut and you aren't quite sure what kind you want? Why not consider an angled bob with bangs?
These trendy hairstyles feature short hair in the back and long hair in the front that helps to frame your face. The sharp or soft angles are flattering for pretty much all face shapes and are fun to play with as you can create a variety of looks with the different hair lengths.
Stylish Angled Bob with Bangs
These angled bobs with bangs will show you how to make the transition so you can feel like a whole new level of gorgeous!
1. Straight Layers
A short angled bob haircut with bangs is a great idea for those who love to uncover the neck and shoulder lines. Such a wonderful haircut for strapless tops and dresses! Get perfectly straight bangs and straighten your layered hair. The haircut will be stacked in the back, building a lot of volume.
2. Choppy Cut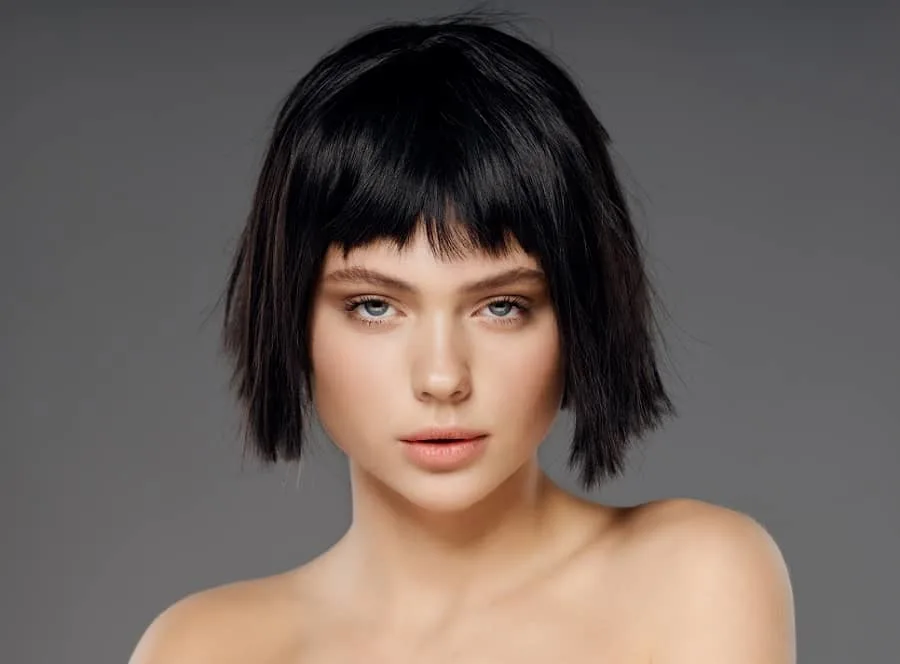 Adore those rebellious messy looks? Why not try a layered bob with uneven bangs. This haircut will highlight your eyes and jawline. If you have fair skin, a jet black hair color will gorgeously suit you. Moreover, it will create a unique face frame, highlighting your features.
3. Layered Curls
When you have such texture, make sure you give your curls high definition. Moreover, if those ringlets are tight, it would be great to layer your locks and pull off some bangs. No matter how rebellious your hair it, it will always stay in shape.
4. Fierce Red
Green and blue eyes will stand out if you go for a fresh, fierce red vibrant color. Get a short angled bob with bangs and keep the strands from the corners of the forehead considerably longer, creating a disconnection from the rest of the bob.
5. V Bangs
If you love getting pointy or arched brows, V-shaped bangs will stunningly highlight them. Opt for an angled bob that will elongate your face and straighten your locks with an iron or with a blow dryer.
6. Long Angled Bob with Bangs
For straight hair, blunt bangs that meet the eyebrows, or come just a bit past, pair with an angled bob for a chic hairstyle you can feel confident in wearing at the office.
7. Short Angled Bob with Bangs
A short angled bob that stops just an inch past the ears is very Parisian. Soft straight bangs aren't too thick that you can't arrange them in your own way, and the texture at back give a luscious body.
8. Medium Angled Bob
This medium bob with bangs features crimping at ends instead of the traditional all-over waves. Straight bangs and a semi-choppy cut add to the detail.
9. Angled Bob with Side Bangs
An angled bob takes on a new look with a side part and side-swept bangs. Avoid straightening hair all the way so you maintain that textured feel.
10. Stacked Angled Bob with Bangs
The stacked angled bob is fun to experiment with color on. Here, soft purple highlights on dark blonde make for a slightly edgy, slightly punk vibe.
11. Angled Blonde Bob with Bangs
If you're always ready for summer, choose a honey blonde for your wavy angled bob and bangs. The color will also warm up your facial complexion.
12. Blunt Bangs for Angled Bob
Give piecey bangs a blunt cut for a modern angled bob hairstyle. Smooth pin-straight locks with anti-frizz hairspray and you'll be guaranteed a good hair day every day!
13. Thin Angled Bob with Bangs
No hair is missed at the back of this angled bob for thin hair. The precise cut combined with short piecey layers and several shades of blonde make for a gorgeous hairstyle full of volume.
14. Angled Thick Bob with Bangs
For thick hair, the short layers of an angled bob will trim down on bulk and create a more manageable hairstyle for you. Be bold with contrasting colors for highlights.
15. Wavy Angled Bob with Bangs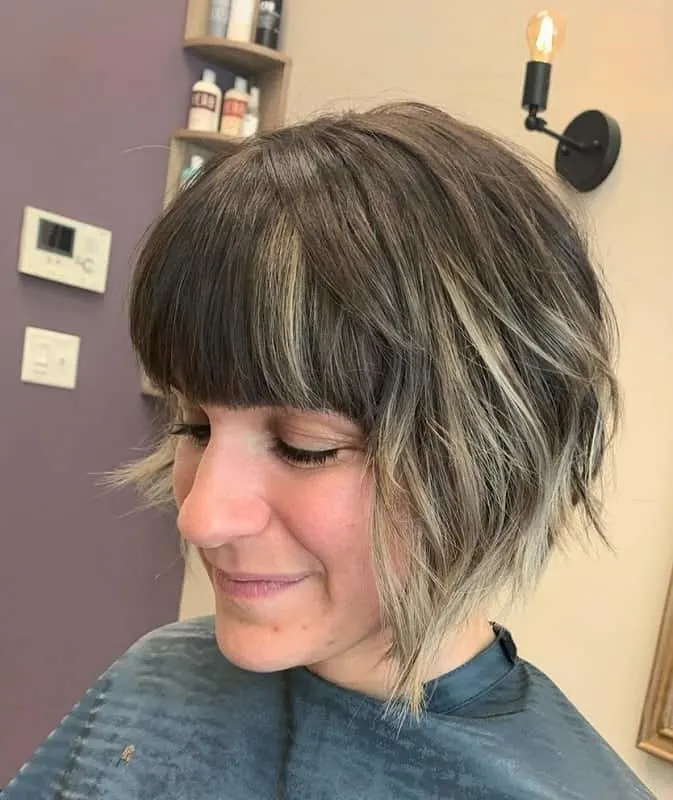 To update your long or short haircut, angled bob is your answer. The straight bangs and wavy body with blonde highlights are a beautiful pair – everyone will want to copy your look!
16. Layered Angled Bob with Bangs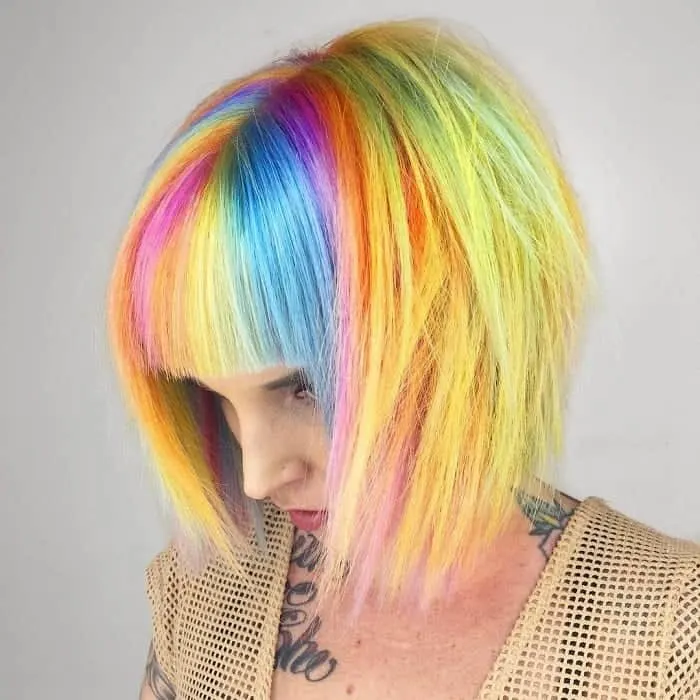 Not only do the layers of this angled bob give you major body and movement, but the rainbow colors guarantee you'll get noticed everywhere you go – in a good way!
17. Angled Bob with Bangs for Round Face
Do you have a round face? Angled bob will give you the gift of framing your face perfectly so that it elongates it. A major body in the back and a side-swept bang are the soft touches you need in your hairstyle.