When you buy through links on our site, we may earn an affiliate commission.
If you decided to embrace your natural curls, good for you! Everyone deserves to see your naturally beautiful and curly hair!
However, we're here to remind you that styling natural hair isn't as easy as it seems. To help you make the most out of your natural hair, we'll be sharing with you one of our trade secrets—the setting lotion.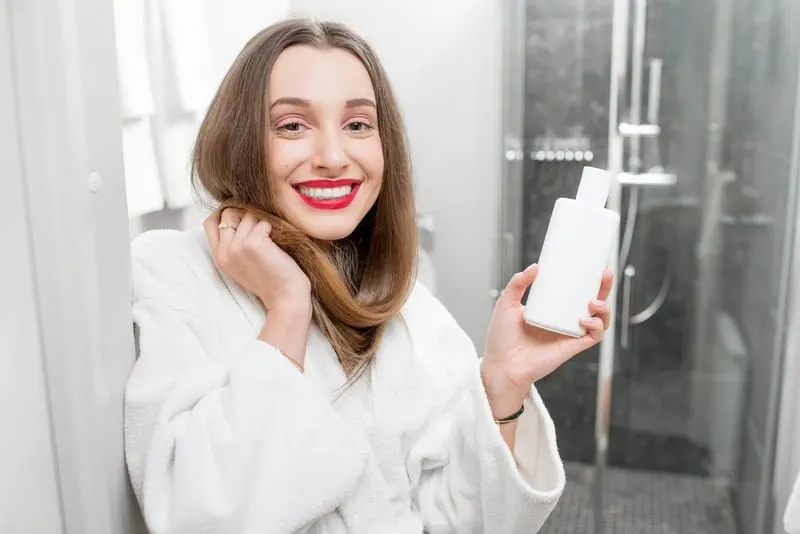 The setting lotion is the oldest styling product that you can get your hands on. If you aren't familiar with it, it works the same way as styling gels and mousse. It's designed to boost your curls' definition and texture and hold it in place.
With that said, here is a list of best setting lotion for natural hair options that you can find in the market today:
Title
Nairobi Wrapp-It Shine Foaming Lotion
Design Essentials Natural Twist & Set Setting Lotion
Lotta Body Setting Lotion
Motions Versatile Foam Styling Lotion
Design Essentials Compositions Non-Flaking Foaming Wrap Lotion
Editor's Ranking
Best for Frizzy and Tangled Hair
Best for Stressed and Fragile Hair
Best Setting Lotions for Natural Hair
Even though they have the same use, we believe that setting lotion is the best option for natural hair because it does more than define and hold your curls. This product is also excellent at conditioning and boosting the bounce and shine of natural hair. Here are the 8 best setting lotions for natural hair that we've compiled for you to check.
If you're always on the go, you need a setting lotion that dries fast. Unfortunately, there are only a few of those in the market. The good news is the Nairobi Wrapp-It Shine Foaming Lotion is one of them!
This setting lotion comes in a fast-drying liquid form. This liquid setting lotion is also formulated to boost your hair's shine and moisture.
Pros:
This can also add volume and body to natural hair.
Unlike other lotions, this doesn't flake.
This boosts hair moisture without unwanted greasiness.
It comes in an easy-to-apply spray bottle.
It's alcohol-free so that it won't dry out your hair.
Cons:
It may cause scalp itchiness.
The packaging is prone to leaking.
Sale
One of the biggest challenges of styling natural hair is taming frizz and getting rid of tangles. More than just a setting lotion, the Design Essentials Natural Twist and Set Setting Lotion is also formulated to be a good detangler and smoothing hair product.
Infused with natural ingredients like Jojoba oil, Panthenol, Silk amino acids, and wheat proteins, this setting lotion can smoothen and soften your hair, minimizing frizz and eliminating tangles in the process:
Pros:
It can help you save styling time.
Avocado nourishes and fortifies the hair shaft, boosts hair moisture, and prevents hair breakage.
Almond gives hair the shine it needs.
It delivers a medium hold.
It's sulfate- and alcohol-free and has a lightweight feel and texture.
Cons:
It's a bit greasy.
The lotion is a bit flaky.
The Lotta Body Setting Lotion has been in the market for decades, so it's already a tried and tested setting lotion. The main reason why it continues to thrive in the market is its versatility. This setting lotion delivers a long-lasting firm hold for all hair types—wavy, curly, permed, natural, or relaxed hair. It's even recommended for colored hair.
Aside from securing your hairstyle, this also seals and bonds split ends together.
Pros:
It provides a long-lasting hold.
The lotion is mixed with water, so one bottle will go a long way.
Even if it's a firm hold, the hair is still easy to comb.
Since it's a concentrated formula, you can save money.
Cons:
Preparing the lotion requires an extra step—mixing it with water.
It doesn't come in a spray bottle
Sale
The Motions Versatile Foam Styling Lotion is formulated to shape, set, mold, and wrap your natural curls. But that's not all. With its argan oil, coconut oil, and shea butter content, this protects your hair from heat and creates a moisture barrier to prevent it from drying.
Pros:
It also contains almond oil, macadamia oil, and wheat protein for additional nutritional support to your hair.
Coconut oil doesn't only condition hair but also repairs it.
Argan oil adds shine and smoothness to the hair.
Shea butter moisturizes, protects, and strengthens natural hair.
It has a fantastic smell.
Cons:
The bottle leaks.
It may cause allergic reactions.
Motions Style and Create Versatile Foam Styling Lotion (3 Pack) - For Use on All...
PROVEN HAIR CARE - Style & Create Versatile Foam Styling Lotion is the ultimate in styling control for your natural hair....
FEATURED INGREDIENTS - Enriched with Shea Butter: Deeply moisturizes, helps strengthen and protect; Argan Oil: Adds natural...
NATURALLY FORMULATED - The ingredients within Motions products are free of harmful components, including phthalates,...
We're going to talk about another Design Essentials setting lotion. This time, this product contains wheat protein and coconut oil, which are two incredibly nourishing ingredients that can protect, moisturize, and strengthen hair stressed and fragile hair. In this way, it will be prepped for wet-setting.
Pros:
The lotion gives a medium pliable hold, so you can still enjoy that natural movement.
It's backed by a 100% moneyback guarantee.
This lotion is made in the USA and is cruelty-free.
It dries quickly.
The setting lotion detangles, softens, and promotes hair shine.
Cons:
It still leaves flakes behind.
The consistency is a bit thin for a setting lotion.
Design Essentials Compositions Foaming Wrap Lotion for Relaxed & Natural Hair,...
Quick-Drying Wrap Lotion: Can be used to create smooth wraps, wet-sets, textured styles and molds without frizz, flaking, and...
Coconut Oil and Wheat Protein: Coconut Oil and Wheat Protein provide the ability to moisturize, rejuvenate, and strengthen...
Creates Smooth Wraps: This beneficial wrap lotion helps detangle hair right on contact and easily creates smooth wraps, sets...
The Kera Care Foam Wrap-Set Lotion is not like any other setting lotions. What makes it different than the rest is it's rich in keratin protein. This substance helps the body produce elastin, collagen, and everything the hair needs to replenish its moisture levels.
Pros:
This delivers long-lasting moisture.
It's easy to use and apply, thanks to its pump bottle.
This is suitable for all hair types.
It provides extra hold so you can enjoy more defined curls for longer.
The lotion also protects the hair from further damage.
Cons:
It contains parabens that are not suitable for your health.
This is not as foamy as other setting lotions.
The Hair Play SET Extra Hold Hair Setting Lotions claims to be the first and the original liquid moisturizing hair foam. It is unique because it is a crossover between a gel and a mousse, so it easily coats the hair. This setting lotion actually comes in three different levels. The Set 3 is formulated specifically for thick, coarse, and unruly hair because it's formulated to detangle and eliminate frizz.
Pros:
There's a set for all hair types, textures, and lengths.
It comes in a travel size variant too.
The lotion is affordable.
This is perfect for twist and braid outs.
Cons:
The hair feels sticky to touch after application.
It doesn't foam up nicely.
Hair Mousse for Frizz Control & Wavy Hair - Hair Play Set #3 | Ease Frizz with...
💁THE ORIGINAL LIQUID MOISTURIZING HAIR FOAM MOUSSE: Hair Play Set #3 is the best leave-in styling conditioner for thick,...
💁VERSATILE STYLING PRODUCT: Detangle, restructure, and define uneven waves while maintaining the integrity of your hair....
💁LOOK GREAT, FEEL GREAT: This lightweight foam makes hair soft, smooth, shiny, and bouncy without flakes or residue. No...
This is another setting lotion from Lotta Body! Yes, that's how amazing they are. If you're looking for a setting lotion that will deliver superior hold to your curls, this is one of the options that you have.
In addition to delivering firm yet flexible hold, this setting lotion also enhances your hair's body and shine. This is all thanks to the natural oils that it contains.
Pros:
It contains natural oils that can hydrate and nourish the hair.
The lotion has a flake-free formula.
It's also quick drying.
The ingredients work together to improve hair texture.
Cons:
Not everyone loves its smell.
It contains alcohol.
The Verdict
Setting lotions are all the rage nowadays, especially if you have naturally curly hair. Setting lotions come in different forms and contain various types of ingredients. All the available options will make it difficult for you to choose which is the best one for you.
That's why the best setting lotion that we chose is one that's versatile and can work well on all types of hair, whatever the needs are. This is no other than the Lotta Body Setting Lotion, which is suitable even for colored hair. Let's also not forget that this highly concentrated formulation can help you save money too!
FAQs
Here are some other frequently asked questions that might help you out with anything setting lotion-related.
Why do you use setting lotion?
Setting lotion maintains your hairstyle and reduces frizz. It is often paired with rollers and is great for retaining curls in all hair types. It creates a natural, bouncy look without a tacky, crunchy feeling that accompanies hairspray, gel, or mousse.
Are hair mousse and setting lotion the same?
While setting lotion and hair mousse are similar, they have slight differences. Mousse has a lighter hold and can have a drying effect on your hair. These lotions are usually infused with nourishing ingredients and provide long-lasting hold.
Are setting lotion and hair gel similar?
Setting lotion and hair gels are similar, but not the same. The primary difference is in their bases: gels tend to be alcohol-based while lotions are usually oil-based (think coconut oil, shea butter, and olive oil).

Gels are ideal for looks that require strongholds while setting lotions are best used to achieve softer, more natural looks.
Can I use hair setting lotion with heated rollers?
This is a highly debated question, but our answer is: it depends on your rollers. If your heated rollers are fabric-coated, you may have issues cleaning excess product that seeps into the fabric.

When using setting lotion, try using a ceramic or plastic set of heated rollers that are easy to wipe down. Heated rollers are meant to be applied to dry hair, so be sure not to coat your hair with setting lotion beforehand. Just use a light coating, and you're good to go!
Should I use setting lotion with a curling iron?
You can use setting lotion to help define and retain your curls, but it comes with a catch. Heated tools like curling irons may react to excess moisture in your hair, causing frizzing and a less clean hold.

If using lotion, only apply a thin coating before curling your hair. It may be helpful to use the one that is non-water-based.
Is setting lotion good for relaxed, natural hair?
Yes, it is great for relaxed, natural hair. Applying lotion from roots to ends ensures that your hair will retain its style for a longer time.
How long will setting lotion last on hair?
The setting lotion will last, on average, 2 to 3 days. This can vary based on your hair type and the precautions you take to maintain your style.

Thin, straight hair might begin flattening after 1 to 2 days, while naturally curly hair might retain the same style for a week without issue. Using silk pillowcases, wearing silk wraps or nightcaps, or resetting your rollers at night may help your style keep longer.
Can I dilute setting lotion?
Yes, setting lotion can be diluted with water to prevent "crunchiness" or stiffness in your hair without reducing its holding effect. Dilution may vary based on your hair type and whether or not your hair is bleached or tinted.
What are the alternatives to hair setting lotion?
While it is helpful to maintain curls, it isn't always necessary. Damp hair is more elastic, which is the key component of using rollers. Rollers will work just as fine after spritzing your hair with plain old water!

Mousse has the most similar results for creating styles and updos that require an extra hold. Use it in combination with coconut oil or a moisturizer to prevent drying.

You can also make a vintage DIY setting lotion in a pinch. Simply boil one tablespoon of whole flax seeds in approximately 1-2 cups of water until it thickens, and add in your chosen essential oil.
Does setting lotion damage hair?
The lotion prevents excess moisture from entering your hair, which locks your style in place. While it is harmless to use occasionally, it can dry out your hair and cause frizzy ends if used frequently. Pair it with moisturizer and give your hair some TLC in between uses.
Can I use setting lotion on dry hair?
Yes, you can use setting lotion on dry hair types AND physically dry, not-wet hair. For dry hair, use an oil-based lotion instead of water-based. Alternatively, apply coconut oil or moisturizer to your hair after applying the lotion to restore moisture to your hair.
If your hair is physically dry, you can use a setting spray. However, depending on the amount you use, it will dampen your hair, so plan for a drying period before going out.
You May Also Like