Choosing a beautiful black hair updo for your wedding is the best way to put together all your looks and seem amazingly gorgeous on your big day.
Whether you have a kinky or smooth hair, long or short hair, there is no reason to worry about your big day. You will surely find a style that will look great on you and make your wedding day a great success.
Classic Wedding Hair Updos for Black Brides
A wedding day is usually a phenomenal day for every woman. To make it even more interesting and a memorable one, we have compiled a list of 30 best black hair updos for weddings. Sit back, take a deep breath and choose the best one for your big day!
1. Black Wedding Updos with Weave
A weave will not only add length to your current hairstyle, but make it look oh-so glamorous as a stacked bun updo with cornrows for your wedding.
2. Black Wedding Updo for Long Hair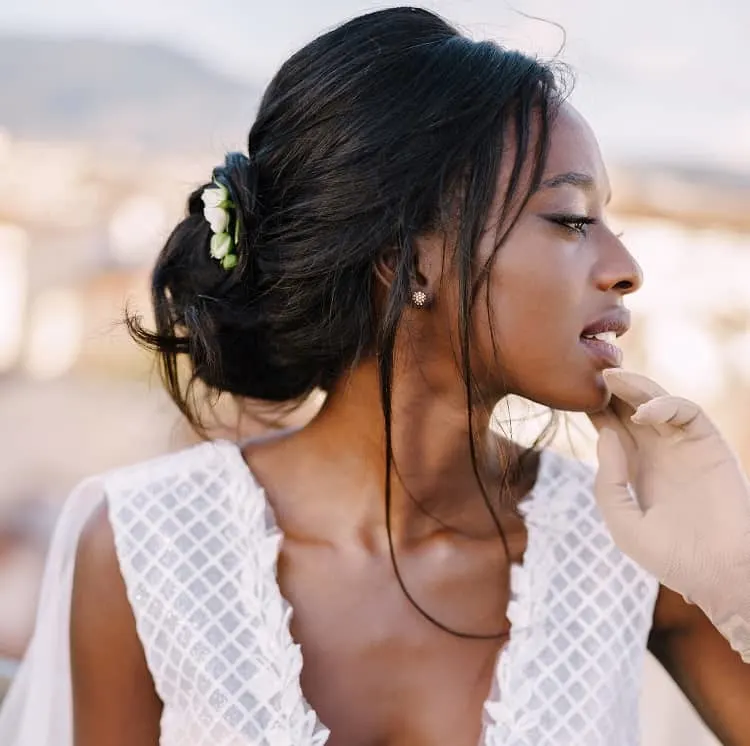 Make sure your look is romantic and soft by opting for a low and loose bun secured straight at the back of your head. Pull loose hairs around the face for delicateness.
3. Short Black Hair Updo for Wedding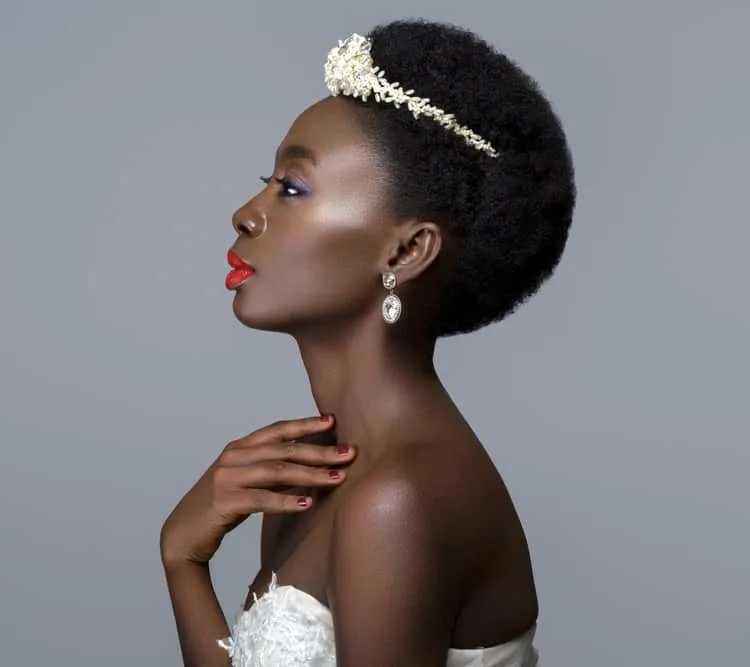 If your hair is short and afro-like, embrace the natural texture on your wedding day. Use a detailed headband to smooth hair back from the face.
4. Sock Bun Wedding Updo
The sock bun is a popular wedding hairstyle for its simple chicness. Smooth hair away from the face for a timeless look.
5. Thick Wedding Buns
For a unique look you'll love looking back on, try out this bun wedding hairstyle. Form at least 6 small to medium buns on top of the head, making sure to leave two long braids out to frame your face.
6. Faux Hawk Wedding Hairstyle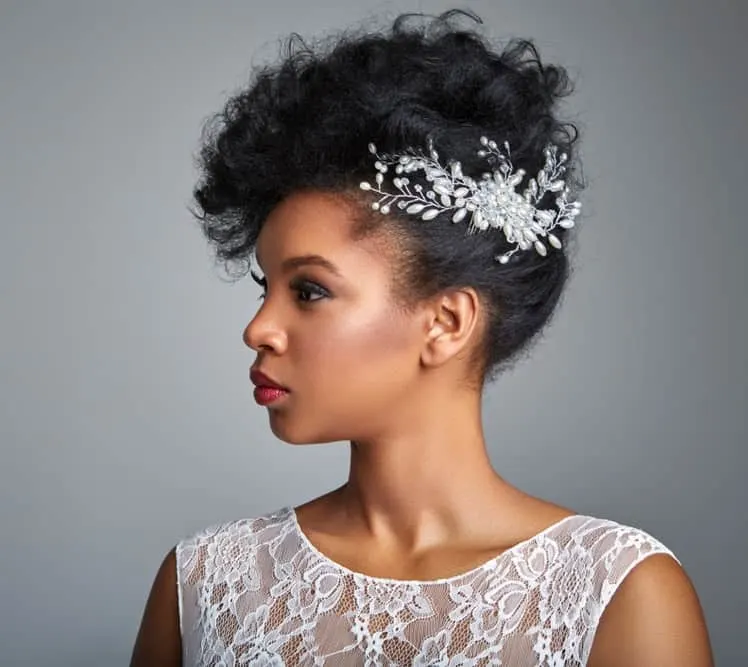 Wearing your hair as a faux hawk updo is another way to be unique and rock your thick black hair. Pin in a pearled barrette to your wedding hairstyle as a finishing touch.
7. Wavy Wedding Updo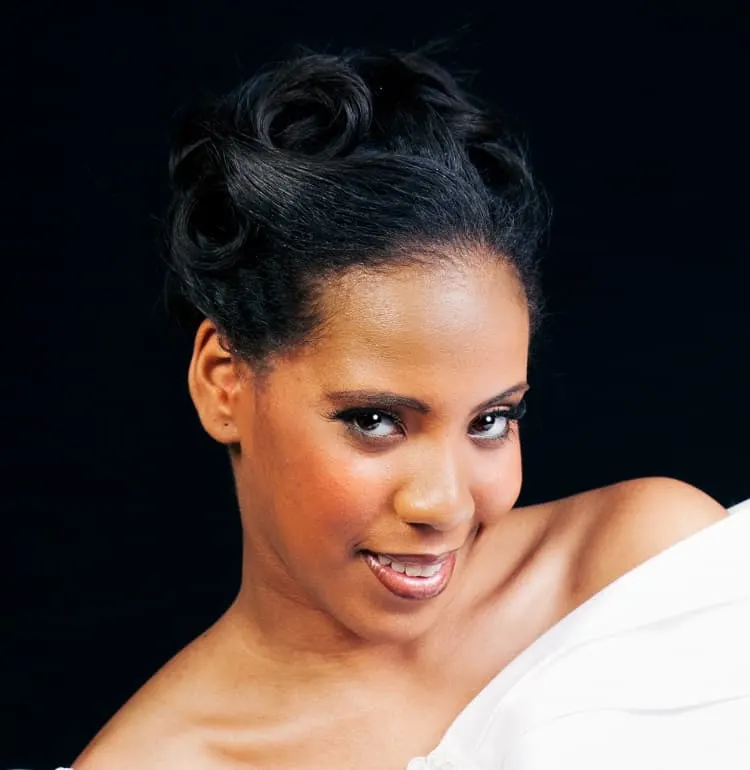 You can dance all night long with a wedding hairstyle that keeps hair off your neck in a stylish wavy updo like this!
8. Barely There and Veil
Sometimes ladies decide to go short and embrace very short hair. This look is beautiful with your preferred veil. A sassy hat and a veil are other great picks that are effortless to pull off.
Wedding Hairstyles for Black Brides
9. Big Bun and Braid
In this hair updo for the wedding, a large braid is wrapped seamlessly at the top covering anything that is holding the bun. The outcome is an elegant bun that stays intact for the entire day and evening.
10. Big Sleek Shoulder Touching Waves
The waves consist of some wonderful volume and are entirely glamorous. You don't have to have a natural volume to achieve this look, just utilize extensions or curls to get this look. It is one of the looks you will want to maintain after your wedding.
11. Big Curl and Sleek Side-Swept Hairstyle
This elegant black updo for weddings is so attractive for a bride. The side sweep, pearl comb, and well-styled waves work harmoniously to bring out this beautiful wedding pic. It is a certain style to steal the show!
12. Straight Full Braid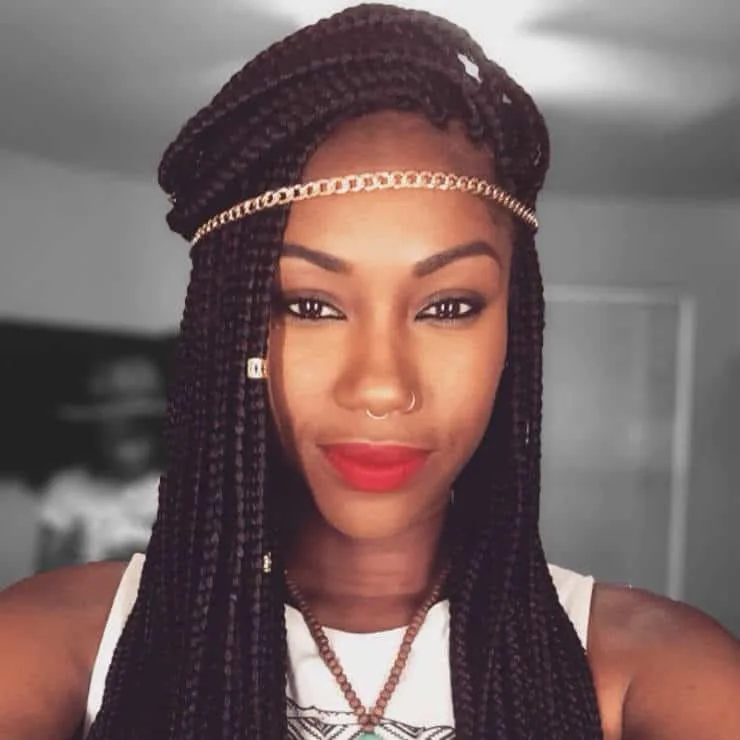 You can accomplish a super-hot wedding black hairdo by use of braids. For instance, this side-swept braid is sensual, and even though is somehow plain, it can be braided in various ways and incorporate all different types of pearls and gems.
13. Braided Pompadour Updo
This beautiful pick on pompadour keeps the hair elegant and intact. You can incorporate some gem or pearl-tipped pins to achieve a more glittering look. It looks like a more complicated black haircut for weddings, but I reality, it is not. You can boost the volume by adding some more hair.
14. Cornrows to Curly Updo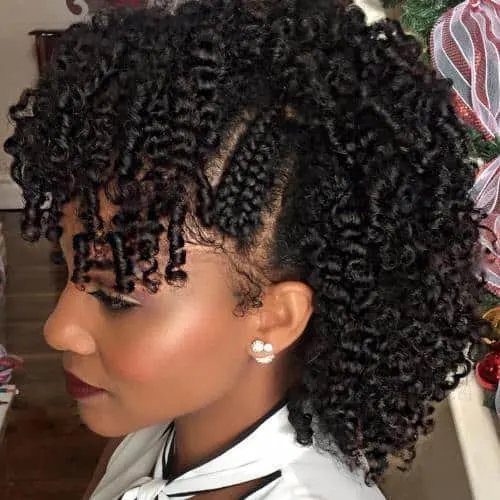 Cornrows can be a beautiful option on an updo and aid the hair to remain intact. It is a great look that is suitable for most special events. You can include a crown if you wish.
15. Slicked Back Hair with Gem Crown Veil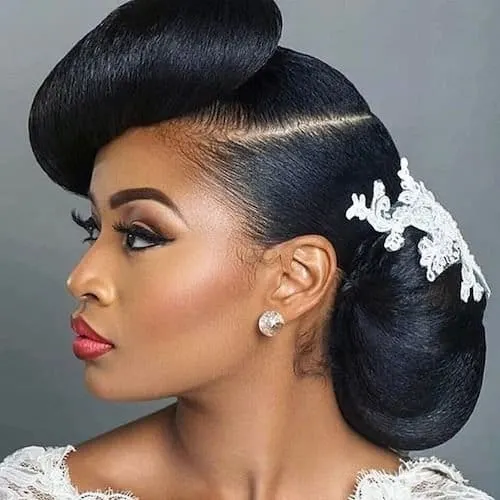 This is a great hairstyle for the bride with short cropped hair. First, the hair is slicked at the back head and crown veil put on the top. While this may look like a high crown, you can opt for more options available.
Blonde Hair Ideas for Black Women
This beautiful bob can be pulled off for any occasion. It is comprised of supper luscious curls and side swept part that gives a more vintage look. You can rock this black updo whether you are the bride or lucky guest.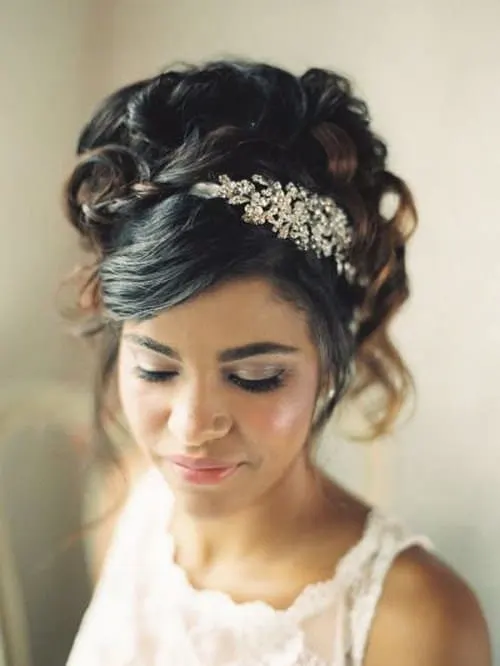 This gorgeous and luscious option of the chignon bun is beautiful on many levels. The distinct flow to the back is so exhilarating, and it plays a great role in opening the face and showcasing your eyes.
Curls look captivating when accentuated with fresh dreadlocks. You can include a veil and attach it to a headband which is much convenient for the women with dreadlocks rather than using other attachment methods.
19. Extended with Curly Ends and Rhinestone Chain Head Piece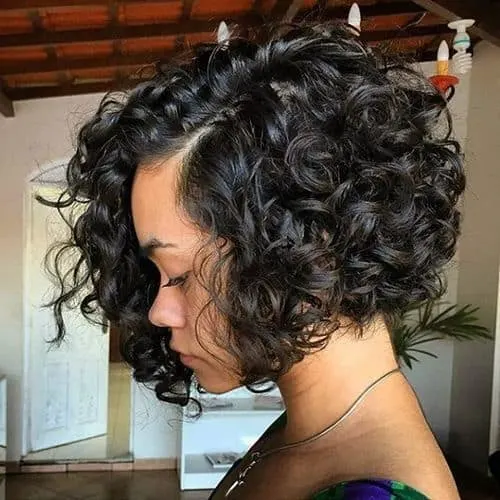 This look rocks in so many ways. The headpiece can be used in place of a traditional tiara, and the extended straightened hair looks more feminine. This is one of the effortlessly long black hair updos for your wedding.
20. Feathers and Gemstones Bun
This 1920s and the 30s bun is easy to achieve look with gemstone and feather adornment. There are so many feather types you can utilize such as peacock feathers which gives you an elegant look.
21. Feathers and Lace Veil with Natural Hair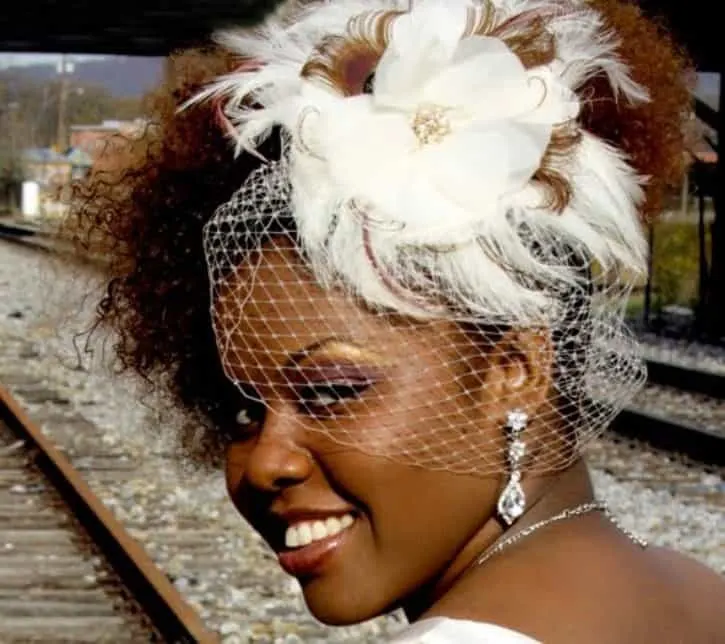 This is for the women with natural hair. The lace and feminine feathers are a gorgeous style that is inexpensive and less time-consuming to achieve.
22. Major Flower Power
It is with no doubt that most women love flowers. This is an ideal black hairstyle for the wedding to show your favorite flower in an extraordinarily way. Let your creativity be exemplified with this look. You can opt for a series of subtle flowers if you don't like the big ones.
23. French And Rose Braid Updo
Who denies that this is such an astounding and intricate look? This French braided style to a beautiful rose vividly shows how artistic one can be. So, to achieve this look, look for a qualified hair stylist to style it for you.
24. Natural Kinky Waves and Flowers
This look has the flowers styled around the face to give an elegant look. If you want to flash your natural beauty, this is a sure updo for women with black hair to let you showcase it perfectly.
25. Gold and Curls
This is a romantic, ethereal look. Maintaining your hair natural and styling them down can give you a beautiful tame of your hair for your big day. Incorporating gold at the top makes the look more unique and admirable. If you don't prefer gold, you can opt for silver which looks great on black hair as well.
26. Half up half down
This is a pretty hair updo for black women to try on their wedding. It can be worn in a variety of ways. Just go for the style that will look great on you.
27. Long curly side swept dreadlocks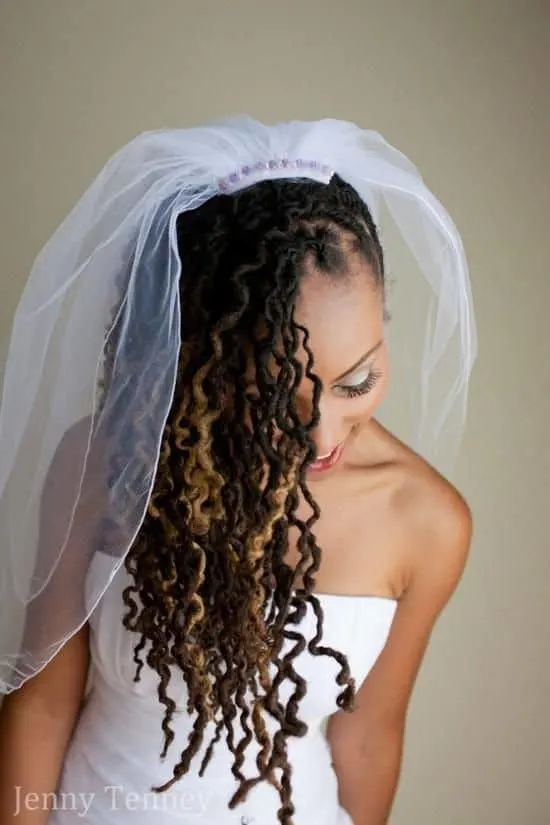 For the brides with extended dreadlocks, they may choose to go curly for their wedding. This wedding hairdo incorporates a strong side sweep, and an embellishment at the forehead defines the look.
28. Shoulder Curls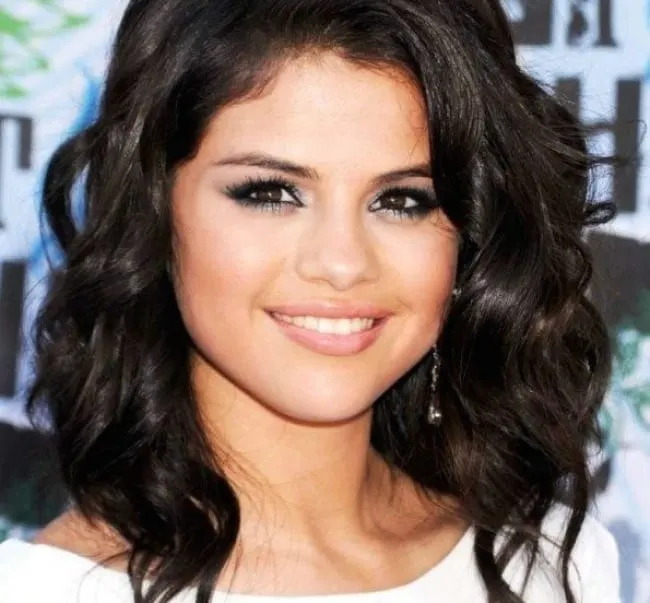 Big to medium curls that are loosely styled look pretty and can be won by any woman. When you are dealing with the curls, one of the crucial things to remember to do is to keep down the frizz factor to keep the hairstyle looks beautiful. In this case, you should prioritize the use of products.
29. Roses Updo
This gorgeous black updo for a wedding is characterized by a smooth side part and concentrated rose derail. A flower on the side sets it off. It is a time-consuming hairstyle to achieve, but it is worth the time you spend styling it.
30. A Smooth Low with Veil
A low bun can look elegant when you have a great flow of the hair. We recommend treating it with keratin to transform it from a sleek to coarse hair. Keratin treatment is a sure way to keep the hair looking luscious with some defined coarseness. You can also opt for a small veil if you like to go more traditional and want to reveal your facial features.
Selecting one particular style involves considering many choices. Involving a few of your close friends to help you pick the best style is the best thing you can opt for. We hope this compilation of black hair updos will guide you to your beautiful wedding day choice!