If you've been wearing your short hair the same way for a while and you're feeling the desire to switch up your hairstyle, short curly bob is in your future.
Bob hairstyles look great on all face shapes and skin tones, it's all about finding the right style. And of course, you can put your own spin on a short curly bob by adding special details like bold color and beads.
Short Curly Bob
These are the best short curly bobs you need to choose your next hairstyle from!
1. Blonde Chin-Length Bob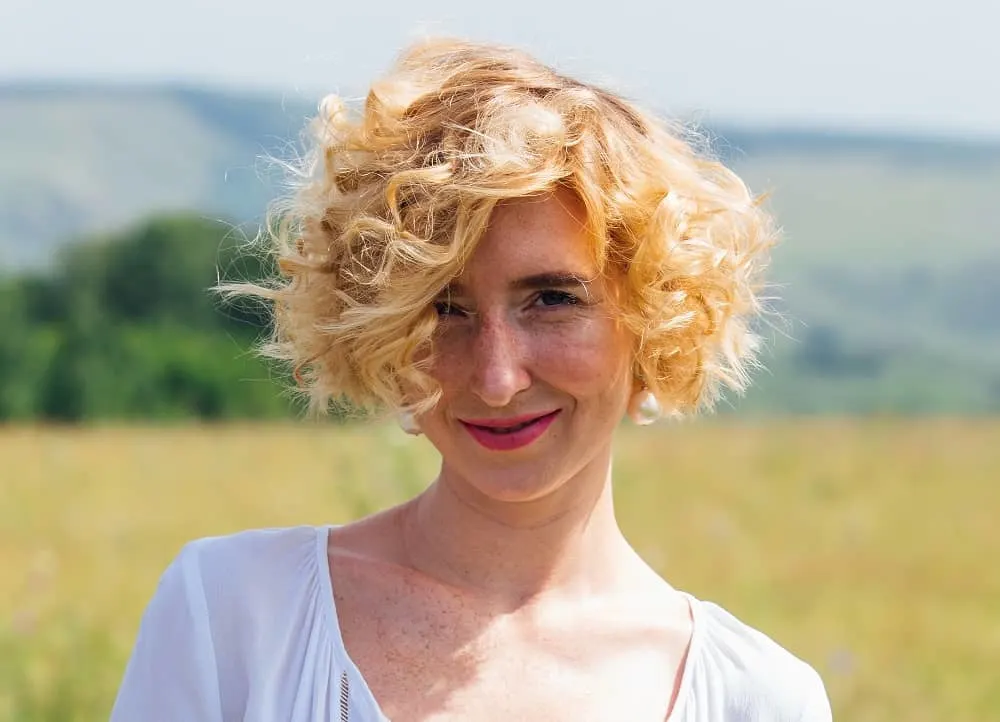 If you have a small oval face, a chin-length curly bob is the perfect length to flatter your face shape. Go with a beautiful light shade of blonde to match your light skin tone, then load it up with curls!
2. Curly Asymmetrical Bob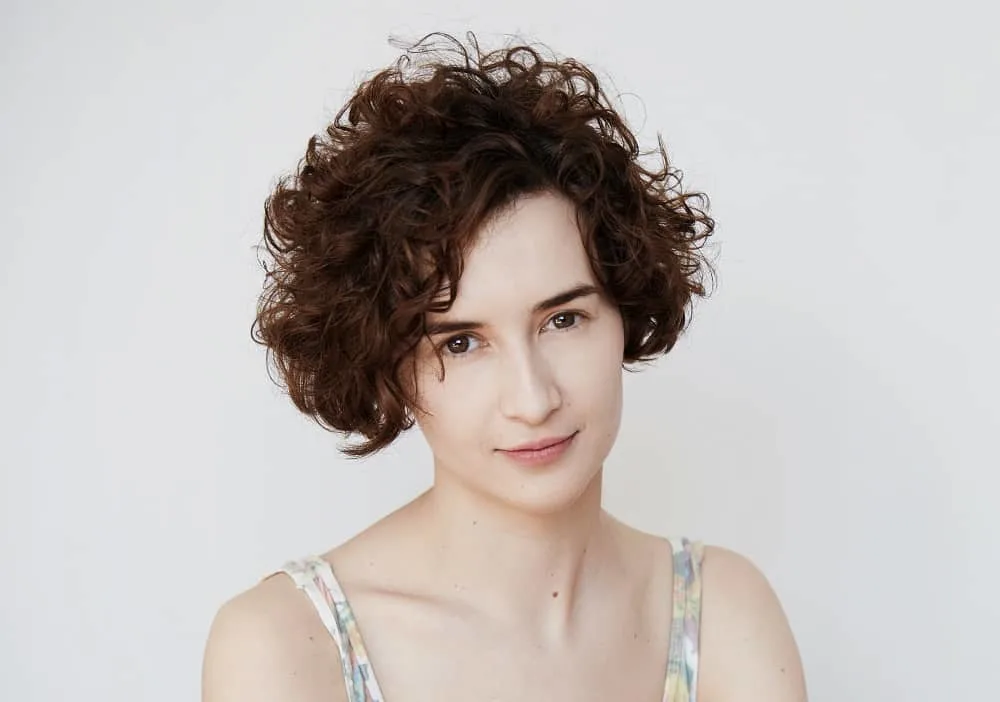 If you're a woman with thin or fine hair, an asymmetrical bob is a short manageable length and will easily thicken your locks up with its curls. Make sure your stylist cuts in lots of layers to get the most volume.
3. Tight Curls on Natural Hair
For black women who desire a curly hairstyle, a short bob full of very tight curls will look gorgeous. Go with a bluntly cut bob with one length all around and part it in the middle. A caramel ombre hair color will stun with your black hair base and skin tone.
4. White Bob for Older Women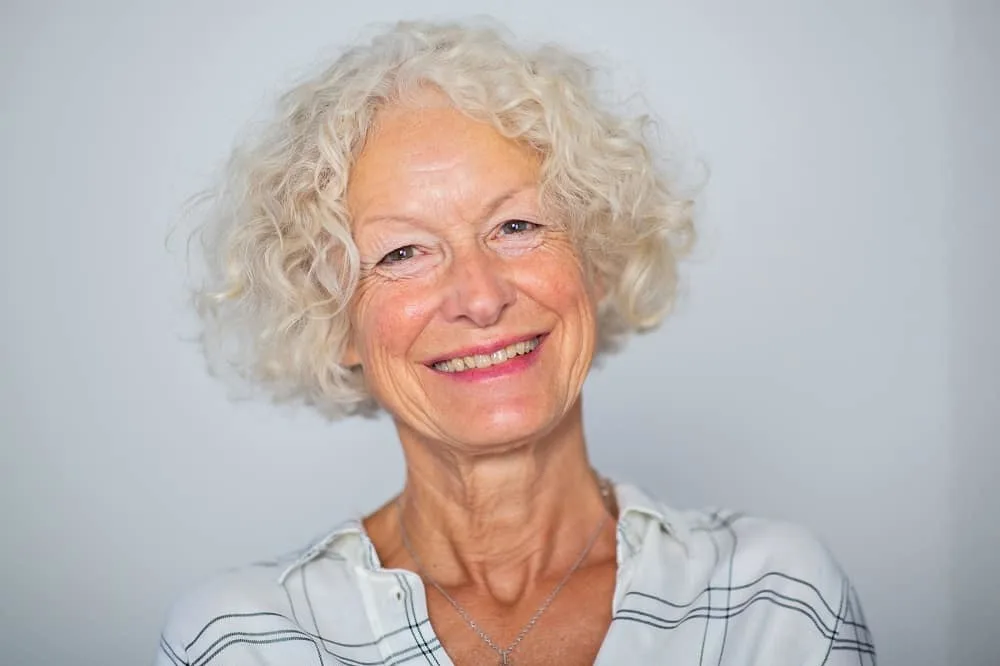 Are you an older lady finding her hair going grey or white? Make it look its best by opting for a short curly bob with short layers! This one comes just to the chin and its longest length is in back. The curls are soft and relaxed, easily styled with finger combing.
5. Short Curly Bob with Bangs
Express your edgy side by playing with color on a short curly bob. A dark purple can be worn as an all over color or just as highlights to a dark base. This style of bob also features short curly bangs, a great detail to help with face framing.
6. Braided Afro Bob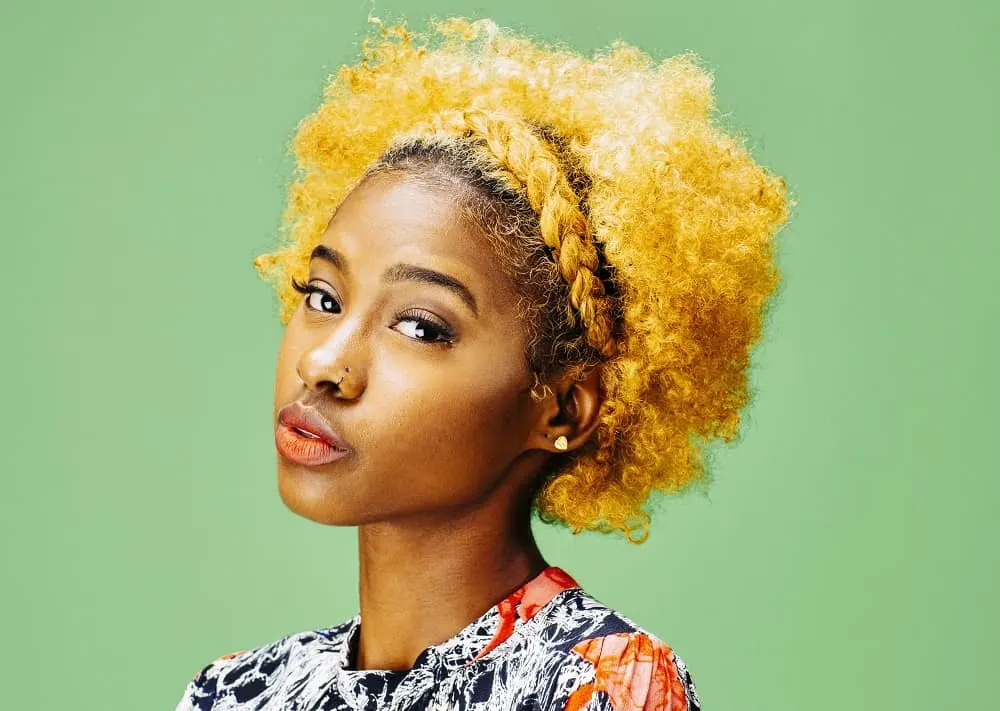 Another gorgeous bob hairstyle for ladies with natural black hair is this afro bob with its crown braid detailing. The bob provides shape to the hair, while a golden shade of yellow hair color looks stunning with dark skin tones.
7. Curly Side Bangs
Not into a full fringe but still want some kind of bang to go with your short curly bob? A side bang is soft and easily pinned back when you wear the style straight. Use a curling iron to get these perfectly shaped ringlet curls.
8. Flower Updo for Short Bobs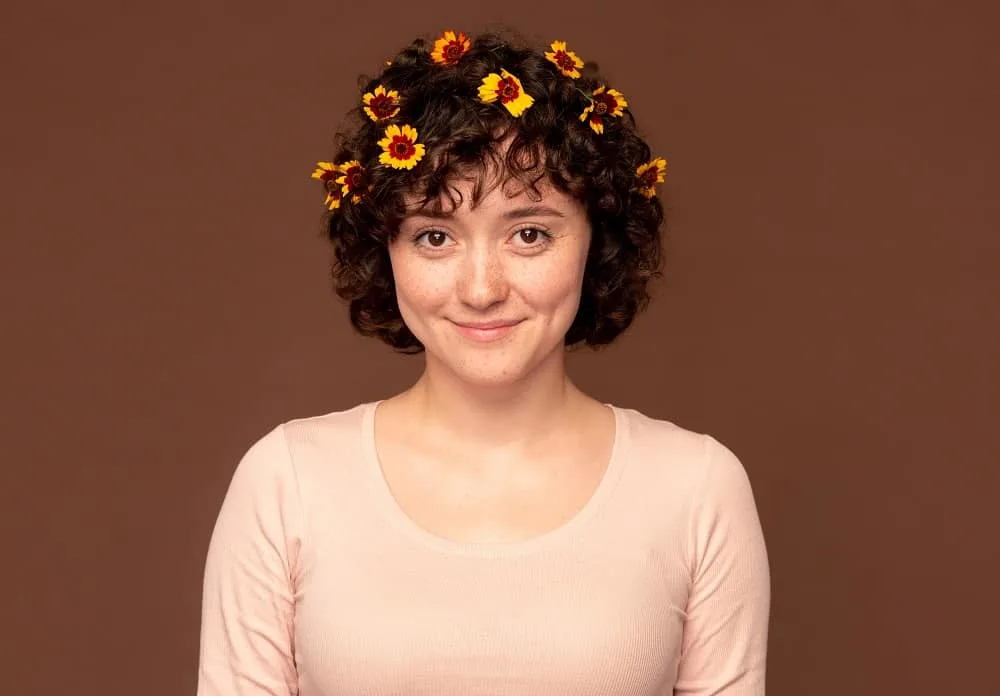 If you decide to rock a short curly bob and want to dress it up for a special occasion, add in small faux or real flowers in a contrasting color to your hair shade. This bob hairstyle with curly bangs features little yellow flowers that pop nicely on a brunette base.
9. Thin Bob with Highlights
After going with a short curly bob complete with a minimal side bang that is also worn curled, consider adding blonde highlights. Make the color edgy with silver and blonde, or more feminine with light blonde on dark blonde!
10. Fade on Short Curly Bob
Color isn't the only way to put an edgy twist on a short curly bob. Ask your stylist to buzz in a fade on one side. It will define your face shape better, as well as make those luscious curls pop!
11. Curly Short Stacked Bob
If your curly hair is on the thick side, a stacked bob is a great option to choose because it has short layers that will thin out your hair. With only a side part to worry about, it's very low maintenance.
12. Short Black Curly Bob
For afro-textured hair or really thick curls, let it flow free without worrying about its shape by going with a side parted bob. The part creates height up top and a subtle side bang.
13. Short Curly Bob Weave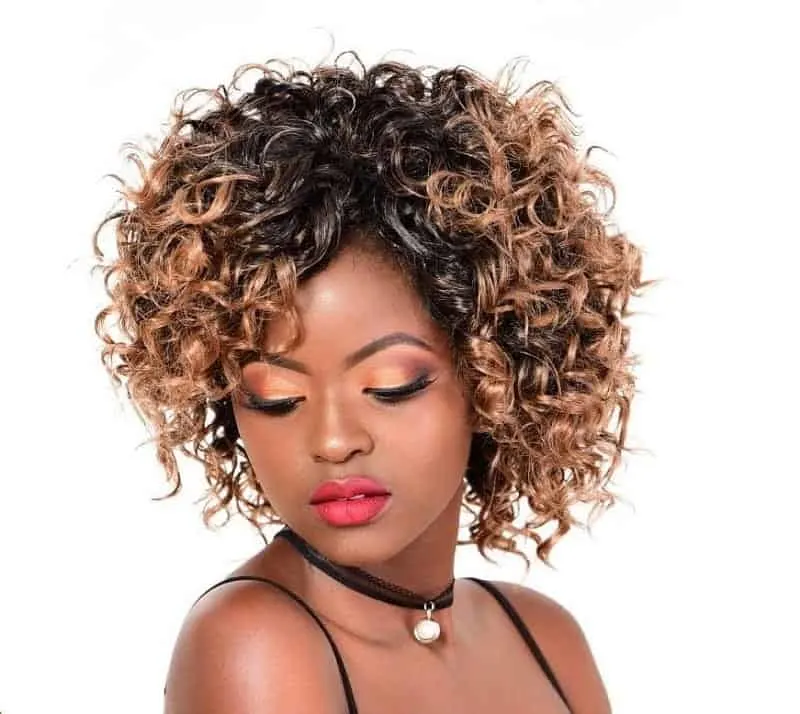 Give off major Whitney Houston vibes with this short curly bob glazed with caramel highlights. The layers make curls more noticeable and also help hair fall across the forehead.
14. Short Curly Bob + Side Part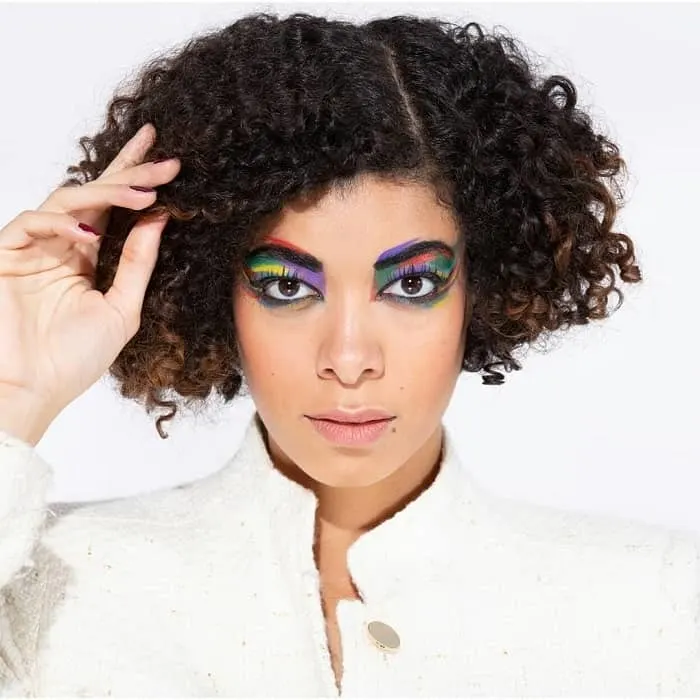 This stacked bob has a sort of wedge shape on the sides which is more noticeable when hair is thick. If your hair is naturally straight, a perm will give you this look and last several months.
15. Short Curly Inverted Bob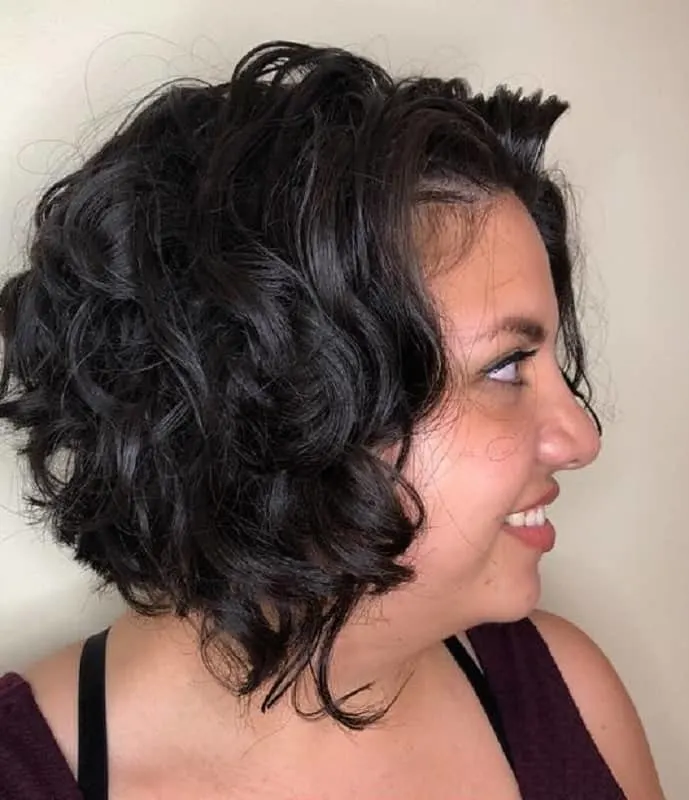 16. Curly Short Angled Bob
If your curly hair is feeling more like a big poof on top of your head, cut it into a short bob and add layers to give beautiful angles and shape to it.
17. Short Curls + A-Line Bob
An A-line bob is super stylish with the way it stops at the jawline. This type of bob typically flatters oval faces best as the shape of the cut is round.
18. Short Choppy Curly Bob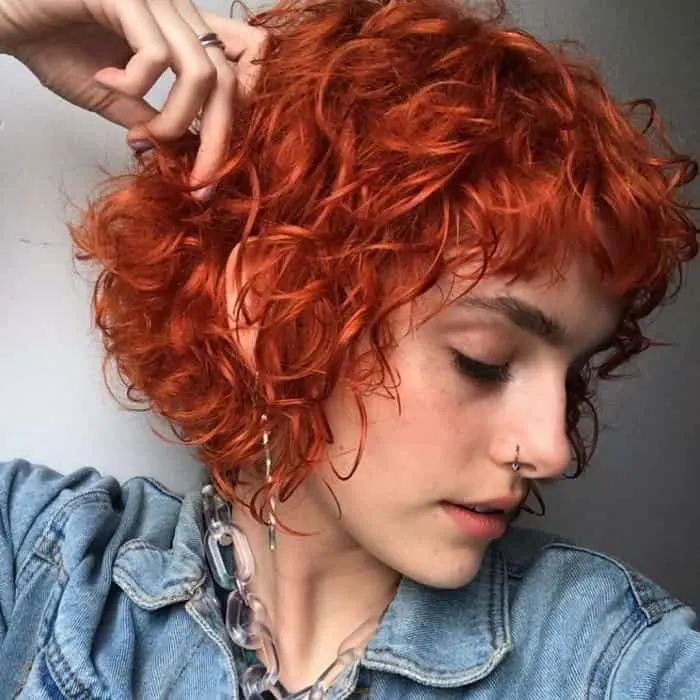 A curly bob in a bold red color is ultra chic with its uneven layers and ends. By having choppy ends, your cut will be less maintenance and you can go longer between haircuts.
19. Short Curly Sew In Bob
One of the fun things about using sew-ins is you can easily experiment with straight and curly hair. A curly bob with layers and a side part stands out with caramel highlighting.
20. Short Curly Bob for Round Faces
When you have a round face, it's important not to choose a haircut that will make it even more round. A short bob with layers will allow you to keep curls in a flattering shape.
21. Short Thick Curly Bob
A bob that comes just to ear level works on just about any face shape. You can help curls look more full by adding blonde highlights.
22. Short Curly Bob With Fringe
Messy shoulder-length curls are one of the best ways to reveal your thick hair with this curly bob hairstyle. It is even easier to achieve if you have natural curls. An orange hair shade and straight bangs will last for long if perfectly styled.
23. Asymmetric Wavy Bob Cut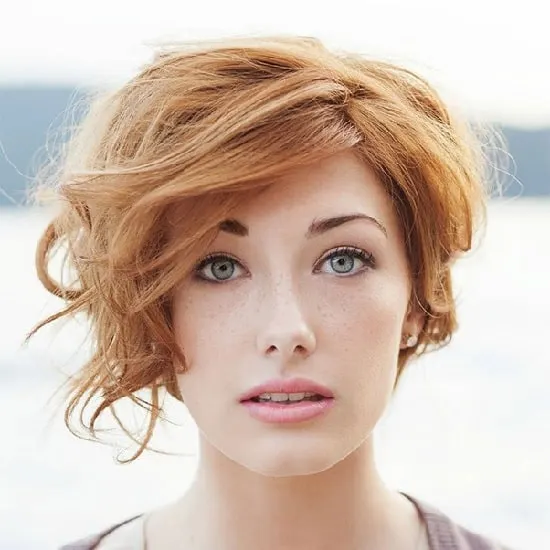 This typical short curly bob haircut is amongst the trendiest haircuts at the moment. The vivacious curls enhance the volume and movement of this style. The extended side bangs frame your face shape and finish the style correctly.
24. Face-Framing Curly Bob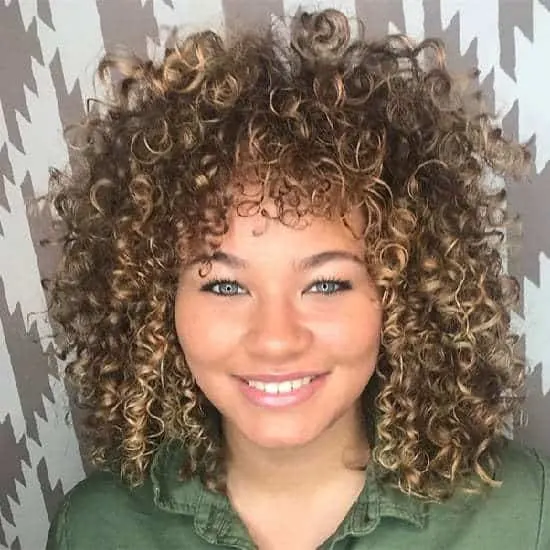 This shoulder length wavy bob has been trending since it became famous last year. The volume is enhanced by the stacked layers at the back, making it look fuller. The extended layers around the face frame the face well.
25. Platinum Wavy Bob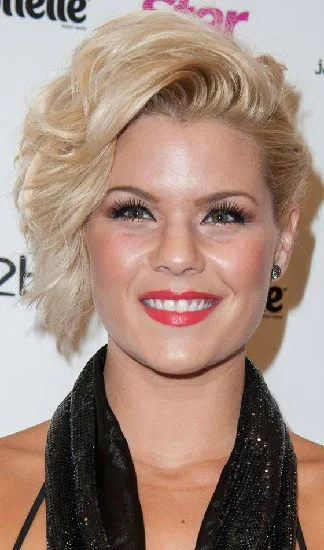 This astonishing wavy bob is like having a bedhead filled with cozy light. The medium messy curly haircut is alluring which its glittering silver hue and the loose curling with a romantic side part that makes the entire hairstyle unique.
Cute and Easy Short Curly Hairstyle Ideas
26. Curly Layered Bob Short Haircuts
Searching for a way to boost the thickness of your thin hair tresses? Well, this stacked bob haircut with light streaks is an excellent choice for you. Give a try to a balayage dye and messy waves for a finish.
27. Chic Short Curly Bob Style
Chic as it is, this curly bob haircut for women sincerely is vintage and sassy hairstyle with an uber-chic feel. Excellent! The messy curls ensure you a cozy flair, and the wrecked nest of waves gives an illusion of being skilfully placed.
28. Curly Bob with Bangs
Having a curly hairstyle with fringes was sometimes considered as erroneous. However, nowadays works perfectly with shortcuts, such as bob haircuts since it is very essential for augmenting layers of varying lengths.
29. Two-Toned Bob Haircut
So unique! Because of an elegant fade hair hue, this shoulder-length curly bob haircut is an upgrade of a standard style to a whimsical one. We must agree that the choppy layers are beautiful! The texture boosts the volume and finishes the entire style.
30. Layered Bob
A thumb rule, short curly bob hairstyles are all about balance and class. However, if you opt for relatively bulk side bangs in your curly bob haircut, you will need to maintain the back flat. Make its natural look and messy as well.
31. Chin Length Bob
We should say it; this is a delicately designed bob cut. The front and the back have the same length. With just subtle layers, you get a super sleek and clean look. Adding a blonde hair hue brightens up the entire look.
32. Loose Curls
If you are blessed with thin and fine hair, this bob is the right choice for you. To have the impacts of loose curls, use texturizing products. Because of the sleek light blonde hair hue, it is an ideal haircut for a sunny day during the winter.
It looks pretty on women with oval or round-shaped faces. Besides, it is versatile and can be worn in several events.
33. Vintage Short Curly Bob Hairstyles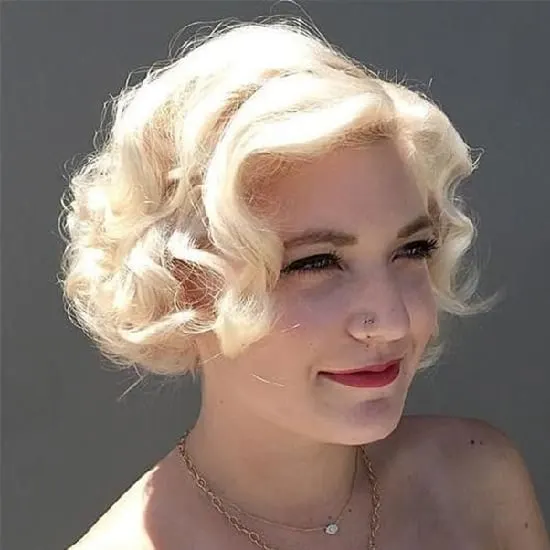 It is a style that will make you like a prince in a fairytale story. The beautiful small waves around the head define the whole hairstyle. Besides, the pale blonde hair shade is ridiculously impressive.
34. Tight to Loose Wavy Bob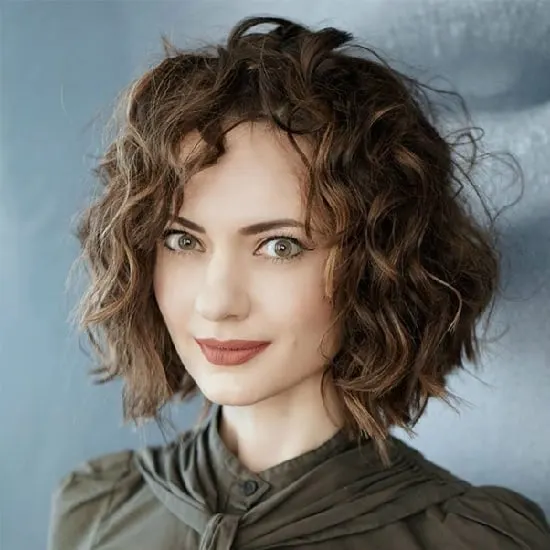 This messy short curly bob is ideal for women with thin hair. No strict policies when it comes to styling the curls across your head. However, you need to be aware of your skin tone to rock well in this style. Though this is a tousled cut, it still has a flair of elegance and class. Truly exciting!
35. Romantic Curly Bob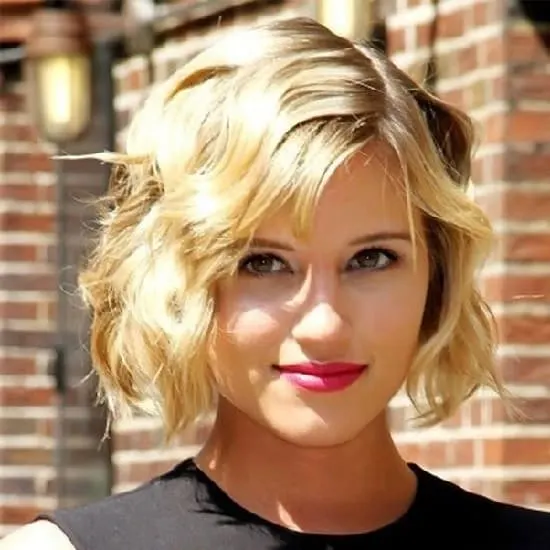 Who said blondies should always keep extended locks? This beautiful curly bob haircut is an ideal choice if you want a beautiful short hairstyle. With the short layers, the entire style is admirable, and the blonde hair hue can take some months on your hair before you can think of replacing them.
36. Side-Parted Wispy
Are you finding it difficult to decide on the blonde or brown, short or long? Luckily there is a bridge between the two-silver hair hue and dark base that are chic and familiar this year. The beautiful curls are more suitable for ladies with a round face.
37. Center-Parted Short Bob
This is an amazing curly bob hairstyle for women who love short hairstyles! If you have tried a sleek bob and found it a little bit boring, you can be sure this hairstyle can't let you down. A curly and messy style is typical but segmented with natural bangs and some gray hair hue, the look is insanely elevated.
38. The Pastel Purple Short Length Bob
Purple has and will always be a bold color, especially when it is augmented with another shade. This wavy bob haircut in the photo below is a thumb up. A composition of ombre lavender hair shade and some curls give you a style that surely you cannot get enough of.
39. Cute and Classic Bob
Another sassy short curly hairstyle to try. It has a flair of being a true vintage because of its irregular bangs. Curls at the trimmings make it both attractive and gorgeous. Ladies cannot get enough of this beautiful hairstyle.
40. Black Wavy Bob with Subtle Highlights
A medium short curly hairstyle with natural styling will allow you to have a real flair for summer. This bob style is characterized by various colors blue, gray, blonde and the large curls contribute significantly to the dimension of the hair.
41. Short Curly Bob
This round bob is always flattering as shown here. The layers in this style make the entire body to concentrate on your face. However, it is not recommended for ladies with thick hair.
42. Straight Cut Wavy Bob
This is a sleek razored bob haircut with subtle layers. The smooth waves in this haircut create fullness across the whole hairstyle, and the extended bangs are an ideal way to give frame to your face. It is one of the most natural hairstyles to style and maintain. Suitable for ladies with heart-shaped faces.
43. Bouncy Bob
What hairstyle can make you bounce like a baby rather than this one? It has many curls running on the entire head. Isn't it such a wonderful feeling? Of course, it is. This short curly bob is ideal for women who love a no-fuss haircut. The brown hair shade is fun and lively.
44. Wavy Ombre Bob Haircut
Who said wavy bob could only be ideal for the workplace? Wavy bob is a versatile hairstyle, and you can wear it for any occasion. Those subtle curls and side paring give a hot style for your hair. Opt for a brown hair hue to elevate it to the next level. Fantastic!
45. Tapered Natural Curls
Some women find it difficult to wear their natural curls in a hairstyle that is slightly above shoulder length since styling hair can even be more challenging when it doesn't have enough length to weigh down.
However, opting for a tapered cut that is artistically shaped will aid you in getting rid of some of the styling fears and get a super cute haircut that will save your time in daily maintenance of your hair.
46. Triangle Short Bob with Bangs
Try triangle bob created by natural curls, and what you get will be a fashion-forward style that is amazingly flattering on ladies with heart-shaped faces.
The subtle curly bangs in this haircut are especially significant in framing your eyes or hiding a large forehead. It aids to bring some sleekness into this geometrically shaped short bob.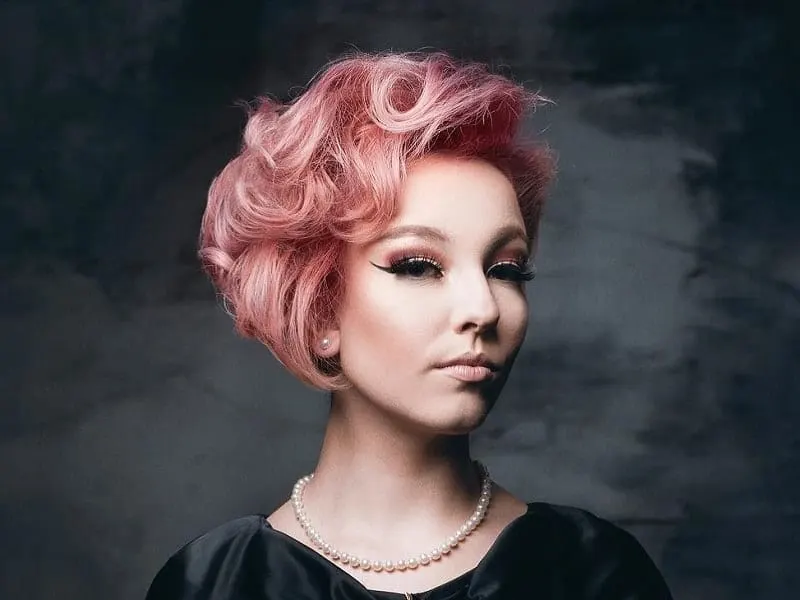 From cropped pixies to short bobs, we hope you will get a new haircut for your next style from our list of short curly bob hairstyles. Good luck with your selection.