When it comes to you or your friend's special day, you deserve to feel amazing. Part of achieving that feeling is having a gorgeous hairstyle to match your dress. Whether you're the bridesmaid or the bride, there are plenty of wedding updos to choose from. Buns, braided crowns, loose waves, and more are all stunning options no matter your face shape.
For the ultimate romantic hairstyle, choose from one of these 41 wedding updos.
1. Wedding Updo for Short Hair
If you have short hair, wind it back into a twisted bun, being sure to tuck all loose hairs in. Pin in some flowers or top with your veil.
2. Long Hair Updo
You need a professional stylist to pull this long hair updo. Long hair is the perfect length to braid hair and form a romantic crown. Leave pieces around the face loose and top the look off with flowers to match your bouquet.
A loose chignon is just for brides with medium length hair. Twist a few strands of hair before winding it up for sexy texture.
4. Black Hair Updos
For naturally black hair, a high curly bun with a lace or flower headband is super romantic. Leave a thick strand curled and loose by your face for a soft look.
5. Half Updo for Bride
Prefer to wear your hair down? A half updo will make your locks look extra long. Just pull it up into a bun, ponytail, or braid.
6. Updo with Braids
To create this braided updo, form two low braids and pin them near the front of your head, pulling the braids loose so soft tendrils of hair fall.
7. Updos for Wedding Guest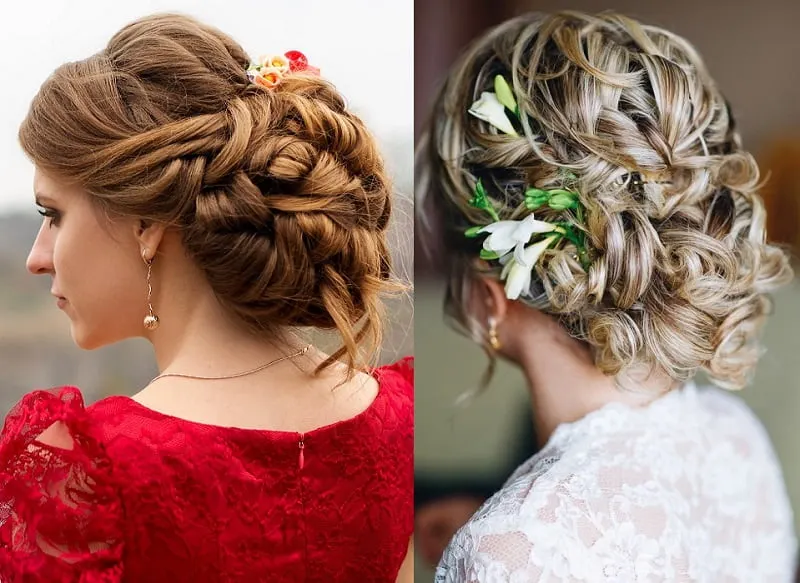 There's no reason the guest of the wedding shouldn't look amazing as well. If you have wavy hair, a low braided bun looks thick and sultry.
8. Curly Updo
This curly hair updo works whether you have kinky-curly or wavy-curly hair. The secret to this style is leaving plenty of hair loose so it doesn't look too perfect. Take a look at these wedding hairstyles for curly hair.
9. Straight Hair Updo
If you have straight hair, curl in some waves before forming this twisty bun. Jeweled barrettes add the perfect touch of glam in this wedding updo.
10. Loose Updo
Loose updos will be your favorite if you have thin or fine hair. Everyone will think your hair is actually thick when it's rolled in a loose bun.
11. Updos for Bridesmaids
Bridesmaid with long hair will look stunning with this updo. Before pinning your hair into any loose hairstyle, insert a couple braids. A loose side French braid or a twisted braid are both gorgeous.
12. Bridal Updo for Thin Hair
Low poofy buns pair perfectly with strapless wedding dresses. A lace or pearled headband will be the most beautiful topper if you choose to have no veil.
13. Wedding Updo with Veil
To show off your updo and still have a veil, go with a high bun and a low veil that clips in just beneath it. Wrap the bun in flowers for a pop of color.
14. Low Updo for Wedding
This twisted bun is easily formed and will show off your neckline beautifully. Choose a special jeweled clasp or faux flowers to draw attention to this beauty.
15. High Updo
High round buns are sophisticated and chic, a great duo of style for any length or texture of hair. The higher the better with this hairstyle.
16. Messy Updo for Bride
Messy updos make another great wedding hair updo. To keep it from being too "just rolled out of bed," make sure most of the hair is secured with an elastic.
When it comes to your wedding hairstyle, don't pin back your bangs. Leave them loose and brushed to one side or piecey and spread out.
18. Side Updo for Brides
Side updos are soft and unexpected when it comes to a bride's hairstyle. The look will show off all your best angles and looks elegant with flowered accessories.
19. Ponytail + Updo
Ponytails aren't just for running errands anymore. You can get your own distinct updo hairstyles for wedding adding ponytail with other styles. A high or medium ponytail can lengthen your locks and trails down your back for a sexy style.
For a high or side bun, add in a side braid to make this hairstyle romantic. Pair with your favorite dangly earrings and you've got a stunner.
21. Beach Wedding Updo
When you're having a beach wedding, the last thing you want to worry about is a frizzy hairstyle. Keep hair out of your face with a high bun and a side braid and smooth flyaways with hairspray.
22. Locs Updo for Wedding
Dreadlocks are a beautiful hairstyle for black women. The hair is twisted in small segments for sexy thick-looking hair. An elegant updo separated into two buns or just as one single bun will make you feel like a queen.
23. Blonde Updo
Be a blonde bombshell on the special day by wearing your hair up in a twisted bun. Pull some of your hair loose or leave chunky tendrils to cascade down shoulders.
24. Twisted Updo
Fishtail or braided crowns are always beautiful options, but so is this twisted updo. With flowers tucked in, it's an easy and effortlessly sexy style you'll feel amazing in.
25. Updo for Asian Bride
Asian women with black hair should sport this tucked chignon. Wind back side strands and tuck them into the chignon for a thick textured hairdo.
26. Wedding Updo with Dreads
If your hair is in dreadlocks, you can still have that elegant wedding hairdo. Pull hair up into a tall bun or a jumbo bun just above the neckline.
27. Wedding Updos with Flowers
Flowered headbands or headdresses add a colorful accessory to a wedding updo. Paired with thick curls and soft tendrils, it's the ultimate romantic updo.
28. Bridal Updo for Round Face
If you have a round face, shape it into an oval with a high twisty bun. Long side bangs will cover the rounded angles of your face so it has more dimension.
A glamourous updo hairstyle for black brides. A weave in black hair can add long length or a gorgeous hint of color. For dark skin tones, choose caramel to warm up your complexion.
30. Boho Updo
To get a boho updo, add tons of beachy waves and messy knots. Smooth everything down with hairspray and you're ready. If you are a bride over 50 and looking for an updo hairstyle, this style can give you the dream look you deserve.
31. Sleek Updo
Your long hair will look stunning combed and smoothed back into a high bun secured at the crown of your head. Top with a pearled or rhinestone tiara.
32. Side Bun
A side bun is effortlessly stylish and chic for a wedding updo hairstyle. A few small braids start at the hairline at the back of the head and weave into this low updo.
33. Wedding Hairstyle for Black Women
For black women, try a low bun wedding hairstyle with loose waves and tendrils that fall along the neck and sides of your face. Pin in a beautiful white flower to match your dress.
34. Updo for Indian Brides
Indian brides typically go for a wedding hairstyle with gold accents and jewelry. A low braided bun can be secured at the neck topped with accessories.
35. Wedding Updo with Veil
This updo is different in that it's secured at the crown instead of at the neck. It is large in size and a delicate mesh veil hangs romantically from it.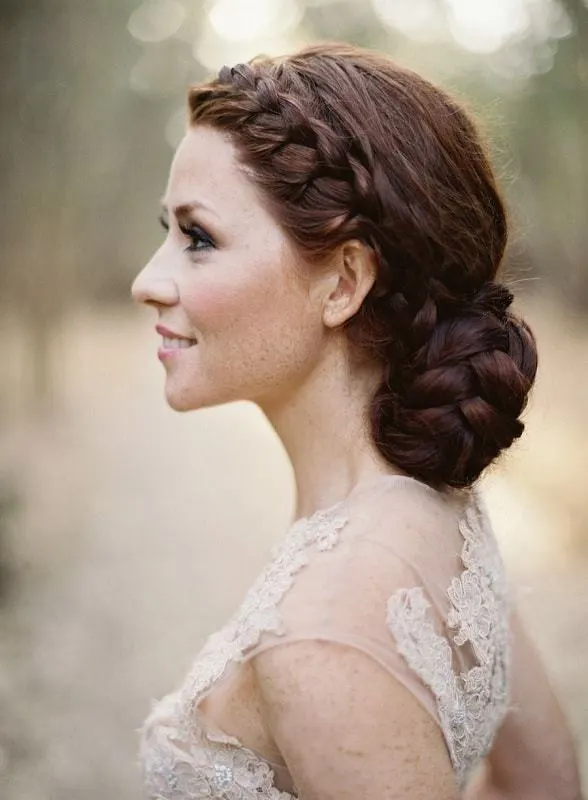 Side braids are in fashion right now, so pair your braid with a low bun for a maximum vintage and antique charm. This sleek and tucked-in looking elegant bun is ideal for any chic modern bride. The look of this hairdo maintains a well-put-together charm.
To style this hairdo, you can go with a modern and chic wedding gown. This side braided low bun is a vintage classic and a great option for brides looking to keep it elegant and simple.
37. Sleek Chignon
The sleek low Chignon bun is a personal favorite with its vintage charm and easy management. The low bun is especially popular amongst brides that want to keep it old-fashioned and classy.
Ideal for brides wanting to keep it simple. But don't be fooled by this simple bun's look. The look is extremely modern and sleek, yet a very old and classic hairdo.
The best way to style this hairdo is with either a vintage gown and theme or a very modern and chic gown. Both of these styles work wonders when paired with this style of bun.
38. Intricate Hair Detailed Bun
This bridal bun is for women with patience. The hairdo takes time and a lot, but the end result is amazing and worth waiting for. This hairstyle is very intricate and elegant. It takes time and lots of effort and maybe some extensions. It's ideal for women willing to sit through the process.
The best way to style this amazing hairdo is with an equally intricate and delicately designed gown. Make sure to show off your beautifully shaped hair and not cover it with a veil.
39. Crown Braided Updo
This beautiful look is for women wanting to keep it tidy but a little messy. It can easily happen by starting abroad from one side of the head and strategically pulling out a few strands.
Women with voluminous hair could opt for this look. It requires a lot of hair for the updo at the back and a lot of frontal hair for the look with a loose crown braid.
The best way to style this elegant and intricate wedding hairdo is with a simple gown, especially if you plan to add some jewel or fresh flower pieces. Some baby's breath where the bun starts or through the broads is also a great option.
The ballerina hairstyle is a very cute and charming hairdo which is actually the only hairdo that can easily go with any theme and style.
Brides who want to keep it simple can definitely opt for this wedding hairstyle. A braid or two leading up to the updo can elevate the hairstyle a bit, but it is not required.
Just like the picture above, we suggest you style this bun with single flowers. Another way of elevating this simple hairdo is by placing some crown jewelry on the bun.
41. The Messy Wedding Updo
The last wedding hairstyle on the list is a low doughnut bun with messy fishtail braids tucked into it. This is ideal for brides wanting to show their young, carefree sides.
This messy swept-back low bun is suitable for modern wedding gowns. Gowns that are essentially sleek and simple pair up really well with this hairdo. The best thing to do is leave the bun alone, just like in the picture above.
These wedding updos are the prettiest options you have to choose from. To feel ethereal, elegant, and amazing on your or your friend's big day, you have to save this list!