The beauty of black hair cannot be denied. However, plain black hair can sometimes look incredibly boring. If you want to add a bit of life to your raven mane, consider getting highlights. Adding highlights to your black hair can bring a classy, radiant change without altering its beautiful base color.
Choosing the right highlights can be tricky. We present you with 40 gorgeous ideas for black hair with highlights.
How to Get the Perfect Highlights for Your Black Hair
Black hair with highlights offers a stunning range of looks tailored to your personal style. Before starting, decide whether you want a subtle, warm-toned appearance or a more dramatic, rock and roll vibe.
With jet-black hair being naturally bold, highlights will always appear stronger than on lighter hair colors. By choosing one or two thick strands to lighten, you can create an edgy look that complements your existing haircut and style. Embrace the versatility of black hair with highlights and breathe new life into your appearance.
Consult a professional hairstylist to discuss your desired highlights. Consider your hair type, skin tone, and personal preferences.
Choose the right highlight color and technique based on your consultation. Opt for shades that complement your natural black hair color.
Prepare your hair by using a deep conditioning treatment a few days before your appointment. This'll ensure it's healthy and moisturized.
Schedule your appointment with a trusted hairstylist who has experience in creating highlights on black hair.
Communicate your expectations clearly with your hairstylist, providing reference images to help them understand the look you want to achieve.
Opt for a strand test before applying the highlights to your entire head, allowing you to preview the final color and make any necessary adjustments.
Follow your stylist's recommendations for the appropriate highlighting technique, whether it's balayage, foiling, or hair painting, to achieve the desired effect.
Allow your stylist to apply the highlights carefully.
Rinse and tone the highlighted hair to neutralize any unwanted tones and enhance the vibrancy and shine of the highlights.
Schedule a follow-up appointment with your stylist for any necessary touch-ups or adjustments, ensuring your highlights remain vibrant and well-maintained.
Black Hair With Highlights
Knowing what color highlights to add and how many highlights to use is important for the best possible look. We have put together 40 of the classic highlights ideas that will look fantastic with black hair.
1. Subtle Pink Highlights
These pink highlights are suitable if you want to bring a subtle change in your shoulder-length black locks. Just add a pink hue on one side near your ear and curl your strands in all directions. A subtle side part will further set off your highlights.
2. Blue Balayage Highlights
Make your black hair look fresh and fascinating with this cool color. Keep your roots dark and add a blue hue moving down the length. Curl your tips away from your face with a side part and your chic style is good to go.
3. Black Hair with Blonde Highlights
Black and blonde combination is timeless if you want to experiment with lighter shades. Add chunks of blonde highlights to your dark hair. A textured short haircut with a side part completes this stylish look.
4. Streak Highlights
Going for a bold look? Get an undercut and allow your long hair at the top to fall over your forehead. Add chunky caramel highlights to your side-swept strands and you are ready to rock.
5. Caramel Curls
Make your thick curly tresses stand out with this hairstyle. Add caramel highlights to your dark strands with a chic side part. This style adds a subtle glow to your face and goes perfect with all skin tones.
6. Highlights on Short Hair
If you are looking for a minimalistic hairstyle this is the look for you. Instead of a single shade, add gray and ash blonde highlights for a unique look. This short style will give your face a simple cute look.
7. Mermaid Hair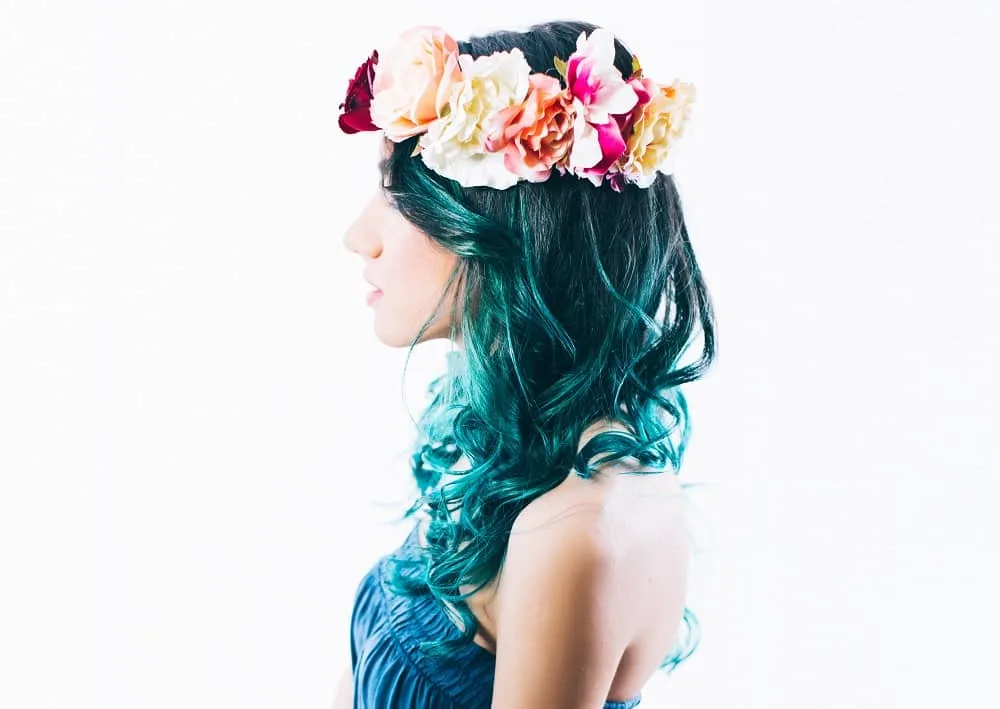 This hairstyle is giving off mermaid vibes. Keep your roots dark and add teal balayage highlights all the way down. Curl your hair for a bouncy touch. A floral headdress will surely complete your dreamy look.
8. Rainbow Hair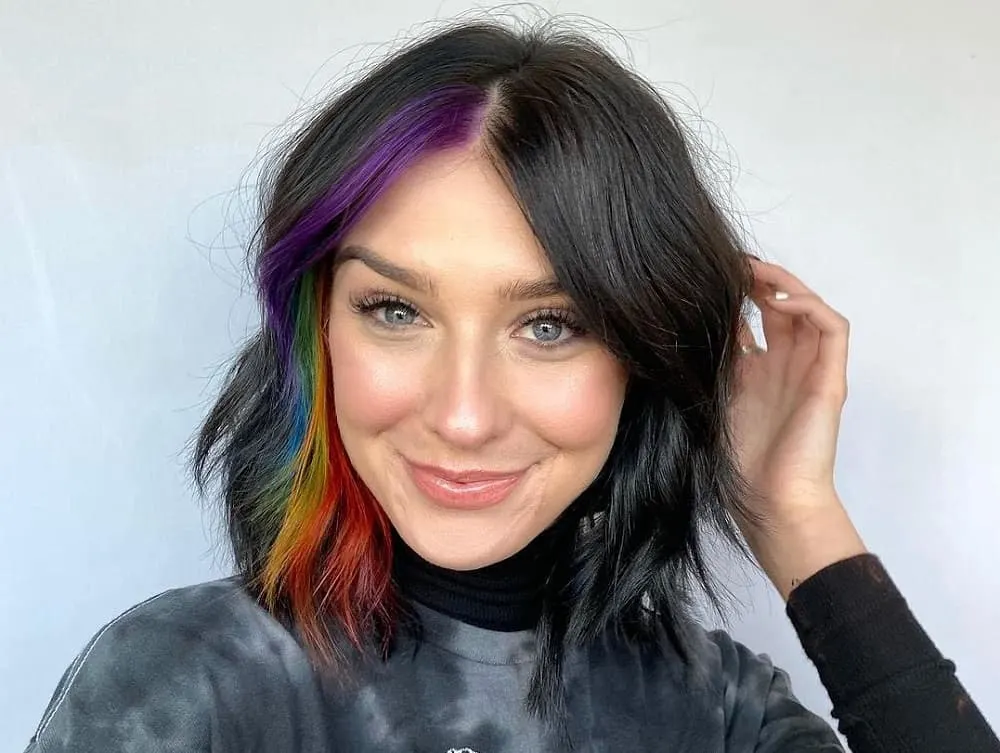 Combine your black hair with all the colors of the rainbow with this chic hairstyle. Add rainbow highlights to one side of your face with a side part. Add textured waves to your short strands and you are good to go.
9. Two-Toned Look
This is another hairstyle if you want to combine dark and light colors. Get a feathery short haircut and highlight your front with a caramel shade while keeping the back of your head pitch black. A low-maintenance stylish look for you on the go.
10. Red Highlights on Bangs
Nothing can possibly go wrong with red highlights in black hair. Combine short textured bangs with your medium-length strands and add bright red highlights to the bottom part of the fringe almost like a peekaboo style. This style will give you a punk look.
11. Pink Hair, Don't Care
Fond of pink? Add this raspberry pink shade to your side-swept bangs at the front. Take chunky strands at the top and highlight them while subtle pink highlights peek through the black hair as you move down the length.
12. Futuristic Look
These highlights are surely going to give a futuristic look while bringing color to your black hair. Add pink, orange, and blue shades to your strands with a touch of purple and red. Straighten your hair for a silky look.
13. Black Hair with Purple Highlights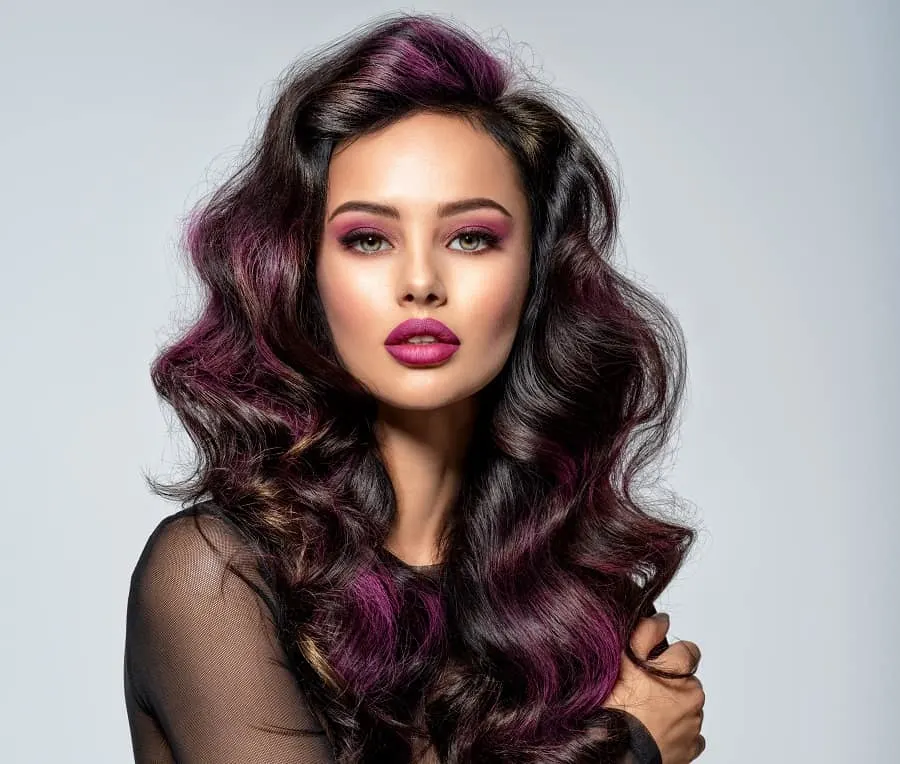 Create this metallic look by adding purple highlights to your black hair with a subtle touch of blonde. Add waves to your hair and pair it up with some purple makeup to complete your shiny look.
14. Ear Loop Highlights
Earloop highlights are quite trendy. Add an orange hue to your black hair with textured bangs at the front. Show off your highlights with a half updo and add flowers for an on-the-beach look.
15. Natural Highlights for Black Hair
If you don't want to overwhelm your black hair color, keep it cool with these natural highlights using an ashy brown tint.
Start your muted yet brightening highlights near the crown and go all the way down to add life to your dark locks.
16. Copper Highlights
This is a suitable hairstyle to grow out a pixie cut. Add thin strands of copper in between your dark hair. The copper color shining through the dark will give you a nice dimension. Add side-swept bangs covering one eye for a chic look.
17. Highlighted Afro Curls
This style is perfect to show off your thick afro curls. Add light blonde highlights midway to your black strands and continue all the way to the tips. This rock and roll hairstyle gives you a carefree look.
18. Chunky Highlights
Brighten up your days with these yellow highlights. Mix thick highlighted chunks of yellow with black strands in between.
Add a light brown hue to the tips to accentuate your look. Wavy curls with highlighted yellow curtain bangs complete your bold look.
19. Sun-Kissed Look
For a delicate sun-kissed look, go for this blonde sombre style. It is less dramatic than a traditional ombre. Keep your roots dark and transition them with a brown hue midway merging into caramel-blonde ends. Add some curls and you are good to go.
20. Traditional Funky Highlights
Stay on the darker side with these violet highlights. Ask your hairstylist to begin highlights from the roots all the way to the end.
This hairstyle adds a shine to your hair without overpowering your base color. Add curls midway to complete your look.
21. Galaxy Hair
If you want to rock an asymmetrical haircut go with these delicate blue highlights. Add a hint of purple and you have an entire galaxy on your head. This style is simple yet dramatic and brings a lot of shine to your hair.
22. Black Hair with Green Highlights
Another hairstyle that adds a prominent shine to your black locks. Flaunt your dark mane with darker green highlights here and there.
The black and green combination adds a rich radiance to your hair. Accentuate the highlights by adding waves.
23. Medium Auburn Babylights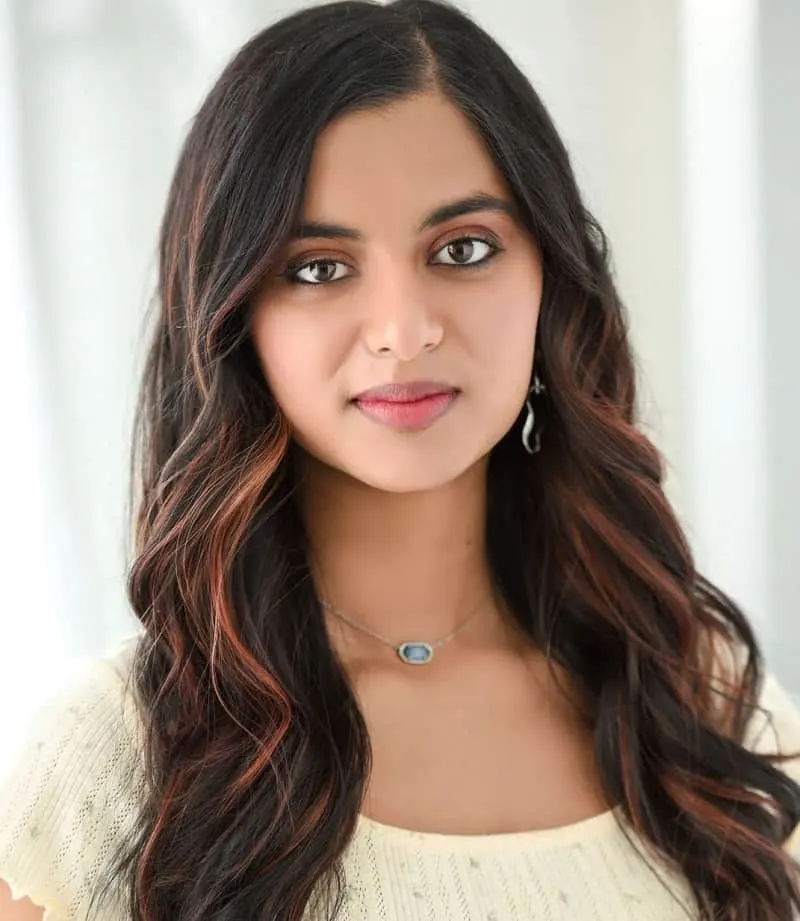 Looking for something less dramatic than traditional highlights? This is the look for your dark hair. This hairstyle will give you a delicate change. The auburn-copper strands peeking through the black ones leave a lovely shine on your head.
24. Peekaboo Highlights
This hairstyle is low maintenance and ideal if you want to experiment with highlights but want to keep it subtle. These light blonde highlights are placed within your dark strands. These remain hidden in your hair and are visible every now and then.
25. Punk Look
This hairstyle gives you more than one color option to experiment with your highlights. Get a long pixie cut and add green, pink and purple highlights.
The black base will make your highlighted strands quite noticeable. Crimp your hair to complete this punk look.
26. Partial Highlights
This style involves adding golden and mahogany highlights on the top of your head leaving the black hair beneath untouched.
This hairstyle adds depth and is unique as the dark hair below pops through the highlighted region. Add curls for a nice bounce.
27. Full Highlights on Black Hair
Add some life to your flat-looking black tresses by adding full highlights. You don't need to go with a very light color, instead choose an ash gray or blonde shade for your highlights which will add a lot of texture and movement to your hair.
28. Platinum Highlights
The platinum and black color combination is trendy and gives you a glamorous look. Ask your hairstylist to take chunks of hair from the front and highlight all the way to the end. The result will be a cool edgy and fresh look.
29. Ash Green Waves
Give your dark hair an ashy look with a hint of green for this trendy hair look. The ash-green color contrasts beautifully with the black hair and makes your hair stand out. Add waves to your medium-length hair and your trendy look is complete.
30. Highlighted Side Bun
This classy look is easy to achieve. Highlight a few strands on the front and with a side part tie your long black hair in a low-side bun.
The blonde highlighted strands peek through the black ones and give a simple elegant look.
31. Muted Highlights
For a less prominent hair change, try out this muted look. Add pinkish-purple on the upper part of your hair and merge it into a blue hue with a hint of green on the tips. Braid half of your hair to reveal the shiny colors beneath.
32. Subtle Highlighted Tips
Add a golden tint to the tips of your curly hair for a slight change. This style will keep your black mane the same with just subtle highlighting at the ends. With a side part, this is an everyday carefree look for you.
33. Black and Purple Dreadlocks
You can show off your plain black dreadlocks by adding electric purple highlights to them. The mid-parted curtain bangs are kept dark while only some of the dreadlocks are tinted purple. Throw on a hat and you are ready for any occasion.
34. Highlighted Bangs
Cut down your dark hair to a short length and add bangs to cover your forehead. To further set off your look, add blonde babylight in between your strands. This chic hairstyle is easy to pull off and low maintenance.
35. Mahogany Highlights on Black Hair
Combine mahogany highlights with your black hair to achieve this high-fashion look. The thin highlights start from the roots and move all the way to the end. The highlights are scattered all around the head to achieve a fuller two-toned look.
36. Bright Blue Hair Color
Bright blue waves are eye-catching, and that's one of the reasons why this short highlighted hairstyle is so popular.
The hair is cut to fall right above the shoulders and has a lot of movement thanks to the cut and the curl. With blue and a touch of purple, this black hair is anything but boring.
This sleek style stands out because of the chunky highlights. Rather than opting for thick and chunky highlights, ask your stylist for something in between the two. You don't want your highlights to vanish in your black hair but rather make a subtle statement.
This will also work well for women with thinner hair as the highlights would blend in quite nicely. The longer length is attractive and easily shows off the red color without it being in your face.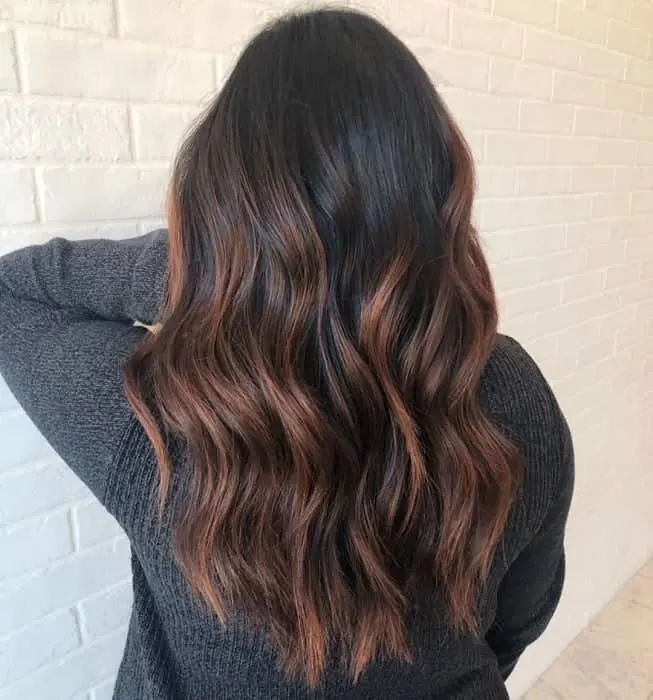 Rather than opting for highlights that are bright and over the top, this is a subtle look that is much more relaxed. The auburn highlights around the face are attractive and with waves, it flaunts your natural black hair.
Shorter black hair with a bit of blue in it looks great when the sides are faded and there are designs cut into them.
This short shaved haircut looks more interesting and exciting. It's a great look for women who have fine features and who aren't afraid of being the center of attention.
Women who want to add highlights while looking as natural as possible will want to consider silver. This silver highlights on black hair is gorgeous and can perfectly frame the face while adding a touch of color to the rest of the hair.
A gentle wave when styling adds even more class to the look and helps women age gracefully.
So, these hairstyles provide you with a lot of options if you are looking to add some highlights to your plain black hair.
Choose among any of these styles and show them to your hairdresser. The result will be surely attention-grabbing and you will turn some heads wherever you go.
How to maintain black hair with highlights?
Choose sulfate-free, color-safe shampoo and conditioner to protect the highlights and prevent color fading.
Minimize heat styling to avoid further damage to your highlighted hair. When necessary, use a heat protectant spray before styling.
Deep condition your hair regularly, at least once a week, to restore moisture and maintain the health of your highlighted hair.
Limit washing your hair to two or three times a week to prevent excessive color loss and keep your highlights looking fresh.
Use a wide-tooth comb to detangle your hair gently, avoiding breakage and damage to the highlighted strands.
Incorporate a hair gloss or toner into your routine to maintain the vibrancy and shine of your black hair with highlights.
Trim your hair regularly, every 6-8 weeks, to keep split ends at bay and maintain the overall health of your hair.
Protect your hair from sun exposure by wearing a hat or using a UV protection spray to prevent color fading and damage from harmful UV rays.
Hydrate your hair with a leave-in conditioner or hair oil to keep your highlighted hair soft, smooth, and manageable.
Schedule regular touch-up appointments with your stylist to maintain the color and vibrancy of your highlights as they grow out.
Additional Tips
When highlighting your black hair there are a few things to keep in mind especially if you want to add vibrant colors or platinum blond to your mane.
If you have colored your hair black for a certain amount of time it can take a few times to lift out (bleach) the buildup of black color in the hair before any of the above mentioned colors can be added.
It's always good to make sure your hair is healthy before and after each chemical treatment (coloring or bleaching) on the hair, therefore opt to have products that feed the hair and protect it from damage, like salon shampoo and conditioner/treatment.
Give ample time in between sessions at the salon so your hair can recover before putting it through the bleaching process again.
After achieving your desired color remember to still treat your hair and look after it so the color will stay beautiful for longer. The healthier your hair the less maintenance is needed in terms of color and of course the rest of your hair will be so much more shiny.
Vibrant, pastel, and even platinum blond still need upkeep but it would be so much easier with healthier hair.