Curtain bangs have made a strong come-back and are all the rage this season. They are cut short in the middle and elongate outward to frame the face just like curtains on a window and hence the name.
These middle-parted bangs are versatile, easy to style, and grow out beautifully making them ideal to try with all hair lengths and textures. And although they couple ideally with straight tresses, curtain bangs look exceptionally flattering with wavy hair too.
Take a few minutes to check out the following curtain bangs with wavy hair inspirations and we guarantee you are going to book a salon appointment soon after.
Things to Consider When Styling Curtain Bangs on Wavy Hair
If you have wavy hair and want to style curtain bangs, there are a few things to keep in mind:
If you want to add volume and texture to your wavy hair, curtain bangs will help you achieve that.
Wavy curtain bangs require styling and maintenance to keep them looking neat and smooth, so don't consider this hairstyle as low-maintenance.
If your forehead is round or wide, curtain bangs may not be the right choice for you.
Curtain Bangs Hairstyles for Wavy Hair
If you want your curtain bangs and wavy locks to play along nicely while highlighting your best facial features then the following hairstyles are just what you need.
1. Feathered Curtains
Both curtain bangs and feathered layers have remained quite popular during the 70s. Combine them together and you'll end up with a long plumed fringe that looks exceptional with some loose tousled waves.
Use a round brush to flick out the ends while blow-drying your mane. Throw in some highlights and done!
2. Short and Choppy
Women who don't like a long fringe can keep their bangs short to focus all the attention on their eyes. A short chop is ideal as it continues to look good as the hair grows out with time. Finish off with an off-center parting and some cute pigtails to create a doll-like appeal.
3. Perfect Swoops
These curtain bangs with wavy hair are all about styling the hair correctly. Add layers at the front and bring them under the spotlight with silver money pieces that contrast sharply against the remaining black mane.
Create perfect swoops with a barrel brush and a hair dryer and set them in place with some hairspray.
4. Curly Fringe
Black beauties can take part in the curtain bangs trend too by assembling their waves in a high ponytail sparing their front strands. Part them in the middle and curl the ends drawing all the attention away from an oblong face or a wide forehead.
5. 70's Vibes
Become the star of a retro-themed party by rocking a beehive ponytail. The crown region is backcombed to create a perfect dome shape sparing the curtain fringe to frame the face at the front. The strands are directed backward where the remaining waves are assembled neatly.
6. Barely-There Bangs
Still hesitant to get curtain bangs? Keep it low-key by coupling a choppy bob with a soft graduation at the front that looks more like face-framing layers than bangs.
Tease and tousle the waves with some styling product on the fingers to achieve a messy yet sexy finish.
7. Cropped Fringe with Color Split
Make your micro bangs look more like tiny curtains by chopping them at an angle on both sides of the face.
Skip a usual middle part and replace it with a funky color split featuring a bright nuance like this neon green popping against the natural hair shade. Dye an eyebrow too!
8. Wispy Curtains
Wispy curtains are perfect for women who find thick bangs suffocating as well as for those having a thinning mane.
These fringes create a light airy appeal with individual short tendrils falling across the forehead. Spice up the look with a chic balayage and some beach waves.
9. Flawless Frame
Another depiction of how flawlessly the face is framed when curtain bangs are paired with short wavy hair.
Make thin tresses appear thicker by chopping them into a blunt bob with some uneven layers. Soft waves add further volume while bangs conceal a receding hairline perfectly.
10. Color Block + Wavy Wolf Cut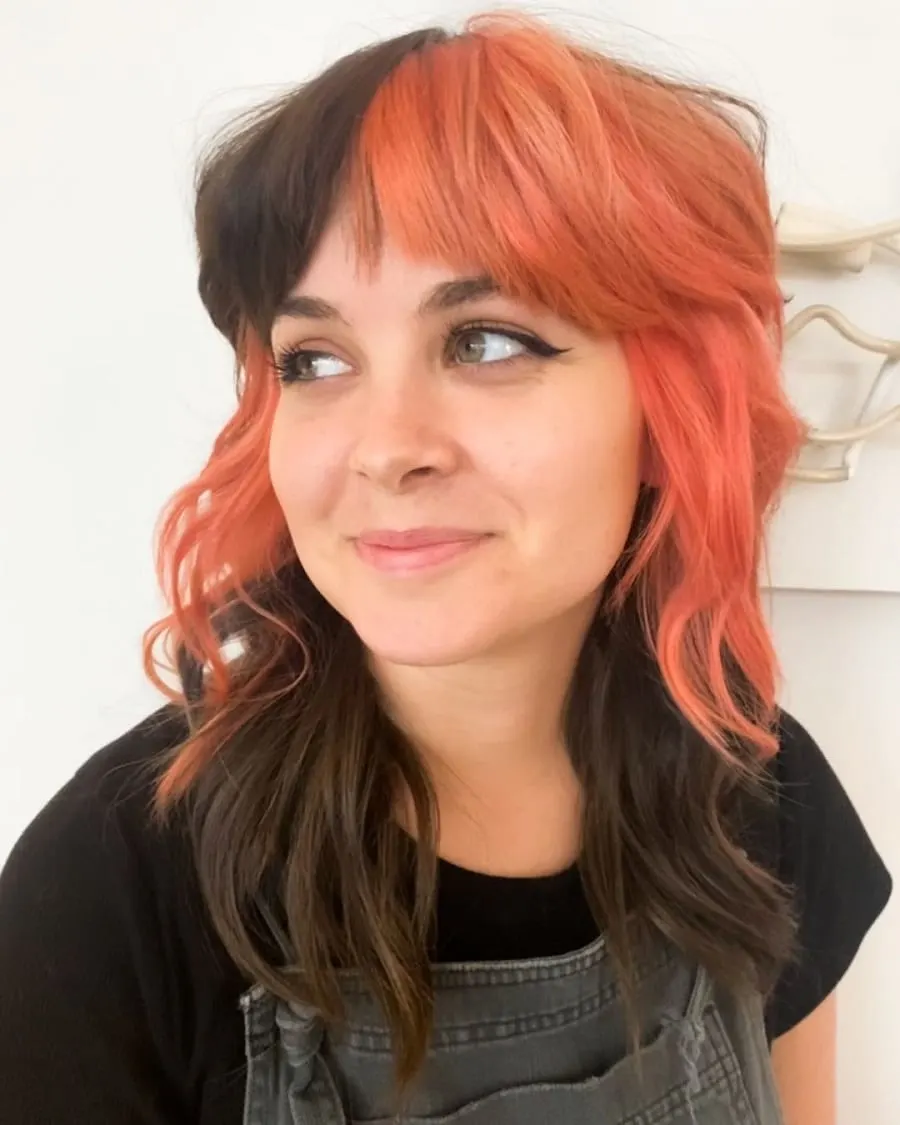 If you don't have the patience to wait for those blunt bangs to grow out trim them into a slightly arched shape with the longest strands ending near the eyes.
Add a modern touch to your hairdo by getting a wavy wolf cut with a brown and orange color block.
11. Two-Toned Money Pieces
Young girls can make their freshly cut curtains more noticeable by dying them in any bright hue of their choice. Separate the strands along the hairline moving across the back of their ears.
Add purple on one side with pink on the other resulting in two-toned money pieces that won't be ignored.
12. Sexy Shag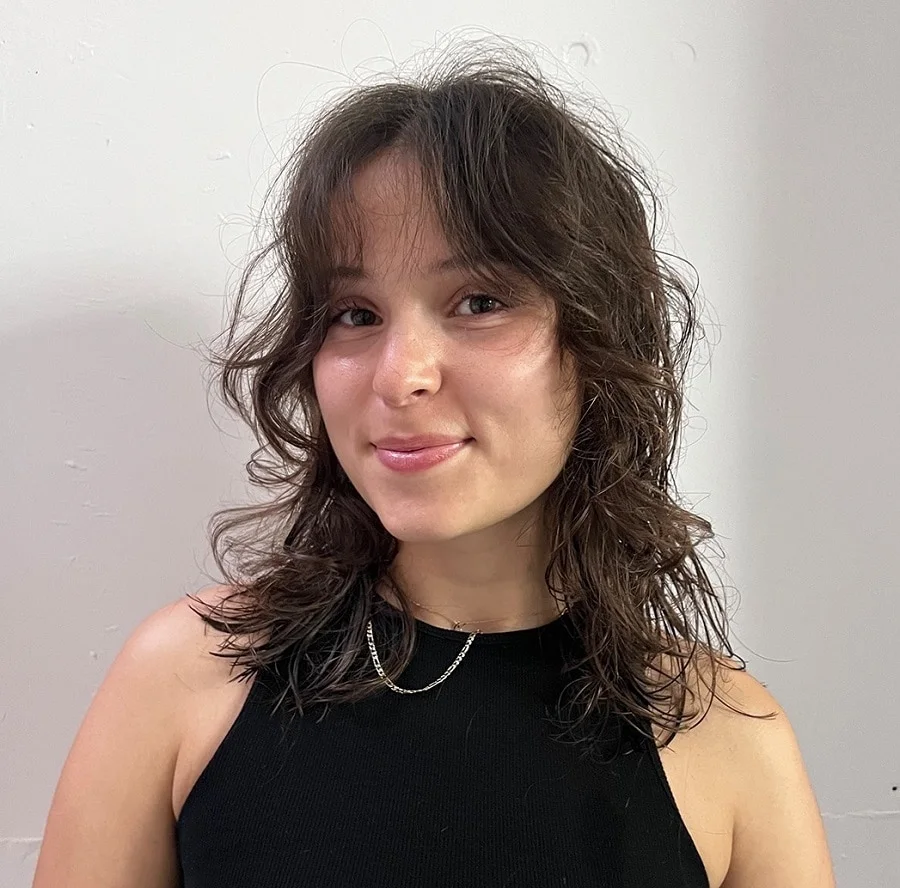 Getting a shag is the perfect way to make curtain bangs work with wavy hair. Ask the hairstylist for fringe bangs and choppy layers focusing on adding volume on top of the head.
Take a step ahead and get a wavy perm too. You won't regret it!
13. Sharp Disconnection
Although a soft graduation is preferred when going for a Bardot fringe, a sharp disconnection is ideal for funky ladies who are not afraid to make bold choices.
Keep the front strands prominently short with a more or less single-length mane. The red money pieces are yet another story!
14. Medium-Length Curtains with Underdye
When you can't decide on the length of your bangs it is best to keep them at a medium length. You can always go shorter or grow the hair in less time.
Set your wavy hairstyle on fire with a playful green undercolor that pops out when the tresses are tousled at the front.
15. Red Bardot Bangs
Bardot bangs are shorter than conventional curtain bangs but are used in the same sense and are named after Brigitte Bardot, the icon who made them truly popular. Dip the tresses in a vibrant red color sparing those black roots for a terrific ombre effect.
16. Soft Graduation
Mature ladies can keep it elegant by getting frontal layers to accent their faces. The strands are cut in a slanting direction starting from the brows and ending at the tips blending the curtain bangs perfectly with wavy hair. Rock them with a ponytail or bun for a youthful appeal.
17. Wavy Curtain Bangs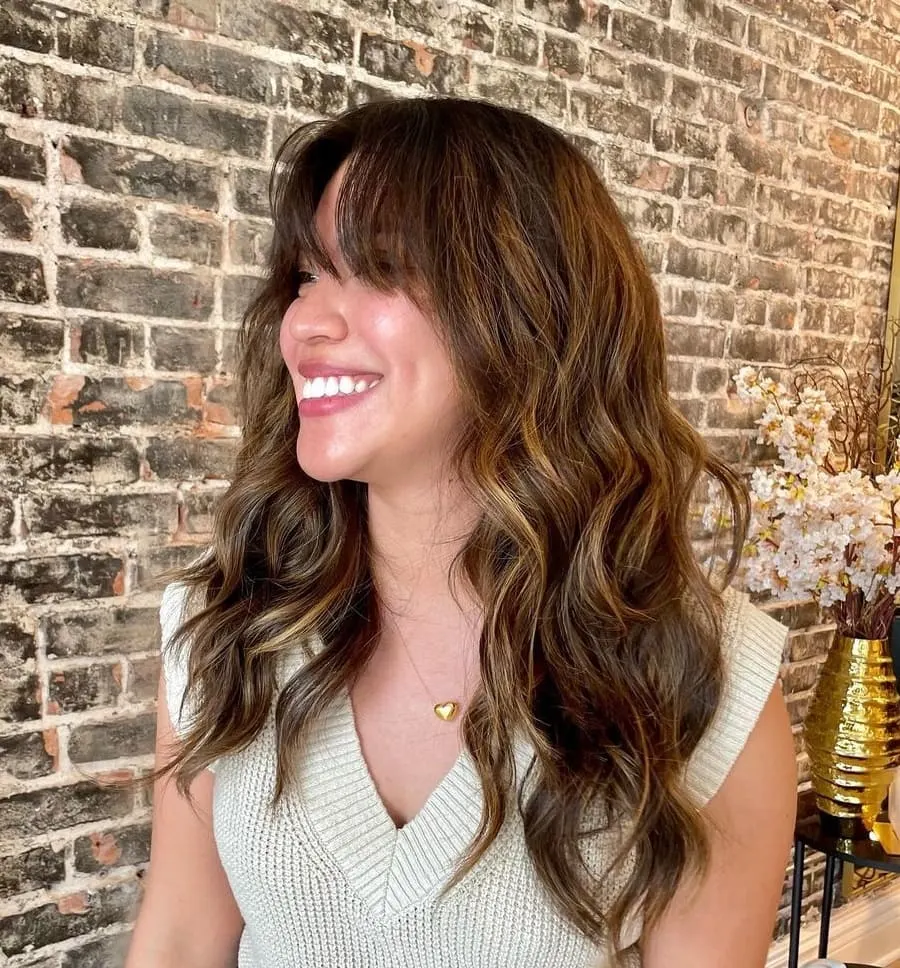 Asian girls who are bored of their straight sleek tresses can give themselves a hair makeover by trying out choppy layers, fringe bangs, and a beach wave perm to get rid of daily heat styling. Add some caramel highlights and make sure your bangs have a bit of wave too.
18. Contrasting Textures
Make eyes pop by painting your mane in the brightest tone of yellow available. Coming towards the hair texture, keep the bangs perfectly straight to stand against those wavy ends.
This style is however high maintenance requiring regular touch-ups whether talking about the hair color or hairstyle.
19. Beautifully Layered
Breathe some life into those boring long wavy tresses by getting perfectly layered fringe bangs while adding a bit of texture along the remaining length.
Take things up a notch by getting a lavender hair color with shadow roots that turns lilac near the ends. Jaw-dropping!
20. Color Pop
Look like a rock star by choosing your favorite colors and swiping them along the length of your hair. You can combine pastel, bright, and dark tones together without worry. Use a straightener to add loose waves and also to curl the bangs away from the face. Voila!
21. Highlighted Front
Curtain bangs with wavy hair make even imperfect styles look perfect. Instead of highlighting the front uniformly, lighten one side more than the other to achieve an asymmetrical hairdo that is impossible to ignore. An off-center part won't hurt too.
22. Purple Play
Peekaboo highlights and underdyes give ladies the benefit of sporting the brightest hair colors without full commitment.
Dye the underside of those bangs purple or any other nuance while moving toward the back. Flaunt the color by tousling the hair at the front or keep it hidden with your natural layers on top.
23. Long and Thick
Fringe bangs work wonders with thick hair while taking away excess bulk when coupled with layers. The hairstylist will create some shape and body around the face with a V cut at the back. Get some chunky burgundy highlights and you are going to love them!
Considering the above-mentioned hairdos, it is pretty clear that curtain bangs with wavy hair are quite flexible and ideal for those who want to change their style while staying on the safe side. Couple your new haircut with a fresh hair color to completely transform your look.