Many women get scared about getting silver highlights because they think it will make them look as if they have grey hair, and that's not true!
Whether you're in your 20's, or in your 50's, silver hair highlights can look amazing on you… Which is why today, we're going to take a look at this hair trend, and help you get it for yourself.
Tips Before Getting Silver Shade Highlights
Before you jump out and decide to get silver highlights, it's important you take the time to read about this ashy grey hairstyle and understand that this is not a low maintenance type of hair.
Bleach: Realize that's very likely you'll have to bleach your hair, especially if your hair is anywhere between the dark brown and black range. It's possible you might not have to do this if you have naturally blonde hair, and even then, the highlights might not look as silver as they're supposed to if you don't bleach it.
Hair-care routine: As we said, you'll have to bleach your hair to get silver color highlights, and this means your hair will be put through a lot of chemical damage. That's why we recommend you to set up a hair care routine before and after the process is done in order to maintain your hair as healthy as possible.
Be prepared to cut it down: Hair cuts are a must before bleaching and dying your hair since it gets rid of the most damaged parts of your hair and avoids damaging them even more. So be prepared to chop off the split ends of your hair right before getting highlights.
Understand that this is a process: If you have natural dark or black hair, chances are you won't get silver shade highlights on the first try since black hair don't bleach directly to blonde, but rather to orange undertones. We recommend you to go to your hairstylist and be prepared to attend to multiple hair sessions until you finally reach that beautiful silver tone. It won't be a quick trip to the hair salon, but it will be worthy.
How to Get Silver Hair Highlights on Dark Base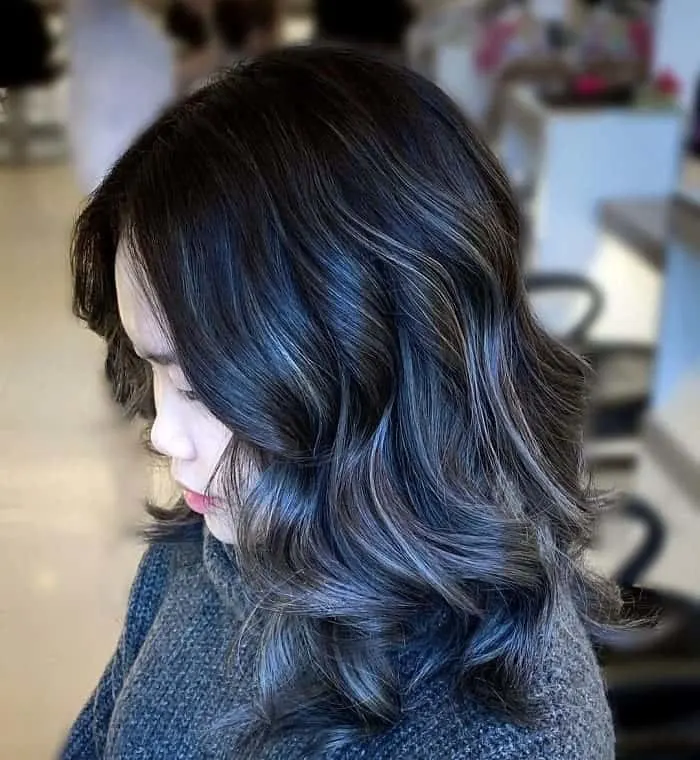 If you decide to get silver highlights on black hair by yourself, remember to get all the necessary equipment and have it nearby you at all times. When we say equipment we mean: Bleach, Developer, Hair dye (Silver), Applicator, Silicone highlight cap, Gloves. The silicone highlight cap is actually optional, however, you'll find it very helpful since it will allow you to know exactly how many highlights you'll be getting.
As we said, you can do this with a silicone hair cap and pull out the pieces of hair you'll bleach and later dye with a silver tone. However, you can also do this by separating your hair in various sections from the bottom to the top, and apply the bleach in uneven strokes all across your hair.
Once you've bleached your hair, wash the product away and dry it again, apply the silver hair dye all across your hair (don't worry, the hair color will only pick on the parts you bleached it).
Last, but not least, remember to remove the product after 30-40 minutes and wash it with a purple shampoo to avoid orange undertones and achieve that perfect silver color.
Hairstyles With Silver Highlights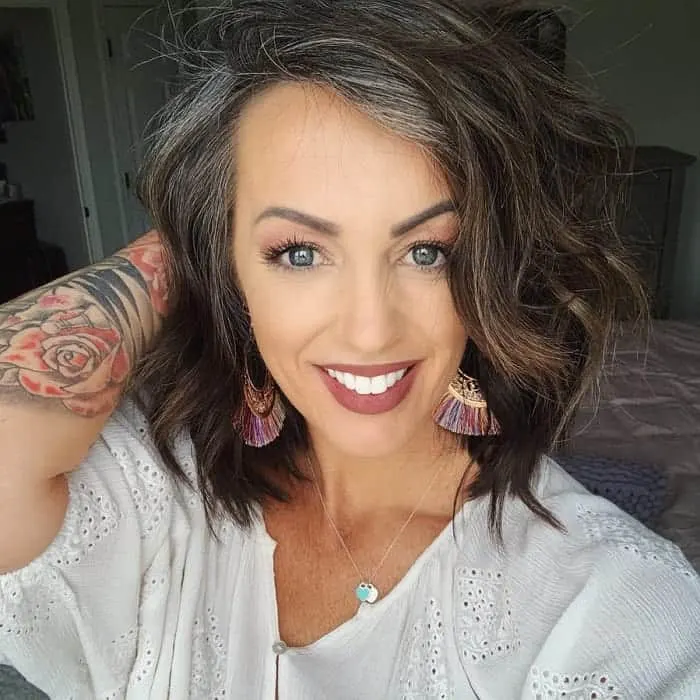 Who said you have to get highlights all over your hair? Sometimes a subtle touch right in the front of your head on the top part of your hair is enough to rock this hairstyle.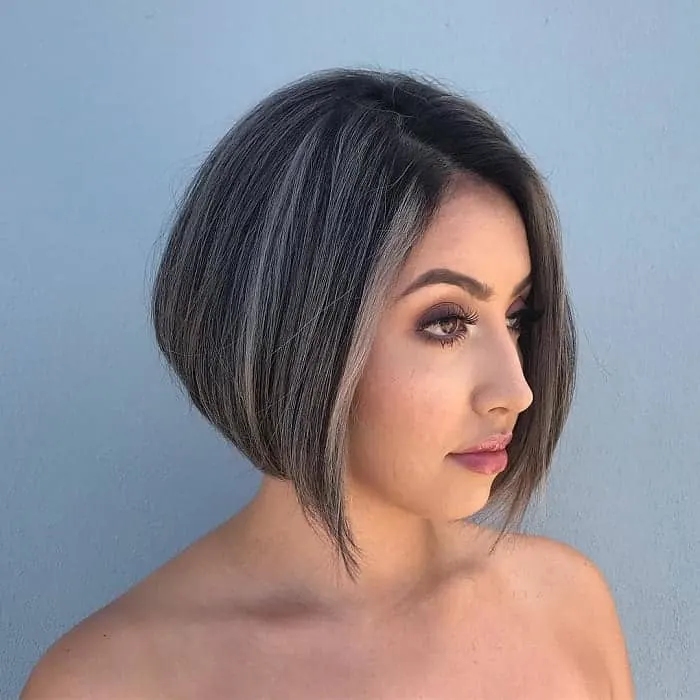 Bring some life back to your regular bob with short silver hair highlights all across. This hairstyle is very simple to do, and as your hair grows, you'll only have to retouch the top part of your hair every few months.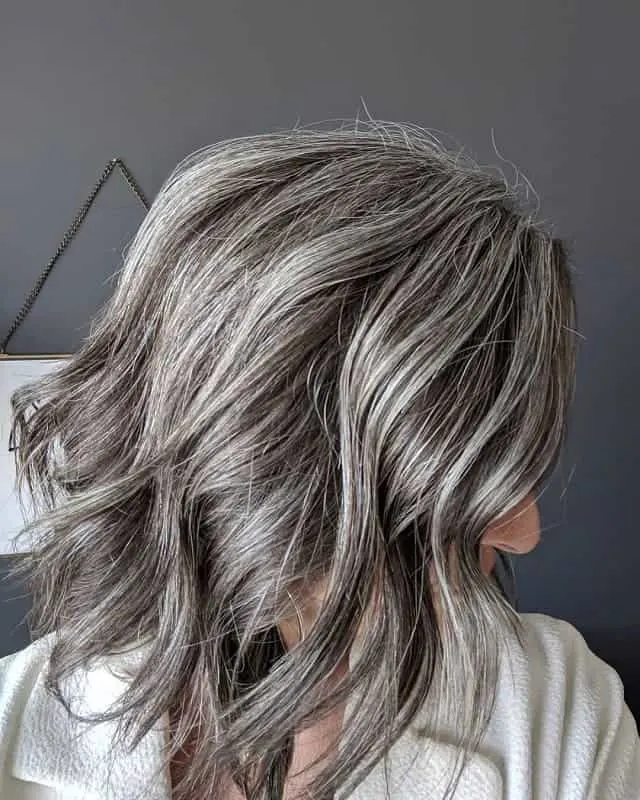 This hairstyle is great for women over 40 who want to embrace their grey hair but also want some depth and volume to their haircut.
Simply get highlights all across and curl your bob to give it some texture. Don't forget to shake the hair and break the curls apart to really achieve that "messy" style!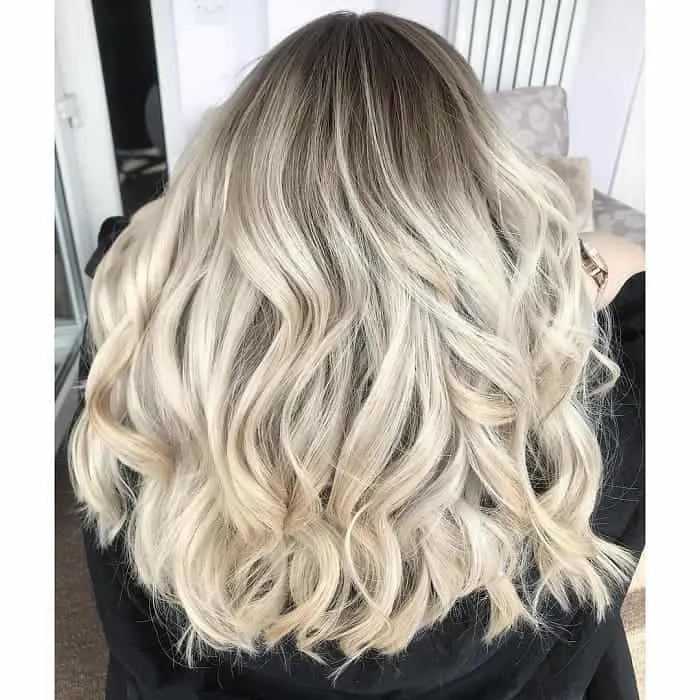 Consider this hairstyle a variation of the regular highlights. It's a great option for anyone who's looking for a more shocking change, still maintaining some blonde undertones.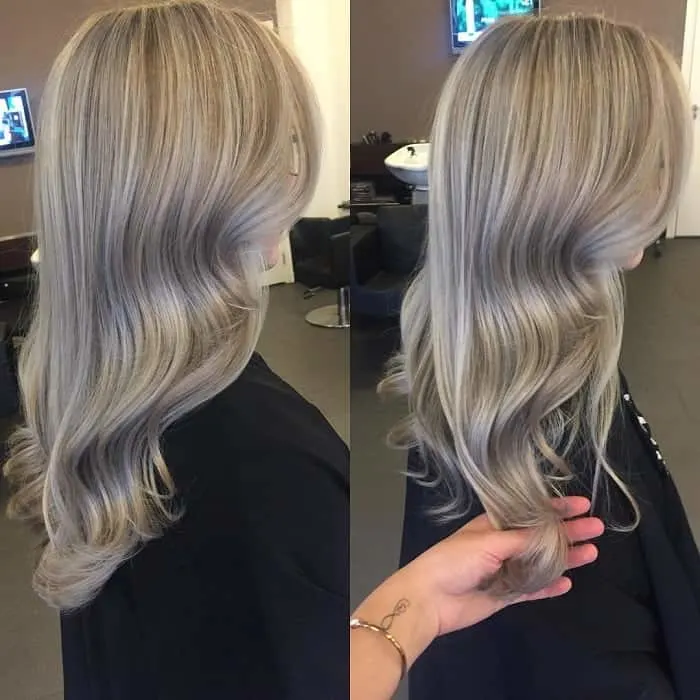 Like it happens with any type of highlights, silver ones look even better when your hair is curled or waved, just like this silver highlights, since the silver tones really do shine through, giving your hair all the depth and volume that it needs!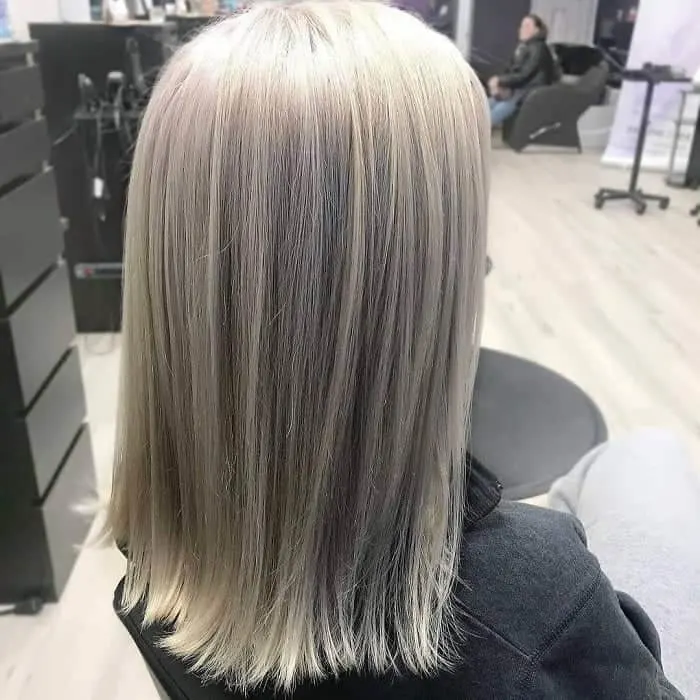 Silver touches don't only look great on curly/wavy hair, but they also can look amazing on straight haircuts just like this one! Not to mention, it's a very classic hairstyle to try.
Silver Highlights on Brown Hair
7. Silver Ends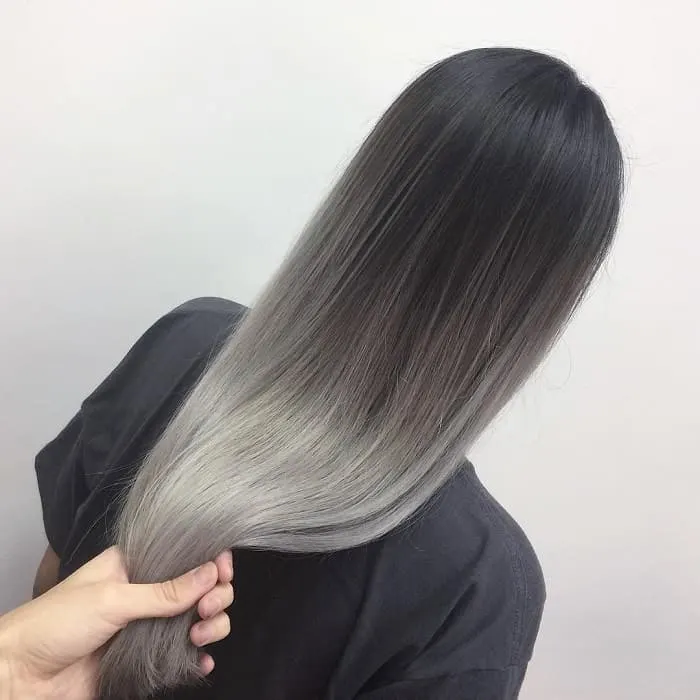 We love this particular long ombre hairstyle because the contrast between the silver highlights on the end and the dark color on the top really does look amazing and will give your hair the appearance of having more volume than it really does.
8. Silver Highlights on Dark Hair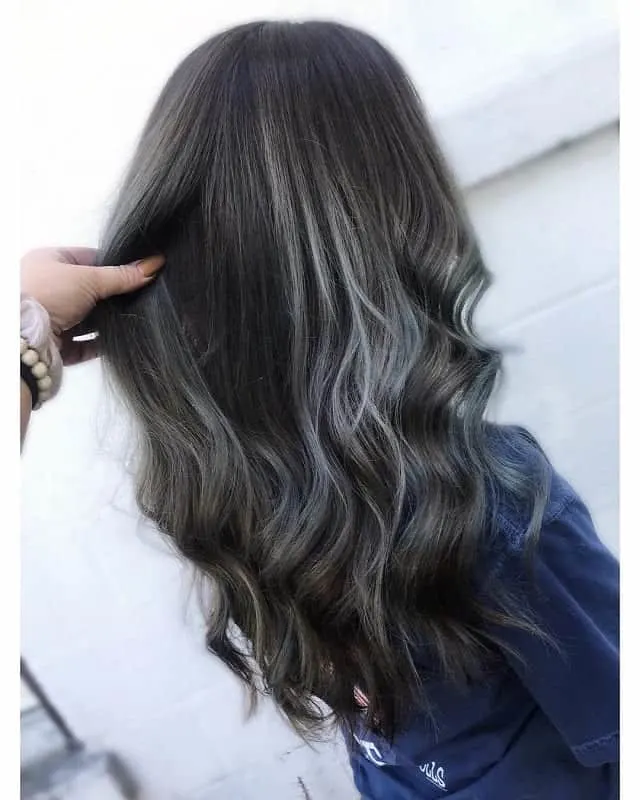 This little silver subtle touches on dark hair are a great way to give some depth and color to your hair without having to actually get full on highlights all across! You get all the fun parts of the hairstyle without all the commitment.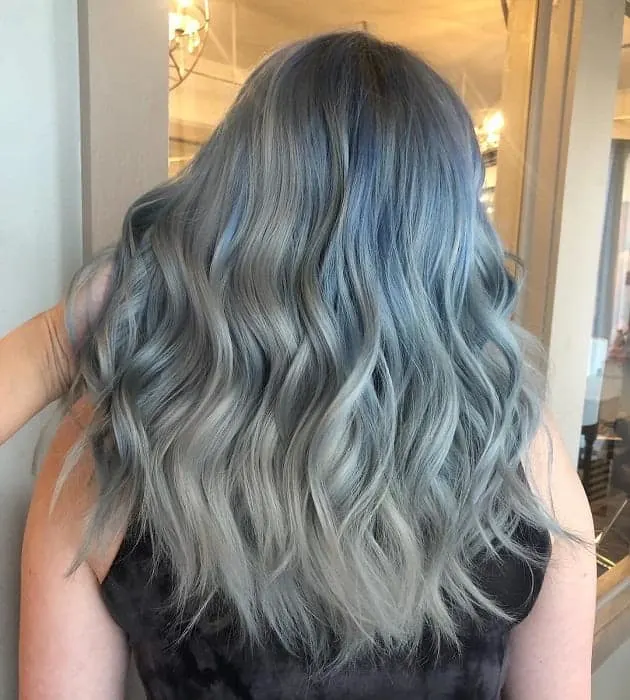 Consider this hairstyle a variation of the regular highlights. You see, instead of just going for silver color highlights, add a little touch of blue to the mix to really make a contrast between both colors!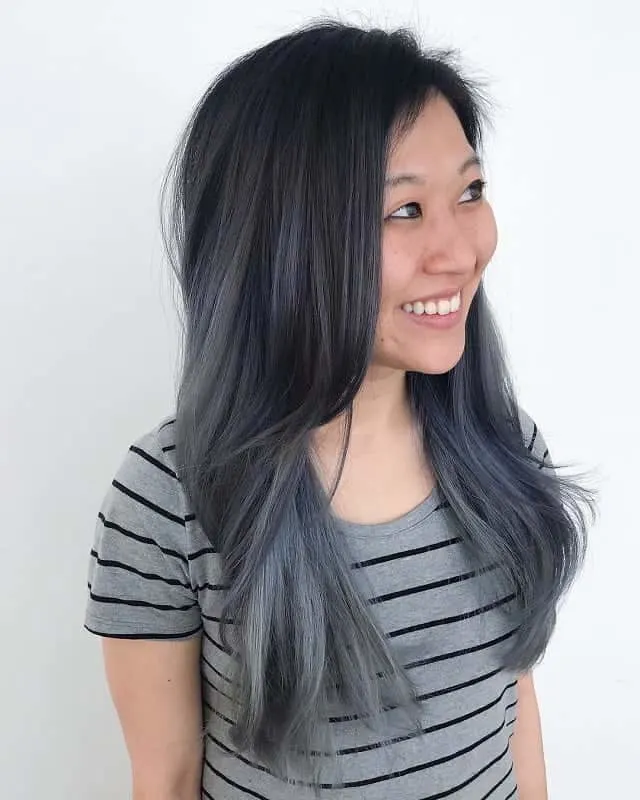 Like we said before, Silver hair highlights look great on black hair, and this hairstyle is the proof! Not to mention, dying just the ends of your hair silver gives you more of a low-maintenance look than if you were to do a highlight all over.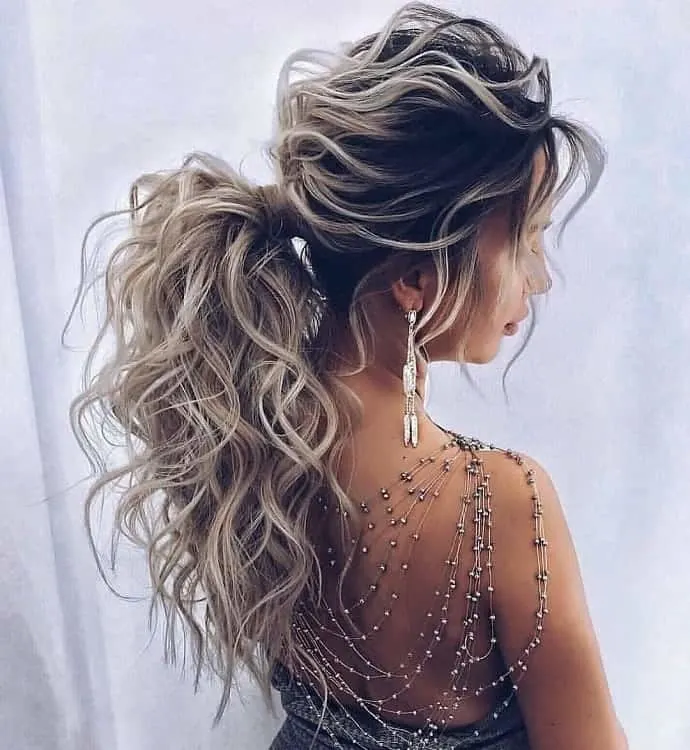 Curling or waving your hair isn't the only way to showcase your silver highlights, you can also do this by putting your hair on a very high curly ponytail and pulling out little strains to give it more volume and texture.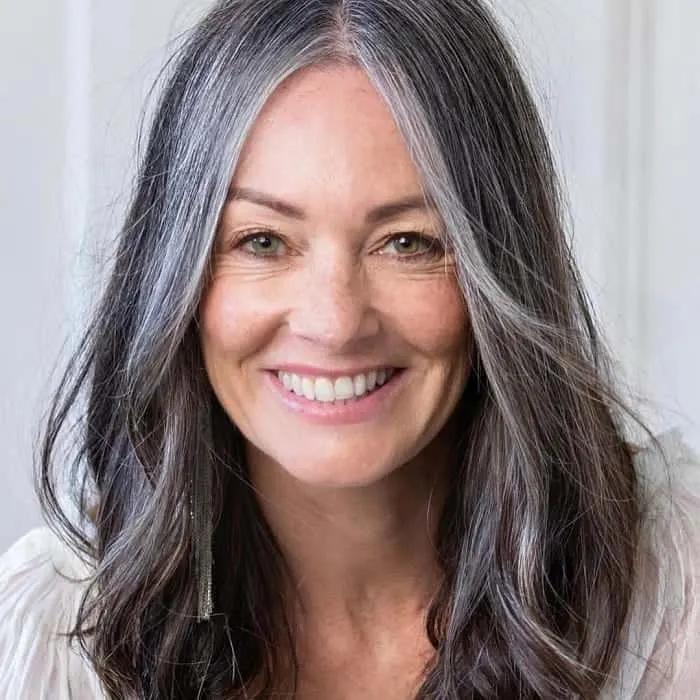 This hairstyle is for those of you who want to bring some light and attention to your face, but don't want to go for full-on highlights just yet.
Simply bleach two strains of hair from the top part of your head and dye them silver. Don't forget to make sure they match!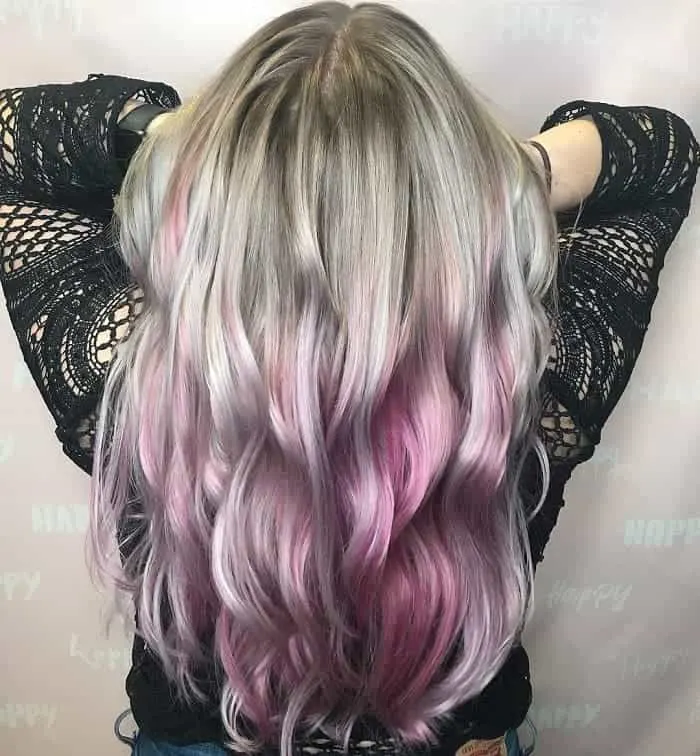 Another great way to bring some life to silver hair highlights is to add a touch of pink throughout your hair. This will be very easy to do since your hair will be already bleached from the highlights.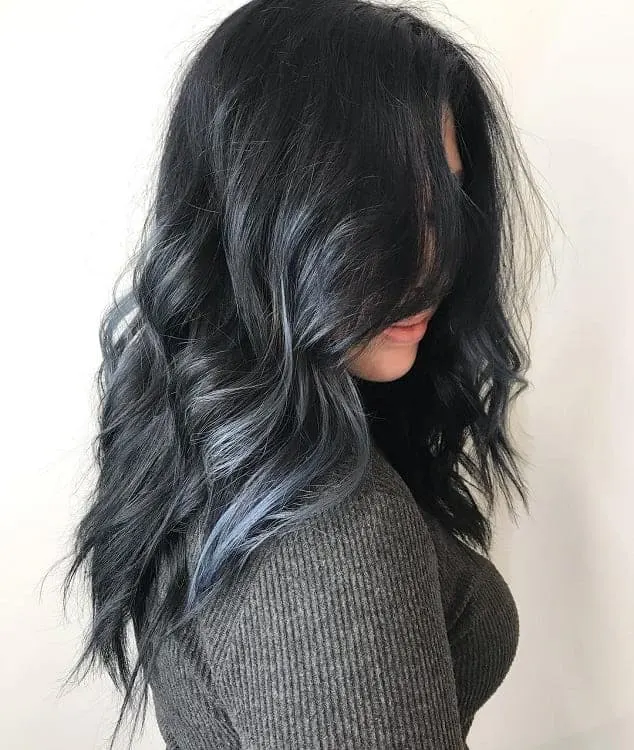 This is also great for dark-haired women who are looking for a low maintenance hairstyle. To achieve this highlights look, go for the silver hair color but do much fewer pieces of hair that you would normally do.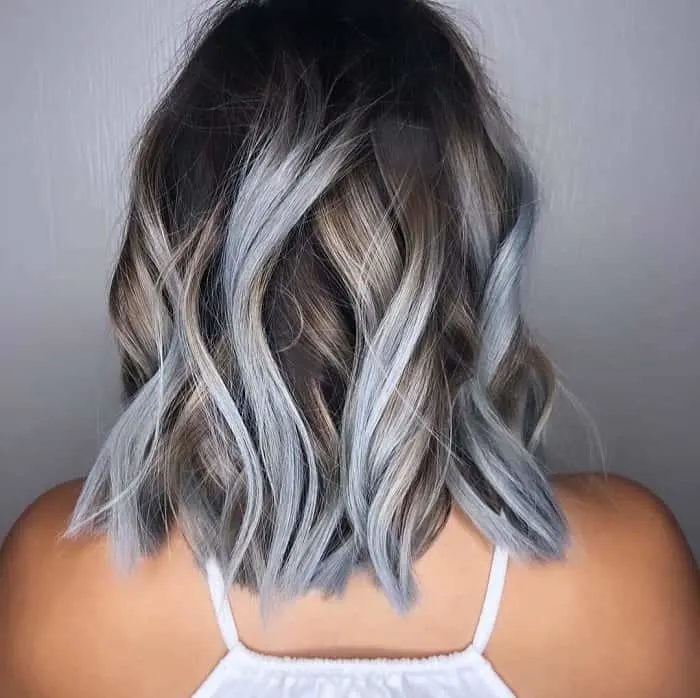 Last, but definitely not least, doing bigger, silver chunky highlights is an uncommon yet very fashionable hairstyle that's easy to maintain and will give your hair all the depth that it needs.
16. Silver Violet Highlights with Waves
If you want a tiny bit of lightness to your brown hair, paint only the surface of the hair with silver violet highlights. Waves will provide a particular shine and looking soft and smooth.
17. Black and Silver Ringlets
When you have curly hair, baby silver highlights that are so fine will have a great look on you. You can use only a few of these for a low impact, or you can make them shine so much more by applying them on the whole head.
18. Red and Metallic Silver Coated Top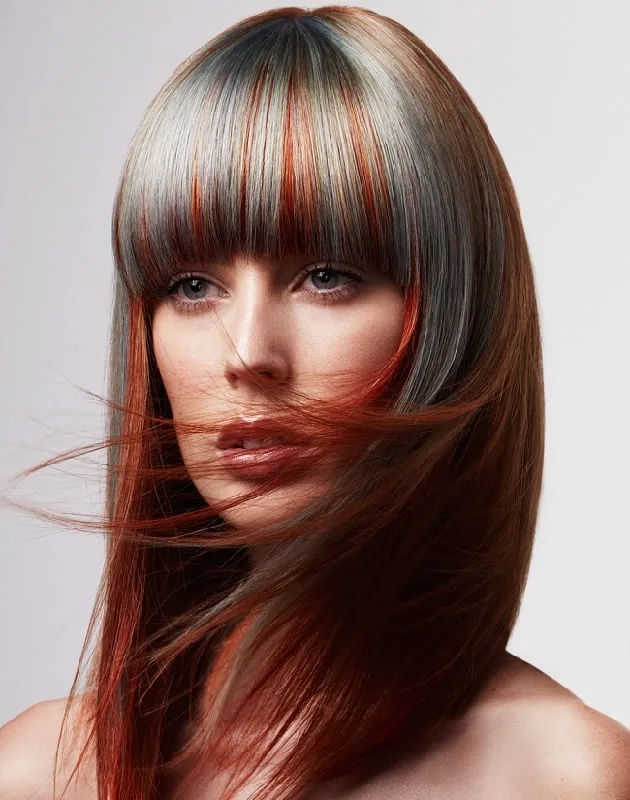 To obtain this red hair with silver highlights, you'll need to pick up your shades. Make sure you have a lot of free time because the technique requires patience and foils that need to be wrapped on each highlighted strand. You'll be spending a couple of hours in that hair salon!
19. Short Curly Hair with Silver White Highlights
When natural grays start to pop, you can embrace them and go for a brunette hair with silver highlights look. Use a thick wand to curl the hair for more volume and bounce.
20. Blonde and Silver Waves
Bright blonde curly hair with silver highlights will make your mane look more vibrant, attract more light that bounces off and give you amazing gloss and dimension.
21. Long Layered Hair with Silver Highlights
Long thick layered hair gets a marvelous warmth from those silver and grey highlights. If your face is round, with prominent cheekbones, wear the bangs swooped on one side.
22. Silver Highlights for Pixie Haircuts
A pixie cut with silver highlights can have those ashy silver tones beautifully blended with natural gray hairs. Tousle the top and style an uplifted wave for the fringe.
23. Thin Silver Highlights
When you need to achieve thin silver highlights that enlighten your brown base color, you can use a highlighting rubber or silicone cape.
You just place it on your head, and through those tiny holes, using a pointy tail comb, you will put out the hair and enlighten it.
FAQs on Silver Highlights Hairstyle
Can I get silver color highlights without bleaching?
We briefly mentioned this before: You might be able to get silver hair highlights if your hair is naturally very blond and light, however, if you have anything darker, your hair won't pick up the silver color.
How long does the silver dye last?
Silver hair dye requires a lot of maintenance since the color can actually really turn grey or ashy, losing its silver shine. On average, they can last anywhere from two to four months, even six if you take proper care of them.
Silver highlights are a bold yet beautiful hairstyle for any women out there who are looking to get a makeover and really stand out. Don't be afraid to try any of these hairstyles, and just remember to take care of your hair before and after you dye it!