Auburn highlights is one of those color combinations that give a playful yet mysterious look to the one who sports it. Moreover, the color is ideal for almost any skin type and any texture of hair. If you are looking to change your hair color now then you might want to consider going for highlights.
The color falls somewhere between shades of red and brown on the palette and when combined with the right highlights, you can look mesmerizing in this hair color. When it comes to auburn hair, there are a number of highlighting options that you can go for.
Want to get started? Let's tell you all about how to get that gorgeous shade on your locks!
What to Consider When Getting Highlights?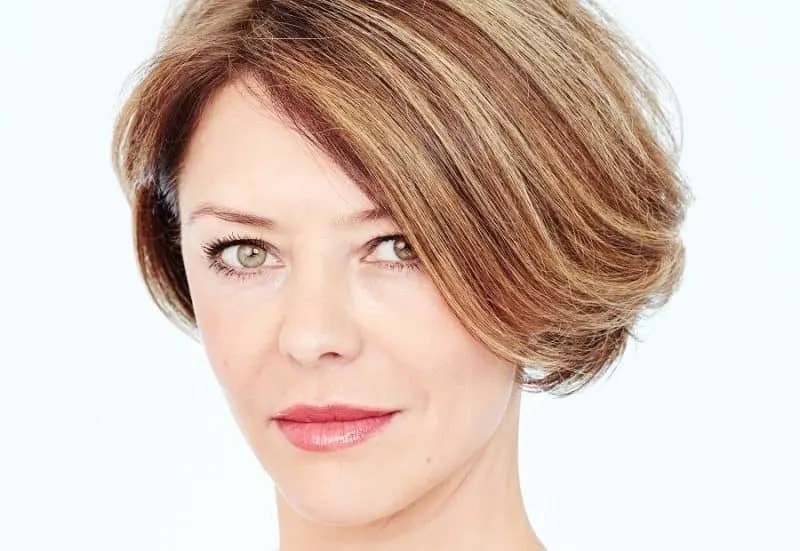 There's no doubt that hair highlights are a must if you want to have gorgeous-looking hair. But what are things you need to consider when choosing hair highlights? Here are some of them:
Lightness
How light should you go? This will depend on your complexion. For warm skin tone, beige and sandy blondes are recommended. On the other hand, golden blonde tones are best for people with olive skin tones.
Placement and Size
Thickest and lightest strands must be around the frame of your face, and the size must regress on the strands towards the crown.
Type
This will all depend on your personal preference. Types of highlights include balayage, hygge, lowlights, sombré, ombré, and many more.
Trendy Auburn Highlights You can Try
The following are the most gorgeous auburn highlights hairstyles that are trending this year.
1. Layered Hairstyle
If you have thick long hair, why not show be proud of it? Create a great new look with a chestnut hair color with auburn highlights that will be perfect for both fall and winter. Keep that messy touch and sport a middle part that will allow you to wear the mane on your shoulder.
2. Auburn Bob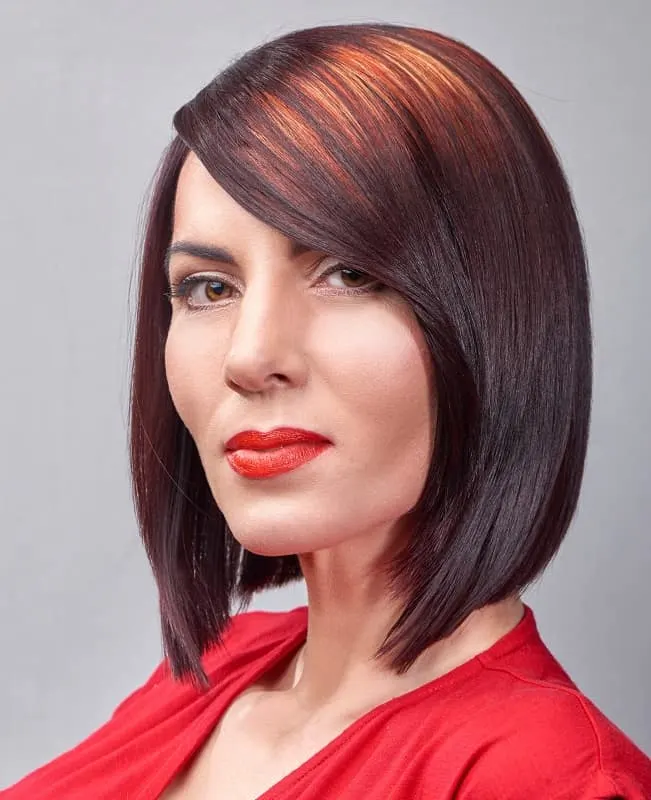 Searching for something that will spice up your brunette hair? Auburn highlights are the answer! Get a bob haircut and wear the bangs on one side. Style the highlights only on a small portion, on the top.
3. Shaggy Auburn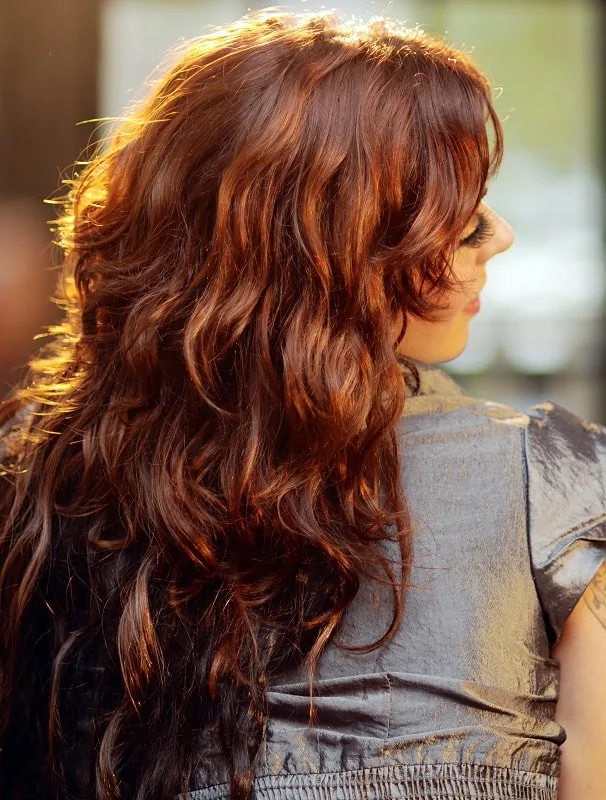 Play with that fabulous layered hair by styling auburn red highlights that will amazingly shine in the sunlight. Wave and curl the mane and you'll enhance that fantastic texture and glowing shades. You can also opt for middle-parted bangs that will create an excellent frame for your face.
4. Rihanna's Auburn Hair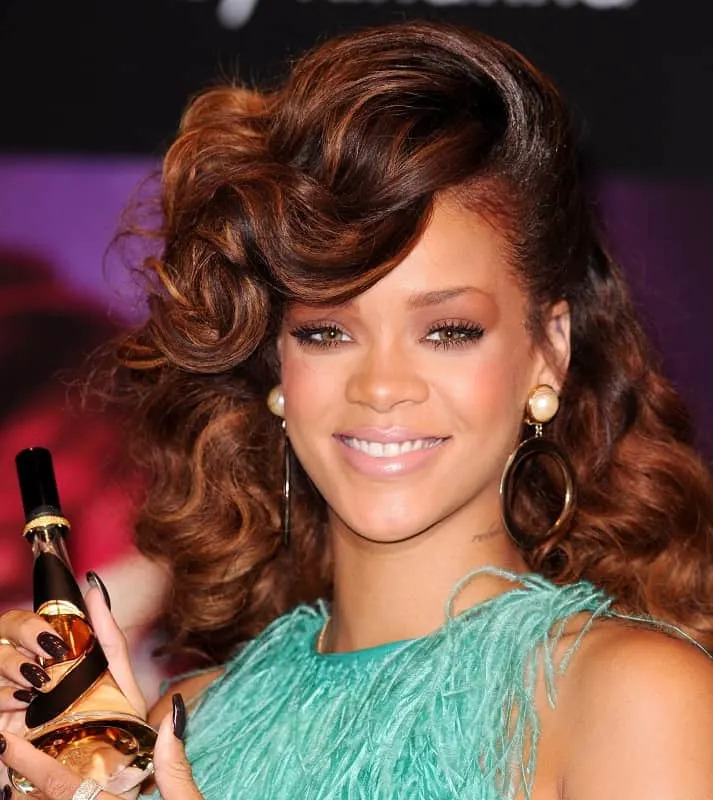 Auburn highlights will gorgeously elevate your spectacular African-American hair. To recreate Rihanna's hairstyle, you need to build a big wave using your bangs and curl the whole mane. It will provide not only a lot of dimension but also texture.
5. Dark Auburn Wavy Hair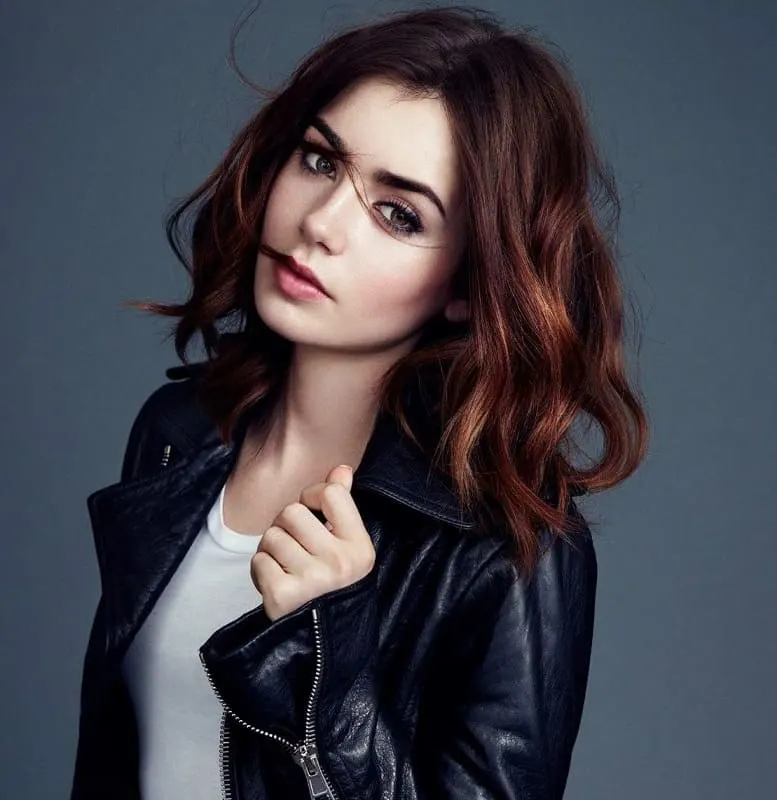 Softening a prominent jawline has never been easier and if you pick a dark brown hair color with auburn highlights and a wavy bob haircut, you might get your wish. You can also draw all the attention to those thick eyebrows and brown eyes with proper makeup.
6. Wet Layered Hair
Those auburn peekaboo highlights will certainly get all the attention they need. Go for a layered haircut that will make your curls beautifully fall and swipe your bangs on one side. Some foam will help you achieve that kind of wet look.
This half up half down hair with a twist, complete with minimal ornaments is perfect for proms, weddings and what not! Simple yet beautiful highlighted medium auburn hairstyle.
8. Golden Highlights
The gorgeous golden highlights look so perfect against the dark auburn brown hair. But what we like the most is the way the highlights frame the face, making the jawline and cheekbone pop out.
9. Warm Beige Babylights
This gorgeous hairstyle shows the perfect contrast between the vibrant shade and the light yet colorful beige hair color. And even though contrasting colors were used, the hair color still looks natural and gorgeous thanks to the babylights effect of the hair color.
10. Auburn Brown Balayage
If you want a sunkissed natural look, this auburn hair with highlights is the best option for you. We like how the lighter strands perfectly frame her face, showing her gorgeous jawline even more.
11. Copper Shimmer Foilayage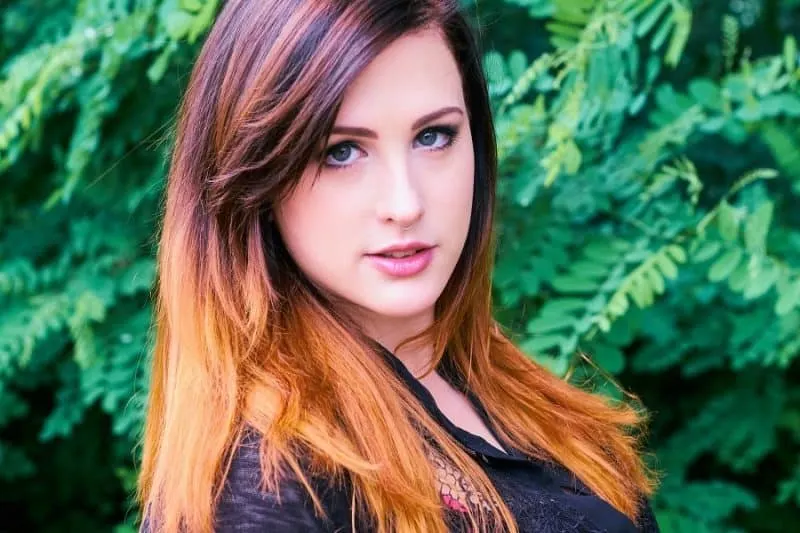 Do you love vibrant hair colors? Well, this auburn hair with highlights will teach you how it's done.
While highlights are often lighter in color, they can be as vibrant as copper shimmer. The hairstyle may not be everyone's cup of tea, but it's genuinely a great way to show off your personality.
12. Auburn Curly Hair
If subtle highlights are what you're looking for, baby lights are the way to go! At first look, it seems like the hair has no highlights.
That's all because of how complementary the colors are to one another. It also has something to do with the fact that she's sporting the thinnest hair highlights we've ever seen.
13. Dark Hair with Auburn Highlights
A short hair with auburn highlights might be the change you needed if you're aiming for a glamorous look. The bob shape is probably the best option because it's also long enough to style flattering waves. You can use a wand or a straightening iron to pull off those curls.
14. Bright Auburn Highlights
Whether it is short or long, any dark hair will look fabulous with some auburn highlights. They will give your whole mane that most wanted glow and if you use a thick wand to curl your hair, you might find yourself looking like a Hollywood star.
The auburn brown hairstyle looks stunning on long locks especially if your highlights get lighter from the root to the tips.
Perfect if you want to mix things up a little. Go for sharp and straight cut bangs on the front while styling the rest of your long auburn hair highlights and beautiful curls.
Simple, classy and fun. This highlights hairstyle is for the adventurous. Style your auburn layers with soft waves for a stunning look.
Top buns are an all-time favorite. Recreate your version of the top bun with auburn highlighted hair that just has a few stray strands fall on either side of the face.
19. Burgundy Hair with Auburn Highlights
Long burgundy plum hair with highlights mixed together and a thick bangs is a great combination, which is really worth the time spent making it.
Auburn hair with blonde highlights on messy bob is a great idea for women with short hair. It looks great with any face type, requires little maintenance and really makes an impression. Sparkling jewelry is a great addition!
This cute highlight hairstyle is the best if you want to keep your locks away from your face. The soft auburn curls add volume to the ponytail.
Starting with a braid from one side and hair segments intertwined, let your gorgeous red auburn hair with highlights do the talking with this mesmerizing flirty look.
23. Side Swept Front Puff
The best option for women with shoulder-length hair. The front puff adds more drama to your look and keeps the focus on your facial features.
Want to have a hint of blonde highlights on your auburn hair? Try mixing up colors like this super sleek straight bob here.
Give a glimpse of the brown highlights on your auburn hair with a fishtail braid that runs amidst flowing mane.
No matter which hair color you choose, styling them right is the best way to truly enhance the color's visual appeal. Especially with auburn highlights, you have to keep mixing things up and experimenting with hairdos.