There is nothing better like starting your day in style. A good hairstyle lifts your spirit and elevates your self-esteem. Choosing the perfect haircut is both an art and science.
If you go by the trending fashion, then having short hair will help you out. Today, we have the 21 short hair highlights ideas that will surely get you all the attention.
Latest Short Haircuts with Highlights
These are 31 sassiest short hairstyles with highlights and lowlights for modern women to try out this season.
1. Multicolored Highlights
Highlights are ideal for short hair and will make your new look pop and stand out in any room and crowd. If you're feeling fierce, love combining multiple colors and want to get more attention, choose a pixie cut with a teal color base. For the bangs, you're free to keep them in the same color or spice things up even more, with colored, bright highlights. Combine pink, yellow, purple or any other nuances for that rainbow look.
2. Thin Blonde Highlights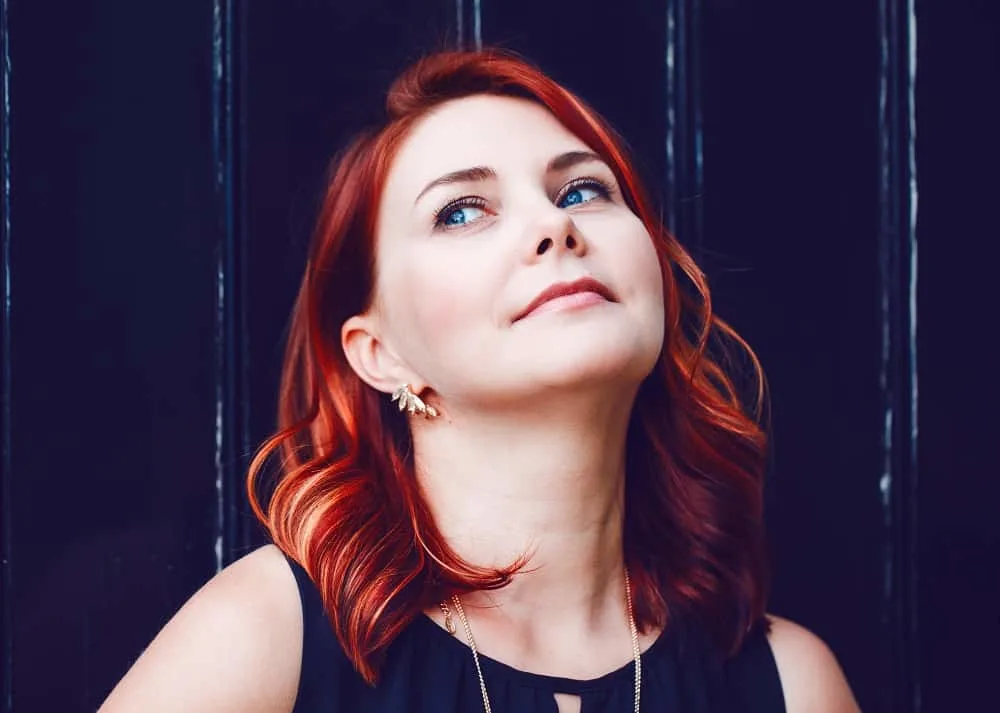 Blonde highlights are the best way to enlighten a short red hairstyle. It will give the base color more depth and your waves and curls will have a stunning complexion. The only downside of this hairstyle is that red hair lasts less than any other nuance, so you'll need frequent touchups.
3. Asian Highlights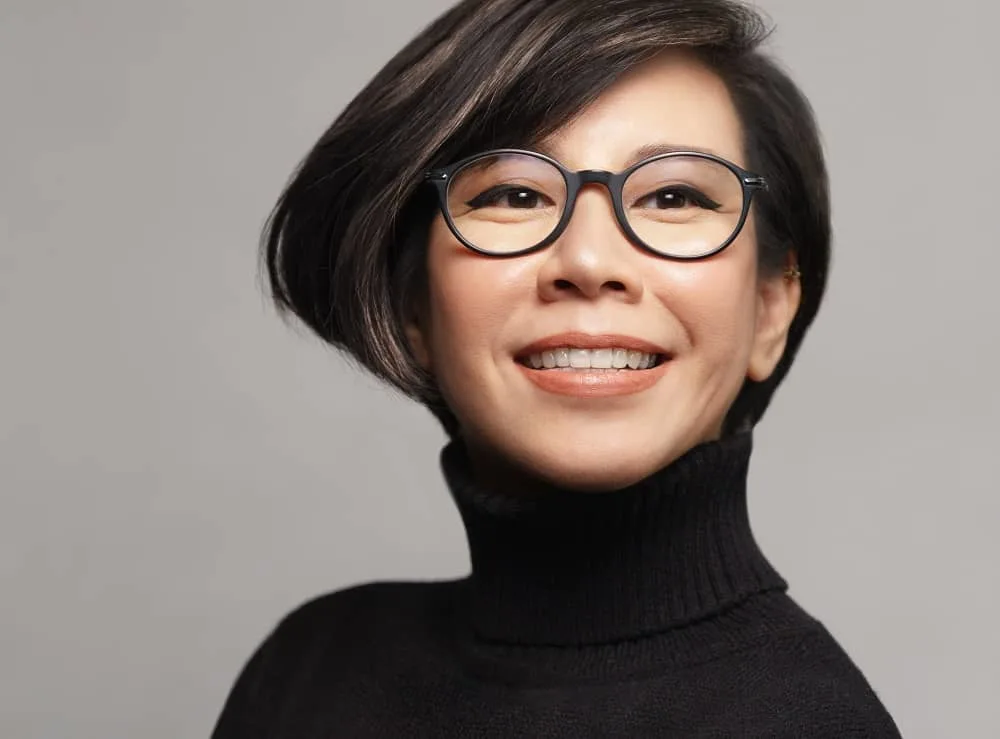 Most Asian girls have such beautiful dark hair. Enlighting it is an excellent decision, especially if you have short hair. And highlights are the best way to achieve a mindblowing look. But firstly, you'll need to bleach these hair strands and dye them into a gorgeous silver if you want an eye-popping effect.
4. Brown Lowlights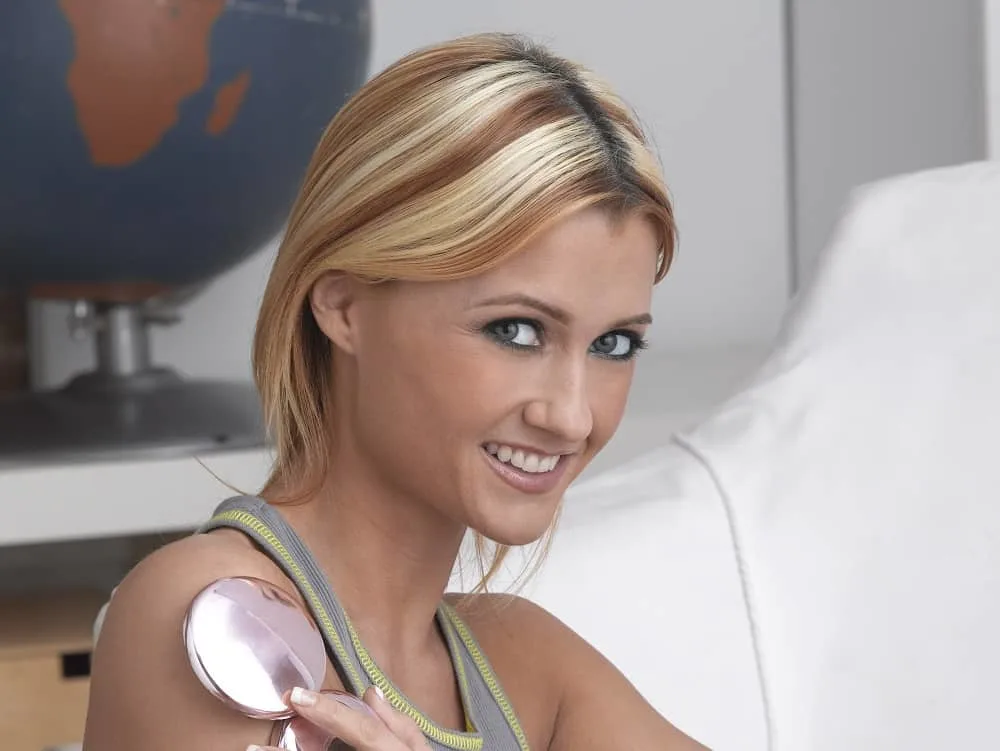 If you think 90's short hairstyles with highlights are the best option for you, dye your hair in a blonde hue and style wide ginger blonde lowlights. Unfortunately, if your natural color is darker, you'll need to dye your roots frequently, depending on how fast your hair grows.
5. Unicorn Highlights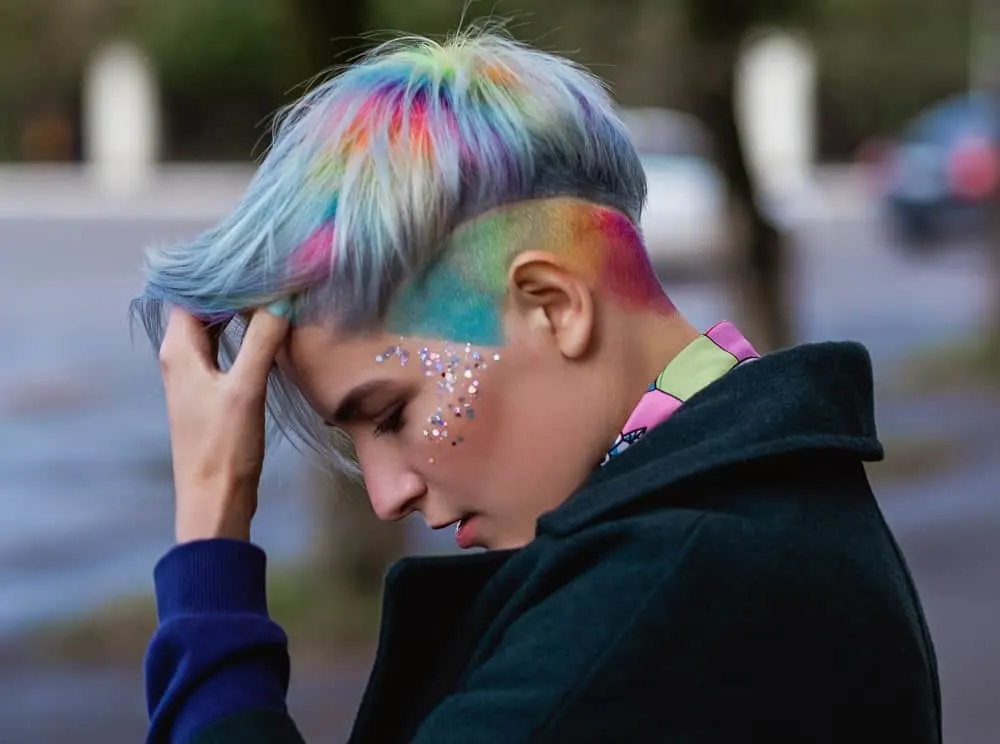 Rainbow hair looks like a work of art on short modern hairstyles. Firstly, get this tomboy pixie haircut with an undercut. Delimit the areas where hair is longer with a razored part and create sections that you'll dye distinctively. Things are even more complicated for the top because you'll need create peekaboo-colored highlights. To nail this look, go see a colorist because you might ruin your hair with a DIY project.
6. Highlights for Afro Hair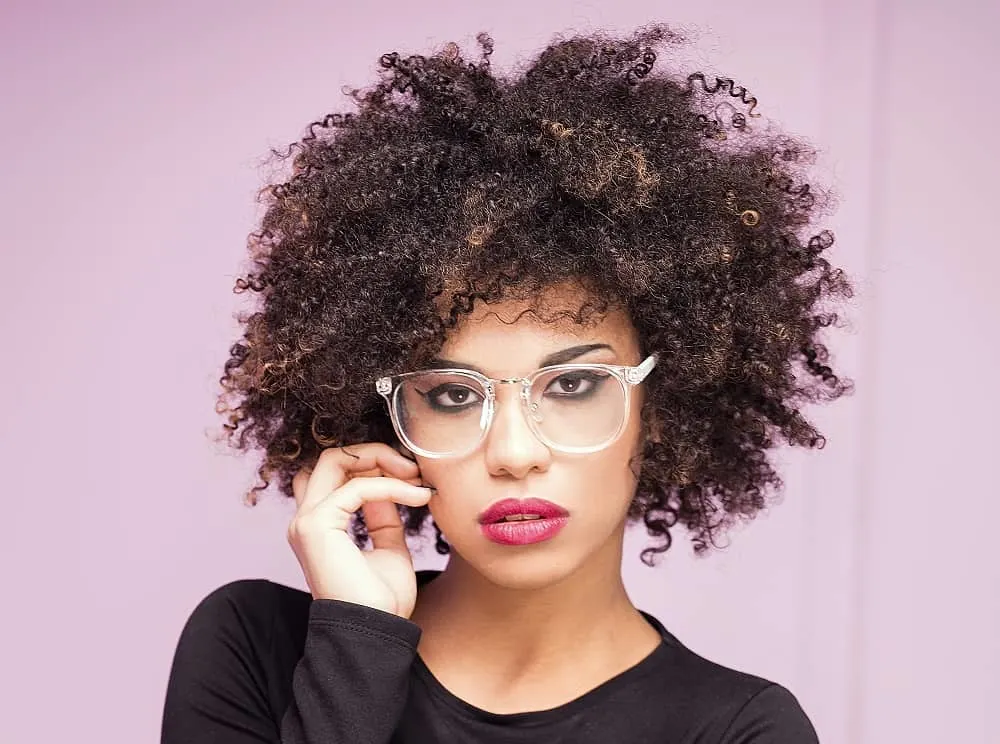 3C curls are hard to manage, but if you got yourself a good routine that helps you keep your curls long and healthy, why not make them stand out even more. Give these short ringlets dimension by creating awesome thin blonde highlights every here and there. Use your favorite jam to keep your hair nourished and your curls tight.
7. Gray Highlights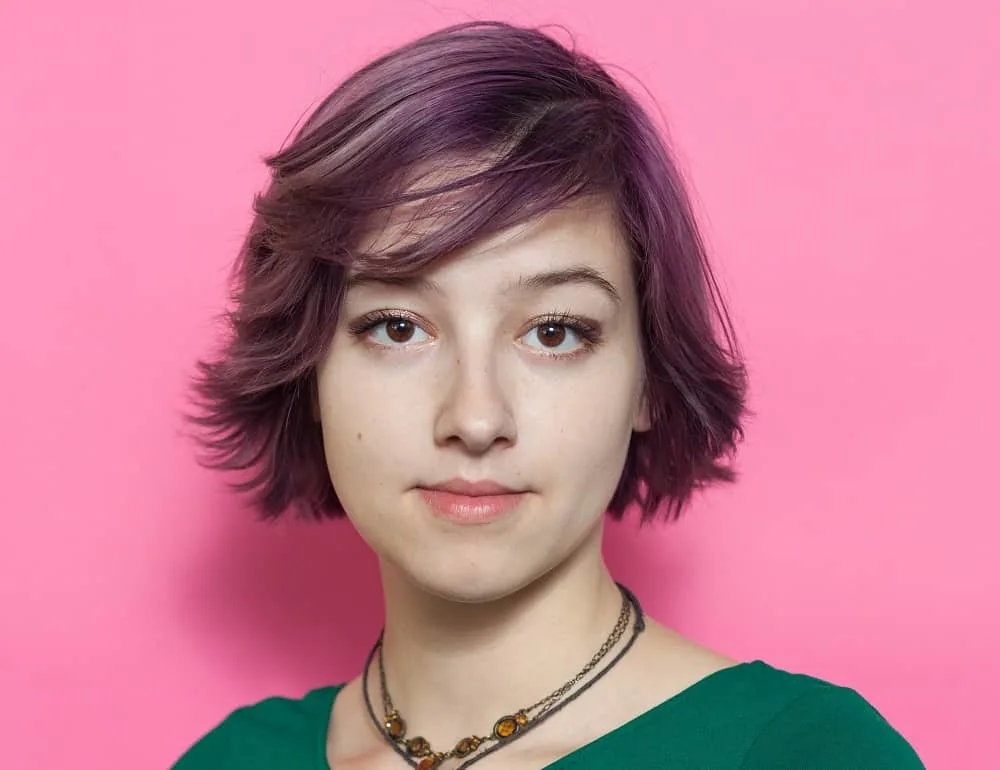 Give your hair more complexion by choosing a short haircut and a purplish hue. Side-swept bangs are your best friend if you need some asymmetry to diminish prominent facial features. You can make that fringe look absolutely amazing when you enrich it with a few thin highlights.
8. Highlights for Older Women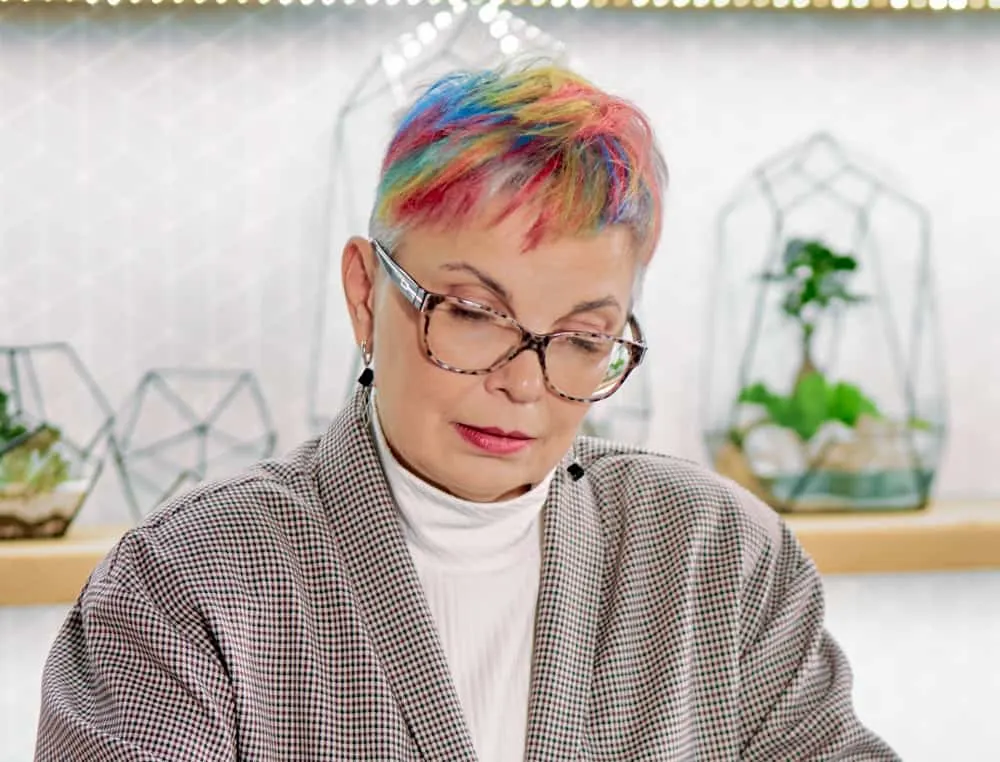 Some women want elegant, simple hairstyles, but that doesn't mean you have to fall into this stereotype. Don't restain your desires if you have a bubbly personality and adore colors and crazy hairstyles. Opt for a short hairstyle with multicolored highlights and enjoy the attention that comes along.
9. Duo Highlights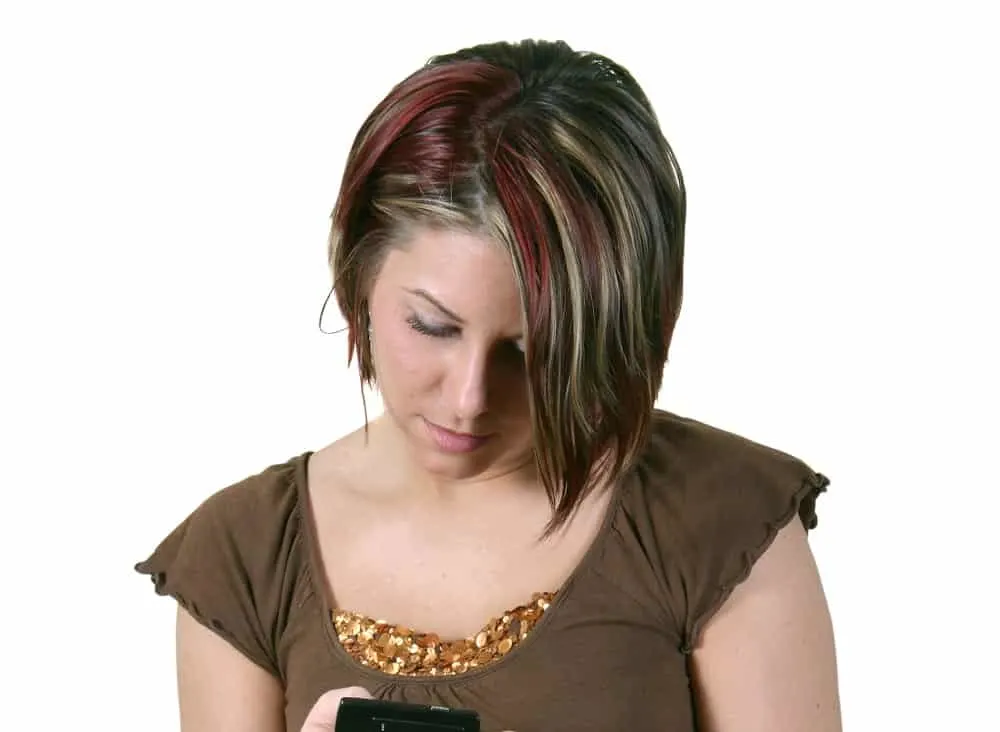 Who said you need to stick to only one color for your highlights? If you love more of a 2000's look, go for a bob haircut and combine wide dark red with blonde hair dye for the highlights. This look will get you the attention and the compliments you deserve. You can tweak with the nuances and hues and gain the intensity you love for your hair.
10. Pink and Blue Highlights
Whenever you want to stun people around you, picking a short haircut with contrasting highlights will certainly going to do the trick. If you're more of a badass, choose a pixie cut with a long top and style it platinum blond. However, if you want to show off your girlie side, add a pop of pink and blue. Keep the highlights thin and wave your hair to get more exposure for these bright nuances.
The exciting thing about this hairstyle is the mix of contrasting colors. The dark brown root is a good background of the blonde hair.
With a parting on the side, it exposes the beautiful contrast to the admirers. The sweeping highlighted bangs on the side help in elevating the facial features.
The undercut on the sides helps in turning the pixie into a marvel to admire. It is good to note the crimson red jetting out from the root.
Again, the mix of light brown and dark blue highlights will make you want to have this look. It works well in an afternoon outing.
One thing that stands out in this short haircut is the high side undercut. The fact that it is on one side only makes it a rare fashion statement.
To add on the artistic creativity, the layering hair sweeps to the other side. The blonde highlights in a maze of black hair bring out the exotic flair.
Having a bob on your head is trendy enough. It works for you if you enhance certain aspects to it. The side braiding is a step out of the ordinary.
If you look closely, you will notice the blonde hair comes from a dark hair scalp. It is a clear expression of your experimenting with the full highlights on short hair.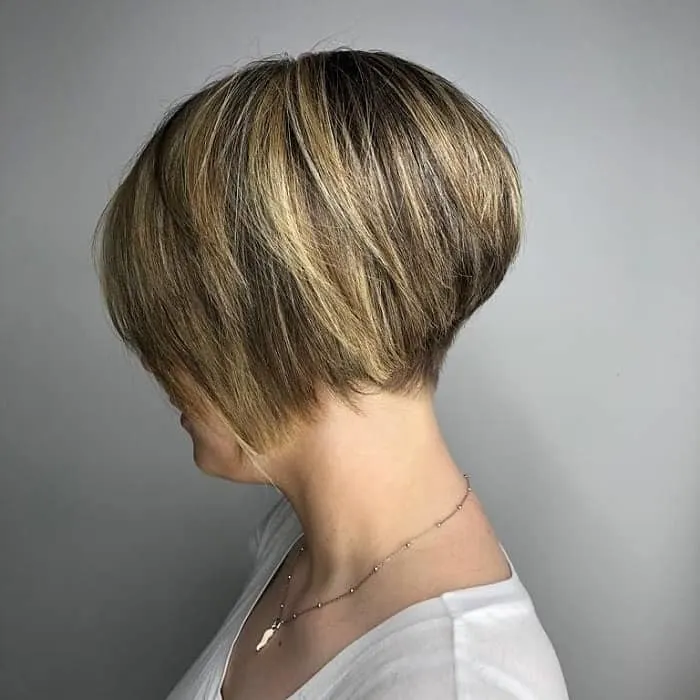 The aspect of thick hair on a bob is promising. It is the laying of the strands that give it a standout. Highlighting shades of blonde on the brown hair is a classic mix. For ages, this blend of brown and blonde never disappoints any occasion.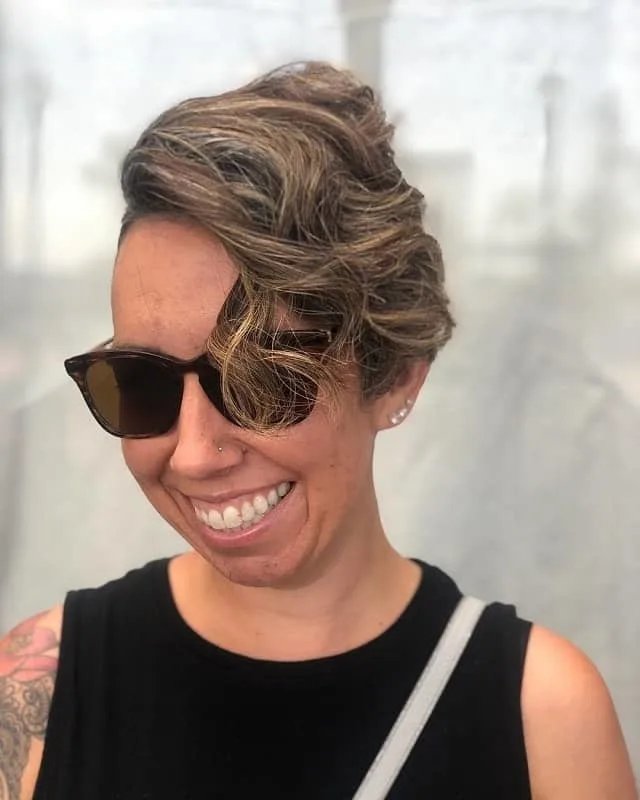 Sometimes keeping it simple helps in maintaining the original concept. Dark hair has few options when it comes to highlighting with similar shades.
As in this short hair highlights, using a mix of light and dark brown shade is stunning. The wavy side bangs offer the feeling of femininity.
17. Shades of Brown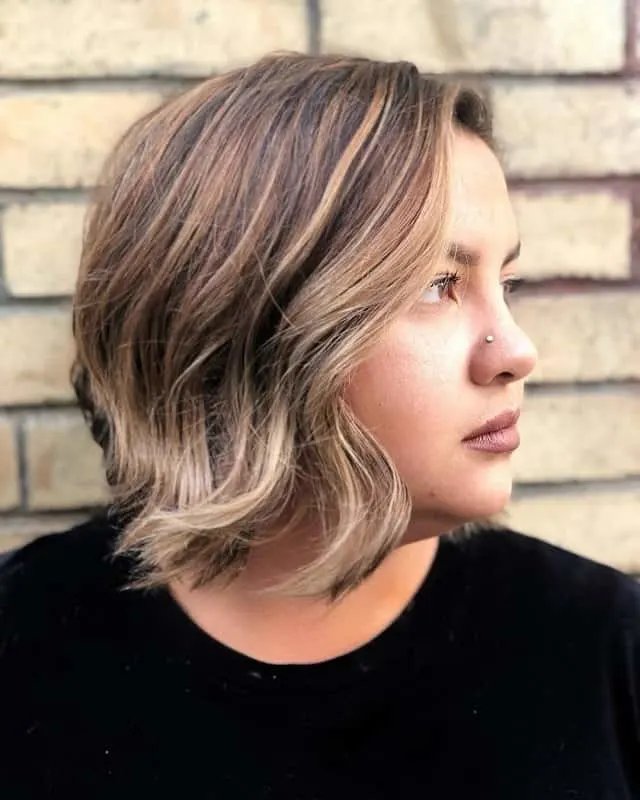 A medium bob gives you the leeway of experimenting with various ideas. The short waves on the tips of the hair enhance the highlights.
Brown shades can give you a unique way of showcasing elegance as in this hair highlighting. You experience the beauty without exaggerating the colors.
18. Brown with Grey Lowlights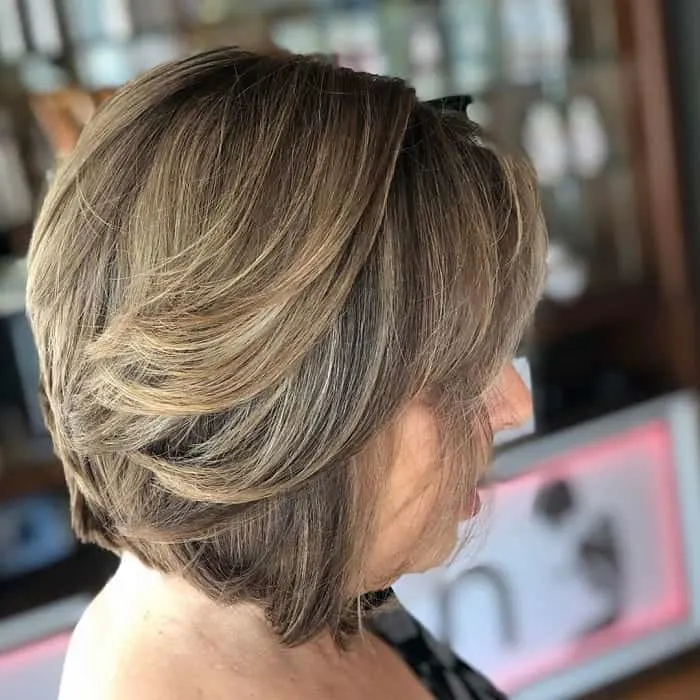 It is the epitome of the elegance of the professional woman. The traditional bob stands out as a neat short haircut for women. This bob is a slight departure from that notion. It has simple shades of grey twisting in the shadows of brown.
19. Glossy Blonde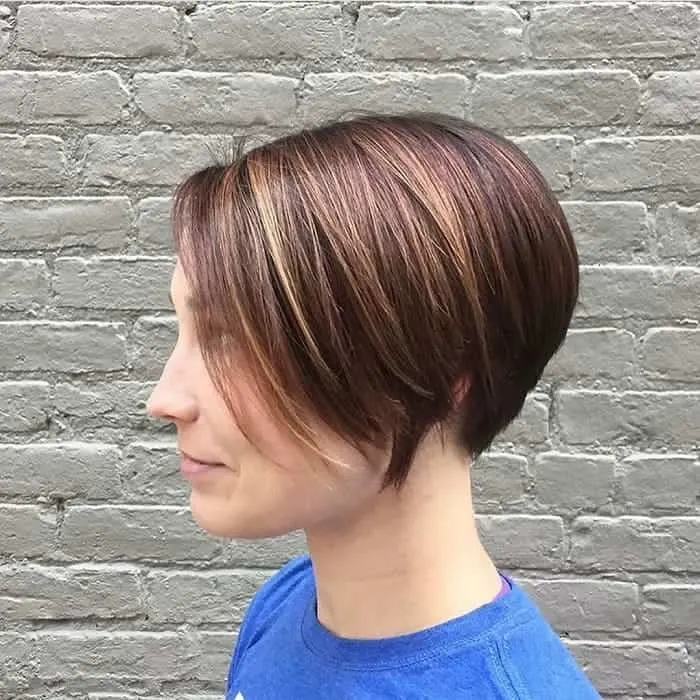 Auburn is the color of the elegance. Thus it connects well with your soul. This short auburn hair with blonde highlights makes the look simple yet elegant.
The tones of the dark, medium, and light auburn shine under the glamor. It is a highlighting experience that will never fail you.
20. Brown Fluffy Pixie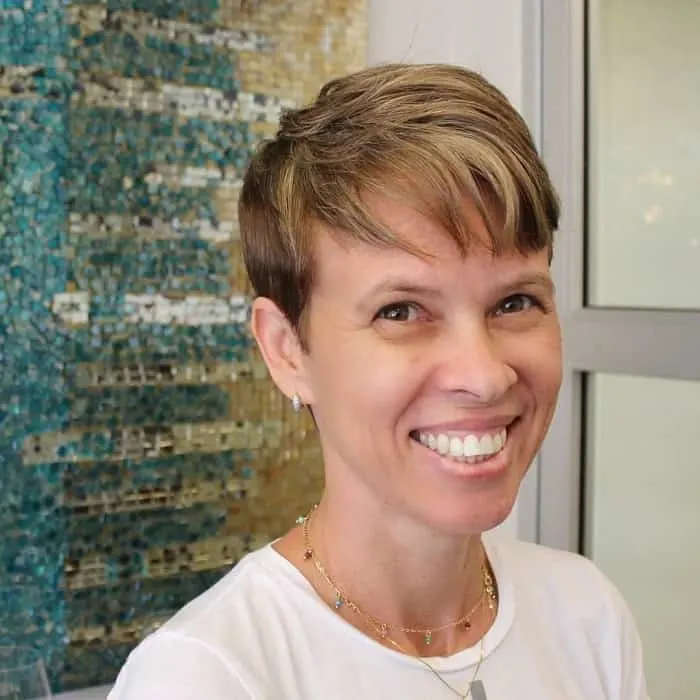 If you have short hair, the options can be scarce. This highlight hairstyle comes in handy to rescue your self-esteem. The fluffy side gives the hair a volume in texture. It complements well the women with long oval faces.
Luminous colors are hard to blend. The short angled bob has a rare mix of screaming colors. The dark metallic blue sits on the black hair. But it is the exotic introduction of the glossy pink highlightings that gives it that classy touch.
This side part bob is standard with women. The highlights from different dark shades blend with ease. If you imagine that black and brown are a mismatch, you are wrong. The red highlights are a beacon of beauty and attraction.
Pixies typically come with straight hair. So adding the wavy twist on it gives it an elevation. The thing I like about this hairstyle is playing with colorful ideas.
Having the silvery blue and green brings in the glitter out of the dark root. With matching accessories, you will surely stun everyone.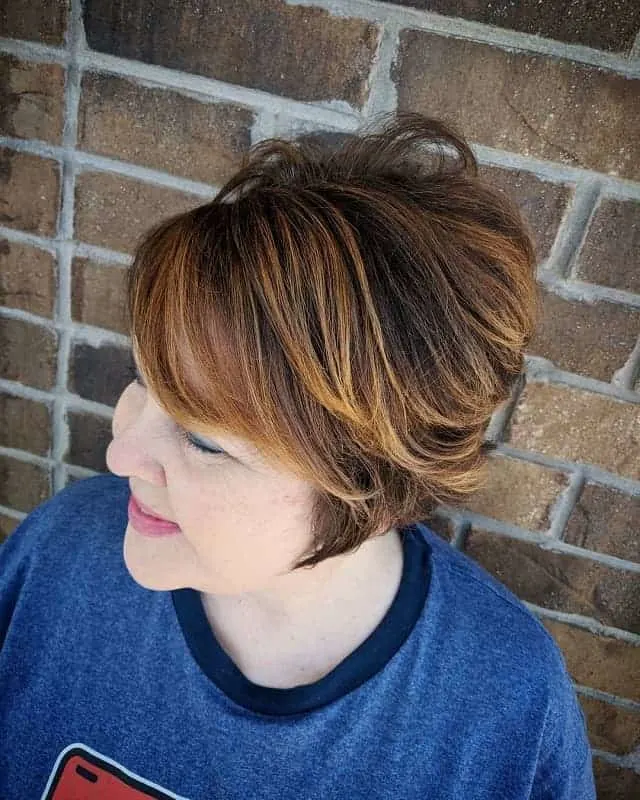 The light effect on the bob is a hairstyle statement. When you have that particular function to attend, this short hairstyle with highlights will give a special touch.
It is easy to create and maintain. The fluff layers on the top give your little hair a high volume appearance.
25. Hot Spikes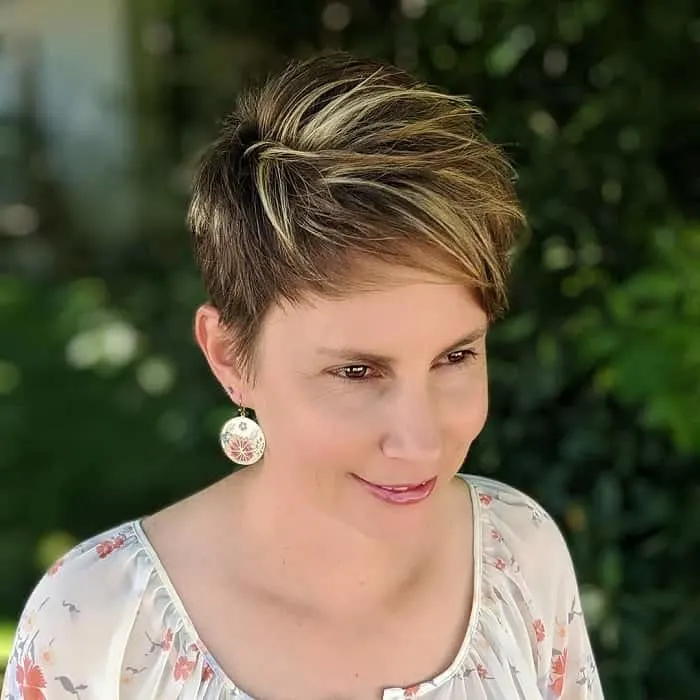 Hair highlights can be stressing if you do not understand your facial features. On this hairstyle, the facial contours come out perfectly well. This makes the spikes on the hair fashionable.
The addition of light blonde highlights on the short hair makes it feminine. It is best for outdoor weddings.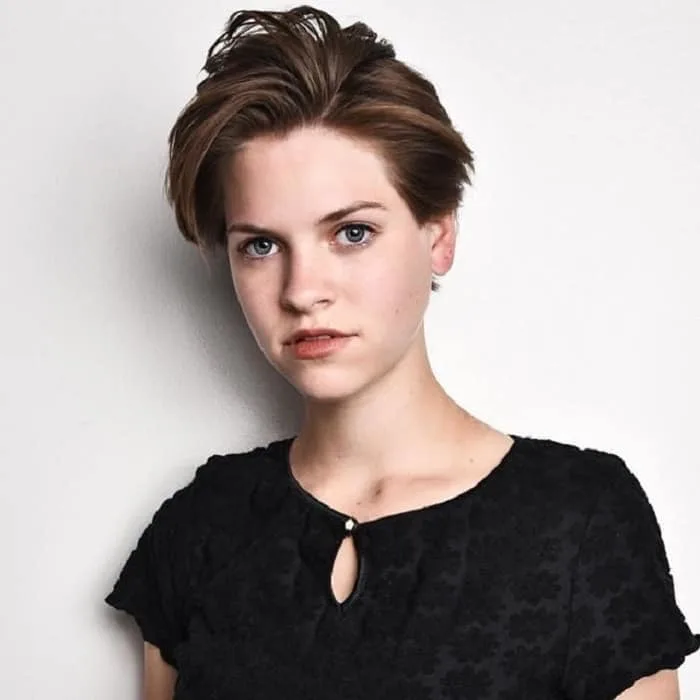 This is the stamp of simplicity. Using one color to style your hair is wise. It gives you the best of ideas without wandering to the extreme.
Brown has many shades that you can highlight with on your hair. In essence, you need a few shades of dark and light brown to turn other heads around.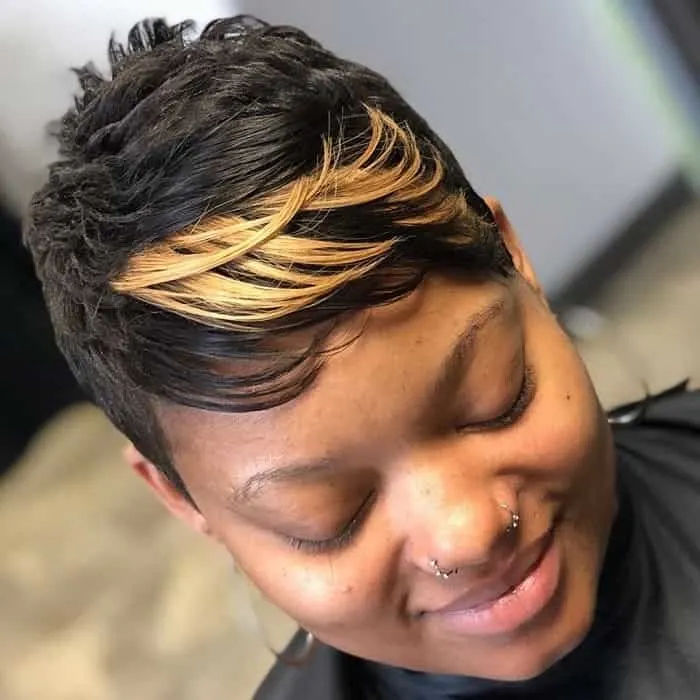 It is a pixie with an alien touch. The light brown angled bangs give out the shout of freedom from the black background.
In all circumstances, this hairstyle gives you that leverage over other hair fashions. You can wear it anywhere without feeling out of place.
28. Silver Highlights on Black Hair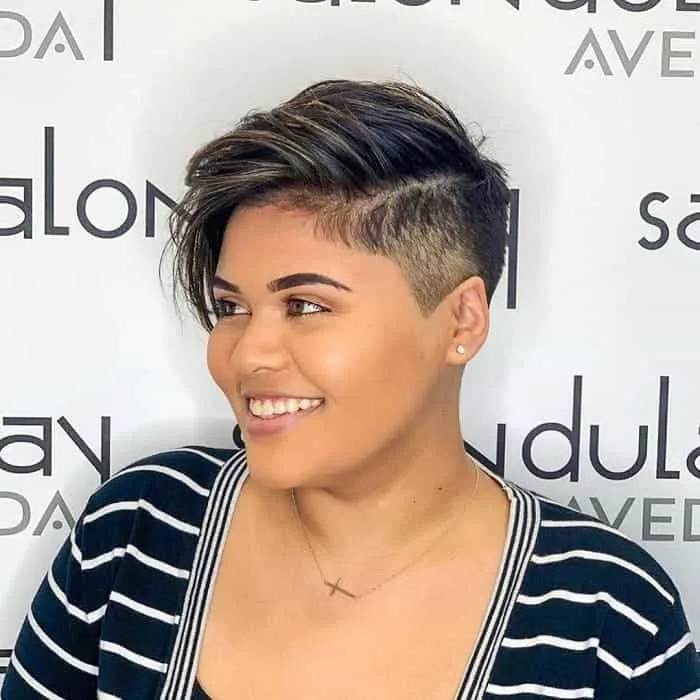 Naturally, black blends with any color. Therefore it is wise to play around with your creativity. This side undercut gives your hair that sleek look. The strands of silver highlights on the black are excellent.
If you are a regular on the fashion runways, you may try this one of these coming days. It is a perfect showcase of short hair with highlights.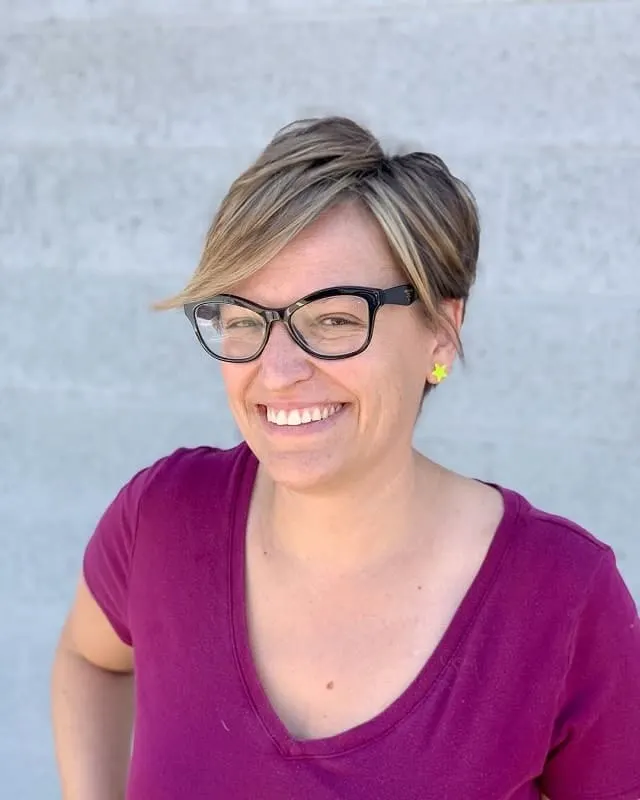 When you feel like going departing from tradition, never try something extreme. Experimenting with a blend of highlight and lowlights may seem impossible.
That is false. Looking at this short haircut, the front hair has blonde highlights.
30. Shades of Brown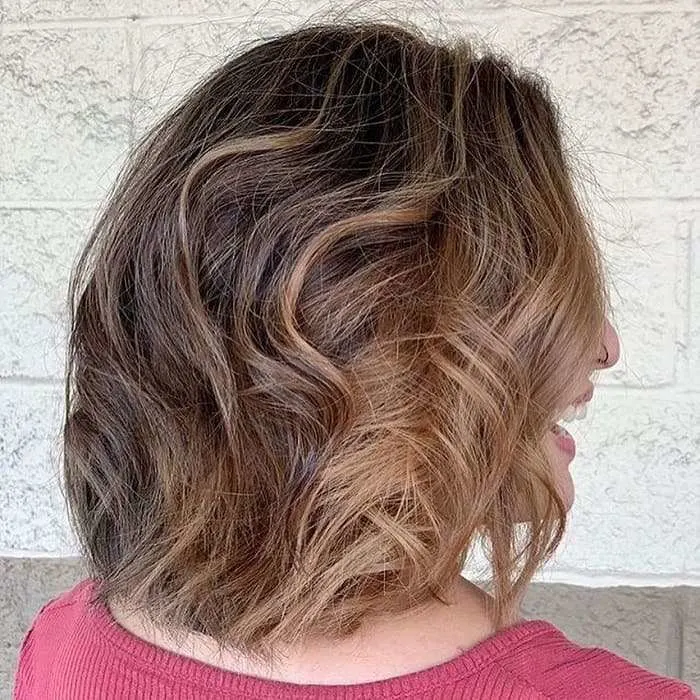 This wavy layered bob gives you the feeling of contrast. The background of the hair is black. The front hair has the highlight of a light brown shade.
The back of the head brings out that dark brown lowlight to you. It is a simple way of showcasing your hair color artistry.
31. Silky Brown Pixie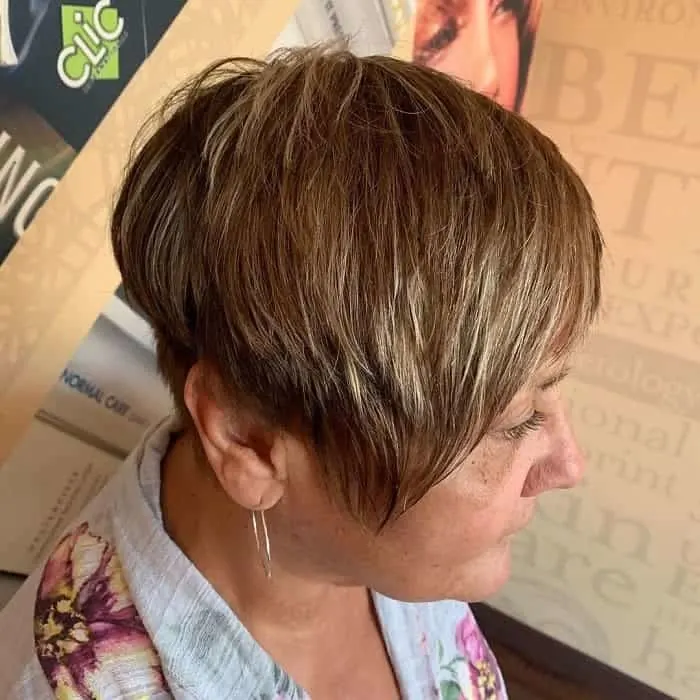 In this case, the pixie gives out that exotic taste from the Star Trek series. It is an exploration journey that helps you free your taste of fashion from the traditional confines.
The blending of the front lighter highlights opens up to the black lowlight at the back. The significant thing is brown and black never disappoint.
The fashion trends are dynamic. One style hairstyle can overstay in a generation while another passes by the whim. It is essential to know what is fashionable and move with it. These 31 short hairstyles with highlights and lowlights will help you step out in style and elegance.