Blonde actresses are always ruling the Hollywood scene, making the blonde bombshell a signature look. Celebrities, especially actresses, experiment with their outfits, hair, makeup, and everything else.
They also give us a vast selection of looks we can easily emulate. Look at these beautiful blonde actresses who rocked their bombshell looks effortlessly.
Popular Blonde Actresses with Their Best Hairstyles
You'll see classy, elegant, playful, edgy, and many other blonde bombshell styles below. Let's see 31 actresses giving their blonde hair a new dimension.
1. Amber Heard
Amber Heard's long blonde hair has darker roots that lead to light ends. The light blonde is very summery and is great for adding a warm glow to your complexion, no matter your skin tone.
2. Julia Garner
If you have a pale or light skin tone, go with actress Julia Garner's super light blonde hairstyle. Her wavy bob is packed with texture, a great style tip for ladies with fine or thin hair.
3. Saoirse Ronan
Prefer a happy balance between light and dark blonde? Actress Saorise Ronan rocks light blonde with two other darker shades of blonde on her long hair. This wavy half updo beautifully shows off all three shades.
4. Katherine Heigl
In almost every movie or TV show she's been in, blonde celebrity Katherine Heigl shows blondes do have more fun! Her wavy light blonde short hair updo, seen above, is even reminiscent of the late icon Marilyn Monroe.
5. Elle Fanning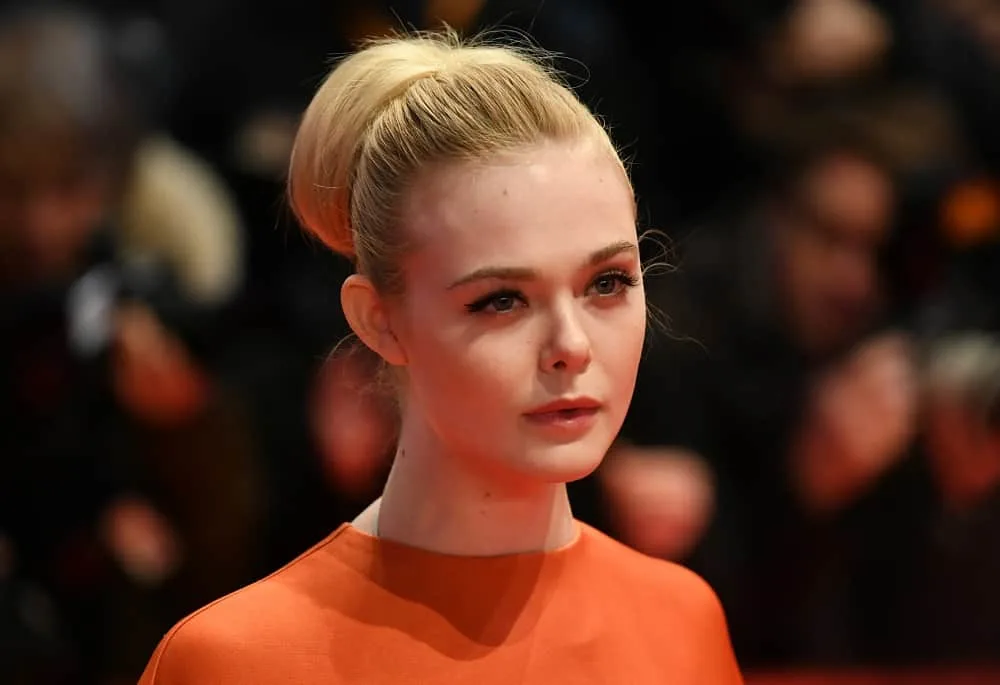 Another light-skinned actress, Elle Fanning, flaunts light blonde hair. This shade is ideal for preventing a washed out look. To style, comb back the hair away from the face and secure it in a neat bun at a medium or high height.
6. Anna Faris
Blonde-haired actress Anna Farris is easily recognizable in her movie roles by her blonde locks. We love the style above, featuring a heavy side part and a neatly combed low side ponytail.
7. Chloë Grace Moretz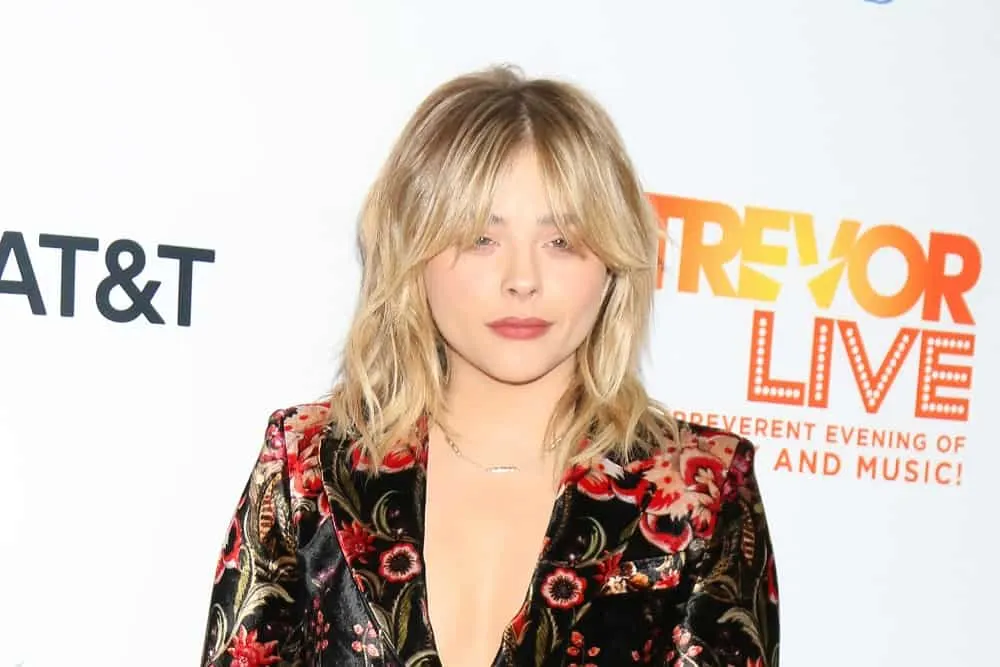 Are you seeking a shaggy hairstyle? Like blonde-haired actress Chloe Grace Moretz, go for a shoulder-length bob with curtain bangs. A choppy cut will make those wavy layers easy to style.
8. Malin Akerman
You can't go wrong with a short blonde cut like actress Malin Akerman's for a youthful style no matter your age. Her hair only comes to the neckline, but isn't void of style! The soft waves are clipped away from the face, showcasing her beautiful blue eyes.
9. Cameron Diaz
Everyone's favorite golden girl, blonde-haired actress Cameron Diaz, is known for her signature light blonde locks. If you have short hair, rock light blonde color on a short straight haircut with extra long bangs. For long hair, try styling it with waves halfway through for a softer style.
10. Blake Lively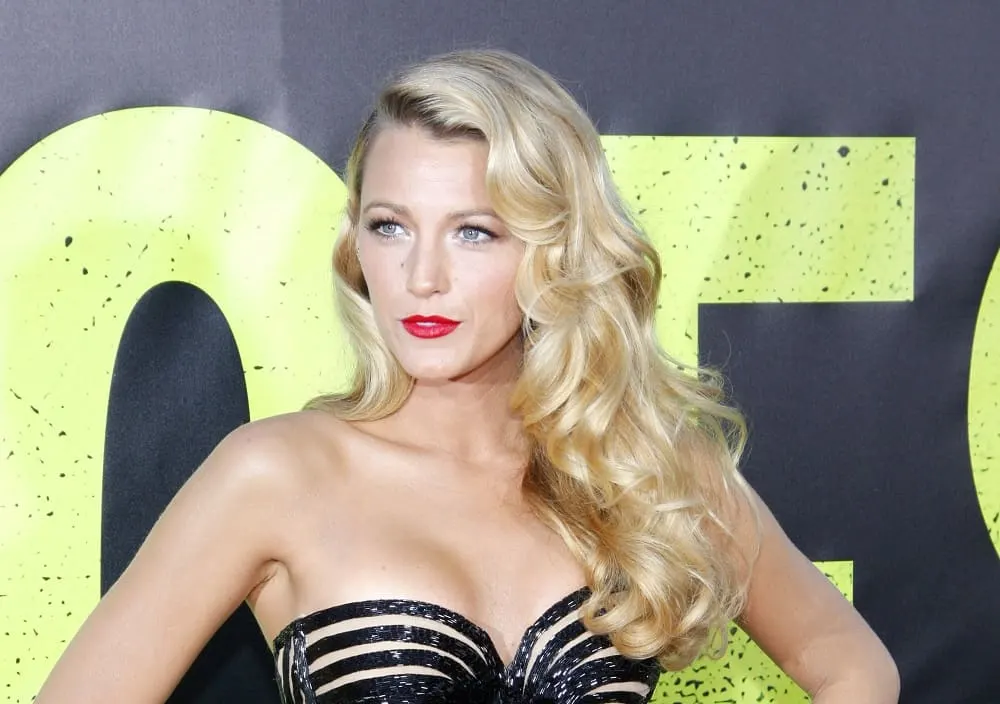 When it comes to Hollywood blondes, Blake Lively consistently flaunts a beautiful light blonde that borders on platinum. For a red carpet look, fill your long hair with large waves, finishing off the look with a wavy side bang. Wear hair over one shoulder for drama.
11. Kate Winslet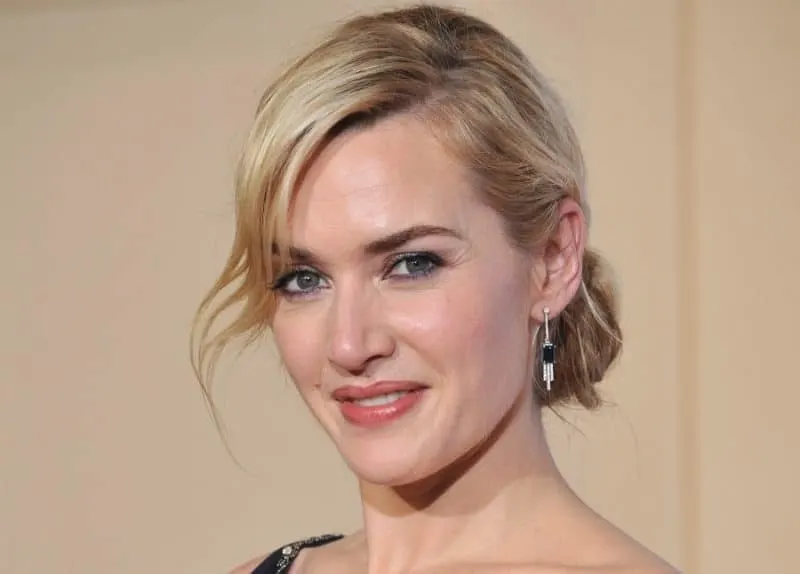 For women with medium skin tones, looking for an ideal hue can go for Kate Winslet's hair updo. Here, she's worn her blonde locks in a side-parted hairstyle that is neatly tucked and rolled in the form of a side bun. This gives her an elegant and gorgeous look.
12. Maddie Hasson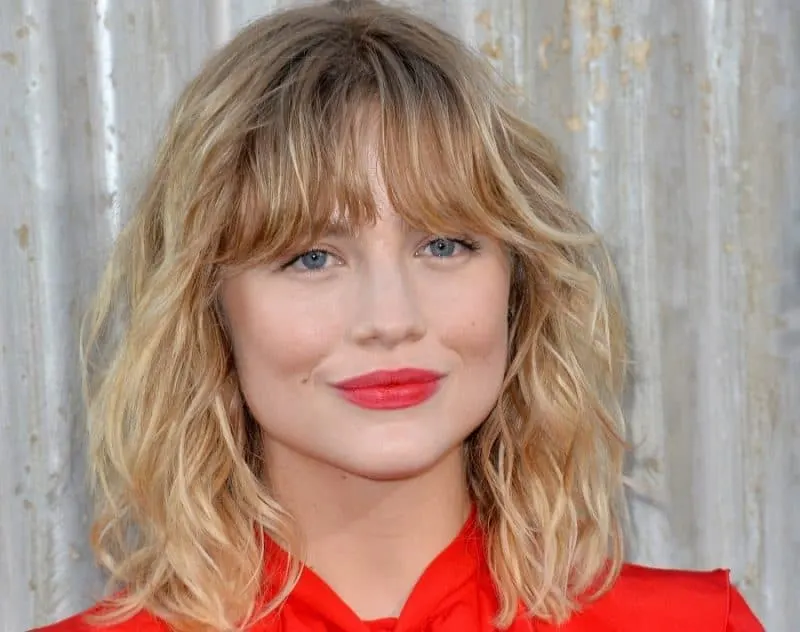 These caramel locks with bangs are styled into loose waves by the sides. This style can be easily achieved with the help of a curling iron and some products for hold and shine. With regular trims, you can get a healthy look like Maddie Hasson.
13. Marilyn Monroe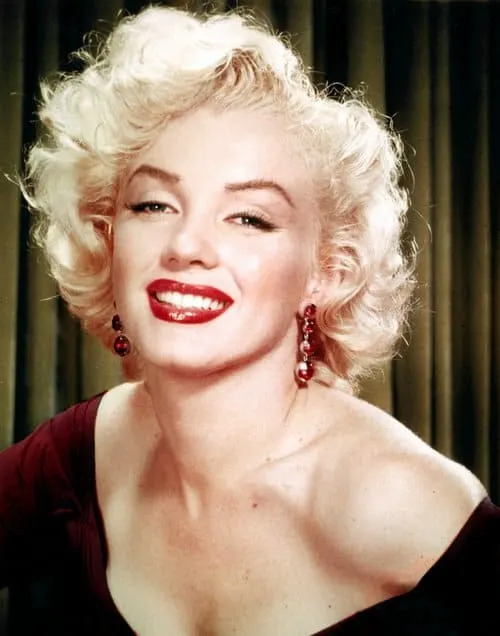 When discussing actresses who took blonde hair to another level, it's impossible to leave out Marilyn Monroe. Ms. Monroe is one of the sexiest blond actresses ever, and she was known for her platinum bombshell look.
We can easily say she was the one who popularized it in the first place. Marilyn usually wore her short and somewhat wavy platinum blonde hair, which gave her both an elegant and playful look.
14. Sharon Stone
Sharon Stone is 61 years old, but she looks at least 20 years younger. Not only is she a beautiful woman but also very intelligent too.
If you want to copy an actress over 50 with blonde hair, try this hairstyle. Remaining loyal to her blonde hair, Sharon Stone changed various lengths over time. Her short, blonde bob with bangs that are swept aside is perfect for women with thin hair but also ladies over 40 and 50.
15. Brie Larson
Brie Larson, i.e., Captain Marvel star, is one of the rising stars in Hollywood, and millions of girls and women will want to emulate her style. Her short hair is simple, sleek, and gives her a Parisian chic vibe. This middle part bob style is not only suitable for ladies under 30, but also for women of all ages.
16. Carey Mulligan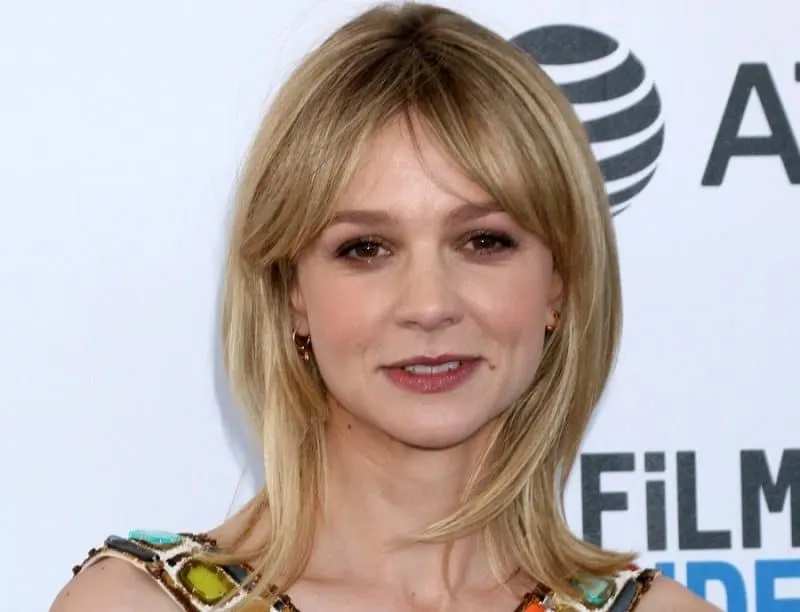 We love the way Carey Mulligan pulls her brown roots with golden highlights. This lob cut with bangs is ideal for those with fine hair who want to get away with their flat look.
Moreover, getting your curtain fringe across your forehead can be frustrating. So, you can sweep them side from the center, making it look effortless, just like Mulligan.
17. Amanda Seyfried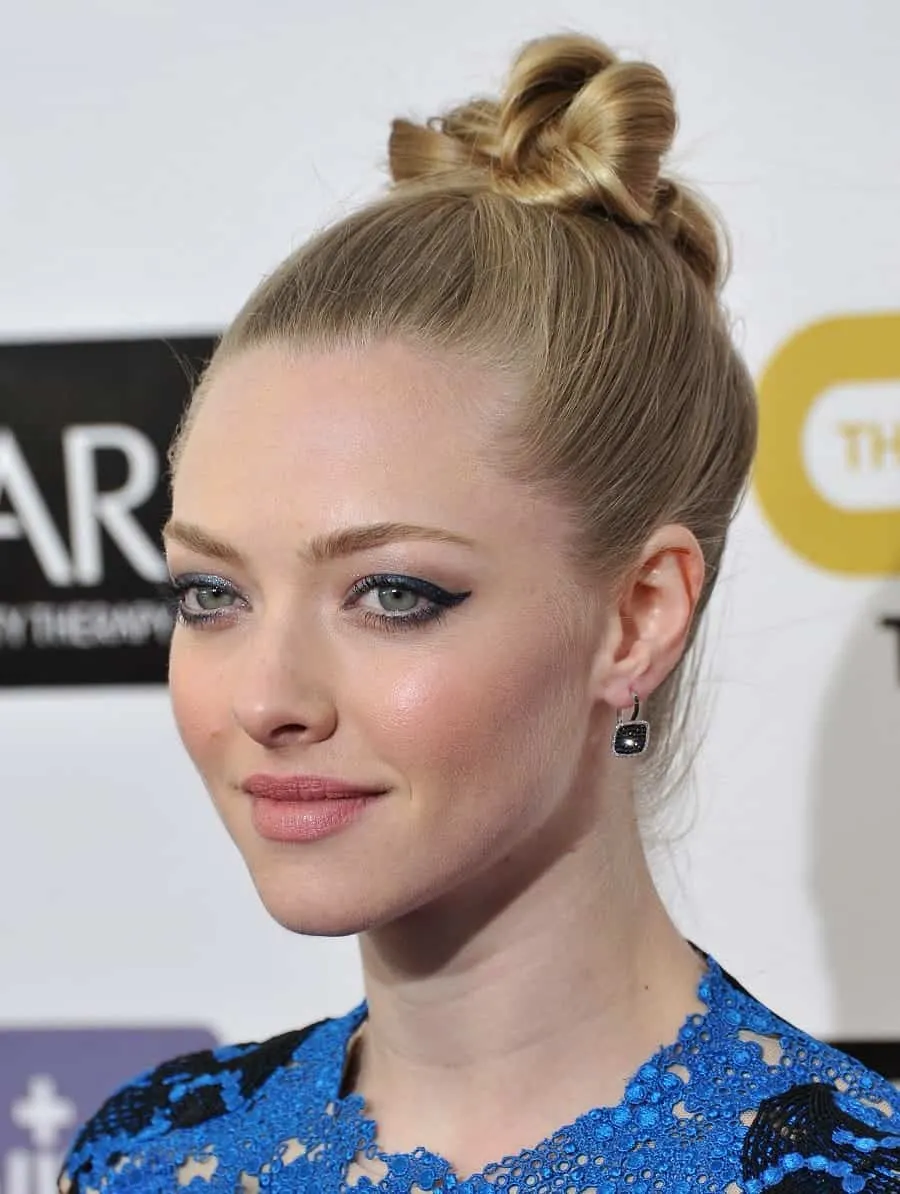 The American actress, who gained fame after her film "Mean Girls," looks gorgeous in this warm golden updo.
This neat and clean updo, paired with a blue dress and blue eye makeup, suits her very well. You can wear this updo by applying gel or spray and pulling all your hair up in a twisted bun.
18. Sophie Turner
Sansa Stark is a redhead in the hit show Game of Thrones, but the actress who plays her is a blonde. Sophie Turner has become a fashionable actress, and her blonde hair is simply amazing.
This blonde actress in her 20s parts her hair asymmetrically and sweeps her long bangs to the side for a voluminous new look.
19. Scarlett Johansson
Scarlett Johansson starred in all sorts of movies, from complicated dramas to superhero films. She surprised the world when she showed up at a movie premiere once with a pixie cut, but we love it.
Her pixie with bangs is perfect for women in their 30s, i.e., when looking for a practical yet slightly edgy style.
20. Julia Stiles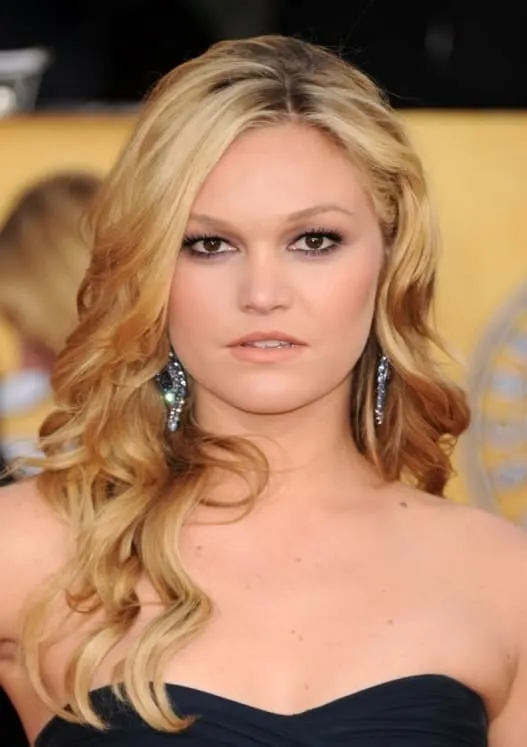 Back in the 1990s, Julia Stiles was one of the most sought-after blonde actresses, but most people recognize her as the girl from the Ten Things I Hate About You movie.
Julie rocks blonde hair and stays faithful to her blonde locks, which is a sexy choice for women in their 30s.
21. Sarah Michelle Gellar
Speaking of blonde actresses in their 30s now but were huge stars in the 1990s, it's impossible not to mention lovely Sarah Michelle Gellar which you probably recognize as Buffy the Vampire Slayer. Sarah rocked the girl next door look that you can easily emulate.
22. Michelle Williams
Michelle Williams is considered one of Hollywood's gems due to her immense talent. Besides talent, Michelle is stylish, which explains why she's a muse to many designers. The talented 38-year-old actress is known for her chic pixie cut.
23. Charlize Theron
One of the most fashionable actresses in their 40s. Charlize Theron is an Oscar-winning actress whose beauty is mesmerizing. This South African actress starred in many movies, including Atomic Blonde.
This hairstyle is ideal for women in their 40s, thanks to its sleek elegance and sophistication. It's easy to pull off, and you'll love it.
24. Reese Witherspoon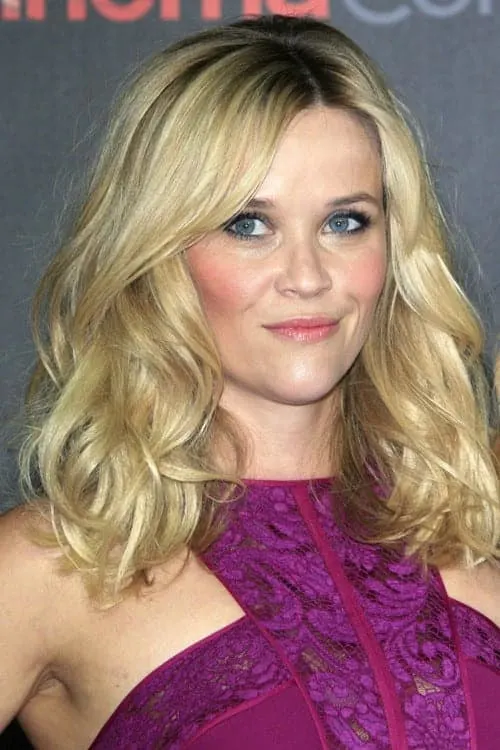 In the early 2000s, we were blessed with an amazing movie called Legally Blonde, starring Reese Witherspoon. Just like the actress, her character was loyal to her gorgeously long blonde hair. This is a great style to try for women who have long hair. Nourish your hair to make it shiny and smooth and create lovely locks and curls that boost volume.
25. Cate Blanchett
Cate Blanchett's long face looks elegant with her hairstyle. Always looking like she stepped out of Hollywood's golden era, Cate Blanchett has that timeless beauty we always admire. Her signature look is blonde hair with gentle waves. The best thing about this blonde wavy hairstyle is that it can look great on everyone and it's needless to mention how important this versatility is.
26. Uma Thurman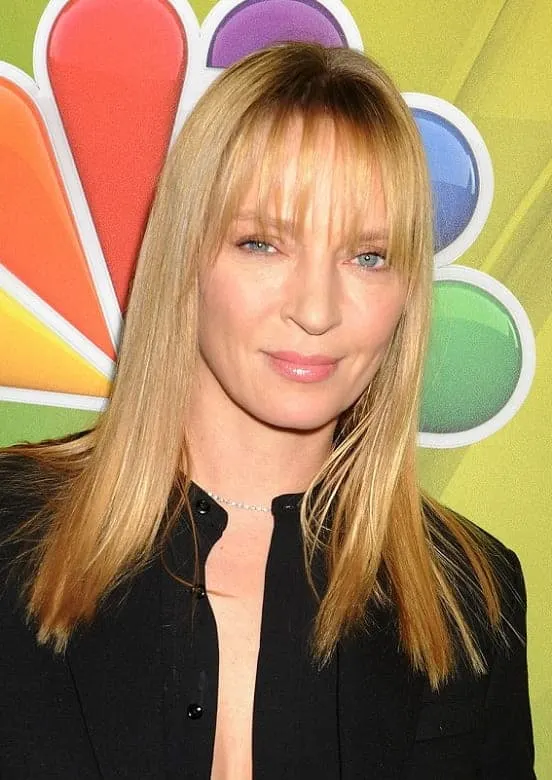 Remember Kill Bill? The movie was released in the early 2000s, and people still watch it. Uma Thurman was amazing, and we love her. You can easily emulate her style with short blonde hair and cute bangs. This style looks great when straight and curly, depending on your choice.
27. Jane Fonda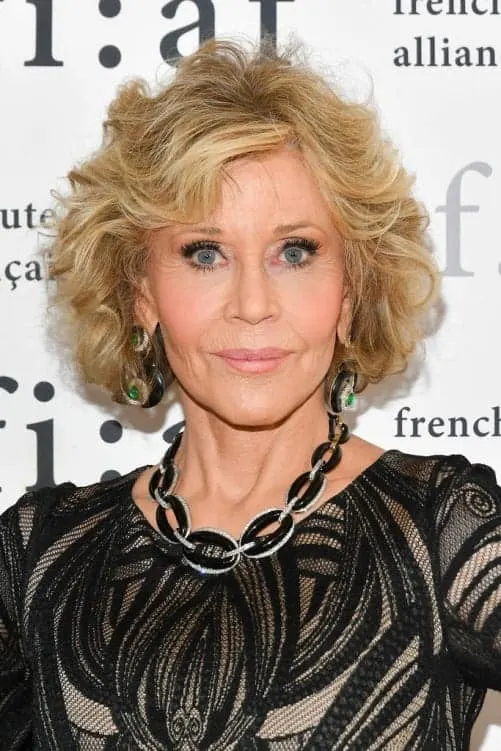 A blonde bombshell doesn't necessarily have to be a young girl; mature or older women can achieve the same effect. Jane Fonda is one blonde actress who shows women can easily rock this hair color at any age. Adding more curls and waves of short hair allows women over 40 and 50 to look noticeably younger.
28. January Jones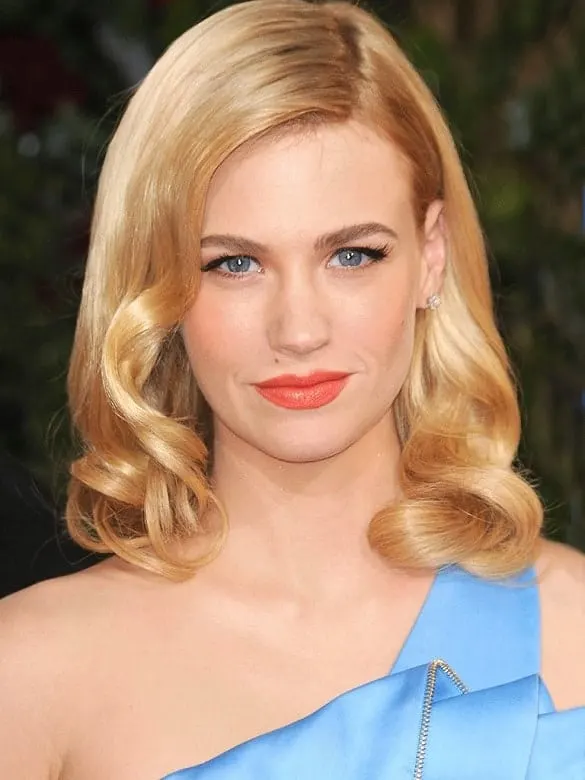 Just like Cate Blanchett, January Jones oozes the old Hollywood vibe and channels it through her hairstyle. Her short golden blonde hair is gently curled inward and bangs swept aside. Platinum hair only accentuates her porcelain complexion.
29. Rachel McAdams
Rachel McAdams has a long selection of great movies behind her and chances are you've seen many of them, including 'The Notebook', 'the Vow', 'Mean Girls', and others.
If you're looking for an oval-faced celeb for hairstyle inspiration, try this cute hairstyle that you can pull off effortlessly. Section hair on top of your head and use bobby pins to secure it for a glamorous look.
30. Brigitte Bardot
Brigitte Bardot is one of the most beautiful blonde hair actresses ever. She was widely recognized for her blonde hair. Brigitte preferred long and voluminous hair that she would sometimes let loose, but in other instances, she picks it up in a bun, ponytail, you name it. Bardot bangs were also an inseparable part of her look.
31. Jennifer Aniston
It would be impossible to list blonde actresses without mentioning Jennifer Aniston, particularly because her style suits everyone. The warmer shade of blonde and a few highlights make her hairstyle seem soft, romantic, and gentle.
32. Margot Robbie
Margot Robbie is one of the most beautiful actresses with blonde hair today. This Australian superstar starred in many hit movies, including The Wolf of Wall Street, I, Tonya, and others. She's a perfect source of inspiration for girls in their 20s. Gentle medium beach waves give her look more playfulness, but also allow her to appear effortlessly chic. You should try it out.
33. Jennifer Lawrence
Jennifer Lawrence is one of the best and quirkiest actresses in Hollywood. She's fun, relatable, and looks like she could be our BFF. As one of the best blonde-haired actresses in Hollywood, Jennifer Lawrence can inspire you to rock platinum bob. This is a great style for girls in their 20s; so pretty yet so carefree.
34. Meg Ryan
Meg Ryan was one of the most popular actresses with blonde hair in the 1990s. She looked like a girl next door, someone who could be just like us, sweet, cute, and "normal." You probably remember her signature hairstyle – short blonde hair with layers that gave her a choppy yet stylish look.
35. Kim Basinger
In the 1990s, Kim Basinger was one of the hottest actresses. She oozed sex appeal, but she was also sophisticated and elegant. Kim is also one of the blonde actresses that always stayed true to her signature hair color. Here, her blonde hair is mid-length and styled in gentle, yet sexy waves and locks.
If you need some hair inspiration, these famous blonde actresses from this article probably gave you an idea or two on how to style your 'do. All of us want to look like some celebrity from time to time, and now you have a perfect opportunity to make it happen. Good luck and have fun.