Red hair color is sassy, ideal for bold women that are not afraid to pull off a shade that stands out. Tones and depth vary a lot when discussing red hairstyles, so you must pick the one that suits your skin tone. To help you get the right shade, here are a few tricks you need to consider when opting for a fierce red hairdo.
Interesting Facts About Red Hair
We know red hair is fun, but you know what will make it even more fun? Interesting facts, of course! Here's some nice-to-know information about this gorgeous hair color:
Less than 2% of the entire population in the world has red hair.
We're talking about natural redheads, of course! The largest concentration of natural redheads lives in Northern Europe.
Natural redheads find it hard to change their hair color.
Red pigment is the most challenging hair pigment to remove. To change the natural red hair color, you must bleach it first before dyeing it in different hair colors.
Redheads are more sensitive to pain.
There's a scientific explanation for this. Redheads are likely to be less tolerant of pain because the gene mutation that causes red hair is also linked to pain receptors.
Red Hair Color Ideas
If you have pale skin, we suggest you avoid darker tones because they will make you look washed up. Olive skin works best with copper shades, while dark skin tones make a great team with dark purple red hair colors.
Here are 25 shades of red hairstyles that will make you switch to the redhead team!
1. Short Red Hair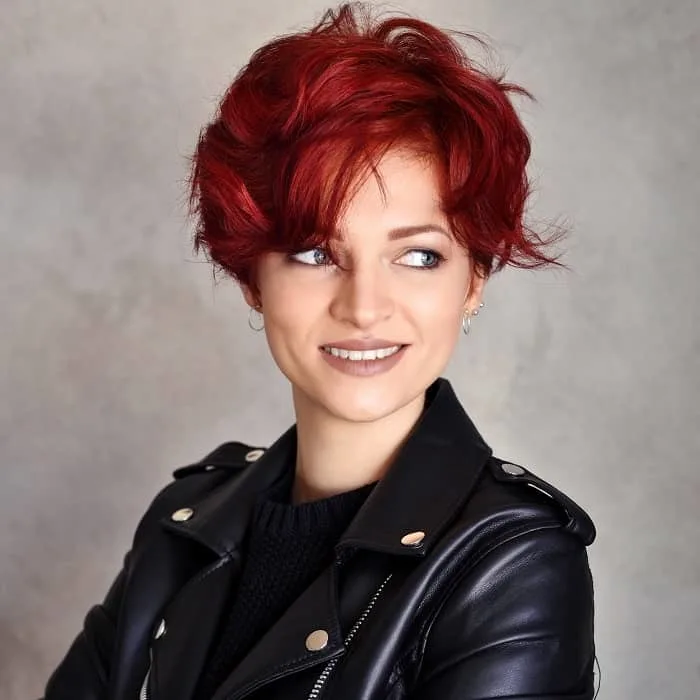 One of our favorite gorgeous short red hairstyles. Every time you pick a red hair color like this one, make sure that it also suits your eyebrows, not only your skin tone. Get a short trim with bangs on one side and tousle the hair to obtain that messy look.
2. Long Red Hair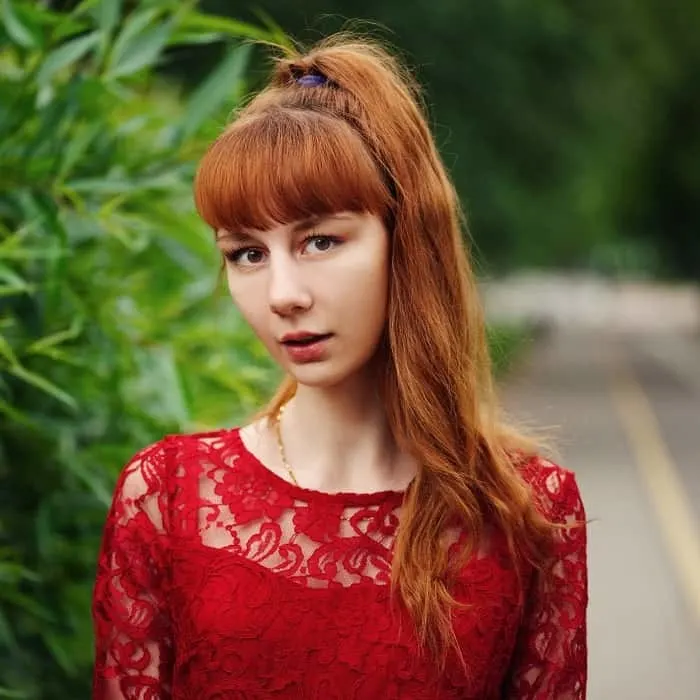 This natural blonde red hair is ideal for women who crave for natural hair color. This shade of red perfectly suits long hairstyles and girls with pale skin.
3. Red Bob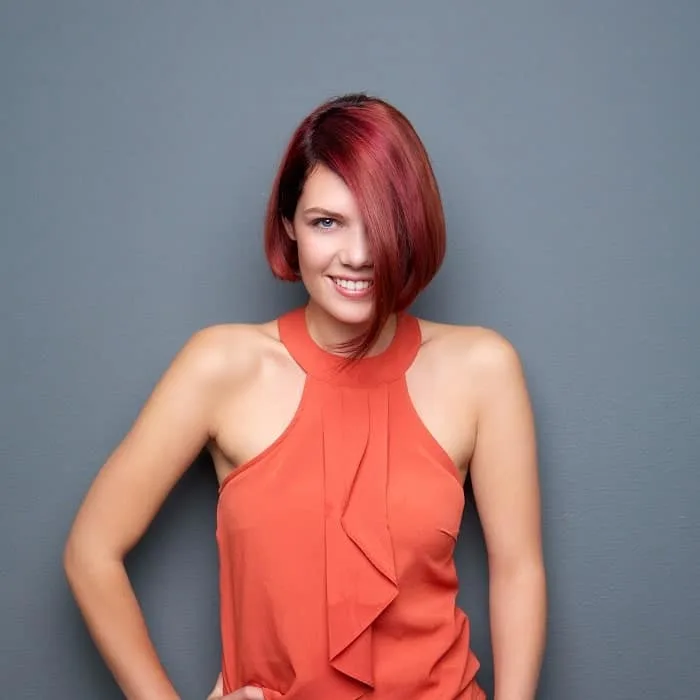 Want to get a short red haircut? Get an asymmetrical bob haircut with long bangs tossed on one side and rounded tips. If you have pale skin and blue eyes, a faded red hair will undoubtedly draw all the attention on you.
4. Red Hairstyle for Curly Hair
Sexy, independent women with curly hair are not afraid to opt for this fierce statement red color. Before you choose this fantastic hue, make sure you will wear it with pride! You will get a lot of attention and compliments for your look.
5. Red + Purple Shade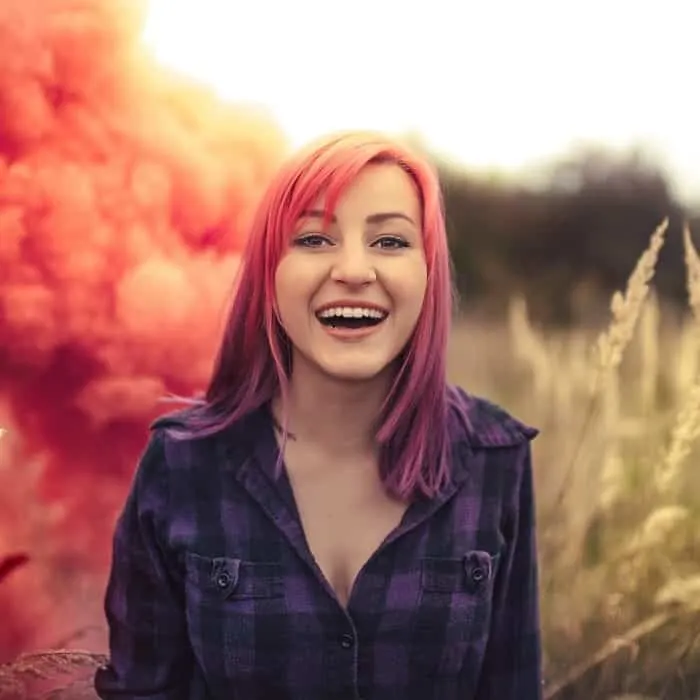 Who said you couldn't combine red with another gorgeous color? As purple is a mix of blue and red, it will gorgeously suit those fierce shades used to style the upper part of the head.
Dark burgundy red hair is ideal for women who have dark skin tones. Opt for a balayage and build curls to give your hair more texture and definition.
7. Dark Red Hair
Dark mahogany brown red is a breathtaking color that will gorgeously suit you when having a dark skin tone. Create an asymmetrical lob and style smooth waves.
Get a middle-parted bob hairstyle with waves and opt for a brown-red color. You will look fabulous, and that astonishing color will amazingly frame your face features.
9. Red Hairstyle with Bangs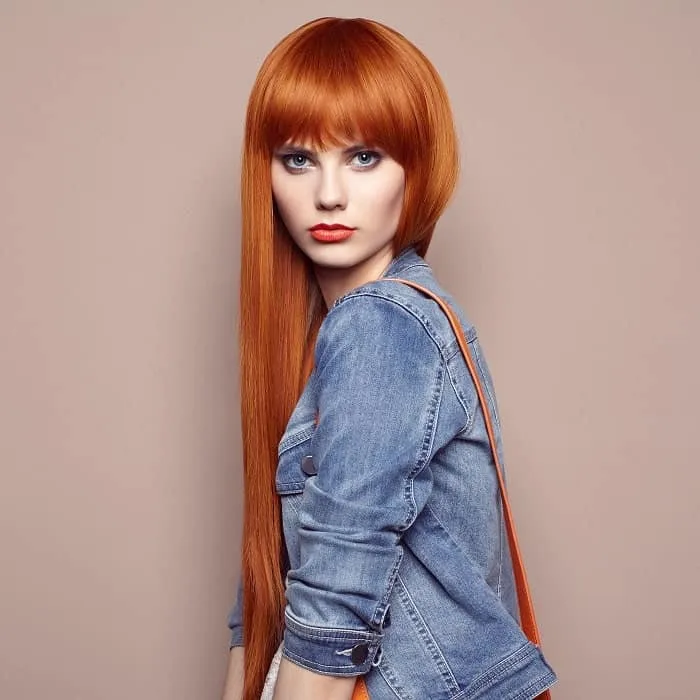 Did you know that only 2% of the people naturally have this ginger red color? If you are not among them, don't worry, there are plenty of hair dyes that can help you reproduce this sublime look.
10. Copper Red Shade
Cooper red hairstyles look stunning, especially if you have a pale skin tone. The shade will highlight your eyes, and those curls will give your hair volume.
11. Red Hair for Tan Skin
A light red ombre will suit you like a glove, especially if you opt for medium hair with bangs. By styling waves, you will give the strands high definition. The fringe also plays an essential role because it will mesmerizingly frame your face.
12. Auburn Red Hairstyle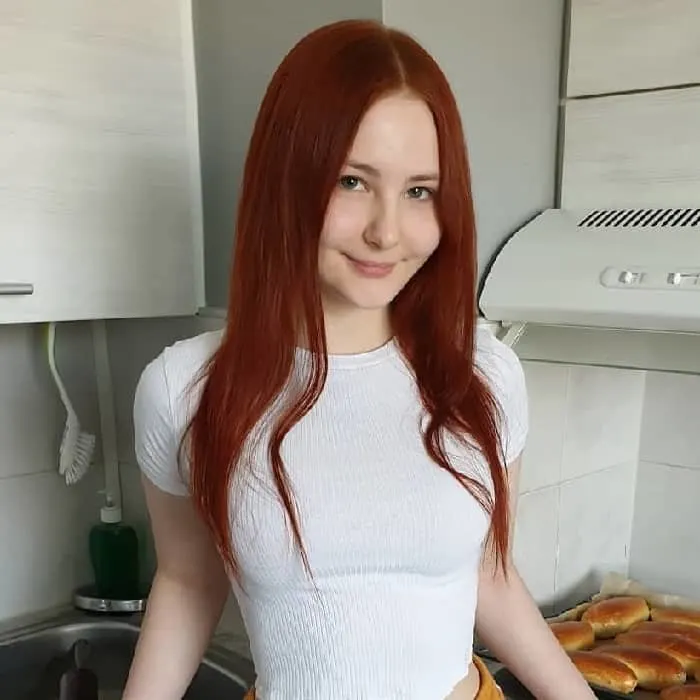 Auburn red hair looks impressive on long hair. Create a middle part, and after you use shampoo to wash your hair, mix water and vinegar to rinse your hair. It will give the color a particular shine.
13. Mexican Redhead
Latina girls have dark skin tones and look fabulous with red hairstyles. Spare your long bangs and toss them on one side and pin all the hair in a messy bun.
14. Red Ombre
For this fantastic ombre, opt for a black hair dye for the top and bangs and gorgeously transit to a pale red. Create curtain bangs and slightly wave your hair.
15. Red Hair with Blonde Highlights
When you look at this hair, all you see is that gorgeous texture that is quite easy to obtain. All you have to do is use pale red hair color as a base and add blonde highlights. In the end, style waves and curls for the tips.
Want to copy a redhead celebrity hairstyle? Pull off a black inverted bob with bangs swept on one side and give the hairstyle a stunning approach by adding thick vivid red highlights. You will look elegant and glamorous, like a real celebrity!
17. Burgundy Red
Burgundy is a glorious shade to try with red, but unfortunately, it is not low maintenance at all. To keep your hair in this shade, you'll need to change your hair washing routine and use sulfate-free shampoos.
18. Wine Red
Red wine is savorous, and if you adore that color, why not style a hairdo with that sublime shade. Keep the hair long, style Chinese red bangs, and make a straight cut for the tips.
19. Cherry Red
This cherry red hair color shade has a particular gloss that needs to be maintained. It's a fastidious color that will fade away if you don't revive it quite often. Using a special shampoo for colored hair might help you maintain that shine.
20. Red Hairstyle with Green Eyes
Green and blue eyes make a great team with red hair because this fabulous hue will make them stand out. Also, if you have pale skin, this nuance will get you a gorgeous contour for your face.
21. Asian Girl With Red Hair
Chinese straight bangs and long red hair can give you a fabulous look that won't pass unnoticed. Style wide waves and let your hair fall on your chest.
22. Crimson Red
Crimson hair is scarce, but you can pull it off at a salon or even at home. There are so many brands that make it, and it will fantastically suit both short hair or long locks. Also, you can get this shade if you are a person that wears glasses.
23. Red Braid
This Ariel red look reminds us of that stunning Disney hair. Why? Because it looks perfect and can make any red braided hairstyle stand out. To make it look stunning, opt for a French braid that starts from the top of your head.
24. Red Hairstyle for Black Woman
Black women look their best with darker shades of red colors. To recreate the look above, get an inverted bob with bangs swept on one side and beautifully arrange the fringe.
Best Hair Colors for Olive Skin
25. Red and Pink
If you want a stunning modern look, split your hair into two sections and dye each part in a different color: one in a pink fuchsia nuance and the other in eye-popping red hair color.
Red hairstyles are quite meticulous, and often require visits to a hair salon to maintain that gloss. This way, you will upkeep that vibrancy of the red, and your mane will look glorious, no matter the shade you picked.