Hair color can effectively balance round and chubby face shapes by drawing attention in strategic ways. The trick is knowing how to distribute the color.
As a woman with a round face and prominent cheekbones, you might find it hard to choose a hairstyle or color that suits you. But below, you will find out the best tricks for applying hair color so that your face looks slimmer.
Flattering Hair Color Ideas for Round Chubby Faces
First of all, we have black hair dye and dark brown hair color shades. These tend to make your face look elongated, and they also create a great frame for your features, diminishing those cheeks. And this is what you want, right?
So consider pairing these colors with a haircut that suits your face shape. On the other hand, you can also use low lights that you can place on the top part of your hair. But if you're going for highlights, use them on the lower section.
In the images below, you will discover several examples that combine haircuts and colors that complement a round, chubby face so scroll down for more!
1. Bright Ginger Hair
Bright ginger is our favorite hair color for round chubby faces, especially if you pair it with a short bob with a side part. Asymmetry creates certain angles that cut that roundness and make your face look slimmer.
2. Dark Copper
A dark copper hair color will not suit all women. Opt for this color if you have fair skin and freckles. You will become such a goddess with fiery hair that everyone admires you at parties, events, or other occasions.
When you have wider cheeks, your hairstyle must counteract this facial feature. The hair color is also important!
Black hair with shades of brown highlights makes you look slimmer and provides a great contour for your face, so opt for a dark hair dye and style some brown highlights.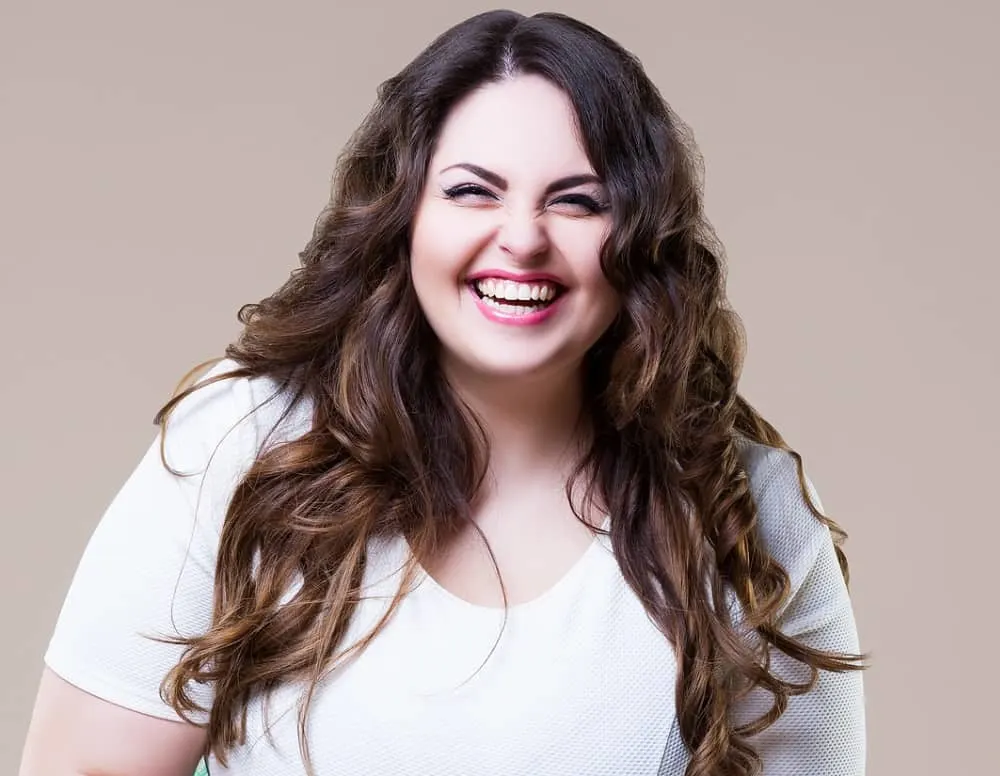 When your face is round and you have thick hair, you are such a lucky girl. You can style your hair however you want to fit your chubby face. We advise you to build volume in the lower part, combining ringlets with loose curls.
5. Warm Blonde
Create a gorgeous transition from your natural light brown color to a dark but warm blonde nuance. Create layers and straighten your hair to make it look perfect. Opt for a side part, and get sun-kissed up with one of the best colors and hairstyles for round faces.
6. Electric Pink
Electric pink is probably one the best hair colors for girls with round faces that want to express their personalities. You will show everybody how bubbly and rebellious you are, but also sweet and kind, like cotton candy.
7. Layered Blonde Hair
When you have a long face with great cheeks, you might find some help with a layered blonde haircut with darker tips.
Opt for a warm blonde that makes your hair look sun-kissed and creates some texture for the underneath strands.
8. Stunning Bright Blue
Blue is one of the best hair colors for round chubby faces, especially if you pair it with a pixie cut. Opt for an asymmetrical cut and swipe your bangs on one side.
Keep the hair messily combed and build some volume for the roots. Finally, use a special shampoo for colored hair to maintain this color for longer.
9. Auburn Curls
One of the best hair colors for round chubby faces and curly hair is a natural sun-kissed auburn shade that looks fabulous on women with dark chocolate skin. Also, tie those locks and pin the hair up in a messy updo.
As a girl with a chubby face, this long hairstyle with bangs, waves and a green mint color will create such a nice framing for your face. If you have fair skin and green eyes, even better, the color will stunningly highlight your tone.
Platinum blonde hair requires bleach, even if you are a natural blonde. As a woman with a slightly round face, this ultra-short haircut won't get in your way of looking stunning. However, the only downside of this color is that it needs very regular touch-ups.
12. Fierce Red Hair
When you want to diminish your prominent cheekbones, you need a haircut that draws all the attention away from this facial feature, and one of the best hair colors for a round chubby face: red. A fierce red is surely going to stun and make people compliment your hair.
13. Black and White
Women should embrace their gray locks because they beautifully blend with the hair strands that didn't already lose their pigment. The black hair will mix with the whites and grays, creating a salt-and-pepper look.
If you love fancy outfits, long pointy nails, and bright colors, a hairdo that extends your hair, adds colors, and enriches your mane is greatly welcomed. In this case, opt for thin box braids and ombre Jumbo hair.
15. White Hair Color for Women Over 50

Women over 50 who sport white hairstyle have two options: to dye their mane in a nuance that suits their skin tone or embrace the grays and whites and leave them unpainted.
FAQs
Do hair colors really slim the face?
Yes, hair color can impact the appearance of your face, drawing attention to certain features and having a slimming effect.
Does dark hair make my face look slimmer?
Generally speaking, dark hair usually makes your face look slimmer. Darker hair colors can lengthen your face, particularly if your dark hair extends past your chin and makes your overall face appear narrower.
Is dark or light hair color best for chubby faces?
If you want a hair color to flatter a round or chubby face opt for darker colors. You don't need to make your hair extremely dark, but just a few shades darker than your natural hair color can be a subtle way to narrow your jawline and lift your cheekbones. You can also create a similar effect by getting lighter hair colors with lowlights.
Will red hair make my face look fatter?
Yes, red hair can be quite flattering on a round face shape and will not make your face look broader or fatter if you choose the right shade. A hair color best serves your face shape when it adds drama and dimensionality, so avoid any shades of red that wash you out or make your face look flatter.
The best hair colors for a round chubby face are the darker nuances and the white tones and highlights that should be applied in a particular way, just like the above. Also, a good haircut takes you a long way.
Opt for asymmetrical cuts that elongate your face, diminishing the roundness. Consider bangs that can be swiped on one side and trimmed according to your needs! However, if you loved one of the examples presented above, tell us which are your favorites in the comments section.