Choosing the haircuts is not a big problem for boys having medium length hair. There is a tremendous variety of medium haircuts which boys can try to stand out in their friend circle.
Epic Medium Boy Haircuts
It does not matter whether you have short hair, long hair or medium hair because the main factor that matters is the face shape. Medium haircuts suit perfectly on boys having oblong face shape. Here, we will lead you to remarkable medium boy haircuts which you surely love to wear without a single doubt.
1. Medium Hair with Bangs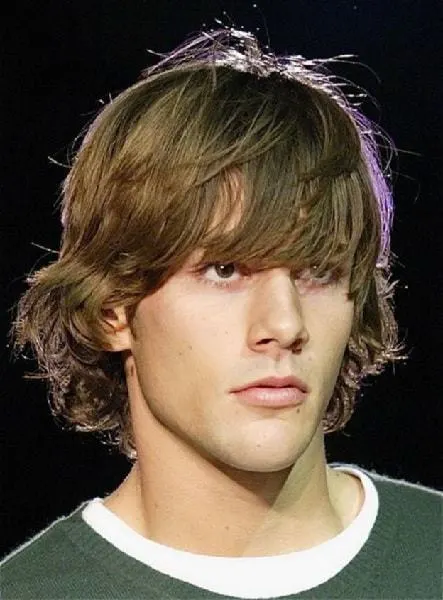 It is a modish medium boy haircut. It is ideal for oblong and oval face shape. Side swept bangs suits the boys having a diamond face shape.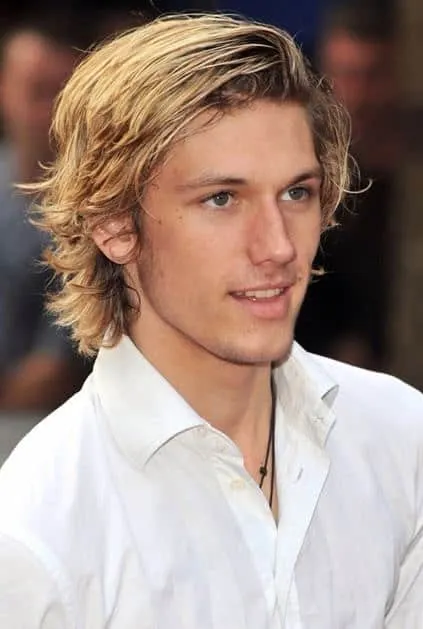 Comb over is one of the classy medium hairstyles among all the hairstyles for boys. It is ideal for an oval face shape. It looks best on medium hair.
3. Medium Hair with a Quiff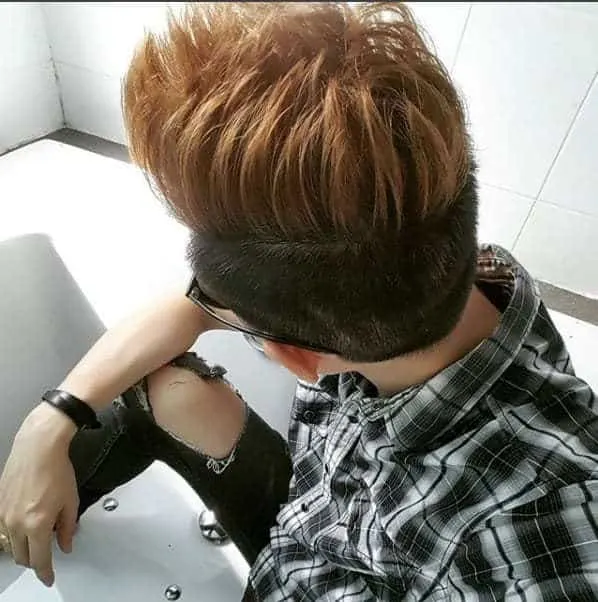 Quiff haircut is an elegant hairstyle that you can wear on your medium length hair. It is ideal for boys with an oval face shape. You can combine the blonde quiff with an undercut, as shown in the image.
4. Zac Efron's Medium Straight Haircut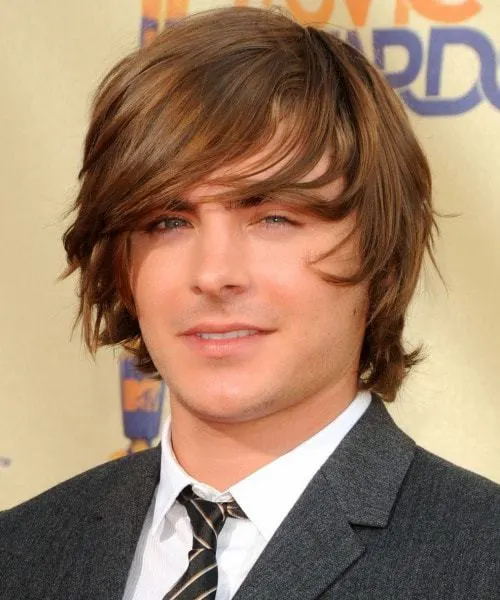 Zac Efron always wears stylish hairstyles with a lot of variations. If you have medium hair then you can try Zac Efron haircuts with medium straight hair for a modern and stylish look. The straight medium boy hairs are cut into layers which are swept on the side.
5. Medium Spiky Hair
Which hairstyle could be more stylish for boys than the short spiky hair? On medium hair, this spiky haircut looks extraordinary good as well. This medium boy haircut is ideal for all face shapes except boys with a square face. You can also blonde the spikes for a cooler look.
6. Side-Swept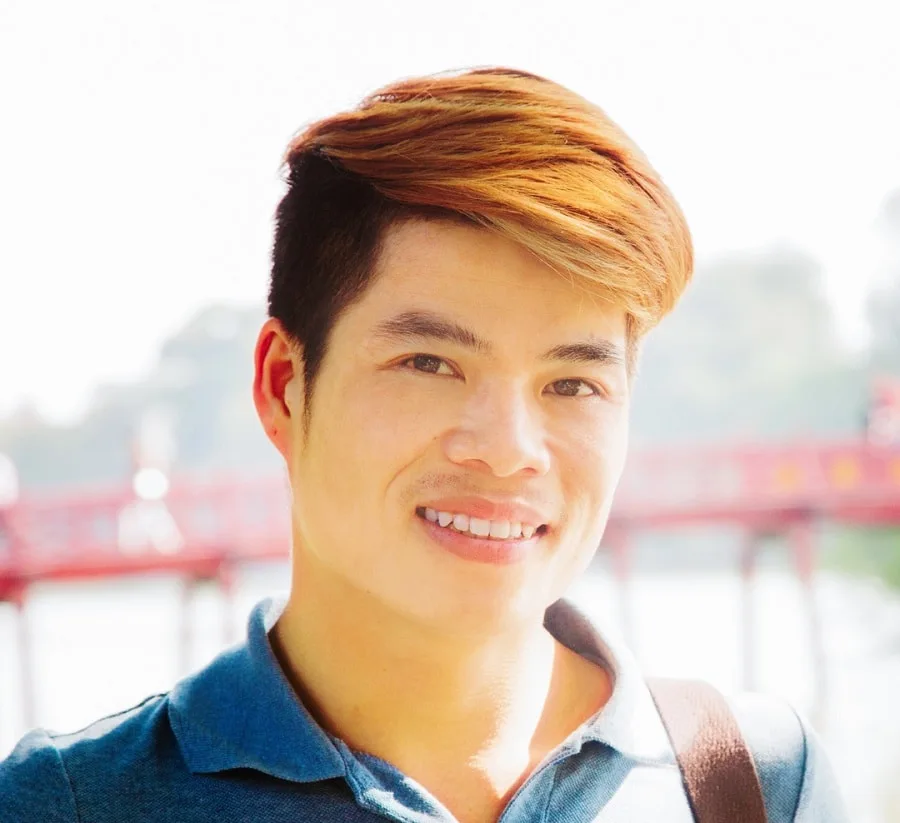 Get noticed from a distance by sporting a classic hairstyle with a modern twist. The sides and back are clipped short keeping all the attention on the long side-swept top that is dyed in a coppery ginger hue for a dichromatic look. Add further detail with subtle blonde highlights.
7. The Man Bun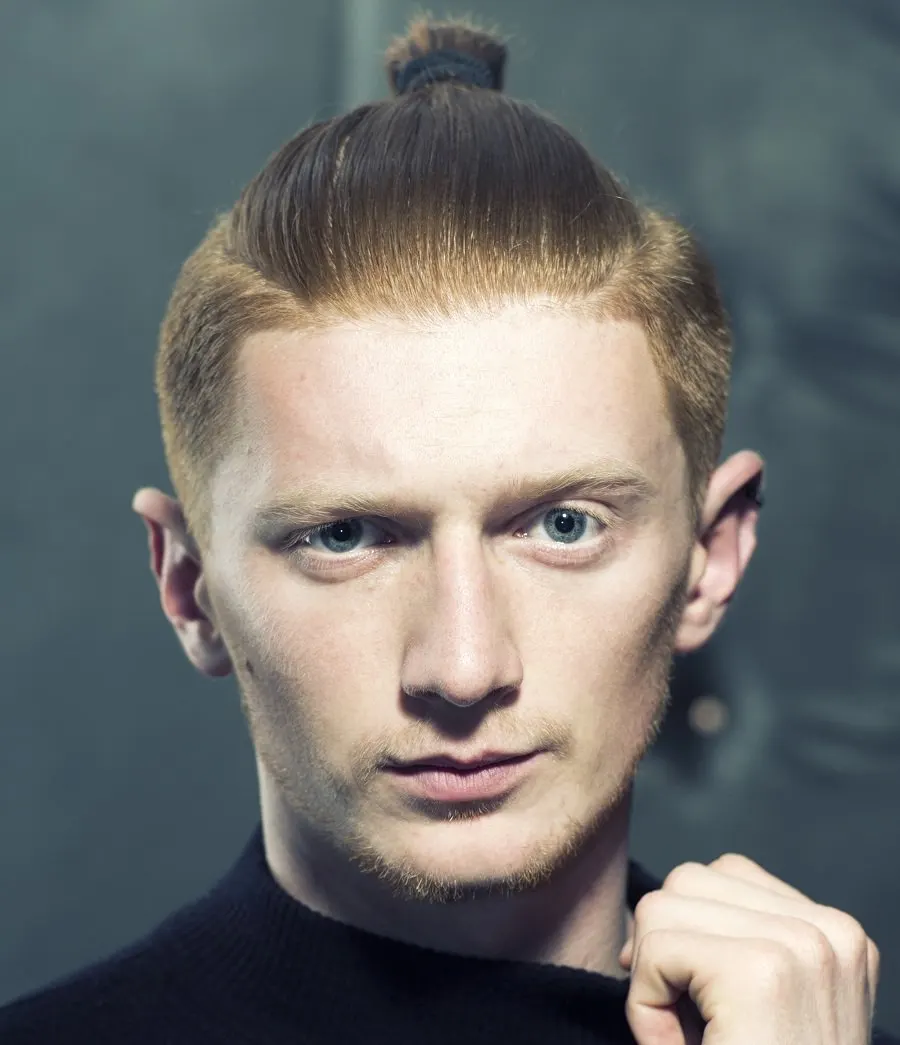 Who says buns are for women only? Here is a dashing man bun to make the ladies swoon all over you. The undercut along the sides balances out the long top that is slicked back with a hair tie. Try the look with a shaved side design and you won't regret it!
8. Messy Top + Undercut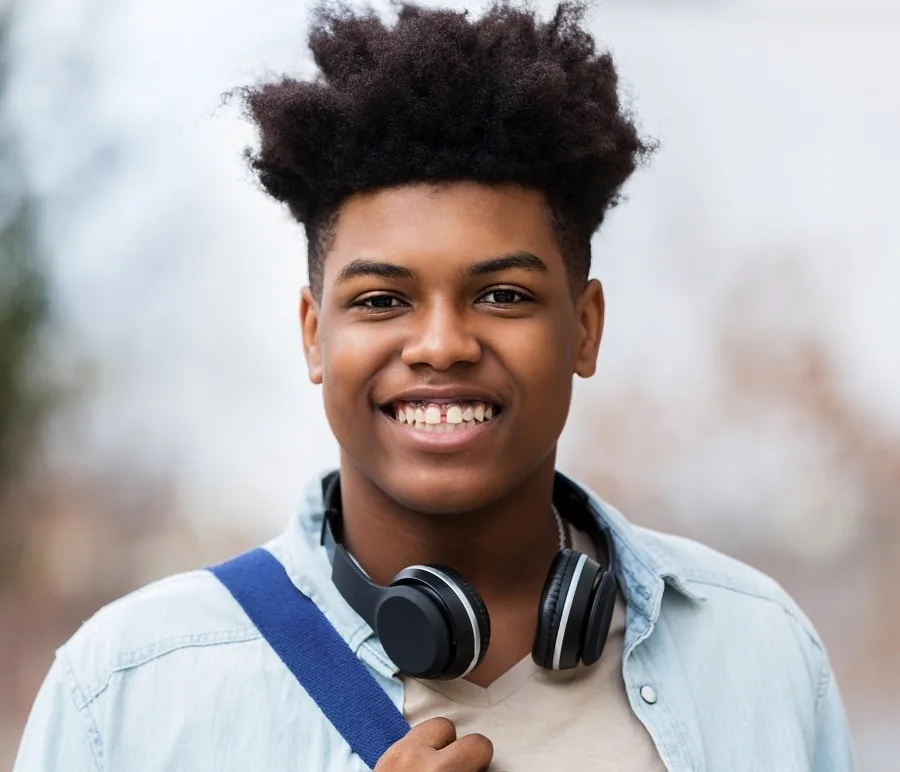 Black boys can flaunt their natural fluffy curls with utmost pride by growing them a few inches on the top of their heads. Buzz the sides and back with a subtle line up for a neat appeal. This style is easy to maintain as the messier it gets the better it looks.
9. Pastel Hues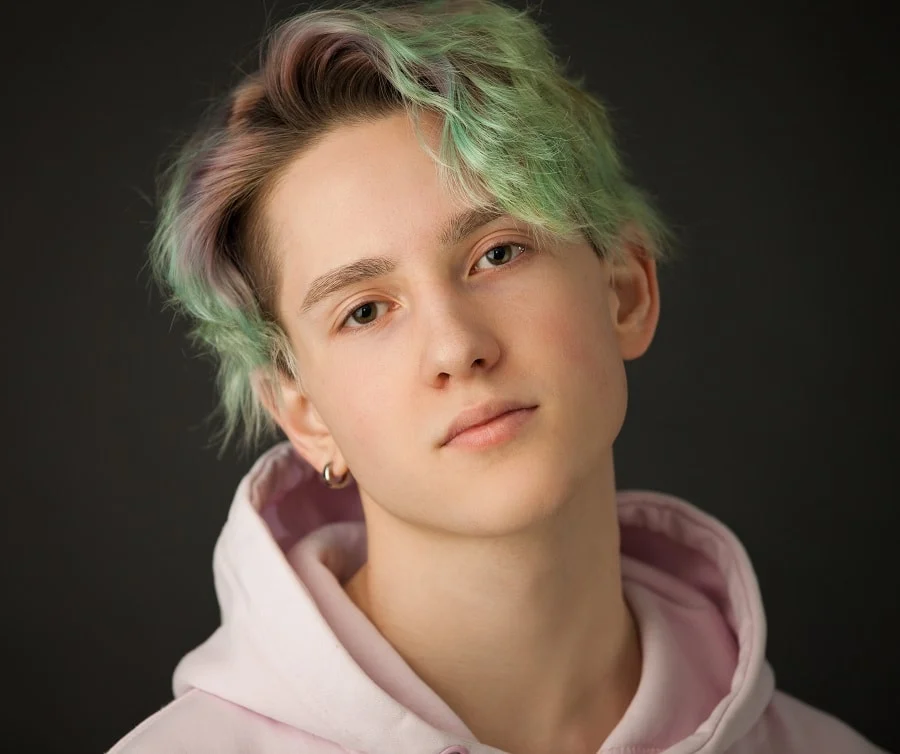 Add some color to those medium-length tresses to stand out from the crowd. The long wavy top is layered to fall over the short sides. Add pastel pink, purple, and green hues creating an ombre that is impossible to ignore. A hand-tousle and off you go!
10. Highlighted Tips
Those who are blessed with kinky afro curls can turn around some heads with this hairstyle. The strands are layered to fall flawlessly around the face with some short ones sitting on the forehead. Add a touch of blonde on the tips only and voila!
11. Curtain Cut
Another medium haircut for boys that never gets old. Characterized by a middle-parted fringe falling on both sides of the face, the curtain cut is quite versatile and goes with all hair types. Wavy-haired ones can chop their strands at ear-length drawing all the attention towards their eyes.
12. Wet Look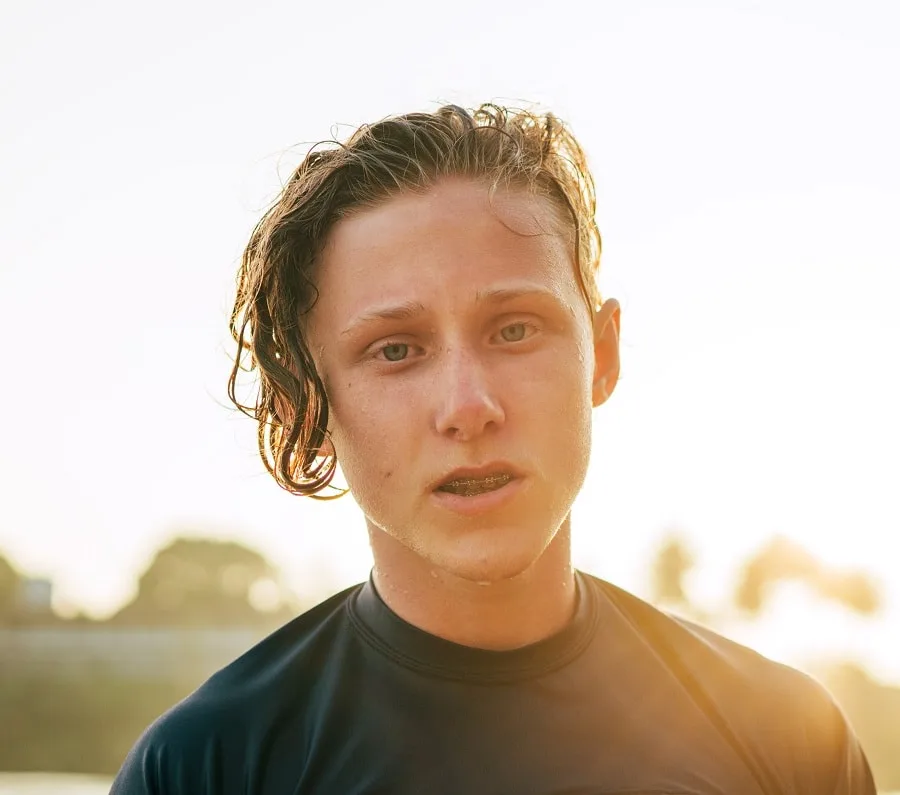 The wet look has been trending for some time and is ideal to achieve a surfer boy appeal. Use an ample amount of pomade or hairstyling gel to slick back the hair with a comb. Don't worry about the strands falling on the sides as they add up to the style.
13. Sleek and Straight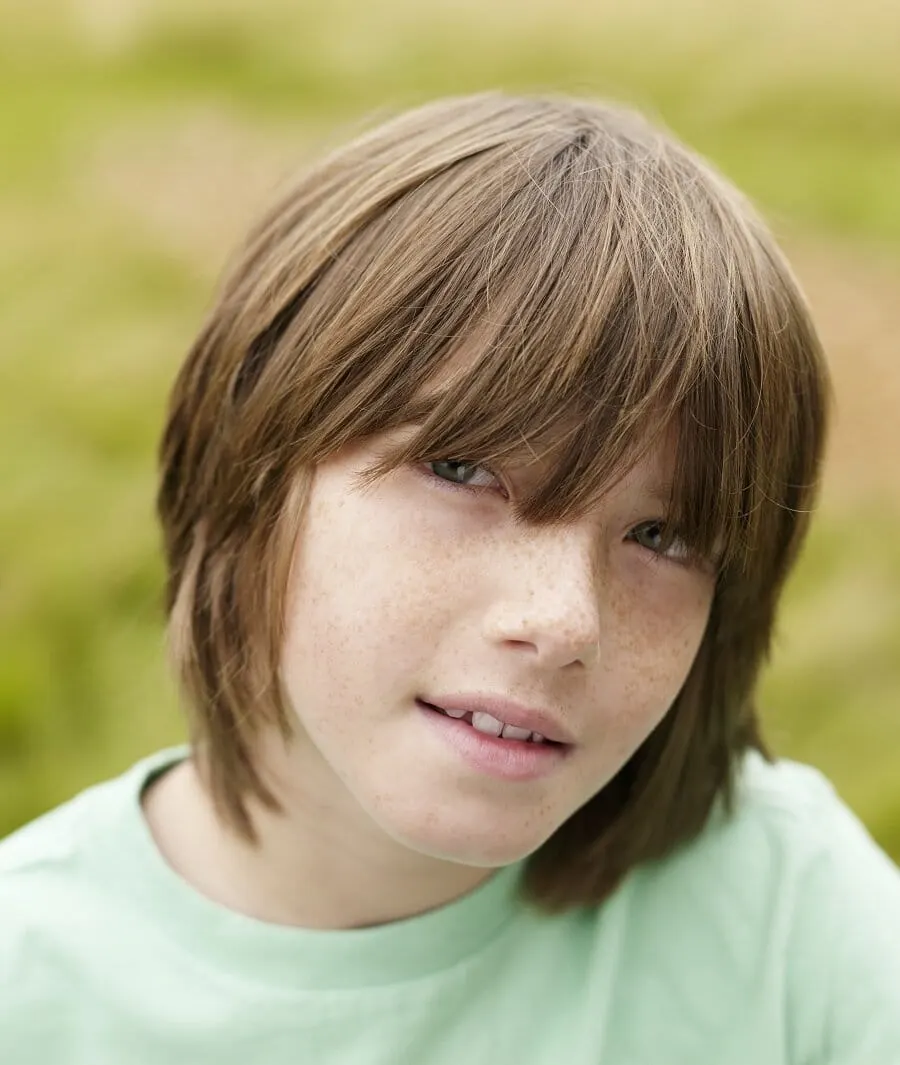 Bangs look super cute on young faces and this style proves it. Show off your naturally sleek straight hair by asking the barber for soft layers dangling above the shoulders. The strands at the front fall over the eyes for a carefree look. Still seems boring? Add highlights!
14. Two-Toned Layers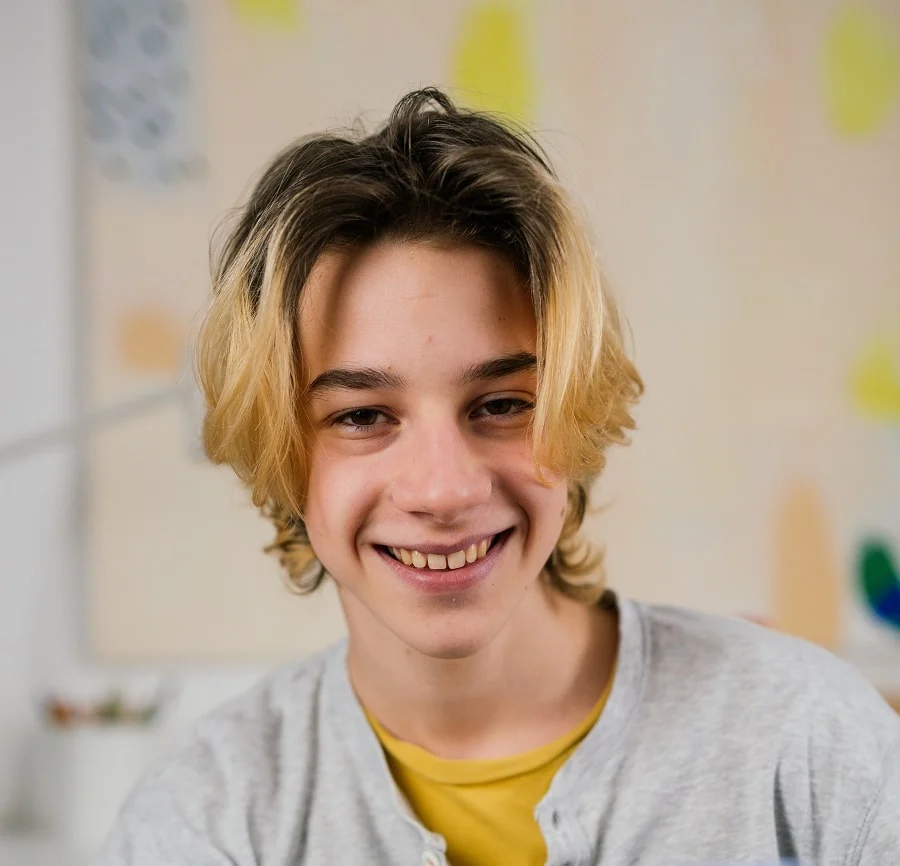 A touch of blonde surely won't hurt. The wavy locks are layered with center-parted bangs at the front and a slightly longer back. Cover the hair in a light blonde hue leaving the roots dark for a two-toned appeal. Chic without a doubt!
15. Low Ponytail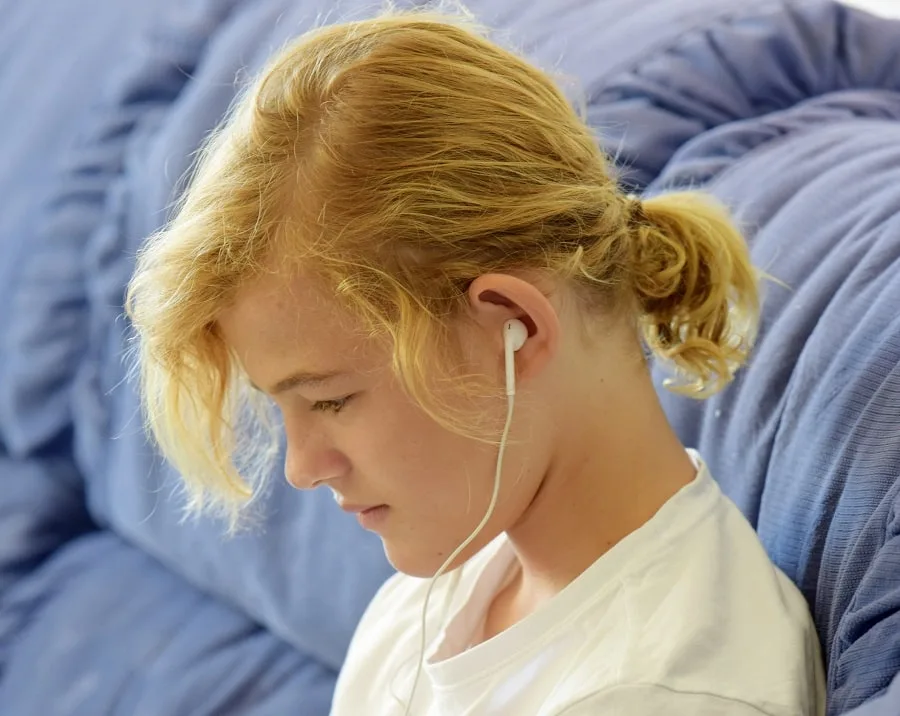 Just like man buns, ponytails have become increasingly popular among boys. Recreate the style by going for a deep side part and securing the medium-length locks in a low ponytail at the back. Use a mouse to achieve some volume and texture with some strands pulled out to frame the face. Easy breezy!
16. Medium Hair with a Side Part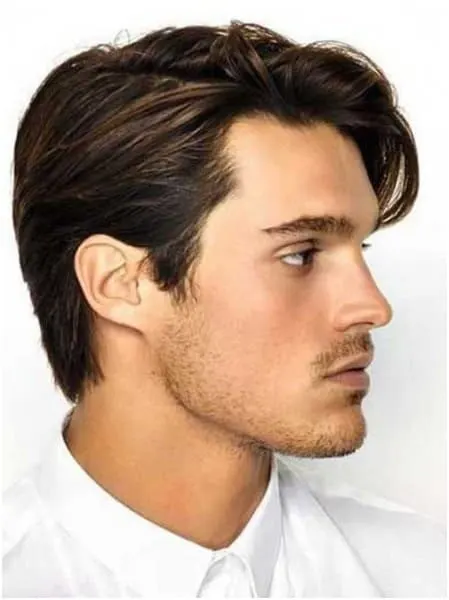 If you are going to an office meeting or an official tour then, you can try side part on your medium hair. It will enhance the charm of your overall personality. It is ideal for boys having oblong, rectangular and oval face shape.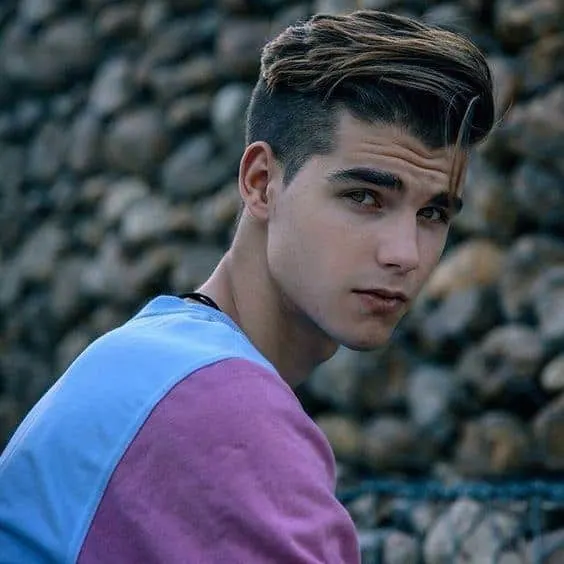 Slick back haircut looks awesome on medium hair. It is an ideal medium boy haircut for an oval face shape boy. The sides are shorter while the top hairs are of a medium length that is slicked back. You can apply pomade for a glossy appearance.
18. Messy Medium Haircut
It is a cool medium hairstyle for those boys who love a messy look. It is ideal for triangle face shape.
19. Medium Hair with a Side Fringe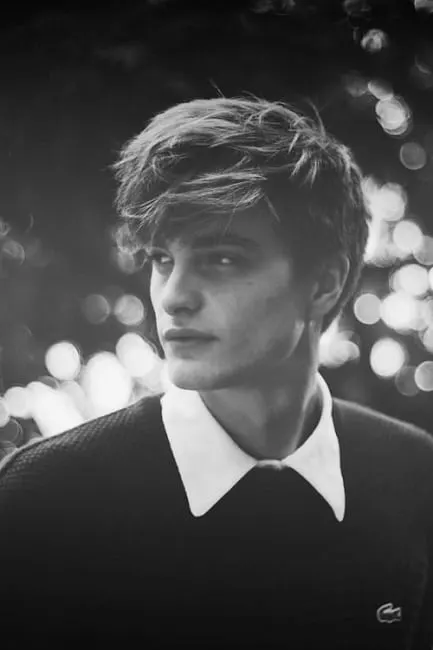 Side fringe with medium hair is always popular haircuts amongst boys. It is ideal for boys having oblong face shape. You can style the fringe in messy form for a funkier look.
20. Medium Wavy Shags Haircut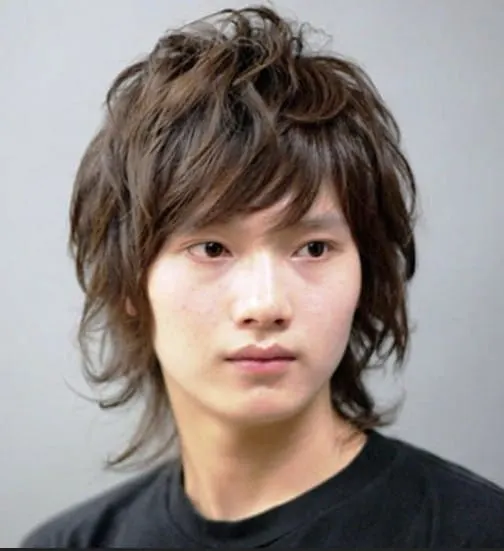 If you have medium length wavy hair then, you can try a shaggy haircut. It is an ideal medium boy haircuts for boys with oblong face shape.
21. Messy Medium Hair
Getting that hair perfectly layered is crucial for this boy's medium haircut. They must beautifully blend and fall one over each other so that you'll be able to messy it up a little on one of the sides.
22. Layered Asin Cut with Blonde Fringe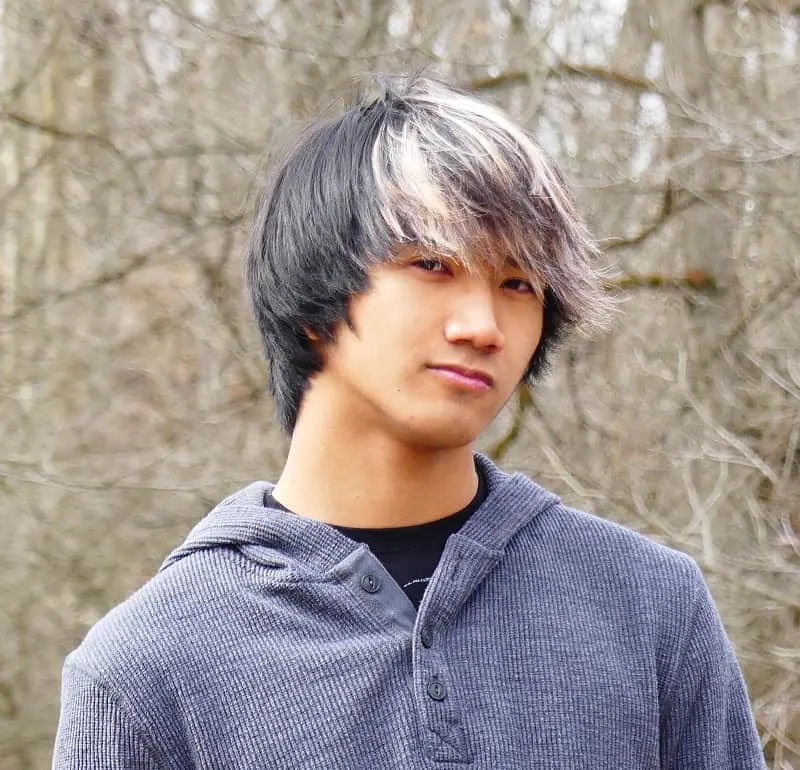 One of the best things about this Asian boy's medium hairstyle is its capacity to be styled in multiple ways: from dyeing the bangs like in the image above, straightening and arranging it totally different.
23. Orange Mohawk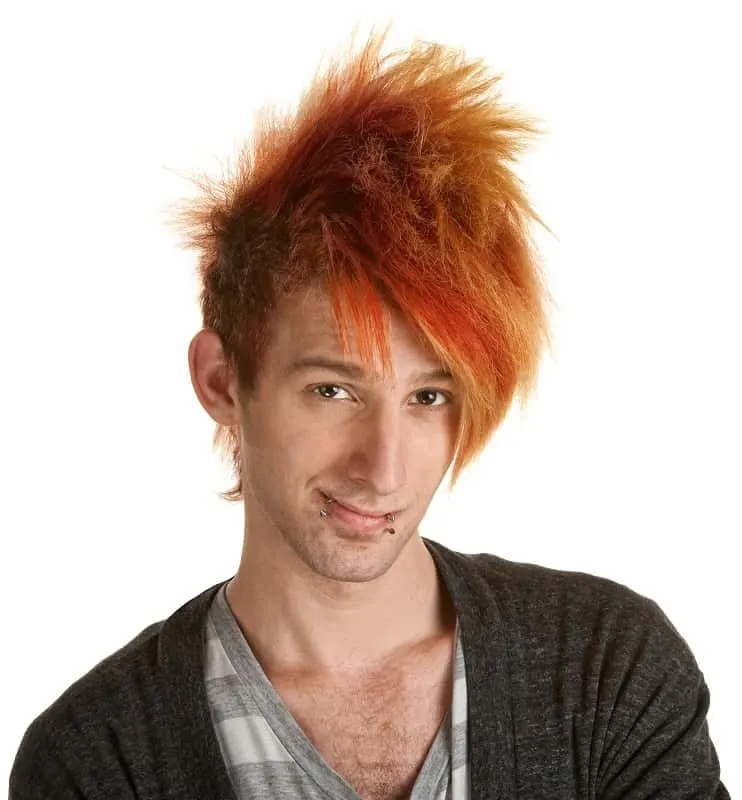 As a guy who wants distinctive looks that draw all the attention to his hair, we can all agree that this boy's medium length punk hairstyle is something you want and need. It has volume, height and a bright, striking color that won't pass unnoticed.
24. Blonde Medium Dreadlocks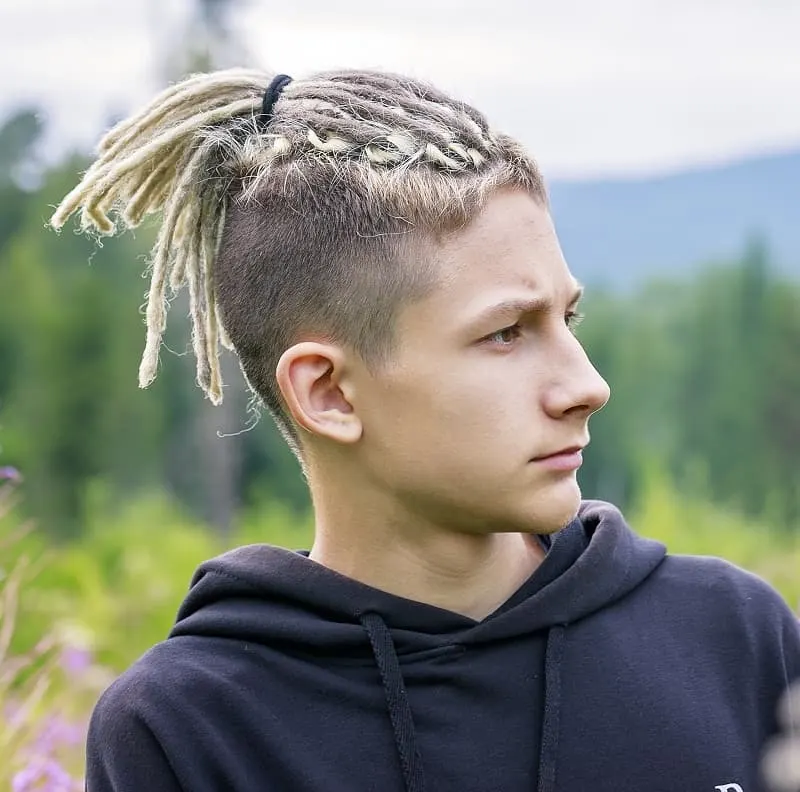 Medium-length dreads need no styling, and that's what makes them perfect for boys. You just have to wash your hair and regularly trim the sides and back to keep the hairstyle in perfect shape.
25. Choppy Blonde Hairstyle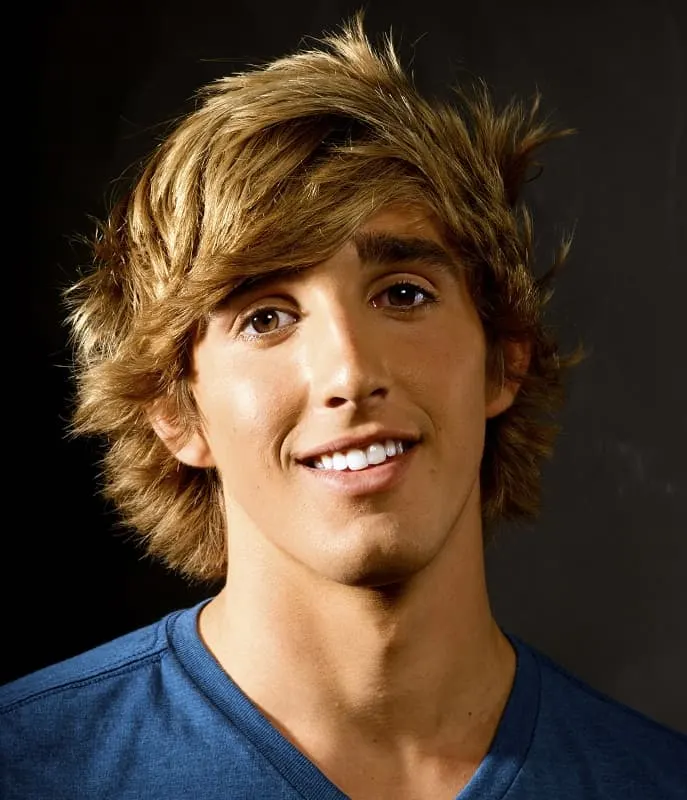 This hairstye needs loads of choppy medium layers that will create fullness for the haircut. One of the downsides of this hairstyle is that it requires a lot of fixing and arranging and it will never look just like the image above if no setting sprays and blow-dries are involved.
26. Medium Curly Hair
Curls are very impressive, and they can get you even more glow, texture and volume if cut and styled the right way. Enlighten the tips with a dye that is a little bit lighter, use a conditioner every time you wash the hair and you'll have a stunning medium curly haircut for boys.
27. Thick Afro Hair
This black boy's medium haircut involves taper fade on sides and back and a voluminous top that is so rich and bouncy. Thanks to its texture, that Afro hair stands like a palm on top giving the overall look so much dimension.
28. ASAP Rocky Braids
ASAP Rocky launched a new trend when he appeared multiple times wearing box braids. They are not as dense as we're used to see them, but this boy's medium braided hairstyle certainly makes you want to get the knits. The braids must be thin and the parting can be done in squares or triangles.
29. Straight Medium Hair

As a guy with straight hair, you might also go for a straight bob with a blunt cut for the edges and messily swipe the front strands on one side. It looks professional, and you can also make it fit a casual outfit.
30. Long Pompadour
A medium hairstyle with an undercut can be executed in endless amount of ways, but this high Pompadour is undoubtedly the most breathtaking. The contrast between the very short cut on the side and the long fringe with a wave that builds height is so impressive.
So, which haircut you are going to pick for your medium length hair. We recommend you to always consider your face shape while choosing medium boy hairstyles for yourself.