Babylights hairstyle trend is quite in a limelight lately for its extra subtle, beachy and sublime results. The babylights is a new hot trend in vogue and the Avant-Garde and trendsetters are fanatical about it.
Here's a fun fact; hair reflects light, and you might have witnessed it while taking those Instagram savvy sun-kissed pictures that everyone loves and gawks at.
There's no denying that one cannot get supernatural, sun-kissed hair with highlights, lowlights, ombré or even balayage and for this reason, beauty mongers and hairstyle gurus have introduced a new hair treatment in the market to give your hair a natural sun-kissed and the youthful shine.
What Are Babylights?
As the name says, Babylights is a hairstyle that mimics the natural look of a baby's hair. It is said that the baby's hair tends to be lighter, brighter and more pigmented than the adult hair, so to achieve the look, hairstyle magicians have introduced an awesome technique known as baby highlights.
This is extremely subtle and light highlights that are sparsely spread and sprinkled throughout your hair giving your hair a perfectly natural sun-kissed and beachy look.
How to Do Babylights Blonde at Home
If you want nothing flashy and showy like highlights, you can always opt for a sublime and softer alternative i.e. baby highlights. The best thing about babylights hair is, it does wonders to the virgin hair, and so if you've never dyed your hair before, you can gracefully pull off the hottest hair trend of the year.
Here's how to do blonde babylights at home:
Prepare The Dye
If you have dark hair color like dark brown, dark ash brown, chocolate brown, etc. Choose a light blonde shade. For really dark hair such as jet black, you need to bleach your hair first, before applying the dye.
Mix the developer and dye in a non-metallic bowl and follow the guidelines and instructions mentioned on the packaging to prepare the dye.
Apply The Dye
Remove all the tangles and knots by combing your hair. Section the hair and pull one section of hair up and secure it with a hair clip. Leave the thin section of hair down. Separate a thin 1-inch section of hair and apply the dye from your fingers. For a more natural and precise application, use an old but thoroughly washed mascara wand. Repeat the process with the alternating sections of hair.
Rinse The Colour
Let the dye sit for about 30-35 minutes and rinse the hair thoroughly. When the water runs clear, apply the shampoo and wash your hair. Quite an easy process. Isn't it? Still, babylights hairstyle demands maintenance and care.
Here are a few tips and tricks to keep your babylights longer and natural.
Baby highlighted hair grow naturally so you don't have to worry about fading or brassiness of the dye. However, keep a keen eye to the dye for monthly touch-ups and toning.
Use sulfate free shampoos and conditioners to keep your babylights fresh and long-lasting.
Take a bath every day with lukewarm water and avoid cold or hot showers.
Give yourself a healthy hair therapy by applying hair protein egg masks every week to keep your scalp nourished.
Watch The Following Video to Learn How to Dye Blonde Baby Highlights on Hair
Highlights vs Babylights
People often confuse highlights with babylights, however, they are completely different coloring techniques used to enhance the texture of your hair. If you're planning to get highlights or babylights, know which one is the best for you.
If you've got chemically treated or dyed hair, highlights are a go-to-style for you as it adds the dimension to the hair. Highlights are more notable and easy to achieve than the babylights and the technique used in highlights is either the traditional foil or the freehand technique as in balayage highlights where the larger chunks or sections of hair is used to dye the hair.
If you want to go for a more subtle, natural and sun-kissed look, go for babylights it takes very thin and delicate sections of hair. The process is more time consuming and costly than the traditional highlights. With baby highlights, people only notice the dimension to your hair without even noticing the highlights making it the perfect fit for you if you love artificial dyes but don't want to go all out and loud.
Beautiful Hairstyles with Baby Highlights
Here is a list of 10 magnificent ideas for babylights for modern women.
1. Babylights on Dark Hair
Many women believe that copper brown hair doesn't reflect the natural, delicate and sun-kissed look on dark hair, but that's so not the truth. Babylights are versatile and look equally attractive and natural on dark hair.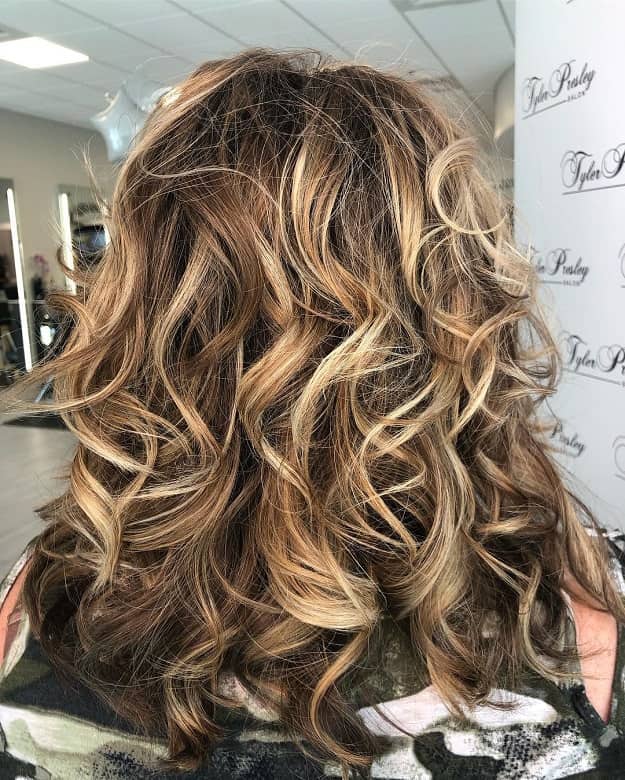 So you've got this thick curly mane on your head you to want to add texture too! There could be no better option than getting baby highlights. Show off the beautiful texture of your curly hair by adding these subtle highlights.
The beauty of babylighted hairstyle lies in the adaptability of this hair trend. Unlike many trends that work for medium bob, babylights don't care about the length of your hair as it's all about the right placements of the foils.
Babylights can really brighten up your skin and add depth and dimension to your dull and flat hair when done around the face.
5. Pink Babylights on Dark Brown Hair
You can still keep it natural while experimenting with some bizarre colors like rose pink. The pink babylights hair looks exquisite with a dark base such as mahogany brown or chocolate brown hair.
6. Babylights on Blondes
Get the shimmery, shiny and ultra-flattering hairstyle with babylights on blonde hair. No color flaunts this color flawlessly, but blonde.
Nothing can go wrong with a bright and lustrous combination of black and red. You can be as creative as you can with babylights and think completely out of the box. The art to achieve a flawless hairstyle is to be subtle, soft and delicate.
This is the most effortless and low-key hairstyle especially for the ones with grey hair. The baby highlights accentuate with your grey hair giving it an extremely sophisticated and ethereal look.
Afro hairstyles are considered to be the most difficult and toughest, especially when it comes to styling. It is unbelievable how babylights blends with the natural base color and texture of your afro.
This subtle baby highlights will add a new depth to any long layered wavy hair. It will give your hair an unique look.
Babylights hairstyles are some of the most likable and most demanded hair techniques that add natural radiance to your hair and make you look younger. If you're one lazy person who loves the look of highlights but hates to trek into the salon every month for retouches, then you're lucky. The baby highlights are super easy, low-maintenance and work for every hair type and hair color.