Salon treatments for dry and damaged hair are among the most common requests at hair salons. Seeing as so many of us color our hair and use heat to style our hair, it's no surprise.
Luckily, there are some solid options to repair dry and damaged hair in one go at the salon. This article will share 12 popular salon treatments to get healthy and shiny hair.
Benefits of Salon Treatment for Dry & Damaged Hair
Before getting into the specific treatments that can rejuvenate dry and damaged hair, it's helpful to know the benefits of salon treatments and why you should consider them.
Add Moisture
If your hair lacks moisture, a salon treatment can help to add hydration back into your strands. Moisturizing treatment for dry hair is especially beneficial in the winter when the air is dryer and can strip your hair of its natural moisture.
Repair Damage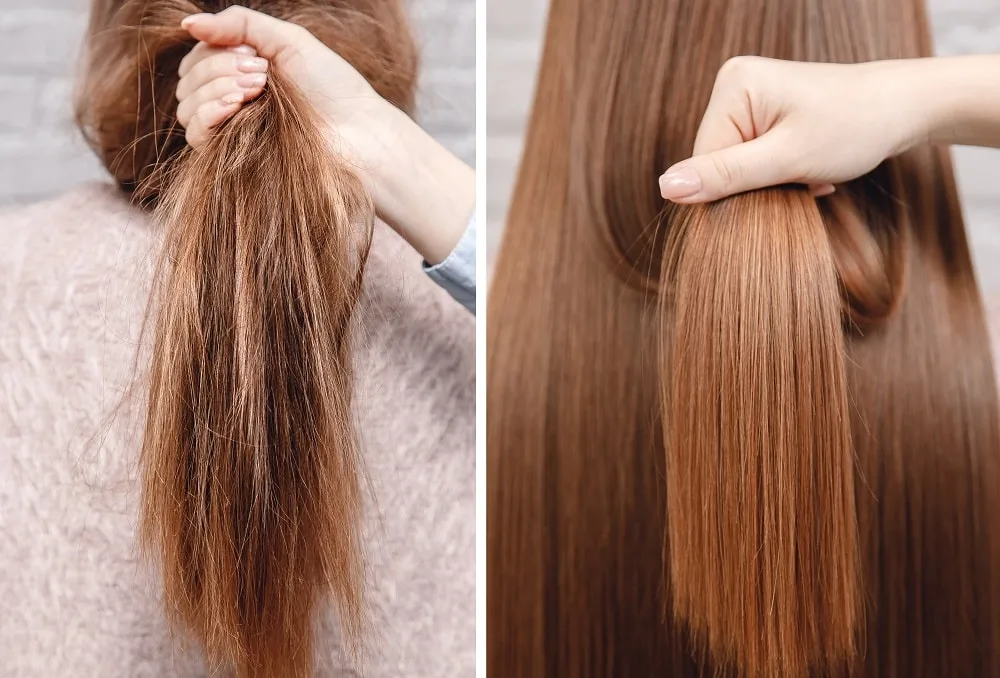 In addition to adding moisture, salon treatments can also help to repair existing damage. If your hair is damaged from chemicals, coloring, heat, environmental factors, or even over-styling, a salon treatment can help to restore its natural strength and beauty.
Improve Appearance
You can tell when your hair is dry and damaged, not just by the way it feels, but by the way the hair looks duller, frizzier, and less lustrous. A salon treatment can help improve your hair's appearance, making it look smoother and shinier.
Improve Hair's Overall Health
Treatments that add moisture and repair damage can also improve your hair's overall health. Proper hair health is not just about how your hair looks but also about:
Resistance to breakage and split ends
Capacity to grow in both diameter and length
Scalp health
Elasticity (bounce)
Softness and shine
Tailored Support
The best aspect of selecting a salon treatment for your hair, instead of trying an in-home one, is that the hairstylist can tailor the treatment to meet your hair's specific needs.
When Should You Go to the Salon for Hair Treatment?
Ideally, you should go to the salon for a treatment every four to six weeks. If you have very dry or damaged hair, you might need to go more often at first and then taper off every six weeks as your hair improves.
If you wait too long for treatment, more aggressive treatments may be required to get it back to a healthy state — especially if you continue the behaviors that led to the damage in the first place.
Best Salon Treatments for Dry, Damaged Hair
You can find these top 12 salon treatments for dry and/or damaged hair at most salons.
1. Keratin Treatment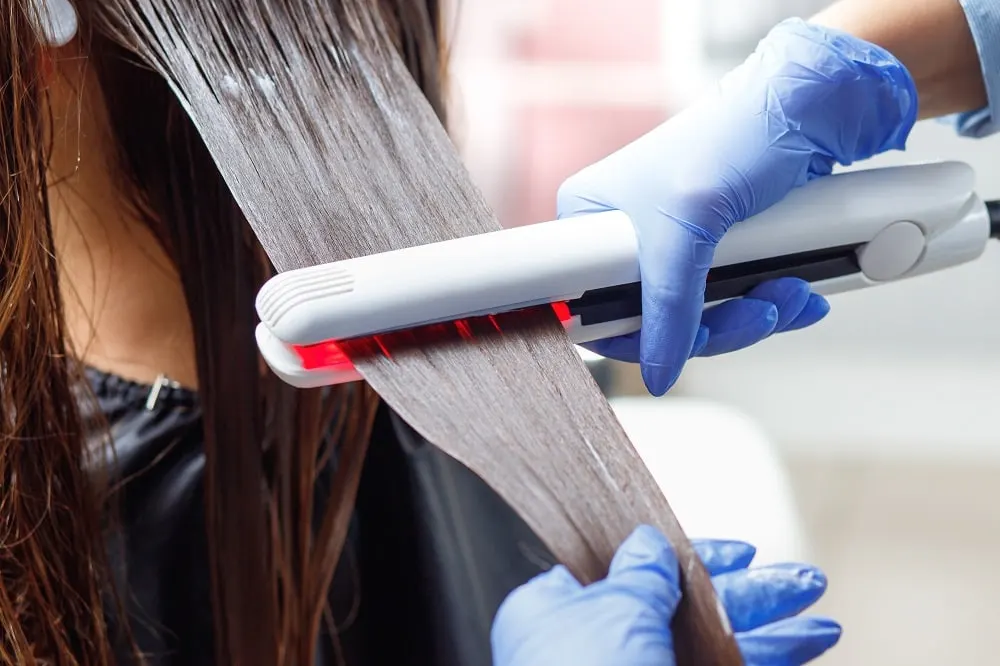 It may seem counterintuitive to use chemicals, especially if your dryness or damage results from other chemical treatments. However, a keratin treatment can help reverse the damage of chemically-treated and natural or colored hair.
It works by bonding the strands and smoothing overlapping hair cells, thus making it not only appear smoother but become less susceptible to breakage. It relaxes the hair a bit, so if you have curly hair and want to keep those curls intact, this might not be the best option for you.
However, those with straight and wavy hair — or those who don't mind relaxing their curls a bit — will love having less frizz and flyaways after a proper keratin treatment.
These treatments typically range from $250 to $500.
2. Detoxing Treatment
Hair detoxing means getting rid of excess oils, dirt, and any other product build-up stuck in your hair. Usually, this requires a specialized detoxifying shampoo and conditioner, but there are plenty of treatments you can make at home.
A hair detox gives you a deeper, more intense clean that can remove stubborn product build-up as well as dead skin cells. It fits any hair type and will leave you with healthier, shinier hair. It's like a factory reset for any hair problems.
Given that it's a more intense treatment, it's essential to follow it up with a detoxing conditioner which will coat your hair and strengthen it.
3. Kérastase Fusio-Dose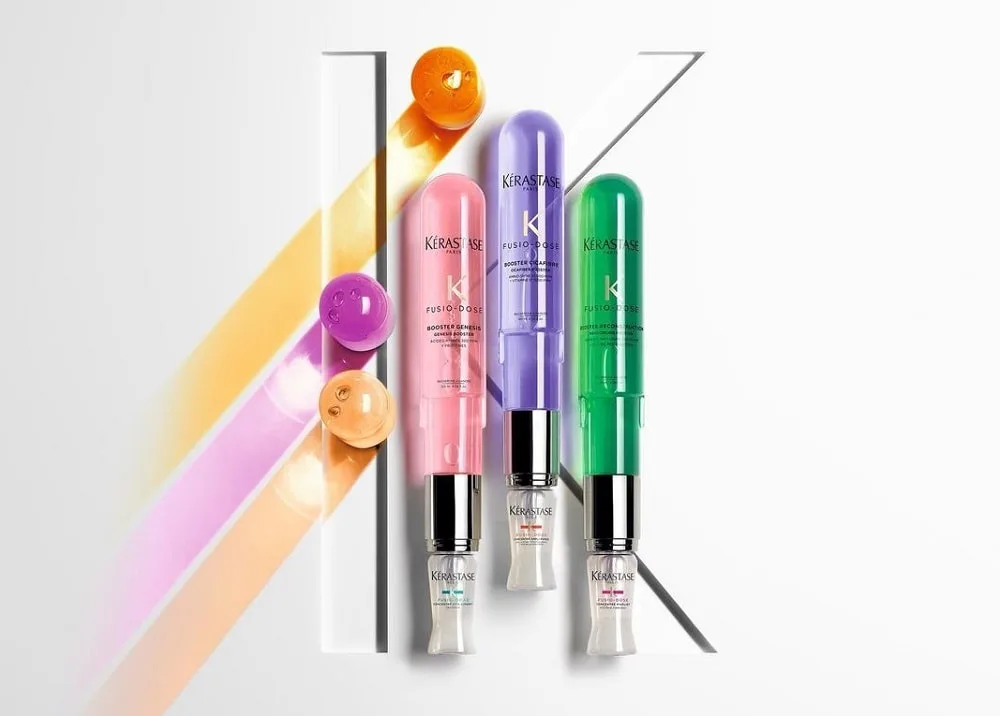 Kérastase Fusio-Dose is another salon treatment that works great for all hair types. Like a keratin treatment, it helps repair broken hair and decrease frizz.
A hairstylist may use this treatment instead of a standard conditioner on your hair. But the process isn't as simple as squirting some liquid on your hands and rubbing it in.
With Kérastase Fusio-Dose, a hairstylist will take up-close photos of your strands to get the best look at what to fix, be it dryness, color damage, heat damage, or else. It costs around $30.
4. Brazilian Blowout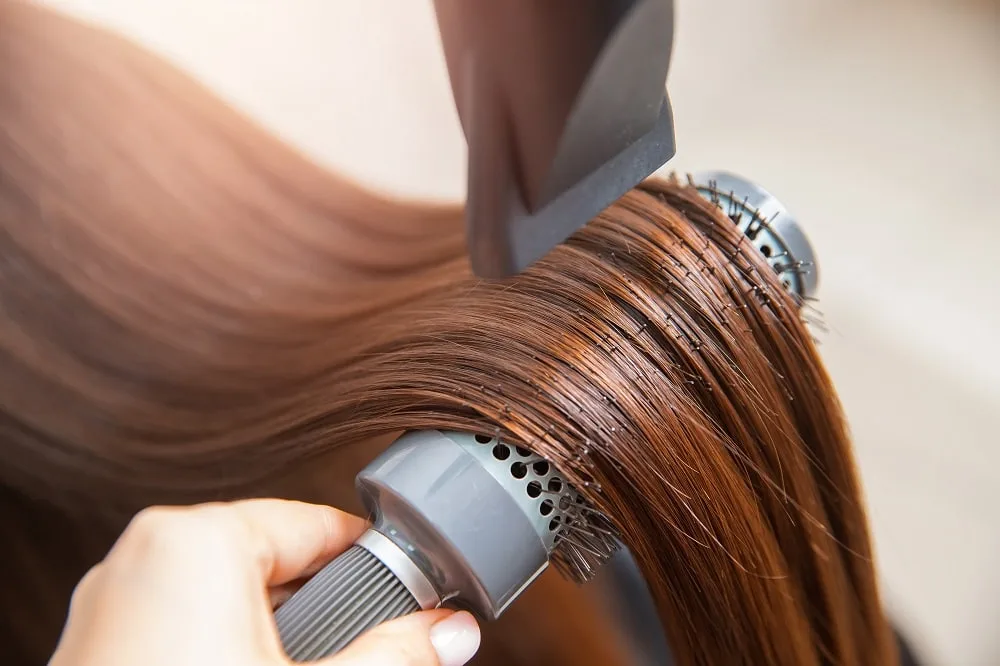 A Brazilian Blowout is a go-to for blasting away frizz and making your hair smooth and sleek. It is a form of keratin treatment that uses chemicals to smooth the hair, making it risky for those with sensitive skin or scalp conditions.
The treatment smooths the hair by coating it with a protein layer. This protein layer helps to protect the hair from environmental damage, heat styling, and future salon treatments.
A Brazilian Blowout can last approximately 12 weeks and costs around $350.
5. Wen Re-Moist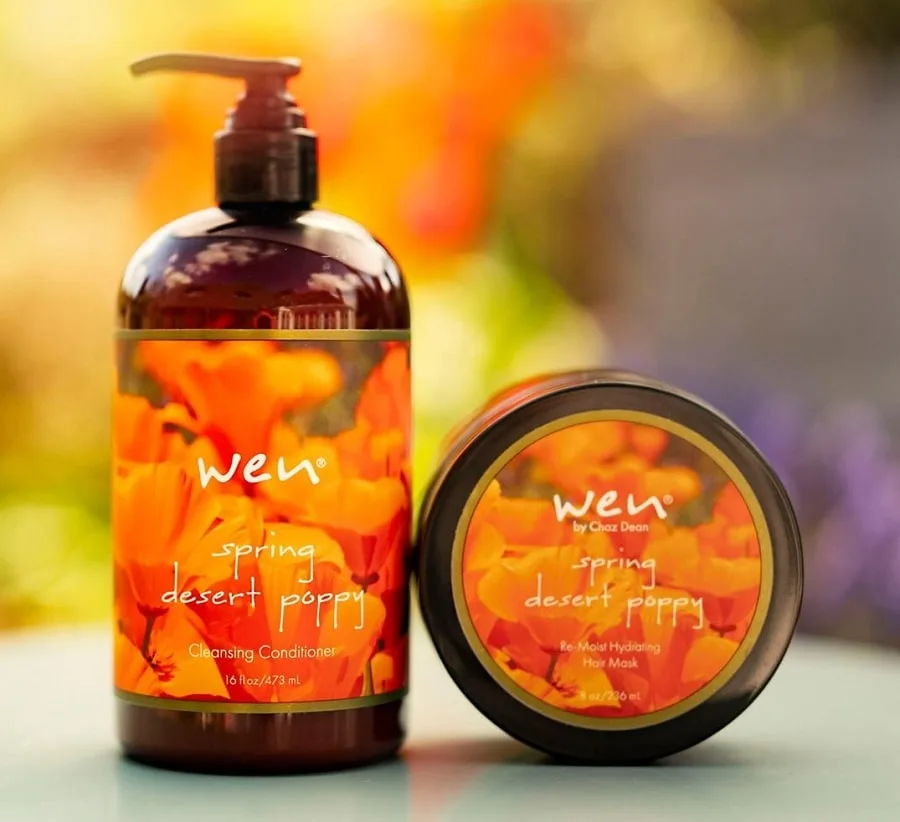 Wen's re-moist treatment is one of the most popular salon treatments for dry, damaged hair and those who desire an all-natural approach with no harsh chemicals.
The brand has a range of products that your stylist might select for this treatment, depending on your hair's specific needs, including:
essential oils
vitamins
conditioners
vegetable color
herbs
The goal of the re-moist treatment is to reintegrate moisture into your dried-out strands, and it typically costs around $50. You might feel a bit heavy from all the products, but your hair will likely be much shinier, bouncier, and nourished.
6. Inphenom
Inphenom is a brand known for its high-quality hair treatments, and their treatment specifically for dry and damaged hair is no exception.
This five-step treatment is an excellent option if your hair requires some significant hydration. Inphenom's treatment works to repair the hair from the inside out by improving the cortex and closing the cuticle and locking in moisture, thus preventing further damage.
The results include hair that is strong and soft, which lasts for several weeks after the treatment. The average price is around $75, and many believe it is well worth it.
7. Hair Glossing Treatment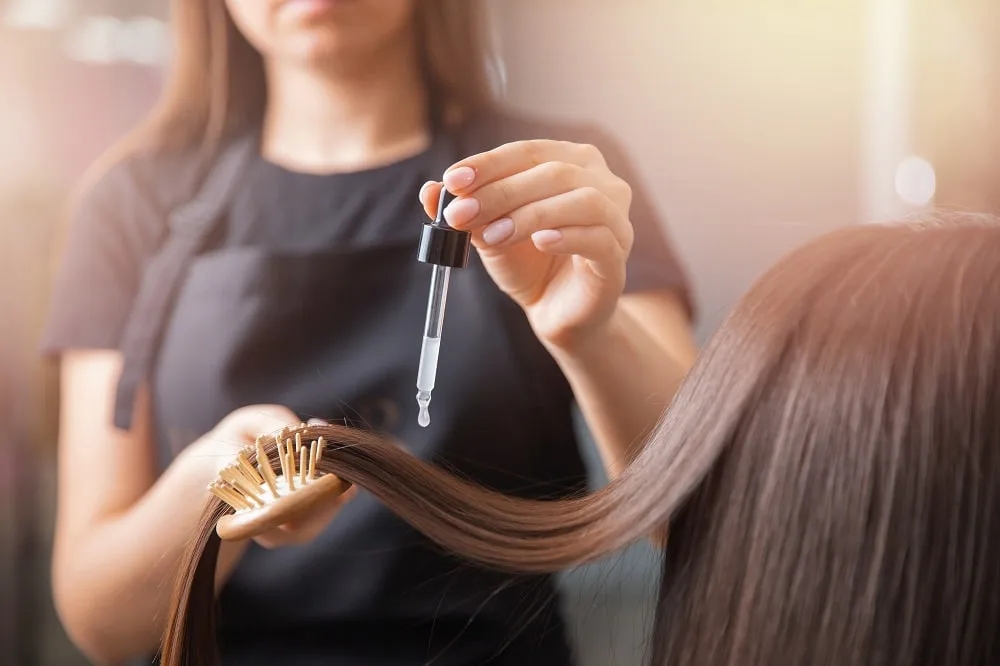 It's no secret that excessive hair dyeing can damage and dry out your locks. A hair gloss treatment offers a healthy fix and alternative to dyeing.
Hair glosses are formulated with amodimethicone and behentrimonium chloride, which are vital in revitalizing dull hair.
You can choose between clear gloss, which will give your hair shine, or colored gloss, which will add shine as well as color.
The whole process can last up to 40 minutes, and a good 20 minutes of that is leave-in time.
You can get this treatment at a salon or do it at home – both have the general risks and benefits of the salon vs. DIY debate. All results last around 4 weeks.
8. OSMO Intensive Deep Repair Mask
OSMO's Deep Repair Mask is one of the best salon treatments for dry and damaged hair that needs some serious hydration after heat, stress, and over-processing.
This mask contains a blend of Jojoba oil and vitamins, which is excellent for nourishing both your strands and scalp to strengthen the damaged hair. These work together to help reverse the damage, add shine, and build luster.
The mask is around $8, but a salon may charge about $20 – $30 for a deep repair treatment like this.
9. Protein Treatments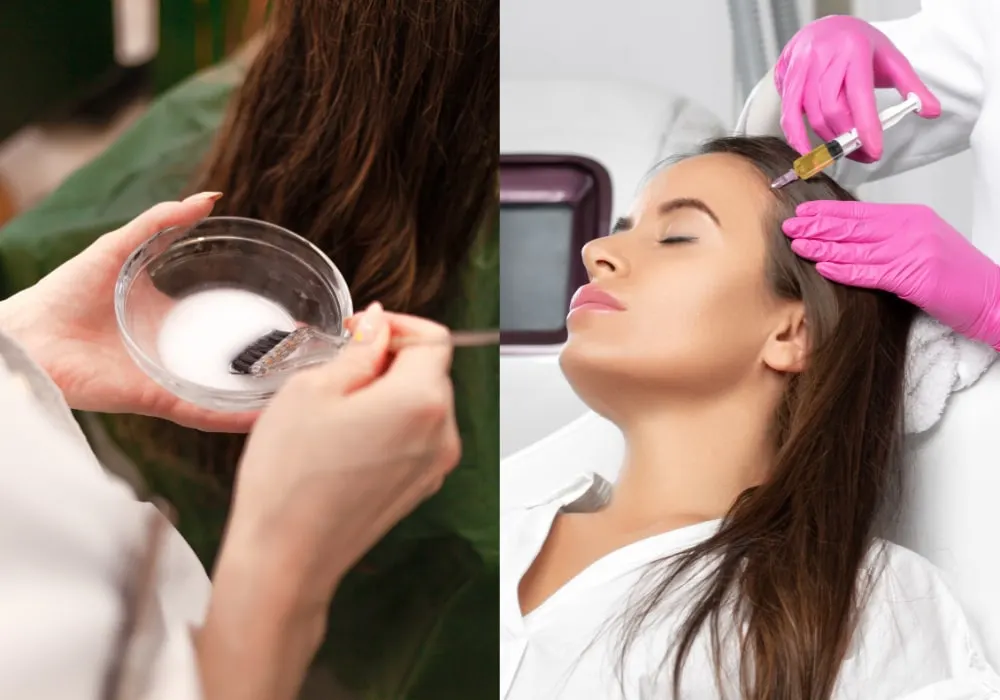 Protein treatments are excellent for damaged hair because they help to rebuild the hair, undo its brittleness, and make it stronger overall.
Many types of protein treatments exist, but they all work to temporarily repair damage and give hydrolyzed protein to the hair follicle. The effects usually last for about one month.
10. Hot Oil Treatment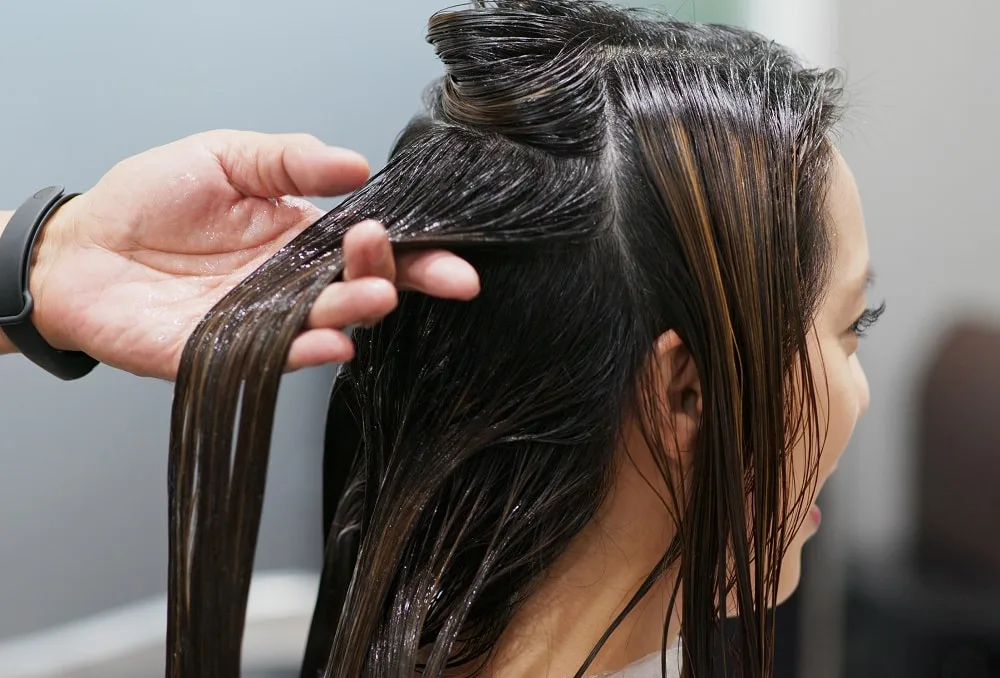 While protein treatments target damaged hair, hot oil treatments at the salon specifically target dry hair.
A stylist will massage heated oil into the scalp and hair. This heat helps the oil penetrate the hair follicle, which can be rinsed out.
This treatment is excellent for dry scalps, as the oil can help moisturize and heal the skin. A hot oil treatment at the salon can range from $10 to $30.
11. Deep Conditioning Treatment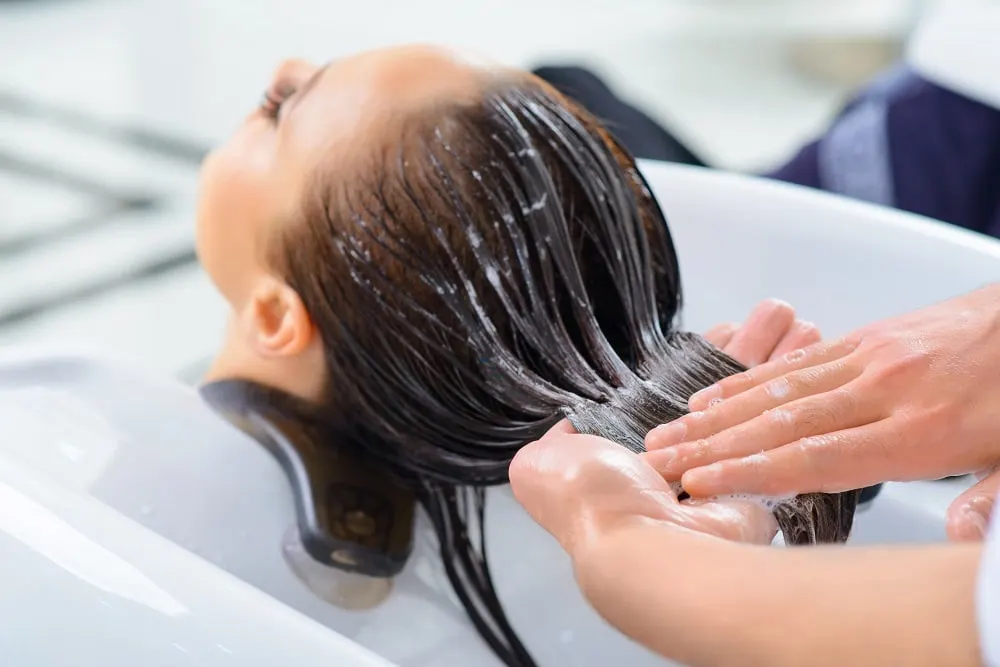 Deep Conditioning offers the best of both worlds for dry, damaged hair — constructive repair and intense moisture. This salon treatment is great for people with frizzy, flyaway hair.
Deep conditioning infuses the hair with nutrients and moisture, which helps repair damage and add shine. The results usually last several months, but you may require it more often if you usually use heat or color on your hair.
The average price of a deep conditioning treatment is $30.
12. Scalp Treatment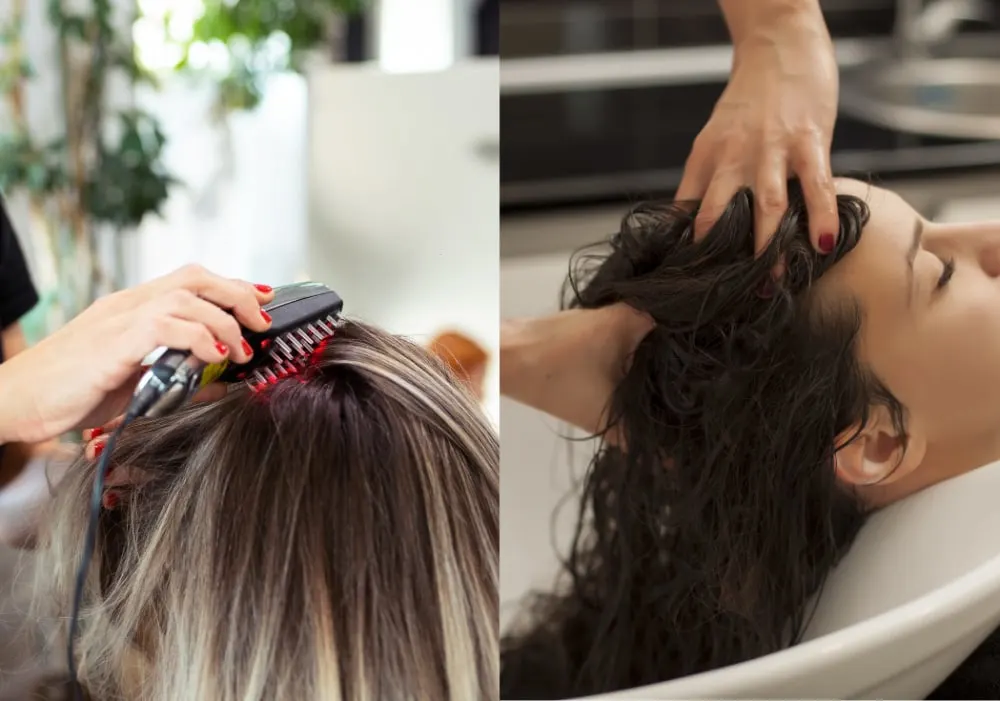 Scalp treatments come in various options, including low-level light therapy, scalp scrubs, micro-needling, or intense scalp massages. The aim is to promote blood circulation in the scalp, leaving your hair with stronger follicles and ultimately promoting hair growth.
Simple scalp treatments can be done daily with scalp massages. On a weekly basis, dry and damaged hair can be addressed using nourishing keratin-rich products massaged into the scalp. More intense treatments, like micro-needling, should only be done by a professional.
Note: Scalp treatments should be avoided by anyone with psoriasis, eczema, or any open sores.
Frequently Asked Questions
Here are some common questions about salon treatments for damaged, dry hair.
What is the best salon treatment for damaged hair?
The best salon treatments for damaged hair are Keratin and Olaplaex hair treatments. Both work to smooth over hair cuticles, but Keratin uses chemicals that relax the hair, which can be either a pro or a con depending on your hair type, preferences, and needs.
Is keratin treatment good for dry, damaged hair?
Yes, a keratin treatment is good for dry, damaged hair. It smooths over the cuticles and makes the hair more manageable.
Are salon deep conditioning treatment food for dry hair?
Yes, deep conditioning treatments help fortify the hair and scalp with oils and nutrients that help moisturize dry hair.
Which salon treatment is best for dry and frizzy hair?
Kérastase Fusio-Dose is one of the best salon treatments for frizzy hair because it helps to smooth out the cuticles and tame flyaways.
How much do salon treatments cost?
The average cost of a salon treatment is between $30-$100.
If you have dry, damaged hair, consider trying one of the 12 most popular salon treatments for dry, damaged hair because they all have proven to be successful in reversing damage, softening the strands, and adding moisture and shine.
You May Also Like