Drew Barrymore used to be a child star that many people knew about. Now, she is an actress in lots of romantic comedies.
From her childhood, she has made new hairstyles to match her looks. The natural brunette actress was seen with different hairstyles throughout her career.
So, if you want to rock a hairstyle like Drew Barrymore surely you won't be disappointed. You'll find plenty of hairstyles from various stages of her life in this article.
Drew Barrymore's Latest Hairstyle in 2023- Long Wavy Hair
Currently, Drew Barrymore's hair has longer lengths and short layers. The texture is slightly wavy, and they're colored a light auburn with blonde highlights. She keeps her hair down without any accessories and keeps a middle part.
1. Slicked Back Side Part with a Low Bun and Roses
In this hairstyle, Drew Barrymore styles her hair back in a low bun, and at the front, she has a deep side part.
The hair is slicked down so that it looks similar to a combover, and she has added flowers to complement the brown hair.
2. Long Blonde Haircut with Loose Waves
Though Drew is naturally brunette, you will see most of her hairstyles are blonde. She rocked so many highlighted blonde hairstyles throughout her career, that many people consider her a blonde actress.
Here is a simple blonde hairstyle of Drew with some loose waves. This haircut is long enough to drop below her shoulders. The widow's peak hairline is prominent in this hairstyle with a middle part.
3. Slicked Back Half Ponytail with Middle Part
You can see gorgeous Drew Barrymore with blonde hair tips and blue eyes. She straightened her hair for this look so that it could be tied back for a slicked-down look.
Half of the hair is tied at the back in a ponytail, while the rest is left loose. Drew's hair is much darker here with blonde highlights.
4. Sleek Long Hairstyle with Blonde Balayage
This is another one where the top half of the hair has a natural brown color, while the bottom half has a blonde balayage dye job.
She tucked the hair behind the ears on both sides of the middle-parted hair and left it loose behind her shoulders.
5. Sideswept Fringe
How would you rate this hairstyle where a two-strand twist hanging on one side shows a mix of blonde and brown hair?
She swept her hair to one side to create a loose two-strand twist on the bottom section. At the top, she has a side-swept fringe that frames her face.
6. Medium-Length Bonde Hair with Brown Lowlights
This is a medium-length hairstyle of Drew Barrymore. She simply leaves her hair down to fall over her shoulders.
Her natural texture is slightly wavy, with some layers around her face. And she chose a strawberry blonde color with highlights.
7. Tied Back with Middle Part
You can try this tied back in a simple updo hairstyle of Drew Barrymore with a few strands hanging loosely. At the front, her hair forms a curtain fringe on her forehead. Though most part of the hair is dark brown, the ends of the hair are lighter.
8. Strawberry Blonde with Blowout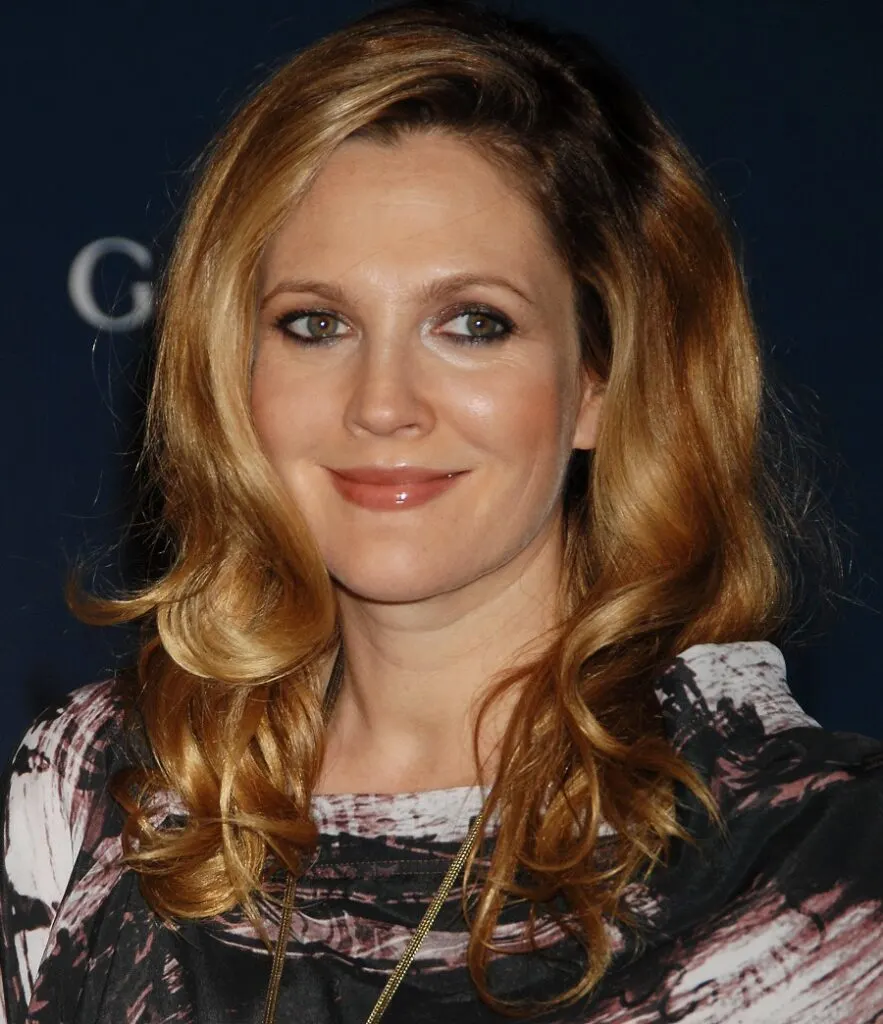 For added volume, Drew Barrymore got a blowout with big curls. The dark brown roots slowly transition to strawberry blonde at the ends and her layers are curled outward.
9. Layered Cut and Beach Waves
This is a caramel blonde hairstyle of Drew Barrymore in which she leaves her hair down. It's parted from the middle and has beach waves with layers. The front layers falls below her shoulders, while the back layers are a few inches longer.
10. Retro Updo with Ashy Blonde Hair and Side Fringe
For this retro updo hairstyle, Drew Barrymore dyed her hair a lighter blonde with some brown lowlights. In the front, she has a long side fringe that ends around the ears. And the rest of her hair is a topknot with backcombing for extra volume.
11. Messy Bob with Layers and Outward Curls
From the back, her strands are backcombed to add some texture. She has a curved hair part for this style, a short and messy bob.
The length of her hair is much shorter as it ends below her chin. It has a honey-blonde color and is flipped out at the ends.
12. Bob with Window's Peak Hairline
This blonde bob shows her window's peak hairline because of the darker roots. Her hair is straightened and curled inwards so it faces the same direction and it falls on both sides of her face as neither side is tucked behind her ear.
13. Wispy Fringe and Gold Headpiece
There are strands of hair hanging loose from this Drew Barrymore hairstyle in multiple sections, giving it a messy look.
She has a wispy fringe that's curled outward, with the remaining hair tied at the back. On one side, she has a gold headpiece that blends in with her hair.
14. Wavy Bob with Blonde Highlights
This is a wavy bob hairstyle by Drew Barrymore where her front hair is brushed back and set with hairspray for more volume and texture.
This hairstyle is extra short, ending above her chin with feathered layers, and is a light golden blonde in color.
15. Short Pompadour Updo with Brown Lowlights
This is a short hairstyle of Drew which she rocked in 2009. She brushed her hair to the back to create a pompadour.
Her hair looks raised from the front because of backcombing. She has a dark blonde hair color in this style with brown lowlights.
16. Tied Back with Side Part and Fringe
Her hair shows streaks of different colors, such as light blonde, light brown, and strawberry blonde, to make a mix of light shades.
In the front, she has a fringe that ends around the browline, with the rest tied at the back with a clip taking the side path.
17. Slicked Back Hair with Blonde Ponytail
Her hair is neatly tied back and pressed down with gel to prevent flyaways and stray hairs. From the front, her hair appears dark-colored, but from the back, her ponytail is a light blonde color.
18. Zigzag Hairpart with Messy Layers
This is a long Drew Barrymore hairstyle with a messy layered haircut, so the longer layers fall behind the shoulders. The shorter layers end above the neck and are curled inward. It is parted with a zigzag pattern and backcombed from the back for a raised crown.
19. Long Sleek Hair with Middle Part and Blonde Balayage
In this medium-length layered style, she leaves her hair looking sleek and straight. The bottom part of her hair shows a blonde balayage, which becomes darker as it moves upward and transitions to brown.
20. Layered Cut and Waves
Another layered hairstyle but this time it's her brown hair color and she kept it long enough.
The first layer from the front ends above the chin and forms a fringe with an outward curl. The second layer is shoulder-length, and the third ends below the shoulders with loose curls.
21. Messy Updo with Blonde Ends
She has a messy updo in this hairstyle, with a few strands of hair loose around her face. Her hair is a dark brown with light blonde ends. The hair is tied back into a bun at the crown, and some strands are loosened to give it texture.
22. Long Textured Hair
This is a long hairstyle that Drew Barrymore wears by leaving her hair down below her shoulders. Her blonde hair has highlights and is styled into loose waves. At the top, some strands of hair are curled, while the rest of the length is straight.
23. Short Hair with Pin Curls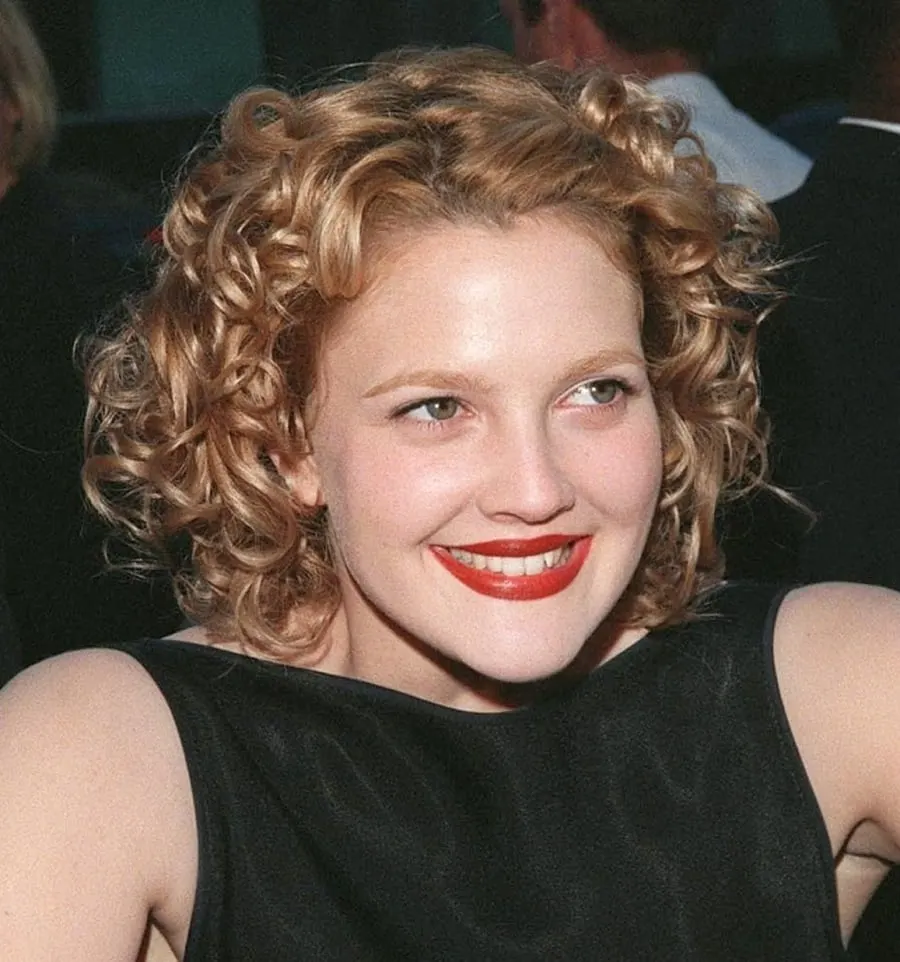 This one is a red-blonde hairstyle by Drew Barrymore. It is parted in a zigzag direction for even volume on both sides. And the length of her hair is curled into thin ringlets. This is a short hairstyle that ends above the shoulders.
24. Textured Bob with Curled Layers and Bangs
Drew Barrymore is looking fabulous with the white daisies on both sides of her head for this short hairstyle. Her hair is styled into curls that end below the ears. It is curled at the back and side and has straight edge bangs at the front.
25. Short Bob with Fringe
In this short bob, the fringe at the front is cut into face-framing layers that curl inward. She has a middle part with even sections of hair on both sides of her head. From the back, her ends are curled outward.
These were 25 Drew Barrymore hairstyles of different lengths. The Charlie's Angels actress has sported many hairstyles, and these are only a few of those. They're good options if you want to change your look and like getting inspiration from celebs.