Celebrities with blonde hair and blue eyes radiate a particular glow and charm that make us all watch them with utter fascination, whether we see them in movies, on the stage, or on the red carpet.
These Hollywood stars stunned us with their performances and looks! They often shape the world of fashion and set new directions regarding what to wear, hairstyles, and cuts. If you love looking modern and fashionable, get ready to learn new tricks!
The amazing duo of blonde hair and blue eyes looks captivating and also gives loads of styling options not only for famous celebrities but for any woman in general.
Using numerous shades and nuances of blonde, highlights, and lowlights, you can create all sorts of looks to suit even the most pretentious eyes.
Famous Celebrities That Define Blonde Hair and Blue Eyes Glam
Here are some amazing ways to make your blonde hair look luscious and replicate the hairstyles of your favorite blonde celebrity with blue eyes!
1. January Jones – Side Part with Waves
Such soft waves have a gorgeous impact on your tresses because they gain more volume and a wonderful shape.
The look has a playful vibe that can be easily obtained by swiping the top to the side. Secure with a thick black hair clip.
2. Taylor Swift – Twisted Back Buns
Taylor Swift is one of the Hollywood blonde sweethearts and we can all agree that each time she makes an appearance on the red carpet, her whole look, from head to toe, looks absolutely flawless.
This time she chose bangs with extended length on the sides and used twisted hair strands to build side bun in the back.
3. Christina Aguilera – Bright Blonde Curls
When you look at Christina Aguilera, you can see nothing but a real diva. She chose a gorgeous platinum blonde hair color for her roots and a bright blonde for her tresses.
Moreover, she created a spectacular voluminous hairstyle with curls that made her look glamorous and confident.
Also, we can't ignore those ocean-blue eyes that make her whole look stand out.
4. Reese Witherspoon – Wavy Ponytail
Reese is one of those uber-cute actresses with blonde hair and blue eyes who doesn't need intricate hairstyles to make sure she rocks a red carpet.
She opted for blonde hair with dark blonde highlights that create depth and pulled off the most common hairstyle for women: a ponytail. But the way she wears the updo makes her look classy and elegant.
5. Naomi Watts – Blunt Bob
A blunt bob haircut can be the embodiment of class and grace and Naomi Watts really knows that.
She chose a hairstyle that frames her face and draws all attention to her beautiful blue eyes and breathtaking red lips.
6. Nicole Kidman – Sandy Blonde
If you've seen Nicole Kidman's movies, you have certainly noticed that she sends so much emotion through her amazing blue eyes.
Moreover, she takes advantage of her long blonde hair and gives it a lot of volume to the roots and a curly texture to the rest of her tresses.
7. Ashley Johnson – Nonchalant Waves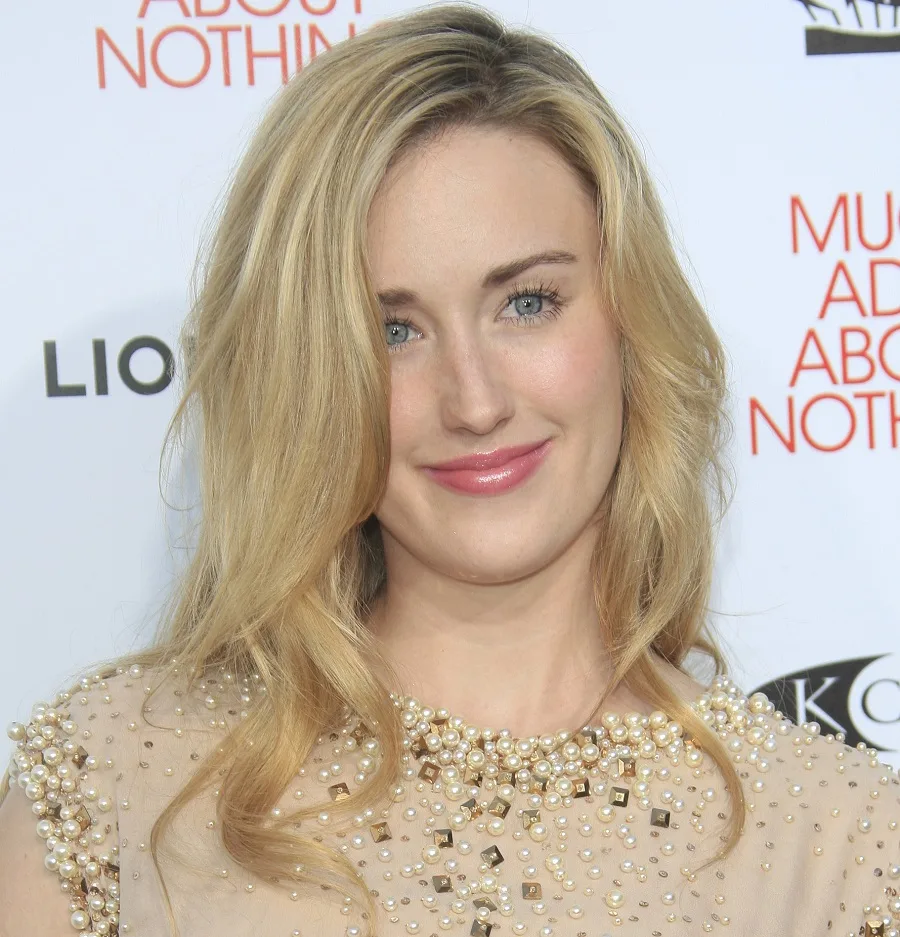 Nonchalant waves work so well for those who have long fine hair. And Ashley Johnson knows that very well, as she creates this loose, messy texture.
She went for long layers that start in the jawline area, so her face would look elongated. And if you also need to slimmer your facial figure, you should certainly follow her tricks.
8. Sienna Miller – Braided Hair Crown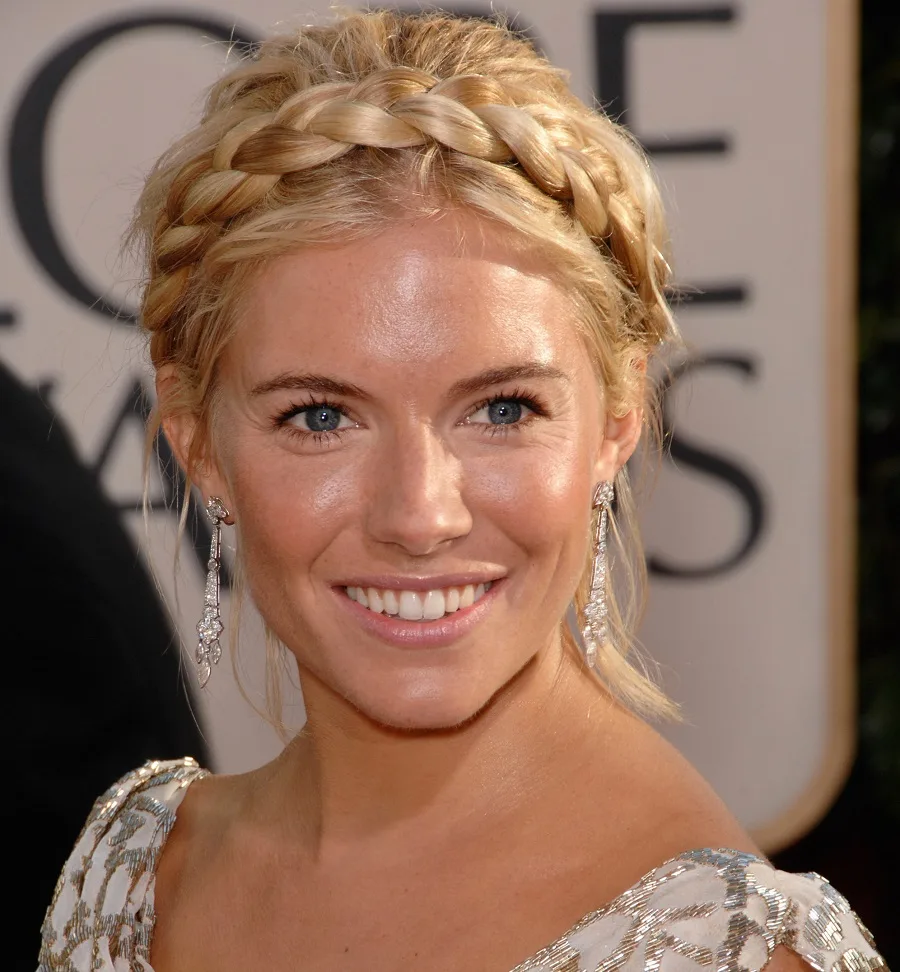 A simple braid can make real wonders, as it can make you feel royal, like a true princess. Follow Sienna Miller's example and opt for a braided crown.
You can style it out with your own long locks or with a braided hair headband that matches your color.
9. Alice Eve – Top Bump
Alice Eve knows how to work with her complexity. And the best example is this hairstyle that features a large top hair bump and a back hairdo.
The role of the bump is to slimmer the face and add more volume and height to your hair.
10. AnnaSophia Robb – Curtain Bangs
If you have a heart face shape like the actress AnnaSophia Robb, you might discover that curtain bangs are your new best friend.
Layer and style them to your advantage. Go for a bob haircut or secure the rest of your longer tresses in the back, in a pony or bun.
11. Margot Robbie – Blonde Lob
Margot Robbie is one of those blonde actresses with blue eyes that never ceases to amaze us each time she steps into the spotlight.
This time she sported a rather delicate and simple hairdo, a long bob haircut with a middle part. To give the hairdo a little bit of fuss, she went for easy waves that you can replicate at home with a triple curler.
12. Rosie Huntington-Whiteley – Layered Lob
The British actress, Rosie used the most reliable tricks to pull off this blonde hairstyle. So, if you have a square face like her, you will need to go for layers and some side bangs.
And what can we say, the result is quite fitting and mesmerizing as it sends out a combination of messy and glammy vibes.
13. Katherine Jenkins – Rolled Back Bun
Sometimes it's better to stick to the classics if you want to be called an in-style celebrity. Therefore, Katherine Jenkins played the safe card and opted for a back bun with a middle part for the fringe.
A few loose curls here and there and she nailed her media coverage and red-carpet look.
14. Cara Delevingne – Hollywood Retro Waves
Cara Delevingne loves creating a bridge between retro hairstyles like finger waves which were pretty common in the 1920 and gray hues, platinum blonde hair, and thick dark eyebrows to flaunt her blue eyes that hit the trends in the last couple of years.
To make an even better blend, she used a gray paste or gel to color the waves and went for a metallic neck decoration.
15. Miley Cyrus – Frizzy Waves
Miley Cyrus looks amazing with blonde hair because it greatly suits her pale skin and makes her blue eyes pop out more than any other hair color she wore in the past.
She loves sleek looks, but she's not afraid to embrace her frizzy hair and pull off a great hairstyle out of that.
16. Abbey Lee Kershaw – Blonde Ombre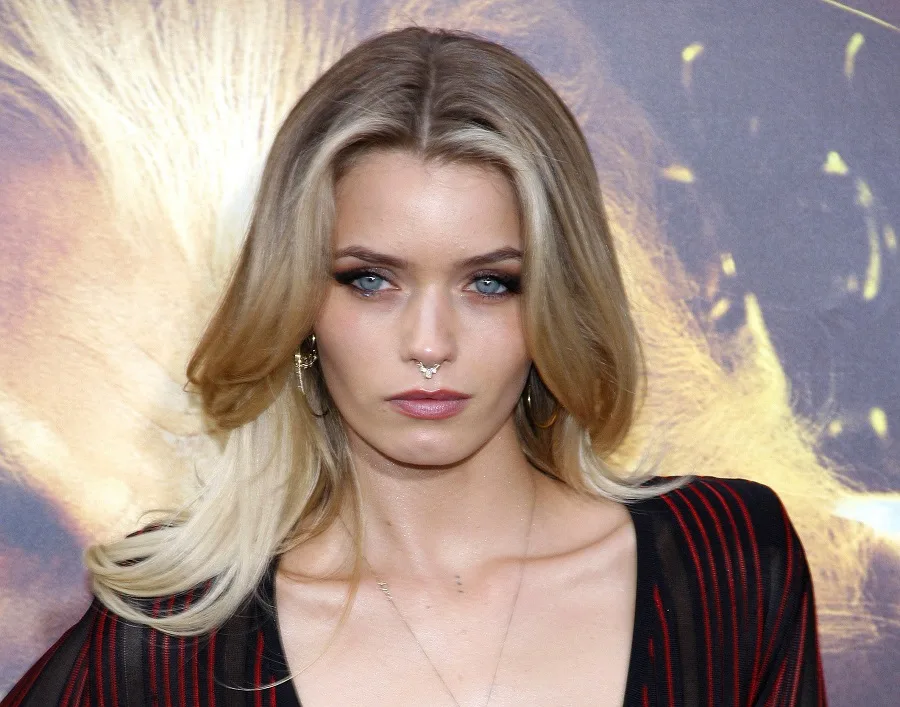 Who thought a golden nose ring would become such an important and effective piece of jewelry? Well, it beautifully worked for Abbey Lee Kershaw!
She knows her blue eyes are real attention grabbers, so she had to emphasize their impact with a blonde layered haircut. The model, actress, and musician wore a dark blonde color for the top and longer platinum blonde hair pieces underneath all that.
17. Cameron Diaz – Platinum Blonde Bob
One of the most admired celebrities with blonde hair and blue eyes is certainly Cameron Diaz. She has a bubbly personality that needs a proper matching hairstyle. And the result?
The actress went from long locks to a feathered slightly messy bob with a side part and dark roots that make her look fresh and cute.
18. Laura Anderson – Large Top Bun
Laura Anderson wanted an elegant hairstyle that highlights her shoulder line and adds more value to her strapless dress or outfit. She went for soft makeup, focusing on the bright blue eyes and a top large bun.
You can easily replicate the hairstyle by using a donut bun because it will help you achieve that perfect round shape. You can decorate with a small strand wrapped around the base.
19. Elizabeth Banks – Comb Over Updo
Elisabeth Banks has a natural glow given by her golden locks and amazing blue eyes. For sure, she doesn't need to invest too much into makeup when she wants to look mind-blowing.
The actress went for light gray tinted highlights on a blonde caramel base and combed her hair back, then secured the tresses.
20. Taylor Momsen – Rockstar Pony
Taylor Momsen adores that rockstar look and she loves to stun and draw all eyes on her each time she steps onto the stage or on the red carpet.
The actress and singer went for dark glittery makeup that helped her create a better contrast with the platinum blonde hair. The hair is tied in the back, with two hair strands falling from the forehead.
21. Kristen Bell – Wet Look
Kristen Bell is one of the most hilarious actresses with blonde hair and blue eyes. Her fans love her unique sense of humor, lovely family, TV shows and movies, and the way she always manages to pull off amazing looks for the red carpet.
The actress has a strong jawline that she wants to emphasize with a wet look, so she had a blunt bob haircut with the top styled in the back with hair gel and pomade.
22. Eliza Bennett – Curtain Bangs with Bun
Curtain bangs are ideal for many face types, including rounded ones. And Eliza Bennett falls into this category so she takes advantage of the perks of this fringe.
So if you're dealing with this face shape, you should totally get them because they create angles that cut off the chubbiness of your cheeks and make your figure look slimmer.
23. Kendra Wilkinson – Side Part
Asymmetrical hairstyles and bangs are still very popular. To recreate this blonde celebritý's hairstyle, you will need side bangs and a bun/ponytail in the back that secures the longer pieces.
You can even twist the hair and secure it with a larger hair clip, just like the former Playboy bunny and model did.
24. Gwyneth Paltrow – Tied Back
Gwyneth Paltrow has a brilliant trick that helps her hide her white strands, and we're willing to share it. She keeps hair in a light blonde color, so the white will amazingly blend after they pop.
She loves a simple yet classy look, so for this occasion, she went for a flawless middle part with an updo in the back. And even with this hairstyle, you can barely spot the white threads, right?
25. Helen Mirren – Short Bob with Bangs
Helen Mirren's short bob with twisted ends and bangs provides a great face frame. The actress wore a light gray color for the roots and a warm blonde.
If you love wearing large and sophisticated earrings as she does, then you should definitely consider this cut because it's a great way to reveal them.
26. Olivia Newton-John – Wispy Bangs
As an older woman, you should take a closer look at Olivia Newton-John's hair. It features numerous highlights and colors like brown, creamy blonde, or ashy pieces.
And all these colors have one true purpose: to mask better the white threads that appear as you get older.
27. Diane Kruger – Elegant Low Curls
If you are listing the most beautiful blue-eyed blonde celebs, you should definitely add Diane Kruger to that list.
She has embodied grace, beauty, and elegance, and she is the perfect example that you can rock the red carpet with bare minimum makeup and a slightly curly ponytail.
28. Avril Lavigne – Red Ends
Avril Lavigne was a trendsetter for her early generation. Most millennial girls who loved her music had their ends dyed in vivid colors like pink, red, or green.
These days, Avril faces a great comeback and she's bringing with her the style that propelled her hair looks into fashion trends.
29. Geri Halliwell – Layered Curls
The former Spice Girls member looks as good as she did in her 20s. She renounced the red hair and went for a blonde color with thin caramel lowlights that make the hair look textured and voluminous.
The singer chose curtain bangs and loads of layers that give the overall look more dimension.
30. Blake Lively – Side Pony with Braid
Blake Lively has amazing long hair that offers her plenty of hairstyling opportunities. This time, she chose a side ponytail decorated at the base that features a long braid secured with a hair strand.
As for the bangs, she went for a side part and a hair strand that messily falls on the opposite side.
31. Diana Vickers – Side Low Pony
Diana Vickers is also one of the popular blonde actresses with blue eyes who prefers wearing her hair on one side. The hairstyle looks flattering, especially when you build more volume.
You can do so by creating waves and some lowlights and highlights that give your overall look texture and depth.
These blonde celebs with blue eyes are some of the greatest trendsetters out there and every time they step on the red carpet, the whole world is stunned by their beauty. Try the hairstyles they had and let us know what you think in the comments section.