Messy bob hairstyles seem to never fall out of trends. Women love them and adapt them to their own needs and can really understand why. They are versatile, modern, easy to style and help you blur certain features like a prominent jawline or cheekbones.
Messy bobs also provide a relaxed appearance. They are ideal for 2021 because this year, textured and "easy hair" are the characteristics that define the top trends.
Popular Messy Bob Hairstyles
Inverted bobs and shaggy bobs are the new blasts this year, and if you want a modern, sexy look, these are the haircuts you should go for. To get some inspiration, scroll down and discover the best ideas to pull off in 2021!
1. Messy Inverted Bob
This messy inverted bob looks fabulous, right? Keep the back hair short and layered and the bangs and sides long, reaching the shoulders. Opt for a faded red color to make a gorgeous ombre and style a few waves.
2. Messy Curly Bob
When you have curly hair, it's a shame not to take advantage of that volume. Get a bright brown shade and a fringe to cover your forehead and frame your face. Use hair gel or foam to recreate that wet look.
3. Messy Bob for Black Hair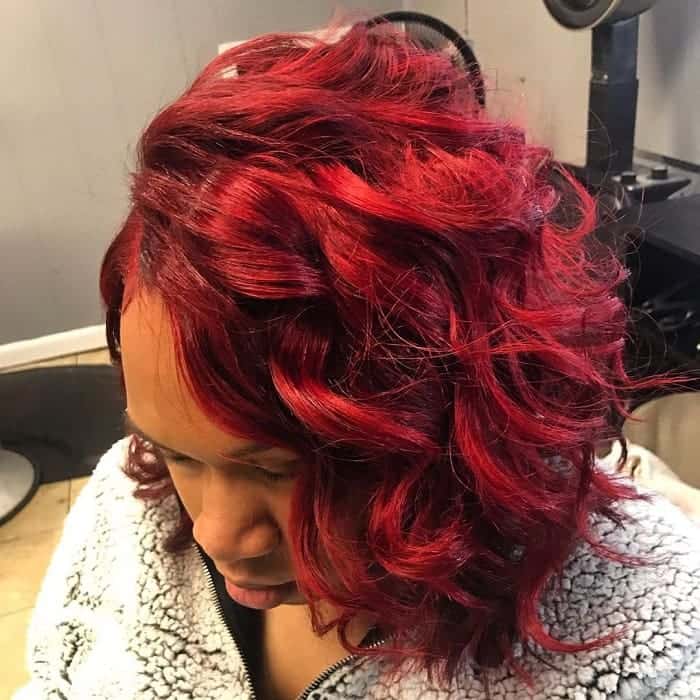 When having black hair, a dark shade of red can do real miracles for your appearance. Keep the mane cut in a lob and style curls with a conical iron. You will adore this look as much as we do!
4. Messy Bob for Round Faces
This messy bob looks spectacular because it's so natural and relaxed. To make it stand out even more, create some blonde highlights in the nape area. They will make your look pop out and will give texture to the strands.
5. Messy Bob Hairstyle for Fine Hair
When you have fine hair, the main goal is to get more volume. Messy bobs can easily help you achieve that. Create some smooth curls to give your hair more dimension.
6. Messy Chin Length Bob
To obtain that fabulous texture, get a medium messy bob haircut with bangs and go for some thin caramel highlights. You can make some here-and-there curls to achieve more volume and tousle the hair for that messy appearance.
7. Messy Choppy Bob
A choppy bob hairstyle will give both texture and volume, and if you create smooth waves, you will obtain a fabulous look that will beautifully stand out. Don't forget to give your hair a little tousle before you go.
8. Messy Bob for Long Faces
Hair decoration can anytime step up your hairstyle game. Opt for a big hairpin with a message and place it on one side for a trendy look. Style an ombre and a few loose waves, then toss your long bangs on one side.
9. Thick Messy Bob
Thick hair looks its best when styled in waves. Get a medium bob haircut with bangs swept on one side and pick a beautiful auburn color. Tousle the hair to relax the waves and to get that messy appearance.
10. Messy Side Parted Bob
Get an inverted bob that is shorter in the back and keeps the front strands and bangs longer. Create a part on one side and toss the fringe to the other. When it comes to styling, all you need is some hair gel here-and-there and a big tousle.
This messy bob haircut looks particularly good on short hair. This works especially well for the corporates who want a bit of edgy dressing.
The best part about this messy bob hairstyle is the disconnected ends. They completely bring out the disheveled feel without overdoing it.
More importantly, it helps recreate the carefully careless and trendy look for you without too much effort. You can add more punch to this bob cut using colors like the ombre and make it look seductive.
If you like short bob, this is one of the best options to keep you cool on a hot summer day. The added advantage is that this messy bob haircut also makes you look very cool and super chic.
14. Graduated Messy Bob
This is one of the perfect examples of great improvisation and easy hassle-free styling. The messy styling adds great substance to the graduated bob and makes it stand out. This is also one of those quintessential styles that enhance your feminine charm.
15. Short Messy Bob
The straight bangs further enhance the messy bed head that this style is all about. This is also a versatile style that works effectively on most hair types. Irrespective of the hair color, this cut can bring a sophisticated look about you. In case you have a big forehead, this is a great way to camouflage it.
This is appropriate for long choppy bob. The baby bangs on messy bob and the pink balayage sync in seamlessly to create an uber chic styling alternative. It is trendy, casual and yet perfect for even official presentation and represents the perfect harmony.
17. Caramel Bob with Blonde Highlights
This caramel cut is one of the extremely unique and trendy options in the messy bob space. The babylights and the understated highlights work effectively in bringing out the chic elements of the messy bob hairstyle without effortless grace and candor. It also looks equally effective in short brunette hair.
If you have a square face and slightly lighter colored hair, this short messy bob will do wonders to your entire personality. It is casual, trendy and very easy to maintain wherever you might be dressing for. The subtle highlights add further dynamism to the whole look.
19. Messy Bob with Soft Waves
If you love wavy hair, try this messy wavy bob. It is clean, easy to maintain and completely lifts the look across your face. Whether it is a date night or a regular office day, this look is perfect.
20. Wavy Messy Bob with Middle Part
If you thought a messy bob was only for straight or slightly wavy hair, then think again. This messy bob hairstyle with middle part celebrates curls the best way.
This is another interesting dimension added to your messy bob. The beautiful braid on the side makes the bob sexy and seductive.
It is side swept, it is textured and it is stylish. This is a style that brings in a sultry, seductive appeal about you. An extremely sophisticated look, you can pair it with bright colored lips for best results.
23. Bold Blue Bob
If edgy and voluminous is your choice of style, you can rock this messy bob hairstyle with aplomb. It is attractive, and the disconnected end further enhances the overall style. The side part on bob and overall tousling further improve the edgy element.
24. Flipped Messy Bob
This is one of the best talked about sassy messy bob style that you can choose to enhance your overall look. This is particularly effective for those with thick hair and often has trouble styling it. Maintaining this style is rather simple and easy to achieve.
If you want the perfect combination of cute and messy, there isn't any that can match the charm and appeal of this particular styling of the messy bob. It is trendy, casual, effortless but also understated and classic. Whether you are going to the beach or office, this style will always look appropriate.
The razor cut at the ends no doubt give this choppy and messy bob cut a stylish edge. They say it is all about presentation and you get a beautiful version in this hairstyle. It is effortless but charming at the same time.
27. Messy Bob with Highlighted Ends
If you like wearing your hair a little longer, this shoulder length messy bob cut will surely appeal to you for its subtle charm and easy application. The lighter color at the ends adds substance to the messy cut.

Now, who would think frizzy could be stylish? This is perhaps as easy as it can get. If you like to wear your hair short, this short messy bob is all you need to bring forth an effortlessly stylish and sexy look.
29. Messy Textured Bob
The texturing adds a sense of mystique to this short messy bob. It also highlights the disheveled ends and lends a youthful appeal to your face. You can even team up this hairstyle with interesting hair color and other styling aids.
30. Two Toned Messy Bob with Tousled Hair

This two-toned hair adds sparkle and charm to the tousled, messy hair. Moreover, it adds dimension to the messy bob look and makes it stand out.
31. Teased Messy Bob
Talk of a perfectly imperfect stylish and edgy hairstyle and this messy teased bob hits the brief completely.
32. Messy Wavy Lob
This wavy long messy bob with hints of white at the end is captivating and simply stunning. This enhances your feminine charm in a seductive way.
This side parted look absolutely amps up the short messy bob into something completely stunning and beautiful.
This hairstyle is all about how to style messy bob is a charming, appealing and eye-catching way. The ombreying adds further body and dimension to this cut.
35. Pink Bedhead Bob
If you want to add an edgy dimension to your bedhead look, this is perhaps the best way to style a messy bob haircut.
FAQs on Messy Bob
Can moms also try messy bobs?
You can make your mom-bob cut messy. But if you ask me, a mom-bob is a big no however you want to style it. Given the range of messy bob, look for something else that you can workaround.
Are textured bob and messy bob similar?
Textures are primarily all about adding volume and creating an additional dimension to your hair. You can even go for a textured messy bob. It is more of a styling fundamentals that adds personality to the messy bob.
Can you try messy bob hairstyles with fine curly hair?
Yes, you can surely try messy bob on fine curly hair. In fact, you can work out the overall curls in a way to bring in a graduated short messy bob with curly hair at the end for the best results.
Therefore messy bob is one of those effortless and stylish hairstyles that can amp up the most basic ensembles in a stylish and seductive way. You can wear your bedhead with aplomb if you know how to style messy wave well.