Messy bob hairstyles seem to never fall out of trend. Women love them and adapt them to their needs and understand why. They are versatile, modern, easy to style and help you blur certain features like a prominent jawline or cheekbones.
Messy bobs also provide a relaxed appearance. They are ideal for 2023 because this year, textured and "easy hair" are the characteristics that define the top trends.
Considerations Before Getting a Messy Bob
Before you get a messy bob hairstyle, consider what changes you might have to make to your hair beforehand. The style works best for short hair. If your hair is too long, you will need to cut it. Even if a messy look is trendy now, keep in mind that if you had long hair before, it is an adjustment that will take quite a while to grow back to the way it was.
Consider whether short hair will complement your head and face shape. In addition, a messy-looking bob works best with wavy hair. Trying the style on hair that is too straight or curly may not give you what you want.
How to Style a Messy Bob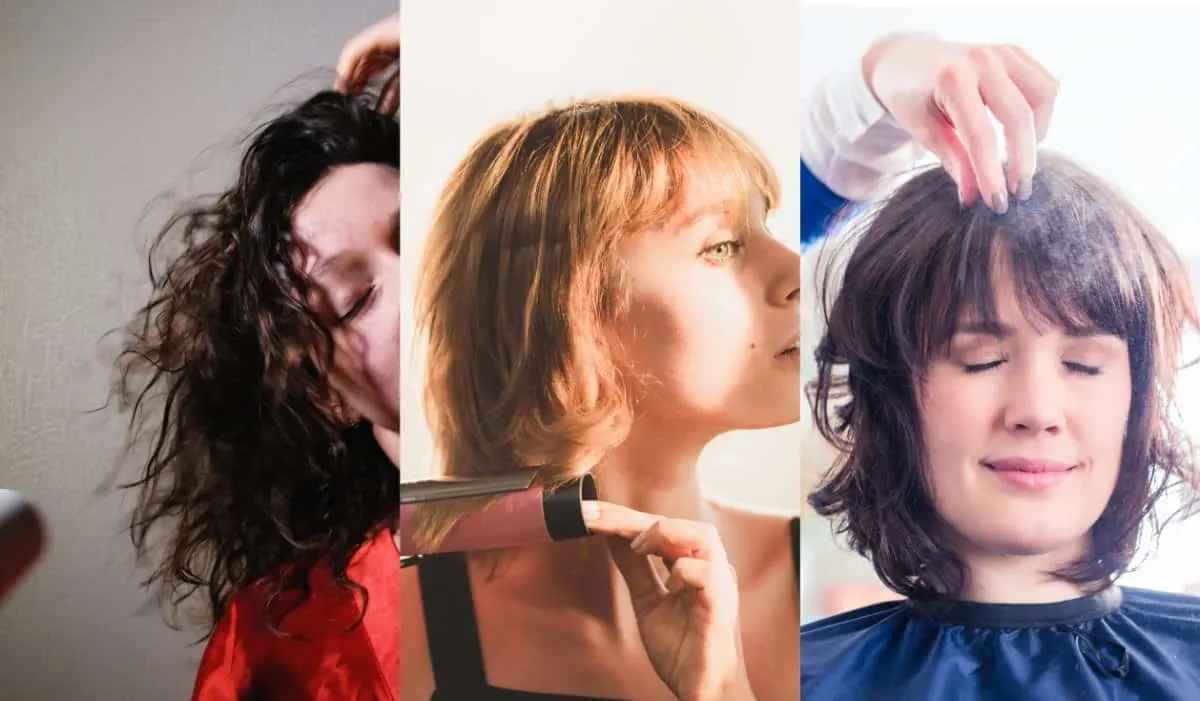 It's okay to play fast and loose with a messy bob. This style revolves around quick styling! But if you're looking for a step-by-step process, here are some pointers:
Wash your hair and add the texturizing products of your choice (or none at all if you don't think your hair needs them).
Blow-dry and section your hair. Don't spend too much time and effort trying to get it just so: a messy bob is supposed to look spontaneous.
Use a flat iron or curling iron on your sectioned hair to create the waves and curls you want for your hair.
Run your fingers through your hair to give it that characteristic messy look!
You can use products such as volumizer or disrupting cream to finish it off.
Popular Messy Bob Hairstyles
Inverted bobs and shaggy bobs are the new blasts this year, and if you want a modern, sexy look, these are the haircuts you should go for. To get some inspiration, scroll down and discover the best ideas to pull off in 2023!
1. Messy Inverted Bob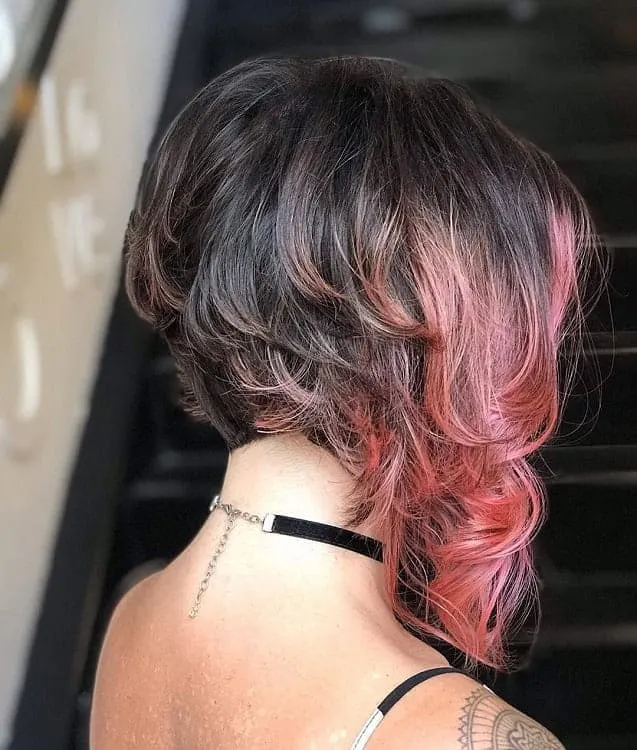 This messy inverted bob looks fabulous, right? Keep the back hair short and layered and the bangs and sides long, reaching the shoulders. Opt for a faded red color to make a gorgeous ombre and style a few waves.
When you have curly hair, it's a shame not to take advantage of that volume. Get a bright brown shade and a fringe to cover your forehead and frame your face. Use hair gel or foam to recreate that wet look.
3. Messy Bob for Black Hair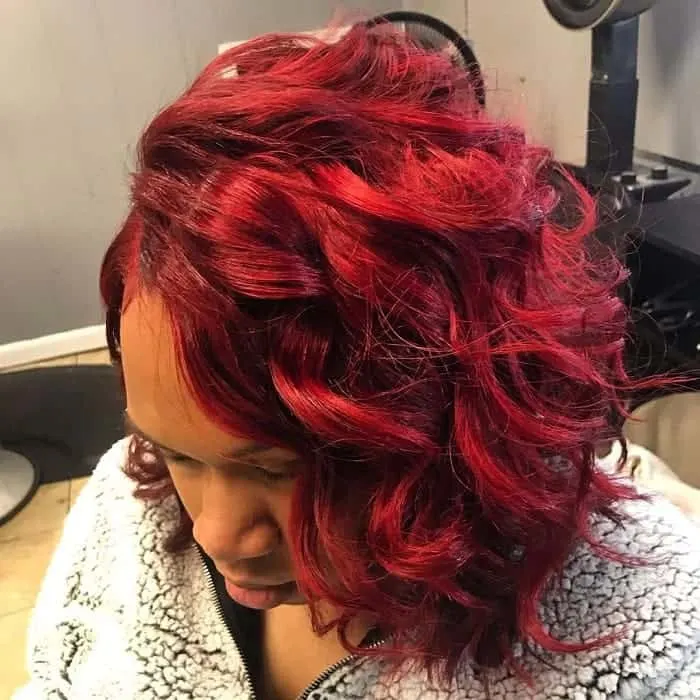 When having black hair, a dark shade of red can do real miracles for your appearance. Keep the mane cut in a lob and style curls with a conical iron. You will adore this look as much as we do!
4. Messy Bob for Round Faces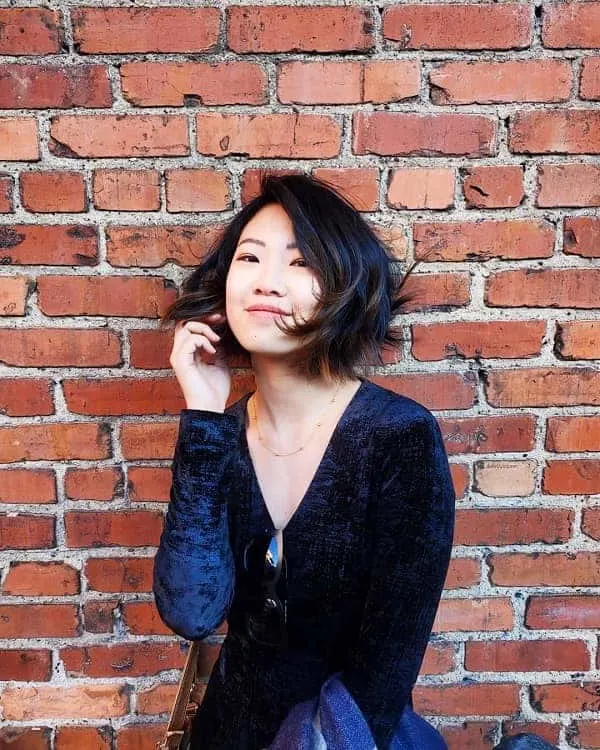 This messy bob looks spectacular because it's so natural and relaxed. To make it stand out even more, create some blonde highlights in the nape area. They will make your look pop out and will give texture to the strands.
5. Messy Bob Hairstyle for Fine Hair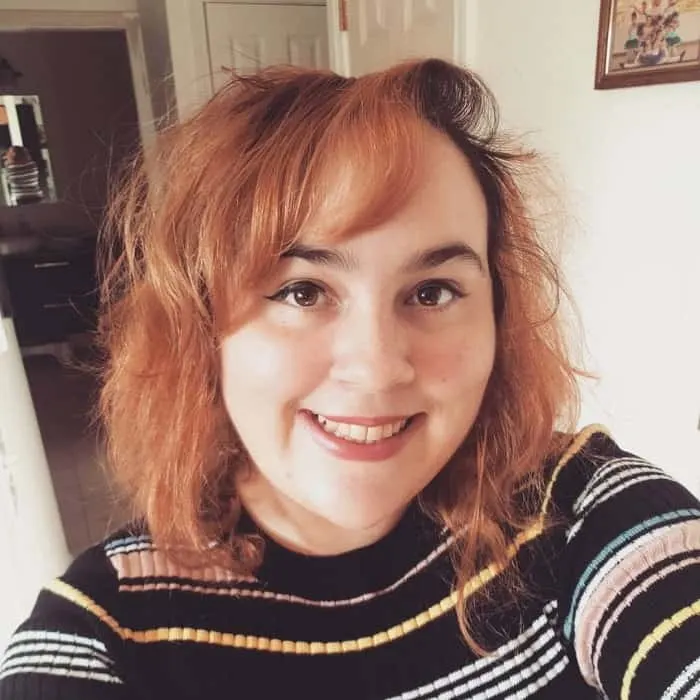 When you have fine hair, the main goal is to get more volume. Messy bobs can easily help you achieve that. Create some smooth curls to give your hair more dimension.
6. Messy Chin Length Bob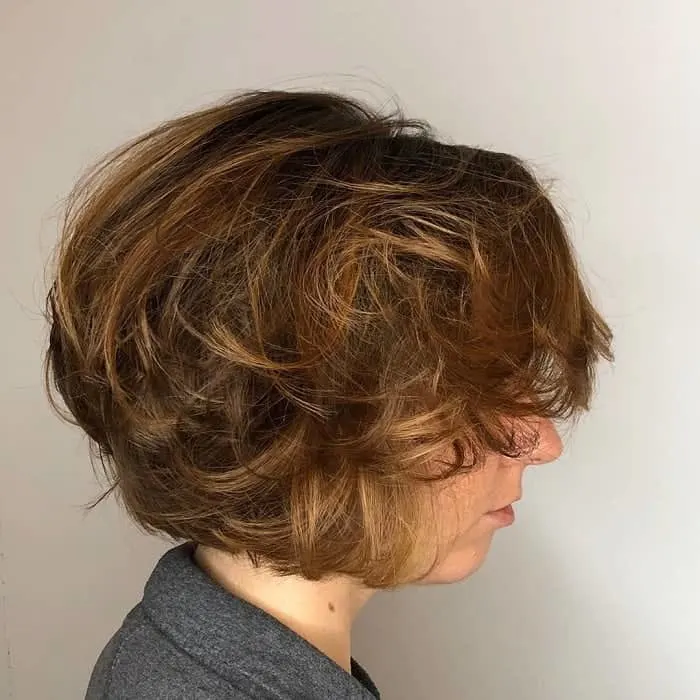 To obtain that fabulous texture, get a medium messy bob haircut with bangs and go for some thin caramel highlights. You can make some here-and-there curls to achieve more volume and tousle the hair for that messy appearance.
7. Messy Choppy Bob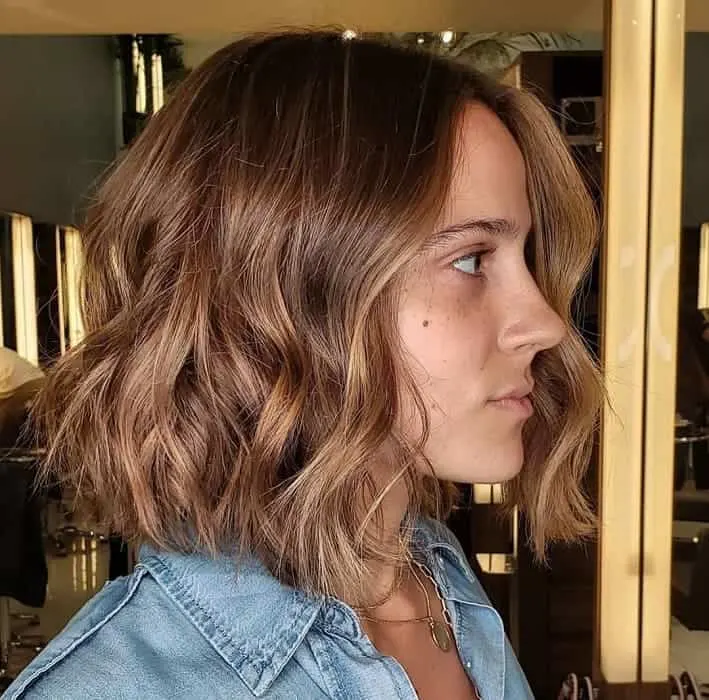 A choppy bob hairstyle will give both texture and volume, and if you create smooth waves, you will obtain a fabulous look that will beautifully stand out. Don't forget to give your hair a little tousle before you go.
8. Messy Bob for Long Faces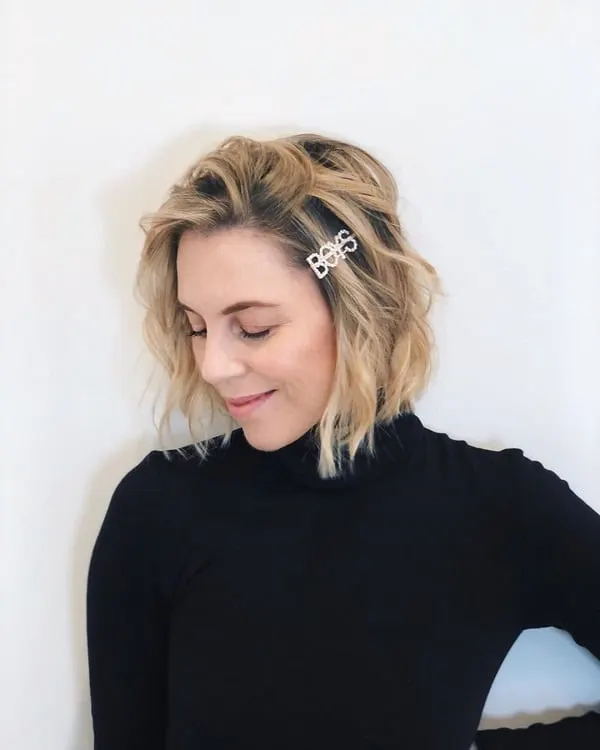 Hair decoration can anytime step up your hairstyle game. Opt for a big hairpin with a message and place it on one side for a trendy look. Style an ombre and a few loose waves, then toss your long bangs on one side.
9. Thick Messy Bob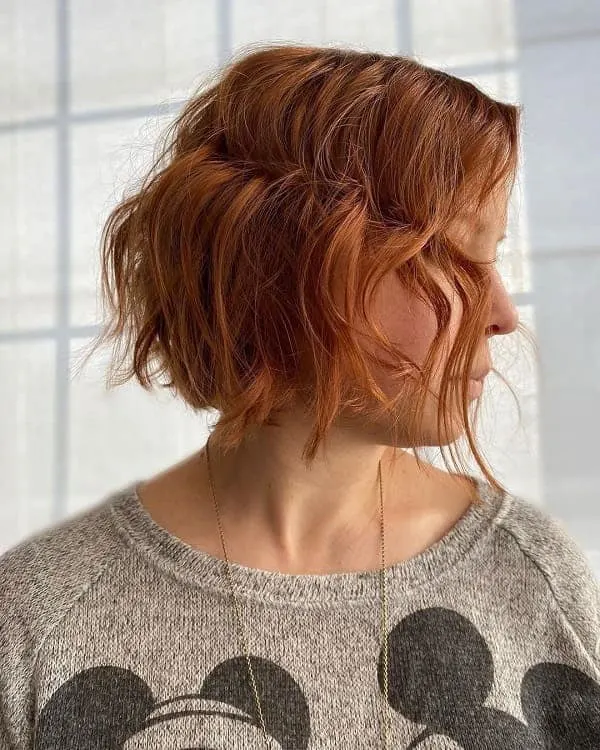 Thick hair looks its best when styled in waves. Get a medium bob haircut with bangs swept on one side and pick a beautiful auburn color. Tousle the hair to relax the waves and to get that messy appearance.
10. Messy Side Parted Bob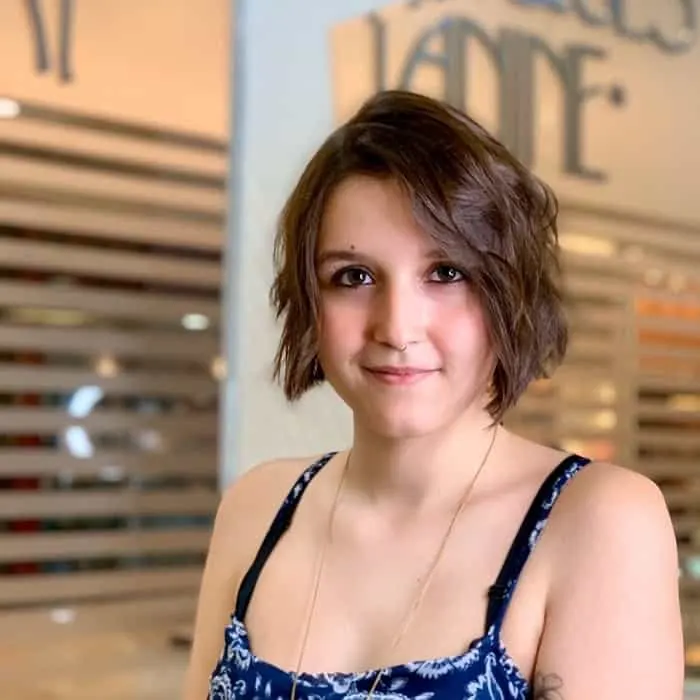 Get an inverted bob that is shorter in the back and keeps the front strands and bangs longer. Create a part on one side and toss the fringe to the other. When it comes to styling, all you need is some hair gel here-and-there and a big tousle.
11. Layered Bob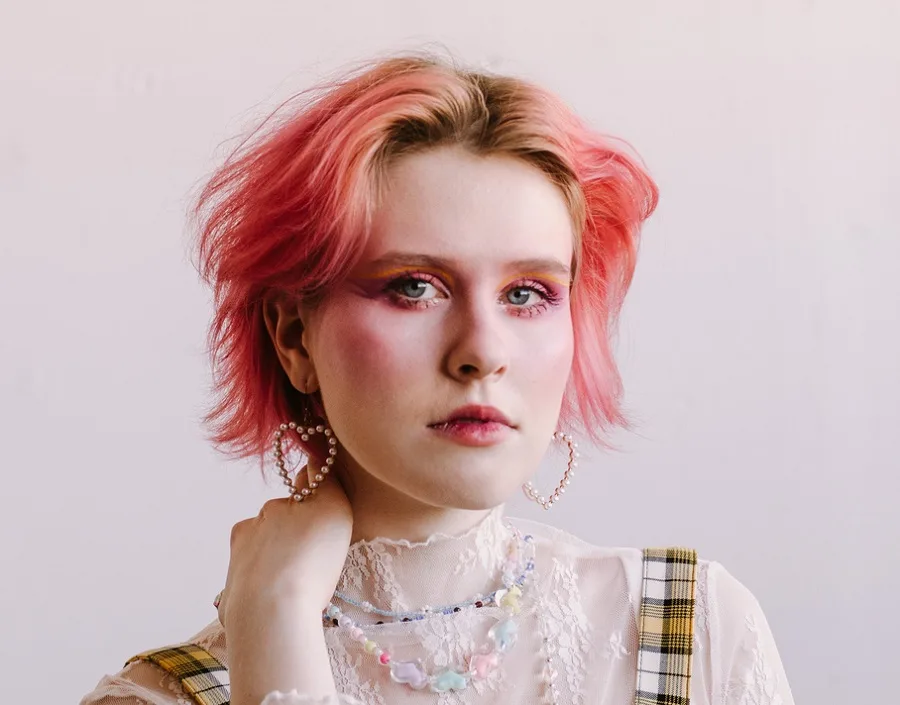 The layered bob is one of the best messy bob hairstyles that can make fine and thin hair look thicker and more voluminous. Not only that, the different layers also adds movement and texture to your hair.
12. No-part Curly Bob
The no-part hairstyle is quite popular and for plenty of good reasons.
For one, the partless hairstyle draws attention to your face and highlights your best facial features. Not only that, a brushed-back hairstyle like this one creates a natural and effortless appearance.
13. Messy Bob for Over 50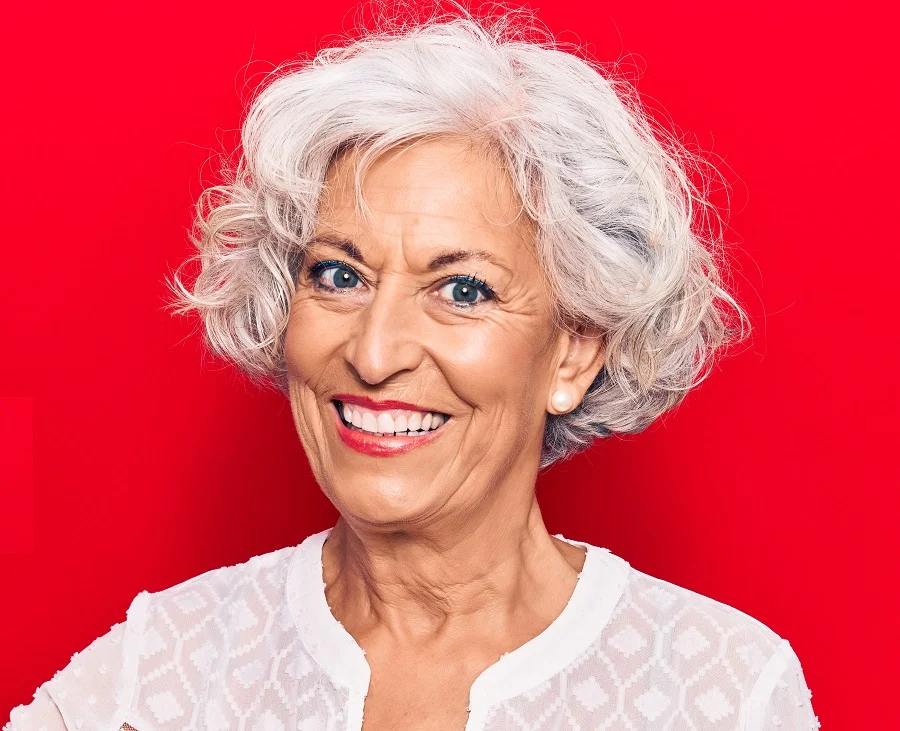 The bob has been the go-to hairstyle of most women over 50 and we can certainly understand why. With the short length, it's simple and easy to maintain. On the other hand, the curls and layers give the entire look a youthful touch.
14. Chic Messy Curls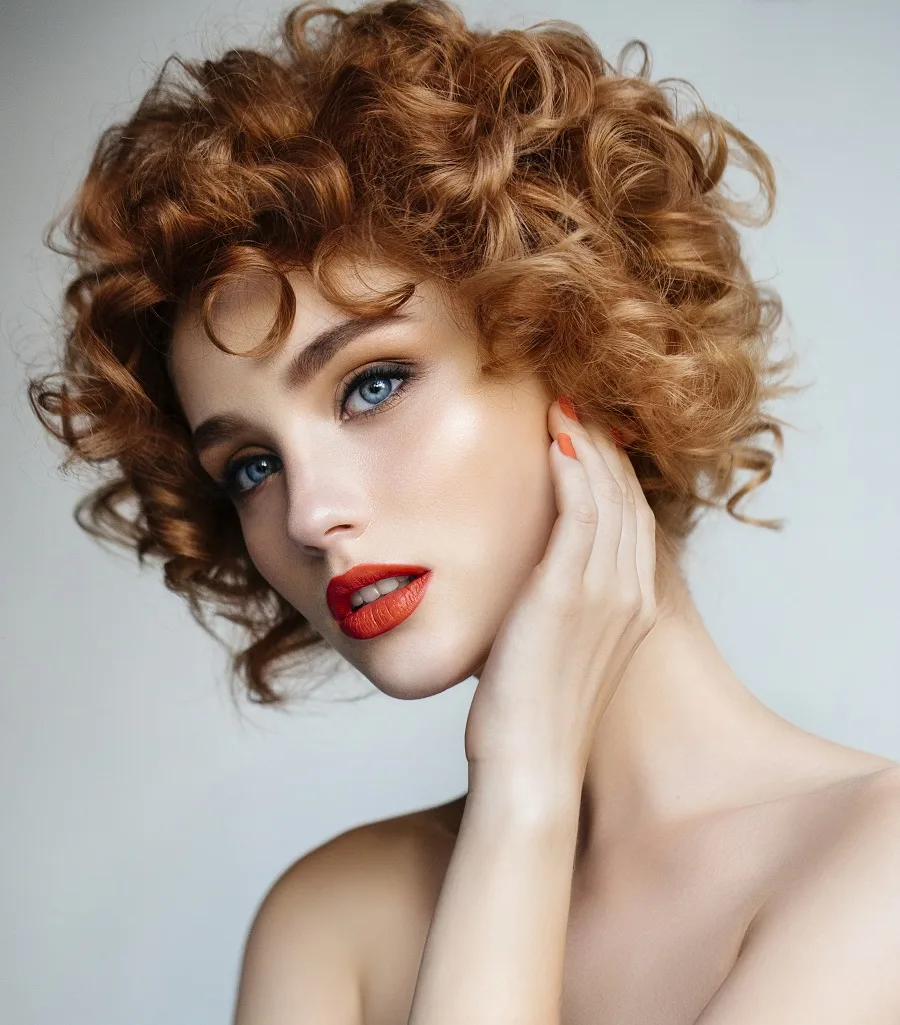 Messy hair has never been this sexy! If you have naturally curly hair, go for a simple yet structured rounded bob that will allow your curls to run wild while keeping them in check at the same time.
15. Messy Bob for Short and Thin Hair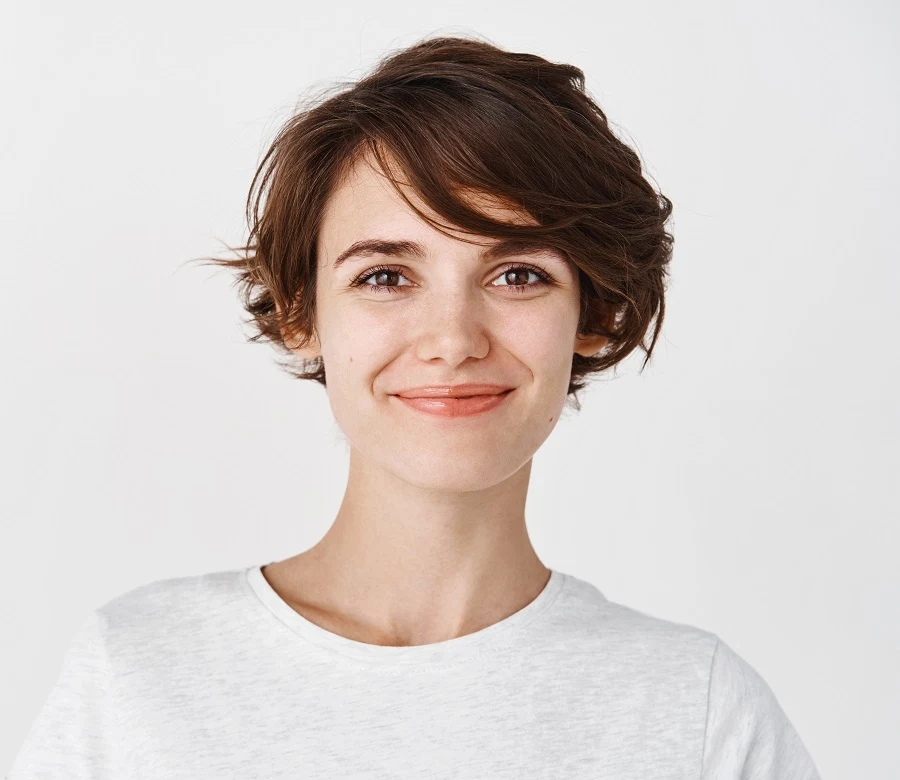 If you're looking for simple messy bob hairstyles for fine and thin hair, this short side-parted bob is one of your best bets. The side part creates an illusion of thickness while the wispy layers promote movement and depth.
16. Multi-colored Bob
A bob is also the best hairstyle that will allow you to experiment with colors. If you can't decide on a single shade, you can try a multi-colored bob that will allow you to express your creativity and personality.
17. Sideswept Long Bob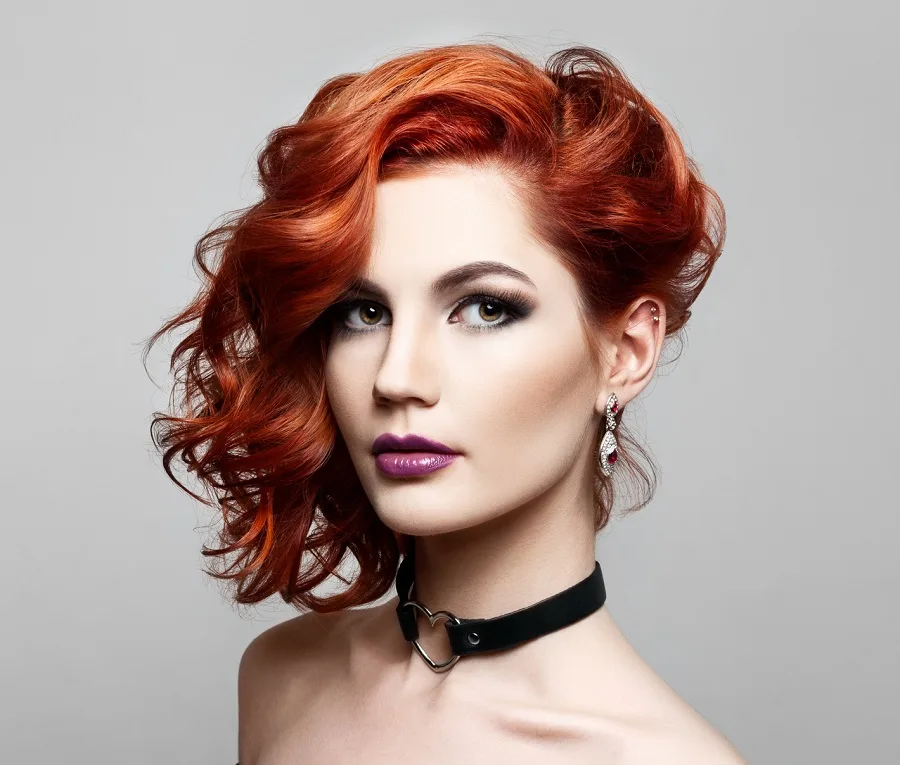 For a chic day-to-night look, sweep your hair to one side! This simple trick can turn a dull and boring hairdo into an elegant and charming one.
FYI, you would need lots of bobby pins and hairpins to achieve this look.
18. Messy Bob with Babylights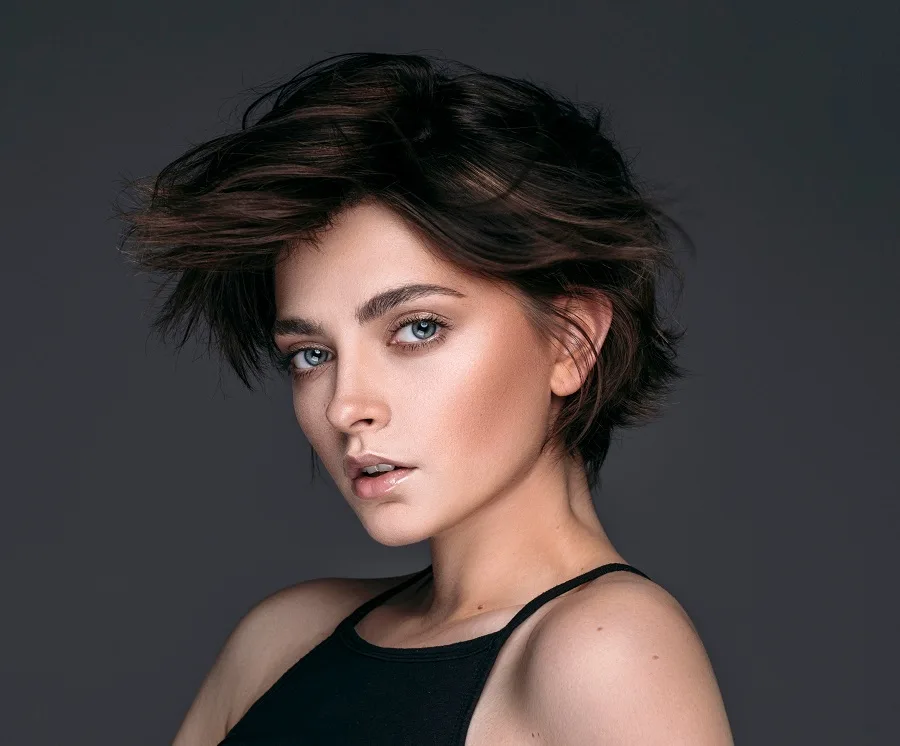 Do you want to update your look in an instant? Add highlights to your beautiful hair!
If you wish to get that subtle sun-kissed glow, go for babylights which will give your black hair a natural and more delicare look.
19. Curly Lob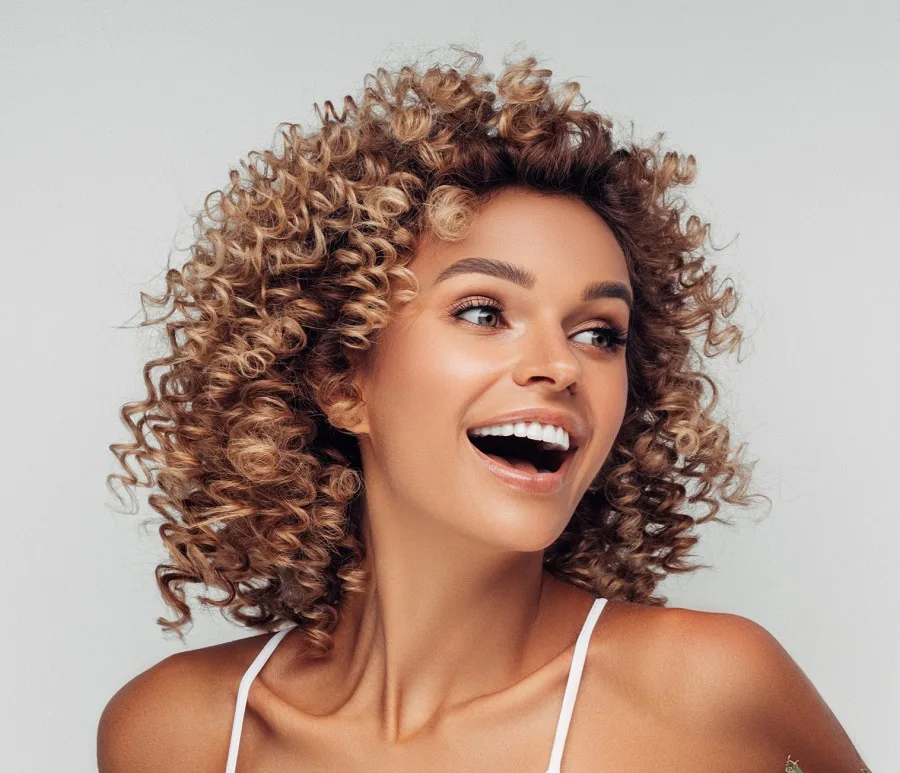 Do you want to show off your beautiful natural spiral curls? Try a simple long bob.
The lob is long enough to showcase your gorgeous curls yet still short enough for easy maintenance and care. With this lob, you can definitely enjoy the best of both worlds!
20. Pixie Bob
Do you find the pixie cut to be a bit short and bob to be a bit long? The pixie bob cut is the solution to your dilemma!
The length of this hairstyle is somewhere in between that of a bob and a pixie, so it's perfect for showing off your jawline and yet still versatile enough that you can style it in a variety of ways.
21. Spiky Bob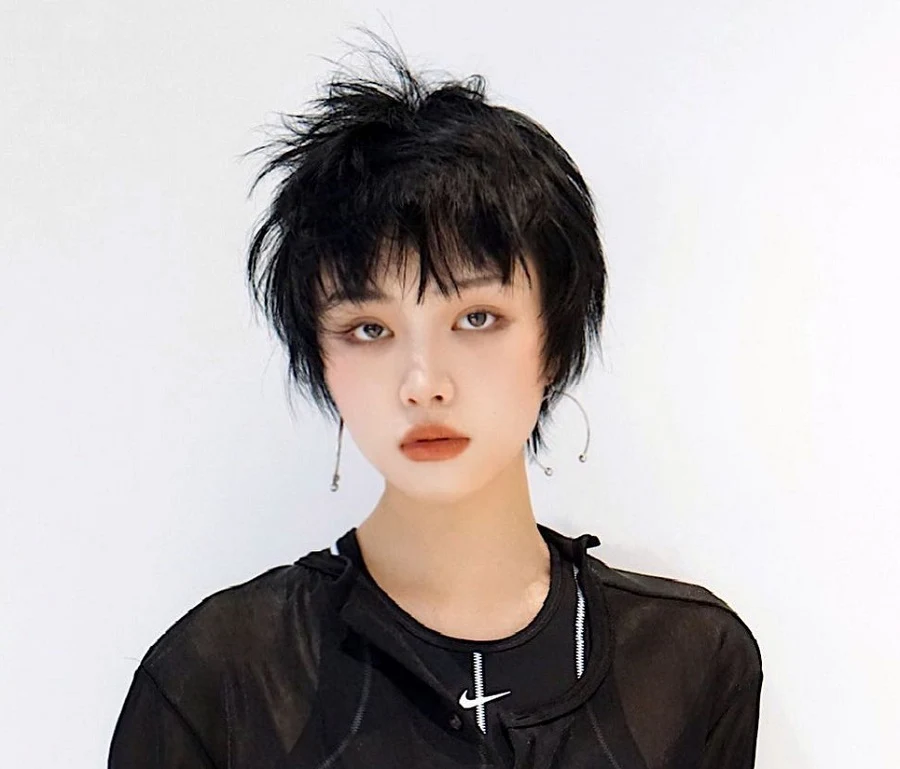 This spiky hairstyle is giving us the punk meets goth vibes, and we're totally loving it! For the ultimate rockstar look, keep your hair black and simple.
22. Money Piece Highlight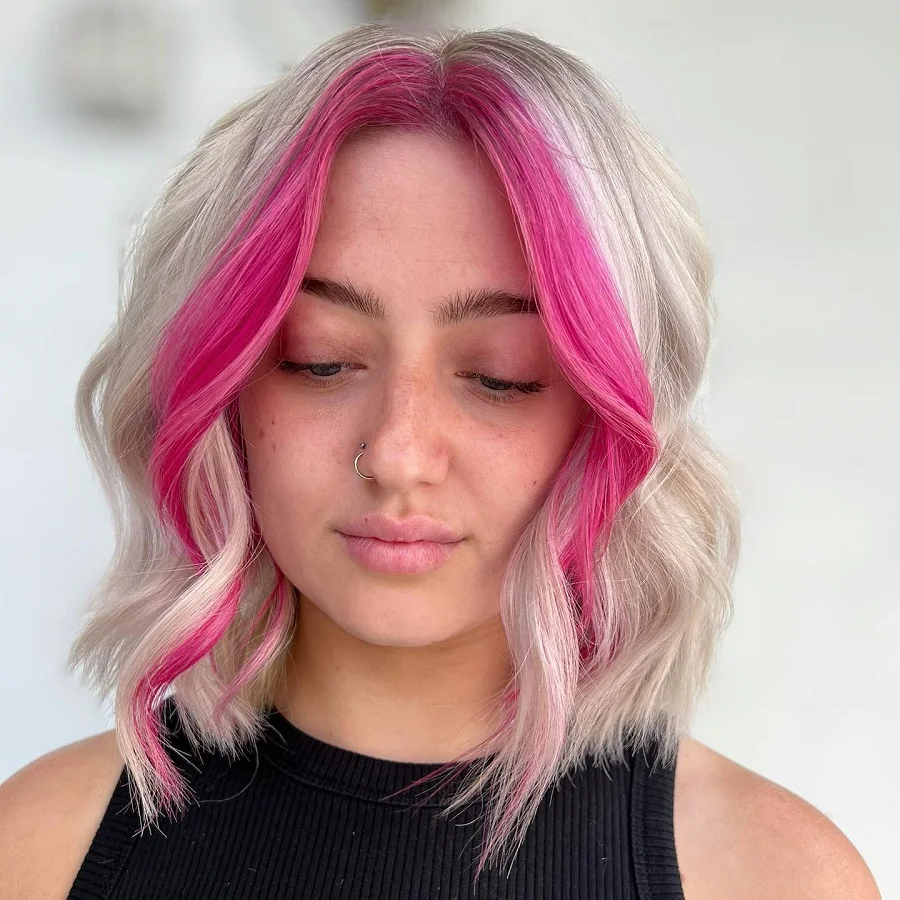 Make your simple wavy lob stand out with a money piece highlight. Dyeing the two strands at the front of your hair is a fuss-free way to change up your look and frame and contour your face in the best way possible.
23. Messy Beach Waves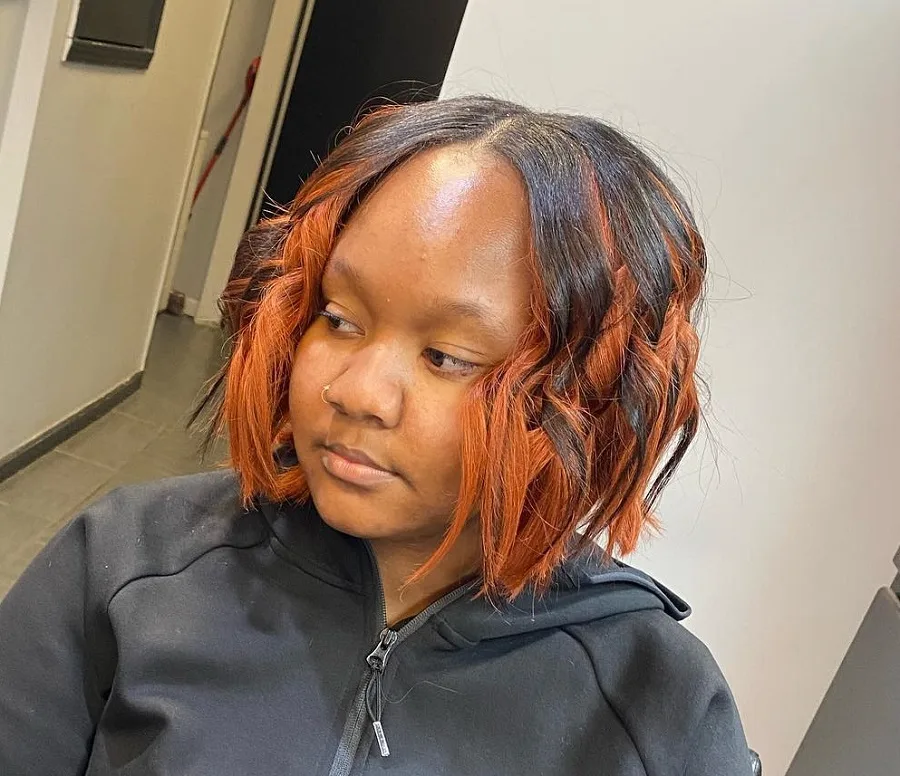 Beach waves have always been the ultimate messy wavy hairstyle. That's because the waves create an undone and relaxed natural-looking pattern.
To prevent it from looking too uniform, alternate the direction you curl your hair towards.
24. Wispy Shaggy Bob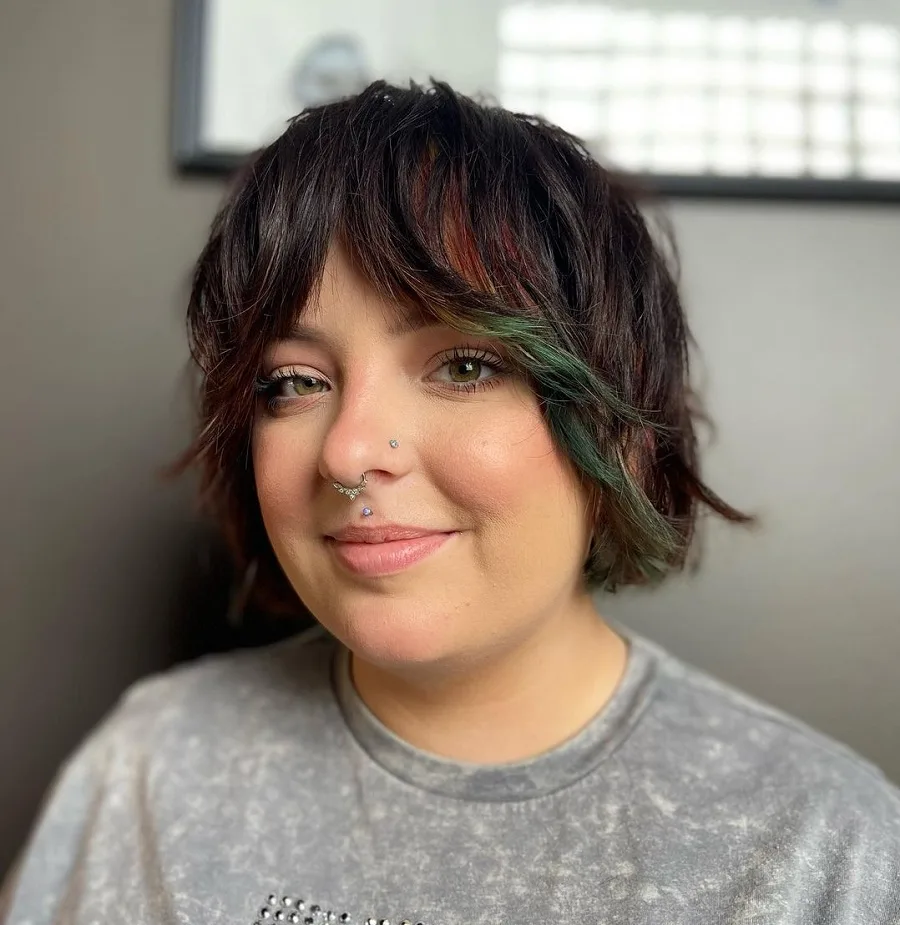 Shaggy bob with wispy ends provides you with lots of layers and textures that you can play around with.
Creating a flyaway look opens up your face and shows off your facial features. On the other hand, the wispy bangs and strands frame your face beautifully and help conceal your imperfections.
25. Choppy Layered Bob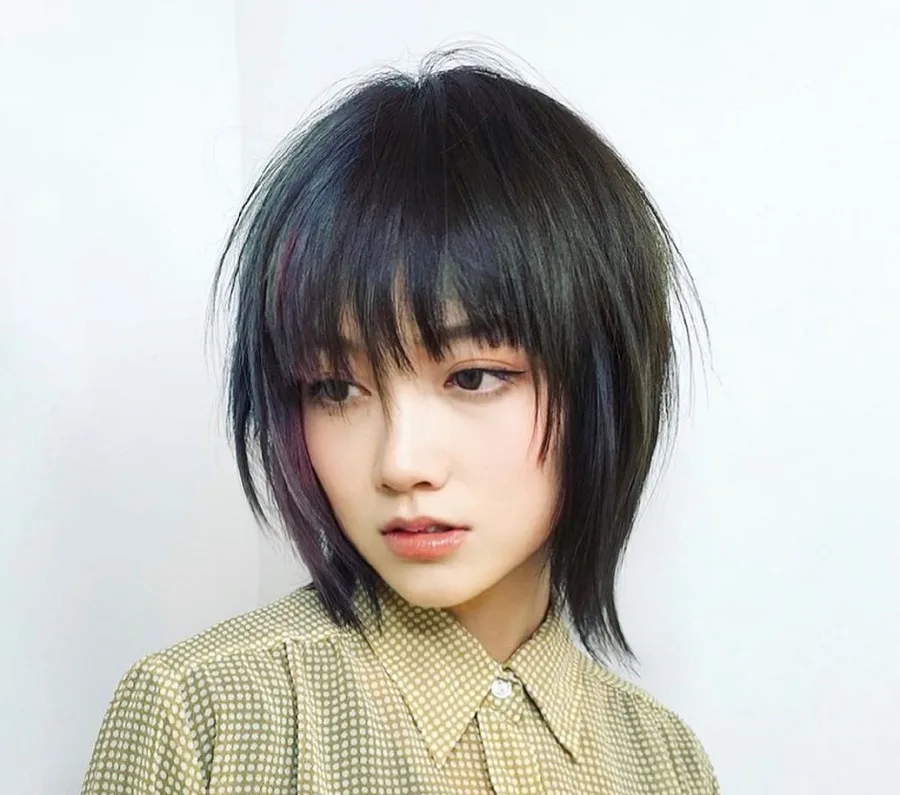 Layers and textures make fine hair look more interesting and provide it with more movement and definition. That's exactly what this choppy layered bob is all about.
For a playful touch, try adding a few dyed streaks here and there. This will definitely make your hair look more interesting.
26. Ombre Bob
If you want a hair color that requires less maintenance, the ombre hairstyle is the one for you. Since the ombre hair color doesn't start all the way from your roots, you can easily grow it out without worrying about the harsh root line.
27. Blunt Curly Bob
News flash: blunt bob is not just for straight hair. This hairstyle also looks amazing on curly hair too! In fact, it can make your curly hair look more classy and polished.
28. Curly Combover Lob
Achieving a glamorous, messy, and sexy look is all about volume. A combover hairstyle can help you create that.
To achieve this look, simply brush the front of your hair to the side. Spritz on some hairspray to keep it in place.
Pro Tip: You can boost your hair's volume by putting your bangs on rollers first before brushing it to the side.
29. Dyed Bob
Dyeing your bob is one great way to make it stand out. If you're a risk-taker, go for bright and vibrant shades like red and orange which are perfect for the summer season.
On the other hand, stick with the neutrals (brown, black, blonde) if you prefer a more subtle look.
30. Platinum Bob
If you have a cooler skin tone, one of the best hair shades for you would be platinum. The pale-silvery blonde color will give you that mysterious fashion-forward look. To achieve the full effect, pair it with blunt bangs.
This messy bob haircut looks particularly good on short hair. This works especially well for the corporates who want a bit of edgy dressing.
The best part about this messy bob hairstyle is the disconnected ends. They completely bring out the disheveled feel without overdoing it.
More importantly, it helps recreate the carefully careless and trendy look for you without too much effort. You can add more punch to this bob cut using colors like the ombre and make it look seductive.
If you like short bob, this is one of the best options to keep you cool on a hot summer day. The added advantage is that this messy bob haircut also makes you look very cool and super chic.
34. Graduated Messy Bob
This is one of the perfect examples of great improvisation and easy hassle-free styling. The messy styling adds great substance to the graduated bob and makes it stand out. This is also one of those quintessential styles that enhance your feminine charm.
35. Short Messy Bob
The straight bangs further enhance the messy bed head that this style is all about. This is also a versatile style that works effectively on most hair types. Irrespective of the hair color, this cut can bring a sophisticated look about you. In case you have a big forehead, this is a great way to camouflage it.
This is appropriate for long choppy bob. The baby bangs on messy bob and the pink balayage sync in seamlessly to create an uber chic styling alternative. It is trendy, casual and yet perfect for even official presentation and represents the perfect harmony.
37. Caramel Bob with Blonde Highlights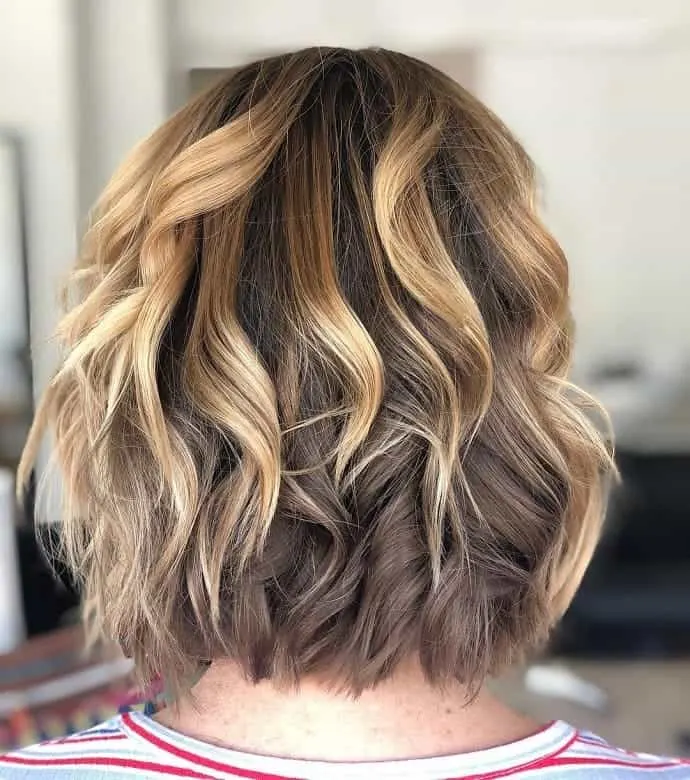 This caramel cut is one of the extremely unique and trendy options in the messy bob space. The babylights and the understated highlights work effectively in bringing out the chic elements of the messy bob hairstyle without effortless grace and candor. It also looks equally effective in short brunette hair.
If you have a square face and slightly lighter colored hair, this short messy bob will do wonders to your entire personality. It is casual, trendy and very easy to maintain wherever you might be dressing for. The subtle highlights add further dynamism to the whole look.
39. Messy Bob with Soft Waves
If you love wavy hair, try this messy wavy bob. It is clean, easy to maintain and completely lifts the look across your face. Whether it is a date night or a regular office day, this look is perfect.
40. Wavy Messy Bob with Middle Part
If you thought a messy bob was only for straight or slightly wavy hair, then think again. This messy bob hairstyle with middle part celebrates curls the best way.
41. Messy Bob with Side Fishtail Braid
This is another interesting dimension added to your messy bob. The beautiful braid on the side makes the bob sexy and seductive.
It is side swept, it is textured and it is stylish. This is a style that brings in a sultry, seductive appeal about you. An extremely sophisticated look, you can pair it with bright colored lips for best results.
43. Bold Blue Bob
If edgy and voluminous is your choice of style, you can rock this messy bob hairstyle with aplomb. It is attractive, and the disconnected end further enhances the overall style. The side part on bob and overall tousling further improve the edgy element.
44. Flipped Messy Bob
This is one of the best talked about sassy messy bob style that you can choose to enhance your overall look. This is particularly effective for those with thick hair and often has trouble styling it. Maintaining this style is rather simple and easy to achieve.
If you want the perfect combination of cute and messy, there isn't any that can match the charm and appeal of this particular styling of the messy bob. It is trendy, casual, effortless but also understated and classic. Whether you are going to the beach or office, this style will always look appropriate.
The razor cut at the ends no doubt give this choppy and messy bob cut a stylish edge. They say it is all about presentation and you get a beautiful version in this hairstyle. It is effortless but charming at the same time.
47. Messy Bob with Highlighted Ends
If you like wearing your hair a little longer, this shoulder length messy bob cut will surely appeal to you for its subtle charm and easy application. The lighter color at the ends adds substance to the messy cut.

Now, who would think frizzy could be stylish? This is perhaps as easy as it can get. If you like to wear your hair short, this short messy bob is all you need to bring forth an effortlessly stylish and sexy look.
49. Messy Textured Bob
The texturing adds a sense of mystique to this short messy bob. It also highlights the disheveled ends and lends a youthful appeal to your face. You can even team up this hairstyle with interesting hair color and other styling aids.
50. Two Toned Messy Bob with Tousled Hair

This two-toned hair adds sparkle and charm to the tousled, messy hair. Moreover, it adds dimension to the messy bob look and makes it stand out.
51. Teased Messy Bob
Talk of a perfectly imperfect stylish and edgy hairstyle and this messy teased bob hits the brief completely.
52. Messy Wavy Lob
This wavy long messy bob with hints of white at the end is captivating and simply stunning. This enhances your feminine charm in a seductive way.
This side parted look absolutely amps up the short messy bob into something completely stunning and beautiful.
This hairstyle is all about how to style messy bob is a charming, appealing and eye-catching way. The ombreying adds further body and dimension to this cut.
55. Pink Bedhead Bob
If you want to add an edgy dimension to your bedhead look, this is perhaps the best way to style a messy bob haircut.
Frequently Asked Questions
Here are the answers to some of the most frequently asked questions about the messy bob hairstyle.
Are the messy bob and tousled bob similar?
Yes, they are. Both are short haircuts that give off a fun, effortlessly chic vibe. A messy one is cut straight at the front with many short angled layers in the back.

A tousled bob is similar, with lots of layers to give it a striking texture. For a messy bob, cut in straight lines. A tousled bob is cut into shattered layers and chipped with a razor to create unique layers with blunt ends.
Can I style a messy bob with a flat iron?
Yes. There are many ways to style your bob. Using a flat iron is one of them! Depending on the texture and appearance you are going for, there are several different techniques you can use to create a messy bob with a hair straightener.

One method is to make a side part in your hair first, then with each section of your hair, twist the straightener down and away from your face. The flick of your wrist is paramount! Then massage your roots to increase volume and flip your hair back to the other side.
Does a messy bob have layers?
Yes. Considerable amounts of layering define a messy bob to give it texture, volume, and versatility of style. If you feel that your hair is often too limp, you may want to try the bob style to see if it brings the life you've been looking for into your hair.
Can moms also try messy bobs?
You can make your mom-bob cut messy. But if you ask me, a mom-bob is a big no; however, you want to style it. Given the range of messy bob, look for something else that you can work around.
Are textured bob and messy bob similar?
Textures are primarily all about adding volume and creating an additional dimension to your hair. You can even go for a textured bob. It is more of a styling fundamental that adds personality to the messy bob.
Can I try messy bob hairstyles with fine curly hair?
Yes, you can surely try a messy bob on fine curly hair. In fact, you can work out the overall curls in a way to bring in a graduated short bob with curly hair at the end for the best results.
Therefore messy bob is one of those effortless and stylish hairstyles that can amp up the most basic ensembles in a stylish and seductive way. You can wear your bedhead with aplomb if you know how to style messy waves well.