Ghana weaving hairstyles have been making the rounds in Nigeria. Ghana weaving is a technique created by Ghanaians that preserve the health of their natural hair by using synthetic hair with creative and unique styles.
The hairstyles are a win-win because not only are they stylish for any occasion, as well as able to frame any face shape, but they last long which will be very convenient for you if you are a busy Nigerian.
Popular Ghana Weaving Styles for Women
Here we have listed  15  most popular Ghana Weaving Hairstyles for women in Nigeria. Go through the styles to find out the suitable one for you!
1. All Back Braids
This Ghana weaving hairstyle is a simple and easy hairstyle to achieve. It is perfect for females with a chiseled jaw bone or a high cheek book. Depending on your preference you will have 3 or more cornrows along your hair. Your stylist may even cornrow the weave inside or outside.
If you want to add more flair to this hairstyle you can lay your baby edges in a swoop or small "c" or "s" patterns. The hairstyle will last 3 – 4 weeks depending on how you preserve it. Lastly, it requires little to no maintenance since your natural hair protected.
2. 3D Braids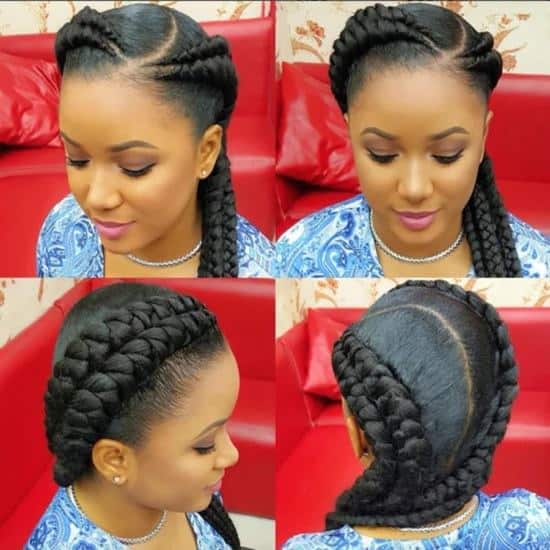 Next, is the 3D braids. These braids have been trending because they are more stylish than the regular 2d braids. However, 3d braids add more volume, texture, and thickness to the hairstyle.
In addition, this Ghana weaving style will be noticed by everyone due to the intricate designs because individuals will want to know how is it done. In order to achieve these braids, you would need to use braids that are similar to your hair color, as well as the texture so that it blends perfectly.
Best Nigerian Weaveon Hairstyles in 2021
3. Zig Zag Braids
This is a very creative hairstyle and is setting the trend in Nigeria. The hair is parted into a zig-zag shape along the length of the braid. Then, the length of the hair is cornrowed along the pattern. The zig-zags allow you to spice up your look. As well as, laying your baby hairs.
Ensure that you go to a professional to get the hairstyle done for a seamless look. Once you have the braids installed all eyes will be on you because of the hairstyle. People may even ask where you got your braids done because they want their hair to look like yours.
4. Marley Twists
Marley Twists are quite popular amongst the hairstyles for Nigerian women. It can be worn by anyone for work and/or special events. Marley twists depending on the color you choose will blend with your black or dark brown natural hair perfectly.
This is because the texture of Marley twists is very similar to that of your natural hair. In addition, the twists can be installed very long towards your buttocks or short towards your neck or chin length. Lastly, it is a versatile hairstyle that can be styled anyway.
Don't Miss Out These Marley Braids
5. Cornrow with High Bun
This Ghana weaving hairstyle is perfect for the Nigerian women who do not like their braids in their face, on their shoulder, or out at all. So, they can place it into a bun or a top knot. In addition, it gives a classy look that is perfect for special events such as weddings, dinners, work, and many more.
A bun is a universal hairstyle that can be practically worn to any occasion. Lastly, the buns help you to preserve the longevity of the hairstyle because the length fo braid will not be manipulated by you, others, or the environment which may cause it to frizz out.
If you like to wear bold hairstyles then this cornrow mohawk is perfect for you ladies. If you like to set trends or stand out differently in the crowd then you can try the braided mohawk. It is quite difficult to create at home by yourself so you may need to go to a professional hairstylist.
This look may take hours to complete because the hair is designed to look and fall like a mohawk as opposed to other hairstyles where everything flows in one direction. It lacks versatility in terms of being able to style in many different other styles but it will have you feeling confident.
7. Bulky Braids With Low Bun

Another very simplistic and classy hairstyle. You can have 3 or 5 cornrows in your hair, depending on what you like. In addition, the bun can be high, low or in the middle of your hair. The bulk braids add texture to the hairstyle. The hairstyle does not take a long time to achieve nor does it take a long time to style. This is definitely another summer look for Nigerian ladies.
8. Braided Cornrow Ponytail
Nigerians love the cornrow braided ponytail because it will have them looking gorgeous. Ponytails are classic weaving hairstyle which is still popular amongst the Nigerian women. The ponytail can fall to the left, right or back of your hair, it just all depends on preference.
For example, if your left side of your face is your best side then you can request from the stylist to let the ponytail fall or lay there. Lastly, you can add hair beads, charms or locks to the ponytail to accentuate the style.
9. Spiral Braids
Another creative hairstyle trending is Spiral braids. Once you wear this hairstyle you will be in everyone's field of vision because its unique. The technicality of the pattern can only be changed by professional hairstyle so that it comes out neat, as well as, shapes your face well. This is definitely the summer hairstyle for Nigerian women.
10. Elevated Braids
Ghana weaving hairstyle always develops interesting and intricate shapes and design on your hair. The weaving will make you look more youthful and accentuate your features. Although the hairstyle may look complex it is very simple to achieve. It isn't as detailed as many other cornrowed braided styles.
You can choose to add smaller cornrow braids between the elevated braids like in this picture. It shouldn't take a long time to complete because there are fewer braids to do. Lastly, laying your baby edges in a "Swoop" pattern will add more flair to your look.
11. Side Braids
Another popular hairstyle amongst the Nigerian ladies, especially if they have a round-ish face is the side braids. The side braids are very elegant and classy. You can do it in various colors such as red like in the picture, black, brown, grey and many others.
They are perfect for school, work, special events, practically for every occasion. You can add hair jewelry or accessories to the length and end of the braids to add more flair to the look.
Micro braids are making a comeback within the beauty community in Nigeria. It was really popular in the early 20s where black R&B singers would be seen rocking the hairstyle. Micro braids are another round face hairstyle because it can be styled to frame your face structure and best features.
Although micro braids have been portrayed in a negative light as damaging. However, they are not once they have been installed properly and your natural gaur us protected, specifically moisturized. In addition, micro braids offer much versatility because you can style your hair in a ponytail or bun or cornrows.
13. Ghana Dual Effect Braids
If you want to elaborate your braids then you can go ahead and style your hair in the weaving hairstyle of Ghana with dual effect braids. These braids are a trendsetting hairstyle that is extremely fashionable. They are specifically worn on extravagant occasions such as fashion shows, family reunions, weddings, and many more.
All eyes will be on you, specifically your hair, because other Nigerian ladies will want to know how you achieve this hairstyle. Ensure to find a hair stylist that can actually style your hair this way perfectly.
Another exquisite hairstyle perfect for any occasion such as weddings, parties, work, etc. The jumbo braids will have you feeling like a fierce Nigerian Queen. In addition, it should take less time to install than smaller twists because the twists are bigger.
As well as, your natural or relaxed hair will be protected for a long time because the jumbo twists can last up to 4 to 6 weeks.  Lastly, the hairstyle offers much versatility. You can style it into a half up, half down, ponytails, buns or let it all out. This is a great Ghana weaving hairstyle for any Nigerian women.
15. Senegalese Twists
Senegalese Twists are also known are a different type of rope twists that have been trending. They offer versatility and chicness to your look. It can be styled in many different ways such as half up, half downs, buns, plaits, ponytails, and many other styles.
In addition, you can install the twists so that it frames your face very well. When this Ghana weaving style is installed by your stylist it should take less time to do than other tradition three-strand braids. In addition, the hairstyle can last you up to 6 weeks. And, your natural hair is protected underneath.
These Ghana weaving hairstyles are being worn by all the ladies in Nigeria. It is great for there every occasion. In addition, it is convenient. Lastly, it adds flavor to their everyday look.