Marley braids can be ranked in the top 5 trendiest hairstyles among black women. With the crochet having an almost natural texture and feel, women started wearing them in different styles and colors.
For long or short, thick or thin, braided or loose hair, are easily achievable at a moderately affordable price. And Marley braids are no exception in this equation. They are one protective style that will last about six up to eight weeks if you took care of it, after styling it for a maximum of 2 hours.
Popular Marley Braids
Here are 35 Marley braids of different styles and colors to give you an idea on which style to choose before the actual work begins.
#1: Medium Length Marley Twists
The more the twists and the shorter the hair, the more voluminous your hair will look. This is one style that will appear more vibrant than ones without twists.
#2: Top Knot Marley Braid
Although Marley braids are a style on their own, styling them even more also works. Like this top knot, it doesn't require much time to acquire yet it'll make your hair look neat and suitable for outing. Not to mention it's an easy DIY hairstyle.
#3: Accessorize Your Look
Short hair usually has less styling options than long hair. And so, to achieve one remarkable look even with a short hair, try adding accessories that will grab attention towards them. Fedoras, hair beads and other accessories of your own choice will surely play a part.
#4: Sided Faux Hawk
Faux Hawks can be easily achieved by creating cornrows on one side and letting the rest of your Marley braids flow to the other. It's not hard to acquire yet it's a remarkably outstanding look.
The Best Crochet Braids to Try in 2023
#5: Long Marley Braids
With varying lengths and thicknesses of each strand, you'll get a distinct style each time. This protective hairstyle isn't hard to achieve, will last up to almost 6 weeks and will be suitable for many events depending on the style. So you can say it's totally WROTH IT!
#6: Black, Purple and Blue
It's not a wonder how much of a role colors play in terms of hair presentation. But that's not something new. What's new though is using more than one distinct strong color at the same time. Like in the image below, the black blue and purple create an outstanding effect.
#7: Marley Braid Updo and a Fedora
This is one way to style your short hair. With the sides of your hair tightly tied and your top hair poof-ed up, you'll get one unique faux hawk. Add a fedora for a more outstanding style.
#8: Complicated Marley Braids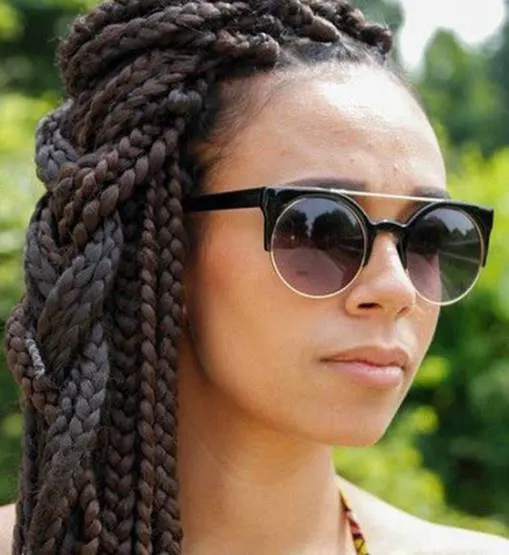 Using pencil sized Marley braids, you can achieve this head-turning look by braiding your twists into a bigger braid to the side of your head. Don't use all the twists, except let some loose for such an outstanding look.
Uplifting Crochet Braid Hairstyles to Stand Out
#9: Hair Beads and Coloured Strands
Pencil-sized braids are one of the most common Marley braid styles. You can wear them on daily basis or style them a bit further for a more special occasion. Add some hair beads and colored strands to personalize your look.
#10: Bordeaux Ombre
One way to make your hair more unique is by including different hair color extensions and beads. Like this one here, combining some Bordeaux extensions with your dark hair you'll end up with a beautiful ombre effect.
#11: Bold Colours
This is one audacious style to acquire. Combining two bold colors, without blending them in will sure make you the center of attention. But if that's your taste, then go for it. Even with such hair colours, you can get different styles depending on if you cut them short or keep them long, braid them or let them frizz.
#12: Neat Buns
Creating a neat bun with Marley braids, you'll end up with a look suitable for formal, special and professional occasions. If you couldn't do it yourself, then get it done in the nearest salon. They're easy and don't require much time to style.
Hottest Short Curly Hairstyles for African American Women
#13: Blond Strands
Try including some different hair colour strands to your braids, for a change of mood. Depending on your skin texture, different colours will give off a different vibe. So, if your skin is a bit dark, try going for bright colours for a head turning look.
#14: Gray Waves
What's good about hair extensions is that you can choose the color, length and the style afterward without any limitations. Even letting your hair loose will still look good if you chose the right color and style.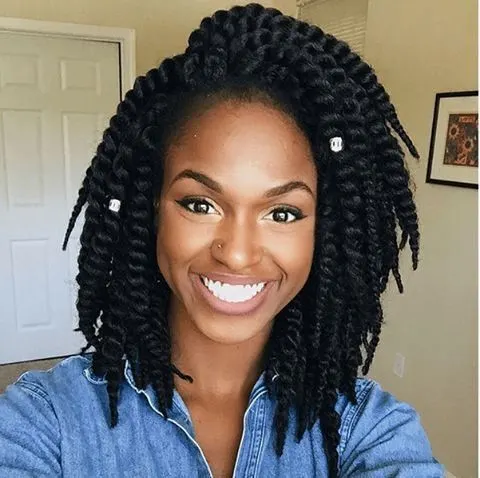 It'll be a bit hard to take short jumbo twists any further in styling, but they themselves are enough for a feminine and a gorgeous look.
#16: Summer Feel
With your thin, purple and pink ombre Marley braids, take a few front strands and tie them to the back to make your face clearer. With a bright summer dress, you can kick off an even brighter day.
#17: Sided Knot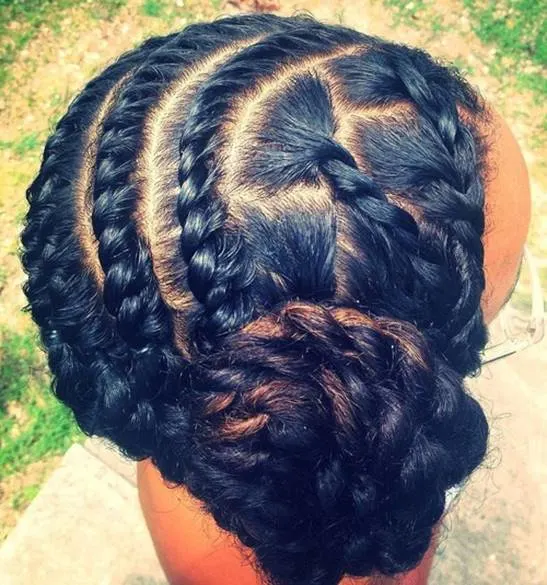 Create flat twists and direct them towards one side of your head and then tie the free strands into a knot. This is a feminine style that will bring out the child in you.
Installing different hair color extensions and fusing them together through braids will create a beautiful ombre effect. Tie them into a ponytail for a more notable look.
#19: Twisted Twists
Creating a huge twist out of smaller ones can be achieved with Marley twists. Start off with small twists on the side and let them get bigger as they get closer to the top of your head.
Jumbo twists too are becoming more common these days. Though they're a bit harder to style than thin ones, they're one protective style to go for.
#21: Blue Marley Braid Top Knot
With your pencil sized Marley twists, you can get your hair styled further by adding blue hair extensions and tying your top hair into a top knot while letting the rest fall freely.
To acquire such a mohawk, shave the sides and the back of your head, and with your top hair create some Marley braids. You can then twist the braids and tie them to the back of your head.
#23: Faux Hawks and Ponytails
Create some cornrows on the sides of your head for a Faux Hawk. You can choose to let the rest of your hair loose or tie it into a ponytail.
#24: Small Details Count
Another example of Marley braids with a fedora except with thicker twists. The small details in the look make a huge difference, like the two magenta twists and the fedora worn by this girl.
#25: Jumbo Marley Braid
The same way you twist your braids to form a bigger twist, you can also braid them. Take your Marley braids to the side and braid them into one Dutch braid. It might look complicated and intricate, but all it is but a braid.
List of 100 Ultimate Braided Hairstyles for Black Women
#26: Blonde Highlights
Stereotypical blonde highlights on straight hair are overdone; an excellent versatile option would be blonde highlights on Marley braids! This would bring some texture and pop of color as well. You wouldn't need to style it any other way as it would look great even simply down.
#27: Blue Braids + Flat Blonde Braids
If you are one of the blond ones, this hair color is just magnificent. The blue brightens the entire look and looks even more extravagant fused with the light blonde. This hair color combination is rare but a perfect alternative for something out of the box. It's a great way to dress up your Marley braided hair.
Ponytails are a great way to lift your entire face, having a combination of tight braids that are pulled up in a pony is unique and feminine looking.
You could also wrap your braids around the hair tie to create a more chic and clean look; it seems to add more dimension to the entire hairstyle. This hairstyle is dressy and casual, which is why it is something you should try out.
#29: Sophisticated Pulled Back Braids
This Marley braid hairstyle is again a feminine or princess-sy hairstyle, the long strands pull back, and secure look great for a casual look. The hairstyle is neat yet has a unique aura to it. If you do not have a lot of time on your hands yet want to look cute and presentable, this hairstyle could be a great option.
#30: Blonde-Ombre Tight Braided Look
Ombre hairstyle has gained popularity worldwide, the idea of keeping your roots natural and having them blended into either a blonde or a brown allows you to have dimension.
If you are worried about a specific color not going well with your skin tone, opting for the dark or honey blonde hairstyle would be a good road to take.
Half-up hairstyles are always a great way to spice a regular hairstyle. They are sophisticated and instantly make you looked groomed and well kept. The best thing about them is that they are quick to do and add significant volume as well.
If you have tried all types of parts, the center part, and the side part, etc. and all these hairstyles are feeling repetitive, you should give the high crown pony ago!
This way, the hair on your crown is pulled back and secured, giving it a unique look and appeal. This Marley braids style brings a great change for everyday casual hairstyles.
If you feel as though high and tight ponytails can often give you a headache if they are worn too long, this hairstyle is a perfect alternative to opt for. If you do opt for this most unique of the Marley hair braids styles, you can choose how to loosen you tie the low pony.
This hairstyle can be adjusted according to preference, which is why it is something you should try out.
#34: Thick Marley Twists with Accents
One of the positive effects of these black twist braids is they can be both thick and thin. Here, the braids are thicker in size, giving the entire hairstyle a good amount of oomph. If you get bored just simply leaving your hair down, you can add in gold accents or small shells to make them look more distinct and playful.
If you are women of bold taste, these braids that are tight towards the scalp and thick towards the bottom is an ideal hairstyle. Even though this hairstyle is out of the box, it is bold and exceedingly attractive, which is why you should go for it.
These affordable and easily achievable Marley braids don't take much time to style. If you think you're going to want to style your hair further after braiding them, then opt for thin braids, for you'll have a wider variety of hairstyle options to choose from later on. Make sure to take good care of them so they'd last, and don't let the braids stress much on your head while styling them.