Are you heading for a fun day at the golf and want to keep your hair in tip-top shape? The key is to find a stylish and low-maintenance hairstyle for female golfers that won't get in the way of your face and your game.
Sounds like a tough thing to do? We've got just the right golf hairstyles you're looking for, so keep on reading!
Trendy Hairstyle Ideas for Female Golfers
There are 6.4 million female golfers in the USA alone. Choosing the right hairstyle is part of getting ready for the game. If you're ready to look and play your absolute best out in the sun, here are some easy-to-maintain hairstyles for female golfers that'll make any woman look like a pro.
1. Long Bob
Don't want your hair getting in the way of your game? Opt for a simple and straight hairstyle like this long layered bob.
It's of the right length—not too short or long. Not only that, its fine texture is perfect for wearing a sun visor.
2. Braided Ponytail
A braided ponytail is one of the most common hairstyles done by lady golfers. There's no better fuss-free way to get your hair away from your face than the ever-reliable ponytail. If it seems too plain and boring, you can easily braid it up! This simple tweak can instantly make your hair look more stylish and extra feminine.
3. Long Wavy Hair + Side-swept Bangs
Who says you can't wear your hair loose and wavy out on the golf course?
You can definitely do that! You can even add side-swept bangs if you want to. Just make sure to keep the face-framing bangs above your eyebrow so they won't obstruct your vision.
4. Ponytail + Curtain Bangs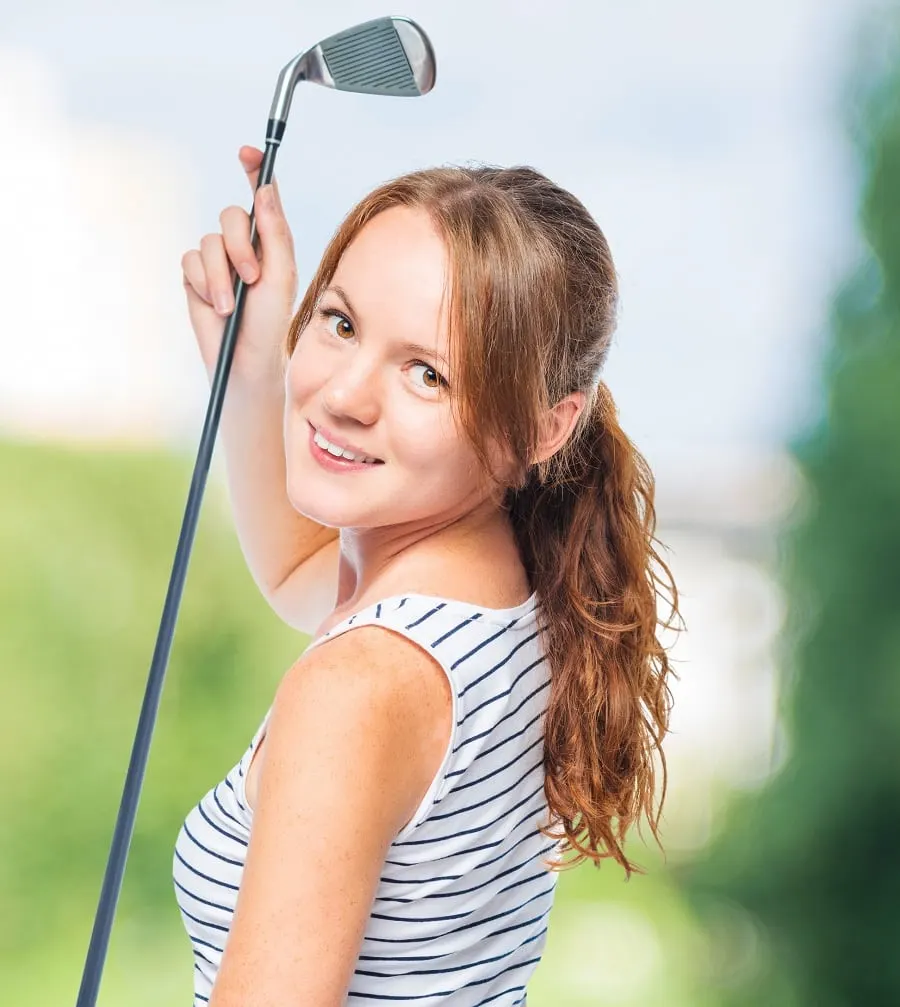 A trusted ponytail is one of the easiest golf hairstyles you can get. But if you're conscious of your large forehead or your big cheeks, make sure to add in a beautiful face-framing feature—curtain bangs!
5. Layered Bob
What's the best hairstyle for women who play golf? One that's short, sweet, and simple—just like this layered bob. With its short length, you'll feel fresh and cool even after being under the sun the entire day.
On the other hand, the layers and side part are just what you need to spice up this simple look.
6. Bun + Bangs
If there's one hairstyle that's much more efficient (and stylish) than your ever-reliable ponytail for female golfers, it would be none other than the bun hairstyle. It keeps your hair away from your face, keeps you feeling fresh, and most of all, it's sun visor-friendly!
Instead of going for a sleek and tight bun, go for a loose and messy one for a carefree vibe.
7. Box Braids
Do you want to keep your hair down but still want to make sure that your curls are well-protected? Go for box braids as they will give you the best of both worlds!
With this protective hairstyle, you can retain the length of your hair while keeping your scalp and ends safe.
8. Messy Curly Hair + Ombre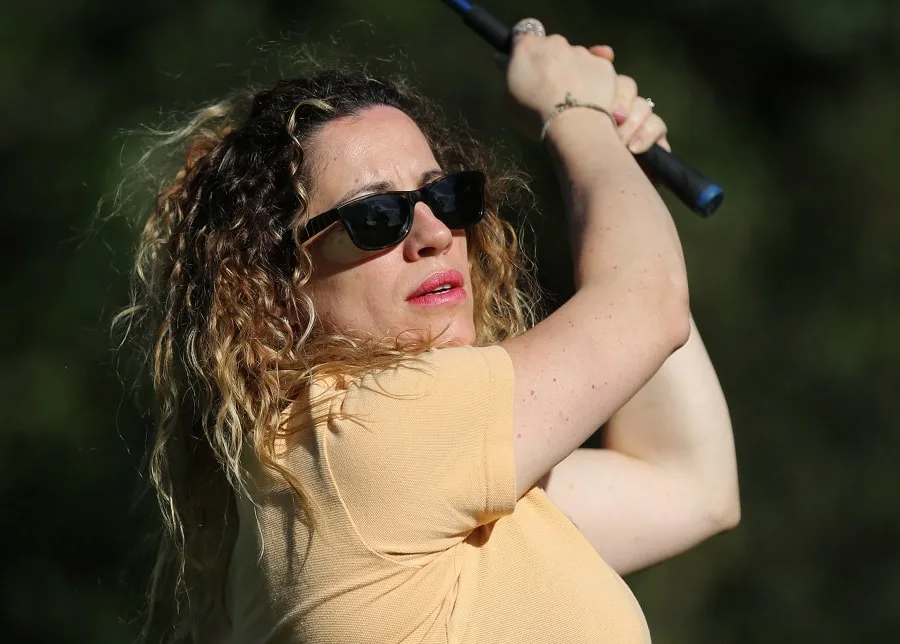 Do you have curly hair, and you don't want it to be ruined by buns and ponytails? If so, then go out there, let your hair loose, and show everyone your beautiful curls! Go for an ombre brown and blonde hair color if you want that gorgeous sunkissed glow.
If you're worried about your curly strands blurring your vision while playing golf, just put on your sunglasses!
9. Half Ponytail
The half-up golf hairstyle will give you the best of both worlds. The half-ponytail paired with the side part creates a sleek and polished look that is perfect for the day out.
On the other hand, the half-down hairstyle plus the side-swept bangs frame your face beautifully, conceal your forehead, and make you look slimmer.
10. Top Bun
Don't know what to do with your hair when wearing a sun visor? Pull it into a top bun! This is a lot higher than the usual bun, so it gives you the same sleek look but with a bit more style and edge.
The braids, high ponytails, ponytails with braids, buns, box braids, etc are the most common hairstyles seen in women's golf. If you want to enjoy the game and look your absolute best at the same time, these simpler hairstyles are the way to go!