Are you trying to experiment with your hair and you want something that is easy to maintain? Women have been loving a long layered bob with bangs for the Summer, and also for creating the ultimate illusion of longer and fuller hairline. If you want to look well-put while doing almost nothing to your hair, this cut will suit you!
How to Cut Long Layered Bob
These are the steps to style long bob with layers and bangs
Step 1: Comb your hair and remove any unwanted tangles. Part your hair in your preferred way. However, part to the center of your forehead in 4 smaller sections.
Step 2: Secure the first 2 sections that are at the front with some bobby pins so that they are not in your way. Leave around 2 cm of hair on each section on every parted side.
Step 3: Cut your hair in a standard bob and by making a straight line down the ends. In order to achieve a layered illusion, make sure that your upper and top part is properly cut and in the upward position. Release the clips which were securing 2 sections and comb them upfront with your comb.
Step 4: Use your fingers and create a straight line, but work with smaller sections when cutting the hair and create an illusion of a lifted look.
Step 5: Work with 2-3 cm of more volume all around your entire head and the hairline and make sure all of your hair strands are placed flat & straight, and not frizzy.
Popular Layered Lob Hairstyles with Bangs
Our experts have compiled women approved long bob hairstyles with bangs and layers.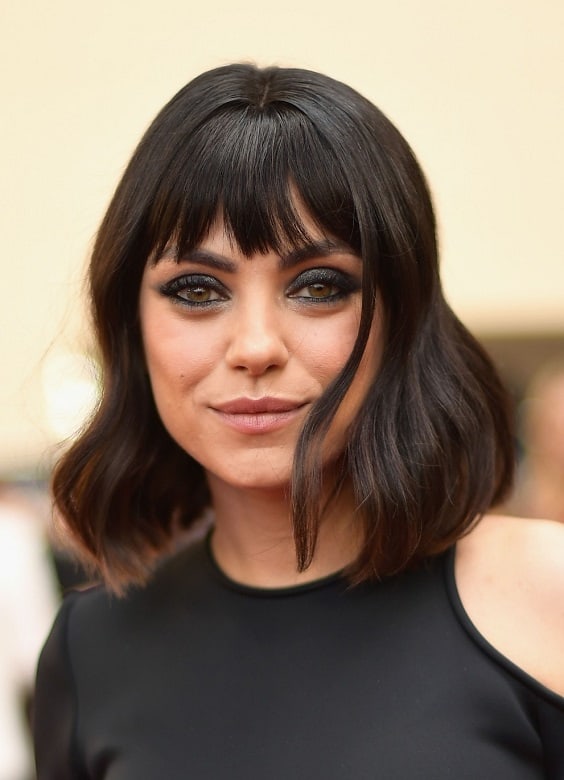 Mila Kunis would look great with anything on (let's be real) but this long layered bob with bangs looks phenomenal on her! This hairstyle only proves that even actresses are not afraid of this unique hairdo and that they can still definitely rock it on the Red Carpet.
If your hair is lacking some texture or dimension you can wear a straight bob, and get away with it. This look will look very high-end once paired up with some fierce makeup, and all you have to do is iron it straight each morning and enjoy the outcome.
This is the ultimate hairstyle for women who are in their 20s. It is still playful while looking professional and ideal for everyday activities. If you love a layered lob with bangs, make this one your next go-to hairstyle and enjoy the simplicity of it.
Women who are not too sure what is the best way to add some illusion or dimensions to their hair should get a long bob with side bangs and layers both on the front & back since it is ideal for fine & thin hair.
With this cut, you can focus all the attention to your eyes since your bangs will hang quite low, and no one will really realize that your hair is actually thin, fragile, or weak.
Khloe Kardashian is an internet sensation which has been wowing the world with her innovative makeup, beauty, hair & fashion looks, and she definitely knows how to rock this long bob haircut with layers. It is very straight but colored in a beautiful platinum dye which will look great on pale complexions the best.
If you want to maintain your length and you don't want to cut way too much of your hair this long bob haircut with layers & bangs will look lovely on you. It can take you only 10 minutes to style it, and it will suit women who have flat & thin hair the best.
Women who are in their 40s will look phenomenal with this lob with layers hairstyle, and will also look a few years younger. All the attention will be focused on your eyes, and you will successfully hide away any fine lines or wrinkles along your forehead.
Women with platinum or light brown hair will look breath-taking with this long layered bob with bangs. If they start to bother you at one point during the day, simply tuck them behind your ears and show off your face structure.
Some low-lights will look feminine on every girl, no matter her age. You can do this long layered bob hairstyle for your prom or graduation party, and look stunning as never before. Make sure your highlights should match your undertone, and only then proceed further with this bob cut.
Super straight hair and a lot of volume sounds like a dream come true for every woman! Add texture by spraying your hair with some hairspray and do some crunching motions at the back, this will create amazing and natural waves.
11. Long A-line Bob with Layers
Women who have a bold sense of style will enjoy this unique long bob with bangs and layers. It is super long and chic, and it looks like something you'd usually spot on the runway!
Asymmetrical and fluffy hair on one side creates an illusion of a fuller hairdo. If you are still in your 20s you will enjoy this hair-flipped layered long bob with straight bangs look, especially for the night outs.
Women who have naturally lighter hair should pair it along with a long layered bob cut and bangs. These are very fluffy and will add dimension to your face, which is great if you feel like you have a smaller head and you need some lifting or rounding.
This amount of texture looks very feminine, bold, and eye-seeking, which is all a woman should embrace every here and there! If you don't mind all the jealous looks you are going to love this textured & layered lob with bangs.
Darker brown hair looks naturally beautiful, so make sure you add some 'umpf' to it by going for this layered long bob with bangs.
Hot orange or fiery red hair will looks the best on pale complexions. If your current hair color is anywhere in this range and you are trying to spice it up even more get a long layered bob and enjoy it 24/7!
Even if you have frizzy chocolate brown hair you can pull of a bob cut. No reason to spend hours in the morning trying to get every strand straight, you can easily rock a wavy hairstyle whenever you feel like.
Bleached ends and a long bob haircut with layers and bangs will look the best on women who are in their 30s and who need a combo of playful + professional. This hairstyle is very versatile, and will suit your working hours the best.
19. Dark Brown Bob with Layers
Side bangs will give your face an opened up look, and will focus a lot of the attention to the center of your face. If you prefer this look make sure you get the wavy long bob with side bangs and layers.
Blonde colored beauties who have blue eyes will look really soft, playful, and romantic with this hairdo. If you are in the mood for something sensual and innocent looking you will enjoy this cut.
Lastly, this shaggy & wavy haircut will be a huge trend this Spring & Summer season, so make sure you hop on the trend! You can enjoy this layered long bob haircut with bangs for any event, but especially for your daily & relaxed situations.
If you have super thin hair and you are trying to bring it back to the life you can do that with the right hairstyle, such as this long layered bob with bangs. It creates an illusion of voluminous hair, and is ideal for everyone! If you are a fan of minimalistic hairstyles which are easy to maintain know that at least 1 out of 21 of these will suit you.