Remember only two things on your softball game day: play well and look good. But how irritating can it be if hair gets in your way during an intense match? You might even lose the game.
And just because softball players run around in the dirt or the ones watching them stay in the sun for long hours, it doesn't mean they should appear messy accordingly. Softball hairstyles do exist and are ideal to keep the tresses neatly tucked away from the face.
Look below for some inspiration and steal the show in your next game.
Softball Hairstyles
Whether playing the game or not, you can still recreate the below softball hairstyles to look like polished sportswomen.
1. Loose Hair with a Softball Cap
While softball caps are worn to support your favorite team and fellow players, they are ideal to keep hair from getting into the eyes. If you don't mind leaving your short to medium tresses on the loose tame them with a cap that'll also protect them from the sun and wind.
2. High Ponytail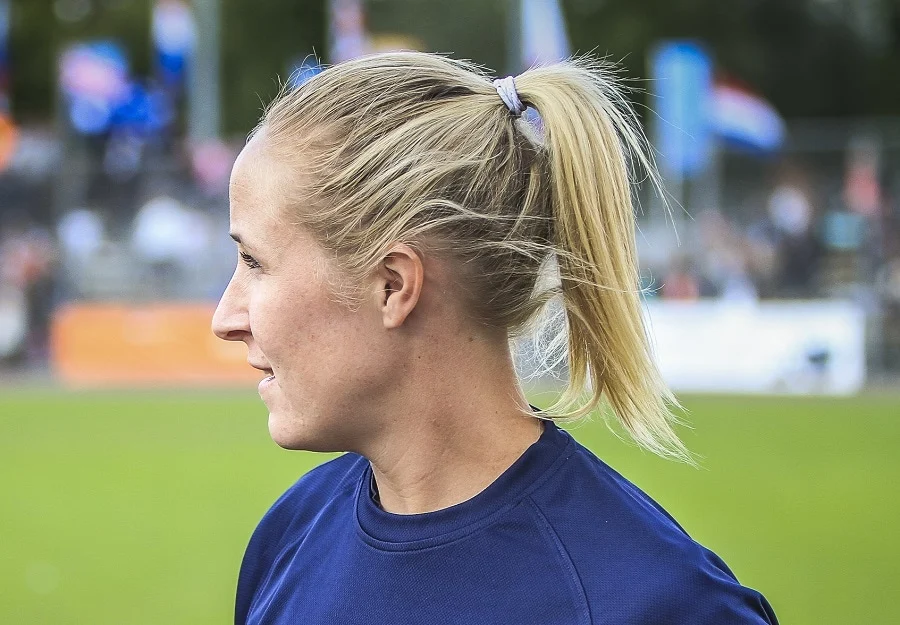 High ponytails make the best softball hairstyles. Grab a hair tie and assemble all the hair on top of the head. Put on a head sweatband and even a single strand of hair won't disturb you during the entire game. You can also create a pouf at the front.
3. Dutch Braids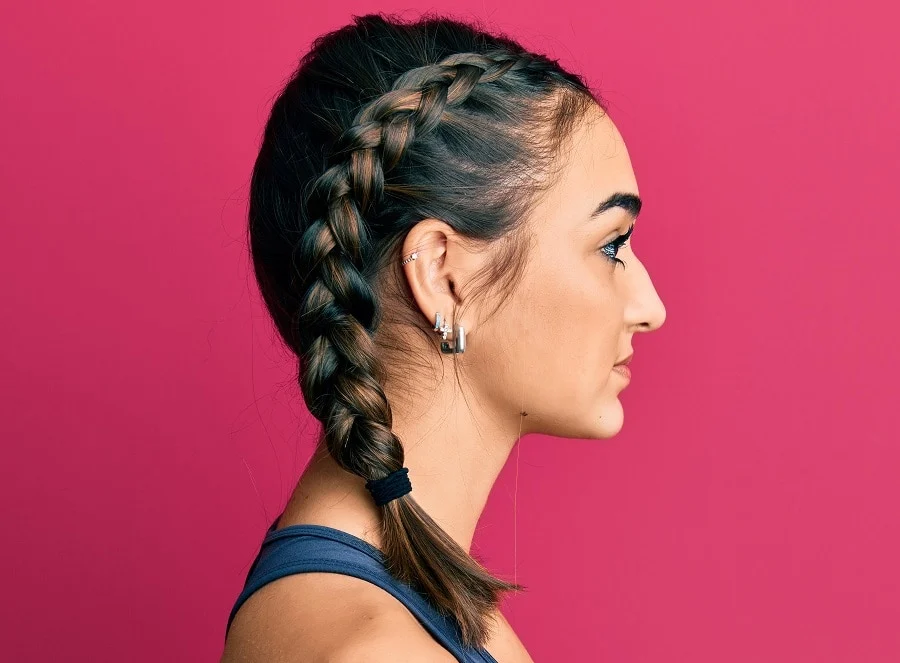 Braids leave behind ponytails when it comes to tucking all those locks away from the face. Carve out a middle part, probably a zigzag one for a sassy look, and plait the hair on both sides all the way to the end producing gorgeous Dutch braids that won't be ignored.
4. Curtain Fringe
Though loose tresses are risky as they would be the last thing you'll wish to worry about when chasing the ball. Still, curtain bangs are an ideal way to refresh your look as they are long enough to be secured with pins or tucked behind the ears.
5. Casual Updo
Rock a casual updo when supporting your favorite softball team. Create a loose simple bun or a plaited one with the front strands pulled out to frame the face. You can always pin back those loose tendrils in case you don't feel comfortable.
6. Short Ponytail + Bangs
If you are a bangs person tuck them away before the game starts. Women who don't like exposing their foreheads should make sure their fringes are short enough not to irritate the eyes. Coming toward the remaining hair, a short bouncy ponytail will look cute!
7. Messy Curls
Messy curls look beautiful without a doubt but they won't be recommended if you are about to run around in the field. It is best to pull them back into a simple bun, ponytail, or a braid but if you still want to keep them loose do that in mild weather or when you're not playing.
8. French Bob
Make a style statement when rocking an athletic softball hairstyle. Chop the hair at ear length with or without bangs to achieve a chic French bob. Add some layers to avoid a blunt look and put on a head sweatband to prevent sweat from getting into the eyes.
9. Low Pony
High ponytails are not an option when you prefer to wear a softball cap or when it's a compulsory part of your uniform. Rather than going for a boring pony at medium height, tousle the hair on one side and secure it with a rubber band for a cute girly appeal.
10. Sleek Bun
Buns are the best! Use pomade or gel to slick down the tresses with a middle part, side part, or no parting at all. Create a pony and twist it while wrapping it around to achieve a knotted bun that'll stay intact all day long.
11. Box Braids
Box braids are an ideal protective hairstyle loved by mixed-race ladies all over the world. These braids tame all that natural fluff while saving it from any external damage. Carve out square, triangular, or hexagonal sections and incorporate extensions in any color when plaiting the mane going as long as you wish.
12. Side-Swept
Side ponytails look adorable, especially on young girls, and never go out of style. Detangle the hair with a side part and assemble it on one side to fall on the shoulder at the front. You can opt for a high, medium, or low pony. The choice is yours!
13. Sporty Softball Hairstyle
Another sporty softball hairstyle to steal the show! The key to achieving a bouncy ponytail lies in creating a tight one with a strong-hold elastic band. Pull the hair tightly by parting it in two sections. Don't pull too much so as not to cause any hair damage.
14. Colorful Boxer Braids
Boxer braids are also known as Dutch braids and cornrows. They are popular among athletic women who have set them into trend a this year. Stand out from the crowd by using bright-colored extensions including these purple ones when braiding the hair.
15. High Bun with Visor Cap
Visor caps are often rocked by female players protecting their faces from the sun while keeping their heads cool. Thee caps also allow women to carry all sorts of hairstyles, unlike traditional caps. Opt for a neat and tidy look by sporting a simple yet chic high bun.
16. Hot Pink Lob
Vibrant hair colors don't come in the way of your eyes, right? Express your bold personality by getting a choppy lob and dying it in the hottest pink shade available. The dark roots add up to the look that you can spice up further by wearing your cap backward.
17. Soft Layers
Softly layered tresses never disappoint regardless of the hair texture and suit all occasions from fancy parties to field games. Refresh your mane without compromising on the length and, as mentioned earlier, prevent it from getting unruly with a cap.
18. Asymmetrical Wedge Cut
The shorter the hair, the lesser you need to care about it when playing softball. A funky wedge cut with one side longer than the other is sure to drop some jaws. Ask for some heavy texture, side-swept bangs, and dye the top strands in a vibrant shade for an eye-popping finish.
19. Headband Style
Headbands come in handy when creating softball hairstyles. Sportswomen can slick back all their hair even their bangs with this simple hair accessory while pairing it with a ponytail or bun at the back. Those who can manage their fringes without worry can spare them when putting on the hairband.
20. Edgy Pixie
Pixies can prove to be the most convenient athletic haircuts as they are easy to maintain and style. Chop off all that hair sparing only a few inches with short layers all over the head. You can slick back the top, brush it forward, or pin it sideward. Your call!
21. Half-Up, Half-Down
Softball players who love to wear their locks loose can recreate this look that has been trending this year without second thoughts. Keep your vision clear by taking the front hair and wrapping it into a half-up bun with the remaining strands dangling at the back.
22. Bubble Braid
Fun and playful, bubble braids are an exciting twist on ponytails. All you need to do is add multiple rubber bands along the entire length at regular intervals creating cute bubbles. Two hair ties will do the trick too when in a rush just like portrayed here.
23. Halo Braid Updo
Look like a queen even when playing around in the dirt with an elegant halo braid updo. Start knitting a Dutch braid at the front and keep on adding chunks when moving around the head creating a crown with your own tresses. Use several bobby pins to get through the entire day.
24. Top Knot
Don't let go of the chance of impressing everyone around you with a groovy hairdo when entering the field. Take hair from the top only and twist them along the length into a rope. Wrap it into a top knot bun and get ready to give your best.
25. Reverse Braided Space Buns
Here's a super pretty softball hairstyle for all those girly players out there! Carry space buns with a twist by bending forward and creating French braids on both sides of the middle part. Wrap the remaining hair on top of the head. You can create the plaits at the front too.
26. Embellished Scalp Braids
Fashionistas can amp up their hair game by considering these scalp braids that are sure to wow everyone. Apart from getting traditional boxer braids, plait the sides of the head creating a couple of chunky cornrows. Don't forget to adorn the braids with vibrant-colored yarn and hair rings. Funky!
27. Classic Plaited Ponytail
This hairdo is the easiest to achieve of all. Style the tresses in a high ponytail and plait it down adding another hair tie at the end. You can also experiment with a fishtail braid for a more intricate look. Put on an elastic headband and that's it!
28. Straight-Back Cornrows
Cornrows are easy to maintain as they can be kept for several days with just a little care. Recreate this statement-making hairstyle with some professional help producing as many or as few scalp braids as you want. How about adding some hair cuffs?
29. Knotted High Bun
When it comes to softball hairstyles, the simpler, the better! Get ready to slay the game by collecting all the hair in a knotted bun on top of the head and wrapping it around with a rubber band. Tame those unruly baby hairs with hairspray and done!
30. Crimped Tresses
Women who wish to look different in the field can play with the texture of their hair. The sexy and stylish crimped tresses are back from the 2000s and are worth a shot. After crimping the mane, experiment with any hairstyle mentioned in the list.
Who knew softball hairstyles could be so stylish? You can sport pretty much any look on your game day depending on your hair length and texture. But it would be best to slick back all the tresses away from the eyes if you are a player who's ready to beat her opponents!