With different types of bangs hairstyles available, curtain bangs are a great option for men as they appear more dynamic and fashion-forward. Whether you're looking to add texture to your hair, frame your face, or even create the illusion of a fuller head of hair, curtain bangs are the way to go.
You can style this look in various ways and can easily change with a few simple tweaks. If you're looking for a professional or a more casual look, we have got your back!
Cool Curtain Bangs for Guys
Whether you have short, medium or long hair, men's bangs can be easily adapted to suit your desired look. So if you're looking for an effortless change to your hairstyle, consider trying out any of the following curtain bangs hairstyles for men.
1. Curly Curtain Bangs
Curly bangs blended with long hair are a bold and daring look for young men. Start by having your stylist cut the fringe into a long, sweeping curtain shape.
However, it is best for those with natural wavy curls, as the twisty hair will help keep the manly bangs in place.
2. Red Hued Bangs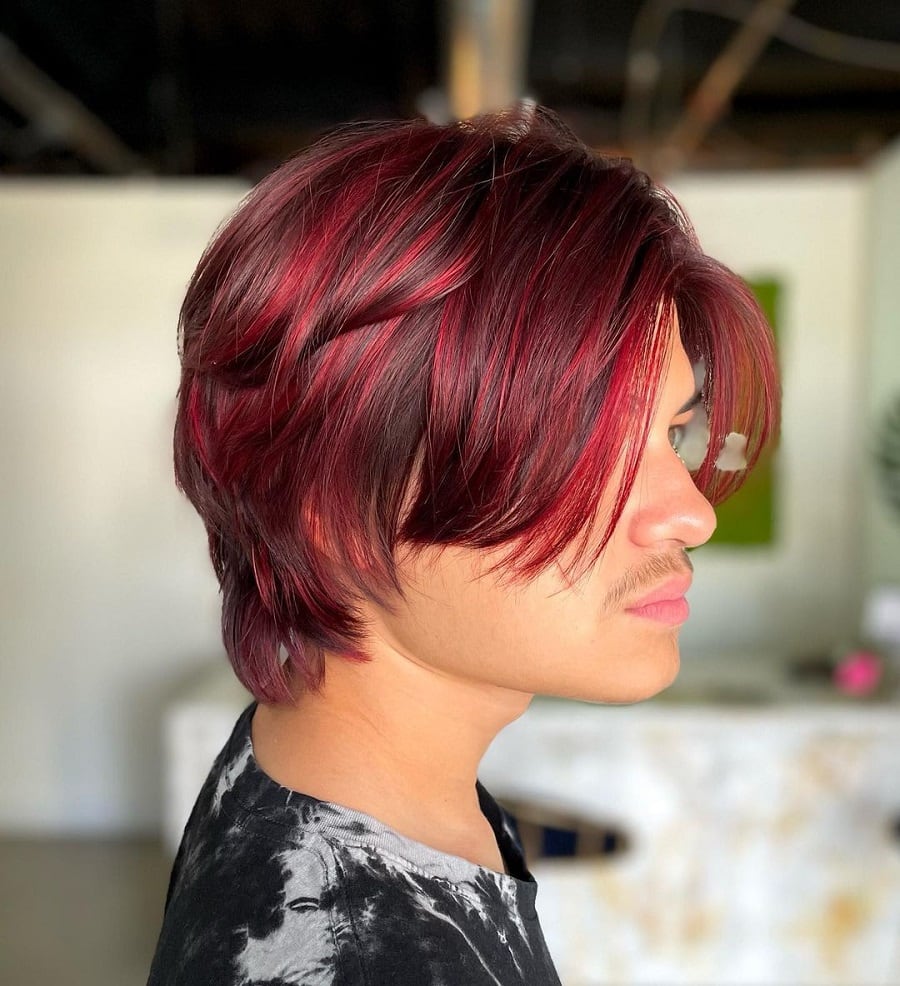 This style is great for men with thick silky hair. To achieve this look, you will need to cut the bangs in long layers, and then add some red highlights for a fun and edgy look.
3. Dread Curtain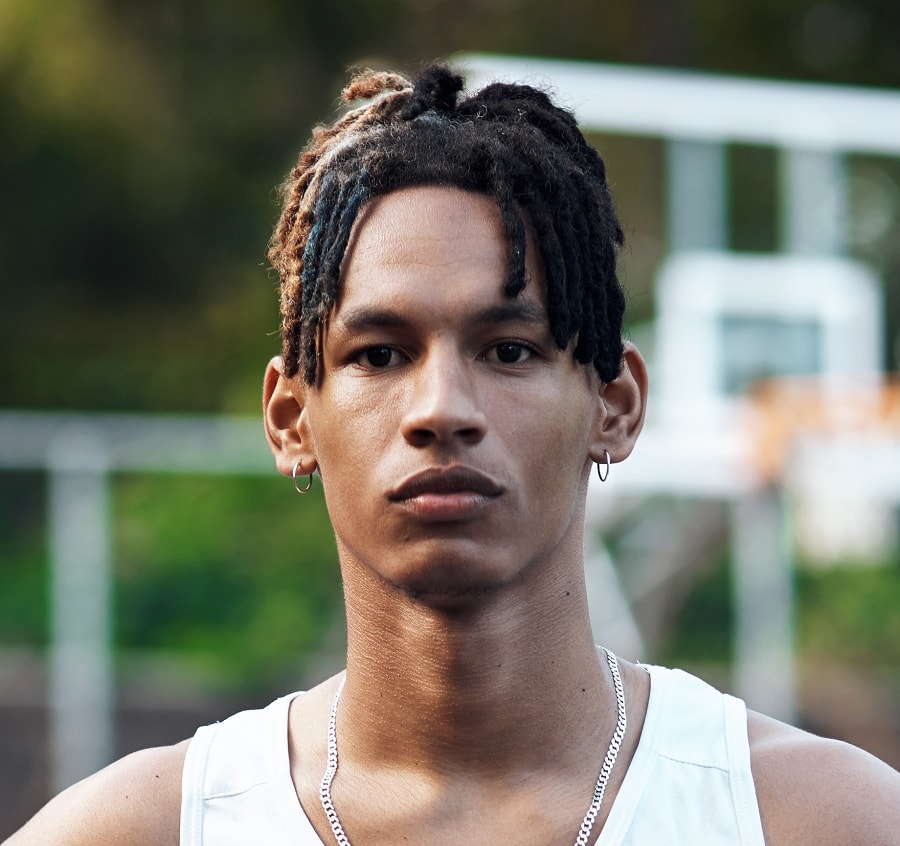 For men with oval to rectangle-shaped face who has dreadlocks, this hairstyle can be a great way to frame their facial appearance.
This curly bangs hairstyle for men is usually achieved by growing out the dreads on the sides long enough to create a curtain of dreadlocks that hangs down around the forehead.
4. Messy Fringe
This Asian-inspired two block cut with a wispy fringe is a great choice for men who are looking for an innocent look.
This hairstyle is characterized by a wispy fringe with a gap in the middle. The block cut gives the hair a neat and precise look, while the wispy cut adds texture and volume.
5. Middle Parting
For this middle part look, apply a generous amount of hard-holding gel to the top of the head and evenly distribute it. Then, comb the hair to both sides of your head while parted in the middle.
Finally, curve the fringe using your fingers.
6. Long Feathered Curtain Bangs
This long hairstyle is especially popular among young Asian guys and can be achieved by simply growing out the hair and cutting the front into a curtain shape. Trim the edges with scissors, and then use a blow dryer to create the desired texture.
7. Blond Curtain with Undercut
It features a low undercut with a long top with puffy curtain bangs that gives a softer look. The fade at the sides helps to create a nice contrast between the longer top and the undercut.
8. Shaggy Bangs
A shaggy hairstyle for men was popular in the 70s, and combining wispy curtain bangs can get you an even more defined and edgy look.
This messy curtain bangs hairstyle requires medium-length hair cut asymmetrically, with the fringe cut shorter. The overall look is casual and messy, making it a great choice for guys who want a bring back the 70s style.
9. Bowl Cut + Side Parting
The bowl haircut remains longer on the top, the curtain fringe hangs down on both sides of the head. But the edges are kept slightly short for a more polished finish. It looks good on round-faced men.
10. Lifted Curtain Bangs
It is perfect for men who are eager to add a bit of volume and texture to their hair without compromising the casual look.
The sides should be kept short and tapered, while the top left longer, and the front should be cut into a fringe that is slightly longer than the rest of the hair. To finish off the look, you can use a light-hold hair spray to keep the fringe in place.
11. Mullet + Long Bangs
Anyone looking for an edgy look, this mullet with curtain hairstyle would suit them. It involves the slight layering of the hair and having long bangs that are hanged to the sideburns. The back of the hair should be kept long to give it a textured look.
12. Wavy Curtain Bangs
You can get this look with a classic deep middle part hairstyle. Take small sections of the front of the hair and cut them into wavy layers that hang down slightly over the cheeks.
Make sure that the layers gradually taper off in the back. Anyone with a rectangular face can make themselves look bold with a beard.
13. Long Layered Mullet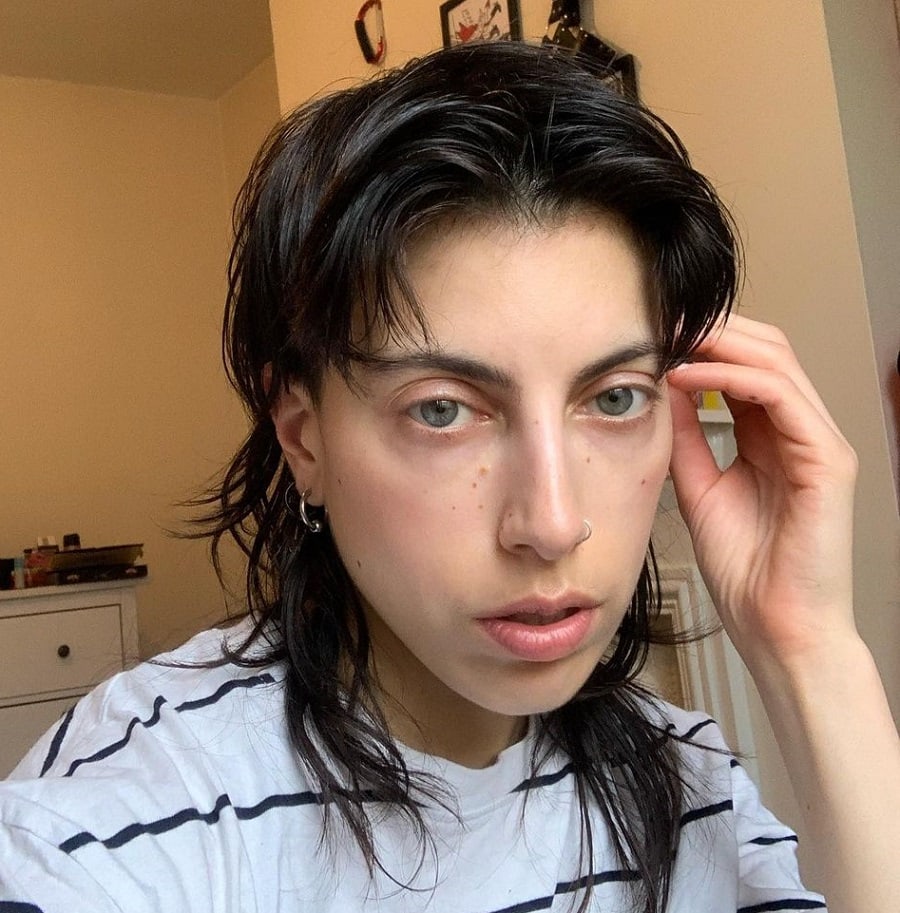 Start by combing the hair back and away from the face using your hand, then section off the top and use a bit of soft gel to give your hair a tousled, slightly messy look.
Part the hair down the middle and create medium bangs that go down to the eyebrows. For the long mullet, use a comb to create a gradual slope from the nape of the neck.
14. Undercut with Centre Part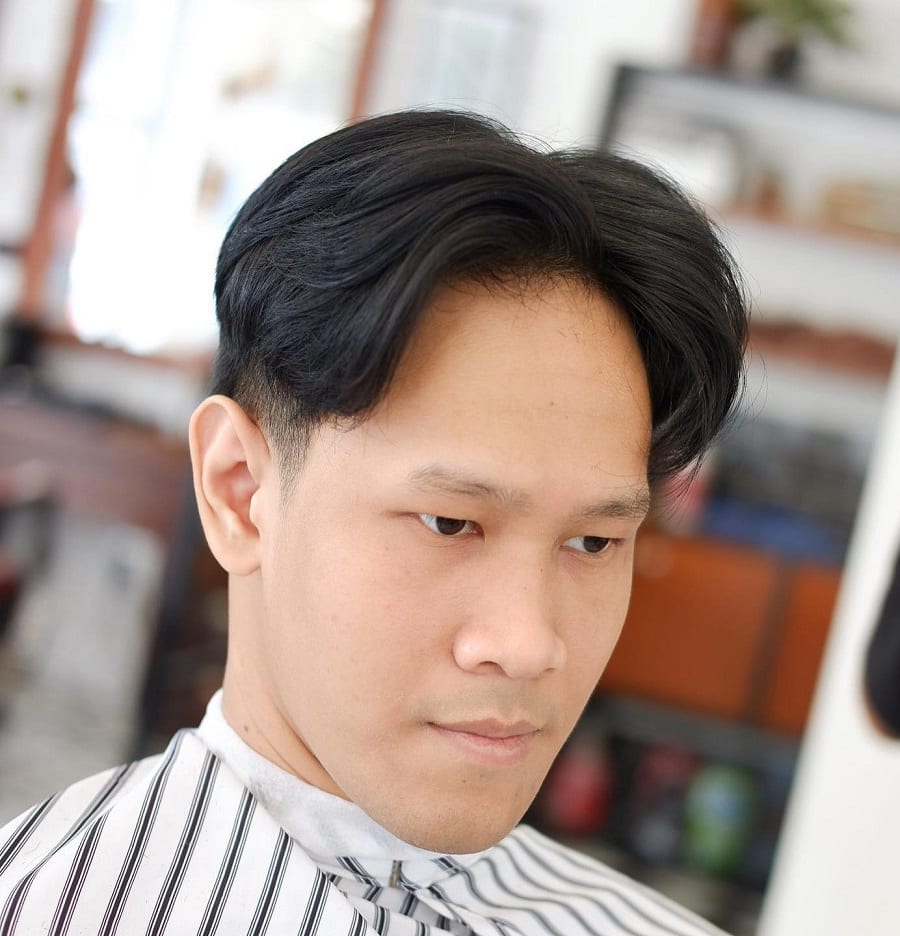 It combines a classic undercut with a curtain style that hangs down on both sides of the forehead. It results in a stylish, modern, and edgy appearance. Further, this hairstyle can be suited to any face shape and is perfect for men who want to wear formal dresses.
15. Thick Tapered Hair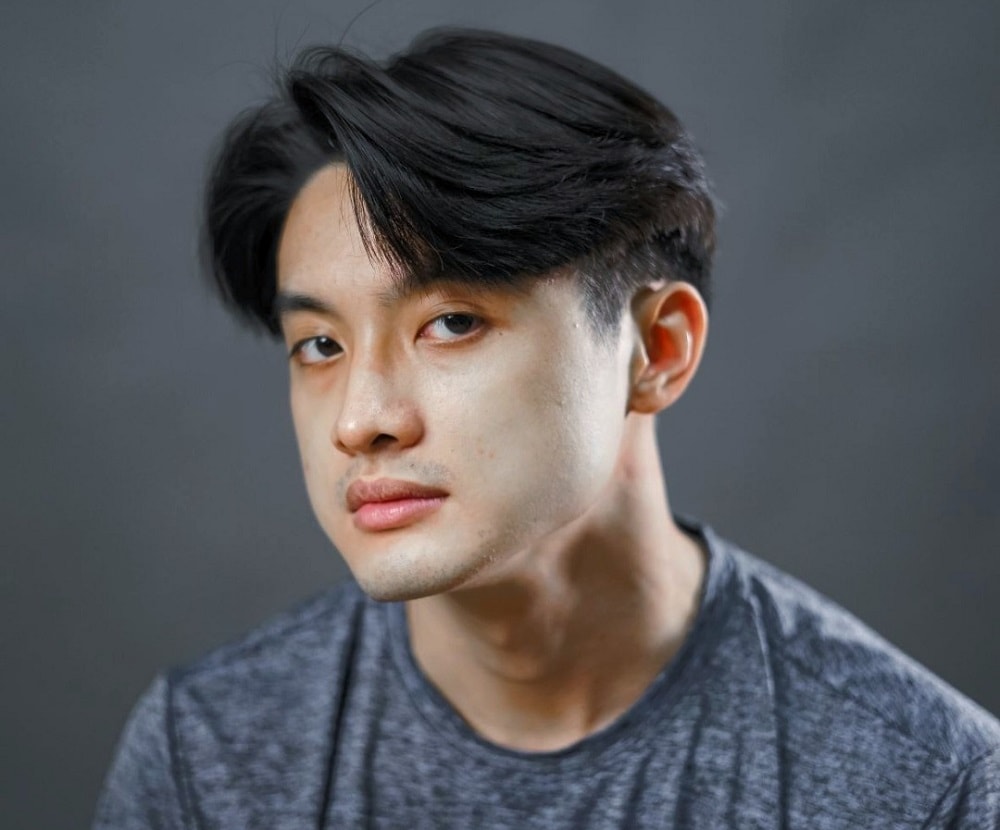 This look is created by parting the hair in the middle and styling it into long, layered bangs that are tapered at the sides.
To achieve the look, the layers should be cut to create a soft, textured look and trimmed the ends to get a tapered shape. It looks perfect with a clean, shaved face.
With its versatile and simple look, curtain bangs can be adapted to suit any hair type and length, making it a great option for men of all ages.