There is a reason why so many boys sport short hair. It is easy to style and easy to maintain while still showing off personality. Express your style with a variety of short haircuts, including fades, buzz cuts, even edgy mohawks for natural hair. Read on if you're intrigued, and get ready to discover some pretty cool looks.
Below are 30 short haircuts and hairstyles for every boy out there.
1. Short Fade Haircut
This boy's short fade haircut is right on-trend. The look involves buzzed hair around the ears and a gradual fade into long hair up top. These edgy bangs are definitely fun, but cleaner styles work just as well.
2. Spiky Hair Fade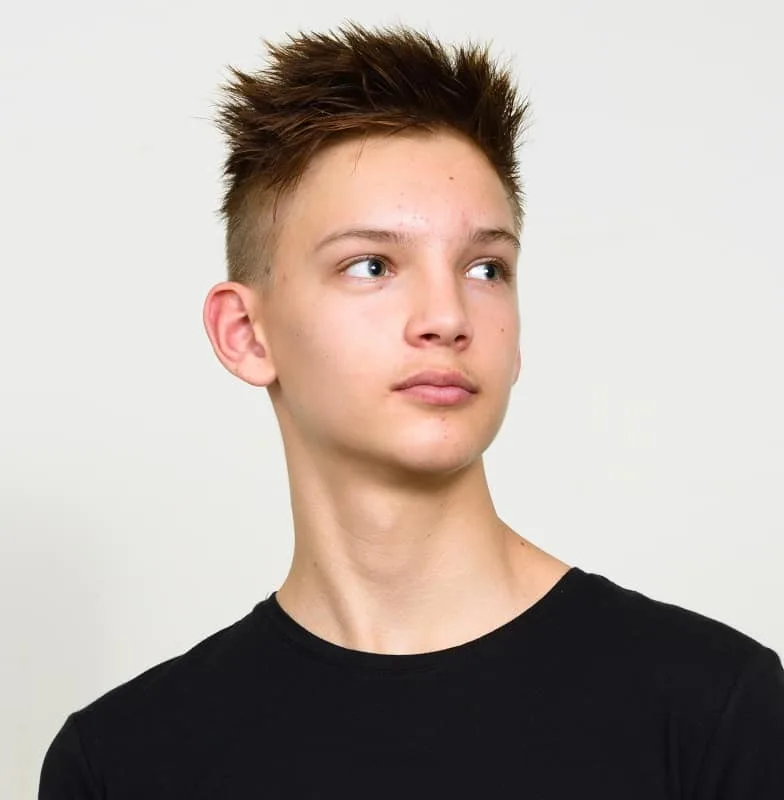 This long on top and short on sides haircut reveal his personality while the cropped sides keep hair neat. This spiky look is plenty long up top and is easy to create on straight hair types. Remember, a little gel goes a long way, so don't overdo it with the product.
3. Short Crop for Thick Hair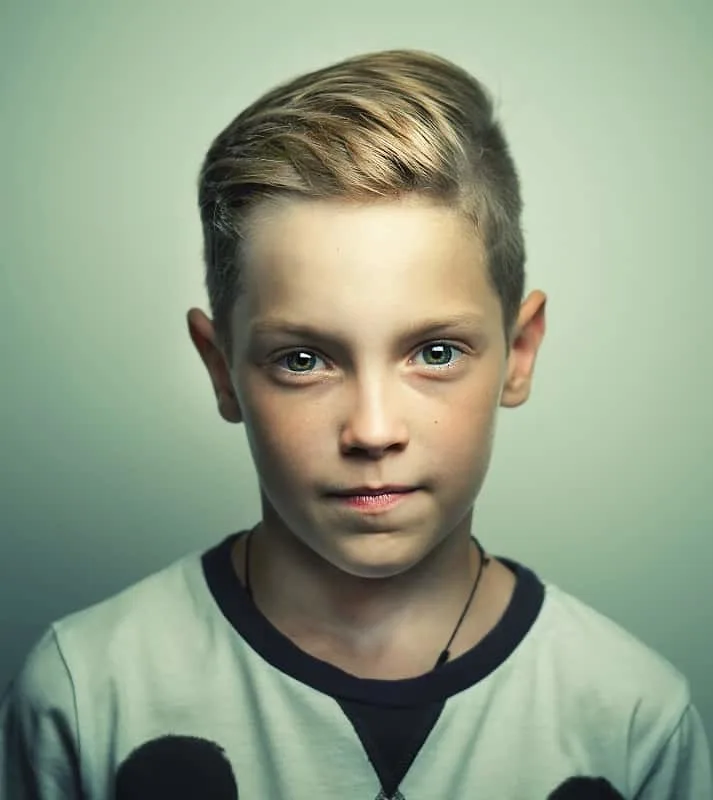 Thick hair can be hard to manage, especially if he likes wearing his hair short. This short thick haircut for boys uses layers to break up bulk. Hair is cut close on the sides of the head for the clean high and tight look boys love.
4. Short Mohawk for Natural Hair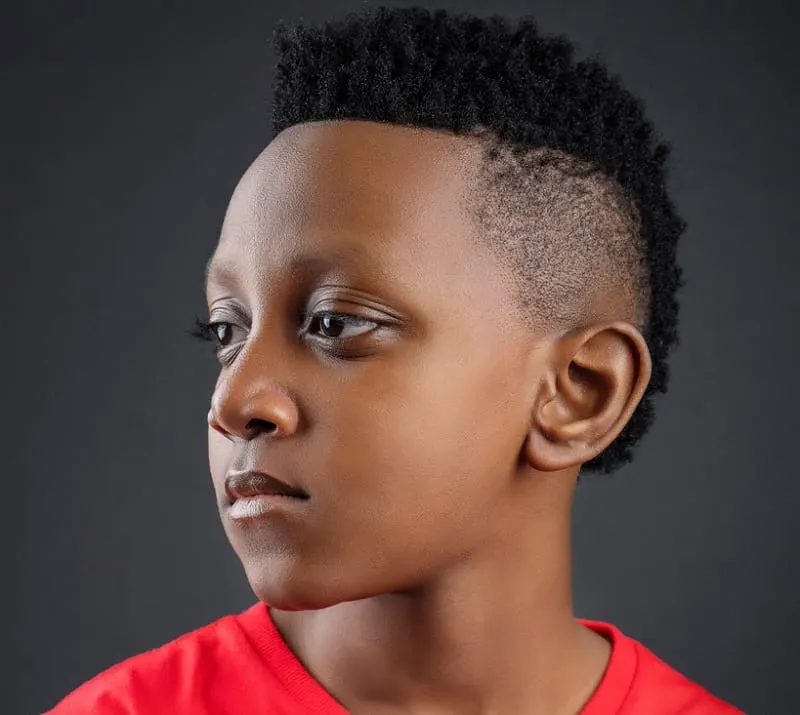 A mohawk style is an easy short haircut for black boys because of great natural texture. The look involves cutting hair short on the sides, as per the trends. Leave hair long from temple to temple for a soft, modern feel.
5. Short Curly Hair
Looking for a haircut that is timeless? An ideal short curly haircut for boys is easy to care for and enhances natural hair. Cut curls slightly longer along the hairline and fade it out into the rest of the look.
6. Textured Undercut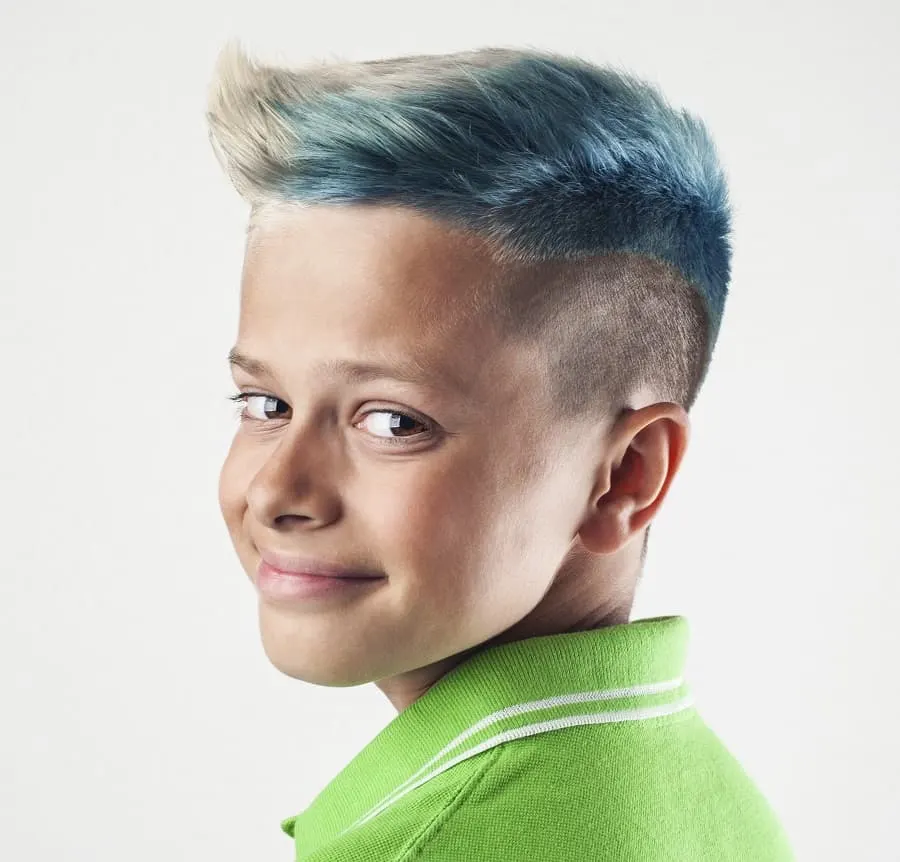 This hairstyle is achieved by trimming the sides of the head short and leaving the top longer. The top is then styled into a side spike. It is a perfect hairstyle for school going boys.
7. Messy Short Hair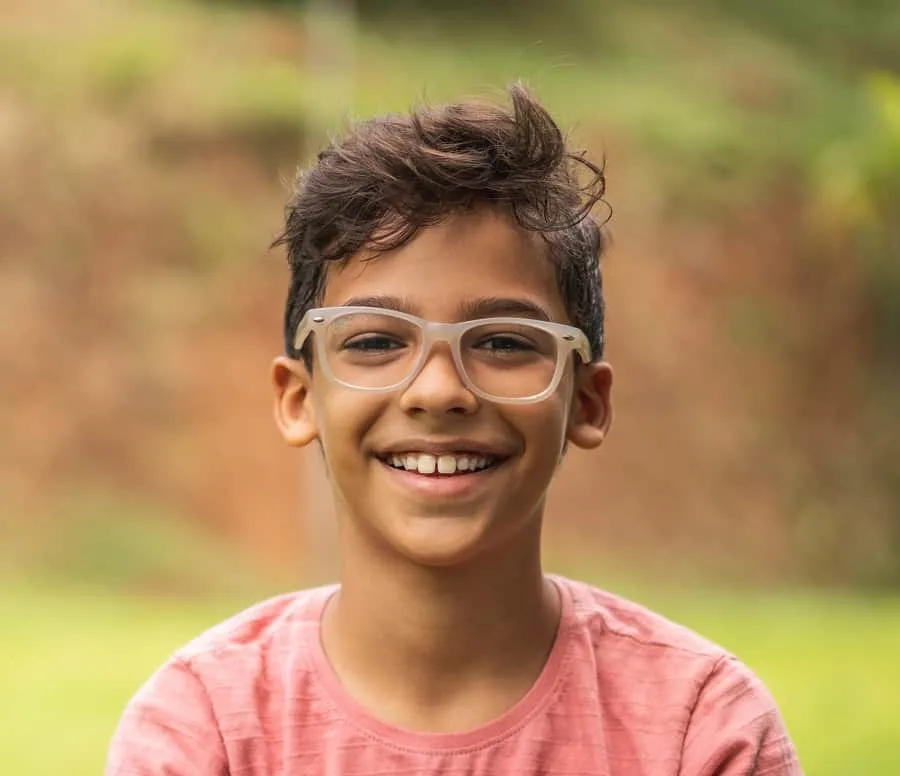 It is perfect for unsteady boys who do not have time to spend on their hair. The haircut needs to be cut short at the sides and back with longer hair on top. To achieve this style, just leave the hair uncombed.
8. Short Afro
This look is perfect for boys with naturally curly hair. To accomplish this style, just trim the curly hair shot and leave it like that. However, fading the sides will also look good.
9. Short Asymmetrical
If you're looking for a stylish and unique hairstyle for your little boy, a short asymmetrical cut may give you peace of mind, and it suits most face shapes. The key to do is to cut the hair in an asymmetrical fashion. The back should be shorter than the front and sides. This will give an edgy look without being too hard-core or drastic.
10. Quiff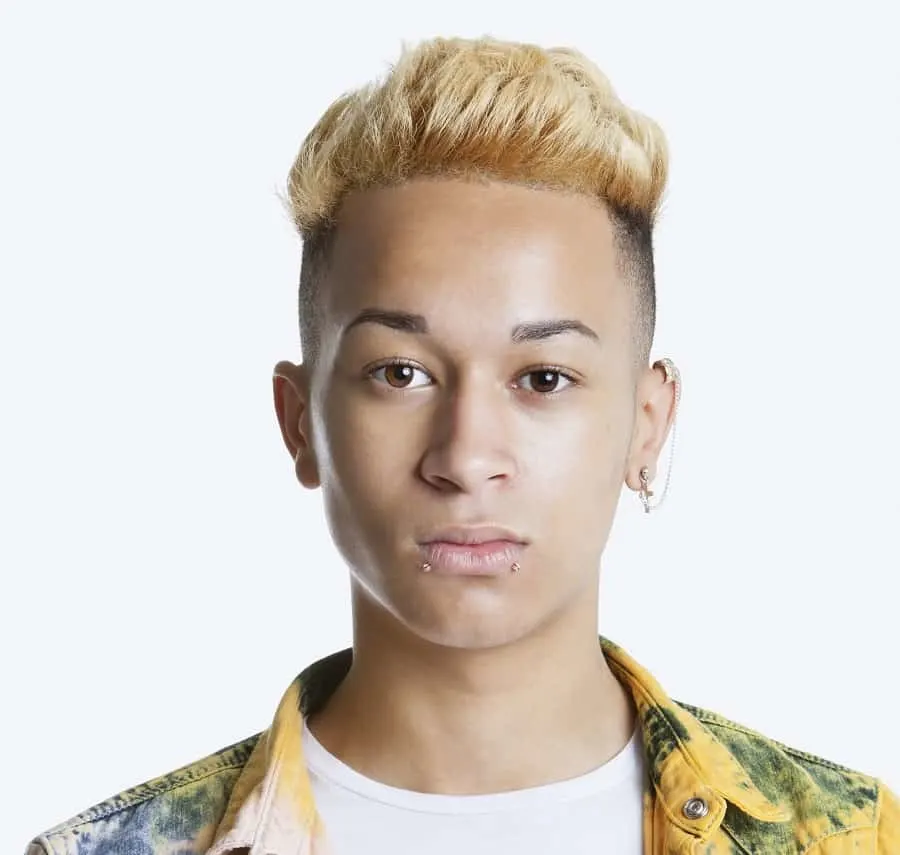 Start by shaving or trimming the sides of your head. Next, use a comb to back-comb the hair on the top of your head and apply a generous amount of styling product to help hold the shape. Finally, use a blow dryer to style the hair into place.
11. Curly Top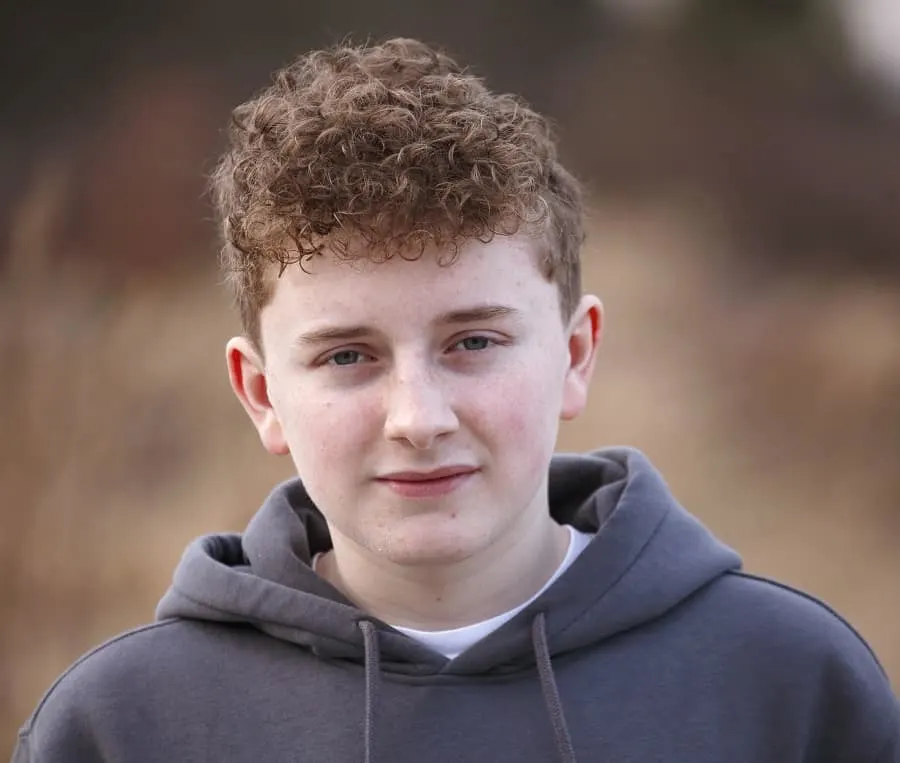 The first step is to curl the hair on top and then twist it while the sides remain normal. Using a hair spray will help to keep the curls in place. This style looks good on any face type and skin tone.
12. Dyed Spike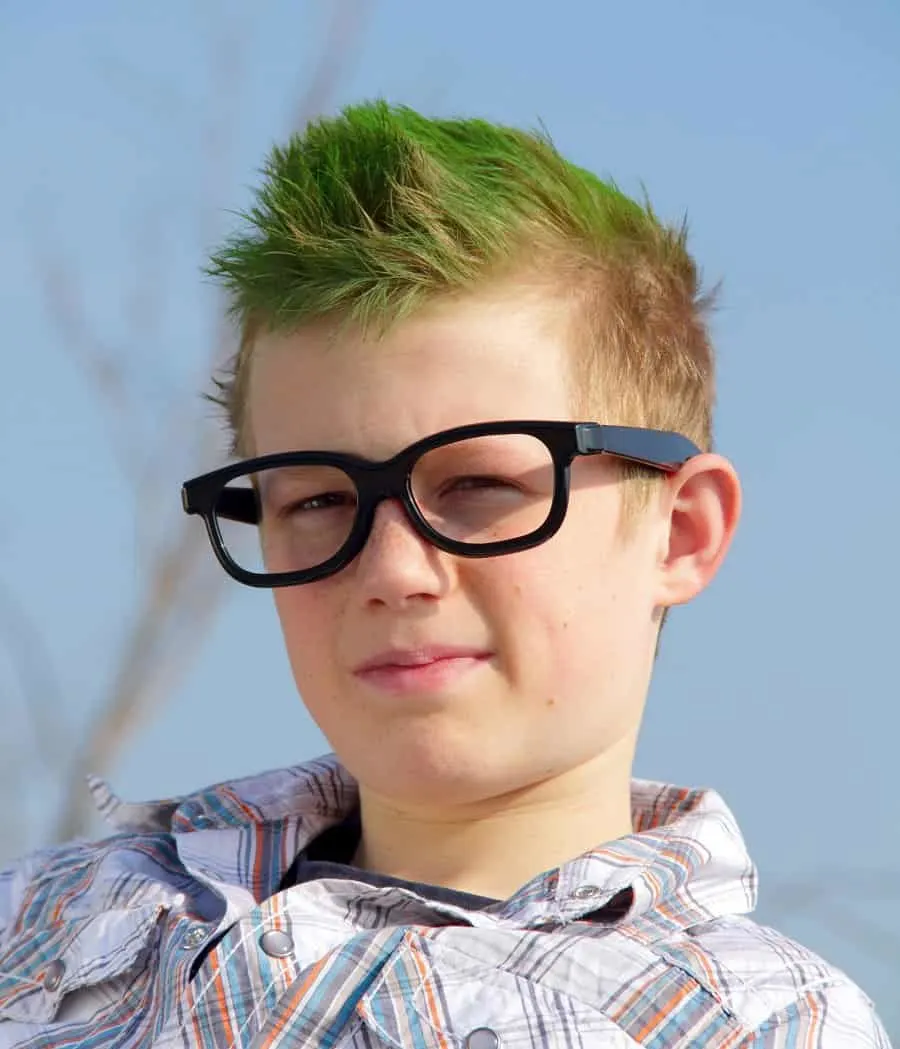 Spiky hair with green dye is a great way to add some edge to your boy's hair. To style this look, start by applying a green dye to the hair. Next, use a styling product to spike the hair up. Finally, use a strong hold hairspray to keep your kid's style in place.
13. Side Swept + Undercut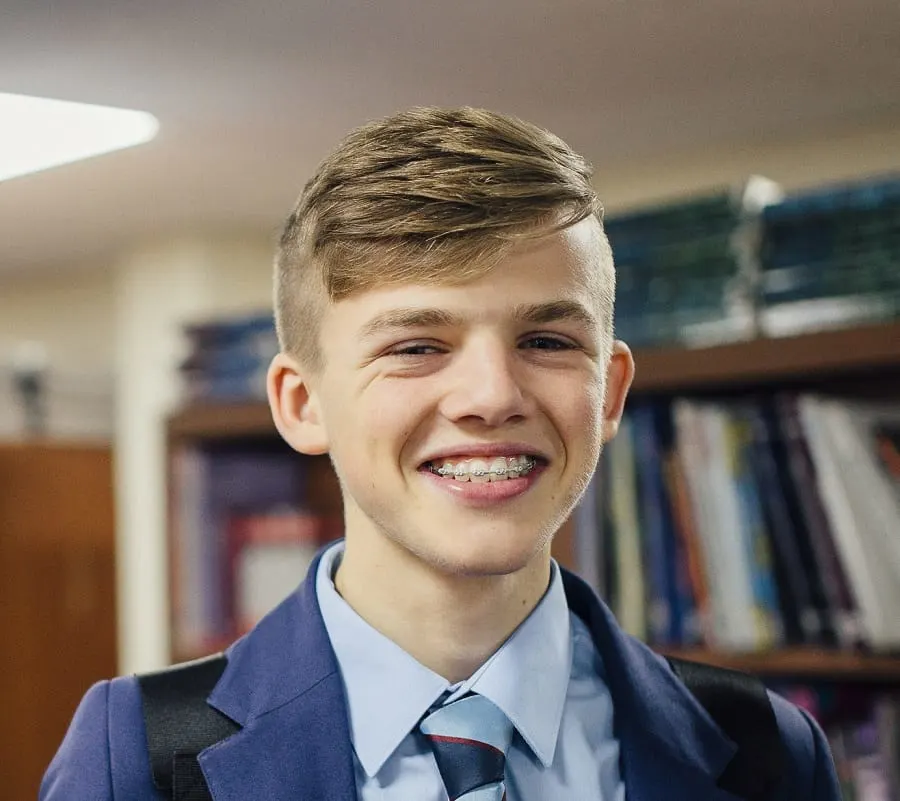 The undercut can help to give the hair a more textured look, and the side swept style can help to give the hair a more polished look. To style this look, start by fading the sides while keeping the top long. Then, use a comb to create a side parting. Next, use a hair dryer to blow dry the hair into place.
14. Modern Bowl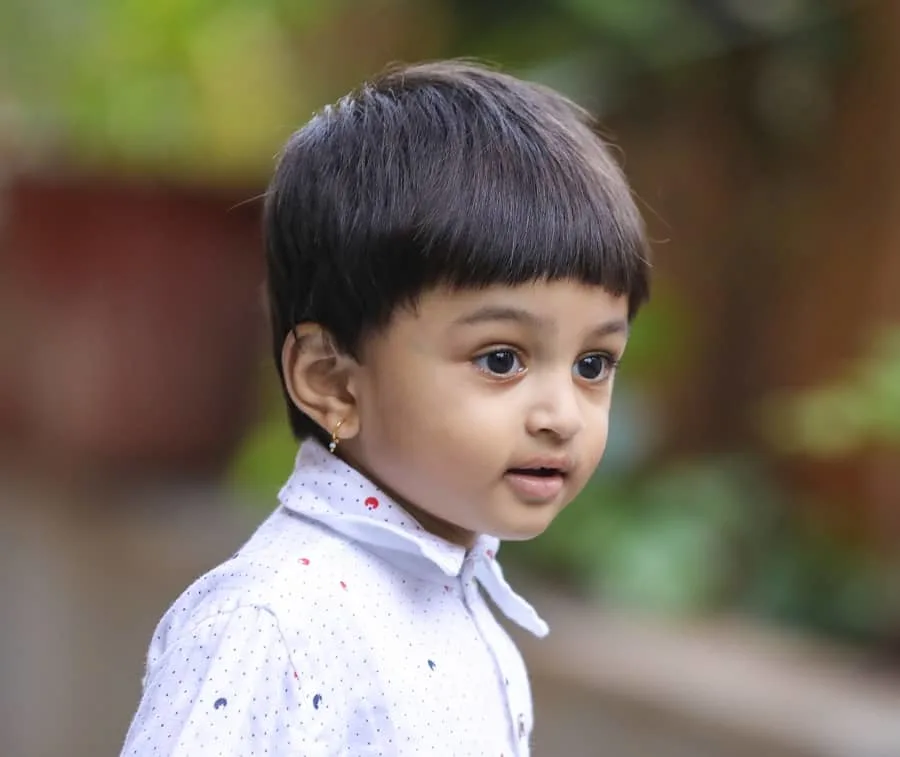 The round hairstyle is a great way to achieve a polished look for your kid. This style works best with silky straight hair that is the same size all around and looks good on little fellas.
15. Trimmed Design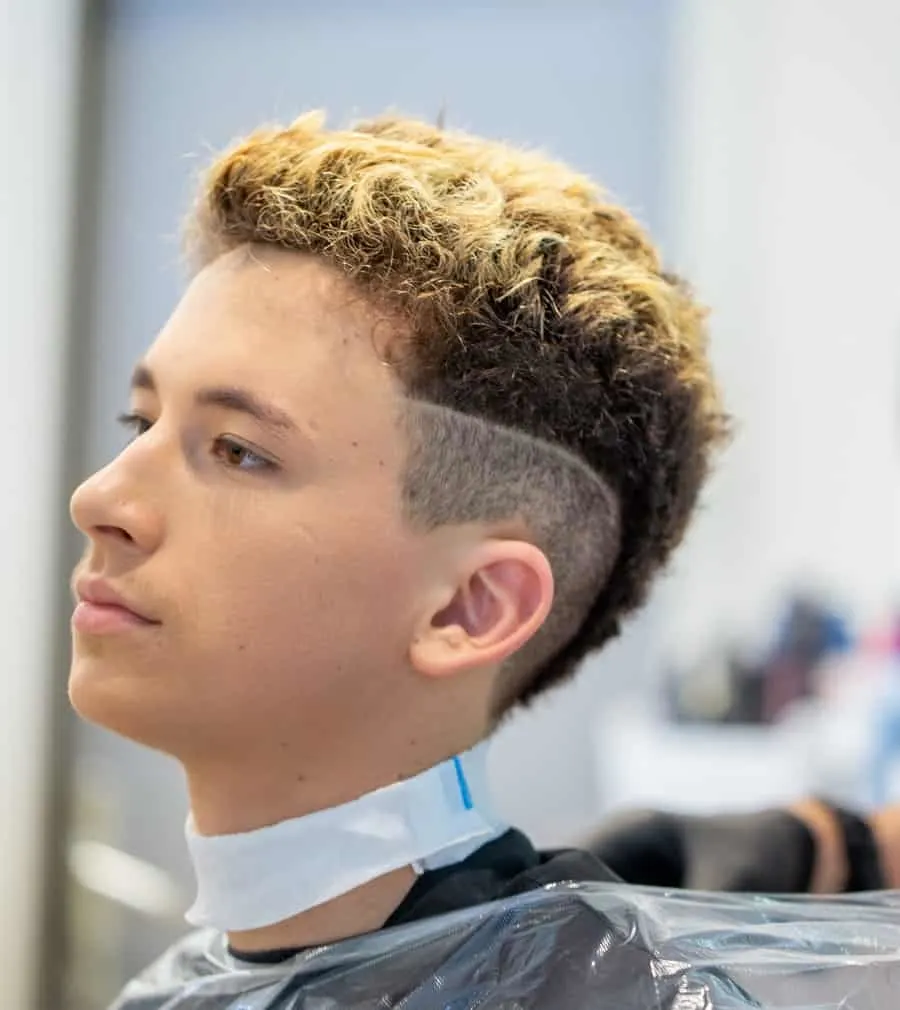 First, you will need to shave the sides of the head. Be sure to use a zero size trimmer and go slowly to avoid any nicks or cuts. Once the sides are trimmed, you can then style the top however you like. You can use gel or mousse to create a messy look. You can also use a curling iron or flat iron to create different textures.
16. Short Hair + Line
If you're looking for a trendy hairstyle for your little boy, you can't go wrong with short hair and a line on the side. To get the look, start by cutting the hair short using scissors and creating a hard line on the side.
17. Thin Fringe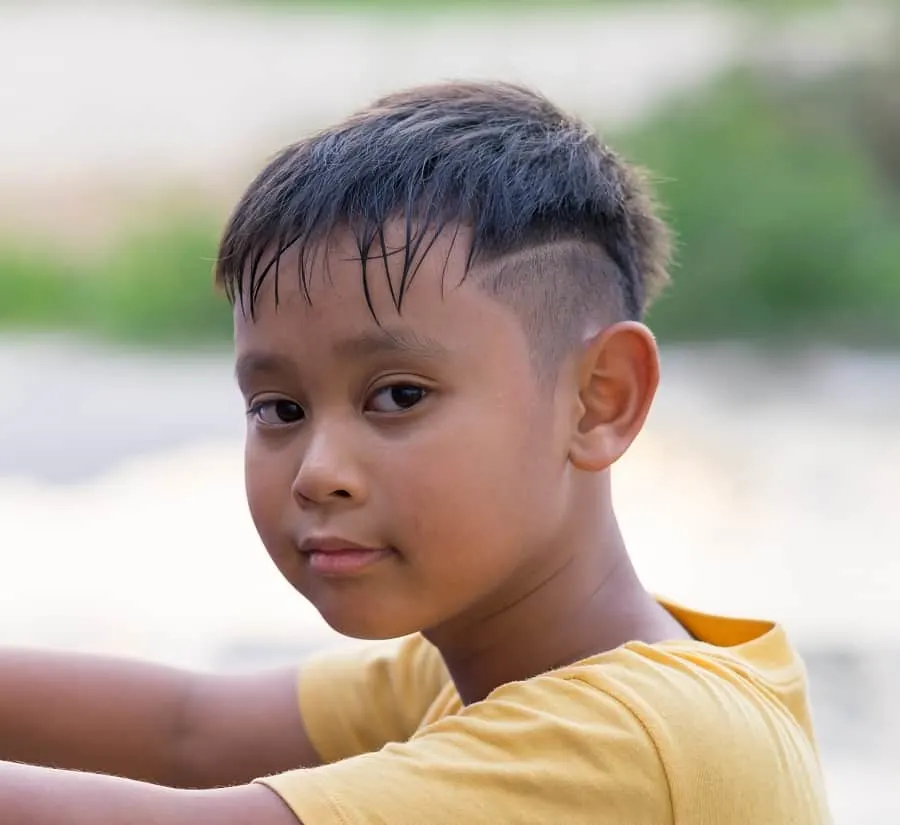 To get this hairstyle, simply ask the barber to keep the front a bit longer than the sides and back. Also, trim the sides shorter with a faded line. This look is perfect for your son to attend any occasion, whether it's a casual day out or a formal event.
18. Uneven Cut
Although no one wants an uneven cut, you can do it on purpose for your son. This will make the hair spiky all over and allow it to pass some air on the head. This haircut is great for boys who sweat a lot.
19. Mohawk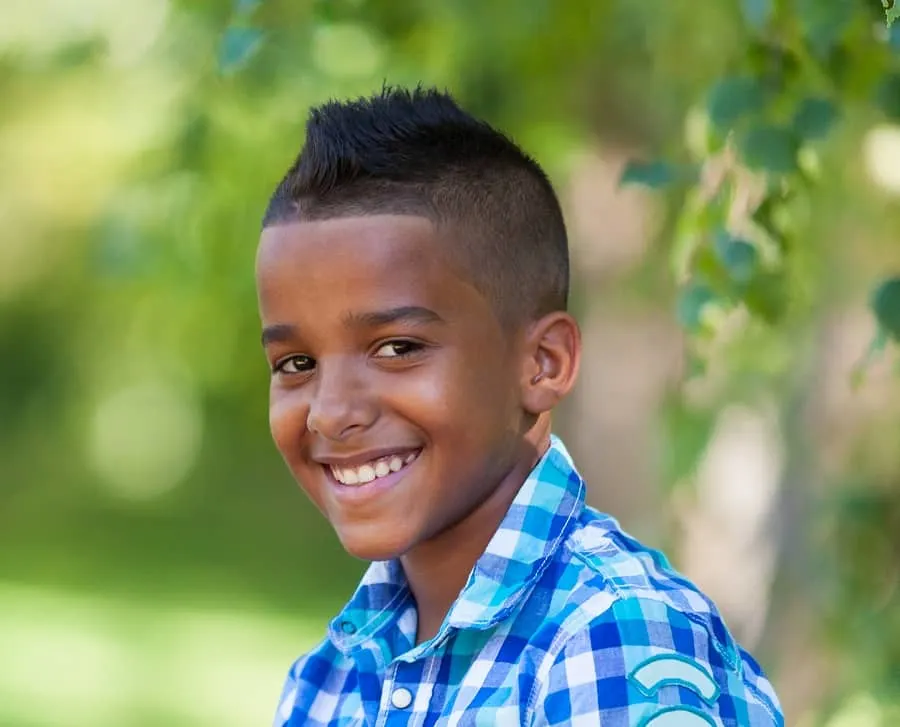 To get the look, start with clean, dry hair. Then, use some gel or pomade to style the mohawk on the top and style the hair into the desired shape. Finally, use a razor to create a sharp line on the forehead and sides.
20. Simple Pompadour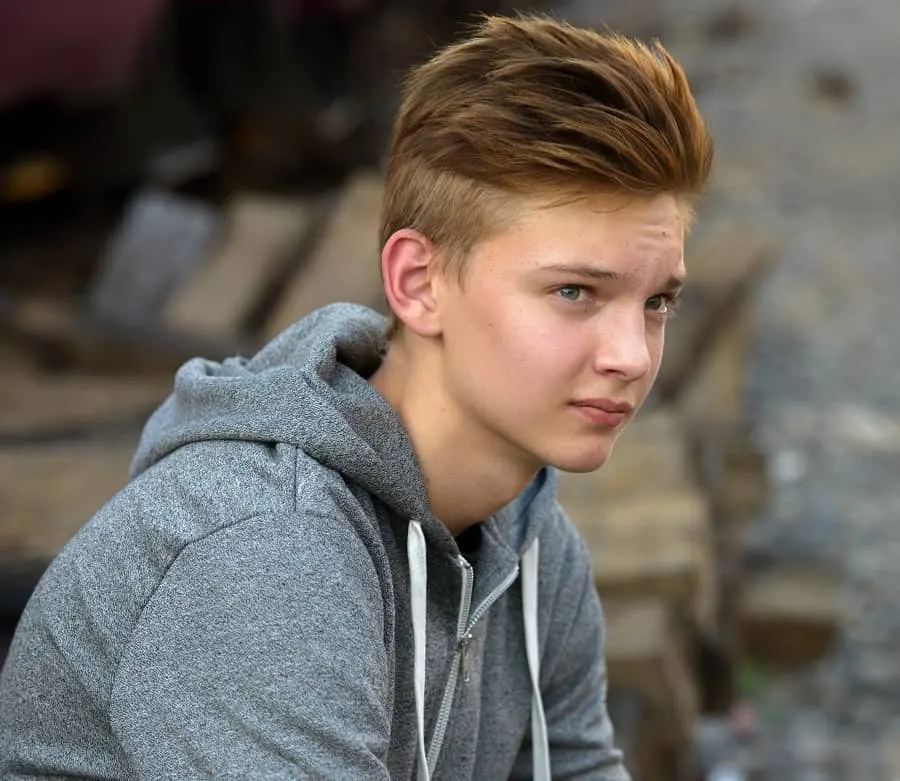 Start by washing your hair with quality shampoo and conditioner. Then, use a towel to dry your hair until it's just damp. Next, apply a small amount of hair cream to your hair, starting from the front and working your way back. This style is performed for boys with medium hair.
21. Buzzed Short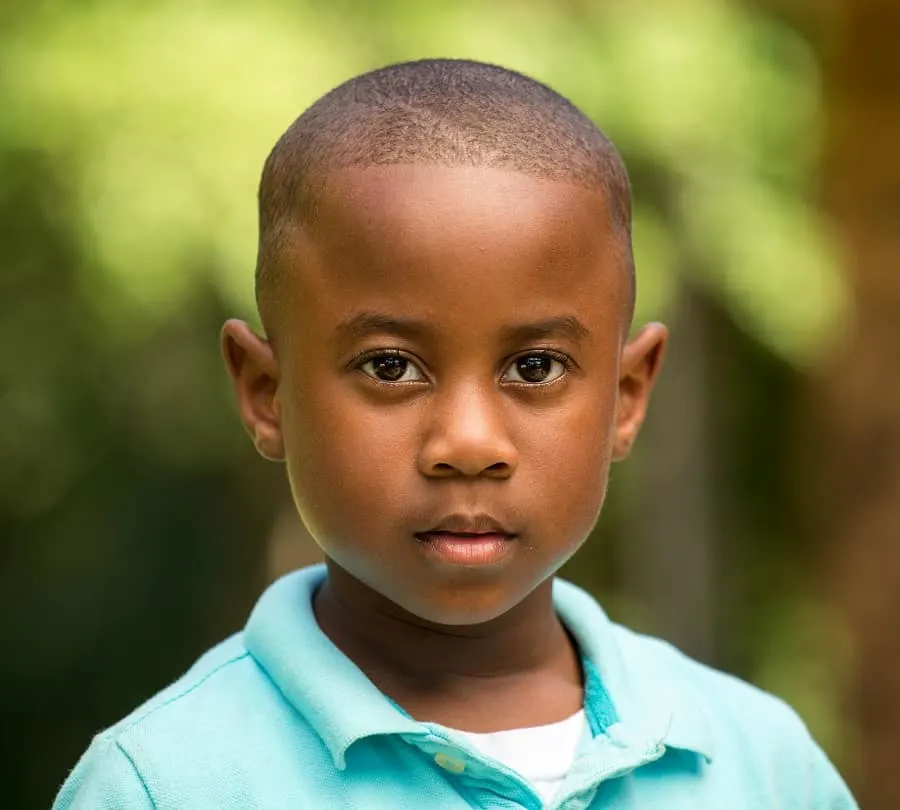 A very short haircut can be a great option if you are looking for a low-maintenance hairstyle for your little guy. To achieve this look, just trim the whole head with a size zero or one clipper. This cut is also a good choice if your child has a lot of hair and you want to keep it under control.
22. Short Side + Long Curls
Longer hair suddenly looks tidy with this short haircut for teen boys. Closely crop the hair around the head but let gorgeous curls rock up top. Make sure to work with your face shape for a balanced look.
23. Short Straight Hair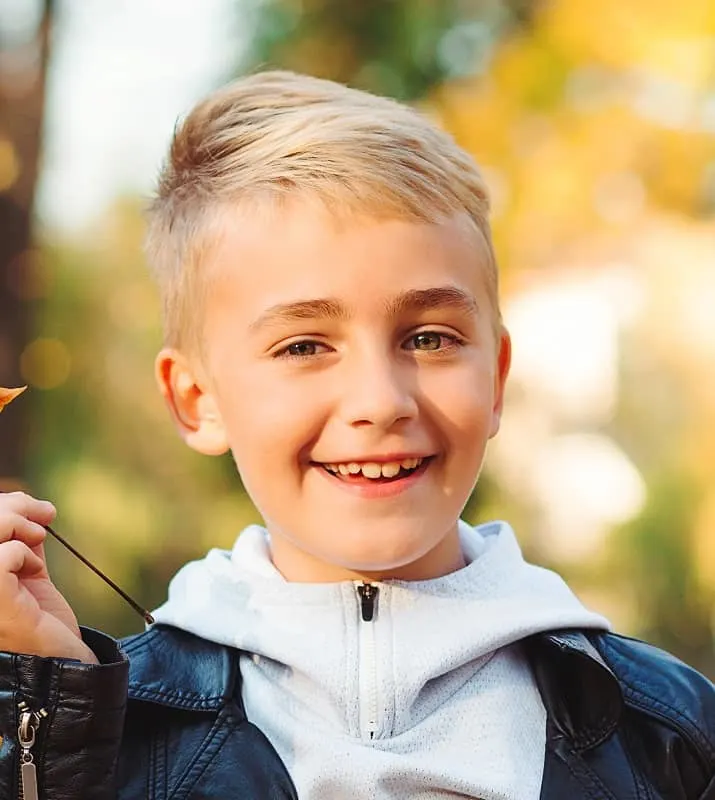 If your hair is straight and fine, consider this your go-to short white boy haircut. Fine layers and short baby bangs add life to fine hair, giving it movement and making it appear thicker.
24. Short Spikes with Highlights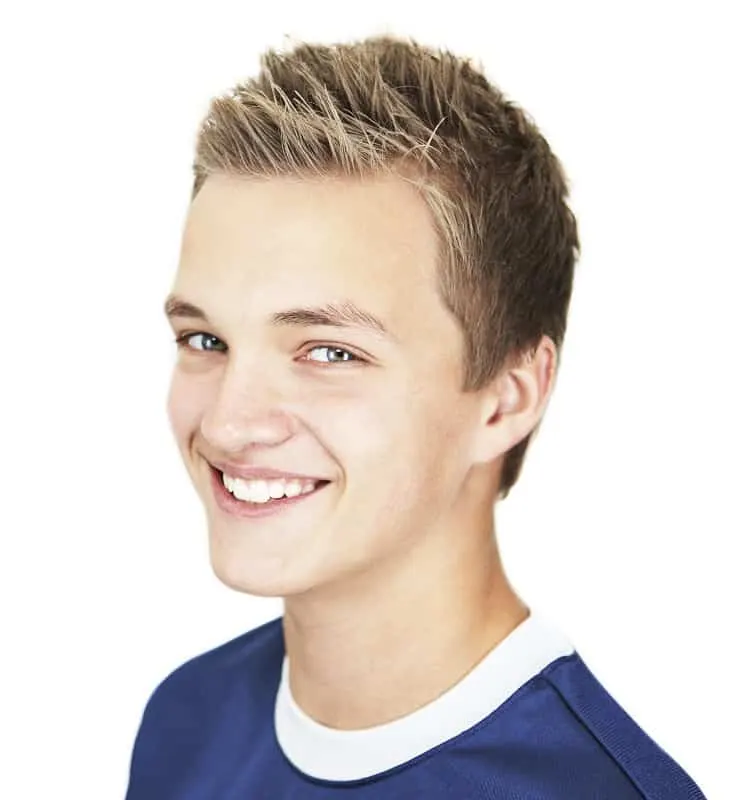 Short spiky haircuts are perfect for boys to show off highlights. Focus light blonde color to the top front of your hair where the hair is longest and easily sticks up with a bit of gel or mousse.
25. Buzz Cut
Trend-wise, a boy with buzz cut is always cool. The buzz cut has been around for decades and for good reason: it cools the body and is incredibly easy to maintain.
Boy's Hairstyles for:
26. Short Hard Part Mohawk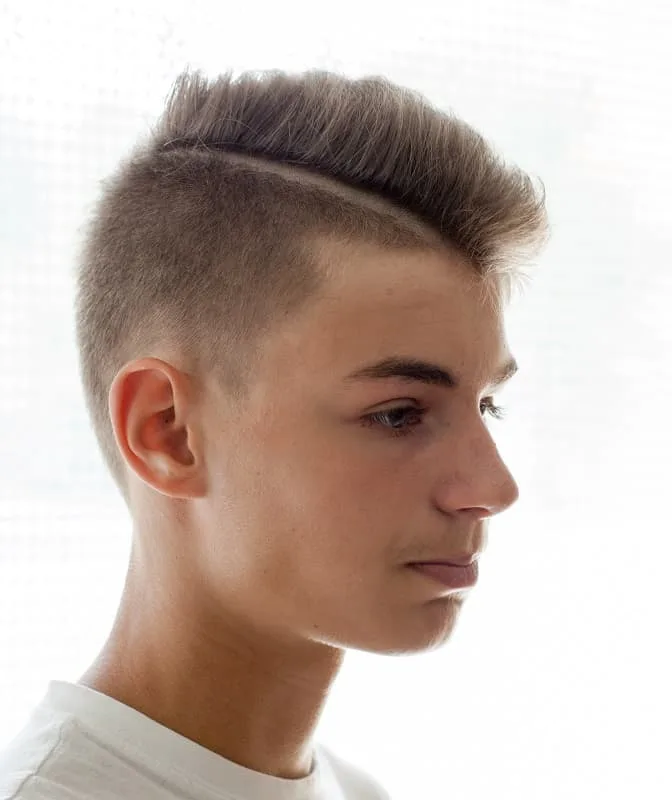 This boy with short hard part haircut will certainly stand out- in the right way! Hard parts are trendy and short mohawks are always cool. Hard parts are also versatile: we love them on natural hair and worn on both sides of the head, too.
27. Short Quiff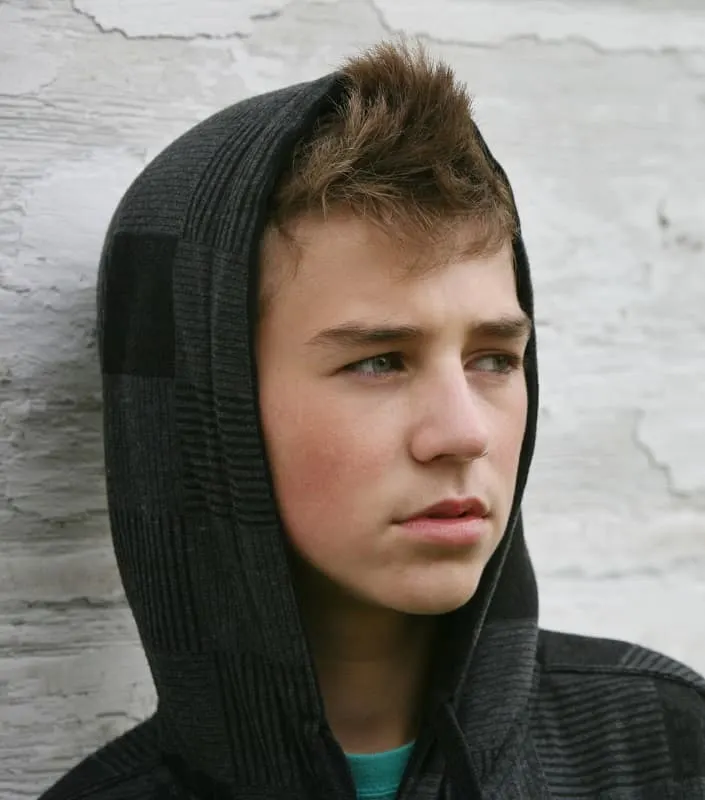 There is something about a short quiff hairstyle for boys that guys seem to love. Long, thick bangs can be brushed to either side, spiked up into a quiff, or even smoothed down.
28. Short Comb Over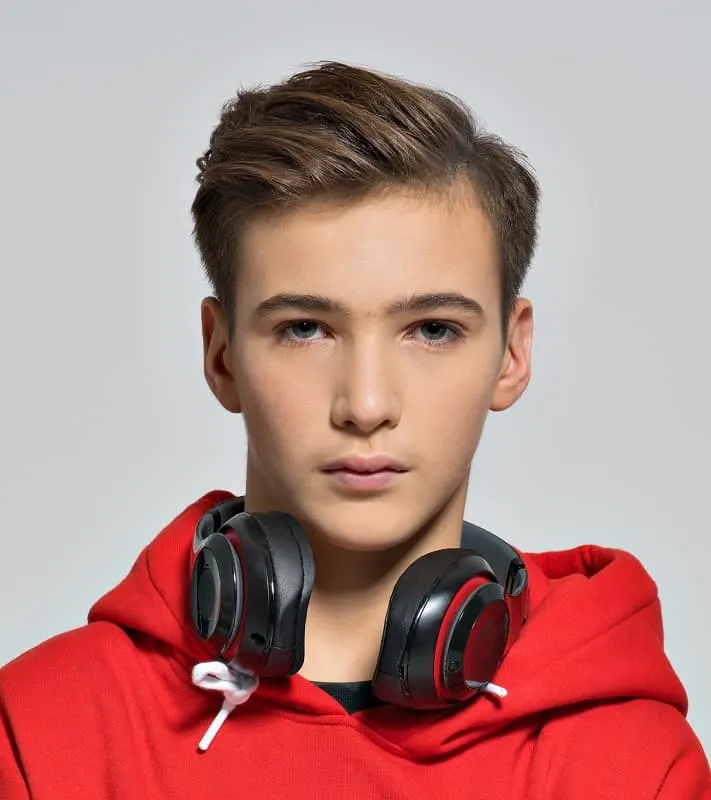 Comb overs are neat styles that boys love just as much as the adults in their life. When hair is short, the look is elevated but cool. Hair should be cut close to the scalp on the parted side and swooped over on the other.
29. Short Brown Hair with Bangs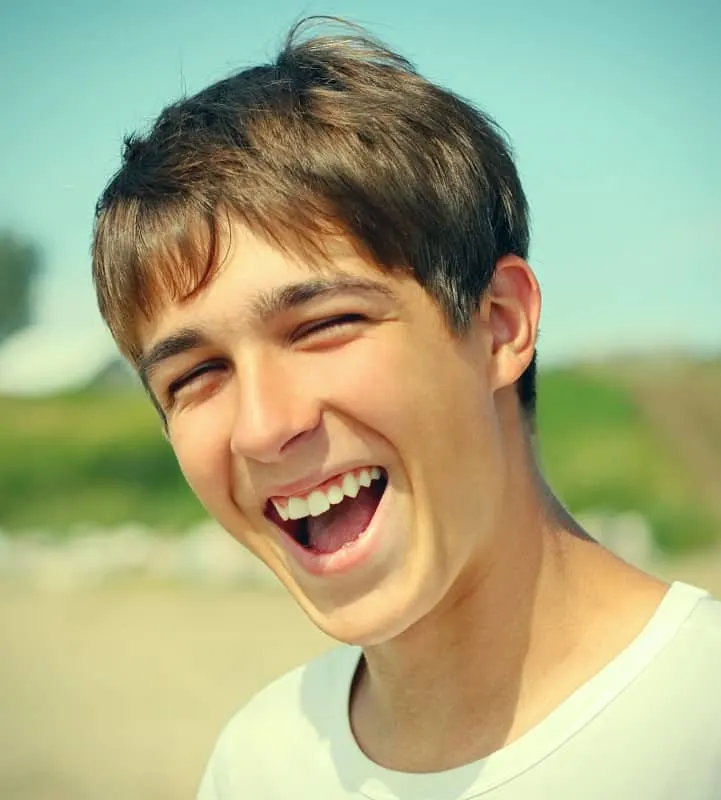 This look may be the most classic boys' hairstyle out there. Cut hair short and with a few subtle layers for easy movement and style. Cut bangs short or long, depending on your face shape.
30. Short Spiky Bangs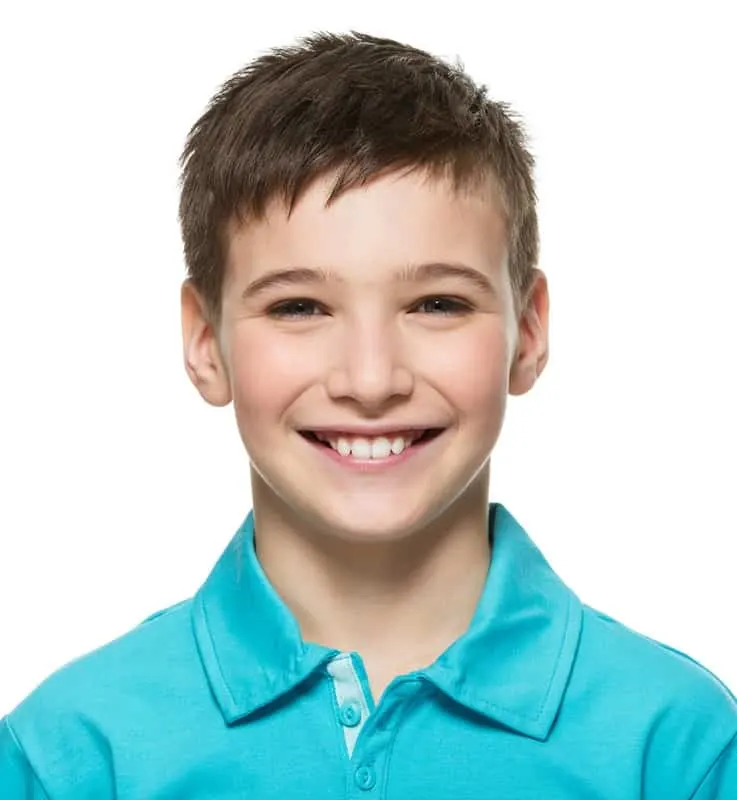 What young boy doesn't love spiky hair? Cut hair into short, choppy layers to achieve the spiky look, but don't forget the bangs! Cut them on a slight angle to perfectly throw off the balance of this look.
Related Hairstyles for Boys:
These cuts may be short, but they prove that there are so many options for boys to choose from. Express your style with fun spikes, smooth quiffs, or cool curls and make your short haircut your own.