Hair highlights are low maintenance and give your tresses that warm romantic touch. They help you blend your root color with lighter and sophisticated strands, creating more depth.
However, you might feel that an overall blonde color will suit you even better and be a better match for your complexity.
But before you make any decisions, you must know that going from highlights to all-over blonde is a complex process.
It is best to opt for a full service provided by an experienced colorist, but if you want to do this at home, we'll help you transform this whole experience into a successful new look that makes anyone stare.
So if you wish this DIY changeover to look flawless, take notes, follow our guidelines, and ensure you follow all the steps presented below.
What Do You Need to Go from Highlights to All Over Blonde?
One of the most important steps when you want to go from highlights to a full blonde, is the ingredient and materials list. You want to ensure that all the products are qualitative and proper for your hair.
What to buy:
20 vol bleach and 7 vol bleach;
Foils that you will use to dye, section, and wrap the hair;
Hair clippers that you'll use to pin each section and maneuver your strands;
A tail comb that will help you section your hair tresses better and easily;
A flat brush is used to apply the bleach and color;
A regular brush or comb to detangle the hair;
A bowl for the mix;
Protective gloves;
Wear a T-shirt you don't use anymore or use a towel to cover your neck and shoulders so you won't get any stains on your clothes and skin.
How to Go from Highlights to All Over Blonde
If you want to master a perfect transition from blonde highlights to an overall blonde, make sure you strictly follow all the steps presented below.
This is very important because simply buying a blonde hair dye that you apply all over your hair won't give you the desired result. Make sure you have all the props for your transformation.
Prepping Hair
Before even starting, place the towel on your shoulder. A great trick to avoid any hair dye stains on your skin is to use face or body cream and apply it on the forehead, ears, and nape.
Also, we encourage you to do the dyeing process on greasy hair. Using a brush, detangle your hair, and with a tail comb, do the sections. Pin each part with a hair clip.
How to Use Foils
It might be harder for you to use foils if you are doing this procedure all by yourself. If you can get a friend or a sibling to apply the developer, that would be great. However, even if no one can help, you can still do this yourself. Reaching the back is quite complicated, and you might need to skip the foil part.
Pre-pigmenting your hair with dye and no developer can be an option if you want the color to last longer. However, this is not mandatory.
Applying the Bleach
Place your 20 vol developer in a bowl and spread it on your hair with a brush. Because you do not want to damage your hair, especially the highlighted tips, you will apply the 20 vol only on areas that can hold the lightener.
Select small strands from each section, place the foil under the hair piece, and apply the bleach near the roots and on half of your highlights.
For the other half of your highlights, you will lastly use the 7-vol developer. It is gentle and will do the job without making your hair look brittle. Do not place the developer directly on your scalp.
Leave around one inch from the roots and use the developer after you are done with the foils. This part of the hair will process very quickly because the scalp has heat, and if you're doing it too fast, you will damage the hair and end up with an unwanted color.
Dealing with Foils
Let the foils process almost all the way before dealing with the roots. This technique will give you a more natural look, better blending the blonde.
Another helpful tip for the roots that will make the color look uniform is to start with the section you first started bleaching. You will do so because you want the other areas to have enough time to process the lightener.
It's not mandatory to take the foils down, just apply lighter bleach on each side. Once you are all done, use a cap to speed up the procedure and keep the bleach moisturized.
Applying Toner
Toners will help you get that blonde nuance you always wanted. If you feel like the hair is too light, use a strawberry blonde color. There are plenty of options when it comes to toners for blonde hair: platinum, silver, ashy, purple tint, etc.
Final Retouches
Also, you might need to trim the ends a little bit to make your hair look healthy and to avoid that brittle aspect. Wash and blow dry, and you're ready to go.
How to Take Care of Hair After Going from Highlights to Full Blonde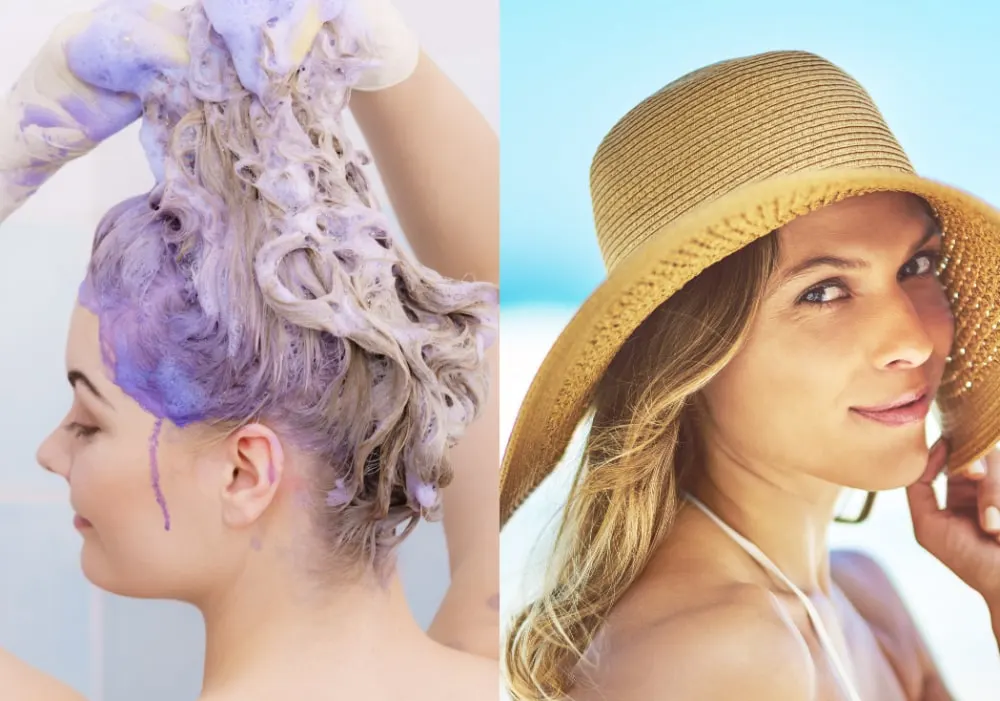 Switching to the blonde team doesn't come without a care in the world. After a bleach, you might consider giving your hair some time to regenerate before changing its color again. To better maintain the color, use a purple shampoo that will greatly neutralize yellow tones.
Also, because you used bleach, nourishing shampoos, deep conditioners, and hair masks will become your best friends. Your tresses need a lot of hydration to look smooth and silky. So make sure that the product you are using fo not contain any sulfates and provide your hair with all the beneficial ingredients.
If you want to preserve the color and the luxurious texture, always use heat protection whenever you blow dry your hair or style it with irons.
You must stay away from the sun, so if you're going to the beach, always wear a hat. Sun damages hair and makes the hair color fade easily, a thing you certainly don't want after all that effort.
FAQs
Should I go for a full blonde if my hair is damaged?
Before switching from highlights to full blonde, it's best to consider the state of your hair.

So, if you have a lot of split ends caused by previous hair dyes or bleach, this won't be an option for you. Improve your hair's health, and then you can go for full coverage.
Is blonde a high-maintenance color?
Yes, if you're not a natural blonde, having a lighter hair color can require a lot of attention because you will need to dye the roots frequently.

However, if you go for darker roots that lighten up into a blonde, you will not need to bleach them as often each time you want to cover them up.
When you want to go all over blonde from highlights, you must consider the color of your roots and the present damage. You should strictly follow the guidelines presented above if you want your color to look impeccable and create a mesmerizing transformation.
You May Also Like