Pastel pink hair is on the rise for some time now, and it doesn't mean to stop. If we just go back in time a bit we can see that extreme hair colors were once reserved only for courageous girls.
However, in the last few years, all girls wanted candy-colored locks and braids. It is quite impossible to resist them – hair color in pastel pink shade is eccentric and chic at the same time.
Things to Consider Before Dyeing Your Hair Pastel Pink
Light hair colors require good preparation.
Beginners or those with virgin hair should start slowly and dye only part(s) of their hair.
The color on the package may not be the exact shade you'll get after dyeing.
Choose the shade for your hair carefully and don't solely rely on what you see on the package.
Dyed hair, especially pastel pink, requires a different hair care routine.
Use sulfate-free shampoos and conditioners to maintain the color freshness.
Pastel pink dye works best on light-colored hair, such as blonde or light brown. If your hair is dark, you may need to bleach it first, which can be damaging if not done properly.
Pastel pink hair requires regular touch-ups to maintain the color, as it tends to fade quickly. This may involve using color-safe shampoos, conditioners, and hair treatments.
Keep in mind that dyeing your hair pastel pink may not turn out exactly as you imagine. Be prepared to accept some variation in the final result and remember that you can always try again or adjust the color as needed.
How to Dye Your Hair Pastel Pink
Here is how you can get colorful pastel pink hair.
Step 1 – Prepare everything from the dye package, don't forget to put on gloves and prepare a dark towel for your shoulders. You certainly don't want to get messy!
Step 2 – You will need to bleach your hair first, for the best results. Most of the pastel pink hair dyes don't have lightener inside them, so you need to buy it separately.
Step 3 – Apply the dye on the roots first. Since they are the darkest part of your hair, it will take more time for them to dye.
Step 4 – Leave the color on your roots for some time, and then evenly spread the rest of the color over your hair. You should let it stay for max 15 minutes, before rinsing it off.
Beautiful Pastel Pink Hair Color Ideas
From ombre hairstyle to the rose gold shade of pink – there are many ways for you to look amazing! Whether your hair is long or short, pastel pink hairstyles look gorgeous for every occasion.
1. Pink Cotton Candy Bun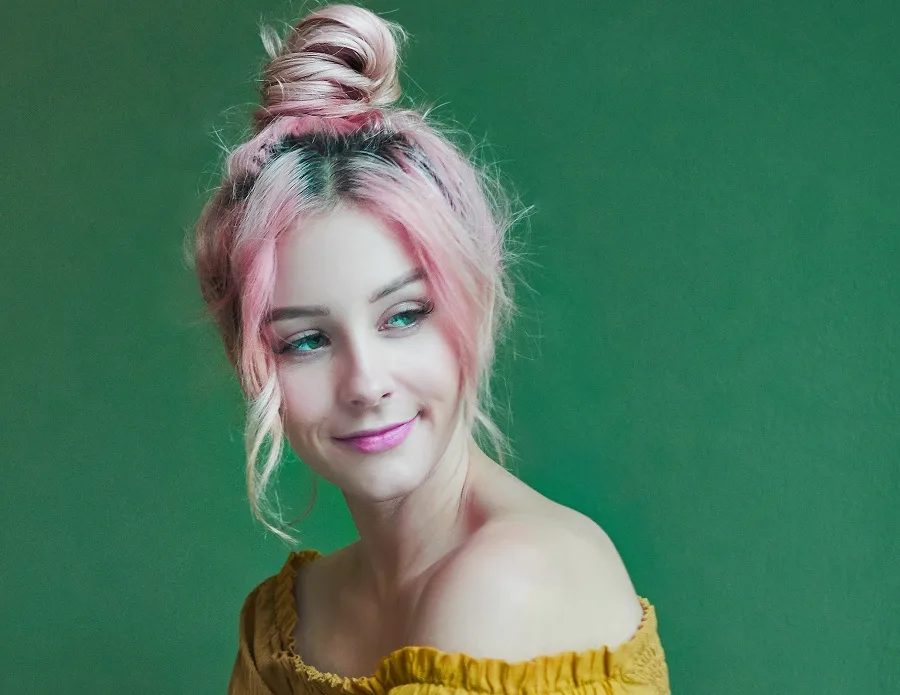 Paint your mane in a cotton candy pink hair shade to make it look like a sweet mess. Try a relaxed top knot bun on a lazy day with curled chunks framing the face at the front.
The emerging natural roots will add up to the look like nothing else.
2. Peekaboo Mermaid Hair
Become a real-life mermaid by spicing up your pink locks with a subtle yet fierce hint of blue.
Ask for earloop highlights that involve dying the strands around the ears only to achieve a peekaboo effect. You can also opt for a blue underdye instead.
3. Textured Feminine Pixie
Here's another pastel pink hair color idea for all the lazy ones out there. Make a bold move and chop off all that hair into a short textured top with buzzed sides.
Celebrate your femininity with a soft shade of pink and you won't regret it.
4. Powder Pink Long Layers
Powder pink is a cool pastel tone that pops beautifully against a fair skin tone. Set your long tresses on fire with a handful of layers along with a fresh hair dye.
Achieve a retro-chic appeal with a messy half-up beehive hairstyle and see jaws drop along the way.
5. Rose Quartz Blunt Bob
Instead of going retro, go for a contemporary blunt bob to sharpen your facial features.
The blunt cut creates a characteristic squarish outline with thick bangs grazing the brows while that metallic rose quartz hair shade is just to dye for! Don't forget to get a matching lip color.
6. Pink Sherbet Wolf Cut
Wolf cuts are not going anywhere soon and feature uneven layers that are short along the crown region and sides but tend to elongate towards the back with or without bangs.
Go pink to make sure your shaggy haircut stays truly one of a kind.
7. Coral Curls
Those who wish to brighten up their face can experiment with a coral nuance that features light pink with a strong hint of peachy orange.
Stay on the safer side by recreating Nicki Minaj's curly bob on a wig before reaching out for permanent hair dye.
8. Pastel Pink Choppy Lob
Maintain an on-the-beach look all the time by opting for a textured long bob with plenty of chopped-up layers.
Incorporate multiple yet similar tones of pink unevenly to create a unique dimension. Add loose waves and tousle them to give off a strong no-care vibe.
9. Black-To-Pink Shadow Roots
The shadow root hair trend is a true lifesaver for all low-maintenance ladies!
After playing around with an all-over pastel pink hair look let your roots grow out to end up with a high-contrast dichromatic gradient without the effort. This style is a must-try if you have natural black tresses.
10. Pink Gradient Box Braids
African-American beauties can enjoy pastel pink tresses without adding a single drop of chemical dye on their heads by going for protective box braids.
Go as long as you want and use pink ombre extensions or create your own gradient instead. Curl the ends for a chic finish and done!
11. Monochrome Bixie
A bixie lies midway in length between a pixie and a bob. Try one with layers and an angled cut to hug the face.
Choose varying shades of pink including pastel tones and bright nuances, as depicted here, and place them all over the head to enjoy a monochromatic moment with style.
12. Pink Blonde Ombre Pigtails
Try this super cute pastel pink hair idea to relive those good old childhood days. Ask for a rose pink blonde hair shade that lightens towards the ends to create a dreamy gradient effect.
Assemble all the hair in two pigtails to stand out from the crowd.
13. Long Pink Hair
We don't know about you, but we would certainly love to look like any princess from Walt Disney's movies. And with this pastel pink hairstyle, it is more than possible. You will need long hair, beach waves, and a braid.
14. Baby Pastel Pink Shade
Light pastel pink aka baby pink shade looks perfect no matter which hairstyle you have. Long angled bob with beach waves will just highlight the gorgeous color shade. This can be achieved only by previously bleaching your hair.
15. All-Pink Ombre
All-pink ombre is a hairstyle that might seem strange, but it is beautiful. Instead of leaving your roots in natural, virgin hair, dye it in dark pink. The rest of your hair should be in a much lighter pink shade.
16. Messy Look
For messy, grungy look opt for this lovely light pink ombre. While roots are natural, the rest of the hair is highlighted in pastel pink shades. Long bob and chopped ends are great for all girls who love natural and messy hairstyles.
17. Pink for The Wedding Day
If you thought you can't wear pastel pink hair color on your wedding day, we have to admit you are wrong. With a beautiful hair accessory or some fancy updo, you will look not only elegant but also unique.
18. Two Buns
A rosy pastel pink hair is for experienced blonde girls only. This is an amazing combination of two shades that provide you with a gorgeous hairstyle that you can wear every day.
19. Red and Pink Combo
If you are keen to discover new and modern hairstyles, then you should definitely try something like this. Red and pink blending on hair can look fantastic. Make sure to do your highlights in both of these shades.
20. Ashy Pink
If you want your hairstyle to be classy and not too vibrant, then you should definitely go for an ashy shade of pastel pink hair dye. Although you would have to bleach your hair, the result will blow not only yours but the minds of your friends as well.
21. Pastel Pink Highlights
Nude blush highlights look perfect in combination with long beach waves. The roots are in the dark shade.
For upcoming spring days opt for a hairstyle like this. Braid, pastel pink hair dye, and lighter ends – you won't need anything else to stand out from a crowd.
23. Blonde Pastel Pink Hair Color
A combination of blonde hair and pink ends will really make your hair look like cotton candy. It looks great on voluminous, curly hair. This is definitely a unique way to wear pastel pink hair color, but not look like you are related to the flamingo.
24. Big Curls
For elegant occasions such as weddings, engagements, and birthday parties, choose a hairstyle like this. It is quite classy, while the light pastel pink shade gives you an urban vibe. This hairstyle works perfectly with any outfit combination.
25. Pastel Pink and Purple Highlights
Which dye matches with pink? Purple is the right answer! Make sure your highlights are unequal and messy. Even if it sounds strange, you will be amazed by the results of this combination of colors.
26. Easy Pink Hairstyle
Pastel pink hair is not only reserved for the rebels. You can wear it like any other hairstyle. Loose curls, twists, and braids are things that look perfect in combination with pink hair. You can wear it for everyday events and even during your working hours.
27. Shades of Summer Sky
If you were wondering how pastel pink dye and orange tones can look on hair – here is the best example of that combo. We completely fell in love with it, it reminds us of the summer sky.
This hairstyle is daring and light, but bold at the same time. Thanks to this braided updo, you can now wear your pastel pink hairstyle for everyday occasions, even sporty ones. This updo is perfect not only for daily events but for special ones as well.
29. Matchy Pink
You can always match your hair color with a hair accessory. As you can see, a silky bow is in the same shade as the hair, and it looks divine.
30. Black Roots – Peach Pink Hair
Even if you don't believe it, black roots and pink hair can look pretty good in combination. Crown braids are perfect for pointing out your hair color. You can decide what to do with the rest of the pastel pink hair – updo, buns or curls, it is on you.
31. Pastel Pink Bangs
We don't know about you, but we are fans of bangs! It even rimes. If you wondered how they look on pastel pink hair, here is the answer. We can just add – bangs and long hair are our timeless favorites.
Amazing Ombre Hairstyles with Bangs for Women
32. Matched with Makeup
What happens when you match your hair and makeup? A perfect set-up for all occasions! You can always choose dark purple or pink lipsticks to match with your short pastel shade pink hair.
33. Blush Pink and Lilac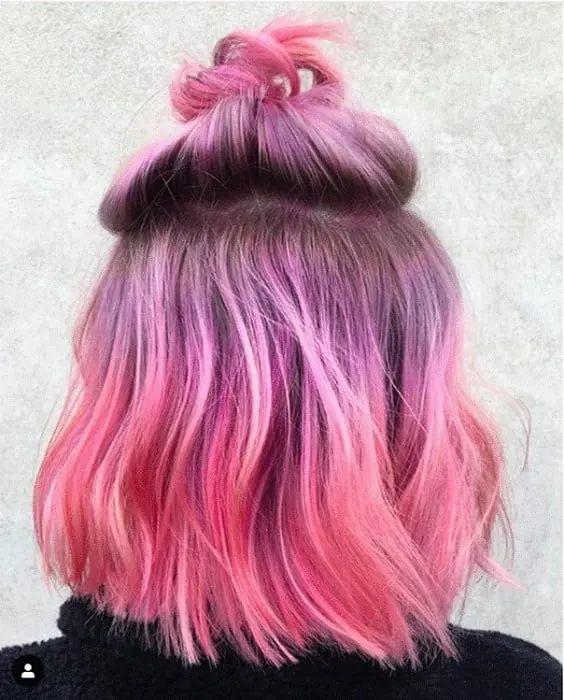 This hairstyle shows us how roots can look dyed in lilac while the rest of the hair is pink. However, always opt for the top bun – in that way, you will fully show a shade of your roots.
34. Relaxed Braid
You can always wear this hairstyle. It looks casual, chic, and most of all very versatile. Whether you choose to wear it at home or at work, you can be sure you look amazing.
35. Strawberry Cream
While these locks look like strawberry cream, you look absolutely unique and fabulous. If you have blonde hair, don't hesitate to upgrade it with pastel pink hair color.
36. Washed Out
This washed-out look is perfect for those girls who like that messy-chic look on their hair. You will need to bleach your hair first and don't forget to treat it well with shampoos and conditioners.
37. Platinum Pastel Pink
Pastel pink hair can look different, depending on your natural hair. This hairstyle occurs when you mix platinum blonde and light pink hair dye. Pastel pink will look completely insane on light and platinum blonde hairstyles.
Tips to Maintain Pastel Pink Hair
After dyeing your hair you should take good care of it if you want long-lasting dye results. These are some pro tips that came right from hairstylists about how to treat your hair after dyeing it in pink.
Haircut Must be Regular: Cut your hair every six to eight weeks to keep it beautiful and your light pink hair dye fresh.
If you are one of those that postpone hairstylists every time they need to go there, here is a useful trick. Each and every time you go for a haircut, book the next appointment.
Use Dry Shampoo: Instead of washing your hair every or every other day, try to incorporate dry shampoo into your hairstyle routine. It will not only make your hair looks good on a bad day but protect your pastel pink hair dye from washing off.
Cool Water Preserves the Color: Cool and lukewarm water will not only wake you up in the a.m. It will protect your hair color from washing off.
It is known that warm water forces cuticles to open, so all the color quickly seeps out. With the cool finish, you will lock cuticles and prevent dye from washing off too quickly.
Use Heat Protector: If you are using a flat iron, curling wand or blow dryer, make sure to use a heat protector before. Whether it is a spray, mask or lotion, it is important for you to use something that will protect your hair of drying.
Nothing can lift your mood like colors. Pastel pink hair is an amazing way to add a bit of joy to your life. We hope all the tips we have provided you with will help you maintain your color and look fabulous wherever you appear.
FAQ's on Pastel Pink Hair
Which skin tone suits pastel pink the best?
Pastel pink hair color and any other blush and light pink shade suits fair skin tones. Olive skin tones are great for pastel pink as well as for any other shade of pink.
Can I get pastel pink hair without bleaching?
Yes! For the best results and perfect pastel pink shade, you should definitely bleach your hair until it is yellow/white.

However, some hairstylists suggest that you don't have to bleach the roots. There are many bleaching products on the market that will not ruin your hair completely. If you opt not to bleach your hair, expect much darker shades, and undertones.
How long pastel pink takes to fade?
Faded pink hair is universally very fast fading (as well as all other pastels/unicorn shades). The tips for maintaining your pink hair are the ones you should follow if you want your hair color to last longer.

You should learn how to love your faded pink hair anyway. Unlike the blonde hair, which tends to turn into orange, pastel pink dye fades into lovely rose gold.
You May Also Like