Purple curly hair is a hot fashion trend nowadays and why wouldn't it be? Purple is the new black after all! Purple hair looks so refreshing and beautiful that it is hard to resist it when it comes to times when you want a lovely and funky hair color.
Purple is as youthful and lively as any hair color can be without going too eccentric. This lovely color does justice to almost all hairstyles whether you have to tie them up or want to let them fly about loosely in a casual manner. This means that there is no limit to purple curly hairstyles once you have dyed your hair purple.
How to Dye Your Curly Hair Purple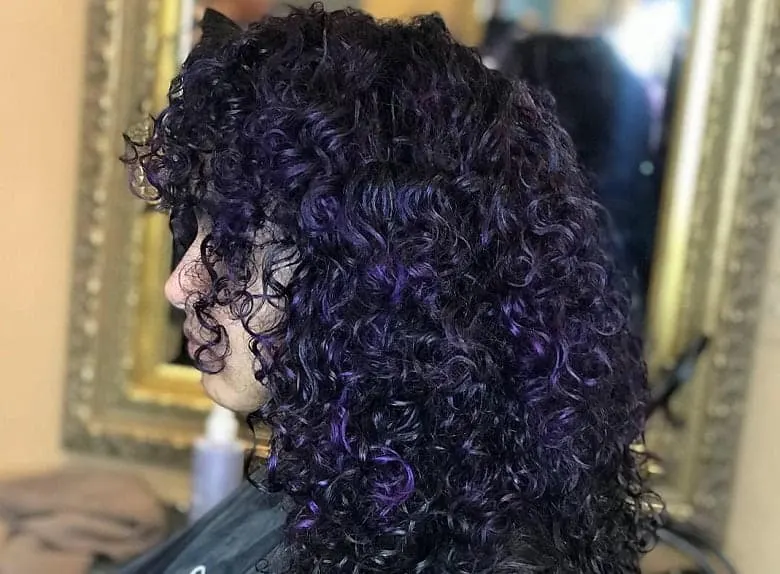 Dying your curly hair purple is just a piece of cake if you have prior experience of dying your hair. However, if you have never dyed your hair earlier, even then it is no biggie. All you need to do is to get some good quality dying products and a purple hair color cream. Once you have them follow these steps and get the loveliest purple hair that you want to.
Begin with shampooing your hair to remove any hair care products that you used earlier and dust particles if any.
Now dry your completely and part it in four sections with clips. Now apply bleaching mixture to each section separately and allow the dye to sit in.
Once you feel that the hair has been discolored, wash away the bleach and let your hair dry.
After this, again part your hair in four sections and apply hair color to all the sections one by one. After the required time, wash off the color and you will be able to see the actual color after your hair is dry.
If you think that it is not the color that you initially wanted then you can re-apply the mixture to your hair until you see the desired color of purple curly hair.
Watch The Following Video to Learn How to Dye Your Curly Hair Purple
How to Style Curly Purple Hair with A Weave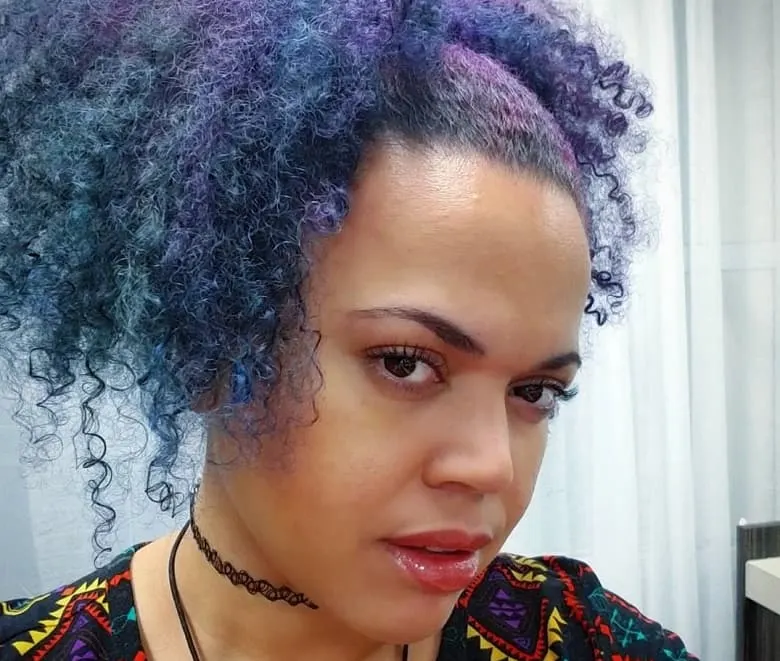 In order to style your purple curly hair with weave, you need a good weave, some bobby pins, and a hair spray. If you are putting your curls in a high ponytail then insert a bobby pin on both ends of the weave and then use those to secure the ends of the weave in the ponytail of purple curly hair.
However, if you want to leave your hair unbound and want to use the weave to enhance its volume then you can simply attach it with your hair by using some bobby pins or a weave glue. It will hold the hairs and make them look stunning and attractive as they should be.
Lovely Purple Curly Hairstyles for Women
Here are some of the best purple curly hairstyles that we love. We are sure that you will love them too, so let's have a look at them, shall we?
1. Loose Easy Curls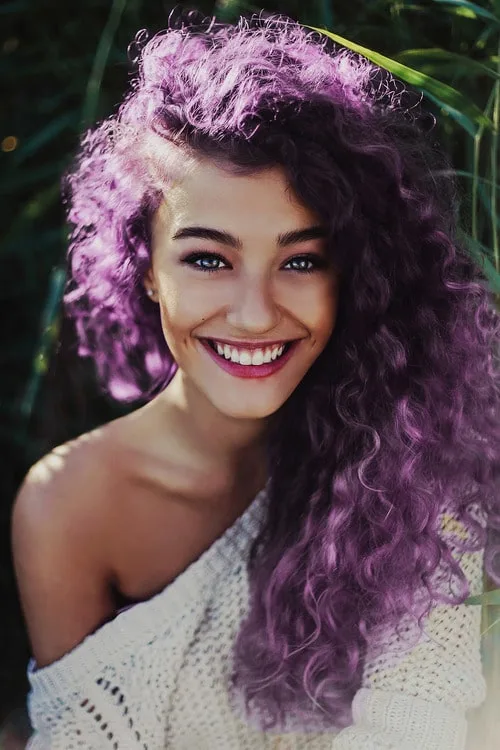 These loose curls look amazing in the light as they catch different shades of lavender purple when light plays with them. A chic example to wear purple curly hair.
This highly coiled purple curly hair looks so cool that you must try it at least once so that you know what you will be missing out on if you do not. You can have the base of your natural black hair with this sexy curly bluish-purple hair falling around and covering the rest of your head.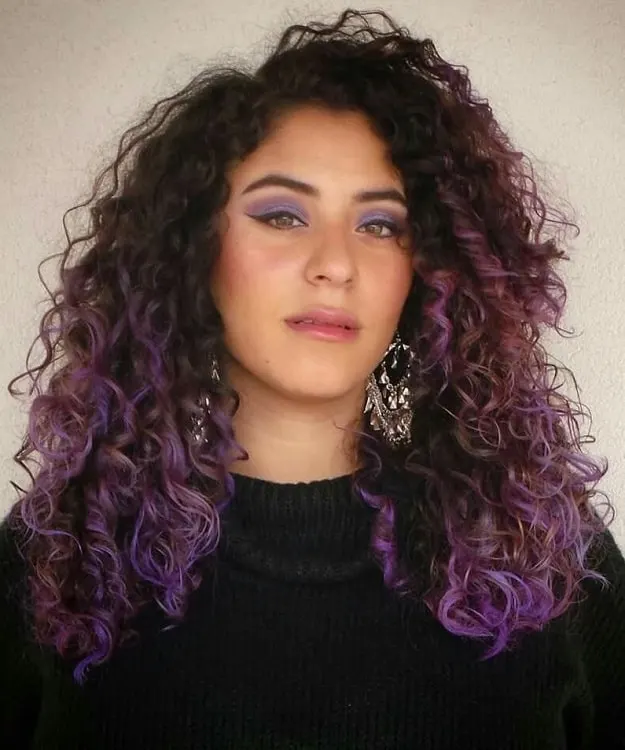 Ombre is something that most of us have tried on various hair colors, but somehow we miss out on purple when it comes to ombre. The black base and the lovely purple ombre are blended in so nicely that they seem to be a consistent continuity of the same shade. A classy curly purple hair idea.
4. Curly Purple Afro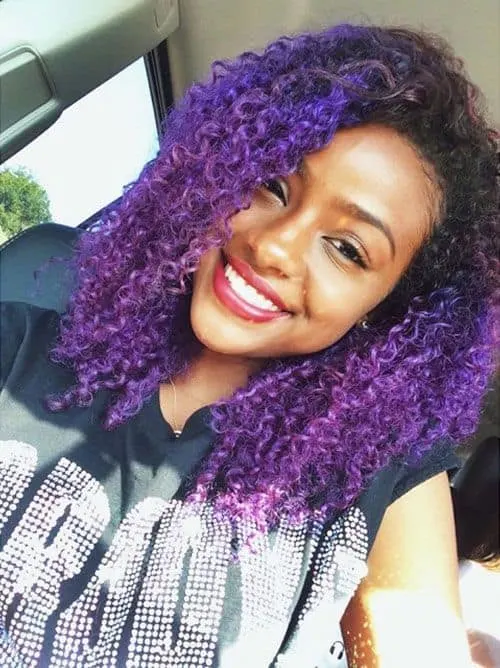 Afro hair is not always meant to be black and you realize this as soon as you glance at this super strong and attractive hairstyle with Afro curls dyed purple.
There are several shades of purple which add up to this lovely and pretty purple curly hair. You can have it styled in any way that you want, but make sure that the roots of the hair stay black.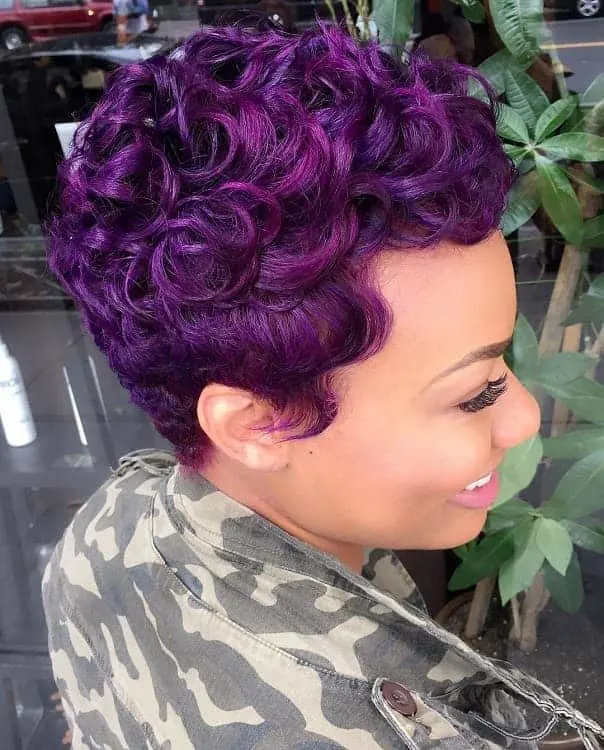 This short purple pin curls has a very elegant and professional feel even if the purple color is a bit showy and screams for attention.
6. Summery Messy Hair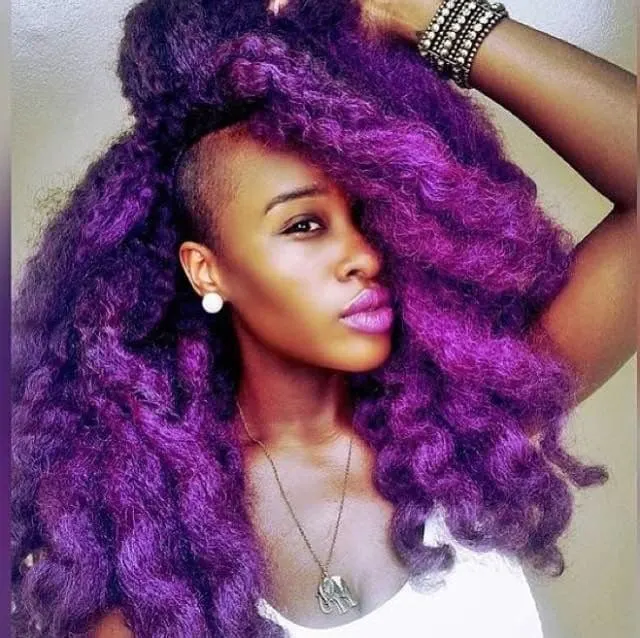 This summery messy mass of purple curly hair is so good that we wish everybody just goes for it. The long messy curls are very dreamy and impressive while they fall about your head and face.
7. Hippy Purple Curls
These purple curls are stylish, chic and cool, so only very confident and lively women can pull it off. The curls are tightly bound and have a lovely feel about them.
8. Purplish Pink Beauty
This lovely shade of purplish pastel pink is going to make sure that you do not go unnoticed anywhere. You will be a source of constant vibrancy in parties and all gatherings with these purple curly hair.
9. Natural Curly Purple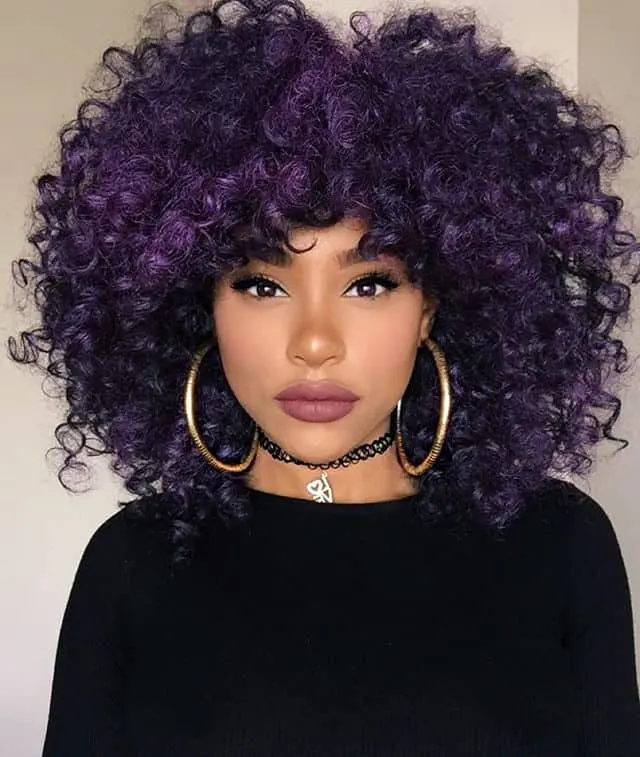 This mass of naturally curly hair when dyed purple looks stunning, so you should consider giving it a try this season. They look pretty and make you look like a funky queen of your world.
Magical Faded Purple Hairstyles for Women
10. Cute Shiny Purple Hair
This version of curly purple hairstyles is quite natural and youthful with an underlying intense charm.
11. Funky Purple Curls
These purple curls are so full of energy and vibrancy that no one can really resist them. When you have this hairstyle on, you will transfer frank energy to the whole crowd. Curly black hair is so well blended with the purple ones that they make a perfect combination for making your whole profile a lot lovelier.
These lovely purple curly hairstyles are lovely and cool with just the right amount of refreshing energy, so get them and rock your new looks in style!