Knotless braids do exactly as their name says! The braiding is done without a close knot to the scalp, as used for box braids or other braiding types. But that doesn't mean you can't add hair extensions as you are braiding those plaits.
And if you're dealing with coarse hair, medium knotless braids with beads are here to last because these specific plaits tend to stay attached and in good shape longer than other knits.
Medium Knotless Braids with Beads
So if you want a hairstyle that looks stunning even for two or three months, these beaded braids have your back. They are styled this way so that the tension applied to the scalp is reduced.
Also, they have a more natural aspect as the hair is gradually added and beautifully blended.
If you are searching for a sassy medium knotless braids hairstyle with beads, check out these examples!
1. Yellow Gray Knotless Braids
Before you start these medium knotless braids with beads, make sure you have all necessary items such as jam to tame your roots, rat tail comb for parting, gray and honey blonde hair bundles, and wooden and translucent beads.
If this decoration is not enough, then you can also use a golden thread that you will wrap around your braids or hair rings.
2. Black and Pink Braids
Not afraid to sport a bright vivid color? You know what they say, go big or go home! And this also applies to this stunning pink plaited hairstyle with beads.
Do a middle part and get some braided pink highlights that will instantly get a glimpse. Decorate each with different shades and nuances of pink beads.
3. Braided Bob
Braids can be the best protective hairstyle for women with coarse natural hair. Choose hair extensions that are exactly the same color as your hair, so the look will be as natural as possible.
Make sure you make a side part and flip those top knits to one side. Then cut the hair so it will resemble a lob. Decorate the ends with shiny golden hair rings.
4. Top Braided Pony
Adding some gray hair extensions is an option you should consider when you plan to extend your hair and get a protective hairstyle. It will give them a fine touch, adding a lot of value to each braid.
Pin all the plaits in a high ponytail and spare two strands from the forehead. Let them carelessly fall.
5. Golden Knotless Braids
Resembling a long bob haircut with a middle part, these medium knotless box braids are so cool and warmly tinted. Use a brown-blonde color that enlightens your face, and secure your braids with beads.
For each plait, you will need two translucent beads to decorate the ends.
6. Heart Braids
Your love for hair won't go unnoticed, especially when you love intricate braids that you can knit in a heart shape. To create these stunning plaits, you will need curly bundles that will show more volume.
Choose a base color that is in the same nuance as your natural hair and sprinkle some blues and pinks. The tips should also be decorated with colored beads.
7. Electric Red
Medium knotless braids with beads are so hot, versatile, and amazing tool to protect your hair from external factors.
To obtain this fiery red look you will first need to dye your roots in a color that is close to one of your hair extensions. Decorate with translucent beads and pin them all up in a careless bun.
8. Shoulder Length Bob
This braided shoulder-length bob hairstyle will create such a great framing for your face. Build braided layers using the hair from your forehead. Each plait will have two translucent beads at the ends, followed by a knot used to secure the braiding.
9. Side Swept Braids
Before starting to braid your hair, it definitely needs some prepping. So use a styling gel for the roots, which makes your hair easier to manage and create square partings. After that, you can start knitting your plaits and gradually add hair extensions and sweep them to one side.
10. Pigtails with Beads
You don't always need to add hair extensions to get flawless braids. If your hair is thick and coarse, cut it in a bob and style even triangle parts. Braid this hair and decorate the tips with beads.
Spare two pieces from the forehead and part the rest in two sections that you will use to build two high pigtails.
11. Feed In Cornrows
Create row parting and, using your natural hair, braid cornrows that you will feed in with hair extensions as you go. Orient all your braids towards the back, except the sides. Here you will curve two braids and shape them into a heart. For the tips, you will use black, white, and translucent beads.
12. Triangle Parting
For these long knotless braids, you will need to keep your roots in their natural color and dye rest in a vivid red. Also, choose an appropriate color for the extensions, as you will need to blend them with the feed in pieces.
Decorate some of the braids with golden hair rings and the tips with beads.
13. Brown and Blonde Plaits
Wooden beads with motifs will add so much value to your Medium knotless box braids. You can choose two different colors for your plaits so mix platinum blonde nuances with brown shades.
To spice things up, you can also get a side undercut and highlight it by swiping all your top braids to one side.
14. Peekaboo Blue Braids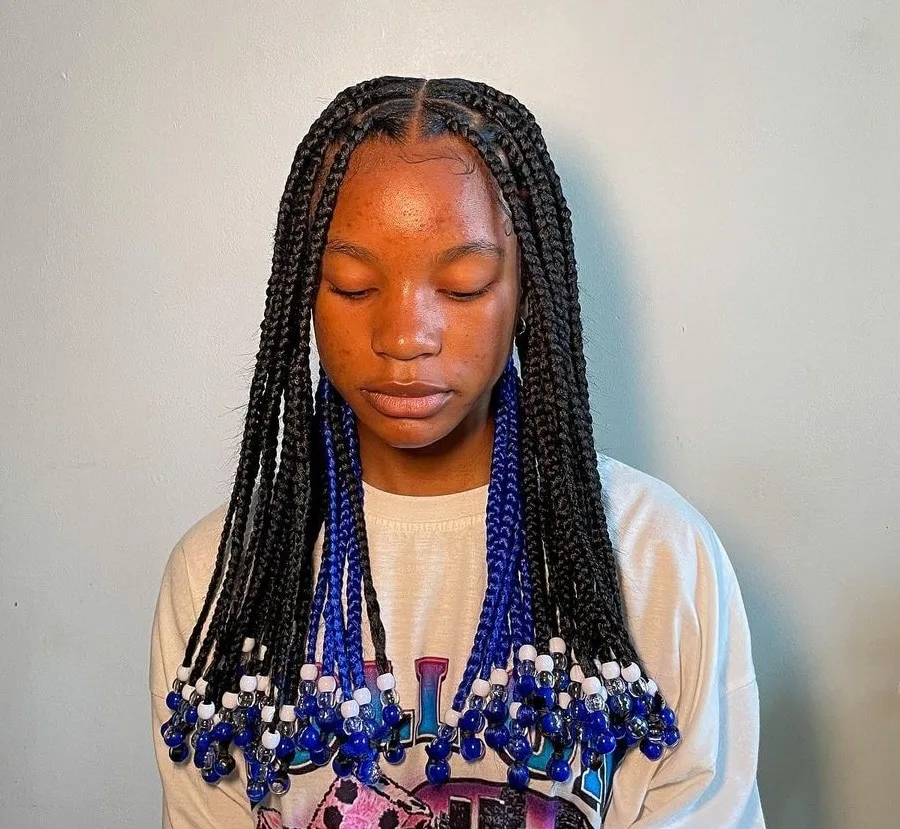 You can never have a dull look when you combine vivid colors such as this deep blue with white and royal blue beads.
Do a middle part and let your braids fall on the laterals. Maintain the same length and using gel and a toothbrush, style those baby hairs.
15. Half Up Half Down
On the sides, connect two cornrow braids creating a heart shape. Select the plaits from the apex and secure them in a high ponytail, revealing the sides with the braided design.
To decorate the tips, you will need white and blue translucent beads.
16. Braids with Translucent Beads
Medium knotless braids with beads can be styled in so many ways, depending on your face shape. So if you want a thinner, elongated aspect, build long plaits that overcome the shoulder level and do a middle part.
The size of the beads is up to you, so if you want this decoration to stand out, choose larger pieces.
Medium knotless braids with beads are perfect for any hair length. This decoration steps up your hairstyling game and gives a unique appearance to your plaits.