Did you know that it's better to flaunt your natural gray hair instead of trying to cover it? Consider adding purple highlights to your gray hair and give it a bold look!
Since both shades have an ashy base, they complement each other pretty well. That's not all. Purple is a pretty versatile color as it comes in different hues that go well with all types of skin tones.
Ideas for Natural Gray Hair with Purple Highlights
If you're excited to spice up your natural gray hair, check out our ideas for gray hair with purple highlights below.
Here are some hair inspirations to try if you wish to join the gray-purple hair movement:
1. Gray Wavy Hair with Curtain Bangs and Highlights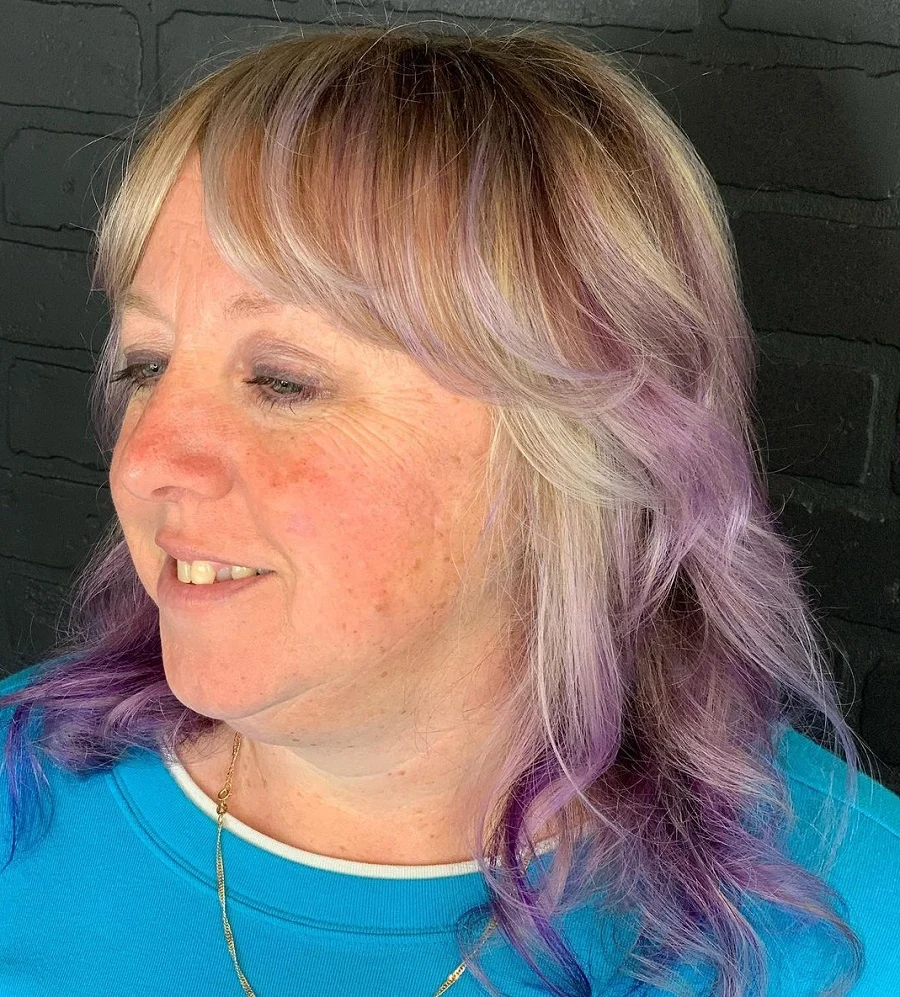 If you want to add a stylish touch to your natural gray hair, try dyeing a few streaks with lavender to purple shade. The gradient effect draws the eyes downward, elongating your face shape and making your face look slimmer.
2. Half Up Braided Ponytail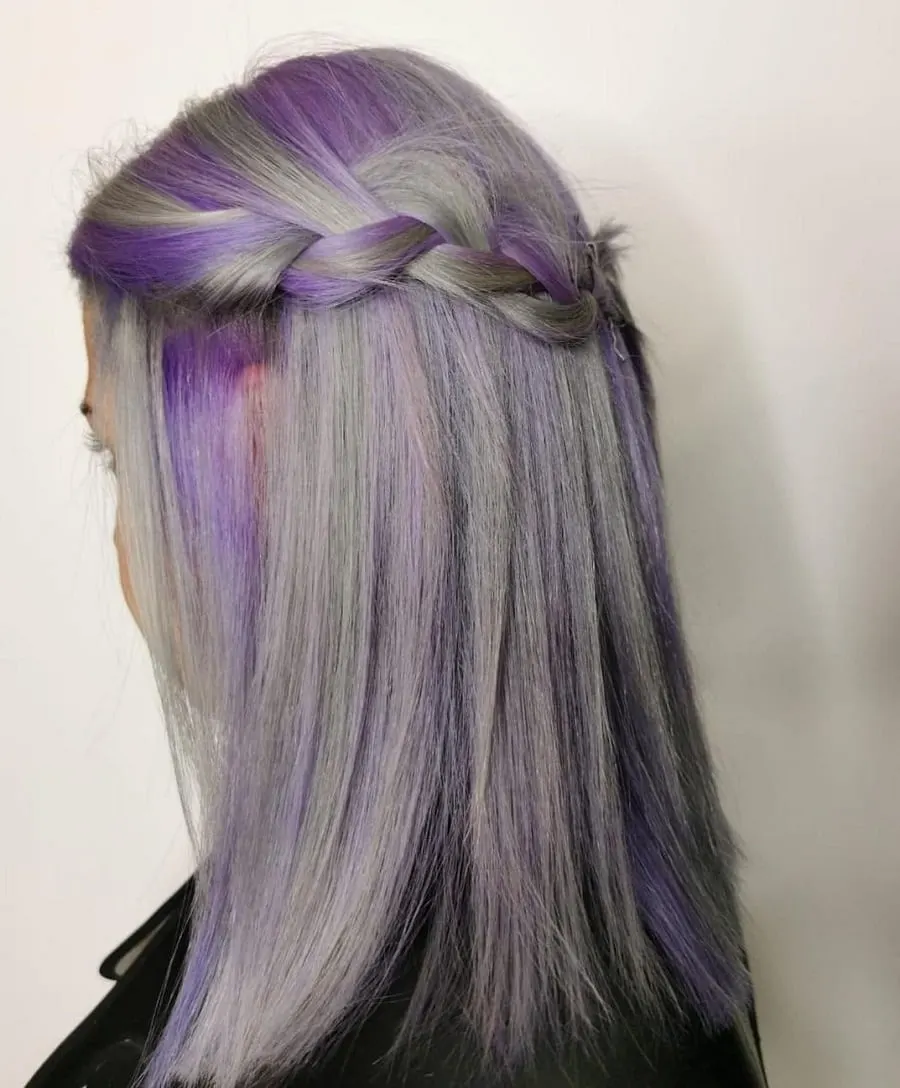 To showcase the contrast of natural gray hair with purple highlights, pull it into a half-up braided ponytail.
The alternate appearance of gray and purple will give your hair the illusion of movement and gives it more dimension.
Let's also not forget about the fact that this is one of the most elegant ways to keep hair away from your face.
3. Salt and Pepper Pixie + Purple Highlights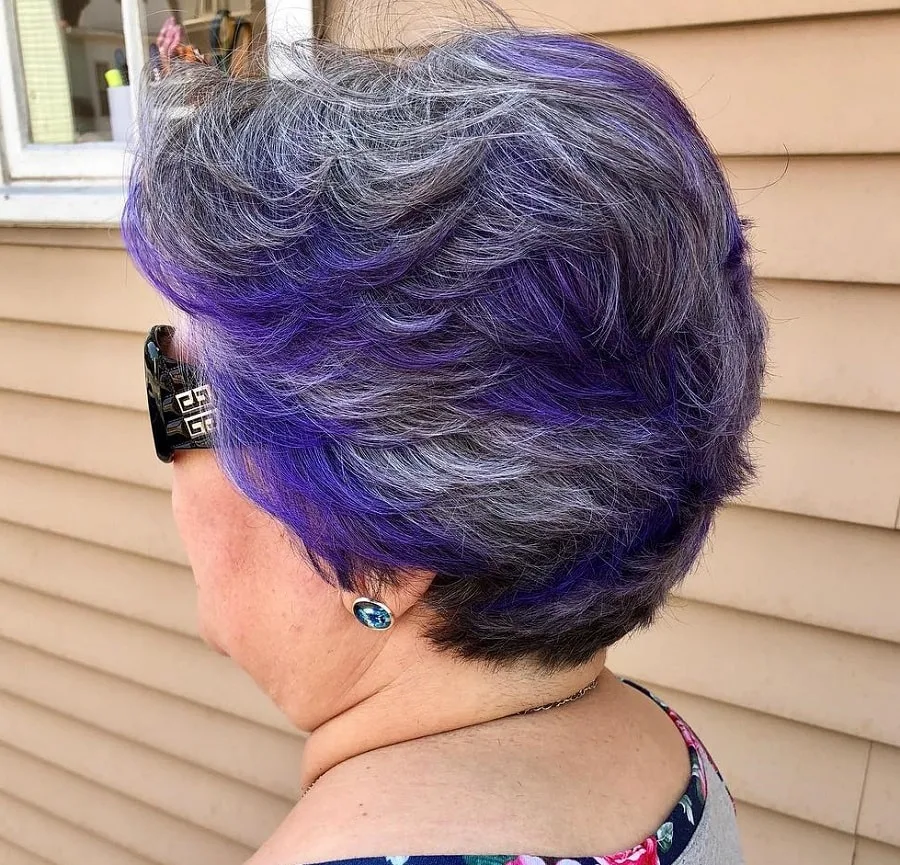 If you have beautiful salt and pepper hair, don't try to dye it black. Instead, just simply incorporate a few purple streaks in it.
The combination of these dark and deep colors will add a pop of color to your pale skin tone and make it stand out.
4. Asymmetrical Gray Bob + Violet Chunky Highlights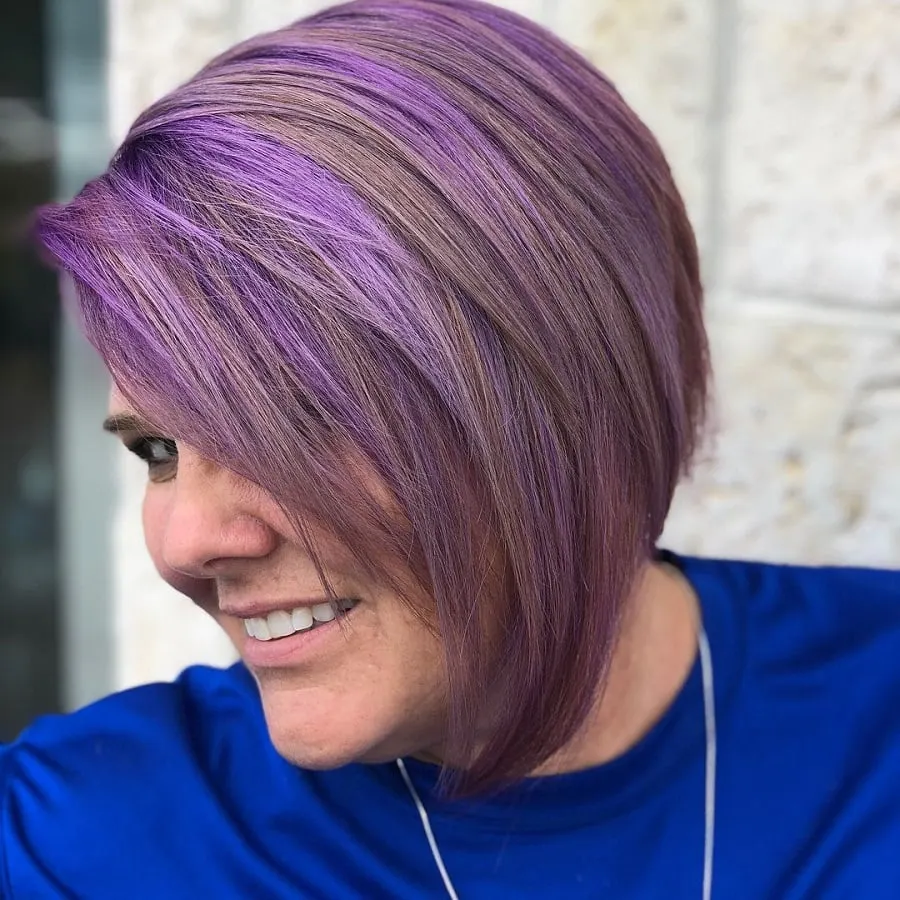 For those with thin hair, cutting it into an asymmetrical gray bob will instantly make it look more voluminous. You can make it look even thicker by adding a few chunky highlights to it.
Not only that, but the deep violet shade will also frame your face beautifully and brighten up your complexion.
5. Wavy Gray Bob + Pink and Purple Highlights
For more dimension, we highly suggest adding other pastel shades to act as a bridge between your light gray hair and deep purple highlights.
With that said, incorporating pink and burgundy streaks will help you create the perfect gradient you're looking for.
6. Straight Hair + Thin Highlights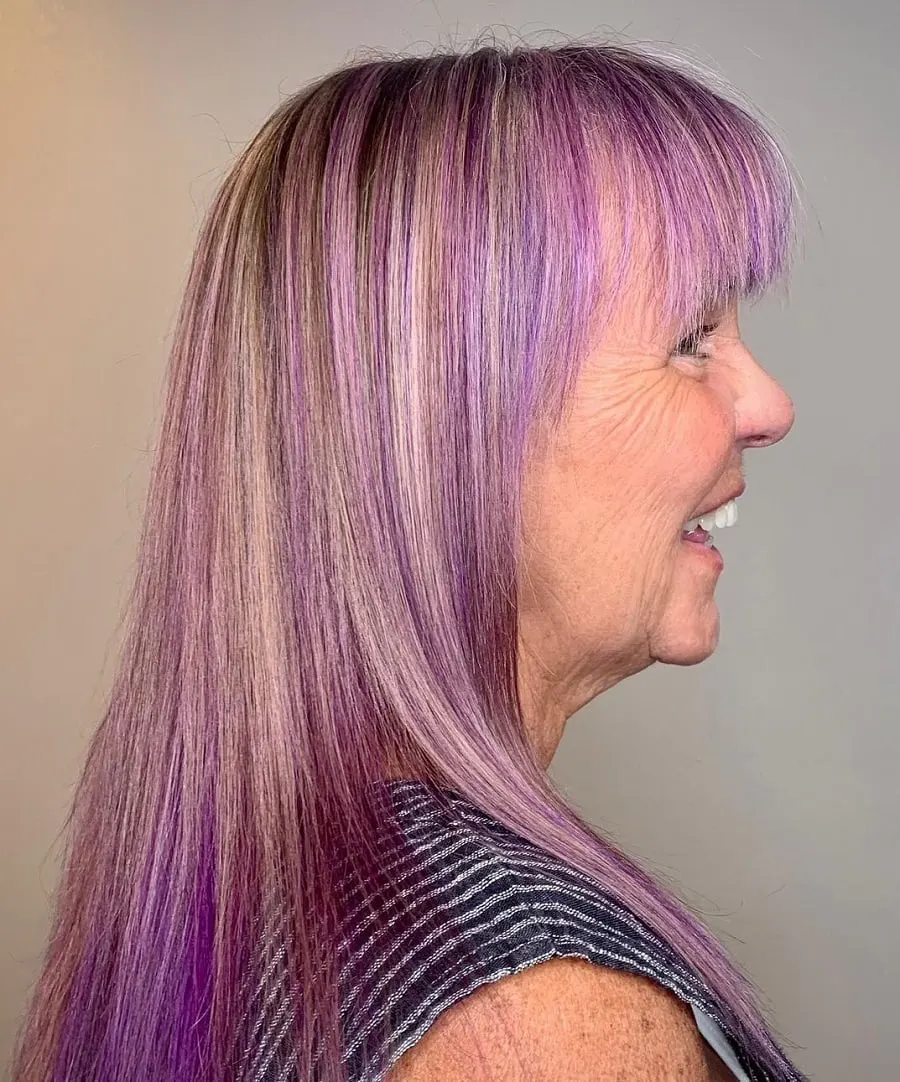 Why choose only purple when you can create more dimension with different shades of violet?
The burgundy, light pink, and purple highlights added more texture and movement to the thin and straight hair and made it look fuller and thicker.
7. Ash Gray Waves + Lavender Babylights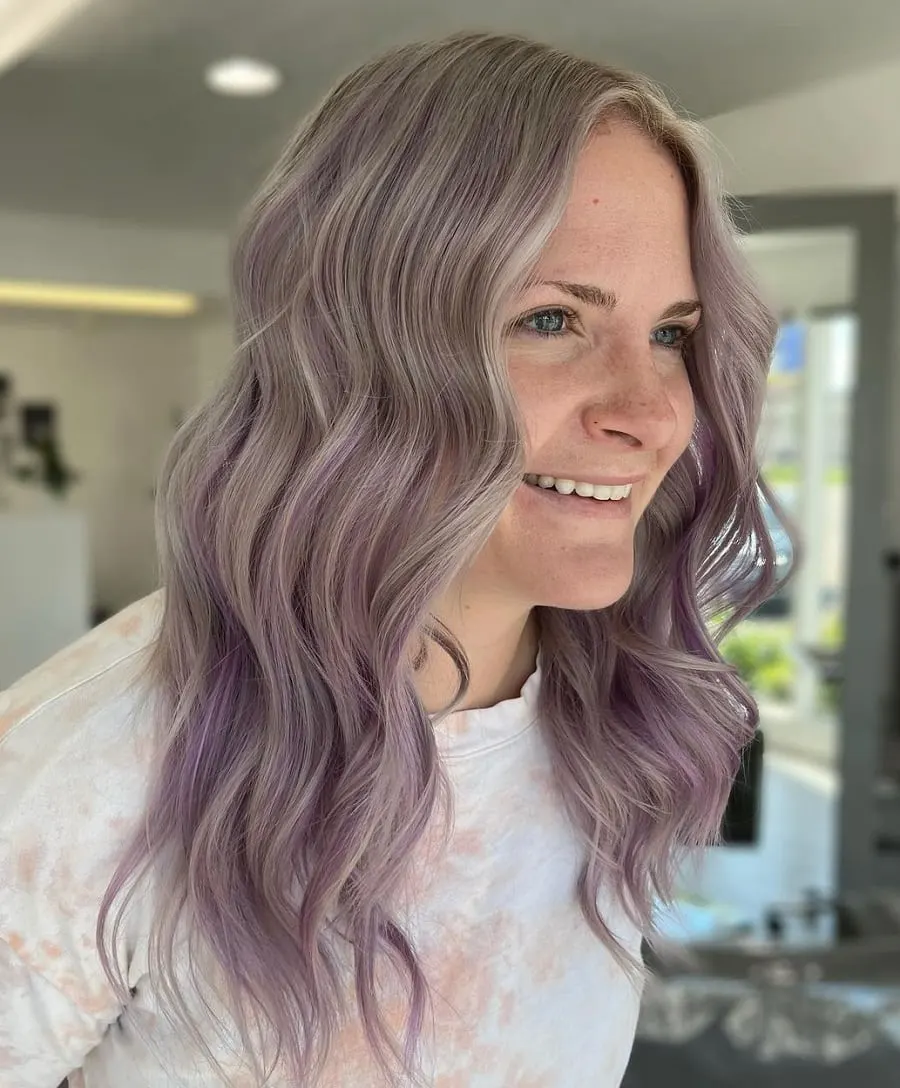 To achieve the beautiful combination of gray and purple hair but with an icy touch, pairing platinum gray with lavender streaks is the way to go. These ashy shades create a more feminine and elegant look that softens your facial features.
8. Gray Bob + Fuchsia Pink and Purple Skunk Highlight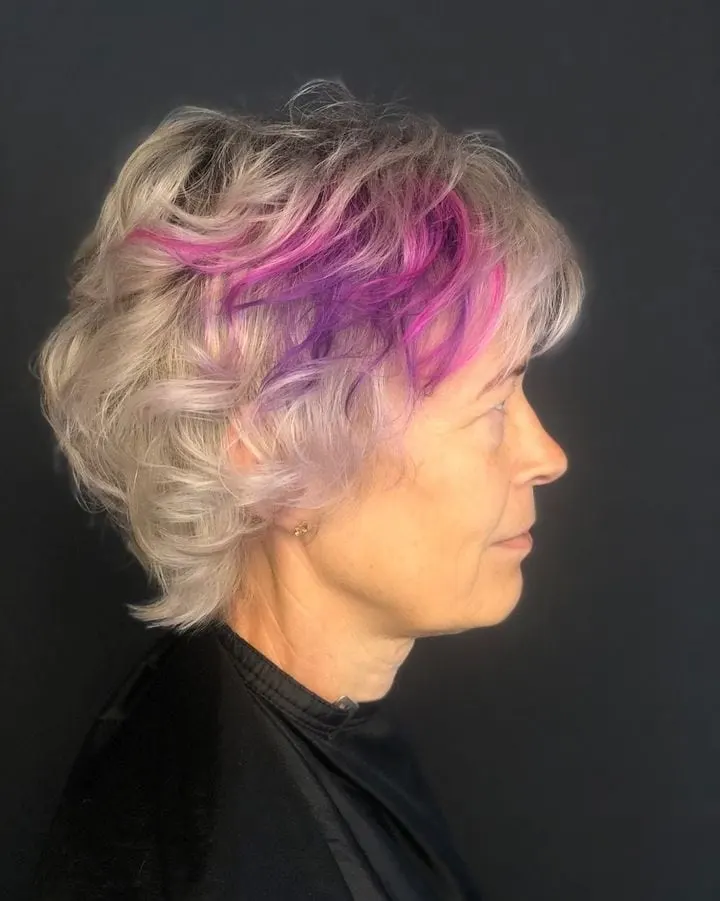 Here's one of the ways you can (literally) add a pop of color to your gray hair. Instead of adding purple highlights all over your hair, you can focus on just one side.
Not only is this easier to maintain, but it also creates more impact than the usual highlights.
9. Purple Moneypiece Highlight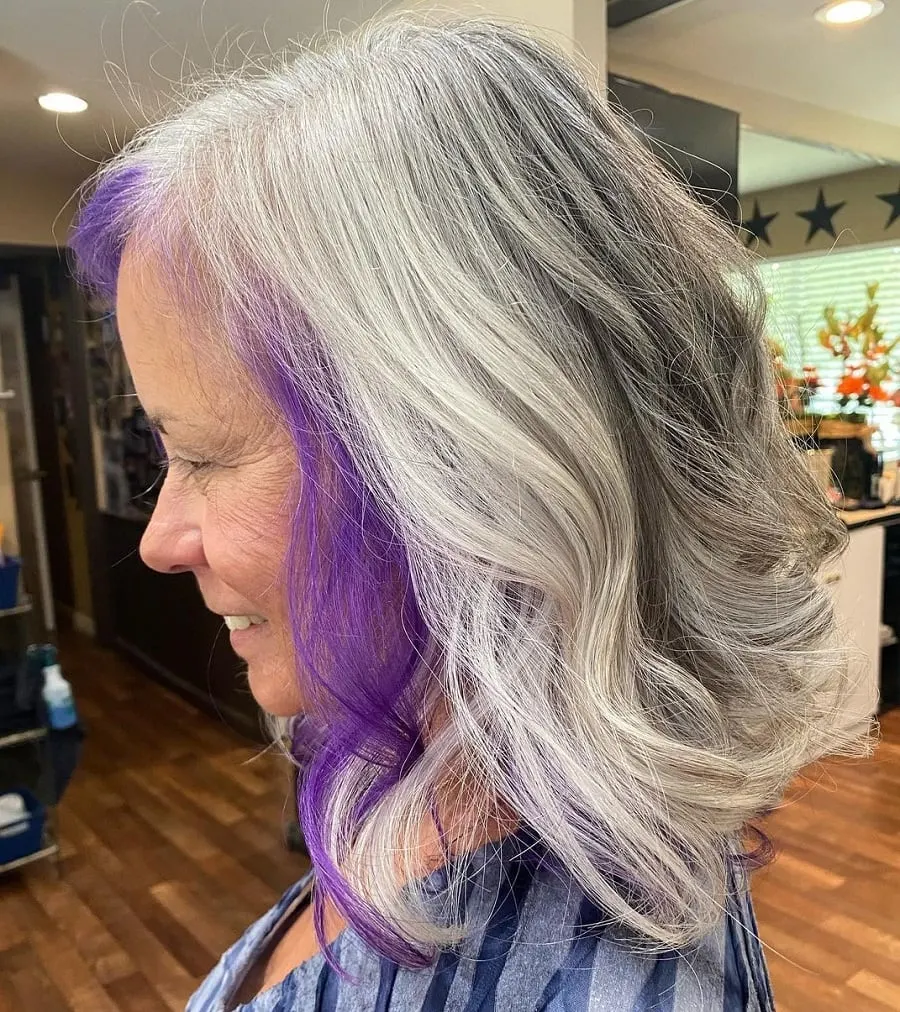 Purple may be the last hue you'd think of when talking about money piece highlights, which makes it the perfect option if you want to create a unique look with your natural gray hair. The splash of purple color will help brighten your complexion and adds a youthful glow to your face.
10. Dark Gray Hair + Purple and Peach Balayage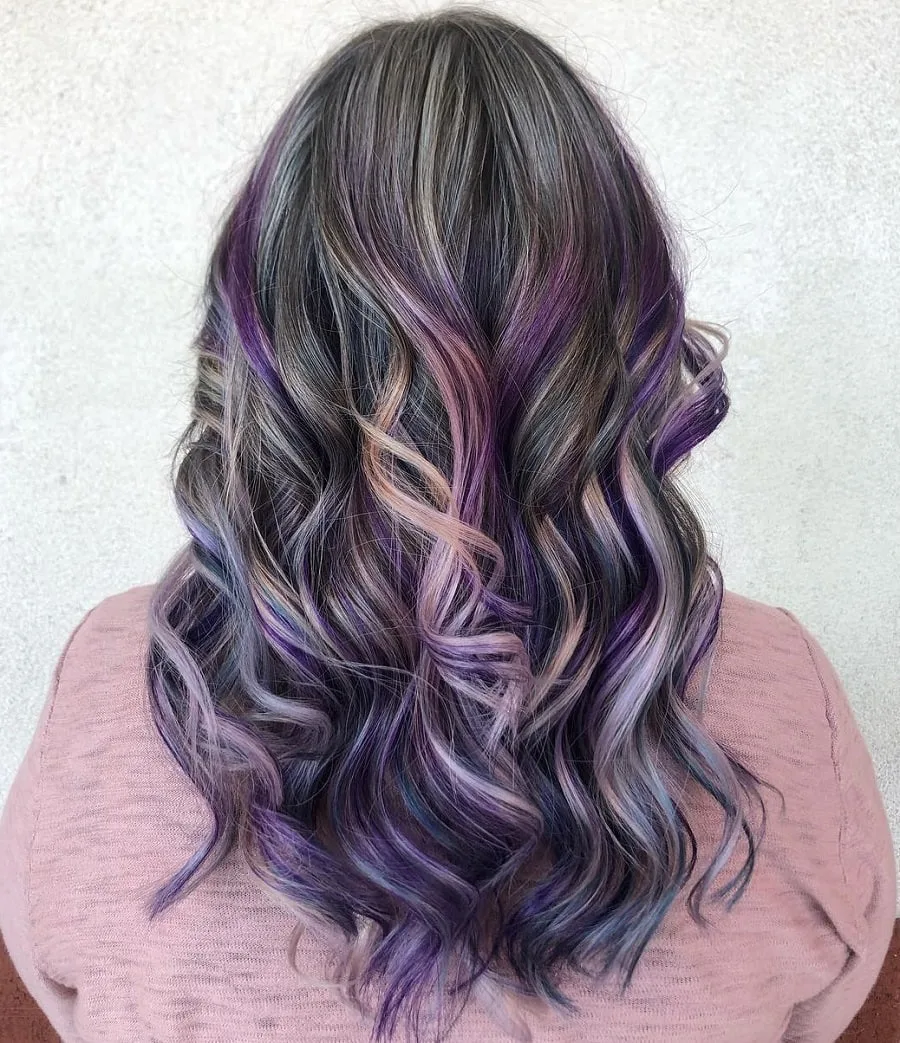 When we talk about summer hair, we usually think about blondes and browns. Well, the purples are here to break the norm!
The varying contrasts of these purple, gray, and peach shades will make your wavy hair look even more playful. Plus, the peach shade brings warmth and gives the hair a sunkissed look.
11. Gray Layers + Pastel Purple Highlights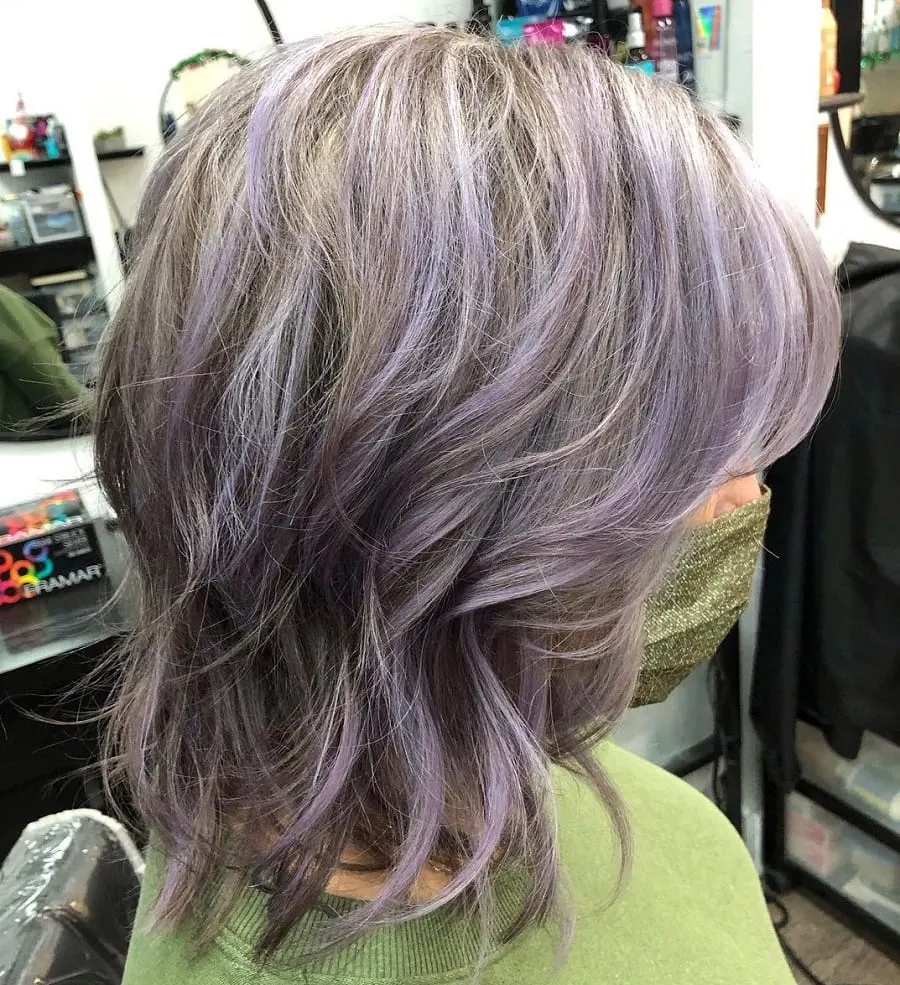 Who says you need bold colors just to get an attention-catching hair color? This gray-lavender hair color proves that sometimes, pastel is the way to go. The combination of ashy blondes creates a look that's light, soft, and extremely feminine.
12. Thin Gray Hair + Purple Ends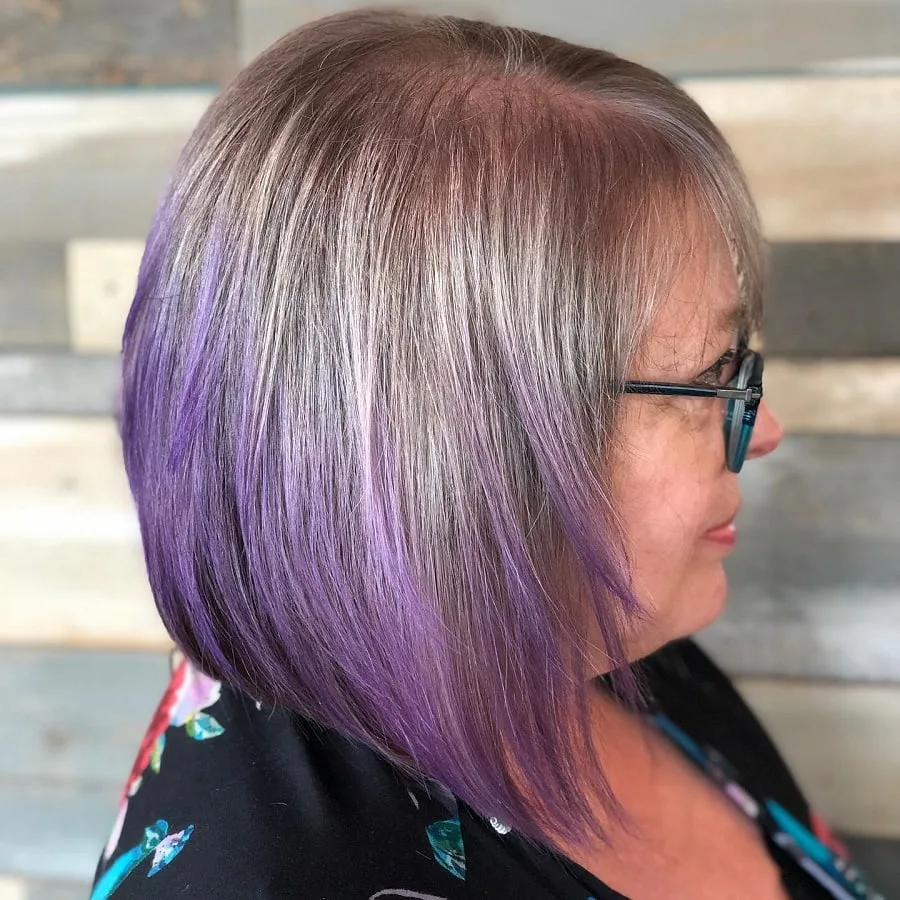 If you're looking for a low-maintenance hair color, try the purple highlights. Aside from its eye-catching design, ombre is preferred by most women because it eliminates the harsh line in the roots, so you don't require frequent touch ups.
13. Salt and Pepper Waves + Purple Streaks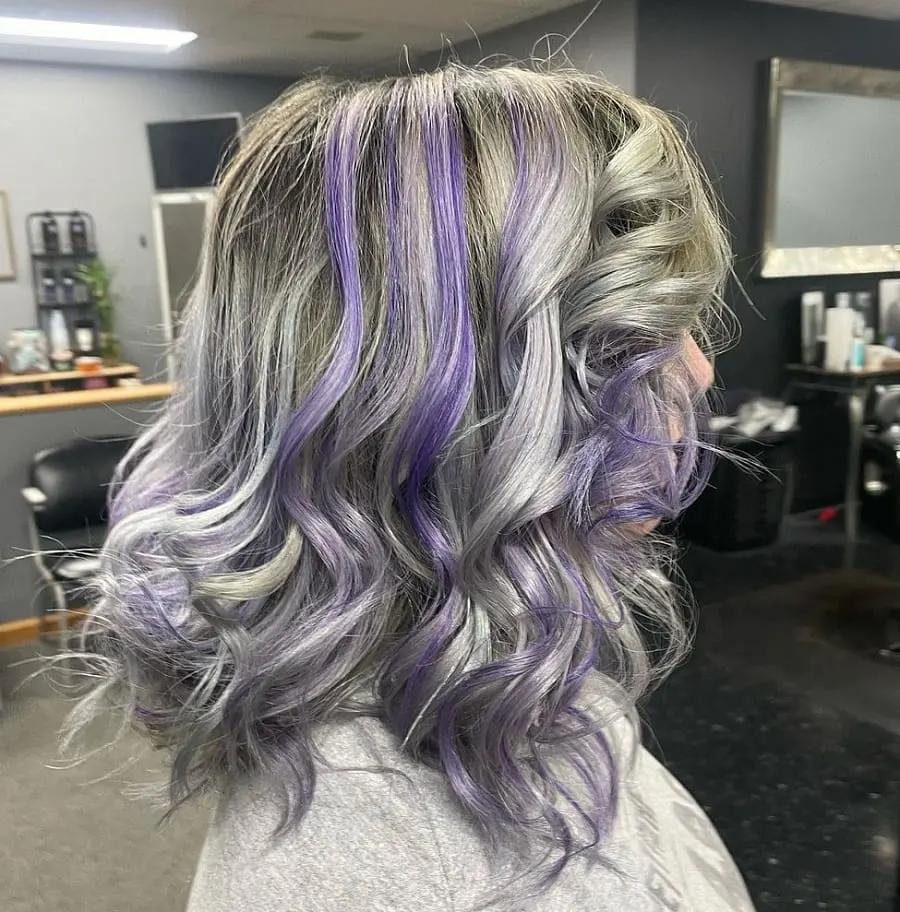 Create a whimsical look by adding light violet streaks to your salt and pepper hair. Alternate between dark and light purple colors as it gives your hair better texture and a more natural appearance.
14. Shaved Side Hair Design + Highlights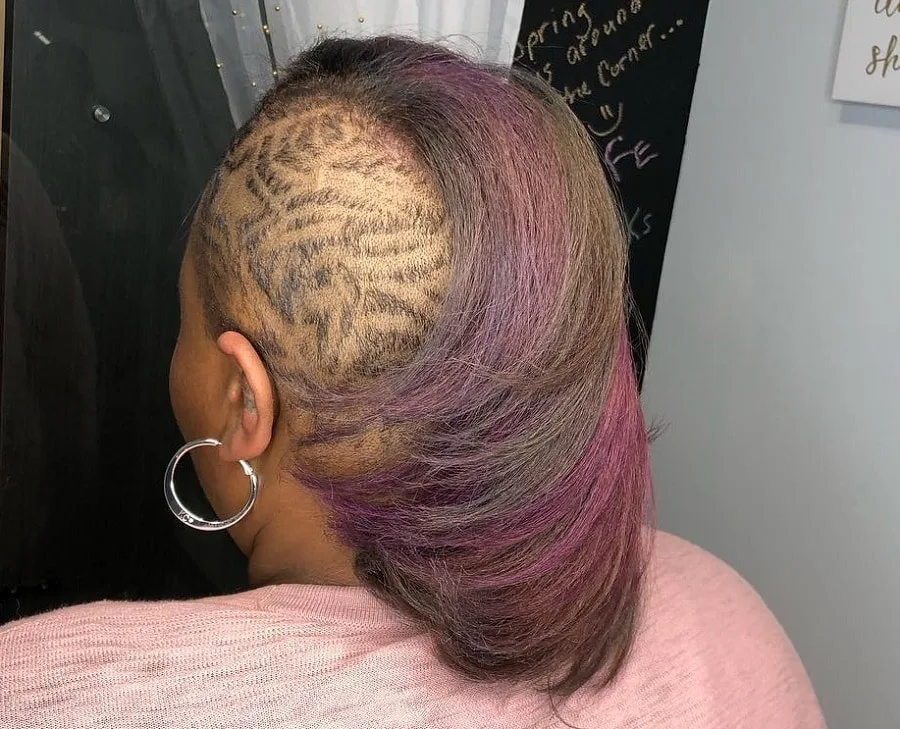 For badass women who want something edgy, this dark gray shaved side hairstyle is the way to go. You can take it to the next level by adding intricate hair designs that would make heads turn. As if that's not enough, adding purple highlights will give it that rocker chic vibe.
15. Icy Curls + Purple Highlights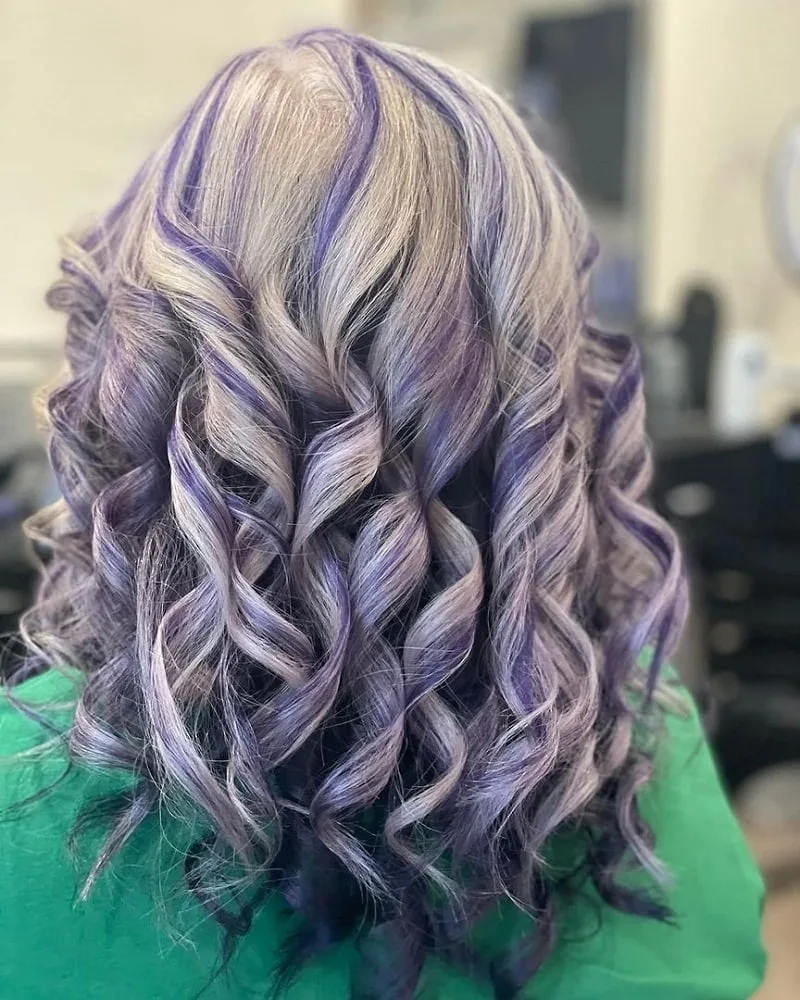 Do you want to make your curls pop? The best way to do that is to play with color, and this natural gray and purple highlights combination is one of your best options. The high contrast between these two shades makes the curls come to life.
On its own, gray hair may look dull and boring. Add in a splash of purple color and your hair will look trendy and edgy in an instant.
So what are you waiting for? Choose from any of these ideas for natural gray hair with purple highlights so you can finally have the hair of your dreams.
Related Topics